This article may contain affiliate/compensated links. For full information, please see our disclaimer here.
Reminder: Make sure to check the country's covid guidelines before travel.
When Sam and I took off to travel around Mexico, we left convenience and comfortability behind to seek adventure. We saved for years to quit our 9-5 jobs. We desperately wanted to escape the hamster wheel we felt we were trapped in. When we landed in Mexico City, we never imagined we would add 'digital nomad living in Mexico' to our resumes. Our backpacks were heavy, our dream of traveling around Mexico had begun, and we had no idea what we were doing. Fast forward 9 months of travel later, we landed in San Cristobal de Las Casas. While it was another city to check off of our Mexico travel list we also settled into a new normal, living as digital nomads in Mexico. In this article, I'm going to walk you through what it's like as a digital nomad living in San Cristobal de Las Casas.
The city itself is a popular travel destination with colorful buildings and plenty of Bucketlist day trips from San Cristobal to keep you busy. In recent months, San Cristobal has experienced an increase in digital nomads anxious to discover what this city has to offer. Luckily, co-working spaces have begun popping up to help create work environments with reliable wifi outside of their hotels or apartments. Let's dive into digital nomad living in San Cristobal de Las Casas so you can have all the details on what to expect when visiting or living here.
DIGITAL NOMAD LIVING IN SAN CRISTOBAL DE LAS CASAS
San Cristobal is a unique city that offers colonial architecture, colorful streets, and mountain views. Not to mention there are ancient ruins at Palenque, waterfalls, and jungles in other areas of Chiapas to keep the curious traveler entertained. Initially, we didn't know how long we were going to stay when we first arrived in San Cristobal but we quickly fell in love with the city and ended up staying for longer than a month. We absolutely loved living in San Cristobal de las Casas. I can say with confidence Chiapas Mexico and San Cristobal de las Casas are one of the most underrated places in Mexico.
Everything in the city is walkable which makes San Cristobal de las Casas a convenient place to be a digital nomad. It was easy to take a walk in the morning and grab breakfast, and coffee then head elsewhere to work for the day. There are some great locations in the city to go grab a drink with some friends after you are done working. Better yet, some restaurants in San Cristobal de Las Casas allow you to work and enjoy a drink! That's the freedom of being a digital nomad.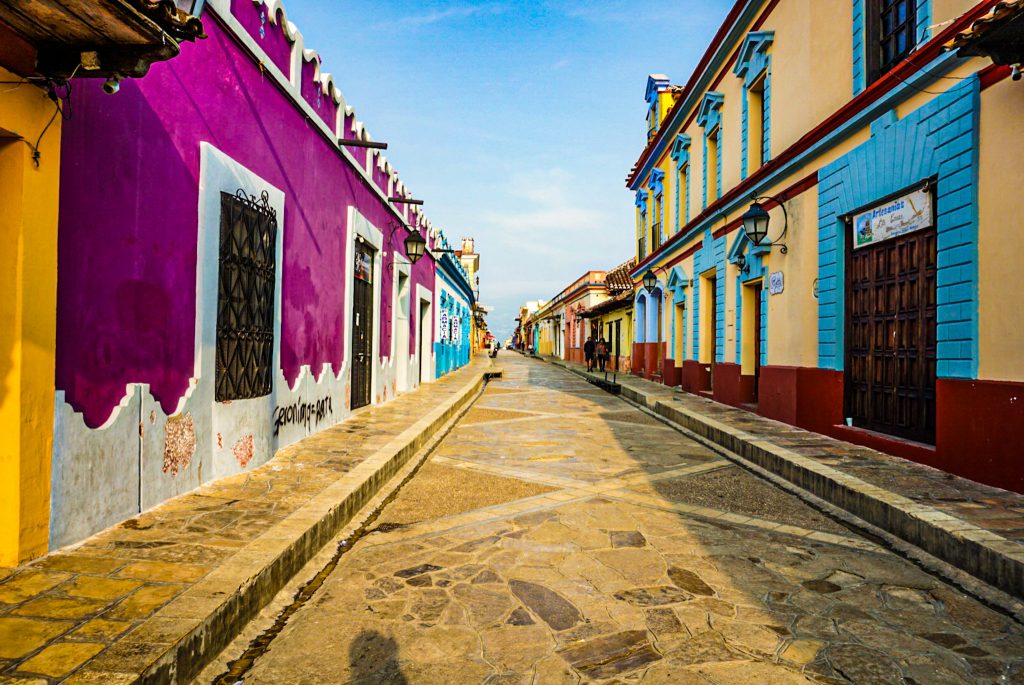 DIGITAL NOMAD LIVING IN SAN CRISTOBAL DE LAS CASAS: BUDGET
Overall the cost of living for us while in San Cristobal de Las Casas was affordable, especially when compared to Mexican cities in the Yucatan, like Tulum. For perspective, we took a quick trip back to the United States during our stay in Chiapas and one craft cocktail in the United States was the price of an entire meal for both of us in San Cristobal de las Casas.
Overall, budgeting is going to vary based on your needs and comfortability.
Our budget for living as a digital nomad in San Cristobal was:
$500 USD on eating at restaurants, coffee, and drinks – We usually ate at least 2 meals out a day and had coffee at a cafe every morning. We went out for drinks several times a week too.
$550 USD on lodging
$150 USD on groceries and markets
$500 USD on activities, coworking fees, cash payments, and day trips (we actually had to do a couple of private transportation options because we had our little dog Hughie with us)
The total was about $1700 USD a month for the two of us. Keep in mind we were only in Chiapas Mexico for a little over a month so realistically the monthly amount would have been lower if we were there for a longer period of time. We had a lot we wanted to do and see in a month.
Items per person (rounding up):
Coffee and Juices: 25-40 MXN / $1.50-2 USD – You'll see 35-40 MXN for lattes
Breakfast: 60-135 MXN / $3-7 USD
Lunch/Dinner: 100-300 MXN / $5-15 USD – Typically we paid no more than 150 MXN a person for dinner but we definitely went to a couple of places where I saw some prices closer to 300 MXN.
Drinks: 25-35 MXN / $1.30-1.75 USD for beer, 30-60 / $1.48-3 USD MXN, and 60-110 / $3-5.5 USD for cocktails
Day Trips/Tours: The average day trips cost about 400-800 MXN / $20-40 USD depending on where you are doing
Groceries and Market: You can easily spend as little as 800 MXN / $40 USD a week per person. This includes getting some essential groceries you might need and shopping for local fruits, vegetables, eggs, bread, etc.
Co-working spaces: Day Passes are around 130 MXN / $6.50 USD. Most will have other packages where you can get a few days for a month or unlimited for a whole month. The Centralita co-working spot. Rates are around 1750 MXN / $86 USD a month for unlimited visits and you had access to both locations. Keep reading to see why I recommend co-working locations in San Cristobal de las Casas.
Lodging: $550 – 800 USD / 11,000 – 16,000 per month for nice hostels, apartments, or even a hotel. If you have a larger budget then you can easily find a really nice place for 800-1200 USD for a month.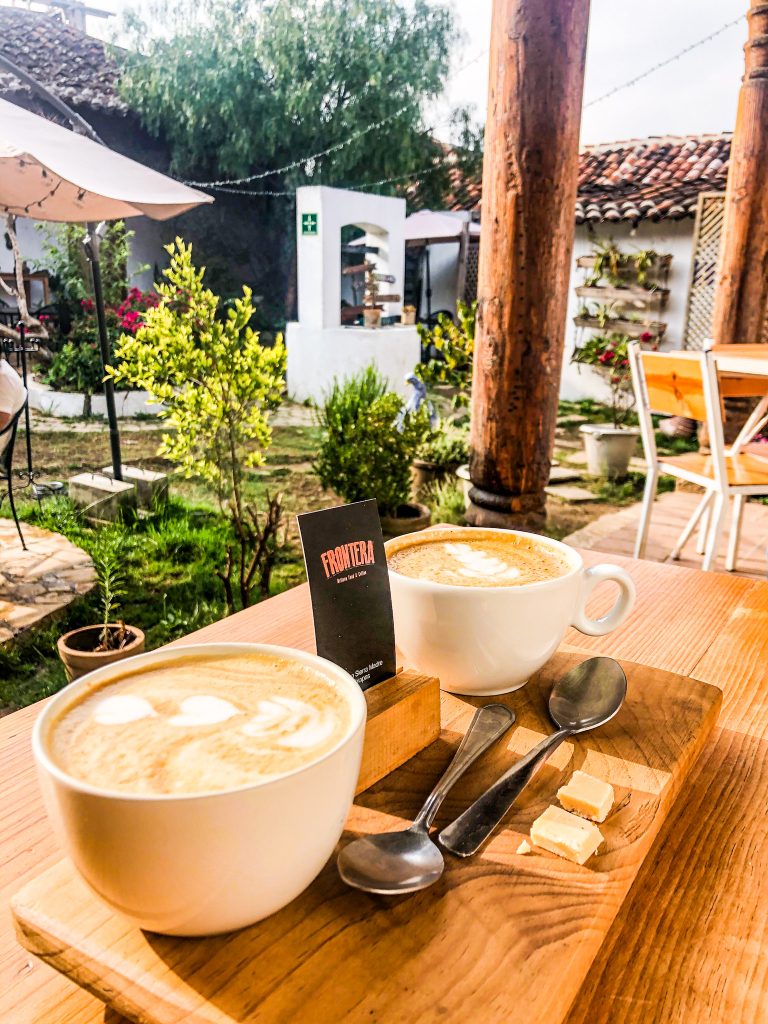 WHERE TO STAY IN SAN CRISTOBAL
I would recommend looking on Booking.com or Airbnb.com. You would be surprised by how many hostels and boutique hotels are on booking.com.
Hop over to our unique hotels in San Cristobal de las Casas to see our top recommendations for accommodations in San Cristobal.
If you decide to book through airbnb just make sure you look at the reviews and if you are going for at least a month make sure you are searching for "monthly stays" usually Airbnb will show you the better options with Superhosts that are best for "monthly stays".
The key things to look for when looking for an Airbnb:
Look for the reviews about the wifi. I always reach out to the host to confirm the wifi is good if they know the download and upload Mbps, and I explain to them that I "work remote" as a digital nomad.
Are they rated well for monthly stays/preferred for monthly stays?
Is there a kitchen? And is it stocked with the essentials?
Is there a seating/living area outside of just the bed or a table and a chair
Is there a balcony or roof you can sit on? You'll really want this while in San Cristobal. It's awesome watching the sunset over the mountains
Do any reviews mention the bed and the comfortability of the bed?
WHEN TO TRAVEL TO SAN CRISTOBAL DE LAS CASAS
There are a couple of things to consider as far as weather goes in San Cristobal de las Casas. There's a rainy season and it does get pretty cold a couple of months out of the year.
The best months to visit for the weather are March-May. This is when the temperatures start to warm up during this time to about 82F (27 C) and the sun is out! It still cools down at night to about 60F (16 C). We were in San Cristobal de las Casas in April and May. Overall the weather was pretty comfortable and nice that it cooled down in the evenings. At night I usually wore a light jacket and pants if we were out exploring.
November – February are going to be the coldest months. Keep in mind some of these months are during the holiday season so it can get pretty busy especially when there's a Mexican holiday. A lot of places in San Cristobal de las Cases don't have heaters so make sure you keep that in mind if this is the time period you are looking to go. If you are looking for a hotel or an Airbnb check to see if they have any way to heat the room or apartment at night.
June is the wettest month in San Cristobal de las Casas and September follows after June. The full rainy season goes from June to October.
BEST NEIGHBORHOODS TO STAY IN SAN CRISTOBAL DE LAS CASAS
San Cristobal is a pretty small city. You can walk just about anywhere you will need or want to go, and unlike Mexico City, you shouldn't need a taxi very often. There are several neighborhoods to consider when in San Cristobal de las Casas and you could walk all of them within a few hours. The main neighborhoods to consider are:
Zona Centro:
This is the center of town. This is where you will see a lot of restaurants, bars, and TOURISTS! Real de Guadalupe is the main street in town, so naturally, there are more people here. There are some gems on this street, along with some tourist trap restaurants you should avoid. The best time to explore this area is early in the morning before anything has opened. This is a very lively area so if you do want to stay in Centro I would recommend getting a place a couple of blocks away from the main street where it is quieter.
Barrio de El Cerrillo:
This is one of our favorite areas of San Cristobal. The buildings are covered with gorgeous artwork and you are in a really close walking distance to everything, especially our favorite coworking spaces and breakfast spots. If you are going to be a digital nomad living in San Cristobal de Las Cases this is a central location that has everything you need.
Barrio de Los Mexicanos:
Located further north of Centro and La Merced. It's a little further out of the way and will take you longer to get into the center of town, but it is quiet. I remember walking down the streets of Carrio de Los Mexicanos in the morning and enjoying the quiet. If you really like more quiet neighborhoods and don't mind the walk into town then this might be the spot for you.
Barrio de Guadalupe:
This is where we stayed. Guadalupe is east of Centro and it is only a couple of blocks away from a variety of restaurants and bars. This is where the Guadalupe church is located. It's a great spot to hike up the steps and get a great view of the city. If you plan on being a digital nomad living in San Cristobal de Las Casas then you can't go wrong staying in this neighborhood. We were only a 5-minute walk to cafes, our favorite breakfast places, and to Centralita Cowork.
Barrio de La Merced:
More of a local neighborhood and is a cute little quiet area. It is within walking distance to the center of town. This is where you will find the Amber Museum. We learned how to tell if Amber is fake or real during our visit, this came in handy when buying Amber here.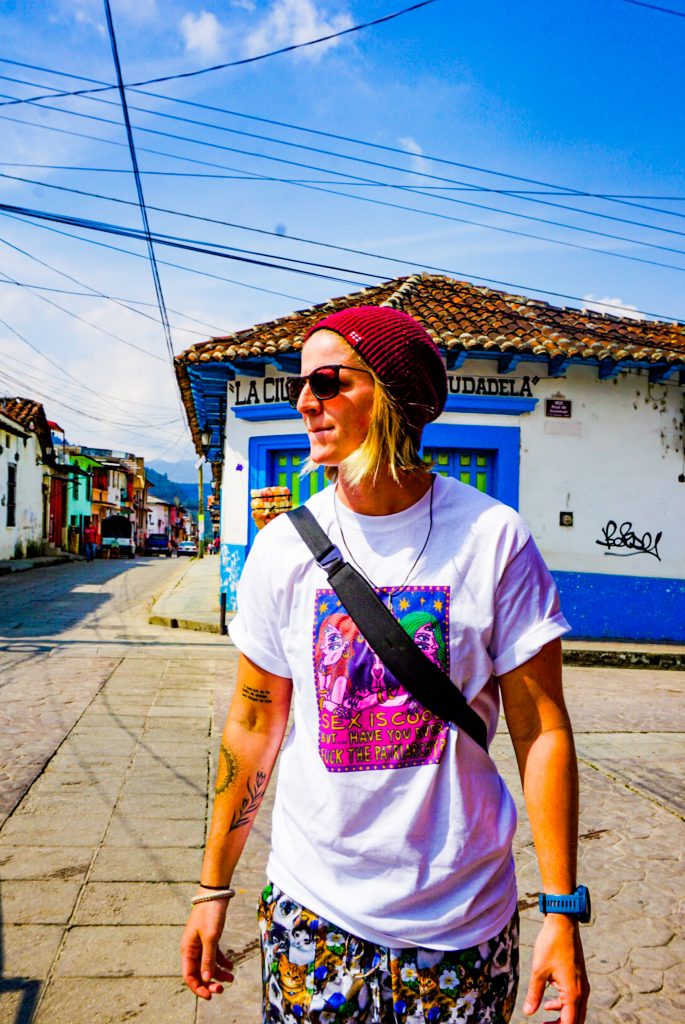 WHERE TO FIND RELIABLE WIFI IN SAN CRISTOBAL
The internet in San Cristobal is questionable. This was my biggest concern with going to Chiapas for a month. We both had contract jobs at the time so the internet was a deal-breaker if we couldn't figure it out.
Here are my tips when deciding where to use the internet in San Cristobal de Las Casas:
Don't rely on cafe internet. Highly recommend you pay for a co-working space. Sometimes in the morning I would be at a cafe and it would work okay but as soon as the mid-morning digital nomad crew showed up I couldn't complete simple tasks on the internet. I rarely had issues when I paid to work at Centralita.
Don't rely on hotels or hostels for internet quality. Accommodations will often boast about fast internet, don't be fooled. Our hostel had terrible internet and when I say terrible I am talking like 1-6Mbps. I had to use my phone's hotspot several times.
I started traveling with a really long ethernet cable with me just in case I needed to hardwire to the router/modem. This was my fail-safe if I wasn't sure the internet was going to be fast enough. I actually ended up using it several times.
If you have a phone with a hotspot you can grab a Mexican SIM card for extra data so you can use your hotspot if you end up in a situation with sketchy internet. I luckily have AT&T with unlimited data and I use my hotspot often.
Looking for the best laptop for Digital Nomads?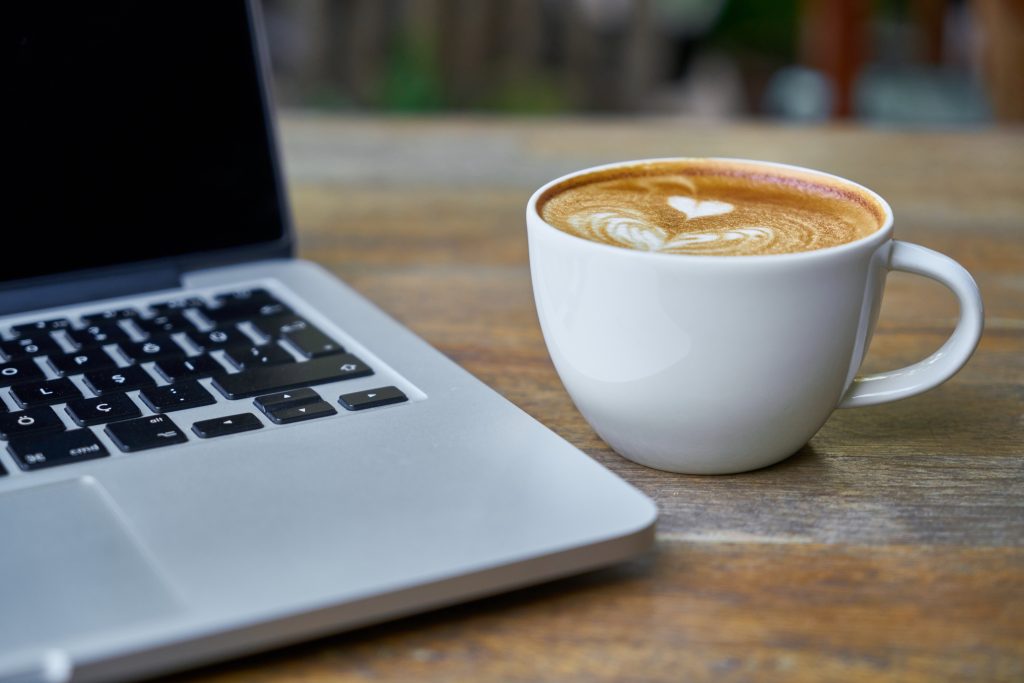 We all know our laptops are the most essential piece of equipment for working remote. Whether you are in need of an upgrade or you are looking to buy your first laptop – Check out our comprehensive laptop guide for digital nomads!
---
CAFES AND COWORKING SPOTS FOR DIGITAL NOMADS IN SAN CRISTOBAL DE LAS CASAS
Centralita Cowork & Casa Centralita:
We worked at both of these locations and never really had any issues with the internet. They do get crowded mid-morning – noon so I would recommend getting there before then if you want some quiet time.
Both locations have complimentary coffee/tea which was nice because I didn't want to have to run out to get more caffeine. I was able to get anywhere from 30-40Mbps download speeds at Centralita. I highly recommend both of these locations for reliable internet and a nice working environment for digital nomads
Co.404 Coliving/ Co-working:
They charge about $20 USD for a dorm and $40 USD for a private room. If you are okay with spending a little extra money so you can have a coworking space where you stay then we would recommend Co.404 Coliving/ Co-working. It's nice because they are more private and only people that are staying at their hotel can use the co-working space. The owners have really made it a beautiful spot with nice rooms, and a really comfortable co-working space.
There are new co-working spots that have popped up recently that we recommend:
Robot Rock Coworking
Bruken Centro Cowork
Nomades Digitales Cowork Cafe
Two cafe's we recommend with decent internet connection:
Sarajevo Cafe Jardin – This was one of our two favorite cafes we liked to go to get our morning coffee and breakfast. The prices are pretty average compared to other places in San Cristobal and we usually spent about 150 MXN per person. They have a ton of seating inside if you want to stay and work.
La Frontera – This was one of our other favorite places to get breakfast. La Frontera has excellent coffee and their breakfast was always simple and delicious. We probably went here the most for breakfast. The internet is okay until you get the mid-morning rush in there.
TYPICAL WORKDAY IN SAN CRISTOBAL DE LAS CASAS
8-10 am – Get up and go get coffee and breakfast at Sarajevo Cafe Jardin or La Frontera
10 am – 2 pm – Walk over to one of the Centralita Coworking locations to get started on our workday.
2 pm – Take a break and go find some lunch. Sometimes we knew what we wanted and sometimes we just explored around for an hour or so until we found a new place we wanted to try.
3 pm – Head back over to Centralita Coworking and get caffeinated on their complimentary coffee while I finish a couple more hours of work.
5 pm-6 pm – Go drop our stuff off at the hostel and head out back into town to find some dinner and drinks!
Are you a digital nomad looking for the best backpack?
We know how important it is to make sure you have the right functional backpack on your travels to protect your electronics which is why we've made a comprehensive list of our favorite digital nomad backpacks. Check it out!
THINGS TO DO IN SAN CRISTOBAL DE LAS CASAS CHIAPAS
There are so many things to do in this city. Read our Epic Travel Guide to San Cristobal de Las Casas article for all the details on how to enjoy your time here.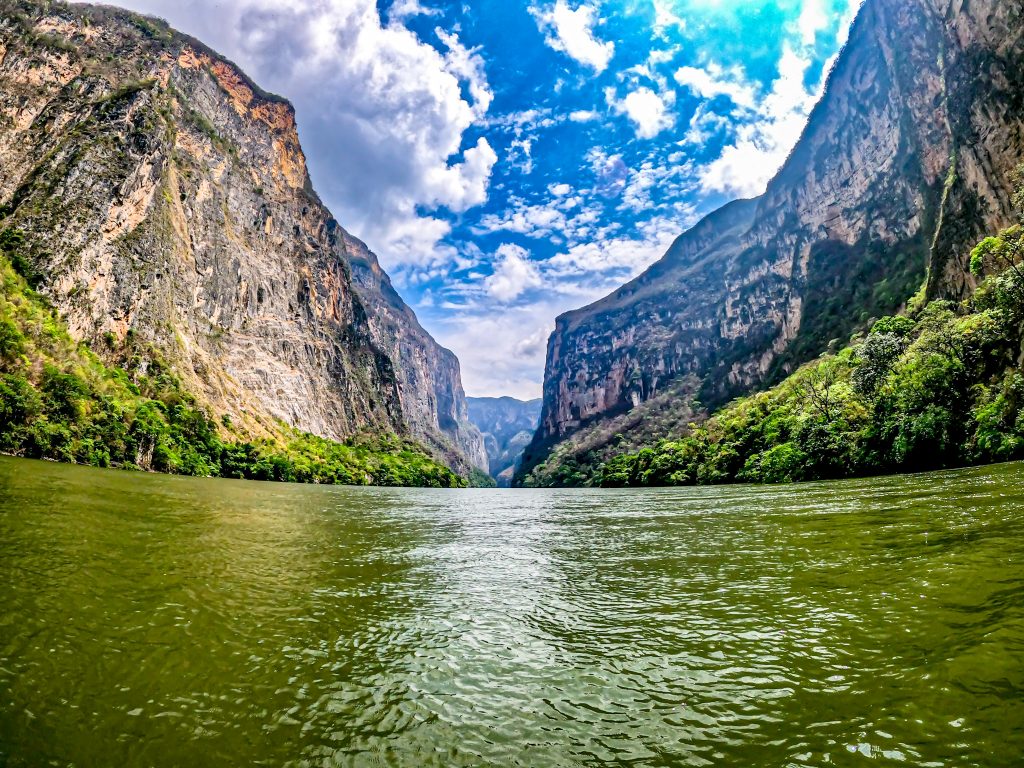 DIGITAL NOMAD LIVING SUMMARY IS IT WORTH IT?
Look, Chiapas is such a beautiful state in Mexico, and San Cristobal de las Casas is an incredible city to use as your home base while in Chiapas. It's a charming town with a lot to explore, plus solid coworking spaces so you can work and play. What more do you need? There are so many great cities in Mexico to be a digital nomad, but this one is at the top of our list. Check out our other Mexico Digital Nomad spots below.
Interested in other Mexico Related Articles? Check these out!
Like this Digital Nomad Living in San Cristobal de Las Casas post? Pin it for later!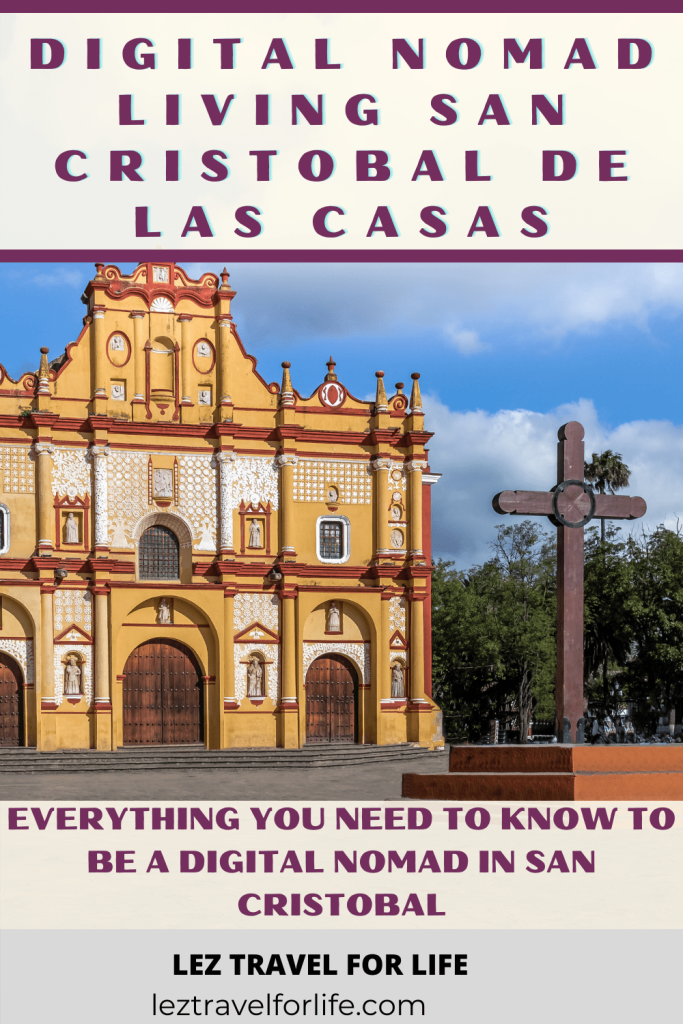 I'm Courtney and as blonde and gay as they come! I fell in love with travel on my first international trip with my wife. Travel reminds me to live in the moment and I feel like the truest version of myself. My wife and I love meeting new people and feeding street animals while we travel. There is so much of this world to see and we can't wait to explore it!