Reminder: Make sure to check the country's covid guidelines before travel.
This article may contain affiliate/compensated links. For full information, please see our disclaimer here.
The Yucatan peninsula perfectly combines exceptional beaches with cultural sites and untouched nature. One can easily spend a few weeks, if not more, here without running out of places to explore and things to do. This 14-day Yucatan Peninsula Itinerary takes you to some of the best places around the peninsula, including islands like Holbox and Isla Mujeres, as well as beach towns like Cancun or cultural cities like Merida. This Yucatan Peninsula Itinerary is jam-packed with info on where to go, when to go, LGBTQ safety tips, and our favorite guided day trips so you can have the best trip of your life!
GETTING AROUND THE YUCATAN AND THE REST OF MEXICO
Buses
Mexico has a great bus system called ADO that is generally affordable, comfortable, and easy to navigate. Most buses have air conditioning and large seats that make traveling long distances a breeze. Tickets can be bought online in advance or at bus stations, although popular routes can fill up fast, so planning ahead is recommended. You can travel between the majority of the destinations in this guide with ADO buses, although there might be other companies offering similar services.
Private shuttles
Private shuttles are always available for hire if you want an even more convenient way of traveling although they can be pricey.
Collectivos
If you're traveling shorter distances on a budget, you need to look into the so-called colectivos, which are smaller minibusses that follow approximate routes and are generally used by locals. They rarely cost more than a few dollars and can be flagged down along main roads. They are usually cramped and hot but will get you where you need to go for a fraction of the price of a taxi.
Taxis
Are not expensive but fares will add up if you use them regularly or for longer distances.
Car Rental
If flexibility is your priority and you don't mind spending a bit more, you should rent a car during your time in Yucatan. If you're traveling in a group of three or four people, you might even save money compared to taking buses. Driving in Mexico is manageable if you steer clear of larger cities and will be the quickest and most convenient way to get from A to B. However, parking can be a bit of a challenge, especially when staying in busy areas so ask your hotel in advance if they offer parking.
Guided Tour
Lastly, you could choose to join a guided tour which will take you to different places on a set itinerary and help you plan your travels. This is a good option for first-time adventurers who are not as experienced in navigating a new country or those with no time or capabilities to plan their trip. However, package tours will be far more expensive and will take away your ability to choose activities or make your own plans.
Since Mexico and specifically the Yucatan peninsula is generally very easy to navigate, there should be no reason to book a guided trip, and you will be better off investing the money elsewhere.
WHERE TO GO IN THE YUCATAN PENINSULA
It's no secret that Yucatan is a tourist hotspot and that places like Cancun have long been overtaken by high-rise buildings and luxury resorts. However, there is much more to this area of Mexico than crowded beaches and tour offices. Yucatan actually has quite a few much calmer locations where you'll get to experience a glimpse of the real Mexico.
Consider carefully what you're looking for on your trip, and then pick destinations that will suit your needs. If you're looking for nightlife, lots of amenities, and plenty of things to do, then you'll love Cancun and Playa del Carmen. Places like Holbox or Bacalar will be far quieter and ideal for those seeking authentic nature in a serene setting.
Cancun and Merida are by far the largest cities on the peninsula. Merida, however, experiences much less tourism than the beach town of Cancun and is ideal for culture lovers and food enthusiasts.
WHEN TO VISIT THE YUCATAN PENINSULA
Mexico has a tropical climate that is suitable for tourism all year round. Generally, the months between December and March are dry and not as hot, while May to October are more rainy and very humid. November and April mark the shoulder seasons, which can be a good time to visit as the weather is likely comfortable, but prices will be slightly lower than during the high season.
One thing to keep in mind is that during the rainy season, the eastern coast of Yucatan experiences large amounts of seaweed that covers the beautiful beaches and makes the water appear brown and murky. In recent years, this problem has become more and more prevalent, and you might even encounter some seaweed during the high season.
There are different websites that can be used for checking the current state of the beaches before your trip. In most cases, islands like Holbox, Isla Mujeres, or Cozumel experience slightly less seaweed than the mainland, so keep that in mind when planning your itinerary during the low season.
IS THE YUCATAN PENINSULA SAFE FOR LGBTQ TRAVELERS?
Generally speaking, Yucatan is a safe place for LGBTQ travelers, and same-sex couples can travel around the peninsula without any issues. Discrimination based on sexual orientation is illegal, and Mexico and same-sex marriage was legalized in all but one of the states in 2010.
However, Mexico and Yucatan are still predominantly catholic areas, and especially rural areas can be conservative and not as open-minded as larger cities. Yucatan itself is very popular among travelers from all around the world and attracts a diverse crowd of visitors.
Cancun and Playa del Carmen specifically are fantastic places to visit for LGBTQ travelers, with a decent selection of gay bars and gay-friendly hotels to choose from. Since these beach towns are known for their nightlife, LGBTQ travelers won't have problems finding a community. Smaller towns, however, might be very different with fewer other tourists and the possibility of discrimination being present.
14 DAY YUCATAN PENINSULA ITINERARY
Day 1-3: Explore Cancun
Let's start this 14 Day Yucatan Peninsula Itinerary with Cancun. Most tourists arrive at Cancun International Airport, which is the largest in the area and is serviced by a number of major airlines. Merida also has an airport, but it is much smaller with fewer flight routes to choose from.
Cancun is a hotspot for nightlife, and your time here will be all about spending your days by the beach and sipping cocktails in the evenings. This is a very LGBTQ-friendly town, and you can dance the night away in one of the popular gay bars or enjoy your evenings in an adults-only resort.
Guided Tours in Cancun
There are plenty of opportunities for day trips, the most popular being Chichen Itza, one of the world's most famous Mayan ruins and a UNESCO World Heritage Site. Other activities include a visit to the Mayan Museum of Cancun or renting a kayak to explore the bay. Want to party? Check out this Adult Only Boat Tour where you can party all day while sailing over crystal clear waters in the Yucatan. If you are an animal lover and want an ethical, up close encounter with whale sharks try out this small-group tour where you can get up close and personal with these unique and gentle creatures.
No trip to Cancun is complete without trying the delicious street food that Mexico is famous for. Enjoy authentic tacos or other local specialties, which you'll be able to find in little hole-in-the-wall restaurants or from street stalls around town. Courtney and I's favorite way to get to know food in a city is to take a Street Food Tour. However, your time in Cancun should be relaxing, so avoid packing your day full of activities.
There will be plenty of places to explore in the coming two weeks so don't forget to spend some lazy days by the beach. We have a more detailed Cancun Mexico Travel Itinerary here with our best picks of places to stay!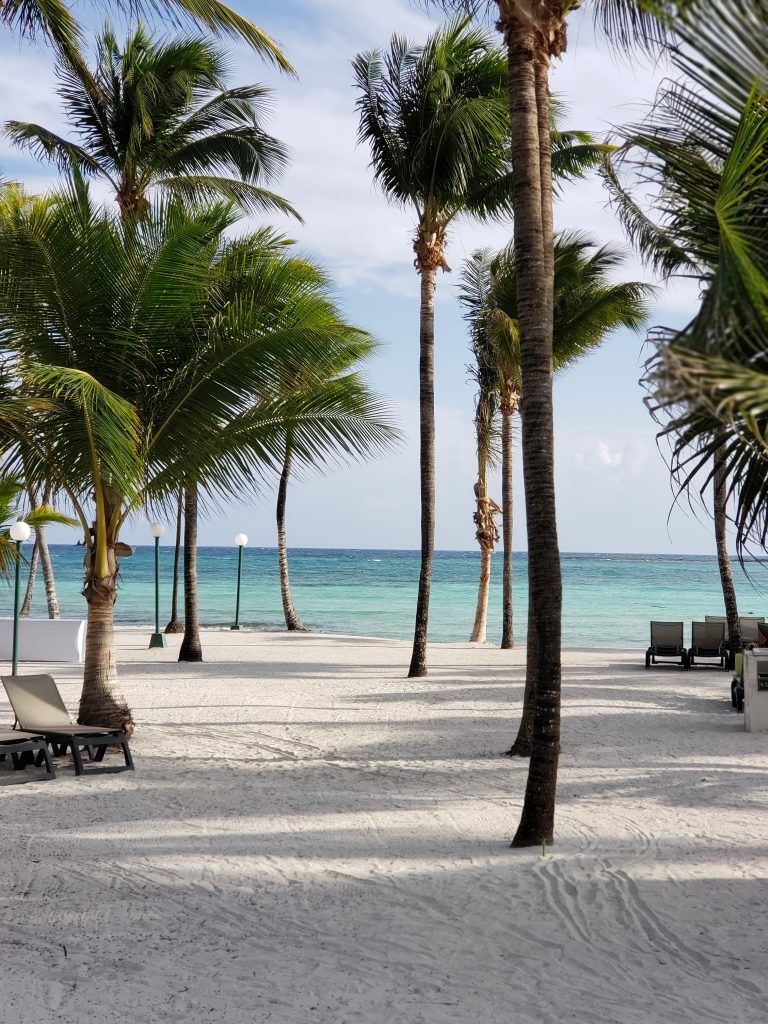 Day 4: Spend the day on Isla Mujeres
Isla Mujeres is a small island located off the coast of Cancun and just a short ferry ride away. This is a beautiful place to visit for a day and well worth the $16 for a round-trip ticket.
Everything seems to move a little slower here than on the busy streets of Cancun, and you'll find no shortage of white-sand beaches with crystal-clear waters to enjoy. Pack your swimsuit and a towel and spend the day relaxing at Playa Norte with a drink in hand.
Beach clubs are very popular here and a perfect place to grab lunch. If you're looking for a more active experience, look into renting a bike or a golf cart and exploring the island. Once you venture off the main streets, you'll find affordable local restaurants and hidden bays that most tourists miss during their time on the island.
Punta Sur Park is a must-see for anyone looking to connect with nature and enjoy the unique landscapes Isla Mujeres has to offer. There are even Mayan ruins to be seen, populated by iguanas and other native wildlife. Take the last ferry back to Cancun and head to bed early to be well-rested for an exciting day tomorrow.
Day 5: Fall in love with Cozumel
Visiting two islands in a row might seem like a busy schedule, but both Isla Mujeres and Cozumel are absolutely unmissable on this 14 Day Yucatan Peninsula Itinerary. Cozumel is a much larger island with lots of nature and some of the best snorkeling spots in the area.
To get there, you will leave Cancun behind and take either a bus or colectivo south to the beach town of Playa del Carmen. Head straight to the harbor and get on a ferry which will take you to the main port of San Miguel de Cozumel. While there are plenty of things to see and do here, one of the main attractions that should be high on your to-do list is the famous starfish beach, also called "El Cielo."
This is where you'll be able to swim amongst dozens of starfish scattered across the ocean floor, providing the perfect opportunity for some underwater photography. The best way to reach El Cielo is by boat tour, which can be booked in our link above.
Tours usually take anywhere between four and seven hours and will take you to several snorkeling locations and also serve lunch on board. Spend the night on the island before catching the ferry back to Playa del Carmen again the next day bright and early.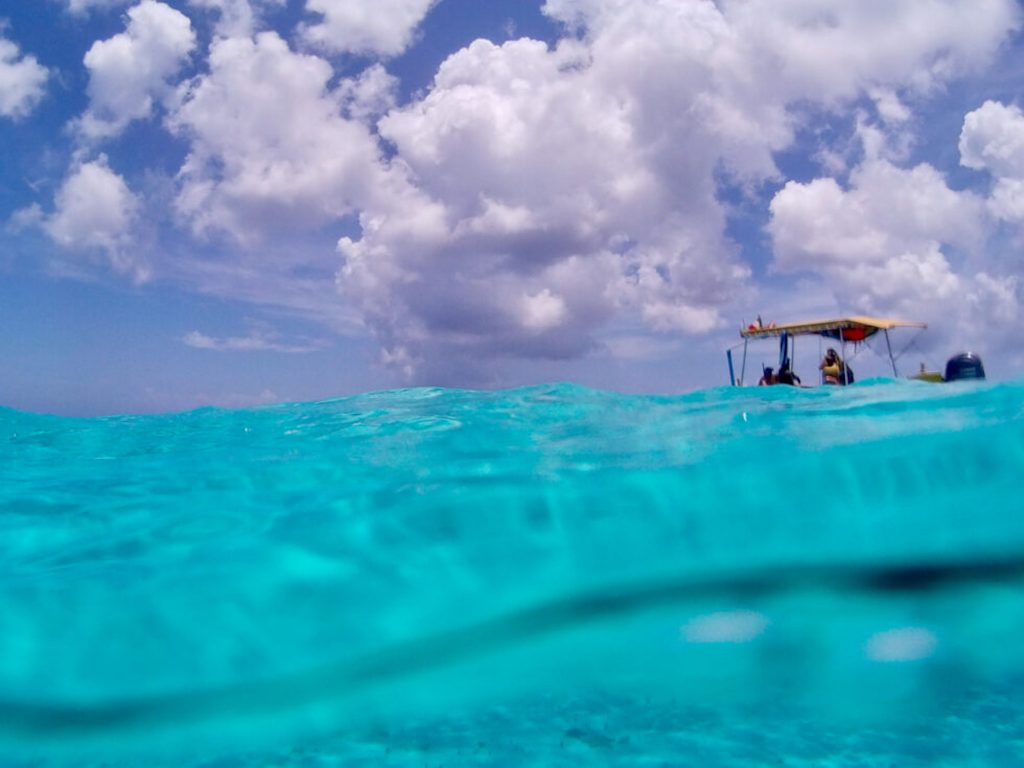 Day 6-7: Relax in Tulum
From Playa del Carmen, it's just a short drive south to the small town of Tulum. The main attraction here is the Tulum ruins which are located right by the ocean and overlook the bay. If you're planning on visiting this archeological site, you should arrive early in the morning to avoid the crowds. Book a guided tour and avoid the stress of planning transportation to and from the ruins with a Tulum and Cenotes Tour.
Tulum is definitely a popular location for tourists and fills up fast, especially during the high season. This is one of the more expensive parts of Yucatan, so adjust your budget accordingly. Along the beach, you can choose between high-end beach clubs and fine dining venues, as well as some bars and cafes.
Don't miss out on seeing some of the local cenotes, which are perfect for swimming and cooling down after a long day in the hot sun. There are dozens to choose from in the area surrounding Tulum, and most are easily accessible via colectivo or bus.
During your stay, you can also rent a bike to help you get to the beach or explore some of the small coves along the coastline. In the evening, enjoy a cold drink at a local bar and watch the sunset. Sometimes there will be live music or beach parties, and many beach clubs have DJs in the evenings, which are perfect for a night out. If you're looking for more details on Tulum, we have a detailed Tulum Mexico Travel Itinerary that will answer all your questions.
Day 8-10: Explore Merida
After spending your first week by the beach and enjoying different islands, you're heading inland to the city of Merida. This is absolute heaven for food enthusiasts and travelers wanting to experience a small part of the local culture. The city is actually very walkable, and you can spend your days strolling through the streets and getting lost in the colorful neighborhoods.
Head to Lucas de Galvez Market to grab lunch and shop for delicious fresh fruits and veggies. The Cathedral de San Ildefonso is another must-see. This 15th-century building is absolutely beautiful, and to learn more about its history, visitors can join English-speaking private tours every single day.
If you want to get to know the city a bit better, you can also join a free walking tour through the historical center, which starts at Plaza Grande. In the evenings, there is plenty of nightlife to choose from, including live music venues and loud clubs. Read more about how to spend 4 beautiful days in Merida here.
Day 11-13: Unwind in Holbox
From Merida, head back towards the coast and make a stop at the small island of Holbox. The ferry there is cheap and leaves several times per day, just make sure you arrive in time to catch the last one. There are public buses which will take you there or private shuttle transfers you can hire. Holbox is a very long and sparsely populated island.
The majority of the landscape is part of a national park and home to incredible wildlife and rare species of birds. It's a unique part of this 14 Day Yucatan Peninsula Itinerary. There are no cars allowed on the island, and most people get around by golf cart or bike. Holbox is known for its beautiful nature, including untouched sandbanks, incredible beaches, and fascinating animals like whale sharks, flamingos, or even bioluminescent plankton.
Swimming with whale sharks is a once-in-a-lifetime experience that is highly recommended on the island. Tours can be expensive at up to $150 per person, but the price is worth it. You'll get to swim with whale sharks out on the open ocean and get up close to the majestic animals. We have a great guide to help you decide how spend a weekend in Holbox. Don't miss out on our detailed guide as we have awesome hotel picks!
While there is not much nightlife in Holbox, the island is known for being welcoming and for having incredible street food, so make sure to try some delicious local specialties during your time there.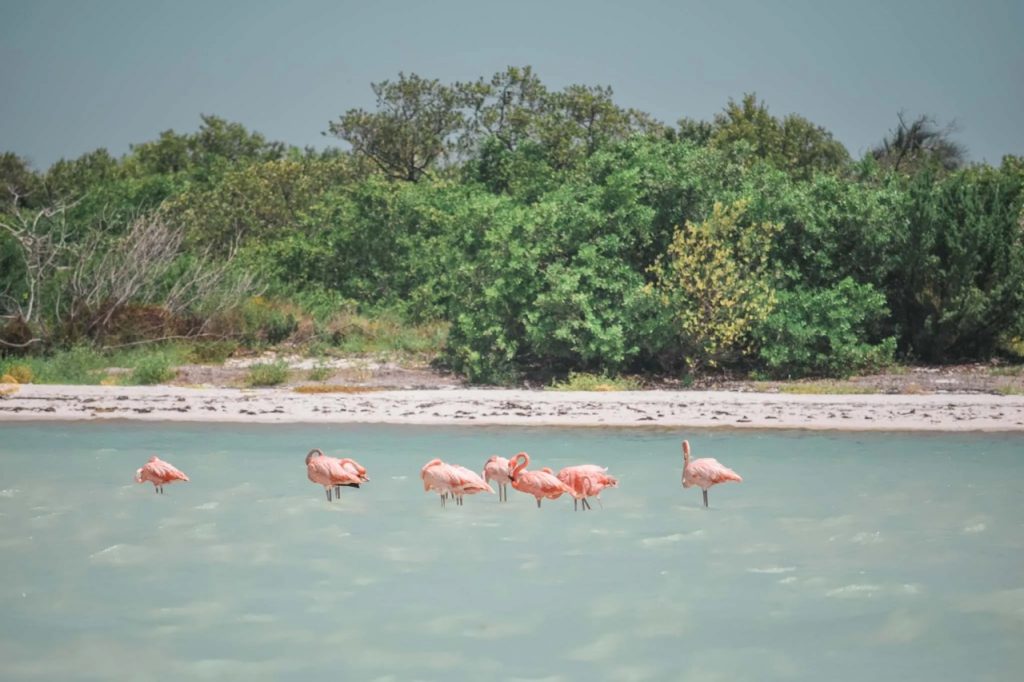 Day 14: Return to Cancun
After spending your last days in Yucatan on Holbox, head back to the mainland and catch a bus to Cancun. Enjoy one last night out before catching a flight back home and ending your 14 Day Yucatan Peninsula Itinerary.
OTHER PLACES TO SEE IN MEXICO
This 14-day Yucatan Peninsula Itinerary is packed with things to do and activities. However, there are many more places of interest you need to visit on the peninsula if you have the time. If you're able to extend your trip, add these beach towns to your itinerary.
Bacalar
Bacalar is a small hidden gem located just a 30 minutes ride from the Belize and Mexican border. The town sits right next to the Bacalar Lagoon, which is almost 55 kilometers long and absolutely breathtaking.
Like almost everywhere in the Yucatan, you will find cenotes in Bacalar that are definitely worth a visit. You should check out Cenote Esmeralda and Cenote Cocalitos, which are the most popular ones in this area and should be easy to reach by colectivo or taxi. No trip to Bacalar is complete without exploring the lagoon. Check out our guided tour that will take you on a private tour of the lagoon.
If you are looking for more budget-friendly activities, you should rent a kayak for the day and explore the lagoon by yourself. After a busy day of exploring, relax at one of the waterfront beach clubs and treat yourself to a delicious dinner with drinks.
Uxmal
The Uxmal ruins are located around an hour south of Merida and make for a great day trip from the city. This is a fantastic archeological site and is often described as one of the best in all of Mexico. If Chichen Itza or the Tulum ruins were too crowded for your taste, Uxmal is a great alternative and will absolutely take your breath away.
The so-called Grand Pyramid is a sight you will never forget, and it's highly recommended to take a guided tour with a local who will show you around and explain all the intricacies of the local history. The entrance fee to the ruins is $20 per person for foreigners, which is not the most affordable, but the experience is definitely worth it.
Playa del Carmen
Playa del Carmen is probably the most well-known city in all of Yucatan which is why we couldn't leave it out of this 14 Day Yucatan Peninsula Itinerary. Besides great restaurants, a diverse nightlife, and white-sand beaches, you will be able to choose between different tours, day trips, and other attractions in the area to make your trip more exciting.
Take a dip in one of the many cenotes just a few minutes outside of Playa del Carmen, join a snorkeling tour around the best beaches of the area or just enjoy your time by the ocean. Playa del Carmen also has lots of street vendors and local restaurants where you can try some of the best Mexican dishes for a reasonable price.
Several times a day, you can witness local artists perform a traditional Mayan dance at the Parque Fundadores. This unique dance performance is called the "Danza de los Voladores," or dance of the flyers, and is performed once every hour for tourists to enjoy.
Playa del Carmen is definitely a tourist town and its main road, 5th Avenue, attests to that. Here you'll find souvenir shops, large clothing stores and of course a variety of restaurants, bars, and clubs. This is where you'll be able to enjoy the best nightlife in town, including LGBTQ venues such as Playa Gay Dance Club or Habana Night by Divas.
Much like Cancun, Playa del Carmen is fantastic for going out, and its clubs are world-famous. Just make sure to be safe when walking home and taking a taxi if you are able to. Theft is common in this area, especially when it comes to unsuspecting tourists stumbling through the streets late at night.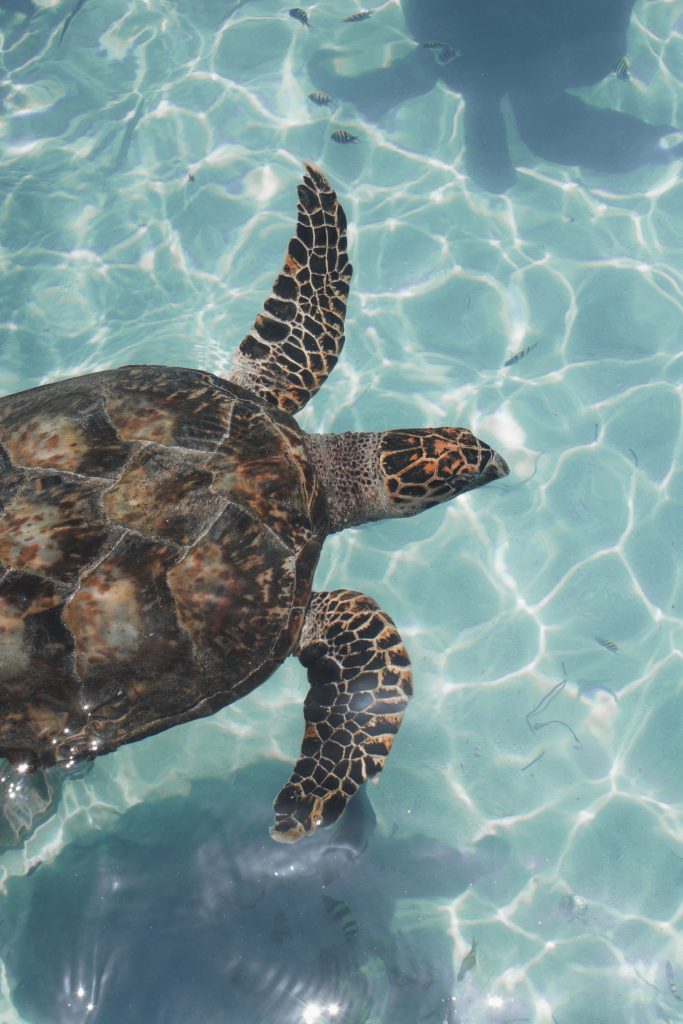 Valladolid
Most travelers skip Valladolid and head to Merida instead, but the city should not be missed during your time in Yucatan. While Valladolid is a great day trip destination, you can easily spend a weekend, if not more here, should your schedule allow it. There are great bus connections to the city, and especially if you're traveling from Cancun to Merida, you should consider stopping here for a few days.
Top attractions include the Convent of San Bernardo, a historic building with a small museum, the Cenote Suytun, which makes for an incredible photo opportunity, and the colorful, historic streets along the way. Rent a bike or join a walking tour to get to know this unique city. There are plenty of alleyways and small shops to discover along the way so take your time to truly get to know Valladolid.
WHAT TO PACK FOR YUCATAN
Okay, so we have definitely fit a lot of information into your brain by now, so take a look at our detailed Mexico Packing List for everything we packed for our time in Mexico.
Like this 14 Day Yucatan Peninsula Itinerary Article? Check out our other related articles!
Like this 14 Day Yucatan Peninsula Itinerary Post? Pin it for later!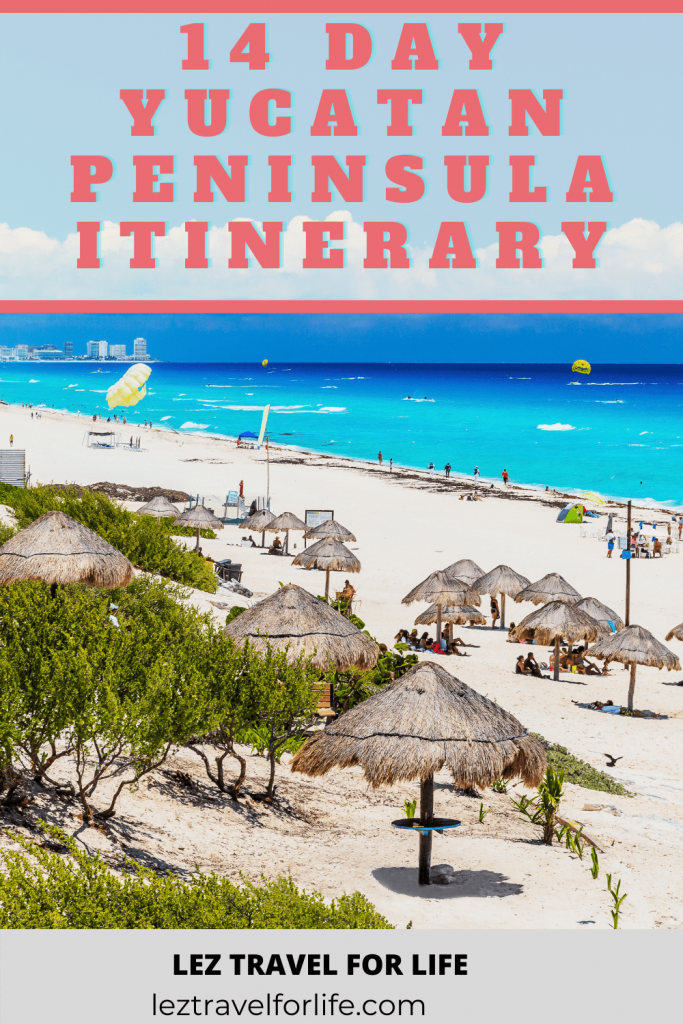 I'm Sam and I may only be 5'3 but I'm feisty and enjoy a lot of sarcastic humor. I'm addicted to travel as well as feeding and advocating for street animals in every country I travel to. I'm married to Courtney and we're super gay or whatevaaaa. We're both extroverts and love meeting new people everywhere we travel. We are in love with Latin American culture but can't wait to explore more of the world!