This article may contain affiliate/compensated links. For full information, please see our disclaimer here.
Reminder: Make sure to check the country's covid guidelines before travel.
Puerto Vallarta is a town that will always hold a special place in my heart. Here, is where we got our feet wet (literally) and figuratively. We began our journey as digital nomads in Puerto Vallarta, and we just couldn't get enough. Courtney and I lived here for 4 months and fell in love with its people, beaches, tacos, and sunsets. I'm going to walk you through Puerto Vallarta Digital Nomad Living in this article. I plan to provide you with what Puerto Vallarta wifi is like, the cost of living in Puerto Vallarta, and what to expect as a Puerto Vallarta Digital Nomad.
WHY MOVE TO PUERTO VALLARTA AS A DIGITAL NOMAD?
Living at the beach is an obvious reason to move to Puerto Vallarta, but there are other reasons why we stayed as long as we did and why others choose to call Puerto Vallarta home. You'll find a lot of ex-pats are relocating from the USA or Canada to enjoy a few things that Puerto Vallarta offers everyone.
Affordable housing for Puerto Vallarta digital nomads! We met several friends from LA who were paying $3,000+ a month in rent to live in a shoebox. In Puerto Vallarta, you can pay anywhere from $500-1000 for an apartment and enjoy plenty of space that is close to the beach!
Outdoor activities. Puerto Vallarta is centered around the ocean, which means there are tons of ways to stay active. From kayaking, paddleboarding, swimming, snorkeling, and more. Also, we loved to walk the Malecon in the morning. The Malecon is the main walkway in Puerto Vallarta, and it has the ocean on one side and the mountains and city on the other.
PUERTO VALLARTA DIGITAL NOMAD LIVING: BUDGET
Our Overall Budget (2 people):
$1000 USD for food and drinks at restaurants plus groceries. We went out a lot while in Puerto Vallarta and we also went to the grocery store and local markets for weekly groceries. We also had a lot of meals and drinks while on the beach since most places have beach servers.
$1350 USD on lodging
$100 USD on activities – I'm just adding because most people want to do whale watching. Overall there are a lot of free things to do in Puerto Vallarta and still explore the city. We have a comprehensive list of things to do in Puerto Vallarta in our travel guide.
The total was about $2450 USD a month for the two of us. We spent most of our money on condos and food/drinks. We stayed all over Puerto Vallarta but with confidence, I can say Zona Romantica is worth the higher costs because everything is at your doorstep and we had oceanfront views from our balcony.
Items per person (rounding up):
Coffee and Juices:
40-60 MXN / $2-3 USD – If you get juice from a stand you'll pay a lot less.
Breakfast:
90-160 MXN / $5-8 USD – This also depends on where you go. If you go somewhere locals go then you will see prices under 100 MXN
Lunch/Dinner:
100-300 MXN / $5-15 USD – Again, it really just depends on where you go. If you are trying to hit up all the best tacos in Puerto Vallarta you will only spend about 100 MXN for a meal. If you go to some nicer restaurants you will see the prices on the higher end. For example, our favorite fish taco place is 30-45 MXN per taco and on average I ate 3 tacos.
Drinks:
40-50 MXN / $2-2.5 USD for local beer, 150-200 / $7-10 USD for craft cocktails, and 100-120 MXN / $5-6 USD for beach margaritas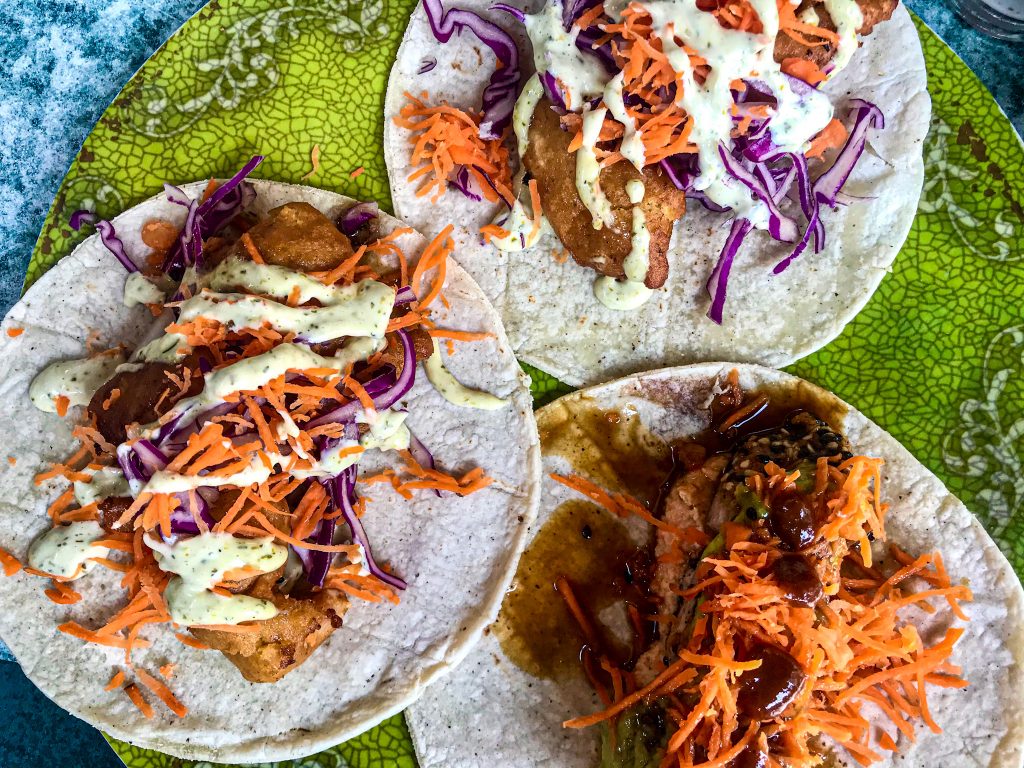 Day Trips/Tours:
The average day trips cost about 1000-2000 MXN / $50-100 USD depending on where you are going. Whale watching will be about $50 USD whereas taking a tour to Isla Marietas will be close to $100 USD.
Groceries and Market:
You can easily spend as little as 800 MXN / $40 USD a week per person.
Co-working spaces:
Day Passes are around 200 MXN / $10 USD. Weekly passes are around 1200-2000 MXN / $60-100 USD. Monthly passes are closer to 2000-3000 MXN / $100-150 USD. If you think you will want to go to a co-work most days and you will be in Puerto Vallarta for a month or more I would recommend just getting a month pass, you will save money in the long run.
Looking for the best laptop for Digital Nomads?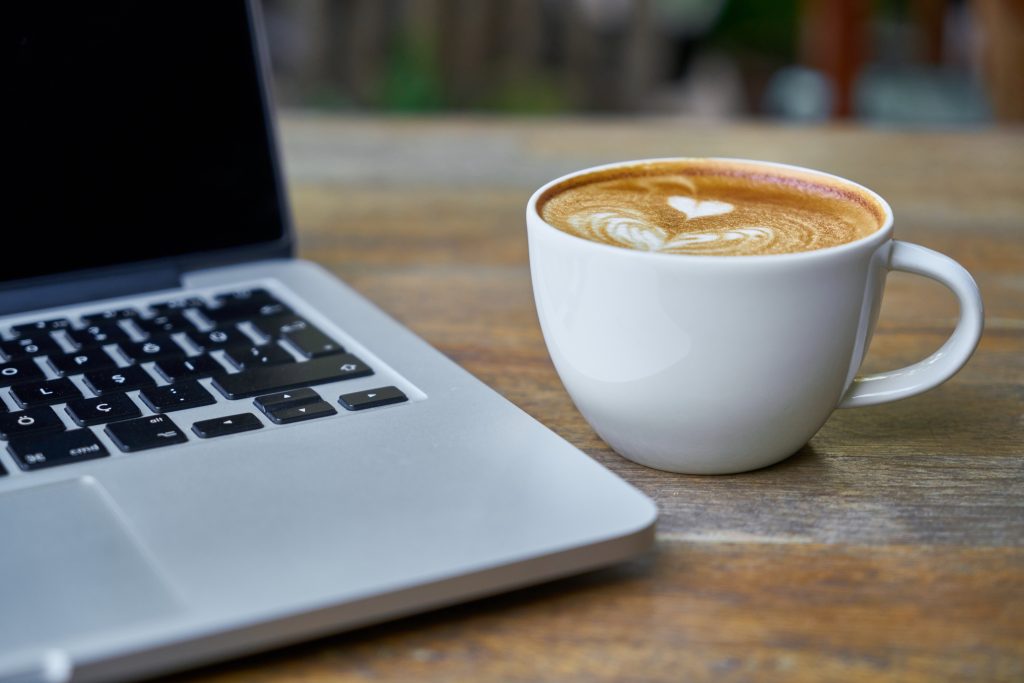 We all know our laptops are the most essential piece of equipment for working remote. Whether you are in need of an upgrade or you are looking to buy your first laptop – Check out our comprehensive laptop guide for digital nomads!
---
Lodging:
$500 – 2000 USD / 10,000 – 40,000 MXN per month for hostels, Airbnb, or hotels. The budget is so broad because it depends on what zone you want to stay in, how far away from the beach you are willing to stay, and how furnished the apartment may be. There are also some very nice condos and hotels in Puerto Vallarta if you want to live more lavishly. Obviously, you can spend even more than $2000 USD if that is what you prefer. We stayed at a couple of places in Centro for around $30 USD a night that was within walking distance to the beach and Zona Romantica but wasn't furnished very well.
We also stayed in one apartment that was a 10-minute Uber ride with traffic from Zona Romantica and the cost each night was $15 USD. We still had a beautiful view of the city and were in a quiet local neighborhood. We decided to leave there and find a place closer to Zona Romantica because we found ourselves in Zona Romantica every day so it only made sense to stay in the zone. Also, check out our Unique Hotels in Puerto Vallarta for our favorite spots in the city.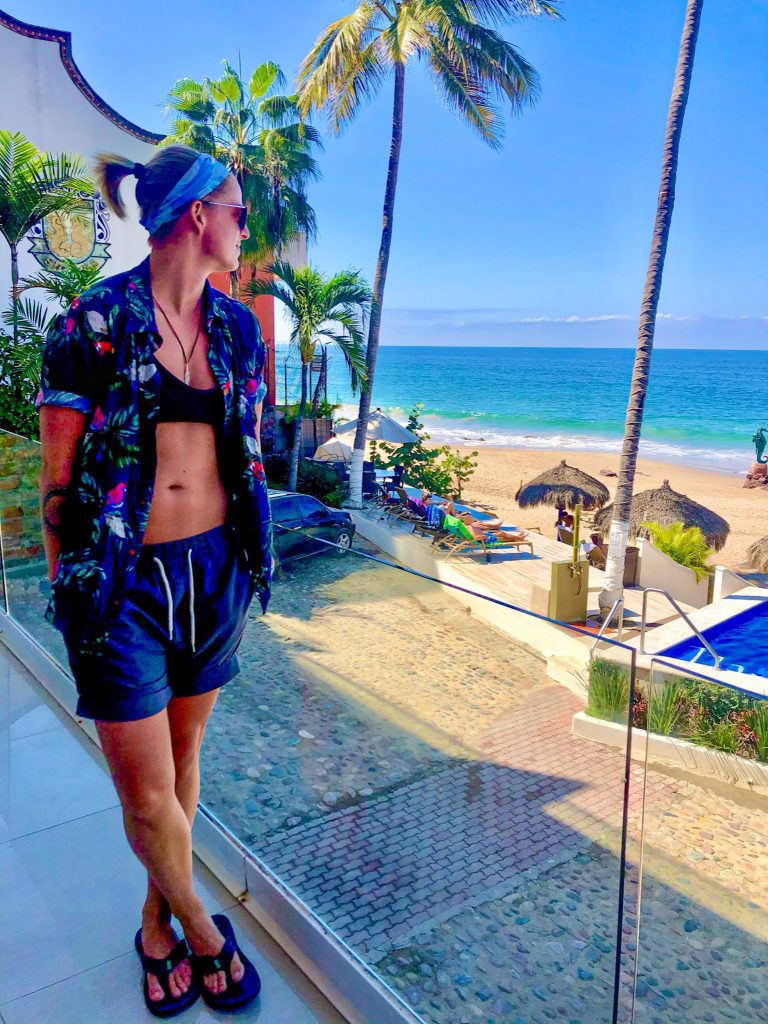 THINGS TO DO IN PUERTO VALLARTA
Puerto Vallarta is a beach town, but it also has a very active community. You can find beach yoga, whale watching, and more! During our stay, we discovered plenty of fun and unique things to do in Puerto Vallarta.
Whale watching
Visiting Puerto Vallarta between December to March means you have the opportunity to experience the migration of whales through the Puerto Vallarta waters. There are multiple companies that offer tours, be sure to choose one that is ethical. The option Courtney and I went with was a sailboat tour.
It was slow and relaxing and not crowded. Another option I do wish we would have explored was a fast boat that takes you right up to the whales, so you can see them breach right in front of you. They also have special technology that allows you to hear them communicating underwater.
Go on a local food tour
This is the fastest way to discover the local's favorite food spots while also enjoying a few drinks along the way. Court and I usually sign up for a food tour first when we arrive in a new city so we can get acclimated to the area. Check out this fun food tour.
Hike and explore off the beaten path beaches
While the main beach Playa de Los Muertos is fun, it's also exciting to explore beaches that require a little adventure. Check out our Hidden Gems Puerto Vallarta article on all the details about our favorite hidden beach around Puerto Vallarta. I've linked a fun day tour here.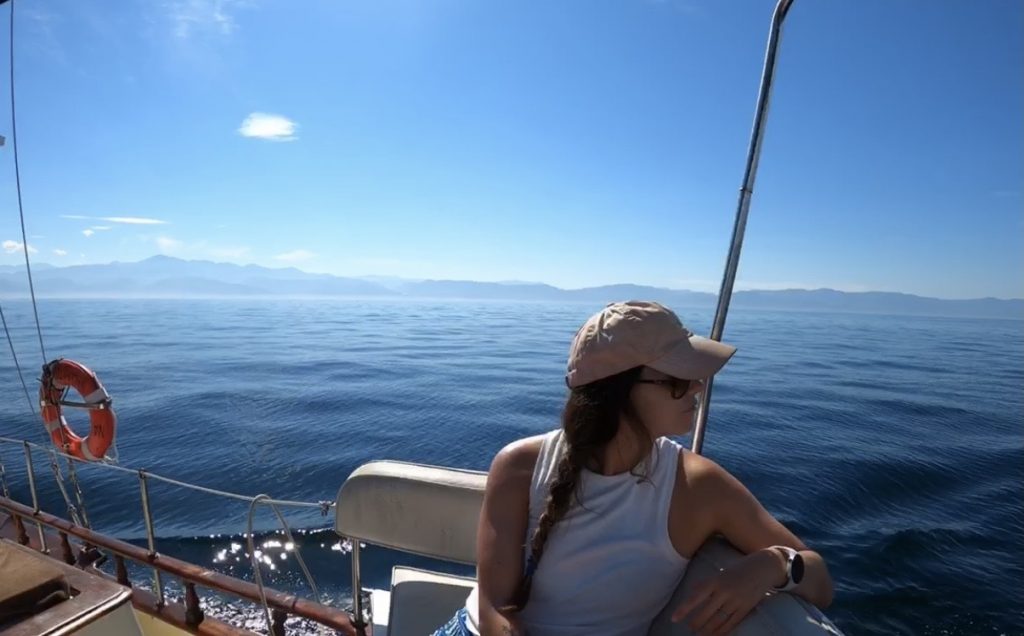 WHERE TO EAT IN PUERTO VALLARTA
We love food! This means while living in Puerto Vallarta for 4 months we spent a lot of time discovering the best places to eat in Puerto Vallarta! If you are a digital nomad on a budget we have listed some affordable places to eat.
PUERTO VALLARTA DIGITAL NOMAD LIVING: CO-WORKING SPACE
Puerto Vallarta has a more modern infrastructure compared to cities like Sayulita, which means they have faster internet! While most apartments or hotels have decent wifi, it's important to have coworking spaces in Puerto Vallarta with reliable wifi.
Vallarta Cowork: 100MB internet, AC, private meeting rooms, 3 phone booths, located in between downtown and old town, super close to the beach
Prices: weekly 1160 pesos/ week, monthly 2900 pesos/ month
Hours: 9 am-5 pm M-F, monthly members have a smart entry system that gives 24/7 access
Natureza Cowork: Located In the Versailles neighborhood, farther from downtown.
Prices: 50 pesos/ hour, 195 pesos/ day, 1,900 pesos/ month. They offer coffee, tea, water, and snacks like yogurt, fruit, bagels, and paninis. AC,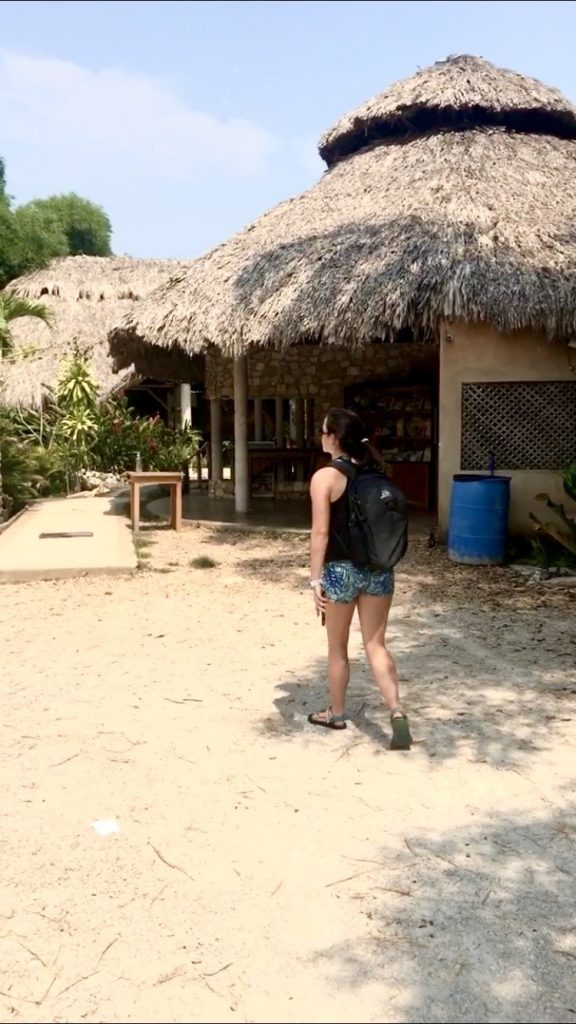 PUERTO VALLARTA DIGITAL NOMAD LIVING: WHERE TO STAY
We have an entire detailed article on Unique Hotels in Puerto Vallarta. Check it out for our top picks.
GETTING AROUND PUERTO VALLARTA
Overall, Puerto Vallarta is pretty walkable. Especially around El Centro, and Zona Romantica. If you find yourself tired of walking in the heat, grab an Uber. They are super cheap and we never had an issue snagging one pretty quickly. I wouldn't recommend renting a car here as there is very limited parking around town.
BEST TIME TO VISIT PUERTO VALLARTA
May through September are the hottest months, it's also the rainy season so expect some heavy showers each day. I am from South Carolina, which means I know humidity well, however, Puerto Vallarta is crazy humid. I found it difficult to enjoy the beach in the summer because it's just so hot and humid.
The most popular time (and pleasant) to visit Puerto Vallarta is in November-April. During this time you'll have the mildest weather and the least amount of rain.
Are you a digital nomad looking for the best backpack?
We know how important it is to make sure you have the right functional backpack on your travels to protect your electronics which is why we've made a comprehensive list of our favorite digital nomad backpacks. Check it out!
Like this Puerto Vallarta Digital Nomad Living Article? Check out our other related articles!
Like this Post? Pin it for later!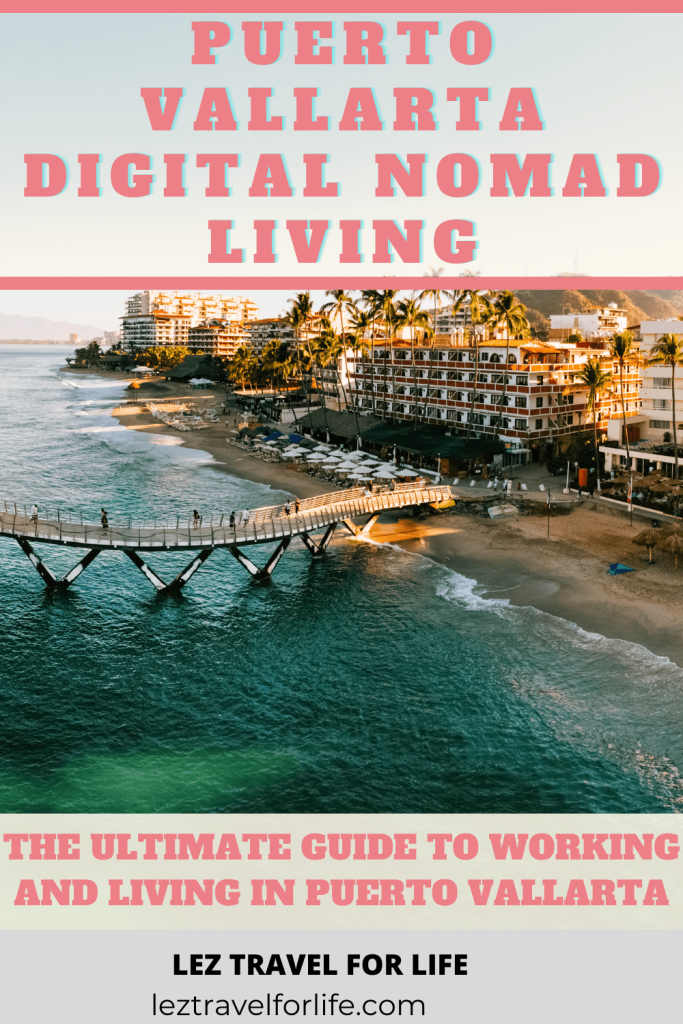 I'm Sam and I may only be 5'3 but I'm feisty and enjoy a lot of sarcastic humor. I'm addicted to travel as well as feeding and advocating for street animals in every country I travel to. I'm married to Courtney and we're super gay or whatevaaaa. We're both extroverts and love meeting new people everywhere we travel. We are in love with Latin American culture but can't wait to explore more of the world!