This article may contain affiliate/compensated links. For full information, please see our disclaimer here.
Reminder: Make sure to check the country's covid guidelines before travel.
Tulum is one of Mexico's most popular beach towns and an excellent choice for all types of travelers. Whether you like to enjoy a relaxing beach vacation, a fun trip with friends, or a couple's getaway, this Tulum Mexico Travel Itinerary will have all the information you need before you go.
Learn how to get around Tulum, where to stay, the best places to eat, and of course, the top things to do there. Don't forget to budget carefully when planning your trip. Tulum is definitely not as cheap as other places around Yucatan, such as Cancun or Merida, and you'll most likely spend a lot more than expected. Luckily, a place as beautiful as Tulum is well worth the extra pesos, and you'll have an unforgettable time.
HOW TO GET TO TULUM
Tulum does not have an official airport, and the majority of tourists choose to fly into Cancun and then take a transfer or public bus. As Mexico's second-largest airport, Cancun has plenty of flight connections available, and the drive south to Tulum is easily manageable. It will take around 1.5 to 2 hours, depending on the traffic, and will give you a chance to catch a glimpse of the beautiful shoreline and Mexican countryside on the way.
Some hotels in Tulum will offer to book the transfer for you, although there is almost always a charge. Expect to pay between $60 and $80 for a private taxi transfer if you book online in advance or closer to $100 if you choose a driver on arrival in Cancun.
Check out this Private Airport transfer from Cancun to Tulum
A more affordable option will be to take a colectivo, which are shared shuttle buses commonly used by locals. They are usually cramped, with no air conditioning but extremely affordable, costing only around $5 per person. The trip will, however, take more than twice as long, stopping along the way to pick up or drop off passengers.
A great compromise between an expensive taxi and a slow colectivo is the ADO bus. This is Mexico's long-distance bus system which will get you to Tulum comfortably and on a budget. For around $14 per person, you'll be dropped off in Tulum, and the journey will take just over two hours. You can book tickets online in advance or on arrival in Cancun.
TULUM MEXICO TRAVEL ITINERARY: GETTING AROUND
Tulum is split into two parts. The actual town, sometimes called the Pueblo, is where you'll find budget hotels, lots of local restaurants, and bars. Tulum Beach and the hotel zone lie around 3 miles away, with a long road connecting the two.
During your stay, you'll find yourself going back and forth between the two frequently, which might become tedious after a while. Luckily, there are several ways you can get around Tulum easily so you can enjoy both the beach and the town.
Renting a bike is a great way to explore Tulum. There are some bike paths available, and local drivers are used to sharing the roads with tourists on bikes. Expect to pay somewhere around $5 to $7 per bike per day, depending on how long you're renting it for. For an upcharge, you can also rent scooters or e-bikes, which will make riding around in the hot sun a lot more comfortable.
Of course, there is no shortage of taxis available in Tulum. However, prices tend to be high, and scams involving tourists are frequent so always be careful when choosing a driver. To get from the center of town to the beach, you'll most likely pay around $6; even more at night when taxi rates are high. Taking a taxi might be the most convenient option for getting around Tulum, but it's not very budget-friendly in the long run.
For trips outside of town to cenotes or Mayan ruins, you can look into taking colectivos or local buses. These will be very affordable and can take you almost anywhere that is of interest to tourists. Of course, there are also guided tours available for places like Chichen Itza, which will include transport.
TULUM MEXICO TRAVEL ITINERARY: WHERE TO STAY
As a rule of thumb, the "Pueblo" or the town of Tulum will be the most affordable place to stay in the area. This is where the majority of locals tend to live, and you'll find a good selection of budget-friendly hotels, at least compared to the beach.
The beach or hotel zone is actually a very long and narrow stretch of hotels, restaurants, and beach clubs, giving you plenty of choices. This is where you'll find upscale places and expensive resorts, although there are some mid-range options as well.
Here are some of the best picks:
Loba Tulum: Male-only hotel located close to el Pueblo in Tulum. A unique stay in the heart of Tulum with a pool and beautiful outdoor area.
Jashita Hotel Tulum: This luxury boutique hotel is located outside Tulum, close to the beach. Parts of the facilities are adults-only, and the hotel welcomes LGBTQ travelers.
Tuluna Tulum: Popular mid-priced hotel with double rooms or entire apartments. This secluded stay is located close to the town of Tulum and was recently updated.
Che Tulum Hostel: Lively budget hostel located in the heart of el Pueblo. Come here to find travel buddies and dance the night away in one of the many nearby bars.
TULUM MEXICO TRAVEL ITINERARY: THINGS TO DO
Explore the historic Tulum ruins
Tulum is world-famous for its Mayan ruins located right by the beach. Just a short drive from the center of town, you'll find this incredible 13th-century structure that overlooks the ocean. Just make sure to arrive early. This is one of the most popular tourist attractions and the area and the lines to get in can be very long during the day.
Try this affordable tour of the Tulum Ruins and skip the line!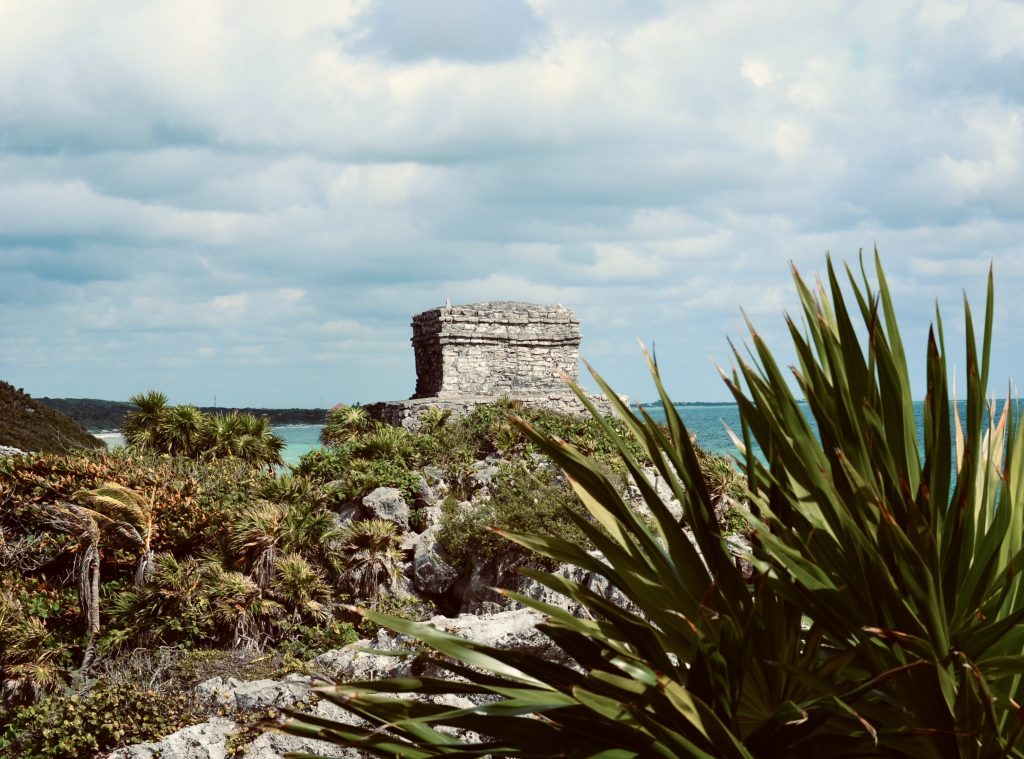 Spend the day at the beach
Most people come to Tulum for one main reason; to enjoy the picturesque white-sand beaches that this part of Yucatan is so well-known for. A complete Tulum itinerary should include at least one beach day, so hop in a taxi or rent a bike to spend some time at this incredible coastline.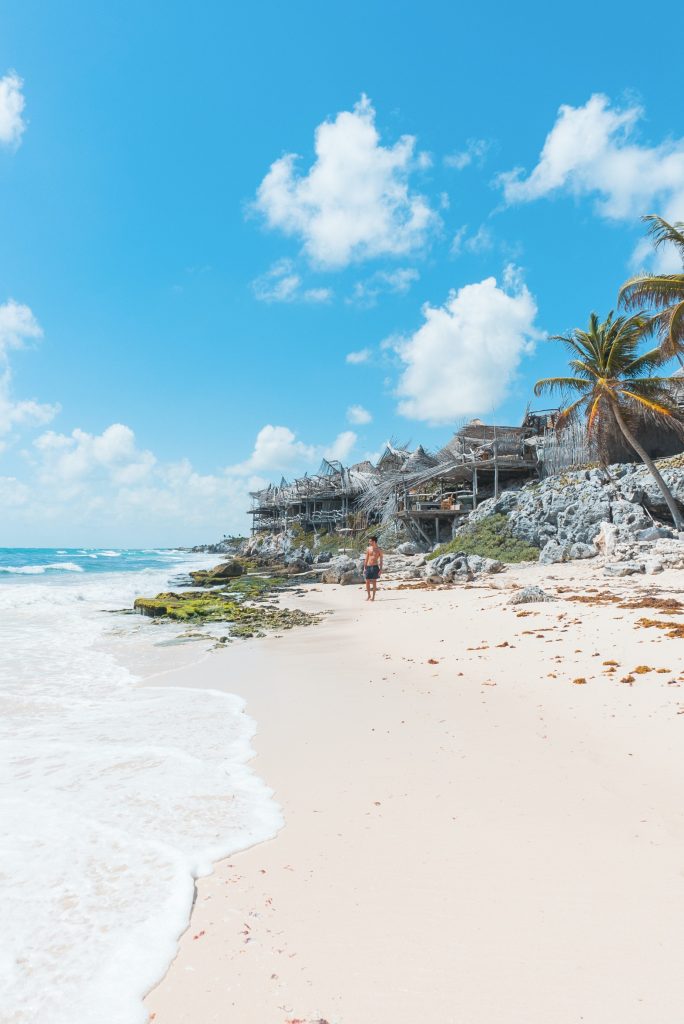 Discover the Sian Ka'an Biosphere
The Sian Ka'an Biosphere is a UNESCO World Heritage Site and a must-see when visiting Tulum. Covering more than 2000 square miles, this nature reserve is home to hundreds of different bird species as well as vast stretches of coastline.
Visit Tulum's best cenotes
There are thousands of cenotes to choose from in Yucatan, and Tulum is the perfect place to explore as many as possible. The Gran Cenote lies just a 10-minute car ride outside of town and makes for a perfect spot to go snorkeling and swimming on a hot day.
We suggest this tour to cenote Dos Ojos
Head to Yal-Ku Lagoon
Once you've had enough of the beach, you absolutely need to head to Yal-Ku Lagoon, which sits around 30-minutes north of Tulum. These crystal-clear waters are perfect for snorkeling and swimming and are actually the product of a large cenote flowing into the ocean. You can rent snorkeling gear on-site and enjoy seeing different species of fish and even turtles if you get lucky.
Spend the day at the Coba ruins
Dating back as far as 500 AD, the Coba ruins are one of the most significant Mayan structures in Yucatan. You can easily reach them by car in around an hour although there are plenty of tour companies offering day trips available. The entrance price is just $3 per person making this an affordable trip from Tulum.
Enjoy a day trip to Cancun
While Tulum has only become a hotspot for tourists in recent years, Cancun has been an established vacation town for much longer. If you haven't been here before, why not plan a day trip to Cancun, visiting the island of Isla Mujeres and getting to know the local Mexican culture. There is plenty to see and do in Cancun, and it will be a nice change from Tulum.
Try out this day tour that includes Cancun, Cenotes, and more!
Get your picture taken at the Ven a la Luz Sculpture
Tulum is incredibly Instagram-worthy and full of beautiful photo spots at every corner. The Ven a la Luz Sculpture might be one of the most famous in town and perhaps even worldwide. Coming here to get your picture taken is a must-do. Just make sure to arrive early. During mid-day, the lines will be extremely long, and you could be waiting for over an hour to finally get your turn.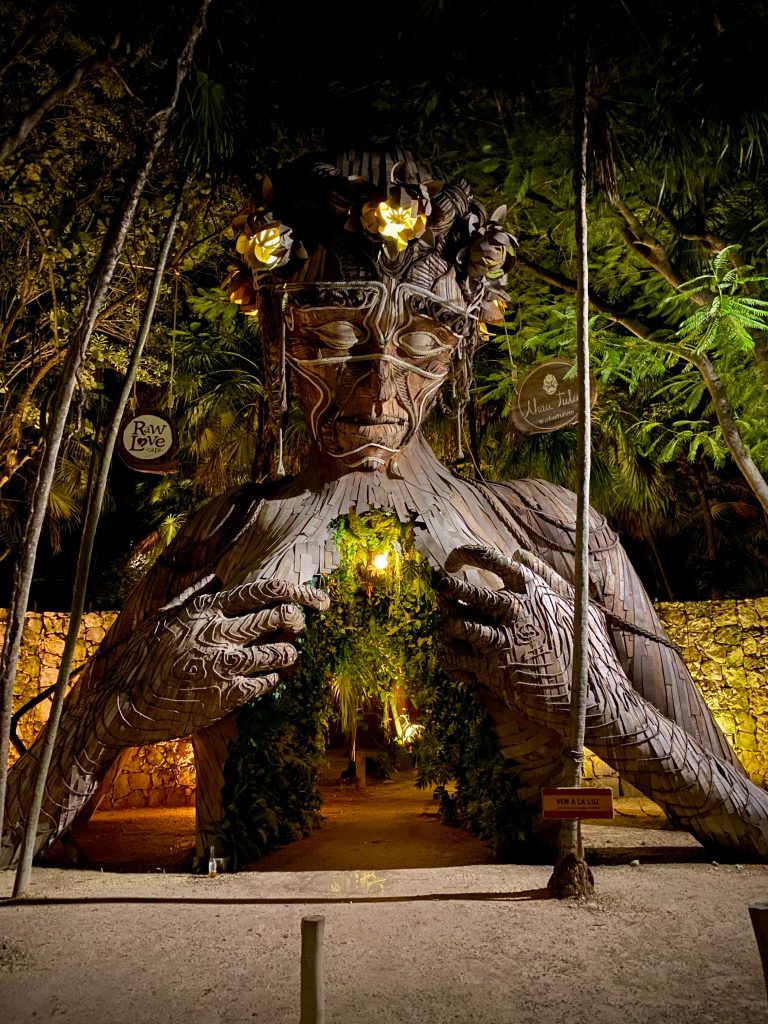 Rent a bike
If you haven't already, you need to rent a bike when visiting Tulum. Not only is this one of the best ways to get around in this beautiful beach town, but riding a bike along the beach is also incredibly fun and a great way to get to know the local area. Don't miss out and make a day trip out of it, exploring remote beaches and local restaurants along the way.
TULUM MEXICO TRAVEL INTERARY: WHERE TO EAT
Whether you're looking for a budget-friendly lunch or a romantic luxury dinner, there is something for everyone in Tulum. Here are some of the top choices:
El Cayuco Tulum:
Incredible seafood restaurant with a large selection of delicious dishes to choose from. Their specialty is different crab dishes, and prices are reasonable considering the quality of the food.
Lilith Tulum:
Romantic French restaurant with delicious fusion dishes and a unique atmosphere. Somewhat of a top tip for couples looking for a night to themselves.
Antojitos La Chiapaneca:
Affordable neighborhood restaurant with Mexican specialties and excellent service. The perfect spot to grab dinner before a big night out in Tulum.
TULUM MEXICO TRAVEL ITINERARY: NIGHTLIFE
Tulum is known for its nightlife which takes place in both the center of town as well as along the beach. The beach is definitely more expensive and upscale, while you'll find more local and affordable places in the town of Tulum.
There are some bigger clubs as well as more laid-back bars, which are perfect for grabbing cocktails in the evenings. A variety of beach clubs along the coast have live music or DJs in the evenings giving you plenty of opportunities to go dancing or sip a drink close to the ocean.
Casa Jaguar:
A restaurant during the day, this fantastic venue turns into a club every Thursday when they host their notorious jungle parties. With international DJs performing and smaller parties hosted during the week, Casa Jaguar is an absolute must-do when in Tulum.
Papaya Playa Project:
Saturday nights at Papaya Playa Project are a once-in-a-lifetime experience for those looking for wild parties in Tulum. Keep an eye on the lunar calendar during your time in the area. Full moon parties at this bar are even more lively than other nights and will be absolutely unforgettable.
La Zebra Hotel:
With so many parties to choose from, you might be looking for a more calm experience on Sundays. La Zebra Hotel hosts weekly salsa dancing nights with free lessons between 6:30 and 7:30 pm on Sundays. Admission is free, and if you've never tried dancing before, this is your chance.
4 DAYS IN TULUM ITINERARY
Day 1 Arrive in Tulum and watch the sunset at the beach
After making the journey to Tulum, you'll want to get a first impression of this beautiful place. Head to the beach and have a cocktail while enjoying the sunset. If you're up for it, you can go to a local club or just head home for an early night.
Day 2 Explore the local cenotes and Yal-Ku Lagoon
On your first full day in Tulum, go to explore the Gran Cenote or the Cenote Azul for some snorkeling and swimming. Afterward, head to Yal-Ku Lagoon to relax in the afternoon sun and swim again if you feel like it. Have a romantic dinner in the evening and cocktails by the beach.
Day 3 Head to the Coba ruins and go to a beach party
Today you're exploring the famous Coba ruins and getting to know the historical culture of Yucatan. Cool down in the beautiful blue waves at Tulum beach and get to dinner just in time for sunset.
Day 4 Explore the Tulum ruins and the Sian Ka'an Biosphere
On your final day in Tulum, you're visiting the famous Mayan ruins by the beach early in the morning to avoid the crowds. After a quick lunch in a local restaurant, head to Sian Ka'an Biosphere to see some native animals and take photos. On your last night, go out for dinner and salsa dancing one last time.
HIDDEN GEMS OF TULUM
Want more adventure? Check out our Hidden Gems of Tulum article on more fun, off-the-beaten-path things to do in Tulum Mexico.
WHAT TO PACK FOR TULUM
Tulum is known for fabulous weather year-round, good news is we have done the work of figuring out what to pack already! Check out our Tulum Packing List for everything to pack for Tulum!
Like this Tulum Mexico Travel Itinerary? Check out our other related articles!
Like this Tulum Mexico Travel Itinerary? Pin it for later!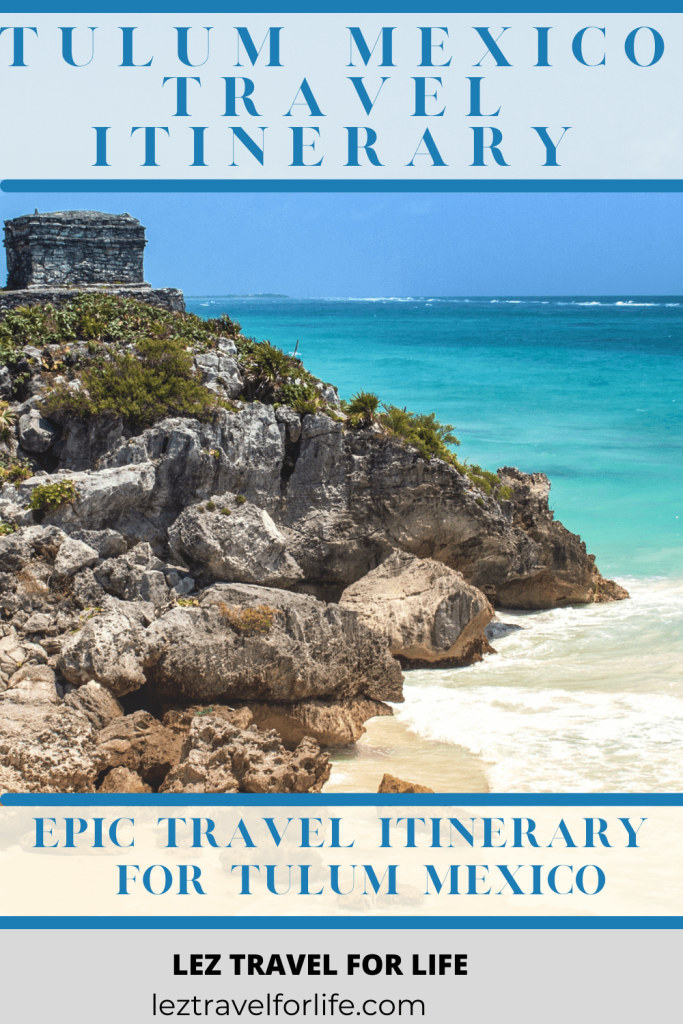 I'm Sam and I may only be 5'3 but I'm feisty and enjoy a lot of sarcastic humor. I'm addicted to travel as well as feeding and advocating for street animals in every country I travel to. I'm married to Courtney and we're super gay or whatevaaaa. We're both extroverts and love meeting new people everywhere we travel. We are in love with Latin American culture but can't wait to explore more of the world!