This article may contain affiliate/compensated links. For full information, please see our disclaimer here.
Reminder: Make sure to check the country's covid guidelines before travel.
CHIAPAS MEXICO TRAVEL ITINERARY
Chiapas Mexico has a lot to offer. It's hard to explain it through writing and actually do this beautiful state justice. It's the southernmost Mexican state and is also the poorest state in Mexico. So why is it so special? Why should I leave my comfy resort in Cancun and head to a place that seems so off the grid and rugged? I will tell you why you should ditch the resort for the jungle in this Chiapas Mexico Travel Itinerary.
This place isn't just special for adventurous travelers who enjoy taking risks and visiting places that most other people don't care to go. It is a state where you can immerse yourself in a culture that has been untainted by over-tourism. It is raw but welcoming. Its people are poor but they are rich in their culture. It has mountains, beaches, waterfalls, jungles, monkeys, delicious coffee, and welcoming locals.
What to expect from this Chiapas Mexico Travel Itinerary
This Chiapas Mexico travel itinerary will equip you with everything you need to have an amazing time in this incredible state. So how long should you stay in Chiapas? Some say 10-12 days are enough but Courtney and I think 3-4 weeks is the perfect amount of time to see everything you want to see. Feel free to adjust this itinerary to your travel needs!
We think 3 weeks is the perfect amount of time to spend in Chiapas so you can slow your travel down and enjoy each location rather than rushing quickly between places. Courtney and I lived in Chiapas for a month and we tried out slow travel and rushing between places so we feel we have the experience to help you plan your perfect Chiapas Mexico travel itinerary.
The beauty of Chiapas lies in its uniqueness. You can start your day in a colorful colonial city sipping coffee and finish the day and an ancient Mayan ruin deep in the jungle. There are tons of things to do in Chiapas. Tour companies, rental cars, buses, there are plenty of ways to get around!
CHIAPAS MEXICO TRAVEL ITINERARY: EXPLORING SAN CRISTOBAL DE LAS CASAS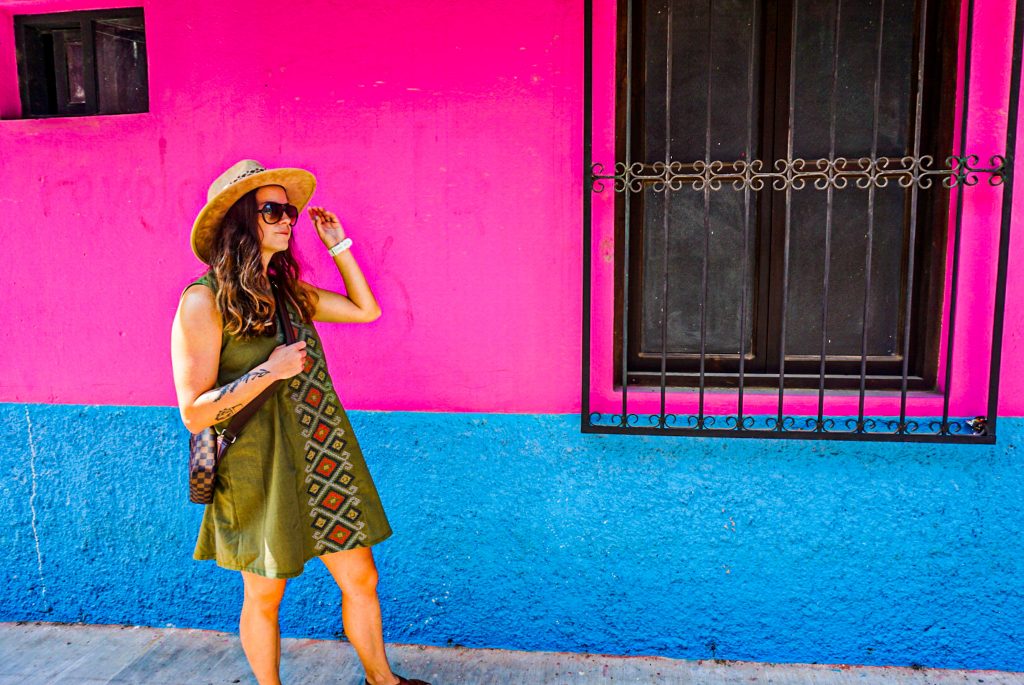 First, you will arrive in Tuxtla at the Tuxtla Gutierrez Airport. Next, you need to make your way to San Cristobal de las Casas
San Cristobal is one of the most visited cities in Chiapas. It's pretty simple, this place is just plain adorable. Every street is lined with colorful colonial buildings. Fruit and flower markets on every corner. Murals with important messages regarding human rights in Chiapas were painted delicately by passionate locals. It has a Spanish feel with cobblestone streets and beautiful churches.
San Cristobal also has a very large indigenous culture. My favorite thing to do was get up early and walk around town drinking coffee and observing the different types of clothing, artisan goods, and political voice this unique group has created. It's a very relaxed city, it makes me think of what it would be like to be a hippie in the '70s, but in Mexico. Visitors are often seen listening to or playing music at night while sipping wine or enjoying a meal. You won't find police patrolling the streets but it's all oddly peaceful.
We stayed in San Cristobal for a month. Check out our Unique Hotels in San Cristobal de Las Casas for our favorite places to stay in this colorful city!
Must do's in San Cristobal de las Casas
Free walking tour! Check out our friend and local artist's Instagram little.eyes.alien for information on the tour! This was the best way for us to make new friends and learn more about the activities and culture in the area.
Drink 18 peso wine and eat tapas at el vino de Bacco.
Shop at the markets! I know you may not be in the market for another hat with a feather BUT at least go and check it out. It's busy and kind of overwhelming which is why it is so exciting. There are tons of street vendors selling food, locals getting their hustle on, and some cool stuff to buy. Overall it's a fun way to spend an afternoon.
Try pox (pronounced posh). It's an alcohol that is grown and manufactured in the mountains of Chiapas and it's delicious! We are really sad we didn't buy some for the road.
Visit El Arcotete Ecotourism park: You can climb through caves, enjoy a picnic, and hike around in the forest. This is a relaxing way to get away from the city and it's a quick 20-minute drive from downtown.
We suggest you spend 2-3 days in San Cristobal de las Cases! If you are short on time 1-2 is perfect. OR you can use this city as a base and take day trips from here to the different places we talk about!
CHIAPAS MEXICO TRAVEL ITINERARY: HIKE AND ENJOY CHIAPAS WATERFALLS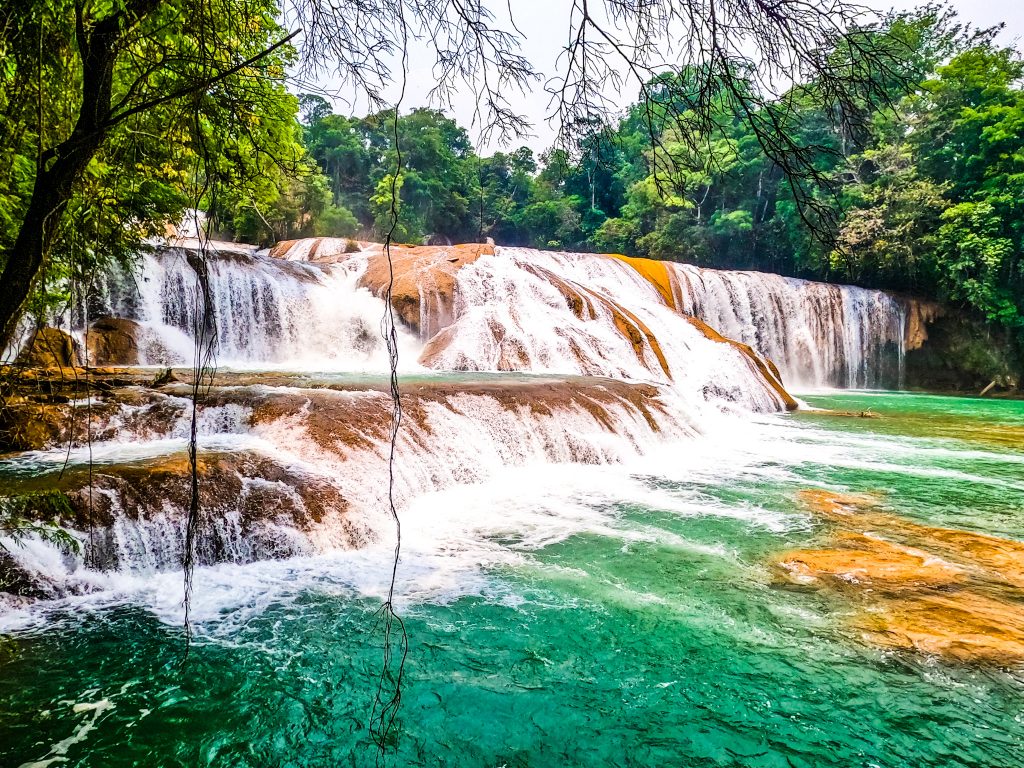 This is the magical stuff. Chiapas is home to several different waterfalls, and they are all dreamy. Most people take organized tours that can be purchased in San Cristobal de las Casas. We decided to take a private tour which was more expensive than a group tour but we had our dog Hughie with us and honestly, we just wanted our privacy.
Typically, people visit Agua Azul and Misol-Ha together either on the way to or coming back from Palenque. They are an hour apart from each other and both have their own unique version of beauty. Personally, if we could go back and choose which waterfalls to go to again we would skip Agua Azul for a few different reasons.
First, the drive-up is rough. Courtney and Hughie both threw up. The roads are very curvy and winding. We highly recommend you take Dramamine. Second, when we survived the drive we arrived and found that this is one of the most popular waterfalls in Chiapas which means it had been built up quite a bit. The waterfall was lined with tented markets and restaurants which obstructed the view and took away the relaxing atmosphere we were hoping for.
We definitely think you should spare 2-3 days for waterfalls and Palenque if you choose to do a tour, this way you aren't completely rushed at each spot.
Misol-Ha was refreshing as it was easy to access from the entrance, and we got there around 10 a.m. so we were the only ones there. This was perfect even though Courtney was super sick with food poisoning and dealing with bad roads. It's the perfect place to swim and enjoy the fact that all around you is the jungle and mountains. We highly suggest visiting Misol-Ha and taking your time here if you can!
Next is Roberto Barrios. This one is still gaining popularity which means you may get lucky and have this place all to yourself. It's a little more out of the way but is 100% worth the visit. Courtney and I planned a tour to Yaxchilan ruins and were supposed to visit here as well but I ended up super worn out from the heat (I'll give you some advice on that later).
CHIAPAS MEXICO TRAVEL ITINERARY: DISCOVER THE MAGIC OF THE PALENQUE RUINS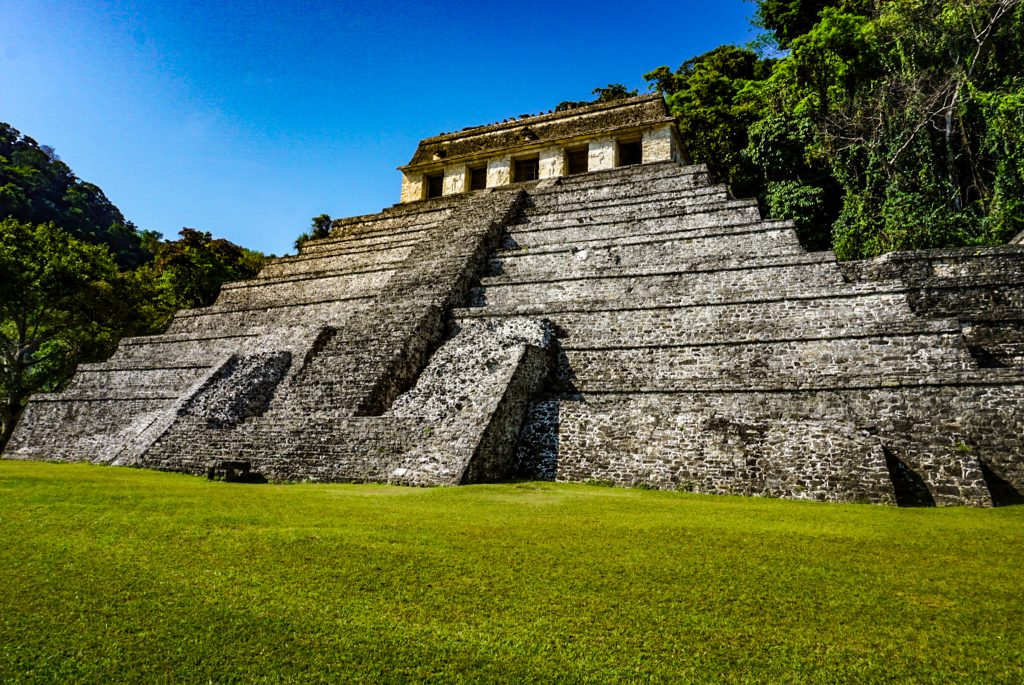 We had never heard of Palenque until we came to Chiapas, however, it is known as one of the most popular archaeological ruins in Mexico. We decided to take a 3 day trip from San Cristobal to Palenque and stop at Agua Azul and Misol-Ha on the way. HEED OUR WARNINGS: It is VERY beautiful in Palenque but it is very hot and rural. Meaning the roads are quiet with little to no restaurants or stores around. There is a shuttle that comes by every 30 minutes and is cheap BUT that is about it. You can get a taxi and get their number on WhatsApp and use them later which is what we did.
Once you're in Palenque what to do?
Once we arrived in Palenque we were met with a crazy amount of humidity and suffocating heat. We had booked an Airbnb with no AC. What were we thinking? It was on the top floor AND it was a tin roof. We immediately started looking for hotels with AC. We got lucky and found one nearby and quickly moved. Be sure to book a hotel with AC AND that offers meals. We found this to be difficult as well. Our hotel was not offering its usual breakfast or lunch menu because of Covid so we had to eat at a restaurant next door that was NOT good. Not only was the food tasteless but they kept a monkey in a cage illegally.
Okay, so when am I going to get to the positives? Now! The entire reason you are here is to walk around the incredibly preserved Mayans at Palenque. You can taxi or take the local shuttle to Palenque in the morning, as early as you can because it's usually 100-110 degrees here daily. This place is absolutely beautiful and we suggest you book a guide so they can explain the incredibly complex history of this place and how it ties into the local indigenous culture now in Mexico.
We left Hughie at the hotel for this one, dogs are not allowed in Archaeological sites in Mexico. We suggest 2 days in Palenque so you have time to relax and explore the ruins. Want more? Check out our Tips on Exploring Palenque Chiapas guide for all the details!
CHIAPAS MEXICO TRAVEL ITINERARY: VISIT SUMIDERO CANYON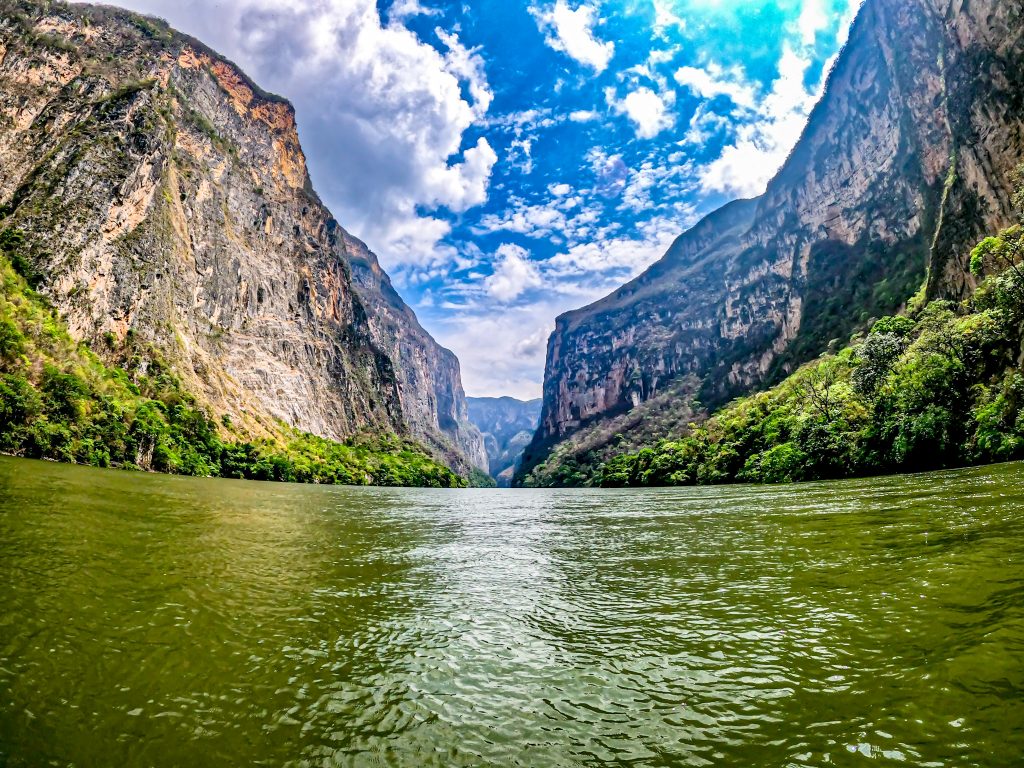 We tried to tell you that Chiapas has it all! There is a HUGE canyon located outside of Chiapa de Corzo which is an hour from San Cristobal de las Casas. It has been compared to the Grand Canyon in the United States. The canyon itself tours to over 1000 meters! You can take a boat tour which leaves daily and actually go through the canyon or you can walk around the national park which surrounds Sumidero Canyon and catch the views from the top.
Sounds magical right? Yes and no. I like to give you guys the real scoop so you don't go into this day expecting it to be picture perfect. We went on the earliest tour which was 10 a.m. and it was already VERY hot. We were really smart humans and did not wear sunscreen or hats. We fried baby, we fried. Not to mention outside of frying on a boat, they cram the boat FULL. You cannot move, and people are drinking and constantly trying to sit in the front for selfies. We realized quickly that this would not be a relaxing tour.
Overall, if we could do it again we probably would just go to the national park and walk around versus actually booking a boat tour. It ended up being over 2 hours long with no bathroom and direct sunlight. Also, we left our dog at the hotel for this one.
EL CHIFLON WATERFALLS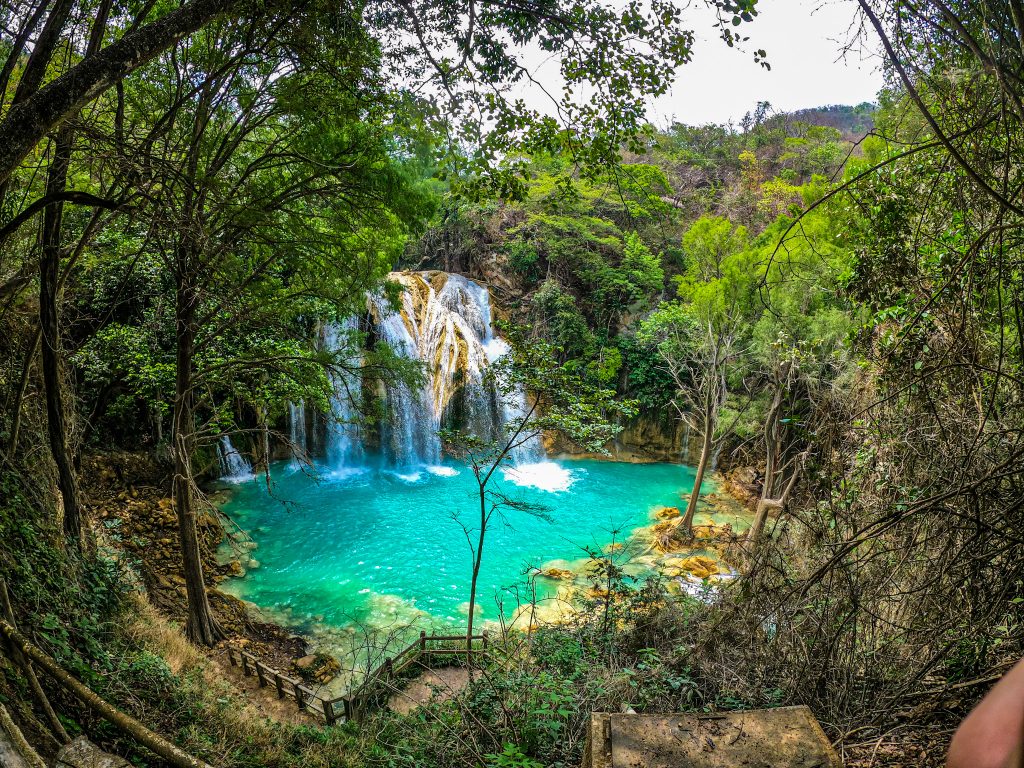 Courtney and I have traveled to many countries, and seen some incredible waterfalls like the ones in Costa Rica but there is something incredibly special about El Chiflon. I'm not sure if it was the beautiful drive where we were surrounded by countryside, or rolling up to the entrance and realizing a family owned this land and ran a small business for visitors including restaurants and cabins that you can rent for a night. Or the fact that there were FIVE waterfalls we could explore! It all just felt so welcoming. Our driver was super relaxed and hung out at the restaurant while we hiked.
The entrance fee is $2 or 50 pesos. You can take a tour from San Cristobal or you can rent a car and stay the night here. We took a tour so that we could also visit Lagos de Colon as well (I'll tell you all about it). We felt rushed because the drive alone took 2.5 hours and when we arrived we ate breakfast and started our hike. The hike is enjoyable with the beautiful blue water right next to you.
Lets hike!
Once you start the hike you can go towards the left or the right. The trail on the right side actually has a zip line you can use to go back down! We had our dog with us and decided that would not be responsible hahah! We hiked up the left and enjoyed paved sidewalks and steps until we were met with a local and sign that said pay 50 pesos to go to the top of the falls. This nice man did not prepare us for the straight uphill 15-minute hike that awaited us. You would have thought we were dying, but no, just unprepared.
We looked like two lost white girls with a dog in a bag wearing TEVAS. We made it to the top, barely, and reaped the benefits of the views and cool freshwater that was crashing into the beautiful blue water in front of us. You can't swim here because of the power of the water but you can enjoy the view and relax. We didn't have much time to relax before having to hike back down but it is seriously worth it! We suggest 2 days for El Chiflon and visiting the lakes (see below).
SWIM IN LAGOS DE COLON
After exploring El Chiflon waterfalls we hopped back in the car and headed towards the border of Guatemala to the countryside. Where were the tourists? Where were the cars lined up to pay entrance fees? It was just us and some locals listening to music, enjoying some beers, and swimming happily. We paid a small entrance fee and drove over an overflowing part of the lakes and stopped in a parking lot.
We hopped out and swam in some incredibly clear blue waters with curious but perplexed locals. We felt like we were in the middle of a cornfield but with GORGEOUS water all around us. There was even a cenote you could explore and swim around in. This is the perfect place to pack some lunch, beer, and rent a kayak and swim around. You can also visit the small pyramids that are here as well! We didn't get lucky enough to see it because of covid restrictions.
Usually, when people read about different places to visit in Chiapas it is suggested that you go to Lagos de Montebello. Signs scattered all over San Cristobal with tour companies urging you to visit, we decided to skip it. Why? Well, we heard from a lot of people who visited that you can't really swim in the lakes, and if you want to explore different areas (there are over 50 different lakes) you have to take a boat and pay a fee for each individual lake. Everything is heavily monitored because of its rising popularity. We decided to go off the beaten path and we couldn't have been happier!
VISIT LAGOS DE MONTEBELLO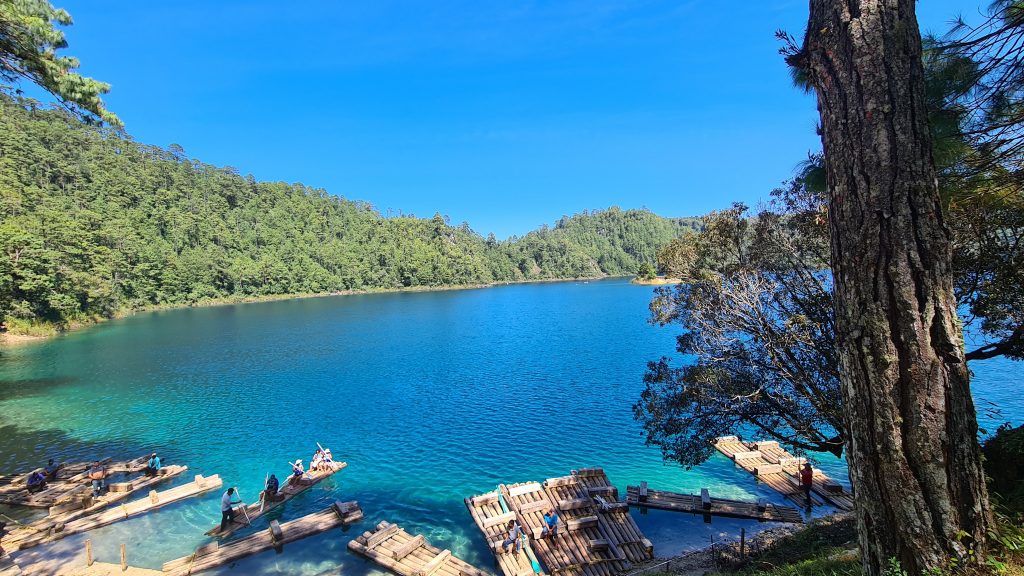 While we prefer the peace and tranquility of Lagos de Colon, we can't skip out on telling you about Montebello Lakes National Park which has over 50 lakes! Each lake during the dry season has an incredible blue color because of the various mineral contents that contribute to its beauty. This lake is also located near the Guatemalan border.
10 of the lakes are open to the public. Lago Tziscao is a large lake that is available for swimming and camping. Lago Internacional is a lake where you can stand inside Guatemala without having to worry about flashing your passport! Lago Pojoj is where you'll see the wooden rafts that take you to an island!
Many of the lakes are open to swimming and kayaking but know that you will have to pay a fee to take a raft from one lake to another. If San Cristobal is your home base then you could potentially lump in Lagos de Montebello and El Chiflon waterfalls in one day. We decided to skip Lagos de Montebello and combine El Chiflon and Lagos de Colon.
Ideally, you could spend 1-2 days here If we could do it again we would have spent the night at El Chiflon and gone to the lakes the next day and then ventured back to San Cristobal.
EXPERIENCE SAN JUAN CHAMULA: ANIMAL SACRIFICE?
Okay, I'm a die-hard animal lover so hearing about this indigenous village had me interested. This town is famous for its indigenous population that practices a mixture of modern-day catholicism and ancient traditions. If you visit the church know you can't take any pictures but you will see chicken sacrifices, loud chanting, and people drinking a cup of something that will apparently get the demons out!
This is an interesting way to spend a day away from San Cristobal and really learn how there are so many different ways that the indigenous people live in today's society.
YAXCHILAN AND BONAMPAK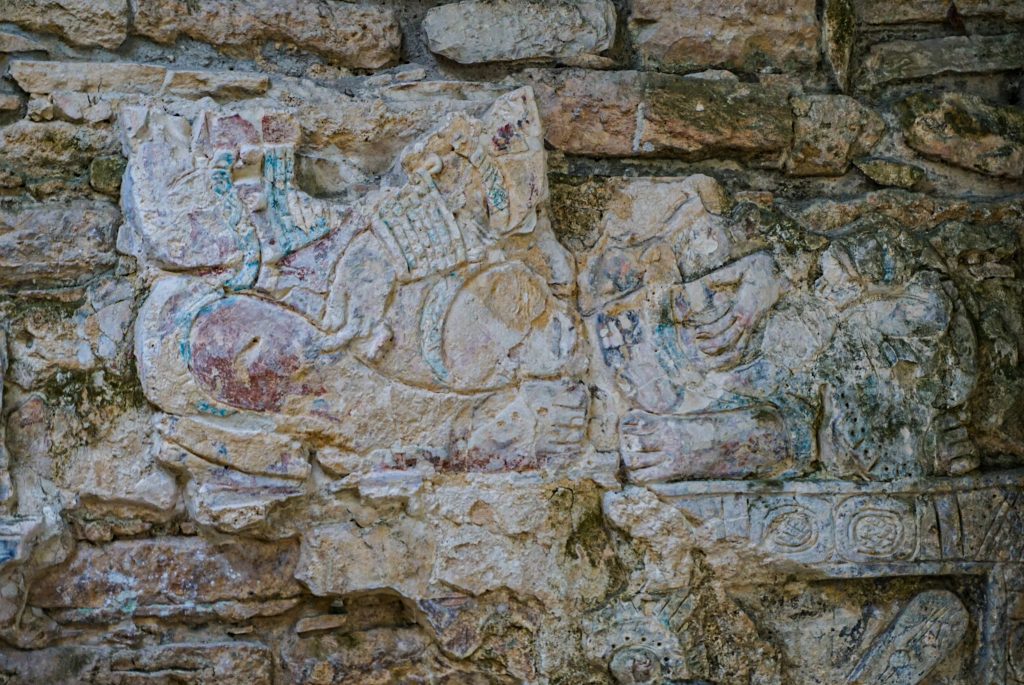 These two locations are reason number 1 for wanting to have more time in Chiapas. These two places are something that you would see in an Indiana Jones movie. Yaxchilan is Mayan ruins that are tucked away in the jungle that lines the border of Mexico and Guatemala. What makes this one so special? It's still surrounded by villages with indigenous people who speak Mayan.
To visit you take a 3-hour car ride from San Cristobal down to the border of Guatemala. Next, you hop on a boat and continue the journey deep into the jungle. We decided to hire a tour guide who was a native Mayan speaker. He spoke English, Spanish, and Mayan. Once we arrived at the site we were greeted by structures that are still standing in the same position, some even still have color to their structures!
After you finish your visit at Yaxchilan you drive an hour to Bonampak, which is known for its murals which were painted by Mayans thousands of years ago. There are options for small eco-hotels near Bonampak but we decided just to drive back to San Cristobal.
RAPPEL TO THE WORLDS LARGEST NATURAL ARCH: EL ARCO DEL TIEMPO
We were looking forward to visiting El Arco del Tiempo so much when we were visiting Chiapas but due to covid restrictions at the time, it was closed. This place is a few hours from San Cristobal and you'll need to be ready for an adventure. Back to the jungle, you will start by hiking for several hours and then rappelling down the canyon into a river below. Once you make it here you can set up camp beneath the arch and enjoy being surrounded by the beauty of the jungle.
If you decide to visit El Arco del Tiempo you will want to spend 1-2 days here and add El Aguacero to your itinerary as well! It is another beautiful waterfall also surrounded by jungle.
HIKE A VOLCANO INTO GUATEMALA
From waterfalls, jungle, and ancient ruins why not add on an active volcano you can hike to your Chiapas Mexico travel itinerary? Volcan Tacana is on the border of Mexico and Guatemala. If you start your hiking journey in Mexico you can experience what's considered some of the best hiking in Central America and finish in Guatemala! I suggest you give yourself 2-3 days to adjust to the altitude. Book a tour here!
CHIAPAS MEXICO TRAVEL ITINERARY: SAFETY IN CHIAPAS
We want you to feel as safe as possible while you visit Chiapas. While it is known as the poorest state in Mexico, it's nothing to be afraid of. How will that impact your safety as a visitor? Overall, it is very safe to travel around in Chiapas. We suggest you exercise common sense not just in Chiapas but while traveling all around Mexico. For example, not traveling at night, and don't travel alone. Don't wear flashy or expensive-looking jewelry or clothing.
This state is unique in many ways, but speed bumps? Yes, they are called 'topes' they are REALLY annoying and frequent during drives to Palenque. Essentially citizens of a village can just get some concrete and make their own tope if they want you to slow down in front of their house or store. You will find children holding ropes to stop your car, they will try and aggressively sell you something. The best practice is to give them 20 pesos or attempt to keep driving through.
Beyond the annoying topes that slow your trip down, you may find yourself at a checkpoint that isn't run by the police. That's because independent political groups may stop cars and ask for money. Don't worry though, these roadblocks aren't permanent and they are simply a way to take payment. Keep cash with you while driving, if you are the one driving have small bills handy like 20 pesos and 50's in pesos. We only had to pay once during our 4 weeks in Chiapas and it was very quick.
CHIAPAS MEXICO TRAVEL ITINERARY: WHAT TO PACK
We suggest you pack a sweater, pants, socks, good hiking shoes or tennis shoes. San Cristobal can get hot during the day so also pack shorts, T-shirts, sandals, and sunscreen. Check out our Mexico Packing List for everything you need and our favorites from our trip!
Interested in other Mexico Related Articles? Check these out!
Like this Post? Pin it for later!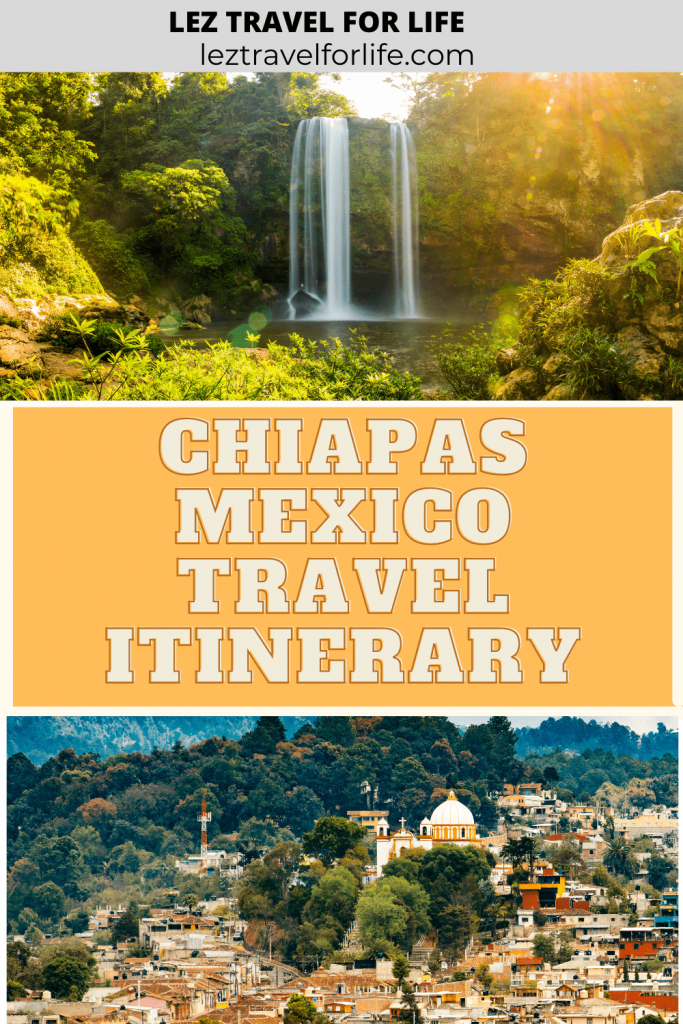 I'm Sam and I may only be 5'3 but I'm feisty and enjoy a lot of sarcastic humor. I'm addicted to travel as well as feeding and advocating for street animals in every country I travel to. I'm married to Courtney and we're super gay or whatevaaaa. We're both extroverts and love meeting new people everywhere we travel. We are in love with Latin American culture but can't wait to explore more of the world!