This article may contain affiliate/compensated links. For full information, please see our disclaimer here.
Reminder: Make sure to check the country's covid guidelines before travel.
Puerto Vallarta is a small town with a big city feel, it has the best of both worlds. Meaning, you can find the best street tacos you've ever had by simply following the locals to the vendors on the street that have lines 30 people deep. Or, you can enjoy a 5-star romantic meal on the beach. New restaurants, bars, and clubs open frequently which means there is always something new to try. in this guide to the best restaurants in Puerto Vallarta Mexico we will reveal our top picks on where to eat, drink and be merry in Puerto Vallarta Mexico.
My wife Courtney and I decided to buy a ticket to Puerto Vallarta after leaving Mexico City and we had no idea what to expect. Little did we know we were going to hit the jackpot. Puerto Vallarta is an LGBTQ vacation paradise while also holding true to its Mexican culture, and what is the best way to get to the heart of a country's culture? FOOD. If you come during May-June you'll be able to experience Puerto Vallarta restaurant week! In the last few years, so many of the best restaurants in Puerto Vallarta have popped up, serving up a variety of cocktails, traditional Mexican cuisine, tacos, craft beer, seafood, and so much more!
Courtney and I decided to take on the challenge of eating and drinking at as many places as possible in the 4 months we lived in Puerto Vallarta so we could report back to you ALL the goods. Out of all the amazing places we highlight we'll show you the two best-hidden gem restaurants in Puerto Vallarta that you must try. Not only is it fun to eat in Puerto Vallarta but there are tons of other exciting things to do in this beach paradise, read more here in our Puerto Vallarta Travel Guide. Puerto Vallarta isn't just another Mexican beach town where all you see are cruise ships and high-rise hotels (it has those too) BUT the main difference is it is affordable. So many ex-pats come here to work, retire, or simply live up the beach life for a few months as it's pretty easy to find an affordable place to stay.
So, let's dive into our list of the best restaurants in Puerto Vallarta.
BEST RESTAURANTS IN PUERTO VALLARTA: BREAKFAST AND BRUNCH
1. Coco's Kitchen
In the heart of Puerto Vallarta's 'gay zone,' yes I said it! Read more on it here in our gay Puerto Vallarta guide Zona Romantica is Coco's kitchen. We met a lot of travelers that would eat here every single day! This was our go-to restaurant for brunch or if we were desperately trying to cure a hangover. No matter the reason, the staff is extremely friendly and you're only a street away from the beach! Prices are reasonable and they have healthy options as well as nonhealthy options like their hashbrowns can I get a yazzz queen.
Hours: 7 days a week from 8-3 PM
Location: Zona Romantica
Come early if you don't want to wait
2. Fredy's Toucan
Courtney and I were hot, hungover, and desperate for a delicious breakfast. Luckily, everyone we have come across knows about Fredy's Toucan. It's another extremely popular breakfast and brunch spot for the other desperate souls seeking to cure a hangover or have one by 5 pm. Don't be intimidated by the line or how packed it may be, the staff knows how to hustle so you won't be waiting for long.
If you're looking for an authentic Mexican hangover dish for breakfast then you'll have to try their legendary Campesino breakfast which is red chilaquiles with beef or eggs and refried beans. Of course, the portions are huge and it's all for a reasonable price. So why has Fredy's made it to the top of the best restaurants in Puerto Vallarta list? Because of its MASSIVE menu options! You can get a healthy green smoothie or start off the day with any type of cocktail you can think of and turn up first thing in the morning.
7 days a week
8-3 p.m
Cash only
Location: Zona Romantica
3. La Ribera Restaurant
Located in Marina Vallarta is La Ribera Restaurant. If you're over in the Marina Vallarta area getting ready for an excursion on the sea or wanting to do some shopping (there is a huge outdoor mall on this side of town) this is a great place to start your day. It offers a beach view with traditional Mexican options, vegetarian options, and more! This is a great option if you are wanting to enjoy breakfast with an ocean view.
7 days a week
7:30-11:30 P.M
Location: Marina Vallarta
4. Mango's Beach Club
Another awesome option for breakfast if you are looking for open-air seating right on the beach. It's located close to the Malecon which makes it an easy choice if you are wanting to eat breakfast, take a walk, and head to Playa de Los Muertos for sun and margaritas. They offer a ton of options on their menu, including chilaquiles and mimosas on Sundays!
7 days a week
10-9 P.M.
Location: 5 de Diciembre area
BEST RESTAURANTS IN PUERTO VALLARTA: LUNCH
1. Salud Super Food
YALL. When I say that I am addicted to this place is an understatement. It was hard to choose where to put Salud because they are open for breakfast and lunch! Not only is Salud at the top of our best restaurants in Puerto Vallarta list, but for Tripadvisor as well!
Salud is also in the heart of the gay zone and is EXTREMELY popular to gays, straights, and anyone that comes across it. Salud focuses on health-conscious food choices but makes them delicious. They have a variety of vegan, vegetarian options as well. I loved going in the morning for a smoothie with protein powder added and tons of other fresh ingredients.
The staff are so friendly and remember your face and name! They have an extensive lunch menu as well, my go-to was the chicken caesar wrap with veggie straws on the side. SO GOOD! This is definitely not a traditional Mexican meal but it was refreshing to have healthy options available when I didn't want to shove more tacos and chilaquiles in my mouth. They have sandwiches, salads, wraps, veggie burgers, and so much more!
Open M-F
9-5 P.M.
Location: Zona Romantica
CASH ONLY
2. Cafe de Olla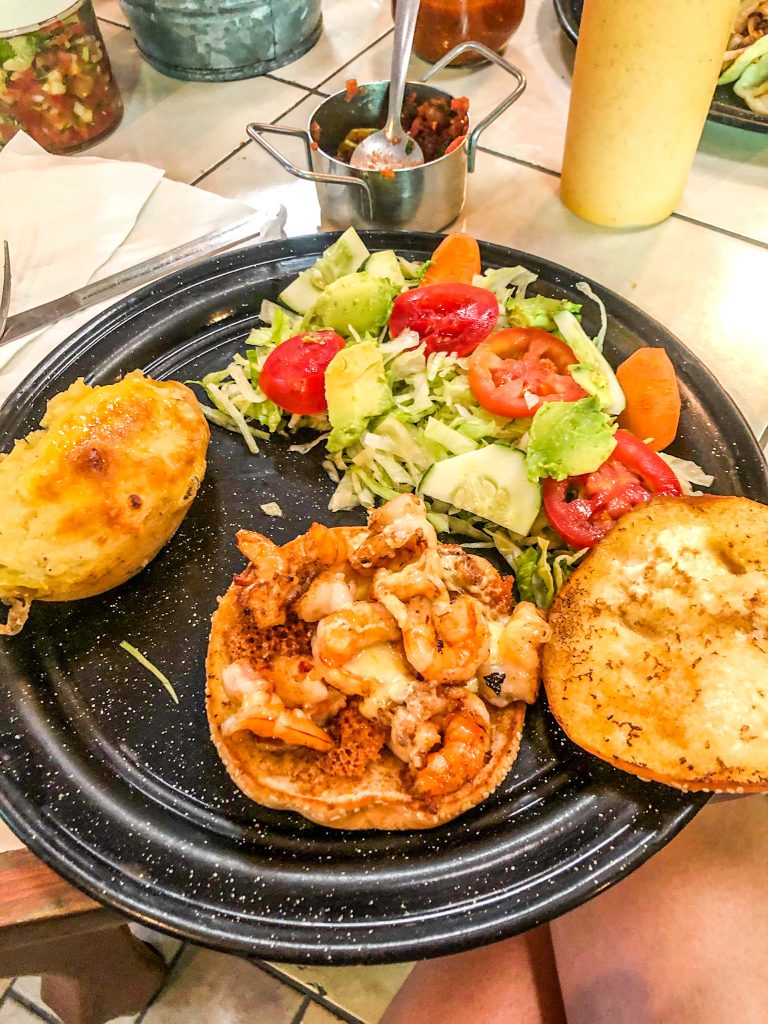 Okay, well we covered the healthy stuff so let's get back to the good good, Mexican comfort food. Cafe de Olla is a place that wasn't on our radar initially but we decided to try it and WOW we were pleasantly surprised. I was told I had to try the shrimp burger, and honestly, I gave a big side-eye but when that plate hit the table I fell in love. This sandwich was perfect, it was full of perfectly cooked shrimp, on a soft bun with cheese that cooked on the grill so it was crispy.
The portions are massive, and the prices are cheap. I will be honest and say that Courtney ordered a couple of tacos and wasn't impressed, she was definitely jealous of my shrimp burger. Also, you should try out a glass or four of their housemade Clericot while you are there!
Hours: Closed Tuesday, Open M,W,TH,F,S,S
9AM-11PM
Location: Zona Romantica
3. The Top Sky Bar at Almar Resort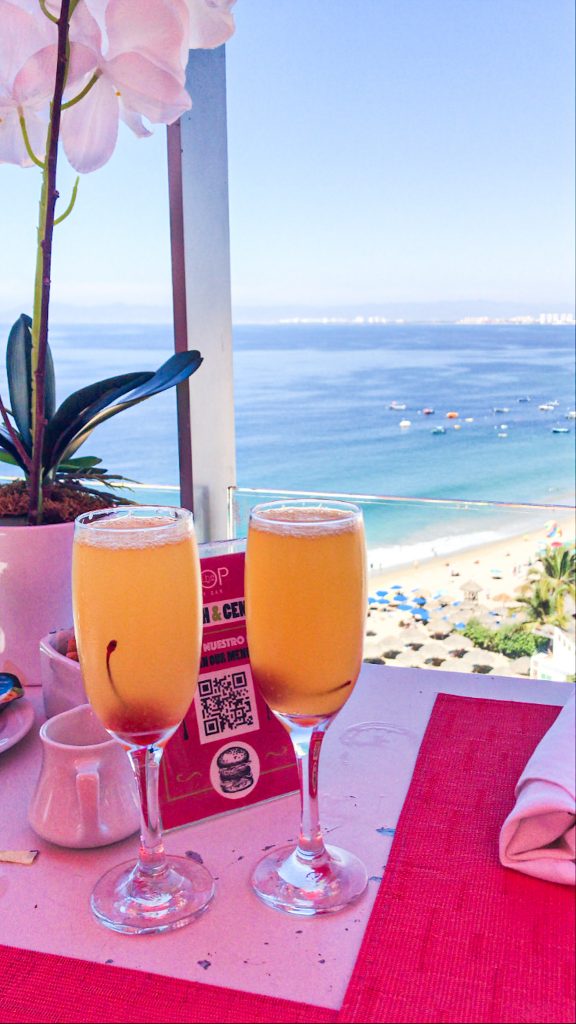 It's time to head to the center of Zona Romantica's 'gay zone' to an exclusive LGBTQ resort that has a massive rooftop terrace with an incredible view of the ocean, some of the best margaritas in Puerto Vallarta, and hosts the best live drag shows I have ever seen! They have performances almost every night with an incredible atmosphere which is why it has risen to the top of the best restaurants in Puerto Vallarta list.
7 days a week
8 A.M.- 1 A.M.
Check out their social media for events
Not only is this a great place to enjoy a meal or a show, but they have incredible hotel rooms with a brand new beautiful pool overlooking the ocean. You can also visit Mantamar bar (which is beachfront) for another lunch destination. They offer sushi, tacos, more incredible cocktails and if you rent a chair or umbrella for the day they will even serve you on the beach!
4. Nosh Turkish Bites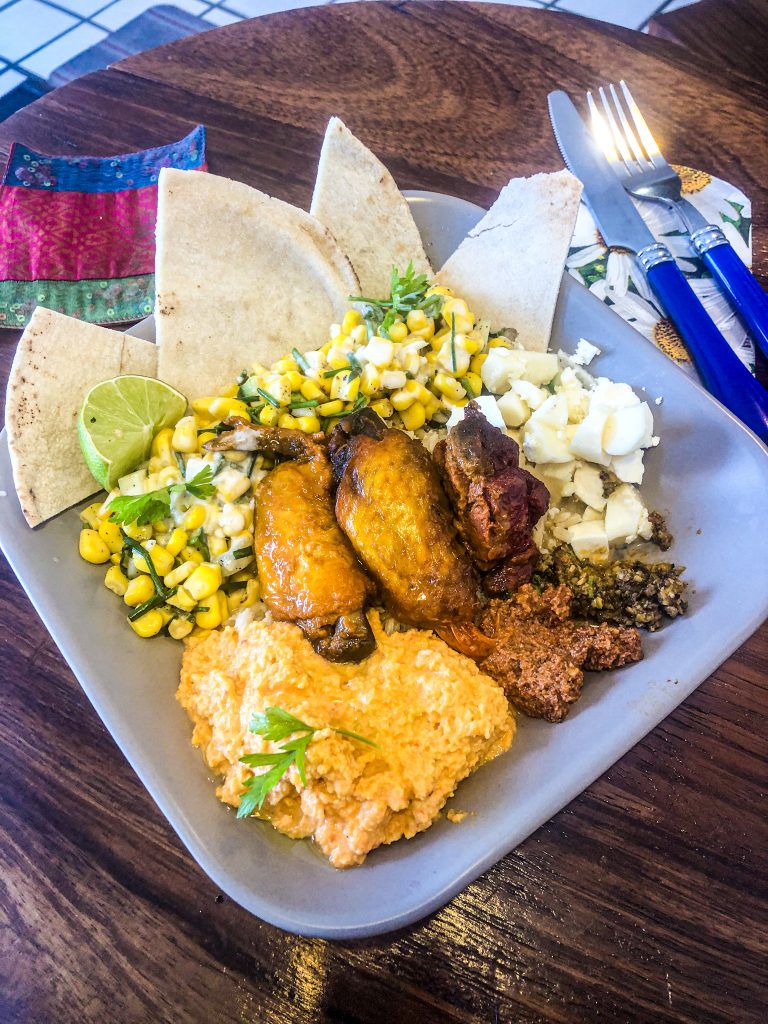 All I can say about Nosh Turkish bites is that it is one of two hidden gem restaurants in Puerto Vallarta and should not be missed for lunch. The menu is simple. The place is small. It feels like you're eating in your own home and the ingredients are fresh and the flavor is powerful. You can get salads, bowls filled with delicious veggies, hummus, chicken, and more. It is a quick and easy option if you are hot from the beach and just want to have something simple and fresh.
BEST RESTAURANTS IN PUERTO VALLARTA: DINNER
Ahhhh dinner time. It is my favorite meal to have in Puerto Vallarta. After a day in the sun, there is nothing like heading over to one of the hundreds of options and enjoy a romantic dinner with a delicious cocktail. Let's dive into my top picks for the best restaurants in Puerto Vallarta for dinner.
1. Barcelona Tapas
Currently listed at the best restaurant in Puerto Vallarta and for a very good reason. It's located a few blocks from the Malecon and has an awesome rooftop view. The menu features…well tapas! All of it is gorgeous, delicious but has a twist that reminds you that you are still in Puerto Vallarta Mexico. Couple your tapas with some wine and you have yourself a romantic dinner.
Open 7 days a week
M-TH from 5:00 P.M. to 12:00 A.M.
F-S from 5:00 P.M. to 1:00 A.M.
Location: El Centro
2. El Dorado
Of course, we have to talk about a beachfront restaurant for dinner! Located in Zona Romantica and features a super romantic open-air concept. Tables are illuminated by candles, the menu includes unique cocktail options, fresh seafood, and incredibly friendly staff.
3. Archies Wok
Open 7 days a week
Open from 2:00 P.M. to 9:30 P.M.
Location: Zona Romantica
Did you imagine that you would find amazing Asian food in Puerto Vallarta a block away from the beach? Archies Wok is in Zona Romantica and is one of my favorite restaurants in Puerto Vallarta. If you love Asian food you will be right at home. Its flavors are influenced by China, the Philippines, and Thailand. My favorite item is the chicken and fried rice with a fresh cocktail.
4. La Merida Grill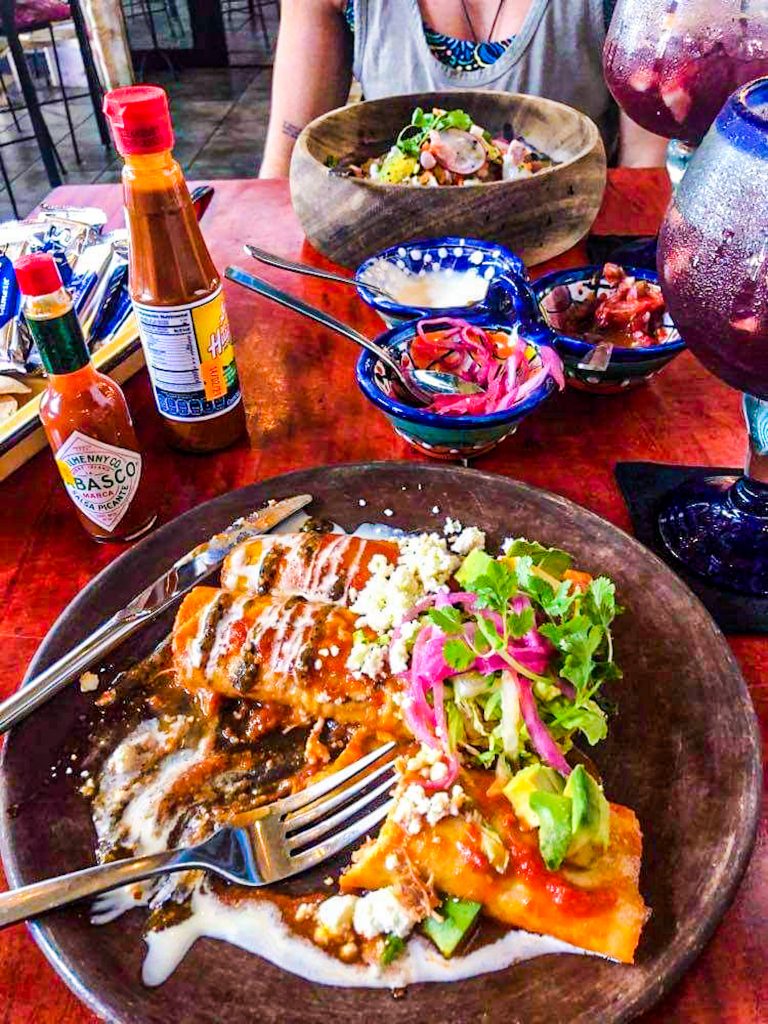 Travel back to ancient Mexico and enjoy traditional dishes that date back to the original people of the Yucatan. The staff are extremely helpful and enjoy explaining each menu item to you so you understand its history and the meaning behind all the flavors. Oh, did I mention there is a massive tree growing through this restaurant? It's gorgeous. Also, add a glass of clericot to your meal.
7 days a week
Open from 3-10:30 PM
Location: Zona Romantica
5. Hacienda San Angel
A romantic setting with a rooftop view of the beautiful cathedral in El Centro. Often bands will serenade you while you enjoy dinner while sitting above the cobblestone streets. The architecture creates an environment that truly makes you feel like you are in Mexico. The menu offers vegetarian and vegan options as well as traditional Mexican cuisine including seafood.
Open 7 days a week
M-S from 7:00 A.M. to 3:00 P.M and 5:00 P.M. to 10:00 P.M.
Sunday from 9:00 A.M. to 2:00 P.M. and 5:00 P.M. to 10:00 P.M.
Location: El Centro
BEST RESTAURANTS IN PUERTO VALLARTA: TACOS
I firmly believe that tacos are on the food pyramid somewhere, that's how many tacos we ate in Puerto Vallarta. Don't worry, we sacrificed ourselves so we could provide the best list of tacos so you don't miss out when you visit.
1. Maria Baja Tacos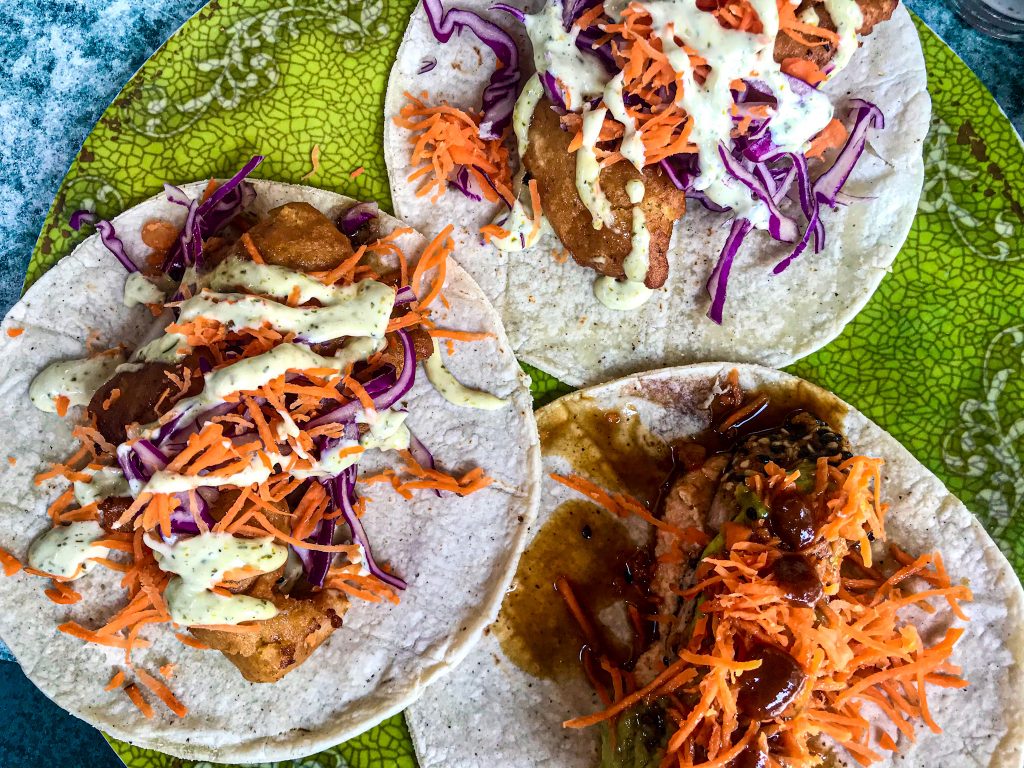 Hands down the number one taco place in Puerto Vallarta, fight me if you disagree (lol jk). Maria Baja is the other hidden gem restaurant in Puerto Vallarta that you must check out! Located in Zona Romantica is a small fish taco joint that is family-run and seriously amazing. Where do I even begin? My favorite is the seared tuna taco and then I slap on one of the 7 different fresh-made salsa they offer. Seriously, I've never seen this much salsa that all taste so different and are equally amazing!
Open Tuesday- Sunday
Hours are 10:30 A.M. to 6:00 P.M.
Location: Zona Romantica
CASH ONLY
2. Tacos Sonorita Olas Altas
Another family-run restaurant with some amazing tacos! The tacos here bring me back to living in Mexico City where there are also unlimited options for tacos. My favorite here is the al pastor tacos and the chicken tacos. Let's not forget they have some incredible margarita options all for super affordable prices!
Open 7 days a week
Hours are 2:00 P.M. to12:00 A.M.
Zona Romantica
CASH ONLY
3. Panchos Takos
If you're visiting Puerto Vallarta, chances are you have seen the line down the street all coming from Panchos Tacos. This place is a staple in the community and locals and tourists alike come here. I got the battered fish tacos of course, and doused it in salsa BUT beware when I say that some of these salsa options are hot, and when I say hot I mean if a Mexican tells you its hot you might just die when you consume it (jk but you will be in pain). While in town you should definitely check this place out, and good news the line goes quickly! You can even order a margarita while you wait and they are STRONG.
Open Monday- Saturday
Hours are 4:00 P.M. to 12:00 A.M.
Location: Zona Romantica
4. Canto Palmares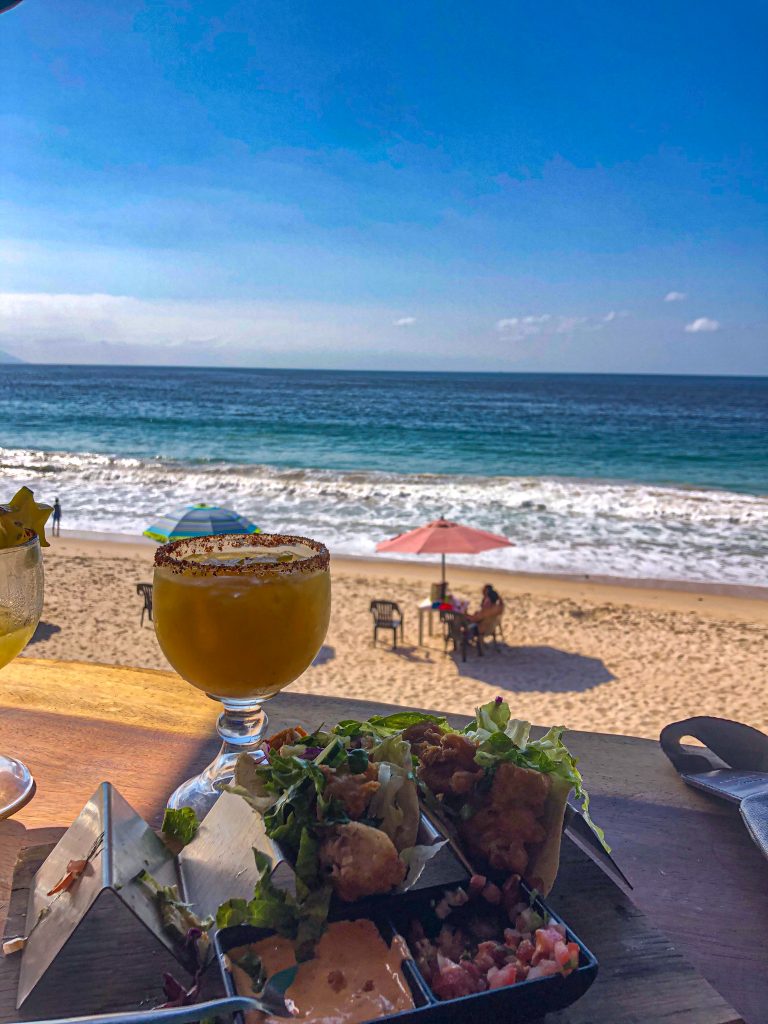 Hop in an Uber and drive 10 minutes to another beach named Playa Palmares. Spend the day here and of course, enjoy the one and only restaurant here. From the road, it doesn't look like anything impressive, but you will enjoy my top choice for fish tacos in PV (outside of Maria Baja). Not to mention they have the best passionfruit margarita I've ever had all while sitting by the beach and enjoying the view.
Open 7 days a week
Hours are 11:00 A.M. to 8:00 P.M.
CASH ONLY (no ATM nearby so be sure to have enough)
BEST RESTAURANTS IN PUERTO VALLARTA: DRINKS
Whether you're on vacation or you're a digital nomad posted up in Puerto Vallarta, walking around and socializing at a bar with delicious cocktails is a must. We have a few favorites, and luckily we were able to discover LGBTQ-owned and women ran businesses that have AMAZING menus.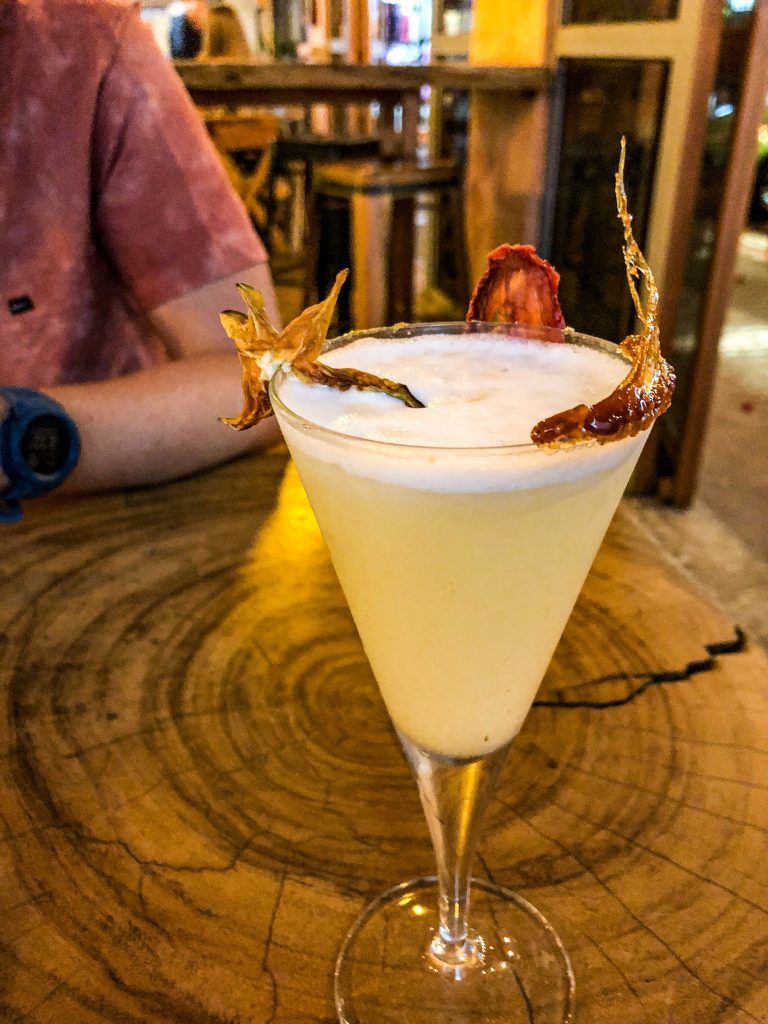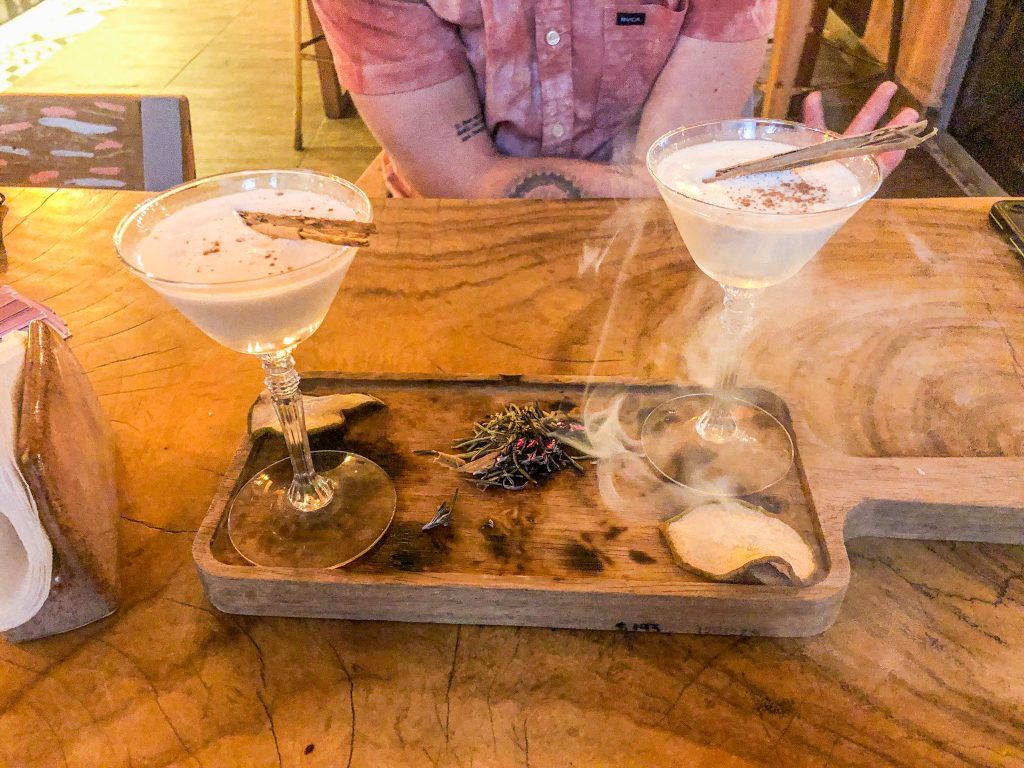 1. Mezcal y Sal
In Zona Romantica, a couple of blocks from the beach is a tiny but mighty restaurant & cocktail bar. This is a women-run business by ladies who are from Mexico and have some of the most creative menu options I have ever seen. From cocktails with cotton candy or popcorn, or hell even lit on fire this place is amazing. They also have some insanely good food options. Try their tacos, try their take on poutine and you won't be disappointed.
2. Elixir Mixology Bar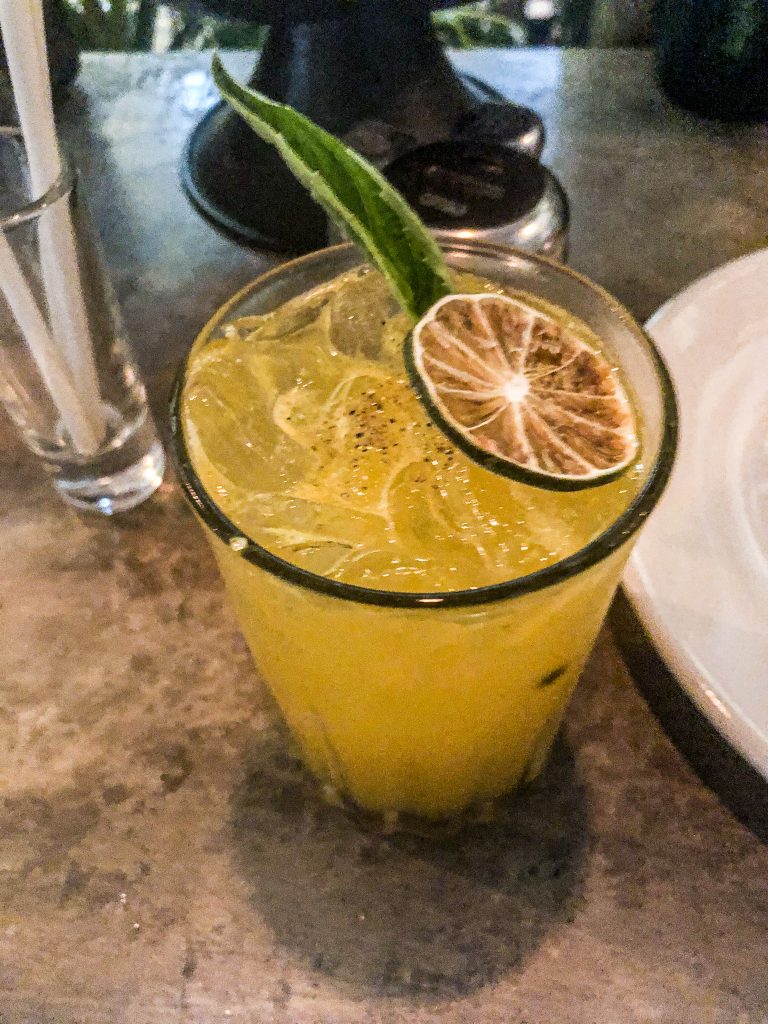 A few blocks back from the beach in Zona Romantica is a queer run cocktail bar that makes handcrafted cocktails that will blow your mind. The staff is kind and attentive and you will be mesmerized by their techniques. The environment is intimate and chill. It's a popular place to start the night off in Puerto Vallarta and you would seriously be missing out if you didn't come and try what they have to offer.
Open 7 days a week
Hours are 6:00 P.M.- 12:00 A.M.
Location: Zona Romantica
3. No Se Nada
An unassuming building with a casual black cat poster above the door with the name No Se Nada. At first glance, it doesn't look like it would rank as one of the best restaurants in Puerto Vallarta but it absolutely is. Head upstairs to their rooftop with a view of the sea and enjoy a fresh passionfruit margarita. Seriously, their margaritas are amazing and I am still dreaming about them as I write this. Try anything on the menu and you will love it. We came here time and time again and kept falling in love with everything we tried.
4. Monzon Brewing Co
Craft beer in Mexico? Yes! Your eyes aren't playing tricks on you. A short walk from the beach is an incredible brewery that has been around for a few years. Whether you visit on a food tour or decide to get curious and check it out for yourself you will have plenty of options to choose from. Even if you don't like craft beer they have cocktail options as well. Sit at the bar and chat with the staff, they are very welcoming and will be glad to answer any questions you have about the area.
WHAT IS THE MOST POPULAR FOOD IN PUERTO VALLARTA?
When I think about Puerto Vallarta I think back to all of the delicious tacos we ate! I can easily say fish and shrimp tacos were a huge part of our diet when we were staying in Puerto Vallarta and easily the most popular food in Puerto Vallarta.
Then of course fish and seafood in general are also very popular food in Puerto Vallarta. Courtney ate a lot of really good ceviche and pescado zarandeado. Pescado Zarandeado is a traditional dish in Puerto Vallarta and is essentially Nayarit's grilled fish. This specific fish is cut in half from the head to the tail and it is smothered in a rub and grilled.
DOES PUERTO VALLARTA HAVE GOOD FOOD?
One of the main reasons we travel is to try different cuisines. If this is you then you are in luck because Puerto Vallarta has great food. There are so many states, cities, and regions in Mexico that have great food like Mexico City, Merida, and Oaxaca. Puerto Vallarta also has great food. We have tried so many restaurants and food stands with traditional dishes and with more creative cuisine and I can't say we every got bored with the food in Puerto Vallarta. Don't skip out on any of the varies fish tacos all over Puerto Vallarta!
HOW MUCH IS A NICE DINNER IN PUERTO VALLARTA?
Having a nice dinner in Puerto Vallarta might be something you plan to do during your trip. With confidence I can say a nice dinner in Puerto Vallarta is very manageable especially if you aren't on a budget. If you are on a budget don't worry there are plenty of nice restaurants that won't break the bank. On average a nicer dinner and a drink in Puerto Vallarta will be around $25-30 USD per person. Here is an example of what type of prices you might see on a menu:
Appetizer/Small Plate 120 MXN
Main Course 300 MXN
Margarita/Cocktail 150 MXN
WHAT IS THE BEST MONTH TO GO TO PUERTO VALLARTA?
Puerto Vallarta is a great beach destination all year. However, Courtney and I both agree the best months to go to Puerto Vallarta are October to April. You can't really go wrong with any month during this time but if you want to go whale watching or even see then from your ocean front balcony then we recommend going between December and March and you will have the strongest chance of seeing whales in January and February. The weather is excellent from November – April too.
If you are part of the LGBTQ community New Years and Puerto Vallarta Pride are also great times to visit. There are a lot of parties and things to do during these events. For more information about all the queer things to do in Puerto Vallarta check out our Puerto Vallarta gay travel guide. If you're interested in Puerto Vallarta Pride it is at the end of May and we have put together a full guide for Puerto Vallarta Pride.
BEST GAY BARS IN PUERTO VALLARTA
Of course, we can't leave out the gay scene in Puerto Vallarta that's why we have an entire article dedicated to everything you need to know about gay Puerto Vallarta.
WHERE TO STAY IN PUERTO VALLARTA
Loving all the restaurant recommendations for Puerto Vallarta? Sweet! We also have an article on hotels in Puerto Vallarta. Check out our Unique Hotels Puerto Vallarta article for all the details!
WANT TO BE A PUERTO VALLARTA DIGITAL NOMAD?
Check out our Puerto Vallarta Digital Nomad Living article on everything we learned while working remotely in Puerto Vallarta.
Like this Best Restaurants in Puerto Vallarta Article? Check out our other related articles!
Like this Post? Pin it for later!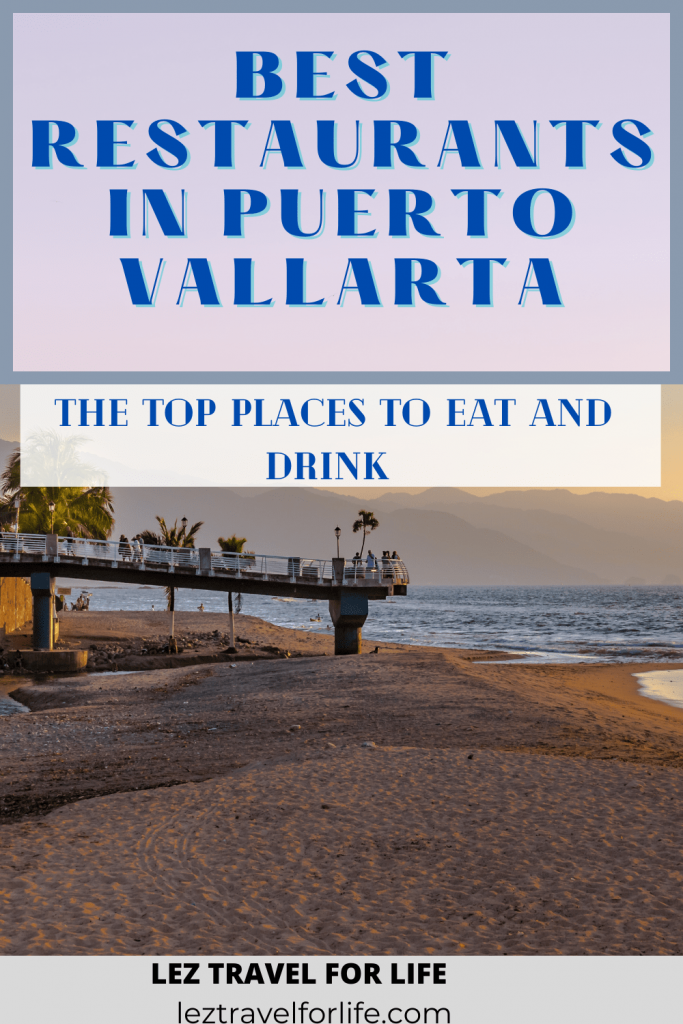 I'm Sam and I may only be 5'3 but I'm feisty and enjoy a lot of sarcastic humor. I'm addicted to travel as well as feeding and advocating for street animals in every country I travel to. I'm married to Courtney and we're super gay or whatevaaaa. We're both extroverts and love meeting new people everywhere we travel. We are in love with Latin American culture but can't wait to explore more of the world!