This article may contain affiliate/compensated links. For full information, please see our disclaimer here.
Reminder: Make sure to check the country's covid guidelines before travel.
THE 12 BEST RESTAURANTS IN SAN CRISTOBAL DE LAS CASAS
Traveling is exhausting. Long plane rides, rushing around the airport, hopping in taxis, and getting stuck in traffic. I'm usually starving when I reach my destination, which is also a new city. It can be really stressful trying to figure out where to grab a bite to eat when you've arrived in a brand new city especially if it's in a new country with a different language. Courtney and I lived in San Cristobal de Las Casas for over a month and did a lot of walking, eating, and drinking. We wanted to create the best 12 restaurants in San Cristobal de Las Casas so that when you're planning your next trip you can miss out on all the tourist traps and get to the real local gems that deserve more attention than all the places with big signs and employees waving you in the front.
To be clear, Courtney and I made a lot of food mistakes along the way. From hotel breakfasts that made Courtney projectile vomit in the back of a van to pizza that tasted like it was made out of cardboard. It's easy to give in to the pressure of all the signs and people waving you over, but trust us when we say we've put careful consideration into this list of restaurants and cafes in San Cristobal de Las Casas so that you don't have to struggle as we did.
San Cristobal de Las Casas has a variety of food options. This city likes to take inspiration from local flavors that originated from its ancient indigenous communities, or Asian fusion, or even some incredible pizza! I know you're probably reading this and thinking these meals are going to cost you an arm and a leg. You'd be wrong. Courtney and I ate out almost every meal of the day and we probably never paid more than $15 for a meal (most of the time included beer or wine as well). San Cristobal is an extremely inexpensive place to visit, and eat!
THE 12 BEST RESTAURANTS IN SAN CRISTOBAL DE LAS CASAS
La Frontera Cafe
I am putting La Frontera Cafe at the top of the 12 best restaurants in San Cristobal de Las Casas list because we (honestly) had breakfast here every single day we were in San Cristobal de Las Casas. La Frontera Cafe is unique because it is home to several different businesses. In the center is a beautiful courtyard with a garden and oftentimes live music playing. La Frontera is a cafe that has delicious breakfast and lunch options made from local ingredients and carefully crafted. The coffee is out of this world. Honestly, if this were in the US you would probably be paying $20 for a meal here.
Aside from La Frontera, there is Espirituosa, it opens later in the afternoon and is where you can try out Pox. Pronounced posh, pox is a local liquor that is derived from corn and is very tasty. There were many days where we stayed at La Frontera for hours and actually used the wifi to get work done. If you're a digital nomad this is definitely a spot where you want to take advantage of the wifi.
Lastly, still connected to La Frontera via the courtyard there is an adorable small french bakery called Boccadiui. We had to stop ourselves from getting a pastry from here every day that we had breakfast at La Frontera because they are that good AND so cheap. A pastry that would be $5-6 in the US is $1-1.5 here.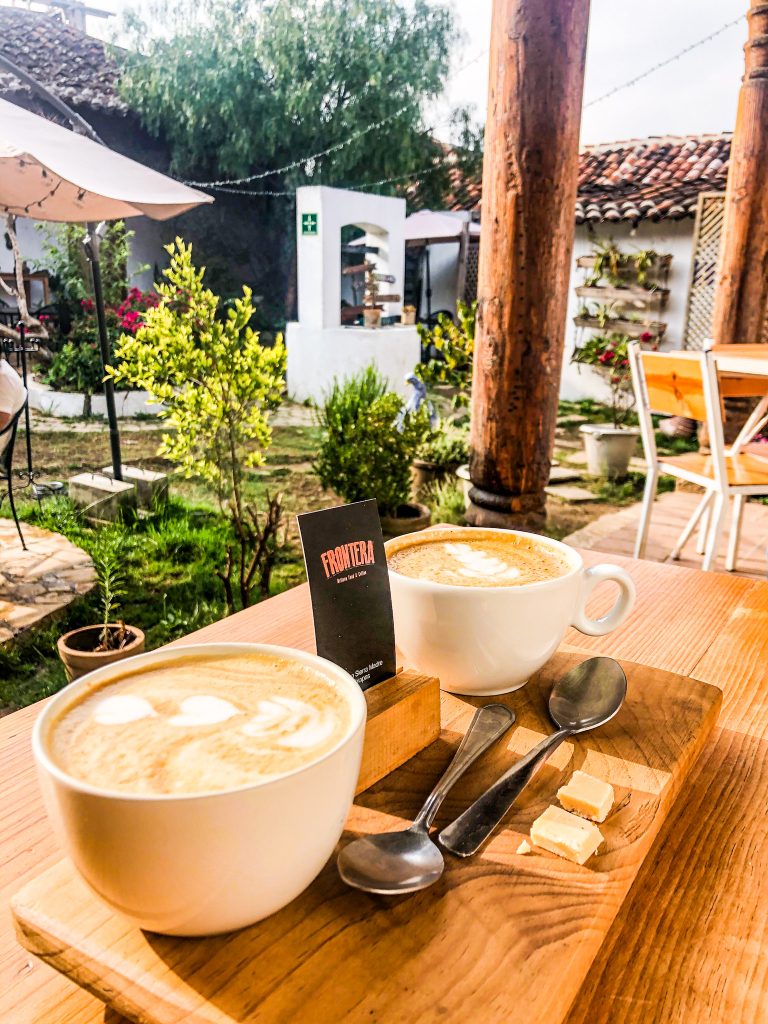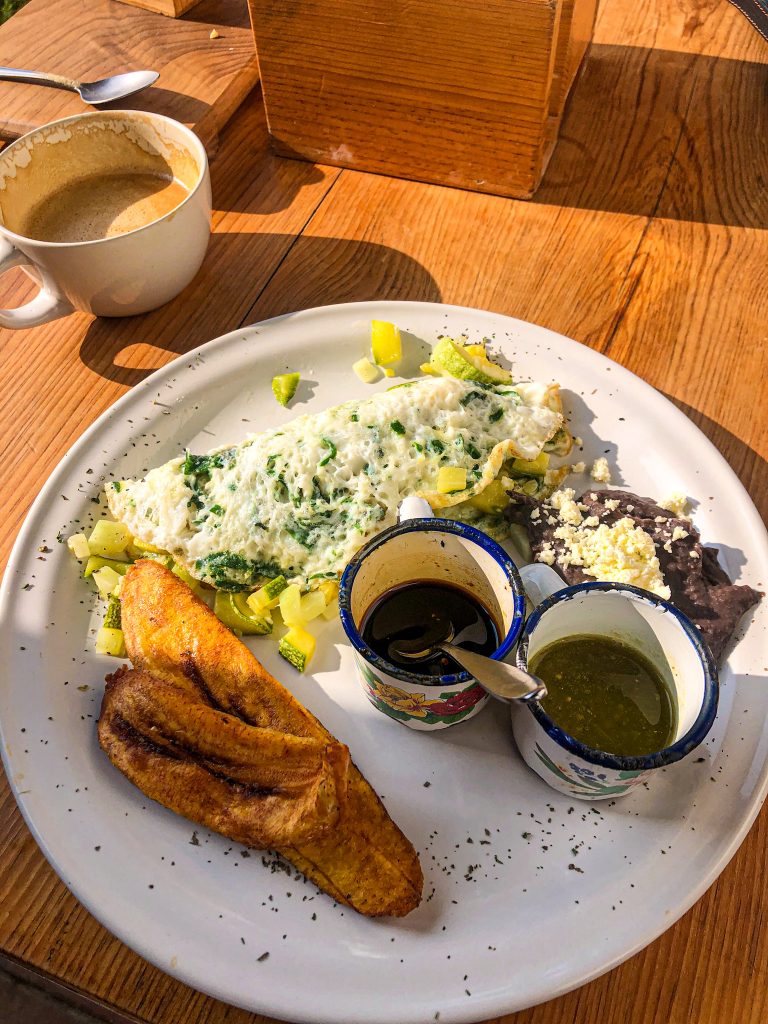 Prices: $5-6 USD PP or 100+ Pesos PP
Food: Breakfast, Coffee, lunch, desserts, Pox options
Hours: Open at 8 AM 7 days a week. Espirituosa opens at 12 PM.
Sarajevo Cafe Jardin
Time to head over to one of the most instagrammable restaurants in the entire city. The second you enter Sarajevo you are met with a beautiful outdoor garden that completely surrounds the entrance. If you dine inside you are met with a beautifully decorated restaurant and extremely attentive restaurant staff.
Whether you're here for breakfast or lunch you won't be disappointed. This restaurant reminds me of a place you'd find in NYC where you pay $25 for avocado toast. Yet every item on the menu is delicious and under $6 USD PP.
Prices: $5-6 USD PP or 100+ Pesos PP
Food: Breakfast, Coffee, lunch, Mexican cuisine
Hours: Open at 8 AM 7 days a week
Just PHO You
We walked around San Cristobal de Las Casas multiple times a day and passed this place several times before even noticing Avenida Diego Dugelay. The unsuspecting brown door with a casual sign hanging above it is just PHO you. It's tiny, warm, and run by two hard-working ladies that make some of the best PHO I've ever had. Prepare to take a seat and relax as your meal will take some time to cook. Everything is by scratch and they seem to have it all down to an art.
Chiapas weather can be cool, so having some warm ramen or Pho to warm us up was perfect. Their portions are massive! They are vegetarian and vegan friendly. While in San Cristobal you definitely have to check this place out.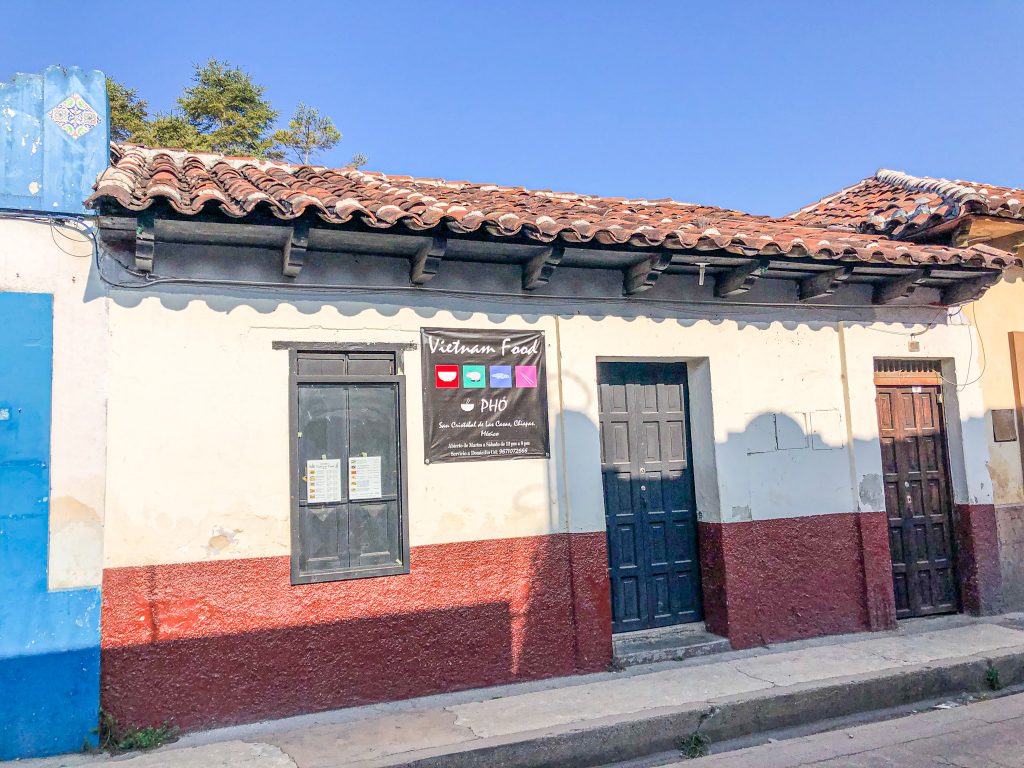 Prices: $5-6 USD PP or 100+ Pesos PP
Food: Ramen, Pho, Asian rice dishes
Hours: Closed Sunday. Opens at 1 PM.
Pachamama
Located on the main street in San Cristobal de Las Casas Real de Guadelupe is the pizza joint Pachamama. This is where I raise my hands and say BEWARE. Beware of all the tourist trap restaurants located on this street. Honestly, 90% of the restaurants on this street are pretty terrible. Here you'll be swarmed with locals telling you to check out their specials and come on in. Don't fall for it.
Fortunately, Pachamama is not one of those places. It sits in the top 3 restaurants in the city. At night, it's pretty darn packed. The pizza is delicious and the service is fast. They also have local beers on tap if you're looking for a nightcap.
Prices: $4-5 USD PP or 100+ Pesos PP
Food: Pizza, salads, sandwiches, beer
Hours: Open 7 days a week. Opens at 12:00 PM
Tok Tok Wok
I'll get straight to the point, this place is awesome! Seriously, this place is impressive. It's a tiny open-air restaurant with one man and a wok. You pick noodles or rice, what protein you want (including vegetarian meat options) and what sauce you want. Did I mention that this place is CHEAP? For both of us we paid around $6 USD! It's the perfect place to stop for a bite while walking around town and exploring and want to grab something to eat quickly while still leaving full and satisfied.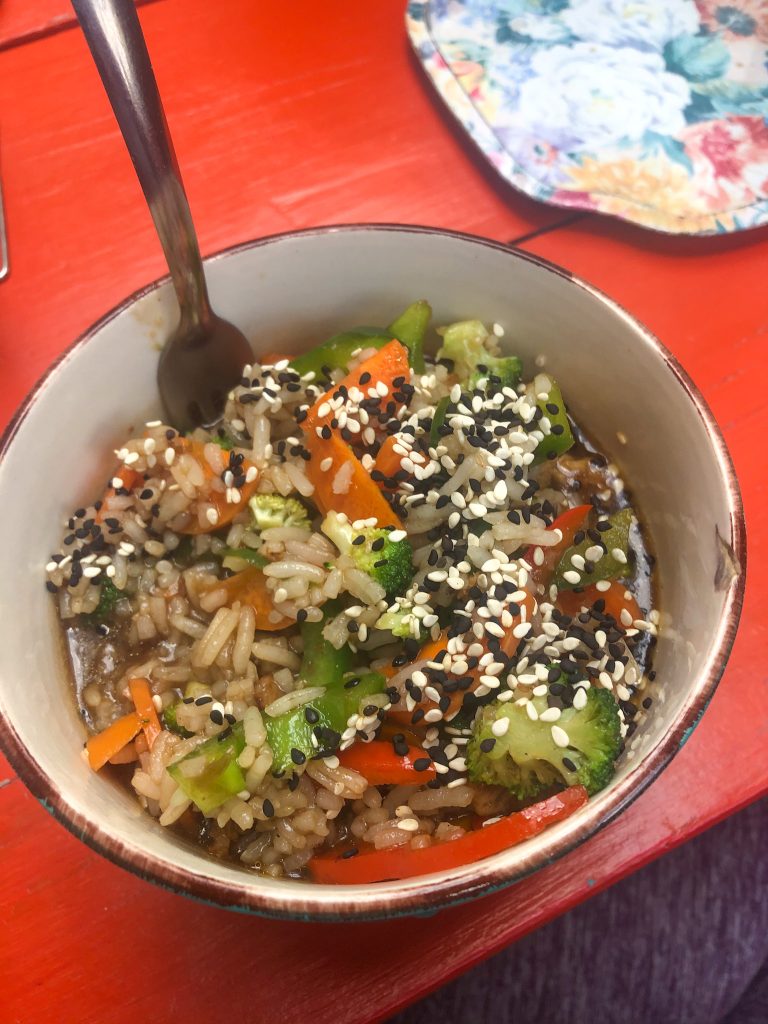 Prices: $4-5 USD PP or 100+ Pesos PP
Food: Asian fusion dishes
Hours: Closed Sunday & Monday. Opens at 12:30 PM
H.A.M
This gem offers some of the best charcuterie I have ever had. They offer several options from small to large boards with one meat option or multiple. Each option also included a glass of wine, making this place cheap and incredibly good. We typically ordered the larger plate with 2-3 meats and 2-3 cheeses and each got a Mexican red wine to pair. We never spent more than $15 here which would easily be $30 in the US.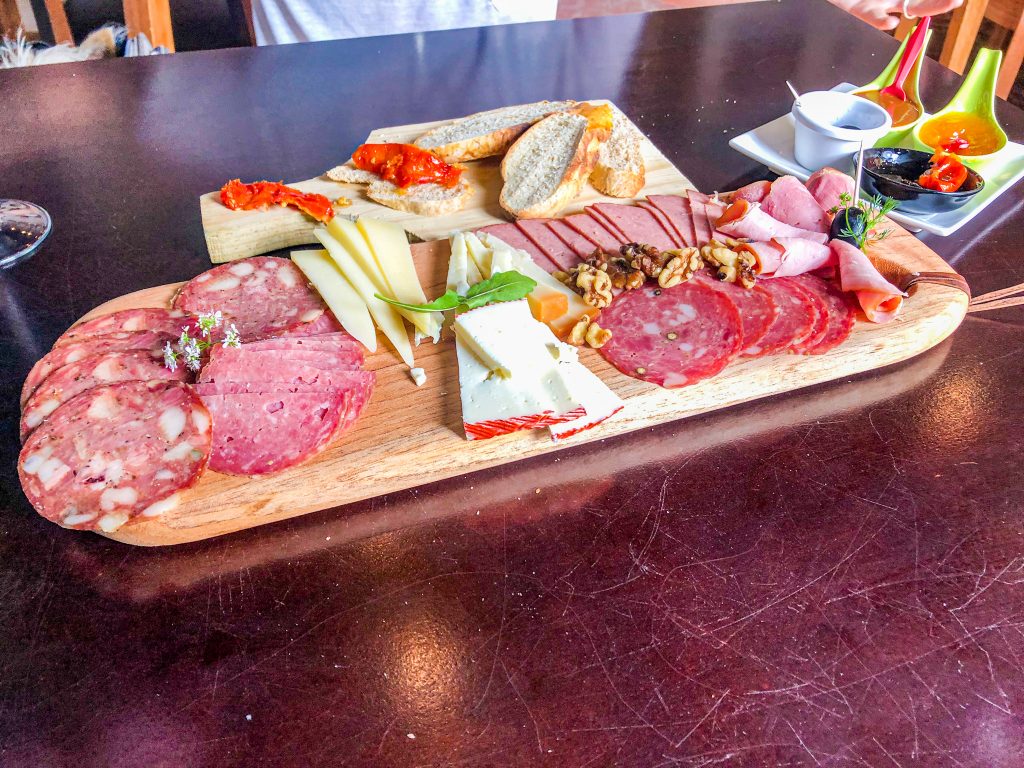 Prices: $5-15 USD PP or 100-300+ Pesos PP
Food: Charcuterie, wine
Hours: Open 7 days a week but check hours in person
Restaurante La Lupe
La Lupe is a local gem that both locals and visitors enjoy. On the weekends this restaurant is often packed with locals enjoying a family meal together. La Lupe has authentic Mexican dishes, not like the ones you see in the US. Rather, it offers dishes from Oaxaca with the traditional mole sauce. I decided to stick with the chicken tacos which had a ton of flavor. Also, try their Mezcal cocktails or margaritas.
Prices: $10 USD PP or 200+ Pesos PP
Food: Mexican Cuisine
Hours: Open 7 days a week. Opens at 7 AM.
Veganos la Taqueria
For my vegan and vegetarian friends, this place is for you! It's a quaint little restaurant that will 100% blow your mind even if you aren't a vegan or vegetarian. We decided to give it a try for you guys! Neither of us is strictly non-meat eaters but we went for it and got burritos with meat substitute in it. Both of us loved it so much that we forgot to take pictures before we ate half of our meals! This place serves hearty portions that will fill your belly up and leave you a happy customer. Our burritos had rice, beans, and tons of meat inside! Of course in a true Mexican fashion, we had sauces and salsa that accompanied our burritos which made it all perfect.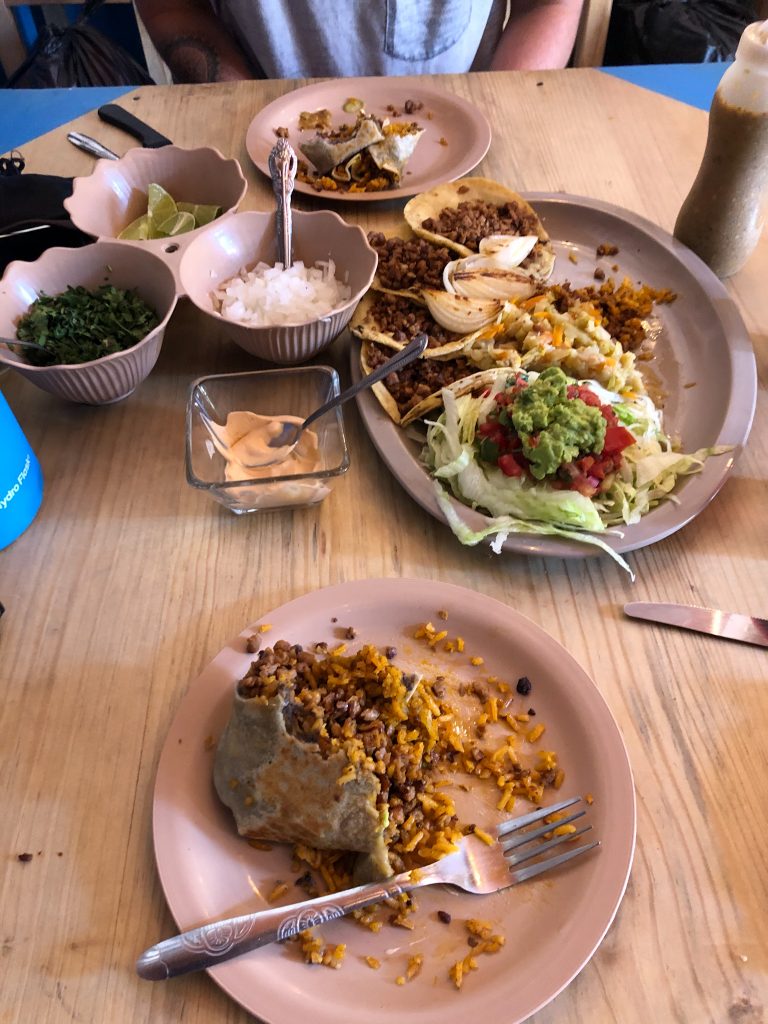 Prices: $4-5 USD PP or 100+ Pesos PP
Food: vegan/ vegetarian tacos, burritos, fries
Hours: Open 7 days a week. Opens at 11 AM
Casa La Venta
Casa La Venta is another location that you may not even notice while walking by. We were taking pictures in the neighborhood and passed by this place. We were captivated by the open floor plan with beautiful lighting and plants. The building is set up like a courtyard with multiple options for shopping and small restaurants inside. We decided to try out a pizza and also ordered a fresh juice from the juice bar located right next to the pizza joint. The pizza joint is really simple and has just a few options but the ingredients are fresh and delicious!
Prices: $7-8 USD PP or 100+ Pesos PP
Food: pizza, smoothies, juices, shopping
Hours: Open 7 days a week. Opens at 9:30 AM
La Vina de Bacco
We heard so much about this place that we made it our first stop after arriving in San Cristobal. La Vina de Bacco is a staple for the best restaurants in San Cristobal de Las Casas. It's simple, delicious cheap wine starting at less than $1 USD and basic tapas. If you're wanting a bottle they start at around $12 USD! The tapas are nothing mind-blowing but if you're looking for a quick snack tapas are free with each glass you buy. If you're wanting more you can buy tapas separately for .25 cents USD (5 pesos). It's tiny and fills up quickly yet somehow there is always room for you. If you sit outside you will be front row to the live music and performances that take place throughout the afternoon and evening.
Prices: $2-6 USD PP or 50-100+ Pesos PP
Food: wine, tapas
Hours: Open 7 days a week. Opens at 1 PM
Bangcook
Labeled as Thai street food, this restaurant is on the bottom floor of the Plaza San Agustin. The interior has a higher-end feel with a host of options including curry noodles, bowls with rice, and meat options (vegetarian friendly). Bangcook offers a relaxing environment and friendly service.
Prices: $5-6 USD PP or 100+ Pesos PP
Food: curry, noodles, rice, Thai food
Hours: Open 7 days a week. Opens at 9:30 AM
Mi Casa – Comida Taiwanesa
One of our favorite places to eat is San Cristobal. It is perfectly crafted Taiwanese food. From Meat and rice bowls to delicious spring rolls this restaurant is perfect in every way. Not to mention the chef is a kind human being who really stays invested in the community. Fun events with music and art are hosted here often. It's a relaxing vibe with delicious cocktails too!
Prices: $5-6 USD PP or 100+ Pesos PP
Food: curry, noodles, rice, Thai food
Hours: Closed Mondays. Opens at 12 PM
THE 12 BEST RESTAURANTS IN SAN CRISTOBAL DE LAS CASAS: BEST CAFES AND BARS
Cafeologia
Cafeologia is one of the top choices for coffee in the city. If you take the free walking tour in San Cristobal you will stop here and get to taste a couple of different items from the menu. Cafeologia is an important staple to this city as it works hard to provide high-quality coffee that is made in the state of Chiapas. This coffee shop is more than just a popular place to buy a nice cup of coffee. It provides important training around coffee from latte art to harvesting the coffee. It's on the main street, Real de Guadalupe making it a convenient place to stop.
Prices: $2-5 USD PP or 50-100+ Pesos PP
Food: coffee, pastries
Hours: Open 7 days a week. Opens at 8 AM
Carajillo cafe
Our personal favorite coffee shop in the city. They advertise the coffee they make in the state of Chiapas that it originates from. The prices are cheap ($2 USD) for an incredible latte that will wake you right up. They also offer small pastries if you are looking for something to eat while on the go. Don't forget to buy a bag of coffee to take home with you!
Prices: $2-5 USD PP or 50-100+ Pesos PP
Food: coffee, pastries
Hours: Open 7 days a week. Opens at 8 AM
La Maldita
Check out La Maldita for a romantic rooftop view of the city. It's an awesome place to enjoy a cocktail at sunset and enjoy the view from above. Located on Francisco Street it's the perfect location to grab a drink before or after dinner and partake in some people-watching. La Maldita also offers food options like pizza and quesadillas and non-alcoholic beverages.
Prices: $5-7 USD PP or 100+ Pesos PP
Food: cocktails, pizza, juices, small bites
Hours: Open 7 days a week. Opens at 2 PM
Pox
Time to get boozy. This delicious drink Pox, pronounced 'posh' is derived from corn liquor made in Chiapas that originated during the time of the Mayas. Pox has played an important role in the culture of Chiapas for ancient and modern cultures, it doesn't hurt that it's also delicious. Go in and try this local and delicious alcoholic drink and ask the staff any question you want, they are very knowledgeable and friendly. There are SO many flavors and you can connect with locals who are very passionate about Chiapas. Don't make the same mistake we did, grab a bottle to take back home with you!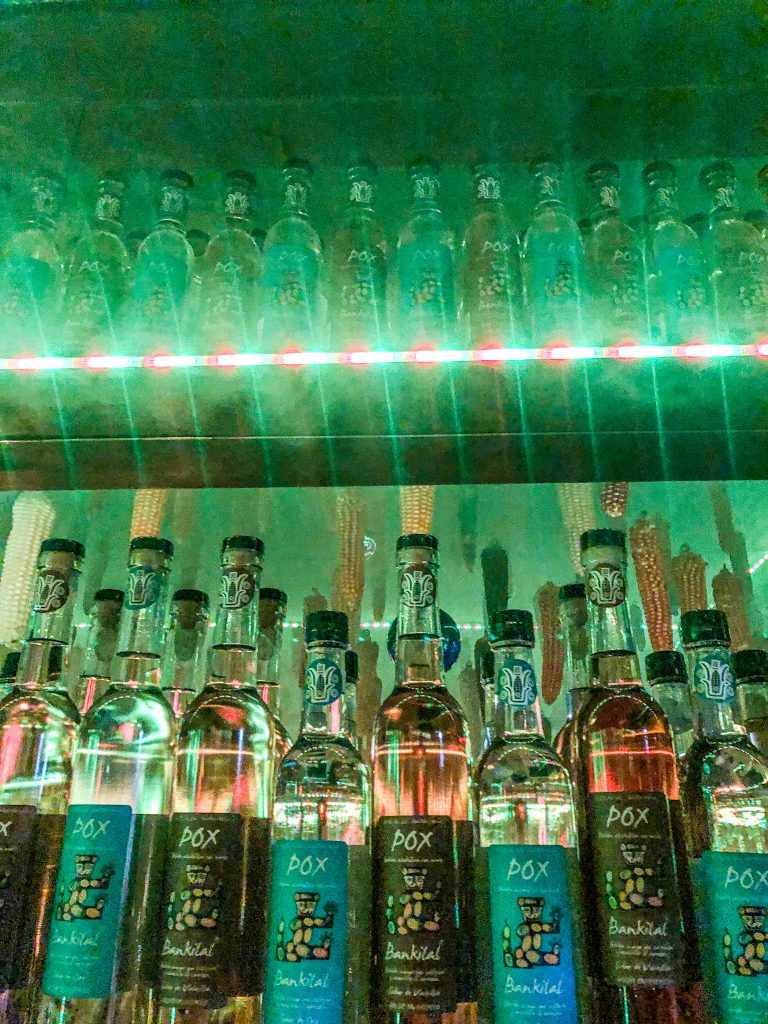 Prices: $5-7 USD PP or 100+ Pesos PP
Food: pox!
Hours: Open 7 days a week. Opens at 10 AM.
WHERE TO STAY IN SAN CRISTOBAL DE LAS CASAS
Trying to figure out where to stay in San Cristobal de Las Casas on top of planning day trips? Don't stress! I have an entire article dedicated to Unique Hotels in San Cristobal de Las Casas here.
Interested in other Mexico Related Articles? Check these out!
Like this post? Pin it for later!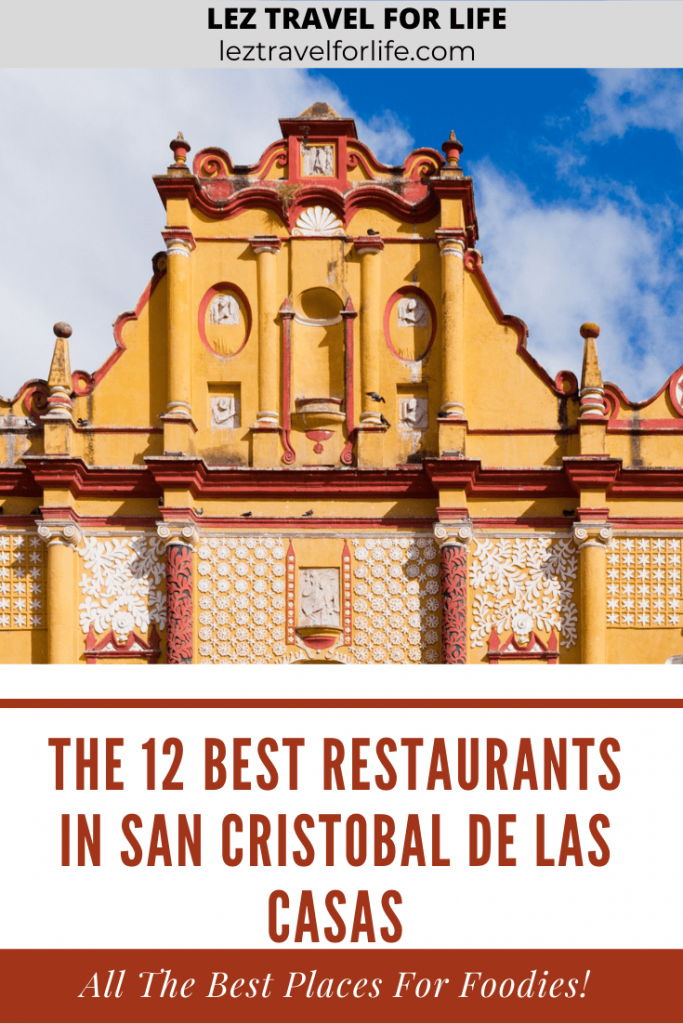 I'm Sam and I may only be 5'3 but I'm feisty and enjoy a lot of sarcastic humor. I'm addicted to travel as well as feeding and advocating for street animals in every country I travel to. I'm married to Courtney and we're super gay or whatevaaaa. We're both extroverts and love meeting new people everywhere we travel. We are in love with Latin American culture but can't wait to explore more of the world!