This article may contain affiliate/compensated links. For full information, please see our disclaimer here.
Reminder: Make sure to check the country's covid guidelines before travel.
Tulum is probably the most well-known place in Mexico for remote workers and any digital nomad should come here at least once. Located just an hour and a half from Cancun, Tulum is easily accessible by public transportation or car. It offers a wide range of coworking and coliving options as well as great cafes and restaurants. In This Digital Nomad Living in Tulum Mexico guide, I'll give you all the details you need.
For many years now, digital nomads living in Tulum, Mexico have been appreciating the comfortable climate, local facilities, and delicious cuisine. The business or tourist visa allows travelers to stay in Mexico for up to 180 days which is ideal for extended stays.
Tulum and other areas in the Yucatan have many cultural attractions, ancient sites, lots of day trip destinations, and white sand beaches with crystal blue water.

DIGITAL NOMAD LIVING IN TULUM MEXICO: BUDGET
You do not need a lot of money to live in Tulum, Mexico as a digital nomad. However, it always depends on your individual lifestyle and habits. Tulum is definitely a more expensive place than other areas in Mexico, as it is a popular tourist hotspot.
Luckily, there are also affordable options when it comes to housing and restaurants. It just might take you some time to find them.
The average monthly budget for two people living in Tulum Mexico
$480 monthly for a furnished one-bedroom apartment in a central location, alternatively $390 for a one-bedroom apartment just outside the center
For a monthly rental apartment, there can be additional costs for electricity, water, gas, and wifi, usually between $50 and $80.
Day trips are not too expensive in Tulum, and some attractions like cenotes are even free sometimes. Budget approximately $120 per month for activities and excursions.
$150 for groceries at a local store if you want to cook at home.
Costs for going out to bars, cafes, and restaurants, as well as fees for a coworking space, are going to be around $500 per month.
For $50 a month, expenses such as laundry or other necessities can be covered.
For two digital nomads in Tulum, monthly expenses can be as low as $1750. However, this price does not include flights, transportation, and health insurance and will need to be adjusted depending on the person.
Make Sure You're Covered During Your Trip
Thinking about medical costs while on the road was something that always concerned me. Not having medical insurance as a digital nomad or long term traveler can be a little scary. Even if you have medical insurance at home it might not always cover you abroad which is why companies like SafetyWing exist. SafetyWing is our go to travel insurance. It is affordable and has all the coverage we need for travel and medical. They even have specific insurance for Nomads!
Average prices in Tulum
Cappuccino in a nice coffee shop with wifi – 45 MXN ($2.30)
Lunch in a local restaurant – 130 MXN ($6.60) plus a soft drink for 20 MXN ($1)
One-month membership in a coworking space – $130
Draught beer in a restaurant – 50 MXN ($2.50)
20-pack of Marlboro cigarettes – 65 MXN ($3.30)
Monthly membership in a gym – $60
WHERE TO STAY IN TULUM MEXICO
Tulum can be divided into Tulum city and Tulum beach. Tulum town is located only about 3 kilometers from the beach and easily accessible via Route 15.
At the beach of Tulum, there are several accommodations to choose from, some even with private beach access. These are usually very expensive due to the location and are more suitable for short-term visitors who want to enjoy the beach and the sea.
Most digital nomads live in the town of Tulum. This is where you will find the cheapest accommodations and the largest selection of stores, activities, and nightlife. In the beach area, facilities are usually a bit more limited.
WHEN TO TRAVEL TO TULUM
The high season in Tulum starts in December and goes until April when temperatures reach 35 degrees Celsius or more. The rainy season in Tulum starts in June and usually lasts until October. However, this does not mean that it rains all day and showers tend to be heavy but quick.
Most digital nomads come to Tulum in December and then move on when the rainy season starts.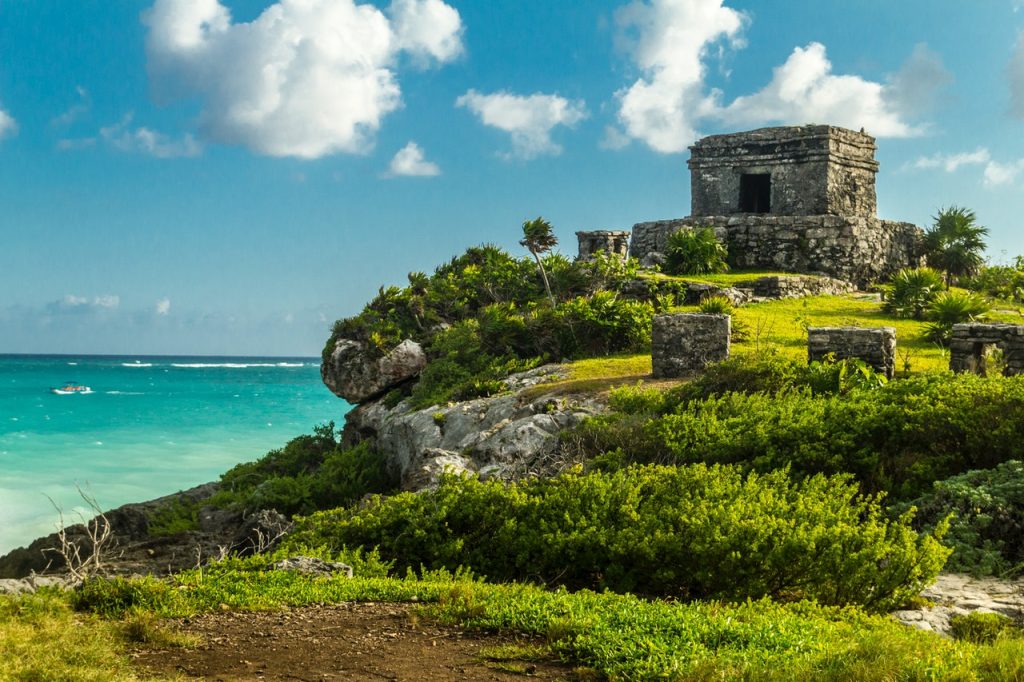 BEST NEIGHBORHOODS TO STAY IN TULUM FOR A DIGITAL NOMAD

As mentioned above, the area can be divided into two parts, the beach, and the city. Both are great choices for digital nomads living in Tulum, Mexico.
The beach stretches over quite a wide area so it can be divided even further into smaller districts. From the north beach, it is only a few minutes' walk to the famous Mayan ruins of Tulum. Here it is very quiet and there are only a few restaurants and no real nightlife.
The Middle Beach Zone is the main area where digital nomads usually settle. There is a wide variety of beach clubs, restaurants, and small boutiques.
The south beach offers by far the most beautiful beaches in the area. Also here there is a great choice of restaurants and nightlife, which is why the prices are quite high compared to the north beach.
In Tulum town, Pueblo is a trendy neighborhood to live in for digital nomads. The location is very central and you can find quite a good selection of affordable accommodation.
Aldea Zama is the neighborhood between Tulum Beach and Tulum town. By bike, it is only about 10 minutes to the beach and 5 minutes to the center. This location is suitable for those who want to be close to restaurants and bars in town, while also enjoying quick access to the beach.
DIGITAL NOMAD LIVING IN TULUM MEXICO: WIFI
Every digital nomad is always on a quest to find reliable wifi. In Tulum, the internet speed will largely depend on the provider and level of connection. Some networks are very fast and reliable while others frequently experience technical difficulties.
For this reason, it is always advisable to ask for the wifi password when looking at a new accommodation so you can run a speed test on-site. If you book your accommodation online in advance, ask the owner for their wifi provider and average speed.
CAFES AND COWORKING SPOTS FOR DIGITAL NOMADS IN TULUM
For those unable to work from home, or wanting to enjoy a change of scenery from time to time, there are also fantastic coworking spaces and cafes with good wifi located in Tulum.
Tulum Art Club
You'll find the Tulum Art Club coffee shop on the main street in Tulum city. There is a strong wifi connection, a pleasant atmosphere, and average prices. Many digital nomads like to come here to be productive or enjoy a coffee while networking with others.
Selina Hostel and Coworking Space
The Selina Hostel is a popular spot among digital nomads, as they always offer reliable wifi and modern coworking spaces. Definitely consider staying here permanently if you're looking to meet other digital nomads while living in Tulum, Mexico.
Papaya Playa Project
The Papaya Playa Project Tulum is one of the more upscale places to work in the area. The wifi is very good and is available everywhere on-site, including the beach loungers, the restaurant, and the spacious outdoor area. Prices are steep though so it's not the most budget-friendly place to be productive.
Coati Café Tulum
Coati Café is located right in the center of Tulum and is a reputable workplace among local digital nomads. The cafe is part of a hostel with a coworking space designed with the needs of remote workers in mind. The coworking space is open every day from 8 AM to 7 PM and costs only $5 per day.
Los Amigos Cowork
For $10 a day you can get access to the Los Amigo coworking space in Tulum from 9 AM to 6 PM. Free flow coffee and water, printing facilities, and high-speed wifi are included in the price. If you book a weekly ($40) or monthly ($150) membership, you even have 24/7 access with a key card.
Are you a digital nomad looking for the best backpack?
We know how important it is to make sure you have the right functional backpack on your travels to protect your electronics which is why we've made a comprehensive list of our favorite digital nomad backpacks. Check it out!
TYPICAL WORKDAY IN TULUM
8 AM – Start your day with a coffee and breakfast at one of the nearby coffee shops. Then plan your schedule and write down your to-do list.
9 AM – Now head to a coffee shop or your coworking space of choice. This is when your productive time begins.
1 PM – Order food from either a nearby cafe or the coworking space you are working at. Enjoy a delicious lunch by the beach or meet up with a friend to chat for a while.
13:45 – Come back to your workspace and pick up where you left off. Keep your eyes open, for an afternoon workshop or networking event you could join.
4-5 PM – It's time to call it a day. Bring your laptop and other equipment back to your accommodation and then head to the beach. Here you can have dinner at one of the beachfront restaurants and enjoy the sunset with a well-deserved drink.
DIGITAL NOMAD LIVING IN TULUM MEXICO: THINGS TO DO
Check out our Tulum Mexico Travel Itinerary for more details on things to do in Tulum Mexico, but here is a list of our must-do's while in Tulum.
Explore some Cenotes
The area around Playa del Carmen and Tulum is known for its natural sinkholes, the famous Mexican cenotes. There are so many in the area that it is hard to decide which is the best. Some are perfect for swimming, some are great for snorkeling, and even let you, scuba dive, if you're feeling adventurous.
Visit the Tulum Ruins
Tulum's Mayan Ruins from the 13th century are a popular destination for tourists and locals alike. The ruins are located on a cliff overlooking the breathtakingly blue ocean. If you want to learn more about the history of the ruins, it is worth taking a guided tour there.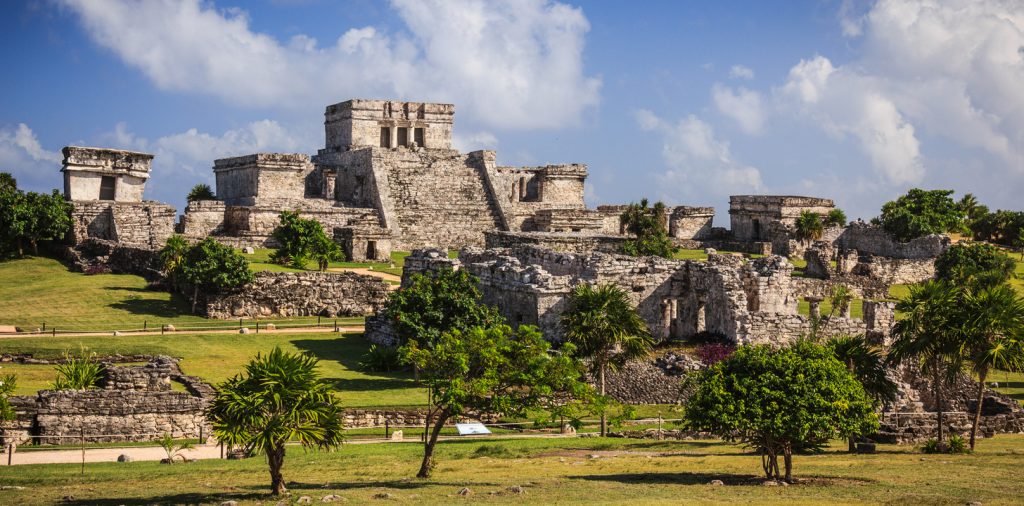 Spend the day by the beach
Tulum has by far the most beautiful beaches in the area. Just rent a sun lounger or cabana on the beach and enjoy a laid-back day by the ocean.
Take a tour of Sian Ka'an
The Sian Ka'an national reserve is located about an hour from the center of Tulum. Here you can visit several Mayan ruins, drive through the mangroves and observe lots of animals. Since the park is so big, you can easily spend several days exploring and will want to come back again in the future.
DIGITAL NOMAD LIVING IN TULUM MEXICO – IS IT WORTH IT?
Every digital nomad should spend some time living in Tulum, Mexico. There is a large number of remote workers here who have formed a tightly-knit community. The cost of living is reasonable, you'll live close to the ocean, and the weather is pleasant for most of the year.
Tulum offers a great mix of relaxation on the beach, diverse nightlife in the center, and popular coffee shops to work from. In addition to that, with so many nearby day trip options to choose from, there is always something to do.
Looking for the best laptop for Digital Nomads?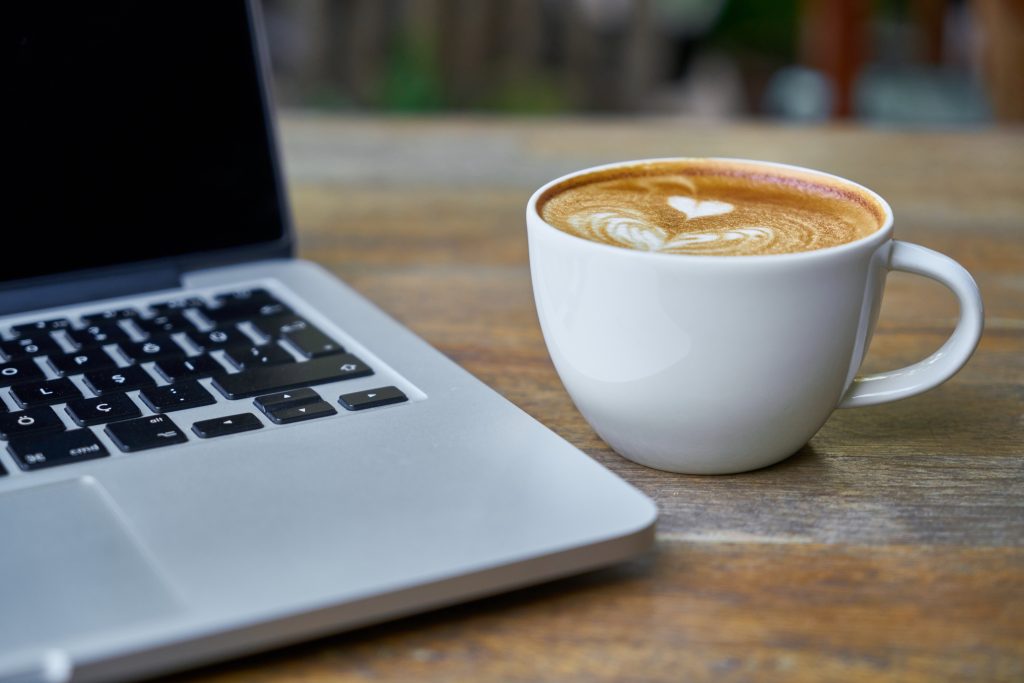 We all know our laptops are the most essential piece of equipment for working remote. Whether you are in need of an upgrade or you are looking to buy your first laptop – Check out our comprehensive laptop guide for digital nomads!
---
Check out our other Mexico Digital Nomad articles!
Check out our other Mexico-related articles!
Like this Digital Nomad Living in Tulum Mexico Post? Pin it for later!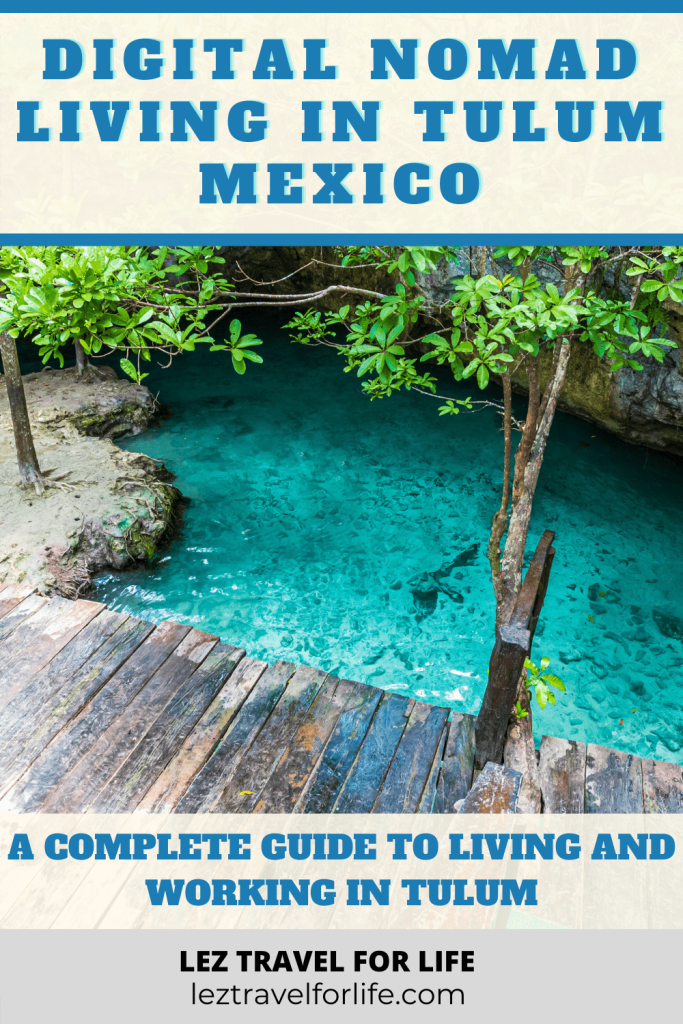 I'm Sam and I may only be 5'3 but I'm feisty and enjoy a lot of sarcastic humor. I'm addicted to travel as well as feeding and advocating for street animals in every country I travel to. I'm married to Courtney and we're super gay or whatevaaaa. We're both extroverts and love meeting new people everywhere we travel. We are in love with Latin American culture but can't wait to explore more of the world!