This article may contain affiliate/compensated links. For full information, please see our disclaimer here.
Reminder: Make sure to check the country's covid guidelines before travel.
EPIC TRAVEL GUIDE TO SAN CRISTOBAL DE LAS CASAS
San Cristóbal de Las Casas is located in the state of Chiapas, Mexico. It's nestled in the highlands region, its town is known as a Pueblo Magico. This town is colorful, full of life with beautiful churches, indigenous influence through textiles, food, and more. This epic travel guide to San Cristóbal de Las Casas will fill your spirit with all the magic this place has to offer.
Courtney and I slow traveled around Mexico for 10 months, and landed here for a month. It is a relaxing place filled with ex-pats who also enjoy slow travel. Some, even relocated here long-term because they love the people and the prices. We had so many adventures in this city and across Chiapas Mexico.
San Cristóbal is a place where you will get to see and experience local coffee, pox (posh) local liquor made in Chiapas, and dive into the local indigenous culture that still thrives today, not without controversy though. We enjoyed purchasing textiles and products made by local indigenous communities not only because their well-being depends on it but because you can feel the pride.
It's easy to fall in love with this place. We did. The people are friendly, passionate, and hardworking. So let's get lost in this epic travel guide to San Cristóbal de Las Casas so you can experience the love and excitement for this place too!
QUICK INFO ON SAN CRISTOBAL DE LAS CASAS
Okay, friends, we stayed here for a month so we wanted to give you a quick low down on information we wish we knew before our stay.
Food FYI: Don't eat the fresh fruits or veggies from the street unless you soak them and thoroughly clean them. I know this seems like common sense but even some Mexicans got sick from them while we were here. It was suggested to use colloidal silver to clean your veggies.
Getting Around: You can pretty much walk anywhere in the city. The city is spread out with various neighborhoods but you shouldn't need a taxi to get where you want to go. If you do need a taxi they should be very cheap. To get around town you should pay no more than 60 pesos!
ATMs: Only found in the center of town (next to the Starbucks). They go out of order sometimes and sometimes they are crowded with people. Have cash handy as you'll need it most places you go.
Coworking Spaces: There are a couple of great co-working spaces that you should check out if you need a place to work! One is Centralita which has two locations, both are great. The other is Co.404 Coliving/ Co-working space. This one is also an Airbnb with rooms you can rent. It's extremely private and only guests can work here.
Language: You need to know some basic Spanish at the airport to help you get a shuttle or taxi.
Airport Transportation: If your flight arrives in the afternoon at the Tuxtla airport which everyone uses to fly into Chiapas. They may be out of shuttles but if you get other people to get a taxi with you you'll be fine.
EPIC TRAVEL GUIDE TO SAN CRISTOBAL DE LAS CASAS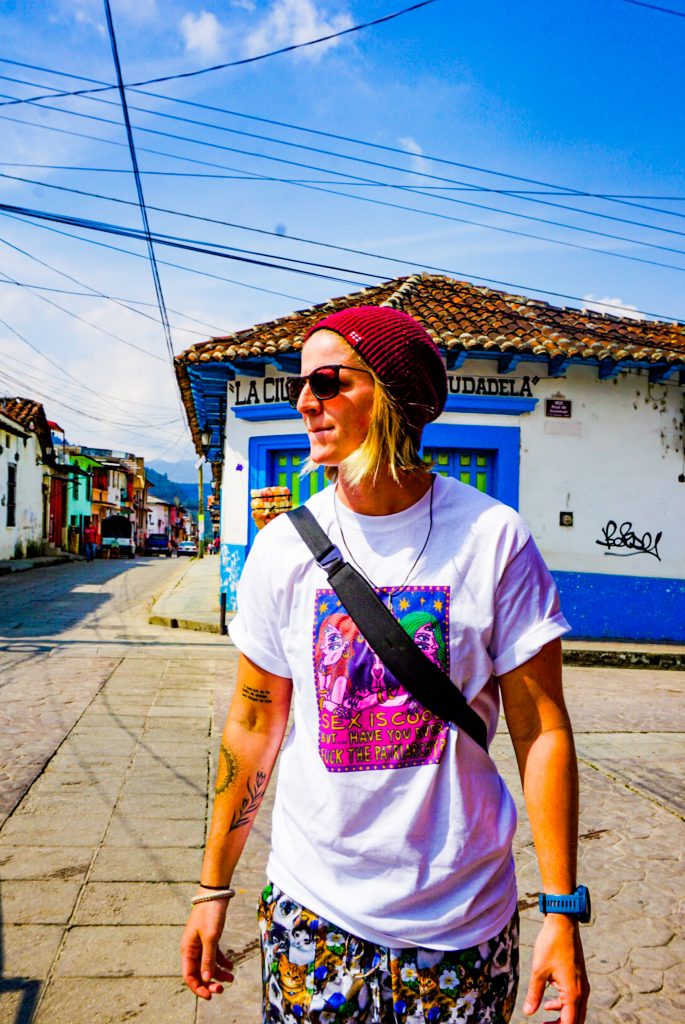 Free walking tour of San Cristóbal de Las Casas
Let's start with something simple and free to get you acclimated. A free walking tour! Check out our friend and local artist's Instagram little.eyes.alien for information on the tour! We took the tour the second day we arrived which was perfect because we made friends along the way!
The tour begins in the center of the Plaza de La Paz. There you will find a yellow church and a wooden cross, stand there and wait! You may even get lucky and see the guy feeding like 500 pigeons while you wait. When you embark on the tour, know that it is about 3 hours long. Wear good shoes, bring some water and be ready to walk!
Let's summarize what you will see on the tour!
Your guide will summarize information about the main buildings and squares in the center of town. From history to the present, including pointing out spray-painted art and murals and why they exist.
Walking down the main street Real de Guadalupe, talking about the bars, nightlife, and show off one of the churches in the background.
Walk to San Cristobalito Church, but skip the stairs going up.
Walk around and stop into clothing store

D-Cara

. We're OBSESSED with this store because it is LGBTQ run and the clothing is all handmade. We decided to snag some handmade shorts, pants, and Courtney got a custom shirt/ short combo that has cats all over it. AMAZING.
Next, we stopped into an art gallery where we learned about local artists, what inspired their art, and getting a lesson on how to tell apart fake vs real amber!
Coffee tasting at Libre Cafe on Real de Guadalupe! Not our favorite BUT still good.
Briefly walking around another neighborhood, Barrio del Cerrillo to check out murals, street art, and places to stop and take pictures with a view!
Last, we tried out pox (pronounced posh) at La Espiruosa which is where you'll find our favorite breakfast and coffee spot, La Frontera. Also, there is a small pastry shop with French bakery items. EAT THEM ALL! It's so cheap and so good!!!
Listen, I know I mentioned that the tour is free, but we always encourage you to tip your guide. Generally, 100-150 pesos per person is what is suggested (5-7 US dollars). While the tour isn't earth-shattering, we met a cool artist who was our guide and met other cool people whom we hung out with during our stay in San Cristóbal. We learned more about the area, where to take pictures, and where to spend money on local businesses.
Walk and Explore Calle Real de Guadalupe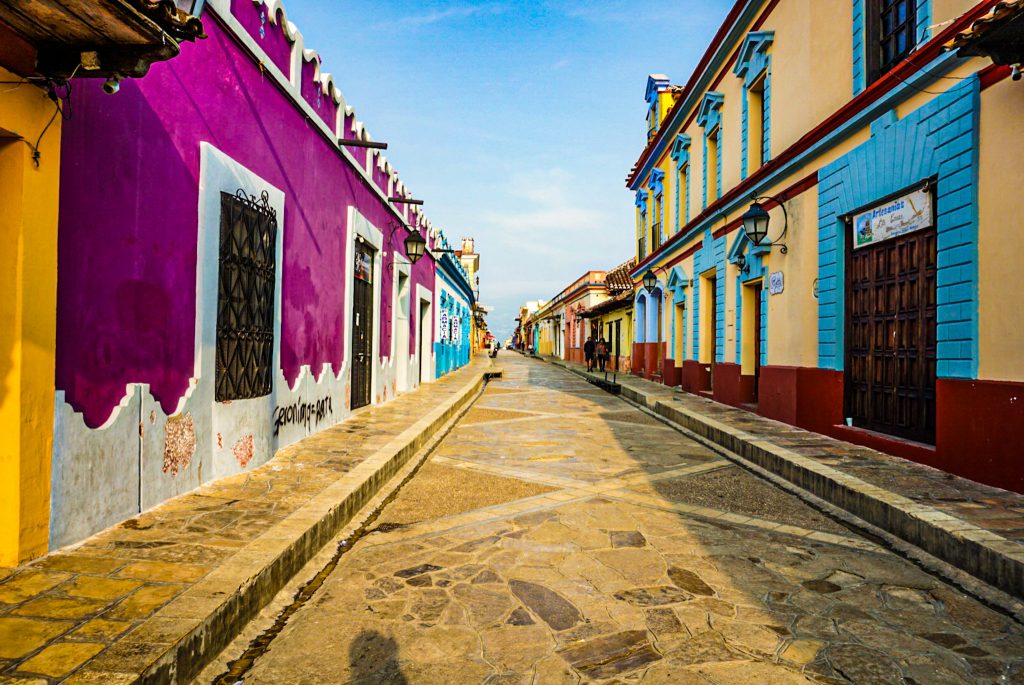 Outside of the free walking tour, the quickest way to get acclimated to the magic of San Cristóbal de Las Casas is to get to know the main hub, Real de Guadalupe. This is what I would consider the main street of the city. This is where you'll pass tons of restaurants advertising pizza and hamburgers (they all suck), and some incredible food and drink spots we will clue you in on.
If you start your walk early enough you'll have the street to yourself. Businesses haven't opened yet, musicians and artists are sleeping, and of course, the wine bars are closed. We loved to walk here around 8 am right before our favorite coffee shop opened and enjoy a view of the church. Not just any church, but the Guadalupe church that sits at the top of a hill not too far from the city center.
Music, Food, Drinks and More!
If you start your walk in the afternoon you'll be met with a lot of traffic passing by, shops, locals selling things, restaurants, artists, and more. When you have reached where Real de Guadalupe meets with Diego Dugelay avenue you can walk in the center of the road versus walking on what felt like the most narrow sidewalks ever built.
If you're confused as to where to eat or drink, don't be fooled by the many signs leading you in to eat pizza and hamburgers. Try out Bacco de vino for unbelievably cheap local wine (less than 20 pesos) and tapas. Or, if you want amazing local charcuterie to walk a few doors down to H.A.M and chow down on some delicious local meats and cheeses and MORE cheap wine!
Real de Guadalupe is the perfect place to drop a pin on your phone so you can always come back here if you explore outside of this area and need a familiar place to walk back to. Once nighttime hits you'll be met with tons of performers from singers to street performers walking around entertaining those sitting outside of the many restaurants. Bars start to fill up with locals and travelers alike and feel alive and connected to this incredible city!
Discover Churches and markets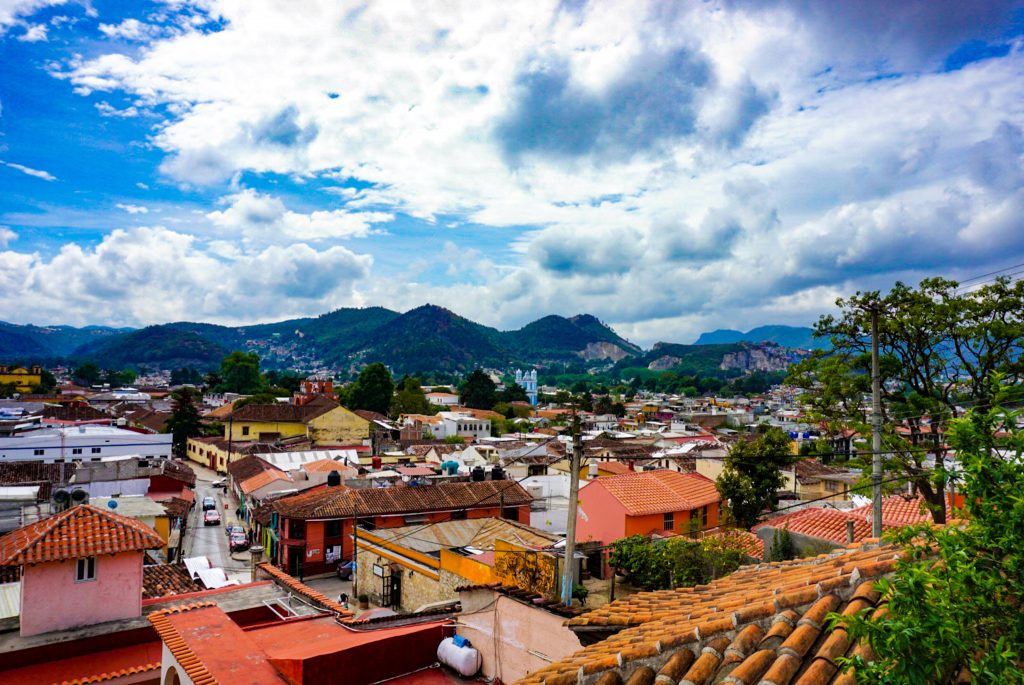 Not far from Real de Guadalupe is an area with markets known as the Mercado Municipal for food, fruits, juices, meats, and more! Also explore the Mercado de Artesenias, food stalls, and a ton of locals! This is a great way to dive into the life of a local.
Near the markets, there is the beautiful Santo Domingo Church. Unfortunately, due to earthquake damage, the church was blocked off for renovations so we didn't get to get a good loo. Typically you can walk up to the church and take pictures of its beautiful architecture!
At Mercado de Artesanias you will see intricate and colorful textiles, shoes, dresses, and more handcrafted by local indigenous communities. Courtney and I spent hours walking around here. Completely entranced by the sounds, smells, music, and more! If you listen closely you'll notice that the Tzotzil Mayas, a local indigenous community, actually speaks Mayan. YES, the ancient Mayan language.
Visit nearby Indigenous villages like Chamula
10+ indigenous communities live and work in Chiapas. Another unique aspect of San Cristóbal de Las Casas is that you are staying in such close proximity to several communities. Take a taxi ride 20 minutes away to a place called San Juan Chamula where ancient religious practices meet modern-day Christianity.
The town of San Juan Chamula has gained quite a bit of popularity over the years because of its unique church that combines ancient Mayan practices and beliefs with Catholicism. Yes, you can actually tour the inside of the church. No pictures of course. Your brain will be confused and excited during the tour, as you experience people singing, chanting, and drinking a mixture made of coca-cola to literally burp out unwanted spirits. You may even see a chicken being sacrificed.
You're about to be mind blown about this next part, I know I was. Chamula is the leading city in the WORLD for the consumption of Coca-Cola. Why? It is actually cheaper to drink Coca-cola than it is to drink water. You will find children as young as 1-2 walking around with a bottle of Coca-Cola in hand. The most interesting thing about this is that EACH person on a daily basis typically consumes around 2 liters DAILY.
While it's easy to fall in love with the beautiful colors of indigenous textiles, and clothing it's important to spend your money on items made by these communities. There is a lot of political unrest within Mexico between the indigenous people and its government. Help keep these communities alive and thriving by supporting their hard work.
Eat and drink your way around San Cristóbal de Las Casas
Who doesn't like food? Seriously! This place is full of incredible food options, but it also has a lot of bad food that feels like a literal tourist trap.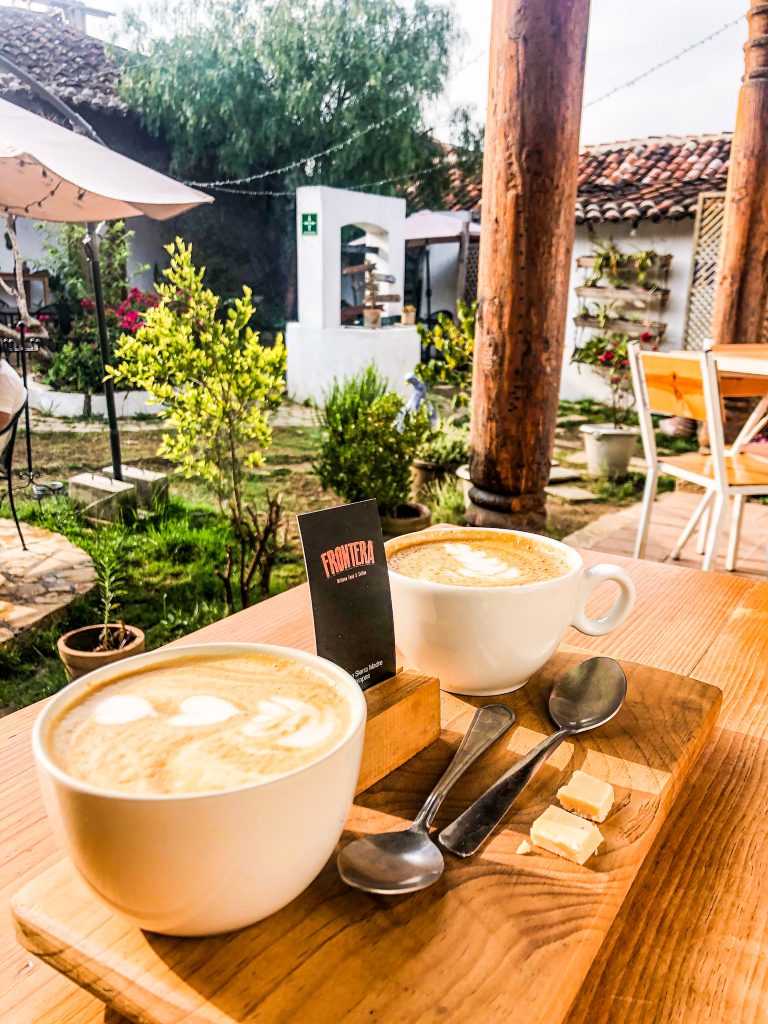 Food:
Tok Tok Wok: Asian rice and noodle bowls. Cheap, fast, and so good.
H.A.M: AMAZING charcuterie and cheap delicious wine. You must check this out!
La Lupe: Authentic Mexican food and usually has margarita deals during the day. Great tacos.
Trattoria Catanzaro: Italian food including pizza. A favorite to many tourists. Most of the pizza on the main street Real de Guadalupe is NOT good.
Pachamama: The only pizza we like on Real de Guadalupe! Perfect for a late night snack after drinking!
Casa La Venta: Really good pizza. Also has a juice and smoothie bar.
Just Pho: Amazing ramen and pho. You have to wait for about 25 minutes but it is worth it.
Bangcook– Thai food that will blow your mind!
Drinks:
La Vina de Bacco: The best tapas place in San Cristóbal de Las Casa. Anyone who visits San Cristóbal should come here! Wine for less than $1 USD. Tapas aren't super amazing, but they do have a food menu if you want to try something different!
Pox: Go in and try this local and delicious alcoholic drink. There are SO many flavors and you can connect with locals who are very passionate about Chiapas.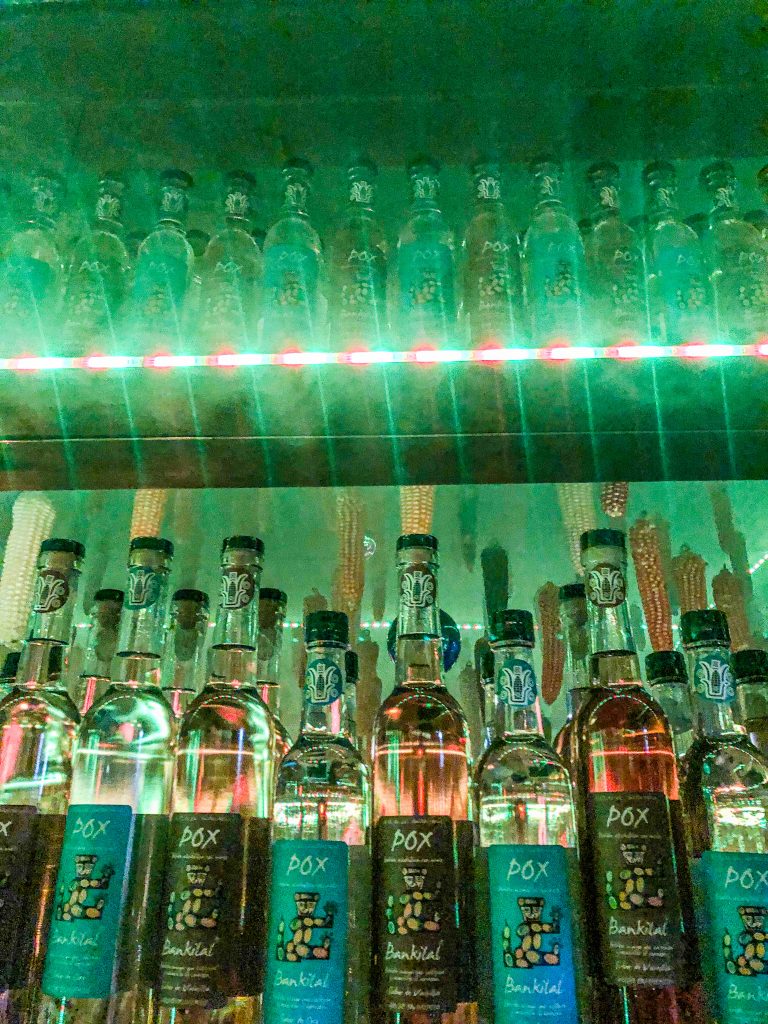 Read more about our favorite restaurants in San Cristóbal.
Hop around the main square
San Cristóbal is so easy to navigate, which means it's easy to make your way around the city and check out as many colorful streets, markets, churches, and more! This area is called Plaza de La Paz and Plaza 31 de Marzo. Here you'll find more markets, rooftop bars, and street vendors with Mexican street corn or Elotes (MUST TRY).
If you've made it to Plaza de La Paz, you've made it to the grand yellow Church of San Cristóbal which is the center of the city! Around here you'll experience locals selling various items, music playing, street food, and lots of shops with artisan textiles and more!
Around Plaza 31 de Marzo is countless archways, more music, the Museum of the Governor's Palace, another church (Saint Nicolas church).
Discover where the nightlife is in San Cristóbal de Las Casas
Around the Zocalo, yes where there is more music, but somehow louder music? There is a street deemed as the place to go when you're looking for a bar! Here at Calle Eclesiastico is chock full of restaurants, clubs, various bars serving mezcal, tequila, pox and, MUSIC.
Oh, I bet you didn't expect to find Carmen's Arch here either (Arco del Carmen). It used to be a convent for women of course! On this street, there are so many food, coffee, and bar options! Check out the San Agustin Food Court off to the side. Here there are hidden treasures that you can't miss! (Bangcook the thai place is here!).
Other restaurants worth checking out are 500 Noches which is a bar with fondue and live music! A ceviche joint, a coffee shop called Amor Negro, and more!
Walk through caves at Arcotete Ecotourism Park
Right outside San Cristóbal de Las Casas about 20 minutes away is the Arcotete Ecotourism Park (Parque Ecoturistico del Arcotete). Here you will find yourself in the mountains where you can enjoy lunch at one of the small restaurants, or walk around the caves! Yes, caves! Follow the signs and you'll find yourself at the front of a cave with a river running through it. Here you can also go ziplining, rock climbing, camping, or even horseback riding!
Day trip to Waterfalls and Ancient Ruins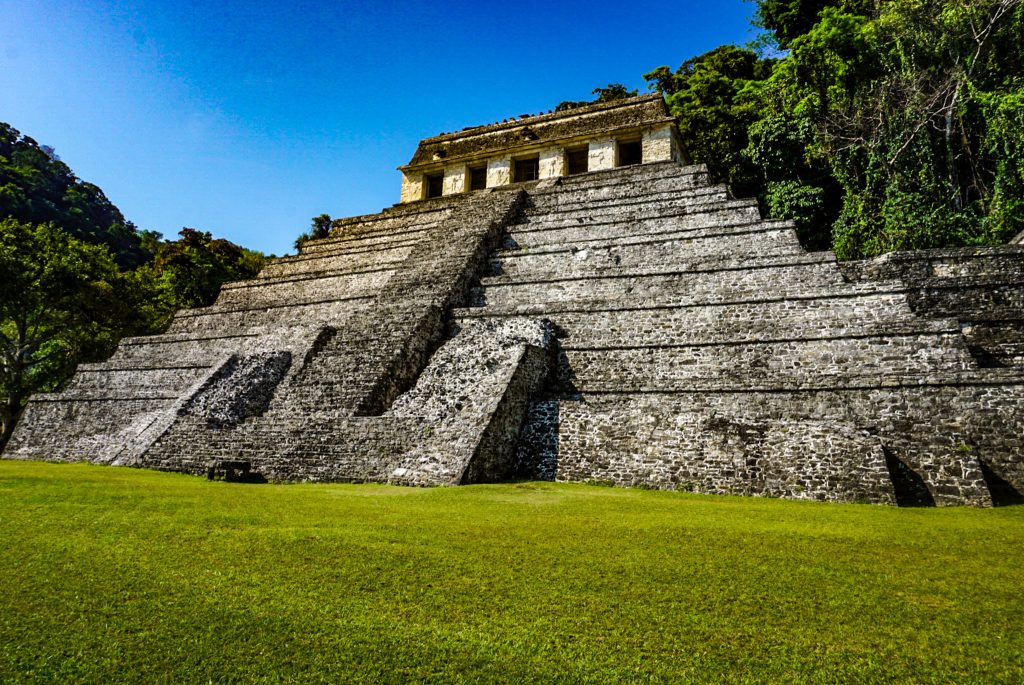 If you are short on time but still really want to experience the magic of Chiapas then take a tour and explore waterfalls and ancient Mayan ruins! We decided to take a private tour which was more expensive than a group tour but we had our dog Hughie with us and honestly, we just wanted our privacy. There are stands set up all over the city making it very easy to organize!
Day Trip option 1: Agua Azul, Palenque, and Misol-Ha. They are an hour apart from each other and you'll visit them either on the way to or from Palenque. The drive is 5+ hours to Palenque which is why having an organized tour is best.
Day Trip Option 2: El Chiflon Waterfall and Lagos de Montebello (or Lagos de Colon). These two places are very popular for day trips because they are less than 3 hours from San Cristóbal de Las Casas. We chose a day trip option for this and decided to visit Lagos de Colon over Lagos de Montebello because there are fewer people at Lagos de Colon and you have more freedom to swim and explore there! There is even a cenote you can swim in!
Boat Around Sumidero Canyon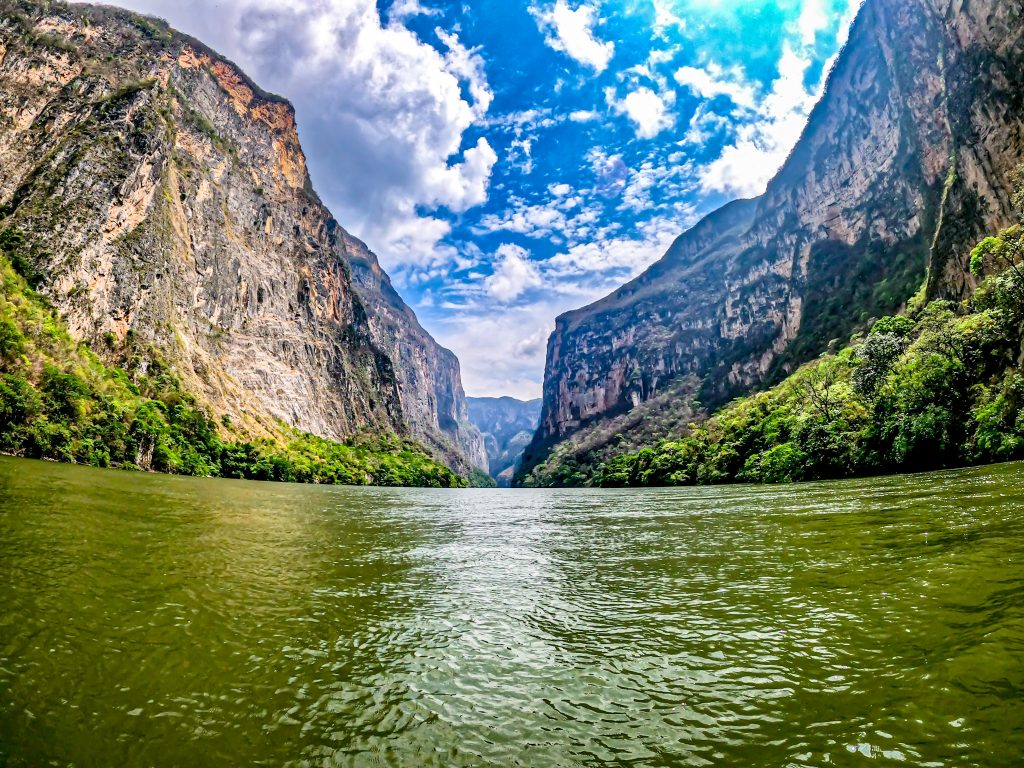 Located outside of Chiapa de Corzo which is an hour from San Cristóbal de las Casas there is a national park that has been compared to the Grand Canyon in the United States. The canyon itself tours to over 1000 meters! You can take a boat tour which leaves daily and actually go through the canyon or you can walk around the national park which surrounds Sumidero Canyon and catch the views from the top.
The boat ride lasts around 2 hours and it will get very hot. The boat does not have a cover so wear sunscreen and a hat. You will see crocodiles, monkeys, and different species of birds. The tour guide only speaks Spanish, but don't worry he is describing the landscape for most of the tour so you won't miss too much. We suggest you book through a tour for the Sumidero Canyon because transportation will be included which makes planning the trip less stressful.
Visit the Colorful town of Chiapa de Corzo
After you have explored the Sumidero Canyon head over to Chiapa de Corzo! It's only 15 minutes away from the boat docks. During your visit, you can walk around town eating local cuisine, desserts, and see the Fountain La Pila which has beautiful 16th-century architecture.
Explore Guadalupe Church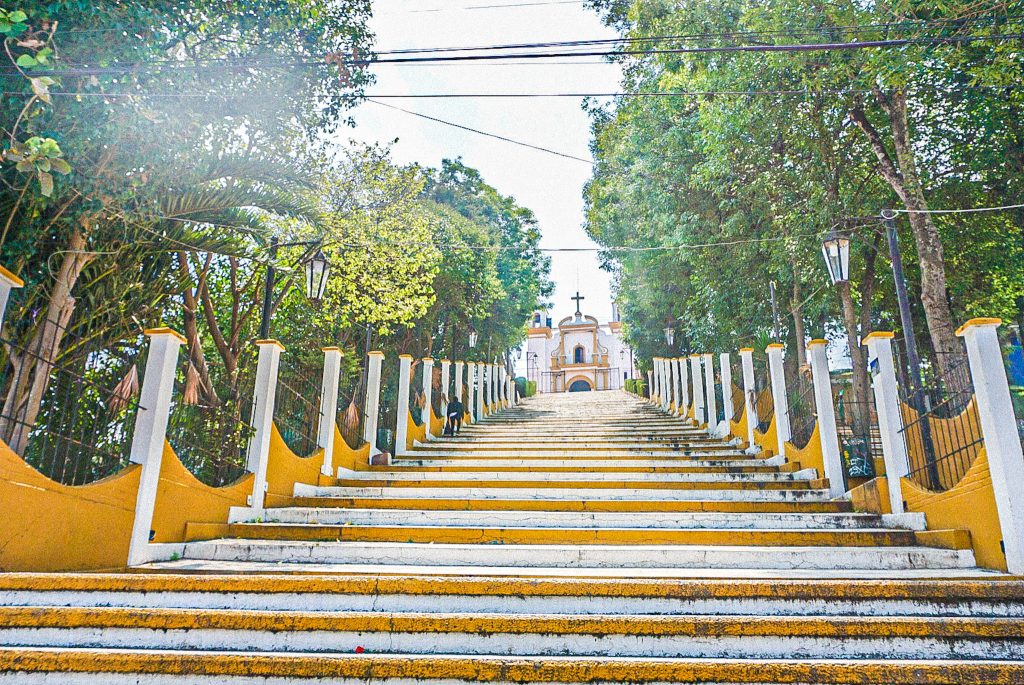 Time to explore the beautiful white and yellow church that is majestically set at the top of a hill in the neighborhood Barrio del Guadalupe. This church is a very important landmark for the people of San Cristóbal de Las Casas and during Christmas time around December 12th, there is a huge celebration with drinking, lights, music, and fireworks all through the night.
The area is fun because there are small restaurants, cafes, street carts, and colorful buildings surrounding you.
Bike Around San Cristóbal de Las Casas
San Cristóbal de Las Casas is a city where nature and being outside is an important part of the culture. Reserve a guided tour and go on a 6-hour adventure around local indigenous communities like Chamula or the Huitepec Mountain Reserve. Book here. If you choose a guided tour versus just renting bikes on your own you'll get to learn in detail what life is like for local indigenous populations in this area.
Museum Hop Around the city
We had no idea there were museums in San Cristóbal de Las Casas, we were used to the massive museums found in Mexico City. We were pleasantly surprised to find a few museums we think are worth mentioning. We also had no idea how important Jade and Amber are to Chiapas.
Jade Museum: Jade has been a huge part of Mexican culture for centuries. Dating back to the ancient Mayan times this stone represented love, eternity, and power. The museum highlights how important jade was to the Mayan people, many tombs were found with Jade inside. It's an interesting place to visit and find the connection between ancient history and modern culture.
Amber Museum: While jade was incredibly important to the Mayans, Amber holds the biggest importance here. Chiapas is known for its amber, people from all over the world purchase amber from Chiapas! Many people think that amber is a stone, like Jade. It is actually a fossil! Just like in Jurassic Park you can sometimes find insects inside.
Casa Na Bolom: You must visit Casa Na Bolom while in San Cristóbal de Las Casas. Touring here is cheap (less than 100 pesos) and you can get a quick lesson on the history of Chiapas. There are artifacts spread out in this museum, restaurant, AND hotel! This used to be the home of Frans Blom who was an archaeologist who studied indigenous communities as well as photographing them. Frans was also pivotal to finding various Mayan archaeological sites across the state of Chiapas.
WHAT TO PACK

San Cristóbal de Las Casas has unique weather. Some days it is super sunny and hot during the day, or sometimes it's rainy and chilly. The altitude in San Cristóbal is over 2000 meters so it is cool at nighttime. For more details on what to pack for Mexico check out our Mexico Packing List.
WHERE TO STAY IN SAN CRISTOBAL DE LAS CASAS
Trying to figure out where to stay in San Cristobal de Las Casas on top of planning day trips? Don't stress! I have an entire article dedicated to Unique Hotels in San Cristobal de Las Casas here.
Interested in other Mexico Related Articles? Check these out!
Like this Epic Travel Guide to San Cristobal de Las Casas post? Pin it for later!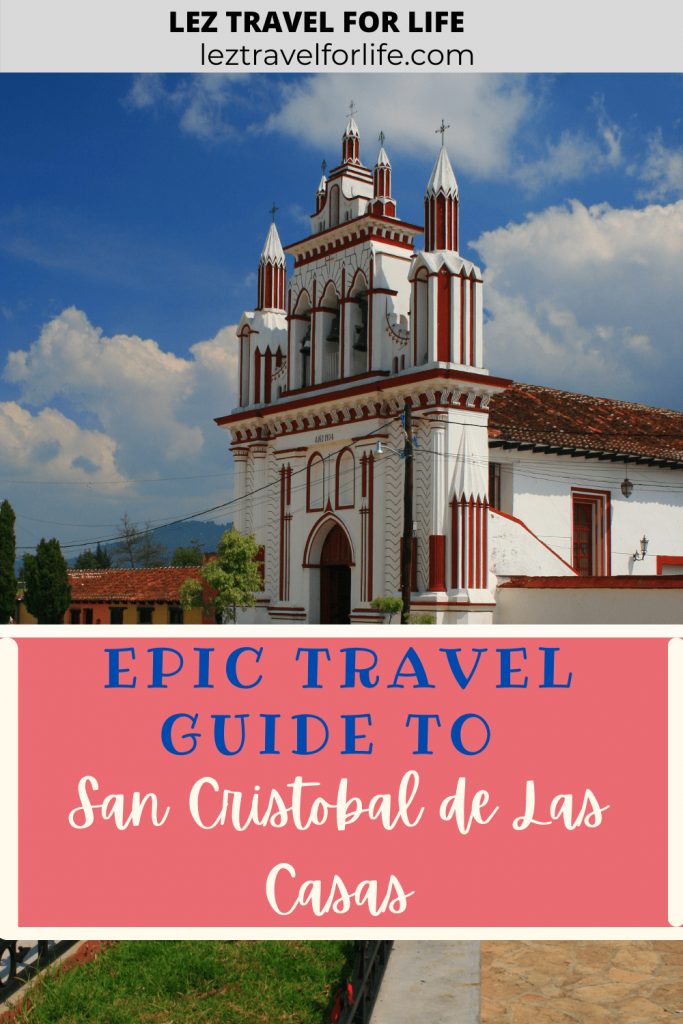 I'm Sam and I may only be 5'3 but I'm feisty and enjoy a lot of sarcastic humor. I'm addicted to travel as well as feeding and advocating for street animals in every country I travel to. I'm married to Courtney and we're super gay or whatevaaaa. We're both extroverts and love meeting new people everywhere we travel. We are in love with Latin American culture but can't wait to explore more of the world!