This article may contain affiliate/compensated links. For full information, please see our disclaimer here.
Take the stress out of travel planning and make your trip to Hierve el Agua, close to Oaxaca, unforgettable. These stunning rock formations and pools are absolutely beautiful, which makes them one of the most popular tourist attractions in the area. If you're unsure how to avoid the crowds and make the most out of your time at Hierve el Agua, this complete guide is for you. Find out all you need to know before you go and experience all the wonders of Hierve el Agua stress-free!
What is Hierve El Agua?
Nestled in the mountains of Oaxaca, Hierve El Agua is a truly unique destination that every Mexico traveler should visit at least once.
Although its name translates to "the water boils," the pools here are actually very cold due to the high altitude. The striking white rock formations that jut out of the pools resemble cascading waterfalls and make for a picturesque sight.
The mineral-rich waters are said to have healing properties and have been used by locals for centuries. Hierve El Agua is not just a natural wonder but also a cultural site, as it was once a sacred place for the Zapotec people, who believed it to be home to powerful deities.
Hiking trails located around the pools offer stunning views of the surrounding valley. So, if you're looking for a scenic adventure in Mexico, Hierve El Agua should definitely be at the top of your list.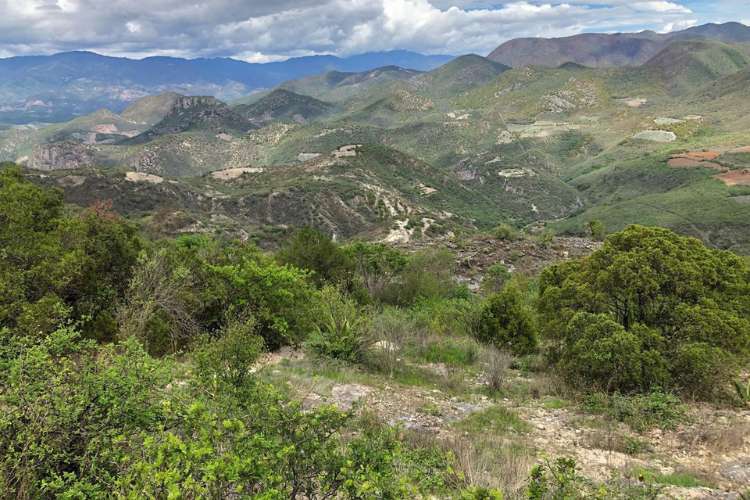 Daily visitor limit at Hierve el Agua
After being closed for an extended period of time due to over-tourism, Hierve el Agua reopened in October 2021 with a visitor limit of 200 people per day. However, this limit does not seem to be enforced anymore currently, although there have been no official announcements.
It's still recommended to arrive at the site early or book a guided tour to make sure you will be able to enter.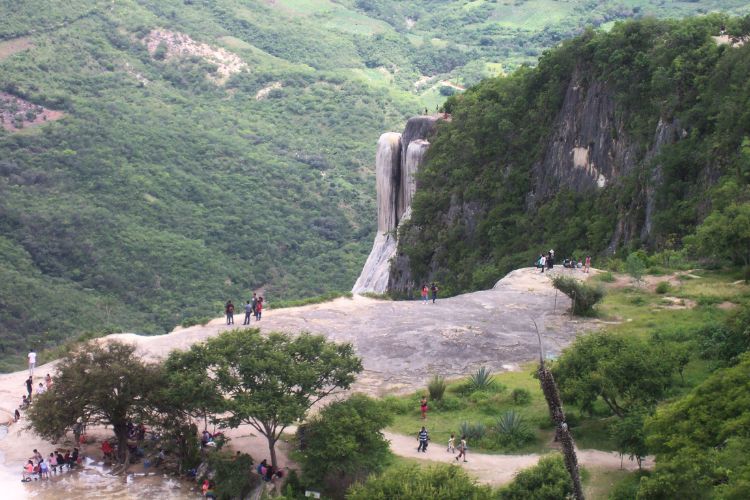 How to get to Hierve El Agua
In order to experience the beautiful Hierve El Agua geological formations, you'll need to plan your transportation accordingly. The majority of visitors join a guided tour, which organizes transport from Oaxaca and makes the trip a lot easier.
However, it's also possible to make your way there independently, which is especially recommended if you want to beat the crowds and arrive early in the morning.
While there are a few different options available for getting to Hierve El Agua, the most common and convenient method is by taxi or hired car, which takes around 1.5 hours from Oaxaca. This will be quite expensive, though, but it may be a good option for larger groups of four or more people traveling together.
From the city of Oaxaca, it's about a two-hour drive to reach Hierve el Agua by car or taxi. If you're looking for a more affordable option, there are also colectivos (shared shuttles) available that can take you to the site.
These typically leave from Oaxaca's Central de Abastos and can be a great choice if you're not in a rush. Keep in mind, though, that this transport method can be a bit unreliable, and you will have to speak at least some Spanish to navigate the confusing system of colectivos.
Another option is to take a public bus to Mitla, which is a small town located around 40 minutes from Hierve el Agua. From there, you can catch a colectivo or get a local driver to take you to the rock formations.
If all this sounds a bit too stressful to plan, a guided tour is a much better option. Tours aren't as expensive as you might expect, and they'll take care of everything along the way.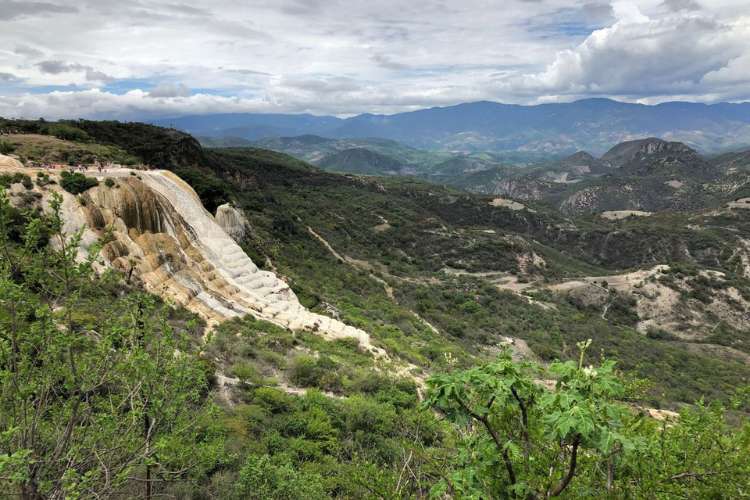 Best Hierve El Agua tours
If you're planning a trip to Oaxaca, Mexico, adding a visit to the Hierve El Agua petrified waterfall to your itinerary is a must. This natural wonder is a breathtaking sight to behold, with its cascading mineral-rich pools and stunning views of the surrounding valley.
But to truly make the most of your experience, joining a guided tour is highly recommended. From hiking through the rugged terrain to soaking in the refreshing pools, the best Hierve El Agua tours will ensure that you not only see but also fully immerse yourself in this incredible natural landmark. So why not leave it to the experts and trust a tour company to lead you on an unforgettable adventure?
One of the best Hierve de Agua tours is this one, which also takes you to other interesting places close to Oaxaca, such as the Tule Tree, a huge tree that is over 2000 years old. You will also get a chance to visit the quaint little town of Mitla and finish the day off with a Mezcal distillery tour and tasting.
The entire tour takes around 10 hours, and the group has about 10 to 15 people, which is still manageable. You'll pay around $45 US per person, which is a very reasonable price considering all that is included. You'll be driven around in an air-conditioned van all day and will even get a complimentary mezcal at the end of the day.
When is Hierve el Agua open?
Hierve el Agua is open daily from 7 AM to 6:30 PM, although public holidays may affect the opening hours. Don't arrive too late in the afternoon as it gets dark very quickly in this area, and hiking can be dangerous with limited visibility.
How much is it to visit Hierve el Agua?
Hierve el Agua is a natural wonder situated high in the mountains and boasting stunning views of the surrounding valleys and rock formations. But how much will it cost to visit?
The good news is that admission to Hierve El Agua is quite affordable. The entrance fee is currently just 50 pesos per person, which is roughly equivalent to $2.50 US. That means you can experience the beauty of this unique natural site without breaking the bank.
The price was last increased in 2021 but luckily is still far more reasonable than other attractions in Mexico.
Remember to take cash to pay for the entrance fee, as card payments are not accepted. There is no need to pre-book tickets, you can easily get them on arrival, although you may have to wait in line for a little while during popular visiting hours.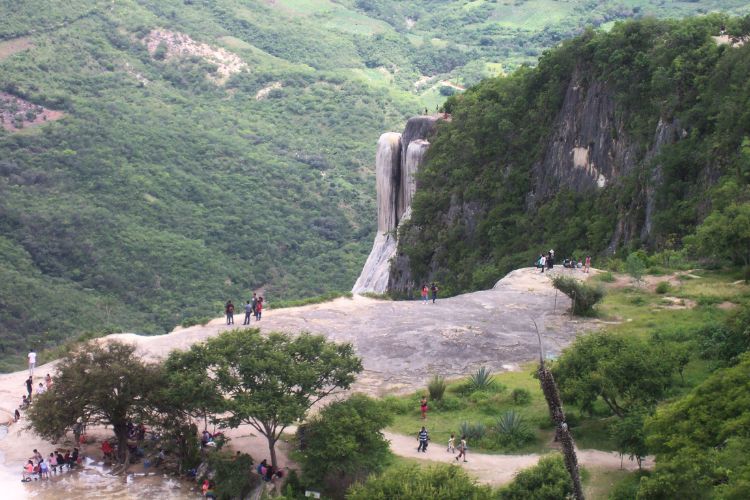 When's the best time to visit Hierve el Agua
Visiting Hierve el Agua is best done in the early morning or late afternoon to avoid large crowds. Midday can be very busy due to tour groups that arrive during this time, so it may be more enjoyable to visit earlier or later. If you plan on coming early, you will most likely have to have your own car or hire a driver, as public transport is unreliable this early in the day, and most tours don't arrive at the site until late morning.
Late October through early April is the ideal time to visit Hierve el Agua, as temperatures are milder, while those visiting between May and September should be prepared for hot temperatures. Regardless of the time of year, there are stunning views to enjoy at Hierve el Agua, and it is an awesome destination for travelers in Oaxaca.
If you plan on getting in some hiking while visiting Hierve el Agua, it is best to go early in the morning or late afternoon to avoid the heat of the day. That way, you can take in all the beauty of the area and have plenty of energy to hike around.
Where to stay if you want to visit Hierve El Agua
If you're planning a visit to Hierve El Agua, you'll want to find the best place to stay, whether it's for a night or for a few days. The good news is that there are plenty of options in the nearby area, so you can choose the accommodation that best suits your needs.
If you're looking for convenience and a day trip from Oaxaca, you may want to consider staying in the city and booking a guided tour. However, if you prefer a more immersive experience and want to explore the surroundings at your own pace, a nearby village or guesthouse might be the perfect choice.
The small town of San Pablo Villa de Mitla has a decent selection of small hotels, although most are quite basic and not very luxurious. Most tourists will choose to stay in Oaxaca instead and head to Hierve el Agua on a day trip.
There are plenty of things to do and see, and the city and it's a hotspot for digital nomads, so this is a great option if you're looking for a place to stay for a few weeks or more.
Best Places to Stay in San Pablo Villa de Mitla
Tucked away onthe edge of San Pablo Villa de Mitla, Casa De Huéspedes Con Lo Que Necesitas Para Ti offers a serene haven. Whether you're a nature enthusiast or a cultural explorer, you will find Casa De Huéspedes Con Lo Que Necesitas Para Ti is a pleasant experience.
You can enjor the garden in the mornig before heading off to the center of town. This is probably the longest walk out of all the others we have listed but should still be a short 10-12 minute walk.
Featuring simple well-kept rooms, Mitla Backpacker is a top choice for budget-conscious travelers seeking a hostel experience. The atmosphere is relaxed and in a beautiful neighborhood.
You will find it is a quick walk from Mitla. Mitla Backpacker is s excellent fit for all types of travelers from solo explorers or groups of friends in search of an affordable and sociable place to lodge.
Offering clean and comfortable rooms, Hotel San Judas is a delightful option for travelers who value both comfort and authenticity.
The rooms are spacious and vibrant. Hotel San Judas is located on the edge of town and just required a quick walk to the center of town.
Located just on the edge of town near San Pablo Villa de Mitla, Hotel Yubazuu provides a haven of tranquility for those seeking relaxation and rejuvenation. Hotel Yubazu is also just a quick walk to the center of town.
Whether you're eager to explore nearby attractions or simply seek comfort, Hotel Yubazuu's scenic view of the surrounding mountains provides and pleasant stay.
Strategically situated in San Pablo Villa de Mitla, OYO Hotel Y Restaurante Mitla offers convenience and comfort for travelers. Boasting inviting rooms and an on-site restaurant, the hotel creates a comfortable spot for those exploring local sights.
It offers practical amenities and a friendly environment for a nice stay. Can't forget to add that is it is pet friendly so you can bring your furry friend along for the journey.
Best Places to Stay in Oaxaca City
With clean and spacious dorms, an outdoor pool, and a ping pong table, the Ticuchi Hostal is perfect for hostel backpackers. There's a friendly and relaxed atmosphere, with several organized social activities available. However, this is not a party hostel, so you can still count on a good night's rest.
It's worth noting that this is an adults-only hostel, so it's not suitable for families with children. However, it's perfect for solo travelers or groups of friends looking for a social and budget-friendly place to stay.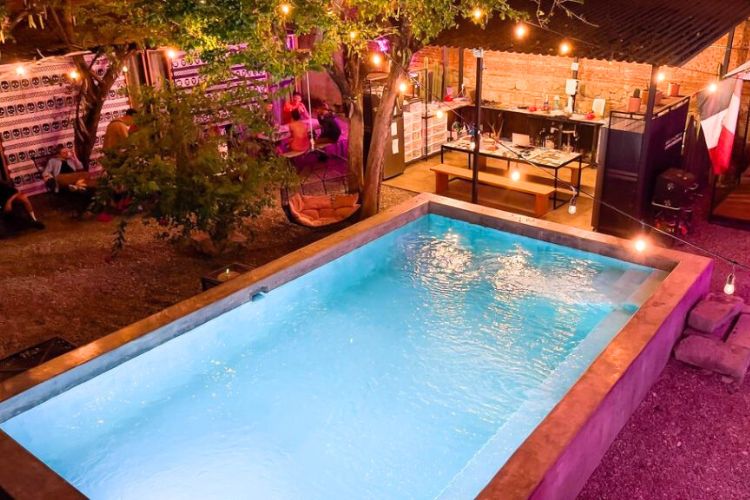 The Casa de Pino apartments are perfect for solo travelers or couples who want a comfortable place of refuge in the historic center of Oaxaca. Each unit has a flat-screen TV, a fully equipped kitchen, and a coffee machine. There is also a shared swimming pool and terrace (featured image on this post) where guests can relax and mingle.
The apartments are a short stroll away from the downtown area, so it's easy to explore all that Oaxaca City has to offer. You also have the option to chill out by the pool whenever you feel the need for a break from the hustle and bustle.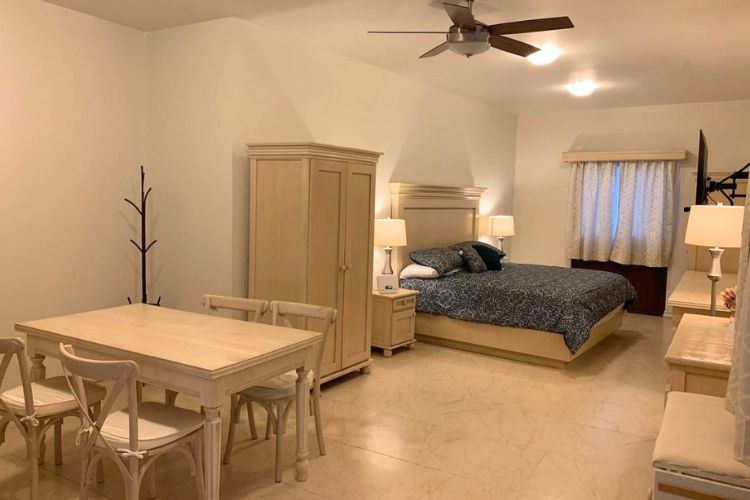 Nestled in the peaceful Barrio de Xochimilco neighborhood, this charming little hotel is just five minutes away from Oaxaca's buzzing bar scene. However, it is shielded from the majority of the noise, offering guests a sound night's sleep.
The rooms are all decorated in a traditional Mexican style and there are several coffee shops and bakeries just a stone's throw away. However, the best thing about this property is the friendly and welcoming atmosphere that will ensure you feel right at home.
This sleek and modern boutique hotel offers guests luxury and comfort without breaking the bank. The hotel itself is located in the historic city center, so all of the action and top tourist hotspots are right on your doorstep.
The rooms are spacious and decorated with an elegant, minimalist style and come with a fully equipped kitchen. Here, you get the full hotel experience while benefiting from a self-catered suite. If you wish to cook for yourself, the staff will even organize grocery deliveries for you.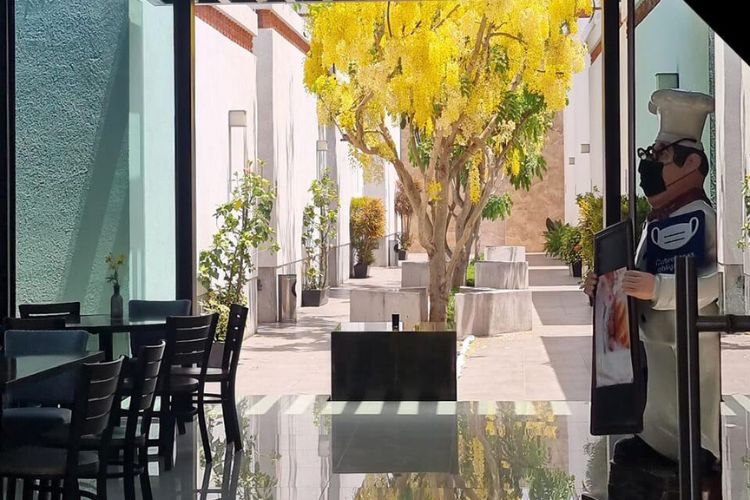 This luxurious property boasts spacious suites, traditional Mexican decor, and an outdoor swimming pool where you can cool off after a day of exploring. No detail has been forgotten here, and the hotel staff is on hand 24/7 to ensure you have everything you need. It's easy to book tours and excursions through the hotel, and there's a restaurant on site where you can enjoy delicious and authentic Mexican cuisine.
Swimming and hiking at Hierve el Agua
Hierve el Agua offers the perfect combination of two fun outdoor activities: swimming and hiking. The name, which means "the water boils," comes from the cascading mineral waterfalls that have created pools of vibrant turquoise blue, while the petrified mineral pillars standing atop the cliff resemble a massive frozen waterfall.
It's no surprise that visitors are drawn to this natural marvel. Hiking to the top offers a breathtaking view of the surrounding valley and a chance to admire the unusual rock formations. Afterward, the refreshing pools provide a serene and relaxing environment where visitors can take a dip and cool off from the warm Mexican sun.
It's hard to think of a better way to spend a day than exploring this stunning place and experiencing the thrill of hiking and the soothing calmness of swimming all in one place.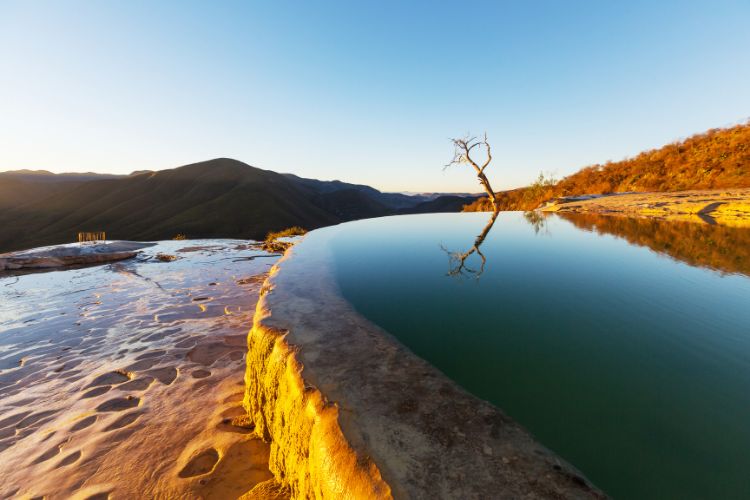 Responsible travel in Hierve El Agua Oaxaca
Hierve el Agua was closed to visitors for an extended period of time until 2021 when it officially opened for tourists again. This was due to the damage caused by over-tourism, which unfortunately began to destroy the natural beauty of this beautiful place.
This is why it's important to keep in mind that this beautiful destination is also home to a delicate ecosystem that must be respected and protected. To ensure responsible travel, visitors can take measures such as bringing their own reusable water bottles, avoiding single-use plastics, and refraining from touching or removing any plants or rocks while hiking the trails.
It's also important to use eco-friendly sunscreen and to only support reputable tour companies that follow local rules and regulations. Make sure to read reviews before you book and keep an eye out for negative experiences other travelers might have had.
By taking these small but impactful actions, we can enjoy the beauty of Hierve El Agua while also preserving it for future generations to come.
Hierve El Agua Oaxaca FAQ
Is it worth going to Hierve el Agua, close to Oaxaca?
Yes, Hierve el Agua is one of Mexico's most famous attractions and an absolutely breathtaking sight to see. It's definitely worth visiting and a fantastic day trip from Oaxaca.
Is it safe to swim in Hierve el Agua?
Yes, it's perfectly safe to swim in the pools at Hierve el Agua, although the water is usually very cold, so don't confuse it with a natural hot spring.

What does Hierve el Agua mean?
Hierve el Agua means "the water boils" in Spanish and refers to the petrified waterfalls, which look like water boiling over the edge of a mountain.

When is Hierve el Agua open?
Hierve el Agua is open to the public after being closed during the COVID-19 pandemic. It reopened in October 2021 with a limit of 200 visitors per day, which has since been revised.

What's the best way to see Hierve el Agua?
The best way to see Hierve el Agua is as part of a day trip from Oaxaca or with a guided group tour.

Where is Hierve el Agua?
Hierve el Agua is located approximately 45 miles from Oaxaca, and it takes around 1.5 hours by car to get there.

Interested in other Mexico Related Articles? Check these out!
Like this Post? Pin it for later!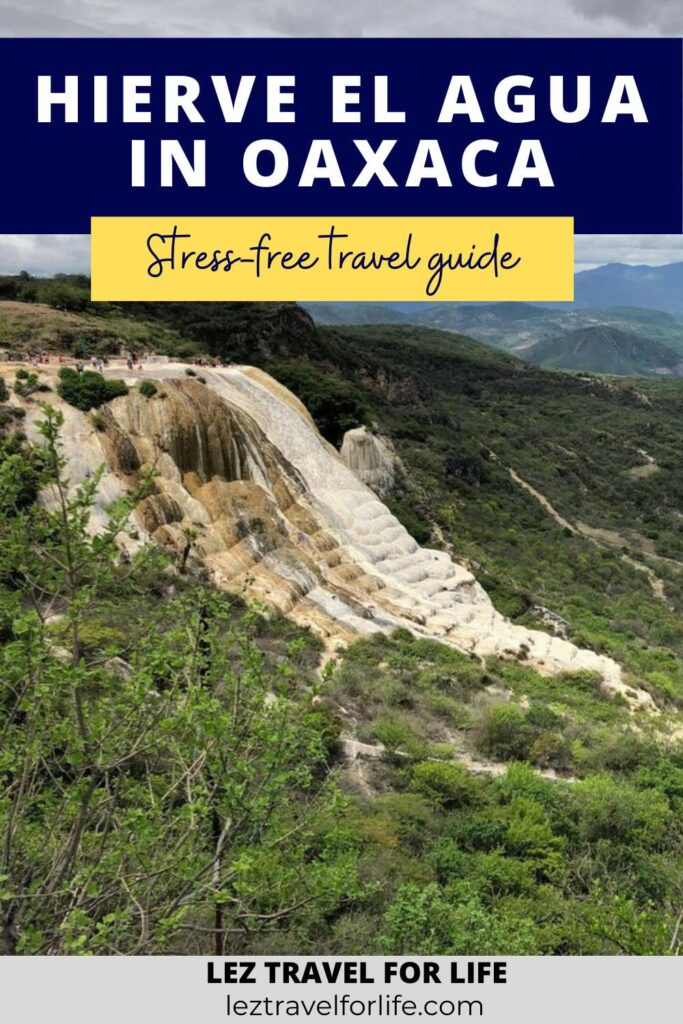 I'm Sam and I may only be 5'3 but I'm feisty and enjoy a lot of sarcastic humor. I'm addicted to travel as well as feeding and advocating for street animals in every country I travel to. I'm married to Courtney and we're super gay or whatevaaaa. We're both extroverts and love meeting new people everywhere we travel. We are in love with Latin American culture but can't wait to explore more of the world!