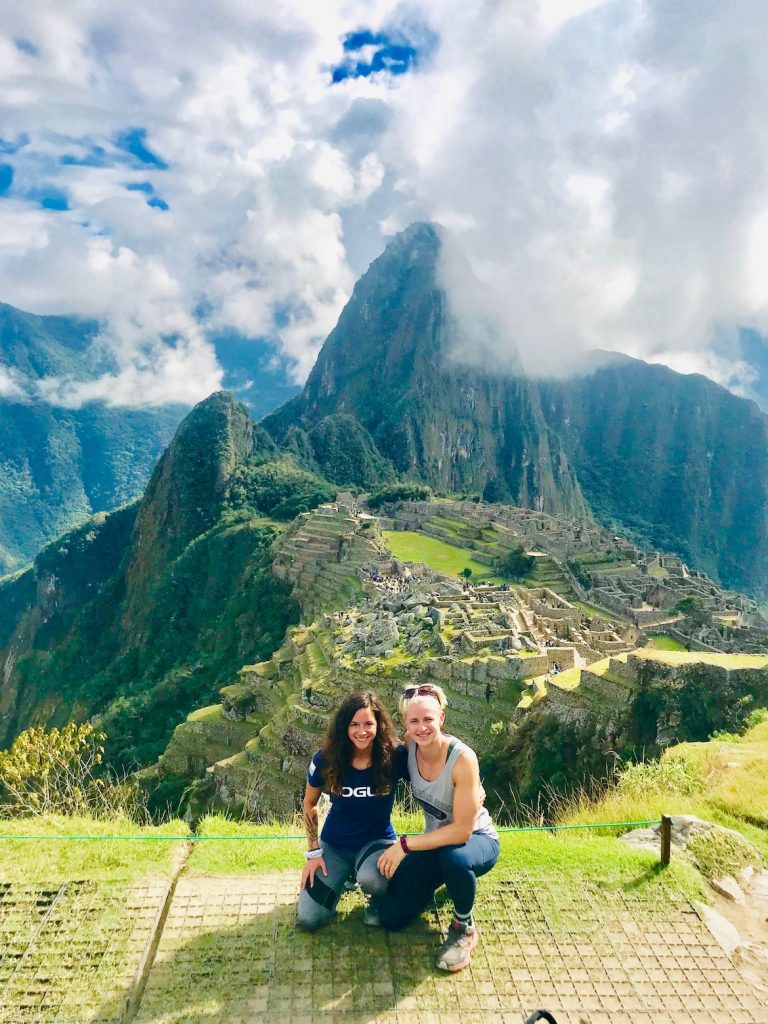 Hi! If you have made it this far then welcome! Here you'll find Courtney Clark (the jacked blonde) and Sam Fulmer (the vertically challenged brunette).
We are a married LGBTQ couple from the Southeast of the United States who decided to take a leap and quit our jobs to travel for a year after some life-changing events rocked our worlds in 2019. Despite warnings from conservative family members fearing we would be washing dishes in the back of some beach cafe in Hawaii basically homeless (ALSO WHAT'S WRONG WITH THAT?) we saved, we planned, and we LEFT.
As I write this I am sitting in the hustle and bustle of Mexico City's Historic Center (Centro Historico Mexico) listening to cars, music, and locals shouting "Buenos Dias Amigo!" How the hell did we get here? What did it take? How many times did we second guess ourselves out of fear of breaking free from the norm?
Well, let's crack into it….Courtney and I (Sam is writing this article hence the sassy sarcastic humor) met in 2014 on Tinder. LAWLZ yes, online dating. We started talking and dated long distance for 8 months and then she moved in with me and my friends in Rock Hill South Carolina- Did you read that with a southern accent? If not, go back and read it again but this time imagine you're holding some fried chicken in your hand. I had just finished Graduate school with a degree in Counseling and Development and was looking for jobs as a school counselor in the area while Courtney was starting phone sales at a big company in the area. Fast forward 5 years, she had worked her way up to Quality Automation Manager (I know right, what?) doing great things and self-teaching code, and I had settled into an Elementary School Counselor Position at an amazing school in Charlotte NC.
Things were going well (the phrase you always read right before something bad happens) we were planning our small wedding in Asheville, we owned a townhome with a great location and cheap mortgage, we were taking 2-week trips here and there internationally, and had a baller savings account. What more could you want? Then shit hit the fan. I lost my uncle to suicide in June 2019 then lost my mom 2 months later in August. Our worlds crashed down on us. We were suddenly faced with two untimely deaths of very important people in our lives. We had been thinking of quitting our jobs and traveling for years but after these events, it became clear that we had to just go ahead and pull the trigger. Life was too short to sit back and watch life pass us by as we held onto our cozy incomes and "home".
...What's Next?
Okay so we decided we wanted to travel but what about our families? Our Mortgage? Our furry friends? 
It's complicated, no I don't mean in a break-up kind of way I mean we had created this comfortable life for ourselves so having to tell family members (like my dad who just lost his wife and best friend of 39 years) that we wanted to just jet off and travel for a year. This wasn't easy emotionally and took some time to grow a pair of cojones, and we hid our plans for a LONG time.
First, we sold our townhome in secret to add to our savings. Then I put my job notice in at my school and everyone at my job was so happy for me, but it was still a secret since Courtney was taking more time to put in her notice.
My job already got backfilled within a month. We were renting a friend's bedroom. What was going on in our head? Mainly – HOLY SHIT did we make a huge mistake?
As Courtney was freaking out with all the unknowns, soon to put in her notice. I knew this was it and there was no turning back now. We just needed to push forward. We coordinated where we would travel first, Hawaii! We found a farm on the big island where we could stay and do work trade.
So we did it, Courtney put her notice in and we bought a one-way plane ticket to Hawaii. We officially severed the last tie in our cozy little life. We spent months researching what to pack. My dad took our sweet dog and our friend who is a crazy cat lady is caring for our cats. It wasn't real until we got off the plane in Hawaii.
It's been a long messy journey even though it has just begun, but hey! That's life. WHEW if you made it this far, THANK YOU! We can't wait for you to join us on our journey! Our goal is to inspire other travelers to see the world in a sustainable and affordable way. You can also follow us on Instagram!
Feel free to contact us using any of the following methods:
Email: samcourtney@leztravelforlife.com
instagram
pinterest