This article may contain affiliate/compensated links. For full information, please see our disclaimer here.
Reminder: Make sure to check the country's covid guidelines before travel.
Palenque is located in the northeastern part of Chiapas, Mexico. Hidden away deep in the jungle, these ruins are arguably the most significant Mayan Ruins in Mexico, without the crowds. I had read quite a bit on Palenque Ruins before going, most people agreeing that it was not busy, that you may just have the entire place to yourself. As of Spring 2021 that still held true! I was shocked to see that even still, this place holds its magic and secluded nicknames. This article will have Tips on Exploring Palenque Chiapas: A Guide to Mexico's Ancient Mayan Temples.
Courtney and I visited ruins in Mexico City and in other parts of Chiapas but there is something unique and special about Palenque. We spent a month living in Chiapas and have a lot of amazing things to say about Chiapas as a whole, but Palenque was definitely a highlight of our trip. While Palenque was an important part of our trip, it's important that I write this article so you feel prepared before you visit. This area is very rural, and off the beaten path, making transportation and accommodation very important. We made some mistakes during our time in Palenque, so we want to save you from doing the same.
TIPS ON EXPLORING PALENQUE CHIAPAS: GETTING TO PALENQUE
There are multiple options for getting to and from the town of Palenque. By car, it is about 6-7 hours from San Cristobal which is the main starting point for most travelers. We have talked to a lot of travelers who have used each of these options and seemed to have a positive experience. The only form of transportation we would suggest being cautious of is renting a car, I'll dive into that more below.
Tour:
Tours leave daily from San Cristobal de las Casas. We decided to take a private tour, so we were able to bring our dog with us as well and could move at our own pace. This option is a little bit more expensive compared to group tours so choose whatever option is best for you! You will spend quite a bit of time in the van as the tour typically stops at waterfalls on the way to or from Palenque.
You can choose to do a 1-day tour which will be about 18 hours long. The tour we chose was 3 days which was the perfect amount of time because you spend so much time in the van that you get little time to relax.
Airplane:
As of recent years, Palenque opened a small airport in the city, making it a lot easier for travelers to get to Palenque. There are plenty of flights that depart from Mexico City, Tuxtla Gutierrez (main airport in Chiapas), and Cancun. The planes are very small, and flights need to be booked far in advance as they do not fly daily. I looked into this option but we couldn't find any available flights. Flights cost around $80 USD and last about an hour and a half.
If you take a flight, once you land in Palenque you have limited options for transportation to your hotel. There are only one or two Taxi stands and they are pricey. A taxi will cost you around 250-300 pesos just to drive a few minutes. Check with your hotel to see if they offer transportation before booking a taxi.
Rent a Car:
I would NOT recommend renting a car and driving to Palenque on your own. The roads can be confusing and they aren't safe for the most part. While renting a car and driving around Chiapas is safe for most other locations, this is the one where I say no to renting a car.
Bus:
If you are tight on money you can always take a long bus ride from San Cristobal de las Casas with bus companies OCC and ADO.
TIPS ON EXPLORING PALENQUE CHIAPAS: WHERE TO STAY IN PALENQUE CHIAPAS
Finding where to stay in Palenque is probably the most important part of this journey. This is something we did not plan out enough in advance and when we arrived at our top floor Airbnb with a tin roof and NO air conditioning, we knew we messed up. Our room was over 90 degrees and all of us were so hot and uncomfortable right away. We immediately canceled our Airbnb and scrambled to find a hotel with air conditioning because the heat each day is above 10 degrees F and almost unbearable with just fans.
Not to mention this town is very rural and spread out. It is difficult to access grocery stores within walking distance, so having a hotel that offers meals is super important as well. Obviously, you can taxi or shuttle into town (which we did a couple of times) but it's time-consuming and the town itself doesn't have a lot to offer. We struck bad luck again when we realized the hotel we booked wasn't offering food services at the time due to covid restrictions so BE SURE to ask and confirm beforehand! Here are some awesome choices that are close to the ruins and offer air conditioning!
These options below all have air conditioning, and we threw in a couple of places that are in the city center versus the jungle but they offer shuttle services, etc. We loved staying in the jungle because we could hear the howler monkeys and sit around and watch the wildlife.
If you are traveling from the more popular areas of Mexico like the Yucatan Peninsula, you can even detour from popular spots like Cancun, Merida, or Holbox and visit Chiapas!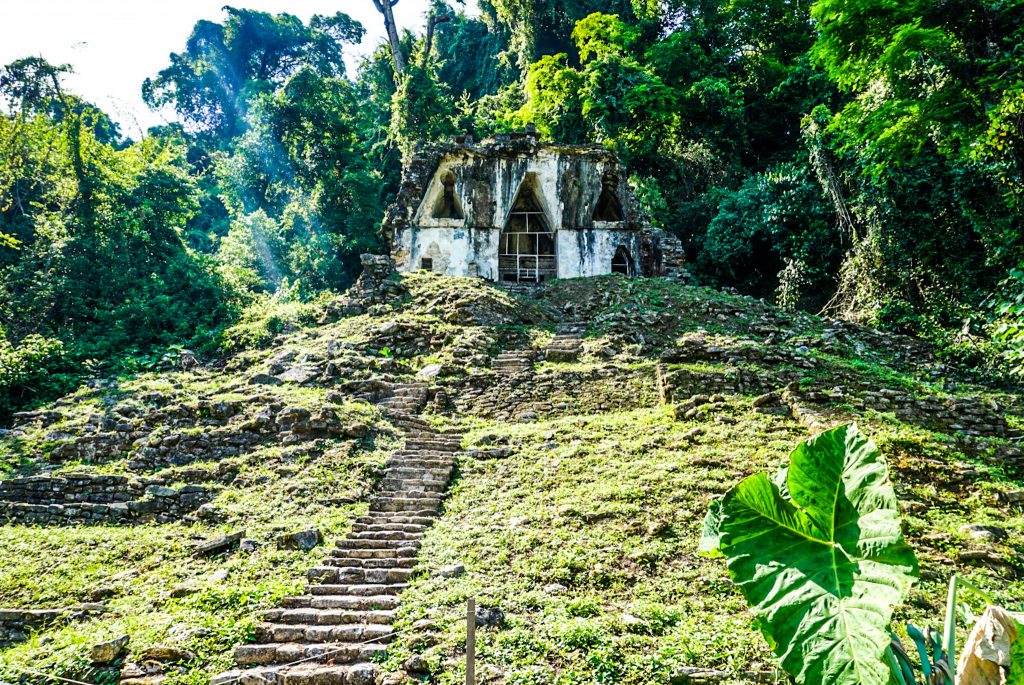 Hotel Cabanas Margarita and ED: Offers air conditioning, a kitchen to use, and close to the ruins.
Hotel La Aldea del Halach Huinic: Air Conditioning, pool, restaurant, airport shuttle
Hotel Boutique Quinta Chanabnal: Air Conditioning, pool, restaurant
Hotel Maya Tulipanes Palenque: In the City Center, Air conditioning, near a lot of restaurants, pool
TIPS ON EXPLORING PALENQUE CHIAPAS: EXPLORING THE PALENQUE RUINS
After you've gotten settled into your hotel, it's time to start planning your day at the Palenque Ruins! This is the exciting part, but it can also be confusing because people will tell you you can walk to the Palenque Ruins, but the town of Palenque is very spread out. Walking around past 9 AM means it's about 100 degrees outside. So, let's work smarter, not harder so you don't wipe yourself out before you even get to the ruins!
Take a taxi to the entrance of the Palenque National Park. This will be the first spot you pay an entrance fee for. The entrance fee here is $35 pesos. Here you will have locals waiting to offer you tour guide services. We decided to hire a tour guide because we enjoy being able to ask questions and learn more about the ruins. If you don't want to hire a guide, know that there are signs explaining the history in Spanish and English.
Next, you will ride into the national park and pay $20 more pesos. Last, you will pay once more at the entrance of the ruins which is $70 pesos. If you want to take pictures, you must pay one more fee of $45. You may think this is expensive just to get in the door but to put it in perspective 20 pesos = $1 USD so you are barely breaking $10. Not bad!
INSIDE THE PALENQUE RUINS
Congratulations! You have made it inside the Palenque Ruins! I was so excited to see barely any people walking around. I am short, like really short. So when there is cool stuff and lots of people looking at it I am usually the one that misses out because I can't see. Not this time! If you don't go on a tour you can spend as much time at each area taking pictures and reading. With our tour guide, we slowly made our way around the ruins while he explained each section and its importance to Mexican history.
As you can see in the pictures, each building is in incredible condition, and while I wanted to spend so much time staring at them, the humidity and heat began to wipe us both out. Bring A LOT OF WATER. Bring sunscreen. Bring a hat. It really really really is so hot here. By the end of our tour at around noon it was 106 degrees outside.
Don't be afraid to take a break in the shade, there are several sections where there are thick trees you walk through and can take a seat and drink some water. We spent about two hours here. We loved having the guide not only so we could learn about the history of the ruins but so he could offer any other suggestions on things to do or see in the area! If you feel like you're a pro and don't need a guide you will still enjoy your time here and learn a lot.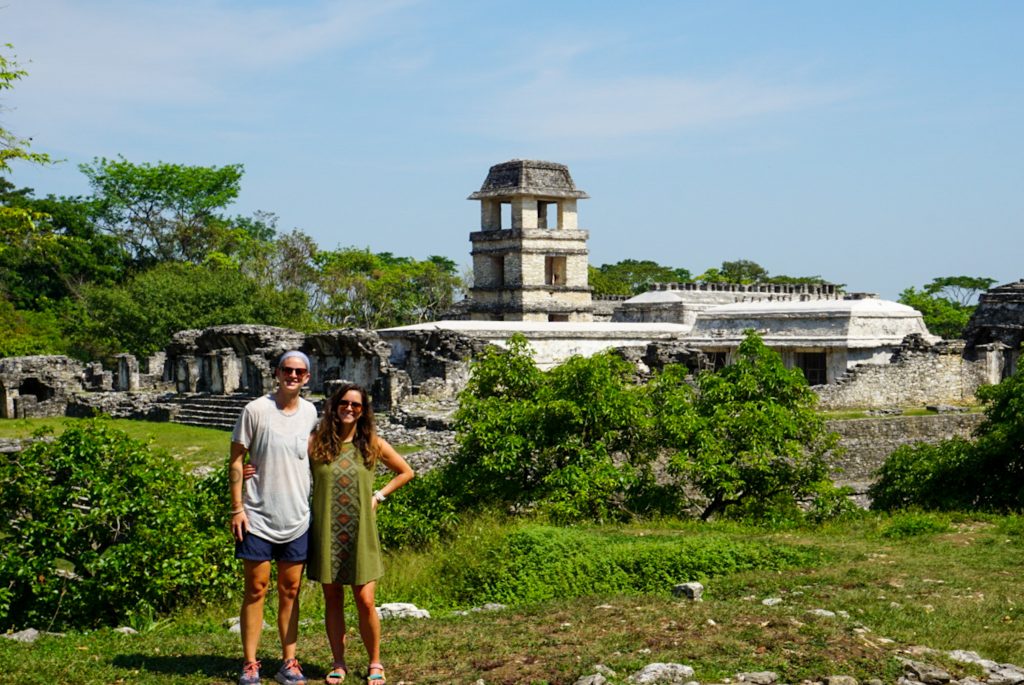 WHAT TO PACK FOR PALENQUE CHIAPAS
Aside from knowing where to stay in Palenque, so you don't overheat in the first 5 minutes as we did, packing is the most important thing to plan for. It is hot hot hot in Palenque which means you want to have clothes that will keep you cool. You'll also want to pack a because you can't drink the water out of the tap and you'll want to have a big water bottle like the Hydroflask. Check out our Mexico Packing List for all the must-have items we had while traveling in Mexico.
Interested in other Mexico Related Articles? Check these out!
Like this Tips on Exploring Palenque Chiapas: A Guide to Mexico's Ancient Mayan Temples post? Pin it for later!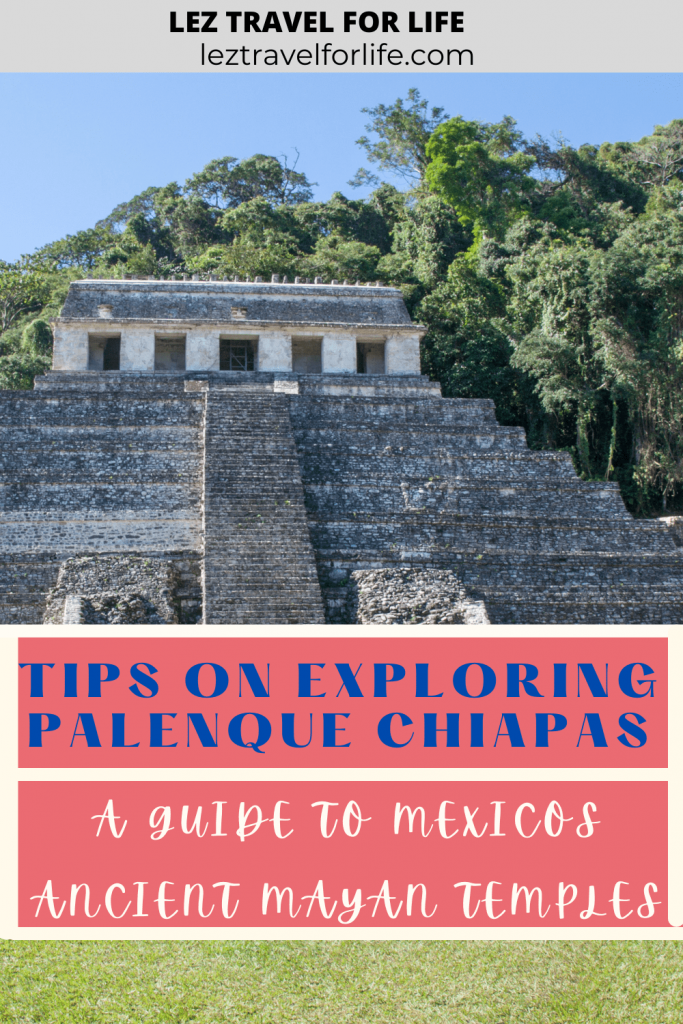 I'm Sam and I may only be 5'3 but I'm feisty and enjoy a lot of sarcastic humor. I'm addicted to travel as well as feeding and advocating for street animals in every country I travel to. I'm married to Courtney and we're super gay or whatevaaaa. We're both extroverts and love meeting new people everywhere we travel. We are in love with Latin American culture but can't wait to explore more of the world!