This article may contain affiliate/compensated links. For full information, please see our disclaimer here.
Reminder: Make sure to check the country's covid guidelines before travel.
San Miguel de Allende in central Mexico might not be as well known as the beach resorts of Tulum and Cancun but is sometimes considered somewhat of an insider tip among ex-pats and digital nomads. The colonial UNESCO World Heritage city is known for its Spanish Baroque architecture, narrow streets, and relatively quiet atmosphere. Let's dive into this guide to being a Digital Nomad Living in San Miguel de Allende.
DIGITAL NOMAD LIVING IN SAN MIGUEL DE ALLENDE, MEXICO: BUDGET
The average monthly budget for two people living in San Miguel de Allende could be:
$700 USD for a one-bedroom apartment in the city center, including utilities
$60 USD for two gym memberships
$100 USD for day trips, entrance fees, and other activities
$250 USD for groceries so you can cook at home
$300 USD for a month's access to a hot desk in a coworking space for two people
$200 USD for going out to bars and restaurants.
$50 USD for all other expenses.
Digital nomads living in San Miguel de Allende should have a budget of around $1,600 USD per month for two people. Prices may vary depending on personal preferences and lifestyle.
Average prices in San Miguel de Allende:
8 MXN ($0.40 USD) for a soft drink in a supermarket
16 MXN ($0.80 USD) for a cup of local coffee in a cafe
24 MXN ($1.20 USD) for a draught beer in a bar
60 MXN ($3 USD) for dinner in a local restaurant
285 MXN ($14 USD) for a day pass at a coworking space
8 MXN ($0.40 USD) for a short drive in a colectivo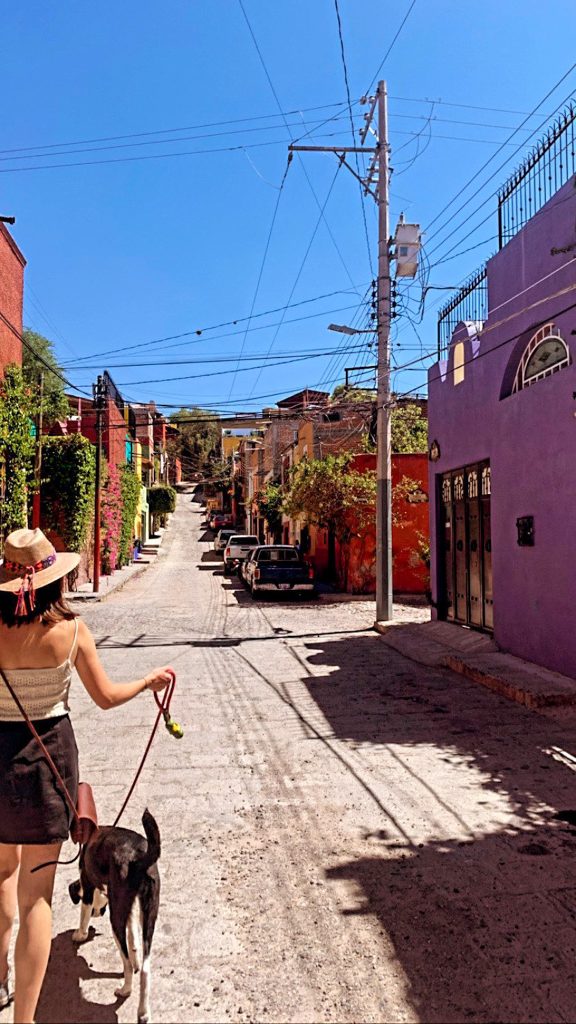 WHERE TO STAY IN SAN MIGUEL DE ALLENDE
San Miguel de Allende offers a wide range of accommodation options to suit all budgets. Most hostels are located in El Centro and have both private and dorm rooms that won't break the bank. You can also find bed and breakfasts and guesthouses at reasonable prices that can be conveniently reserved through online booking platforms.
Private apartments or flats can be found on Airbnb, cheaper for long-term stays if you book in advance. If you're hoping to find a budget-friendly place to stay for more than just a few months, you should get in touch with a local property agent or keep an eye out for vacancies on Facebook groups.
Below are some hotels, apartments, and guesthouse-type accommodations.
More Expensive Hotel Options in San Miguel de Allende
Prices are around $125 a night. Located in Centro, you'll be close to all the local activities. This hotel offers breakfast, an airport shuttle, and incredible views. Seriously, a lush garden, close to downtown, and 5-star treatment from the staff. While this is one of the more expensive options, it's worth the price tag with its amenities.
Prices are between $80-100 a night. Casa Mia Suites offers an apartment-style living space. Also located in Centro, this spot has a lower price tag but still has some beautiful rooftop views. You'll find kitchenettes, a microwave, and a fridge. Still close to downtown, with colorful rooms, a courtyard, and free wi-fi. You're less than a 10-minute walk from the cathedral and botanical gardens as well.
Budget Friendly Hotel Options in San Miguel de Allende
Prices are around $60-75 a night. Casa Carly is located in the Guadalupe neighborhood. A modest apartment-style accommodation that has a restaurant inside, rooms with a kitchenette so you can cook if you are wanting to save a little cash. Still less than half a mile from several restaurants, cafes, and the cathedral.
Prices are around $50-70 a night. Casa Frida is close to Centro, with a colonial-style building, you can tap into your artsy side. This bed and breakfast offers meals for breakfast, rooms with terraces, a garden, and a convenient location for walking around to all the hot spots in San Miguel de Allende.
Prices range from $30-50 a night, also close to Centro. This eclectic hotel is affordable, close to Centro making it easy to get around, and offers terrace views of the city.
El Molino de Allende Guest House
Prices are around $40-50 a night. El Molino de Allende is located in the San Antonio neighborhood. This rustic guest house is in a beautiful location that offers views of the city, a quiet neighborhood, and an affordable price tag. There is a shared kitchen for those who may be staying long-term, and fast wifi that allows for video calls.
Prices are around $25-32 a night in the Centro neighborhood. A perfect option if you love socializing, meeting other travelers, and you're less than 5 minutes from the cathedral and other exciting stuff around the city.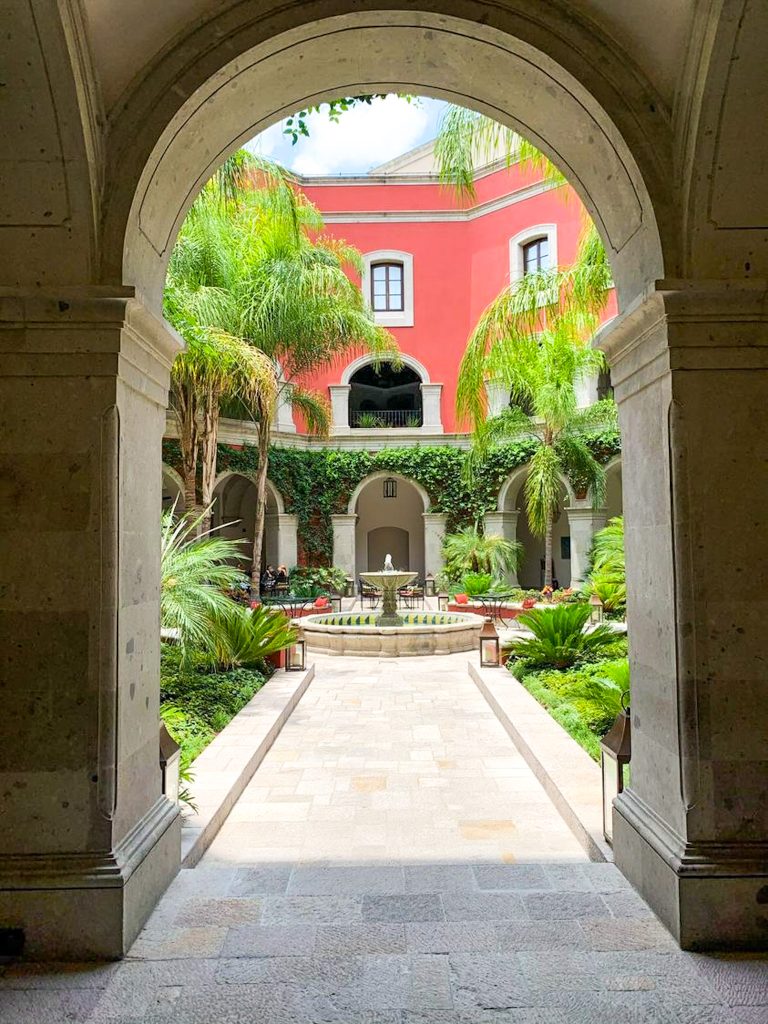 WHEN TO TRAVEL TO SAN MIGUEL DE ALLENDE
San Miguel de Allende has pleasant temperatures year-round, so there is no specific best time to visit. The driest season is between November and mid-April, with almost no rain. During this time, travelers can expect temperatures of around 24°C (74°F). Nights are usually a bit cooler, so pack an extra layer to keep warm.
From mid-April to June, temperatures are as high as 33°C (88 °F) during the day and 15°C (60 °F) at night. Even though the weather is usually quite pleasant during this time, there can be occasional rain.
Make Sure You're Covered During Your Trip
Thinking about medical costs while on the road was something that always concerned me. Not having medical insurance as a digital nomad or long term traveler can be a little scary. Even if you have medical insurance at home it might not always cover you abroad which is why companies like SafetyWing exist. SafetyWing is our go to travel insurance. It is affordable and has all the coverage we need for travel and medical. They even have specific insurance for Nomads!
BEST NEIGHBORHOODS TO STAY IN SAN MIGUEL DE ALLENDE
Choose between a selection of exciting neighborhoods in San Miguel de Allende, each with its own benefits depending on what type of experience you're looking for.
El Centro
El Centro is probably the most popular neighborhood for tourists visiting San Miguel de Allende. You'll find a variety of local restaurants, boutiques, and other shops here, all located within walking distance. El Centro will have everything you need, although it's not the most affordable area in town.
San Antonio
​​San Antonio is located southwest of the city and is considered an up-and-coming neighborhood in San Miguel de Allende. Enjoy all the benefits of living in El Centro but without having to worry about high prices. With new restaurants and cafes appearing every day, there is no shortage of fun new places to discover in this area.
Guadalupe
North of El Centro, you'll find Guadalupe, the art district in San Miguel de Allende. The streets are decorated with colorful graffiti and intricate murals painted by local artists. This area is popular among locals, and a stay here will truly help you immerse yourself in the daily life of Mexico.
Balcones
Balcones is very popular among retirees and permanent expats because of its quiet atmosphere and fantastic views overlooking the city. Balcones is still within walking distance to El Centro, making it a perfect neighborhood for those who appreciate central location without worrying about busy streets.
El Paraíso
El Paraíso is located northeast of El Centro and is one of the newest neighborhoods in San Miguel de Allende. Even though it is about a 30-minute walk to El Centro, many permanent residents live in El Paraíso because of its low prices and newly built accommodation options.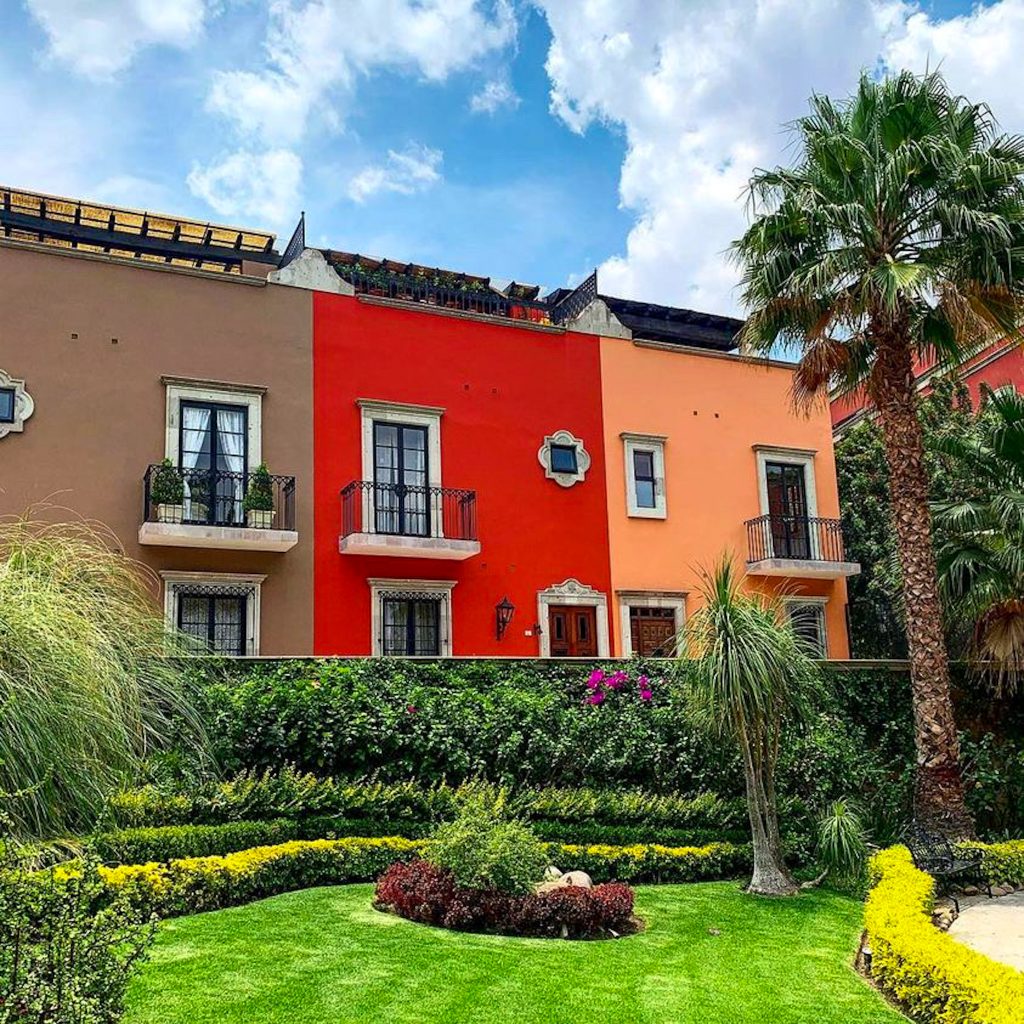 WHERE TO FIND RELIABLE WI-FI
Most parts of San Miguel de Allende have good Wi-Fi coverage. However, if you choose to live a little further out of the city center, uploads and downloads may take a little longer. Head to a coworking space for the best internet connection in town.
To make sure you are connected to the internet at all times, it's a good idea to buy a local sim card from providers like "Telcel." Sim cards are available in almost every supermarket and cost around US$10 for 5 GB of data and unlimited social media usage.
Looking for the best laptop for Digital Nomads?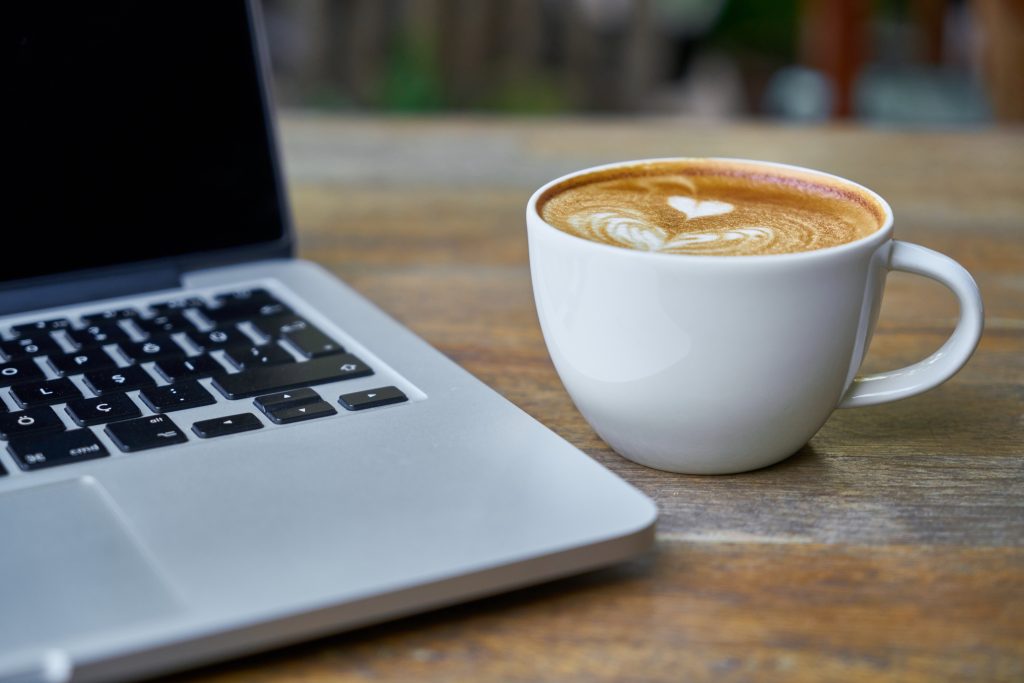 We all know our laptops are the most essential piece of equipment for working remote. Whether you are in need of an upgrade or you are looking to buy your first laptop – Check out our comprehensive laptop guide for digital nomads!
---
CAFES AND COWORKING SPOTS FOR DIGITAL NOMADS IN SAN MIGUEL DE ALLENDE
KiBok Cafe
KiBok is a small cafe in El Centro, and even though it doesn't have many tables, it offers excellent food, coffee, and reliable Wi-Fi. It's best to come early so you can grab a good seat and get some work done.
Cafe Rustica
Cafe Rustica offers comfortable indoor and outdoor seating and a reasonably priced selection of food and drinks. It feels more like a small beer garden and is a great place for anyone who needs a change of scenery from time to time.
Selina San Miguel
The Selina hostel and coworking space in San Miguel de Allende is a great place for digital nomads looking for a reliable and aesthetically pleasing workspace. If you're staying at the hostel, you can usually use the coworking space for free, otherwise, you can purchase daily, weekly, or monthly memberships.
Smartspace Hub
This fully equipped coworking space is a great fit for those looking for a quiet office space surrounded by like-minded people. A day pass for the hot desk area starts at just US$14, and you're guaranteed to be productive here.
TYPICAL WORKDAY IN SAN MIGUEL DE ALLENDE
8:00 AM – Get up and get ready to start your day. Go to a coffee shop of your choice and order breakfast. While you wait for your food, you can check your emails and write a to-do list for the morning.
8:30 AM – Head to your workspace for the day, such as a cafe or coworking space, and begin a productive day.
12:30 PM – It's time to recharge your batteries. Go to a restaurant nearby and have an authentic Mexican dish for lunch.
1:00 PM – Get back to work and pick up where you left off. If you're not too busy, you could take the afternoon off and explore the city instead.
17:00 – It's time to call it a day and treat yourself. Take your laptop back to your accommodation and head to El Centro. Stroll the streets and look for a place with a happy hour to have dinner and a drink, celebrating a successful day.
Are you a digital nomad looking for the best backpack?
We know how important it is to make sure you have the right functional backpack on your travels to protect your electronics which is why we've made a comprehensive list of our favorite digital nomad backpacks. Check it out!
THINGS TO DO IN SAN MIGUEL DE ALLENDE
San Miguel de Allende has a great selection of things to do and the surrounding areas also have a lot to offer, making them perfect for a day trip.
Watch the hustle and bustle of the city in El Jardin
This small park is surrounded by historic buildings, cafes, and boutiques. It's a great place to sit in the shade and people-watch, or you could stop by the 17th-century Gothic church Parroquia de San Miguel Arcángel, which is located close by.
Cañada de La Virgen Natural Park can be reached in 45 minutes from San Miguel de Allende. Visit the impressive archaeological site, which dates back to the 7th century, and wander around the beautiful park.
One of the best things to do in a new city is to join a walking tour of the main neighborhoods so you can get to know the city and its sights. Learn interesting historical facts and meet other travelers along the way.

There are also guided food tours if you are interested in trying different local dishes and drinks.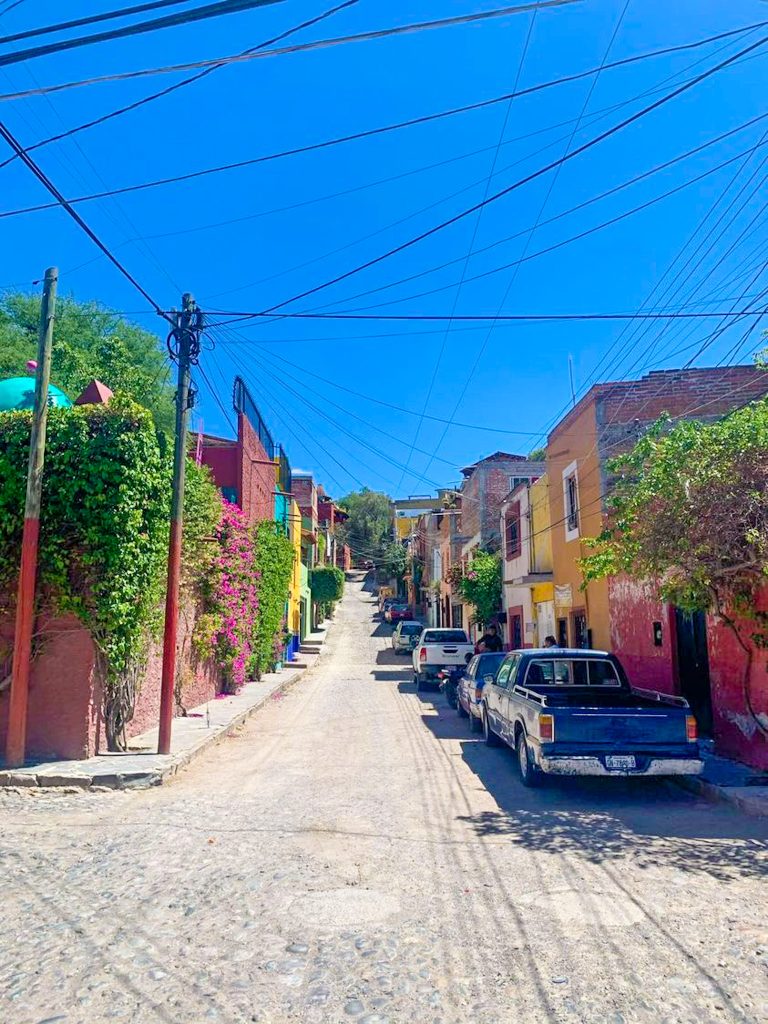 Walk through the botanical garden
The botanical garden in San Miguel de Allende, also known as El Charco del Ingenio, is a beautiful place to reconnect with nature. Enjoy a picnic by the waterfall and keep an eye out for colorful birds in the lush greenery.
Visit the Sanctuary of Atotonilco
The Sanctuary of Atotonilco can be found less than 20 minutes from the city center and is a popular destination for half-day excursions. This historic church is a UNESCO World Heritage site and very photogenic, making it well worth a visit. The small town has several local restaurants and souvenir stores, perfect for a stroll after visiting the church.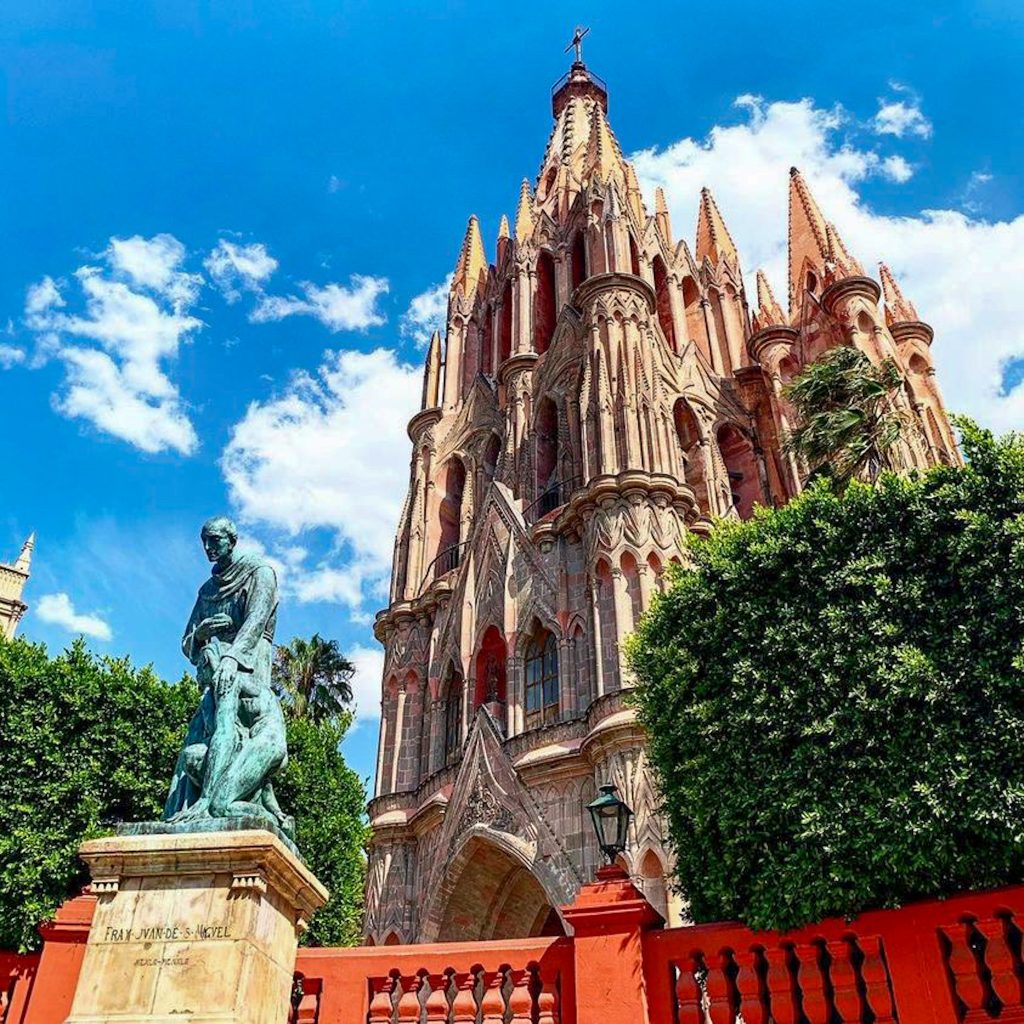 DIGITAL NOMAD LIVING IN SAN MIGUEL DE ALLENDE, MEXICO – IS IT WORTH IT?
Living in San Miguel de Allende is an excellent choice for digital nomads in search of a quiet destination that hasn't yet been overrun by tourist crowds. There is plenty to see and do in San Miguel de Allende and its surrounding area, making it a great place to settle down for a while.
With a great selection of great cafes and coworking spaces, you can choose to work in a different place every day. The expat and remote worker community is constantly growing, so connecting with like-minded people is easy and fun.
Like this article? Check out our other related content
Enjoy this article? Pin it for later!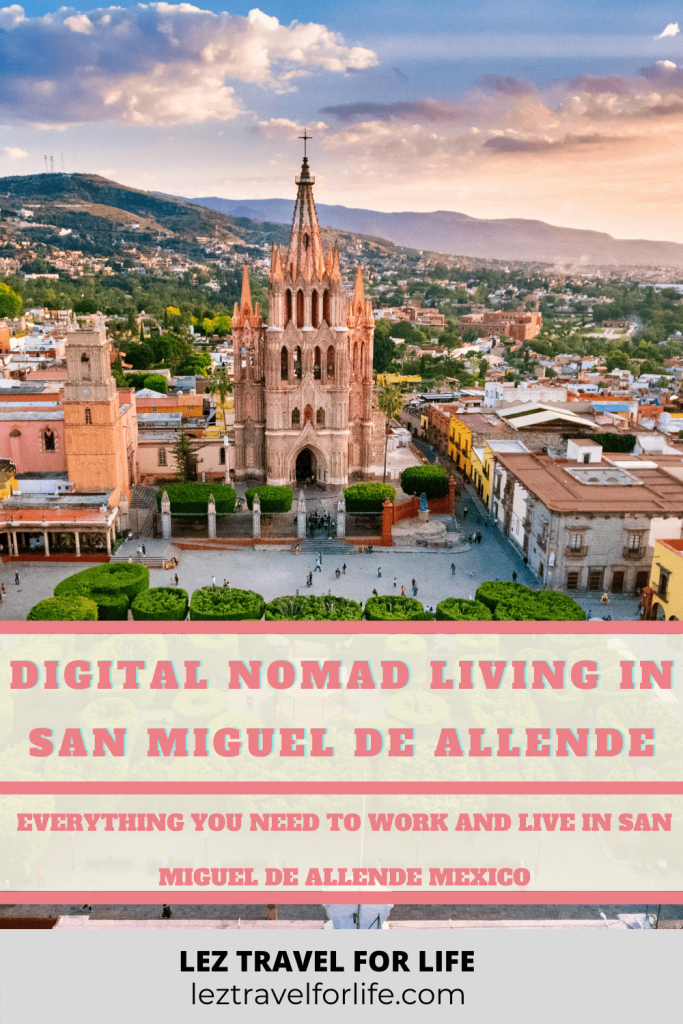 I'm Sam and I may only be 5'3 but I'm feisty and enjoy a lot of sarcastic humor. I'm addicted to travel as well as feeding and advocating for street animals in every country I travel to. I'm married to Courtney and we're super gay or whatevaaaa. We're both extroverts and love meeting new people everywhere we travel. We are in love with Latin American culture but can't wait to explore more of the world!