St. Petersburg Florida is known for its art, sunshine, endless outdoor activities and yes, coffee. St. Petersburg is a hot spot for unique local coffee shops. My wife and I have called St. Pete our home for over a year now, and still can't narrow down our top spot!
There are different styles of coffee shops in St. Pete. Trendy, modern, water front, hole-in-the-wall, and even coffee made out of a tuk tuk. Our goal is to give you a taste of Unique Coffee spots St. Pete and help you discover something new and exciting. Multiple factors have gone into deciding what the most unique coffee spots in St. Pete are, including environment, quality of coffee, and location.
So, let's get into it. We will dive into the most unique coffee spots in St. Pete, and as they are all awesome they are in no particular order.
UNIQUE COFFEE SPOTS ST PETE
Bad Mother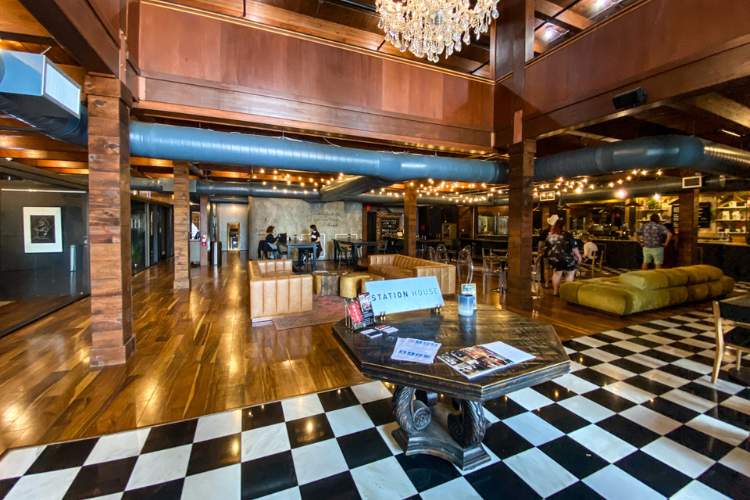 Bad Mother has some of the best tasting coffee in St. Pete, in my humble opinion. It's located in the heart of downtown St. Petersburg FL, and in close walking distance to some of the best downtown St. Pete Bars. What makes Bad Mother stand out as one of the most unique coffee spots in St. Pete is that it is both a coffee shop and a co-working space. There have been many days where Courtney and I will work remote at Bad Mother, then hop on a scooter and scoot around downtown St. Pete and the St. Pete Pier.
Bad Mother offers a low lit, modern industrial vibe, so its easy to stay focused while working, or just hop in and chill with some friends and sip coffee before hitting the town. My go-to coffee drink is the hot lavender oat milk latte.
Hours of Operations:
Monday-Friday 8 AM–4 PM
Saturday-Sunday 9 AM–3 PM
Paradeco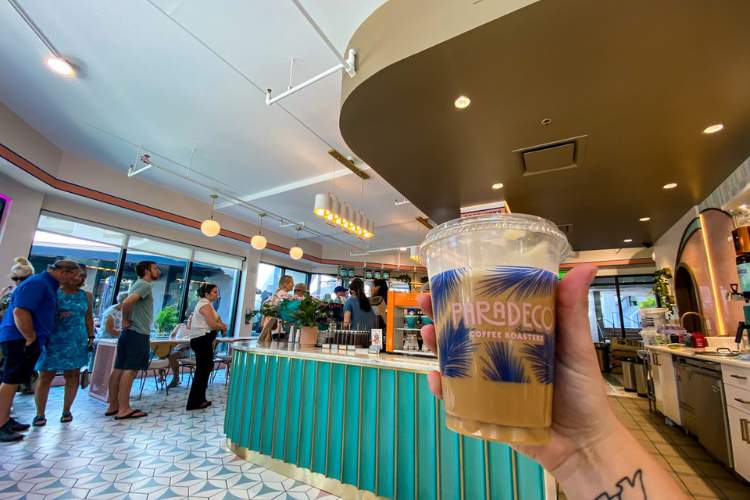 I know I said these unique coffee spots in St. Pete was not in any particular order, but this is definitely top two. Everytime we go, we feel like it's our first time. We are always immediately drawn in by its bright, art deco inspired ascetic featuring bright blue, gold, and pink colors. Its menu offers incredible iced and hot coffee options, all roasted and brewed in house.
The location is downtown right off of beach drive NE, so you're just a quick walk to the water. Paradeco is definitely one of the most unique and trendy coffee houses in St. Pete as it's a great place to work remote, hang with friends, and enjoy some of the best tasting coffee in St. Pete.
Hours of Operations:
Monday-Thursday 7 AM–5 PM
Friday 7 AM–6 PM
Saturday-Sunday 8 AM–6 PM
Black Crow Coffee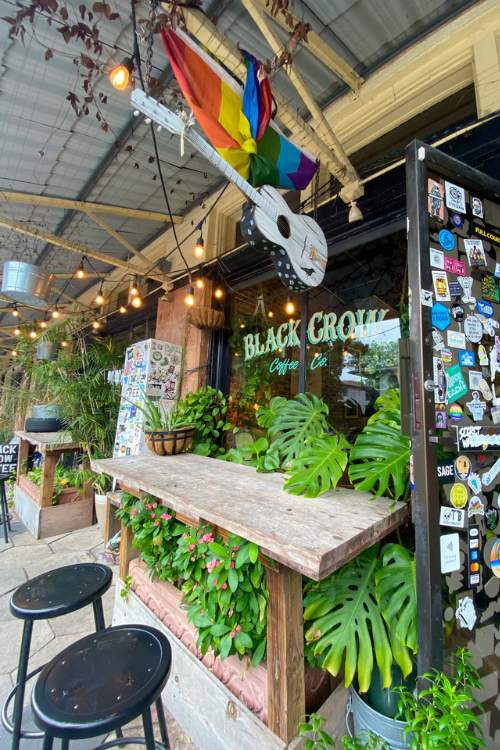 We can't talk about Unique Coffee Spots St. Pete without discussing Black Crow Coffee. Black Crow Coffee has two locations in St. Pete, both serving strong coffee, and an even stronger sense of community. This quirky coffee shop attracts the creative crowd in St. Pete with its interior decor. Here you'll find eclectic artwork, vintage furniture, and delicious handcrafted coffee drinks. My go to is the iced oat milk latte with mocha.
Besides strong coffee and tasty baked goods, my favorite part about Black Crow Coffee is the sense of community you feel when you visit. It has a welcoming, inviting space that hosts local art, poetry, and other events monthly. There is a variety of seating options from couches, chairs and even outdoor seating.
Hours of Operations:
Black Crow Coffee Co Grand Central District
Monday-Sunday 7 AM–5 PM
Black Crow Coffee Shop Old Northeast
Monday-Thursday 7 AM–4 PM
Pineapple Espresso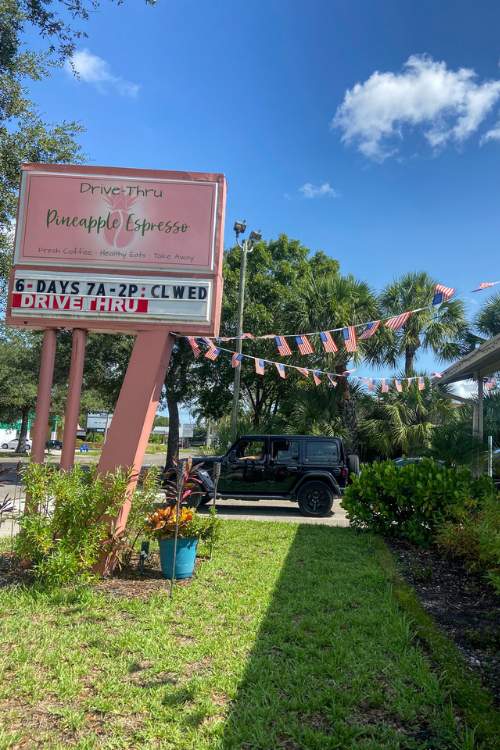 Pineapple Espresso is a small, down to earth coffee shop that offers a drive through, or shaded outdoor seating. Courtney and I only recently discovered this lovely little coffee spot in St. Pete, but it has a plethora of regulars that swear by their coffee and breakfast options. What has earned Pineapple Espresso a spot in our unique coffee spots in St. Pete is its family-like atmosphere. It's the perfect coffee spot in St. Pete to hang out on a saturday morning with friends, your dog, and some fresh air.
Hours of Operations:
Monday-Tuesday & Thursday-Sunday 7 AM-2 PM
Wednesday Closed
Grove Surf and Coffee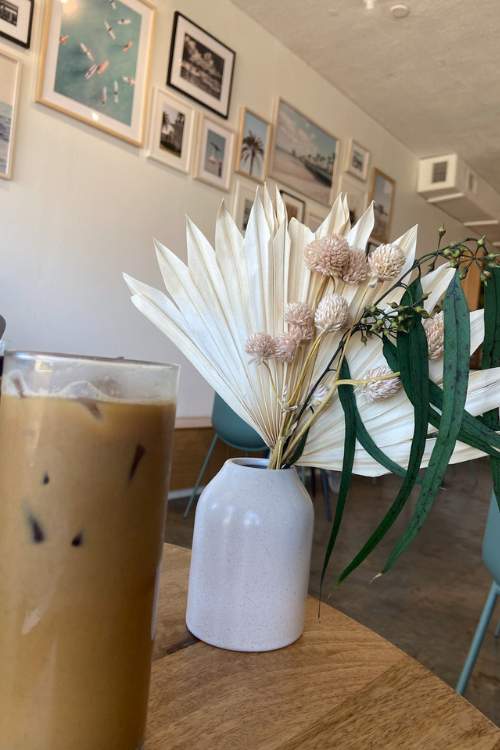 Heading to St. Pete beach? Check out Grove Surf and Coffee first. What makes Grove surf and coffee a unique coffee spot in St. Pete? Well, you can drink locally brewed coffee while also shopping. While the gulf coast isn't known for its surfing culture, you can still look beachy with their fun selection of clothes, bathing suits, and other souvenirs.
If you're a remote worker, this is a great spot to relax, work, and even walk to the beach after. This unique coffee spot in St. Pete features a clean, modern look with tons of plants, making it a cozy spot to sip, sit, and shop.
Hours of Operations:
Sunday-Thursday 8 AM-5 PM
Friday-Saturday 8 AM-6 PM
Bandit Coffee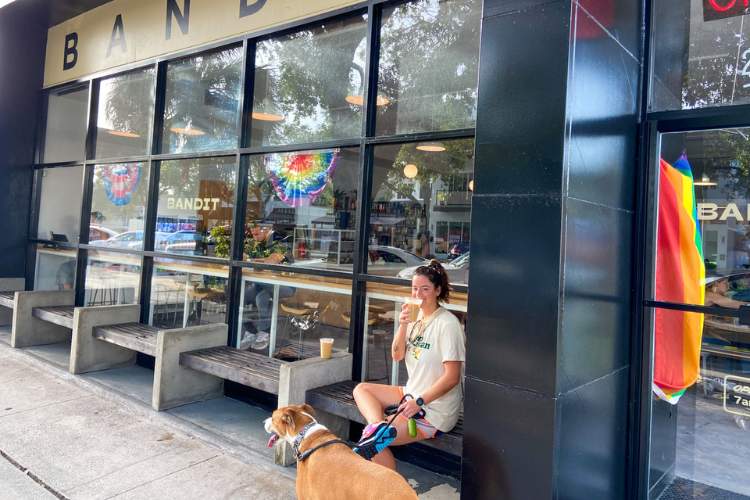 Bandit coffee is located on Central Avenue, around the Grand Central neighborhood. We love Bandit coffee for its hipster artistic vibe, and that it is in close proximity to a ton of awesome restaurants, bars, and shops. The inside of this unique and trendy coffee house in St. Petersburg has a clean, modern look, while also offering outdoor seating if you're wanting to catch some sun rays.
Hours of Operations:
Brewed Awakening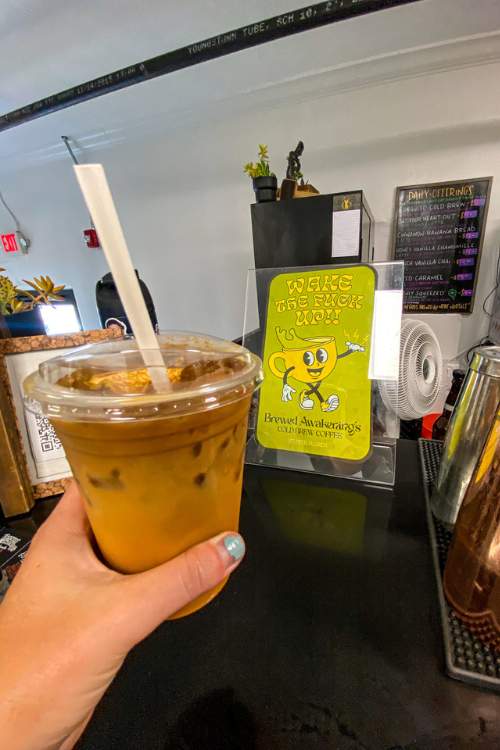 Brewed awakening has earned a spot deep in our hearts as one of our favorite unique coffee spots St. Pete as its truly the most unique. Tampa native, and our friend, Chris opened up Brewed Awakenings as a passion project, and he has quickly made his mark on the coffee community in St. Pete. Chris has done an incredible job of combining his love for cuban coffee, bartending, and created a masterpiece known as cuban cold brew coffee.
His new spot is located inside The Brickyard gym in the warehouse district in St. Pete offers cocktail style cuban cold brew coffee that is the best we've ever had. He also offers bottles to-go, because we know you will 100% be addicted the second you try it. His menu is small, but his creativity never rests, as he is always trying fun new drinks like the 'thai me up', his take on the classic iced thai tea.
Hours of Operations:
Tuesday-Friday 7 AM-2 PM
Saturday-Sunday 9AM-2PM
Flatbread & Butter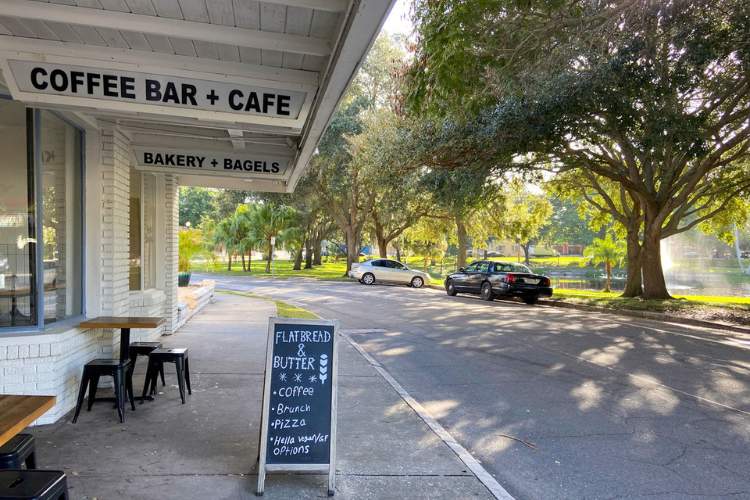 Coffee and….pizza? Yes, you read that correctly. Flatbread & Butter is the perfect fit for a unique coffee spot St. Pete because of its ability to marry the two worlds of coffee and pizza so beautifully. Start your day with artisan coffee and brunch in the morning, and delicious pizza at night. Its location is cute and quaint, and a close walk to crescent lake park, so you can drink your coffee and stroll through one of the cutest neighborhoods in St. Pete.
For brunch, their avocado toast is unmatched, and don't skip out on adding the prosciutto. My coffee choice is the iced oat milk latte with mocha.
Hours of Operations:
Monday-Friday 7:30 AM-9 PM
Saturday-Sunday 8AM-9PM
Patrona Coastal Coffee
Patrona coastal coffee seemingly has it all. Coffee, breakfast, lunch, and waterfront view. It's hard to find any cons to this unique coffee spot in st. pete. We like to simply drive over to patrona coastal coffee, but that's not the only form of transportation you can take. Many customers will arrive by boat, paddleboard or kayak and enjoy coffee, breakfast and lunch options which helps it stand out from any other coffee spot we talked about in St. Pete so far.
We love hanging out by the docks, or under one of the tiki style cabanas and enjoying the bay breeze. Its Florida tropical vibes make you want to stay forever.
Hours of Operations:
Monday-Sunday 7:30 AM-3 PM
The Library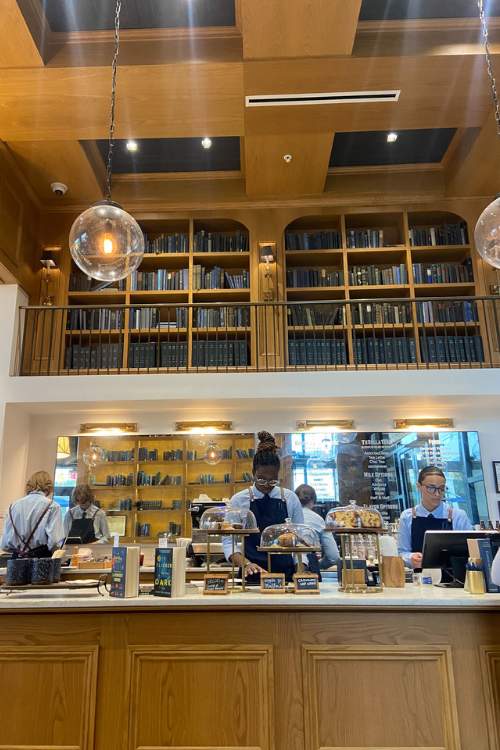 The Library is more than just a trendy and unique coffee house in St. Pete, its a local treasure. Any St. Pete native has been to the Library, and it will always be one of the top brunch spots in St. Pete. Its decor feels cozy and nostalgic, always leaving you wanting more. Choose from any of their incredible brunch options, mimosas, or just keep it simple with a coffee. No matter how you choose to spend your time in the library, we promise you won't want to go just once.
Hours of Operations:
Monday-Thursday 9 AM-9 PM
Friday-Saturday 9AM-10PM
Sunday 9AM-4PM
2D Cafe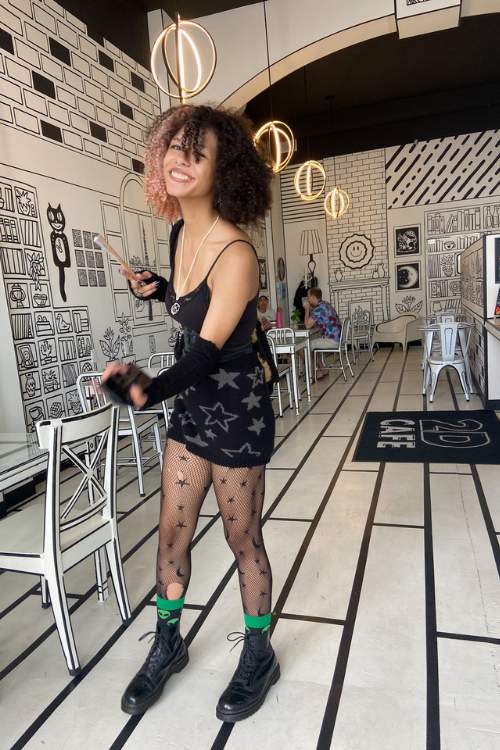 Let's completely switch up the vibe from a three dimensional world, to a two dimensional world. This fun and quirky coffee shop in St. Pete Florida does just that. Located on Central Avenue, the 2D cafe has transformed its space into a two dimensional world, hand painted by a local artist, making it an instagram worthy spot in St. Pete. 2D cafe also offers snacks along with its handcrafted coffee.
With its fun artistic design, and its centralized location in downtown St. Pete, you must check out this fun coffee shop while in town.
Hours of Operations:
Monday-Tuesday Closed
Wednesday-Sunday 8:30AM-6PM
Gulfperk Coffee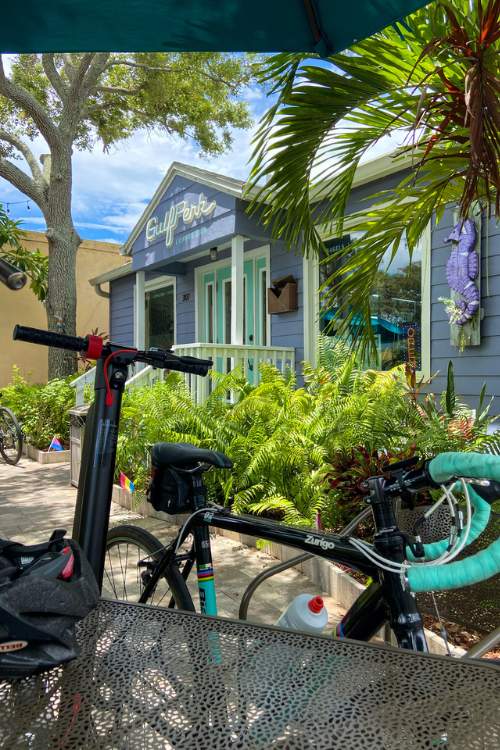 Gulfperk coffee is located in Gulfport, which is a quick bike ride on the Pinellas Trail, or 10 minute car ride from St. Pete. Courtney and I's favorite weekend activity is biking on the Pinellas Trail over to Gulfperk Coffee. This unique coffee spot around St. Pete offers some traditional coffee options, and unique seasonal menu options like their Andes mints latte around the holidays. Oh, let's not forget their amazing bagel options.
Gulfperk is family owned and operated, and the second you walk in the door you'll understand why. Their staff are caring, and the local residents of Gulfperk just keep coming back. Once you grab your coffee, and stroll over to the waterfront park in downtown gulfport, say hello to the casino cat for me.
Hours of Operations:
Monday-Tuesday & Thursday-Sunday 8 AM-1 PM
Wednesday Closed
The Scott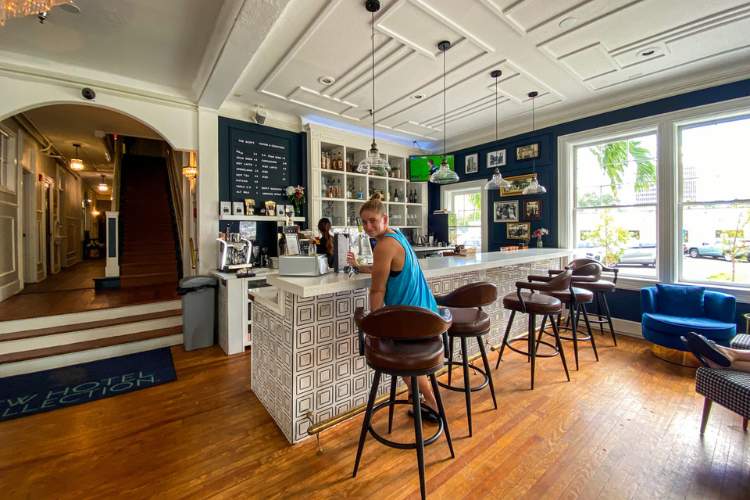 The scott is a hidden coffee spot in St. Pete, as its located inside the Cordova Inn. Courtney and I love the scott not only for its tasty artisan coffee options, but also its killer happy hour. Its decor reminds me a lot of Charleston SC with its vintage furniture, pictures, and overall vibe. If the weather is nice, hang out on a rocking chair out front, or walk over to the waterfront area.
The staff are so friendly, you feel like family when you stop in. We also find it to be a great place to work remote on one of their large comfy couches, or at the bar.
Hours of Operations:
Monday-Saturday 8AM-10PM
Sunday 8AM-8PM
Cafe Tuk Tuk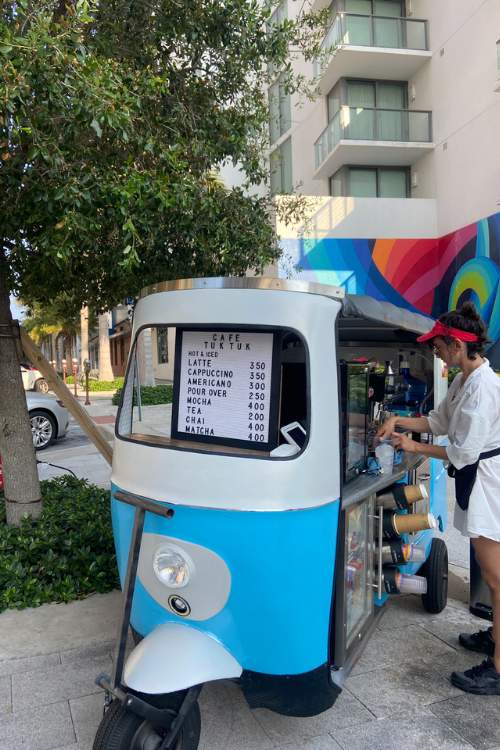 Cafe Tuk Tuk has earned the title of the most unique coffee spots St. Pete has ever seen. Just picture it. One girl and one tuk tuk. Yes, that's literally it. Located on the corner of Central Ave and 1st, this tiny treasure is a rolling masterpiece. Cafe Tuk Tuk offers both hot and iced options, and is smack dab in the middle of downtown St. Pete. We usually grab our coffees, and walk down to the St. Pete Pier, always in awe of how cool and unique this coffee spot is.
Cafe Tuk Tuk is the perfect spot to take the perfect instagram picture, catch a vibe, and see what all St. Pete has to offer.
Hours of Operations:
Tuesday-Saturday 7AM-12PM
The Chelsea St Pete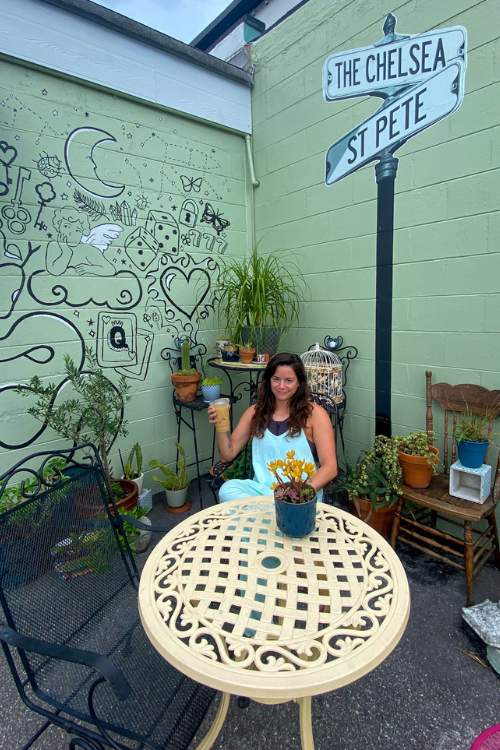 The Chelsea St Pete is another awesome coffee shop in St. Pete, located in the Warehouse Arts district. The Chelsea St Pete offers tea, coffee, and curated gifts all while offering a cozy eclectic vibe. Feel free to stay and work remotely here, or grab your coffee and go.
Not only do we love Chelsea's iced oat milk latte, we also love their reasonable prices. While we love supporting local coffee shops in St. Pete, we also love saving a couple bucks.
Hours of Operations:
Share your thoughts!
We love hearing from ya'll so feel free to comment and let us know your favorite spots for delicious bean water! 😁
Looking for more US or St. Pete travel guides? Check these out!
Like this Post? Pin it for later!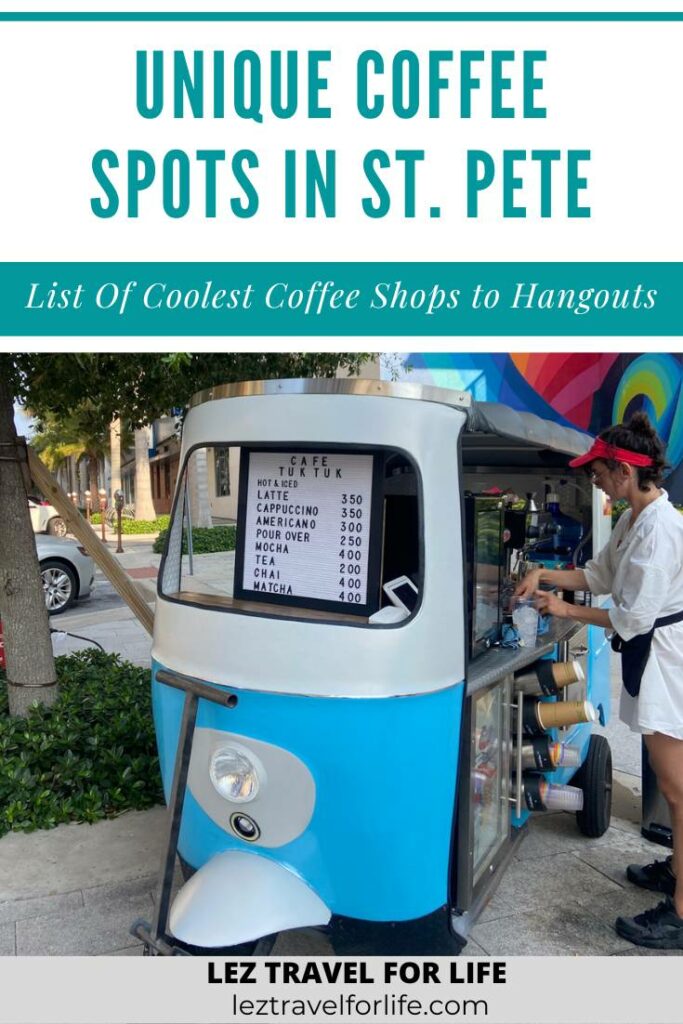 I'm Sam and I may only be 5'3 but I'm feisty and enjoy a lot of sarcastic humor. I'm addicted to travel as well as feeding and advocating for street animals in every country I travel to. I'm married to Courtney and we're super gay or whatevaaaa. We're both extroverts and love meeting new people everywhere we travel. We are in love with Latin American culture but can't wait to explore more of the world!