This article may contain affiliate/compensated links. For full information, please see our disclaimer here.
Reminder: Make sure to check the country's covid guidelines before travel.
Oaxaca City, located south-east of Mexico City, has become one of the most popular digital nomad hotspots in the country. Here you can find a wide range of co-working spaces and cafes with good internet connections and, of course, lots to see and do. I'll walk you through what its like to be a Digital Nomad Living in Oaxaca City, in this article.
For some time now, Oaxaca has seen a significant increase in digital nomads living here permanently. If you're looking for a place in Mexico to make your temporary home, Oaxaca is a fantastic choice.
The city of Oaxaca also offers a good variety of activities and budget-friendly attractions and facilities for digital nomads.
DIGITAL NOMAD LIVING IN OAXACA CITY: BUDGET
The cost of living in Mexico is generally affordable, although some regions are more expensive than others. Oaxaca has a relatively low cost of living and is an excellent choice for digital nomads on a budget. Of course, this always depends on each individual standard of living and can vary.
The average monthly budget for two people living in Oaxaca City could be:
$340 USD for a furnished studio apartment in a strategic location in Oaxaca City. In most cases, bills are not included in this price, and you'll have to consider utilities and wifi, which will be extra.
$20 USD for a high-speed internet connection
$24 USD utilities (water, electricity, gas)
$150 USD groceries from a local shop
$400 USD going out (coffee shops, restaurants, drinks, and fees for a co-working space)
$150 USD activities and day trips
$50 USD other (laundry, essentials)
Overall, a monthly budget in Oaxaca city for two digital nomads can be as little as ~$1,150 USD per month. Of course, this is only a rough estimate and will vary depending on personal preferences.
Average prices in Oaxaca:
Regular breakfast 50-120 MXN/ $2.50-$6.00 USD
Lunch/dinner 80-200 MXN/ $4.00-$10.00 USD in a local restaurant
Coffee or fresh juices 20-35 MXN / $1.00-$1.80 USD in a modern coffee shop with a good WIFI connection
Drinks: 25-35 MXN / $1.30-$1.75 for a beer, and 50-100 MXN / $2.50-$5.00 USD for a cocktail (prices apply for pubs and bars, nightclubs will be more expensive).
Monthly hot desk pass for co-working 1,500 MXN/ $76.00 USD
Co-working day pass 120 MXN/ $6.00 USD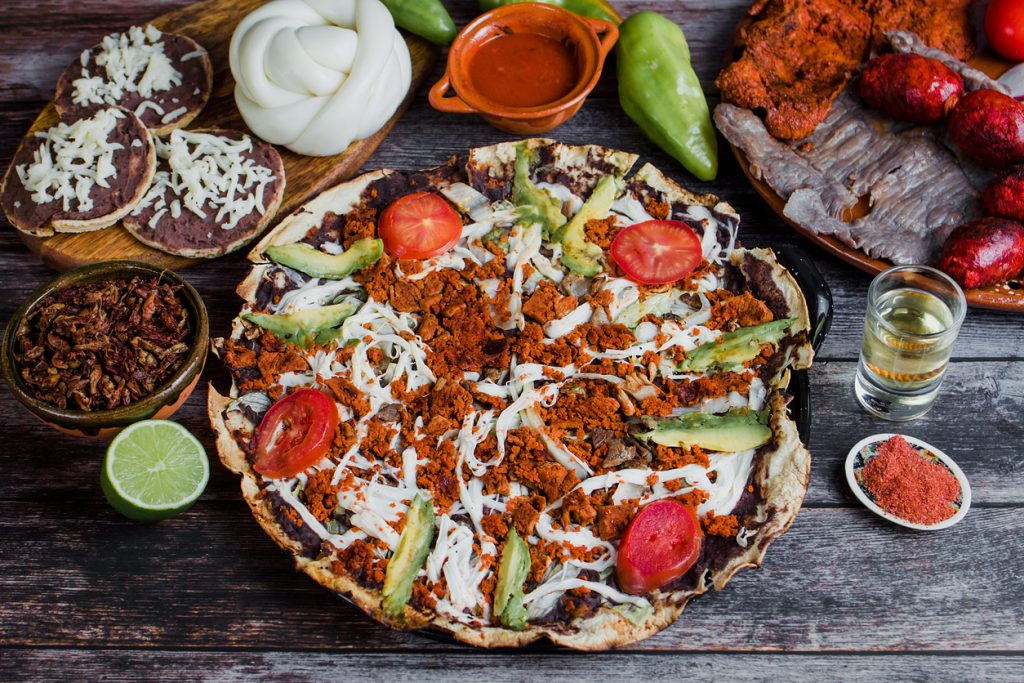 WHERE TO STAY IN OAXACA CITY
Oaxaca has a great variety of Airbnbs to choose from. Depending on how long you plan to stay in the city, you might benefit from booking a monthly stay. Renting an apartment via Airbnb will have the benefit that you won't have to worry about contracts or utility bills. Everything is usually included in the price, although some landlords might charge extra for using the air conditioning.
Always check reviews before deciding on an apartment and maybe even ask to see it in person before committing.
Another option is to rent directly from a landlord which might be cheaper but also comes with some risks. You will have to sign a contract or rental agreement, which will be in Spanish. You'll also be responsible for your own bills and for installing wifi.
This option is most convenient if you're staying in Oaxaca for a more extended period of time. For shorter stays, an Airbnb will be the better choice.
WHEN TO TRAVEL TO OAXACA
The climate in Oaxaca is pleasant and comfortable year-round. The hottest months are generally May and April, while November and December tend to be cooler. This part of Mexico also differentiates between a rainy and a dry season which is important to keep in mind for digital nomads visiting Oaxaca.
May through September experience more rain while October to April is much drier. This is when the majority of tourists come to Oaxaca, so that prices will be elevated. Luckily, Oaxaca is a great place to visit any time of the year, and even the rainy season can be nice if you don't mind the occasional downpour. It rarely rains for more than a few hours at a time.
Need a ride from the airport? Check out this shared airport transfer here!
BEST NEIGHBORHOODS TO STAY IN OAXACA CITY FOR A DIGITAL NOMAD
When visiting the city of Oaxaca, most tourists and digital nomads will stay in the historical Centro. This is where a number of attractions are located, and you'll encounter a variety of bars and restaurants.
While there are a good number of luxury or boutique hotels here, you'll also be able to find more budget-friendly apartments and long-term options. The Centro itself can be divided into the sub-neighborhoods Zocalo and Santo Domingo. Zocalo refers to the area around the popular plaza and the impressive cathedral that is often considered Oaxaca's emblem. Come here for markets, museums and lots of cultural attractions.
Santo Domingo is more known for its nightlife and wide variety of bars. This area might get a bit noisy at night so keep that in mind before deciding on a place.
A digital nomad looking for a quieter experience in the city of Oaxaca might enjoy staying in the Barrio de Xochimilco. This neighborhood is known for its small-town feel and peaceful atmosphere.
Finally, there is the neighborhood of Reforma, which is located close to Xochimilco but couldn't be more different. Boutiques and expensive restaurants make this area a hot new tip, although its location is slightly out of the way. As a digital nomad living in the city of Oaxaca, you'll appreciate the metropolitan feel of this area and the many facilities.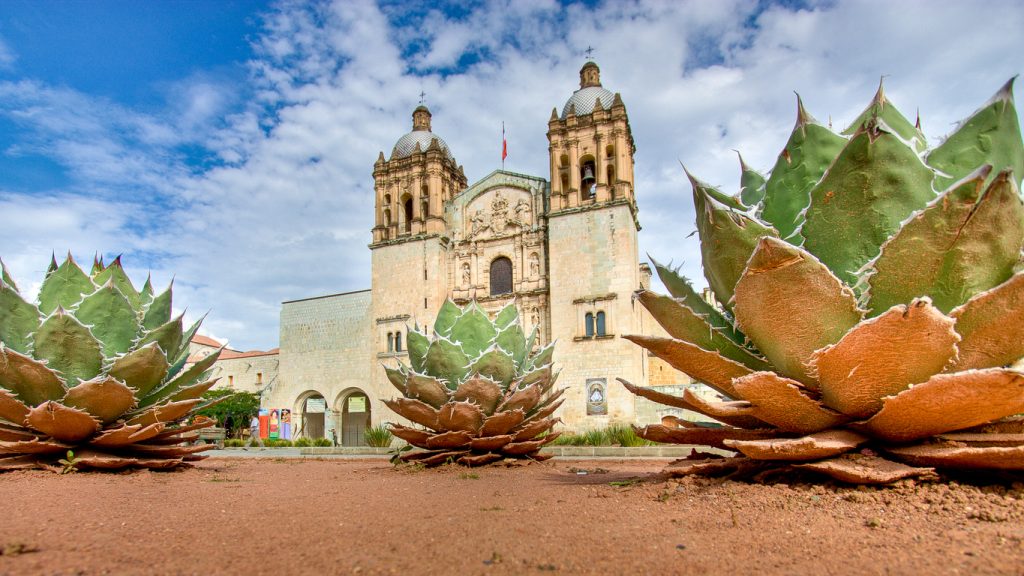 WHERE TO FIND RELIABLE WIFI IN OAXACA CITY
The most important factor for a digital nomad living in the city of Oaxaca will be a reliable wifi connection. More and more remote workers are flocking to Mexico, but internet connections can still be spotty in places.
Oaxaca is a relatively large city, and you'll find a good selection of co-working spaces. However, some hotels or hostels might have bad internet connections, and not all coffee shops offer free wifi.
Always check the wifi at your accommodation before you commit to staying for a longer period of time. If you're booking via Airbnb, ask your host for a screenshot of a speed test before you arrive.
It can be very useful to travel with an ethernet cable which will make all the difference when it comes to internet speed. Simply plug your laptop directly into the router, and you'll have a much better experience.
Finally, invest in a good Mexican SIM card with plenty of data. That way, you'll always be connected and can use your phone's hotspot in case the wifi is down. Finding reliable workspaces in the city may take some time, so always come prepared.
Looking for the best laptop for Digital Nomads?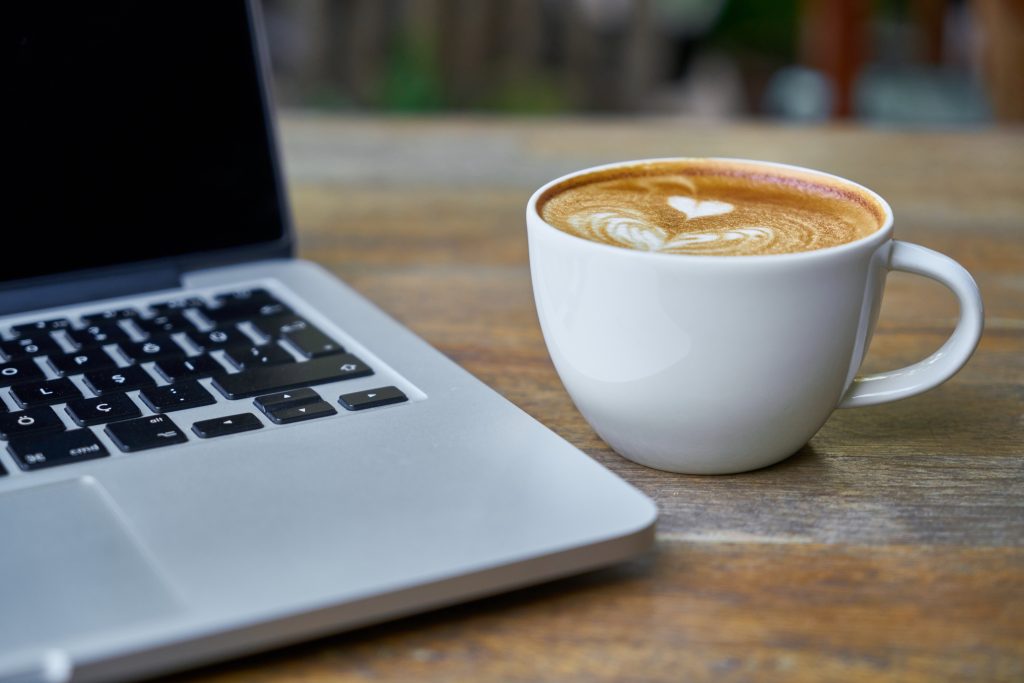 We all know our laptops are the most essential piece of equipment for working remote. Whether you are in need of an upgrade or you are looking to buy your first laptop – Check out our comprehensive laptop guide for digital nomads!
---
CAFES AND CO-WORKING SPOTS FOR DIGITAL NOMADS IN OAXACA CITY
More and more co-working spaces are appearing in Oaxaca, and any digital nomad moving to the city will appreciate these facilities. Some of the best ones include:
Selina
This international chain of hostels is designed for remote workers. You don't have to stay here to use their co-working space, although prices can be steep. Make sure to arrive early in the morning as spots tend to fill up fast.
EnConjunto
This is a one-stop shop for any digital nomad in the city of Oaxaca. They have co-working as well as co-living facilities, so you can even choose to stay here permanently. This is the place to network and get to know other remote workers traveling through Mexico.
Convivio
This modern co-working space is located in the heart of Oaxaca and is perfect for anyone looking for a community of digital nomads in the city. Enjoy complimentary drinks and snacks and have lunch at their upscale onsite restaurant.
Impact Hub
This chain of co-working spaces has mastered the art of combining productivity and creativity. The space is located in the city center, and although it is small, it has everything you might need.
Cafebre
If you're looking for a coffee shop to spend some productive hours, Cafebre is the perfect choice. The layout is ideal for remote workers, and the wifi is reliable and relatively fast. Of course, they have a delicious menu of drinks and snacks to try.
Are you a digital nomad looking for the best backpack?
We know how important it is to make sure you have the right functional backpack on your travels to protect your electronics which is why we've made a comprehensive list of our favorite digital nomad backpacks. Check it out!
TYPICAL WORKDAY IN OAXACA CITY
8 AM – Get up and head to Cafebre for a morning coffee and a light breakfast. Spend 30-45 minutes here to plan your day and start your to-do list.
9 AM – Head over to your favorite co-working space in the city. Sit down at your hot desk and start your productive day.
1 PM – Time for a quick lunch at your co-working space's onsite restaurant. If you're feeling adventurous, you can also grab some street food which will be delicious and budget-friendly.
1:30 PM – Back to the co-working space for a networking event or some more productive hours.
4-5 PM – Clock out for the day and drop your things at your accommodation. Spend the evening exploring the city and grab some drinks in the center of Oaxaca.
THINGS TO DO IN OAXACA CITY
Take a free walking tour
When arriving in a new city, it's always fun to join a free walking tour. This is the perfect way to see the most important sights in the city and find your bearings.
There are lots of different free walking tours to choose from in Oaxaca. Remember that even though the tours are free, tipping your tour guide is highly appreciated.
Want a more extensive tour of Oaxaca City? Check out this full day tour of Oaxaca Here!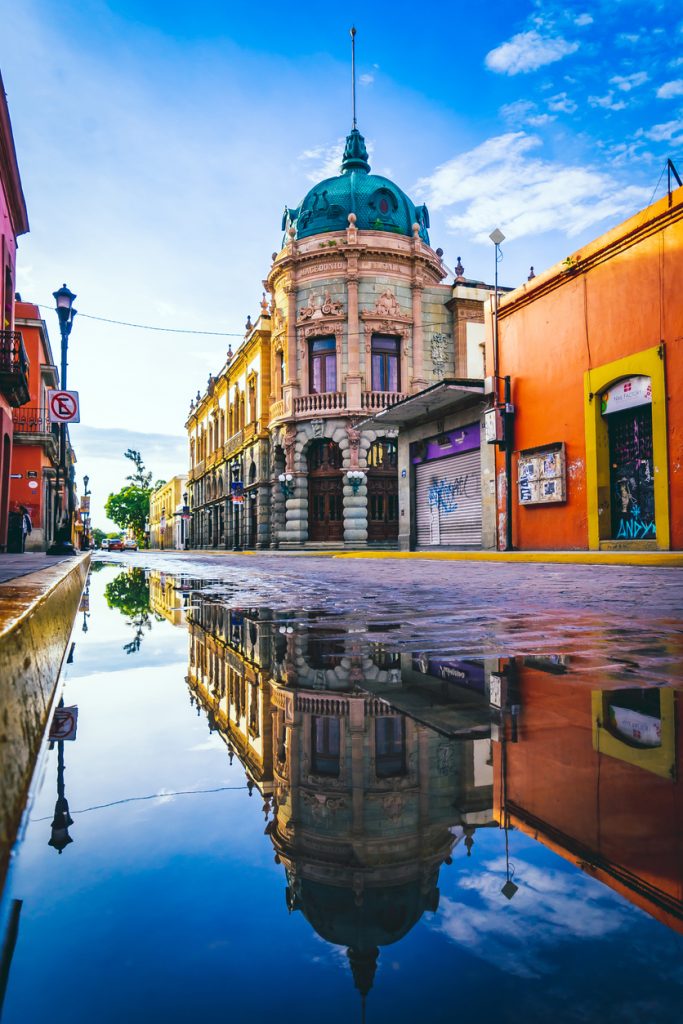 Visit Zocalo
This bustling public square is located in the center of Oaxaca City, surrounded by local vendors, restaurants, and historic buildings. From here on, you can easily explore the surrounding landmarks and attractions on foot.
In the late afternoon, many locals like to come here to have a few drinks or grab some street food.
Stroll through the local Benito Juarez Market
The Benito Juarez market has a lot to offer, including different meats, fresh vegetables, and fruits, as well as souvenirs.
Come here to buy local products from the Oaxaca region like mezcal, mole (traditional Mexican sauce), as well as delicious cheese.
Templo de Santo Domingo
The Templo de Santo Domingo is an old church from the 16th century and one of the many historic buildings in downtown Oaxaca. This baroque church is absolutely stunning from both the inside and outside.
Admission is free, so why not take a peek inside?
The church is open daily from 7 AM to 1 PM and 4 PM to 8 PM. On Saturdays, the church is often occupied by wedding parties or elaborate masses.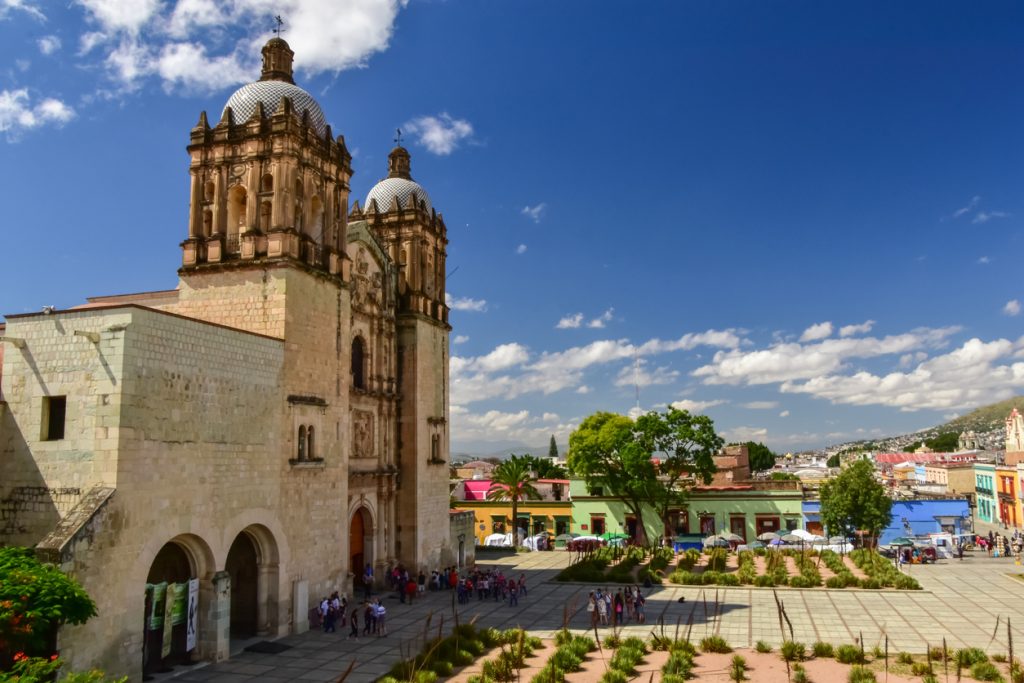 Visit the Botanical Garden
The botanical gardens are located right behind the Templo de Santo Domingo, and you should visit both if you are in the area. The botanical garden exhibits lots of different exotic plants focusing on those that grow naturally in Oaxaca.
Unfortunately, you can only visit the garden with a tour and not on your own. The tours cost $5 per person.
Museum of Cultures
The Museo de las Culturas is located next to the Templo de Santo Domingo in the monastery building of the church. Here you can see precious stones and gold jewelry found in a tomb at the archaeological excavation site of Monte Alban, as well as other beautiful archeological finds.
The entrance fee is $3.75 per person and well worth it.

DIGITAL NOMAD LIVING SUMMARY IS IT WORTH IT?
Oaxaca is an excellent city for any digital nomad looking for a budget-friendly and exciting new place to see in Mexico. With a great combination of cultural activities, delicious street food, and lively bars, there is always something to do. More and more remote workers are leaving Mexico's beautiful coast in favor of this vibrant city. While the internet connection can be a bit slow in places, there are more and more co-working spaces available in Oaxaca.
WHAT TO PACK FOR MEXICO
We got you covered! We traveled around Mexico for a year and created a detailed packing guide for Mexico, including items we needed as Digital Nomads Living in Mexico.
LIKE THIS DIGITAL NOMAD LIVING IN OAXACA CITY POST? CHECK OUT OUR OTHER RELATED CONTENT
Like this Digital Nomad Living in Oaxaca City post? Pin it for later!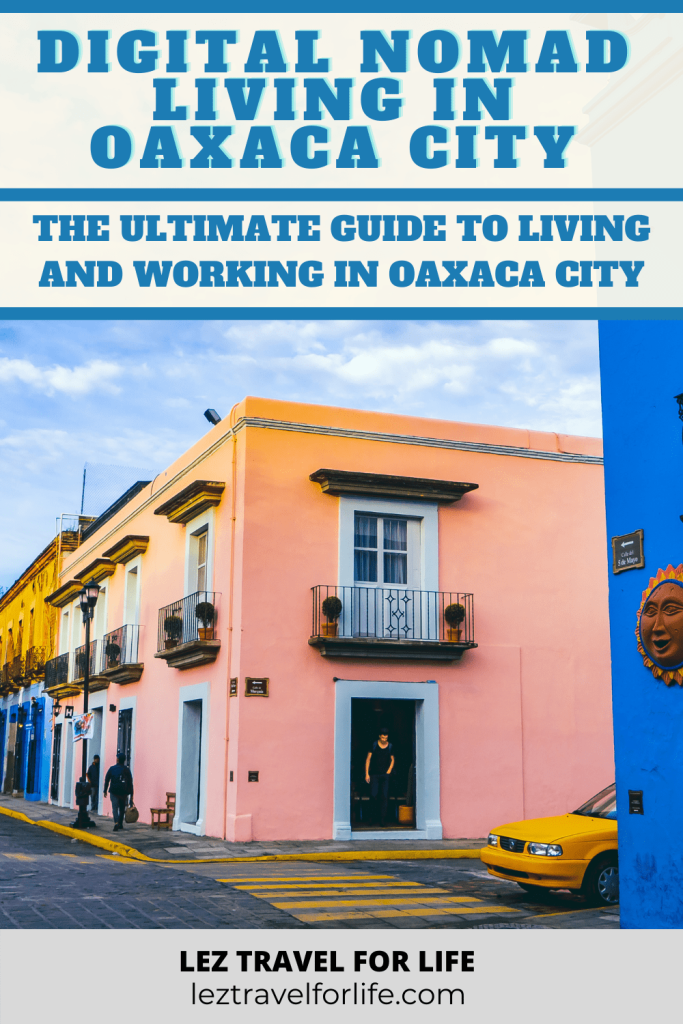 I'm Sam and I may only be 5'3 but I'm feisty and enjoy a lot of sarcastic humor. I'm addicted to travel as well as feeding and advocating for street animals in every country I travel to. I'm married to Courtney and we're super gay or whatevaaaa. We're both extroverts and love meeting new people everywhere we travel. We are in love with Latin American culture but can't wait to explore more of the world!