This article may contain affiliate/compensated links. For full information, please see our disclaimer here.
Reminder: Make sure to check the country's covid guidelines before travel.
Did you know Mexico is more than crystal clear waters in Cancun, cenotes, and resorts? There is so much more to discover in Mexico like the monkey-filled jungles, ancient ruins from the Mayans, modern-day indigenous villages, and delicious food. Here I will express my love of this unique state in this epic list of things to do in Chiapas. We also brought along our Mexican rescue dog Hughie, with us to Chiapas. We were worried traveling with a dog would be really hard but everyone here is so relaxed!
Why should you hurry to Chiapas as fast as possible? Because while it's been under the radar for many years it is quickly becoming a popular tourist spot, and for good reason. It is located below the Yucatan and you can take a bus from the Yucatan to San Cristobal de las Casas in around 8-10 hours. While it sounds like a long bus ride you won't be bored, the landscape is something that pictures can't do justice for. This state has it all, beaches, volcanoes, lush green jungles, mountains, and so much more.
Did I mention that it is cheap too? Yes, cheap. You can eat well, stay in a nice hotel, and enjoy different excursions for a very reasonable price compared to its more popular neighbors.
Courtney and I decided we would live in the capital of the state San Cristobal de las Casas for 4 weeks so we could explore. We went north to the Palenque ruins and south to the border of Guatemala to see ancient ruins hidden in the jungle.
Epic List of things to do in Chiapas
GETTING TO CHIAPAS
The popular option is to fly to Tuxtla Gutierrez Airport (TGZ). You will find a variety of choices for transportation at the airport but we think the easiest option is a shared van. A rental car can be pricey but if you are wanting to explore as much as we did then you may want to try it! We chose tours rather than a rental car because we didn't want to have to deal with navigating ourselves. We did have some trouble when we landed around 5 in the afternoon with getting a shuttle. It seemed like they were all full but we got lucky and met 2 other travelers and shared a taxi.
A lot of people find out that there are groups of locals that barricade the roads from time to time and ask for a little cash. Please understand this isn't a frequent thing and we think Chiapas is safe! Usually, the political groups are trying to get the government's attention rather than harass tourists. For example, if you are traveling to Palenque this would be the one destination a tour would be a better option for.
EPIC LIST OF THINGS TO DO IN CHIAPAS
Let's get to the good stuff! My epic list of things to do in Chiapas! Chiapas is a state where a lot of beautiful places are spread out, so we suggest you take your time. We think 3 weeks at minimum, however, if you only have a week or so don't worry companies have short tours from 1-3 days but know that you will be tired. Some tours are between 15-18 hours where you are given a short amount of time at each place and then a lot of time spent in a van.
Explore San Cristobal de Las Casas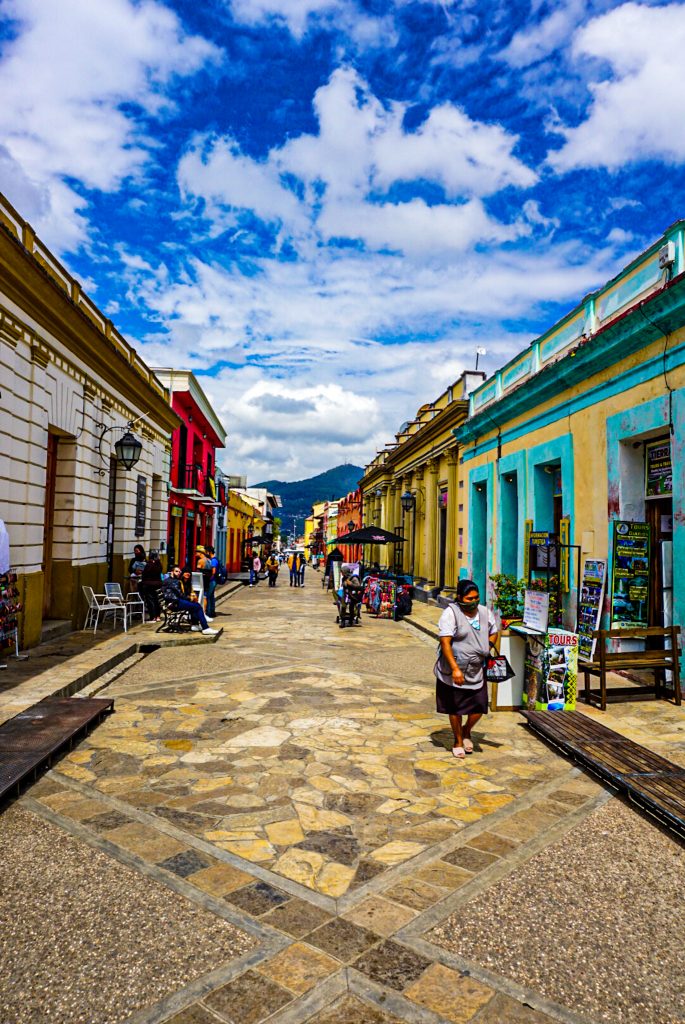 We have to start off our epic list of things to do in Chiapas with this cute city which is located around 1-1.5 hours from the airport. You will enjoy scenic views of mountains during your journey to this charming town. San Cristobal is typically the starting point for most people visiting Chiapas. Enjoy exploring the colorful streets, drinking local wine, taking a cooking class, try pox (pronounced posh), and shop at the markets.
Check out our guide: Unique Hotels in San Cristobal de Las Casas for our top picks on where to stay!
While visiting San Cristobal the best things to do are to start with a free walking tour. Our friend who is a local artist runs the tour go to her Instagram little.eyes.alien and message her for when the tours take place. This will give you more info on the area and help you find more things to do. There are also a bunch of companies to assist you to decide which transportation and tours options are best for you.
Look for the street Real Guadalupe. Here is the center of coffee shops with delicious coffee grown in Chiapas, local markets that seem never-ending, churches, and tons of other friendly travelers.
Favorite restaurants, coffee, and drink spots
Frontera Artisan Food and Coffee: Awesome breakfast and coffee. We literally ate here every day we stayed in San Cris.
la vino de bacco : amazing wine for 18 pesos! One of our favorite places!
Charcuterie at H.A.M: so cheap and SO DELICIOUS
Just Pho: killer ramen and pho! Must try!
Pachamama: The only good pizza joint on real de Guadalupe
San Cristobal de las Casas is beautiful, we think 3-4 days here is plenty. Most people move on and stay in each location they are visiting but if you want to have your base be in this city and do tours that is an option too.
Climb into the clouds at El Chiflón Waterfalls
When you're ready to hike there are two trail options. If you take the one on the right you can actually zip line to the beginning but we had a dog so it wasn't going to work! Instead, we headed left. Courtney, me, and Hughie. Let's just say we weren't prepared for the uphill hike at the end that takes you to the top! It is short but brutal. Bring actual tennis shoes. We wore Teva's and it was muddy and we had to hold Hughie in his dog bag. We looked boujie but it's all good we did it!
Most people don't realize that Chiapas has a ton of waterfalls! El Chiflon is at the top of our list for its uniqueness. El Chiflon is a short 2.5-hour journey from San Cris. It's cheap to get in (50 pesos). If you don't want to rush they have cute cabins you can rent! Why is this particular waterfall so flipping cool? It has multiple waterfalls and at the bottom of the falls, the water is a beautiful blue color.
Discover the magic of Palenque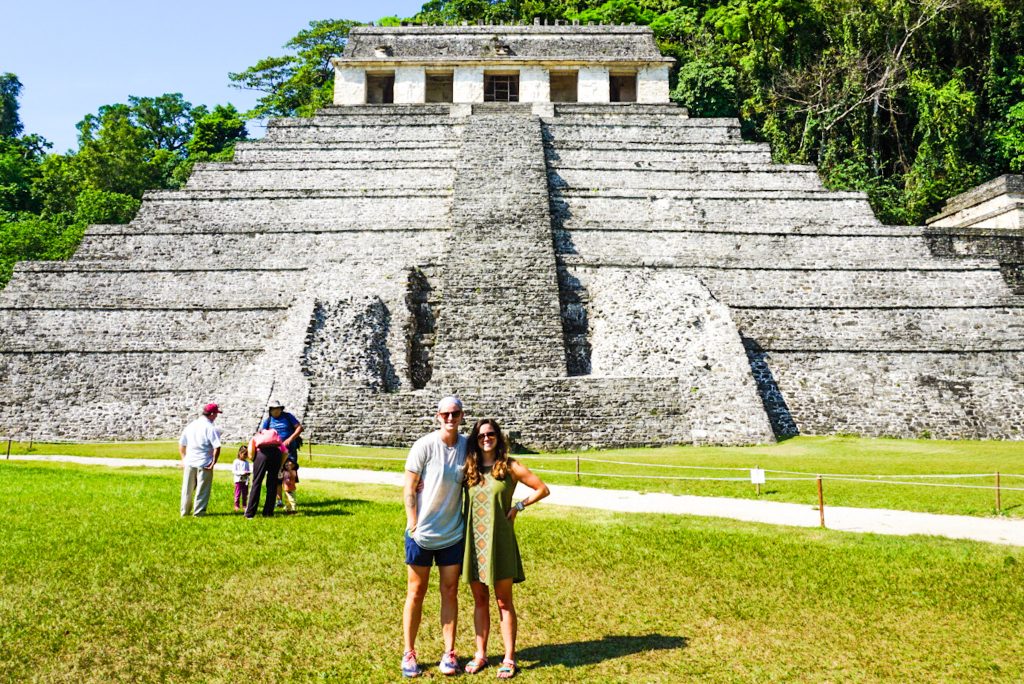 Palenque is a very popular Mayan site in Mexico. It's tucked away in the forest, with howler monkeys in the background all around you. We hired a guide, who was awesome! We were glad we did this because he taught us a lot about the site's history and how it ties in with modern-day indigenous cultures in Mexico. With covid restrictions in 2021, we could not climb the ruins.
Listen, Palenque is small. Like super small and spread out. Downtown is nothing to write home about. ALSO, it's SO HOT YALL. It was between 100-108 F degrees every day. Having air conditioning is a MUST. We suggest checking out booking.com ahead of time to book your stay! Also, Palenque is far from San Cris so we recommend you stay at least two days so you can see the other cool stuff around like waterfalls and a tour of the jungle! We have a detailed article with Tips on Exploring Palenque Chiapas for all everything you need to plan your trip!
Epic things to do: Waterfalls Agua Azul, Roberto Barrios & Misol-Ha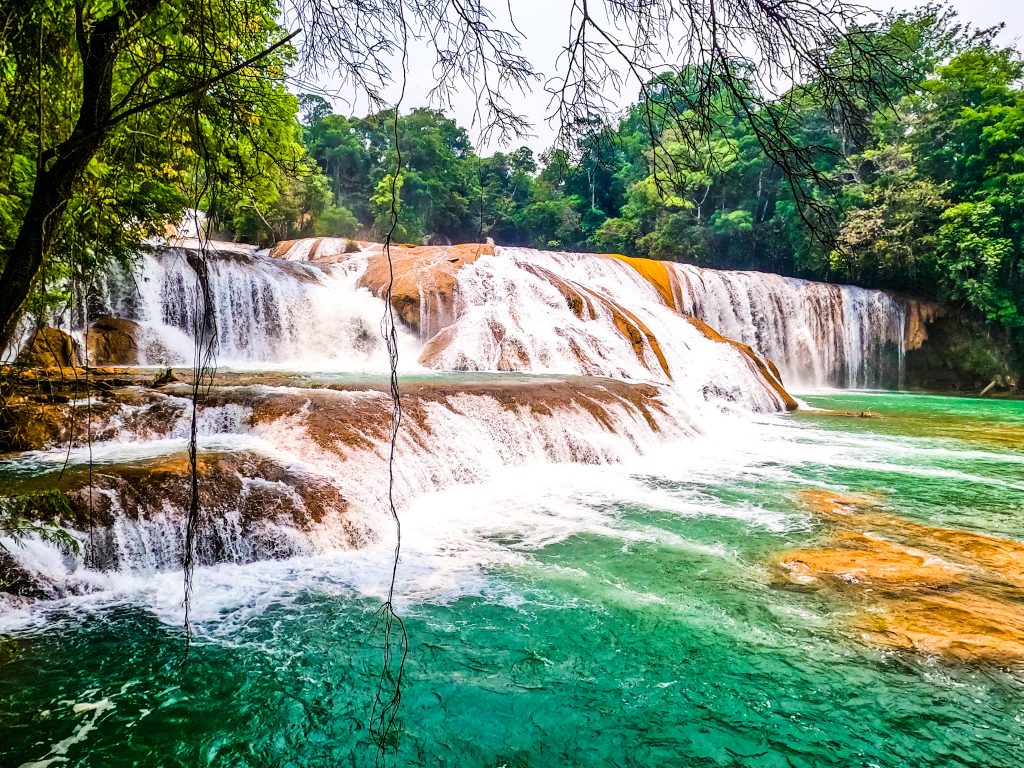 Seriously, guys, Chiapas is magical. These popular waterfalls are typically lumped together along the journey around Palenque. They are all different, and not all of them are amazing.
Let's start with my least favorite, Agua Azul. The car ride here is terrible. Roads are rough and very curvy. Courtney threw up and Hughie threw up. Courtney NEVER throws up. Also, it's usually busy. But mainly, I was disappointed by all of the tents and stores surrounding the waterfall. It definitely didn't feel serene and relaxing.
Then there is Misol-Ha. I LOVED this one. However, Courtney probably doesn't remember it because she was deathly ill with food poisoning. It's easy to access from where you park (about 2 minutes) with one tall waterfall that has a crisp pool below which is perfect for swimming. If you hop in the pool just sit back and take in the views, you're literally in the middle of the wilderness. Roberto Barrios is gaining popularity, as it should. It's just you and nature here, super peaceful.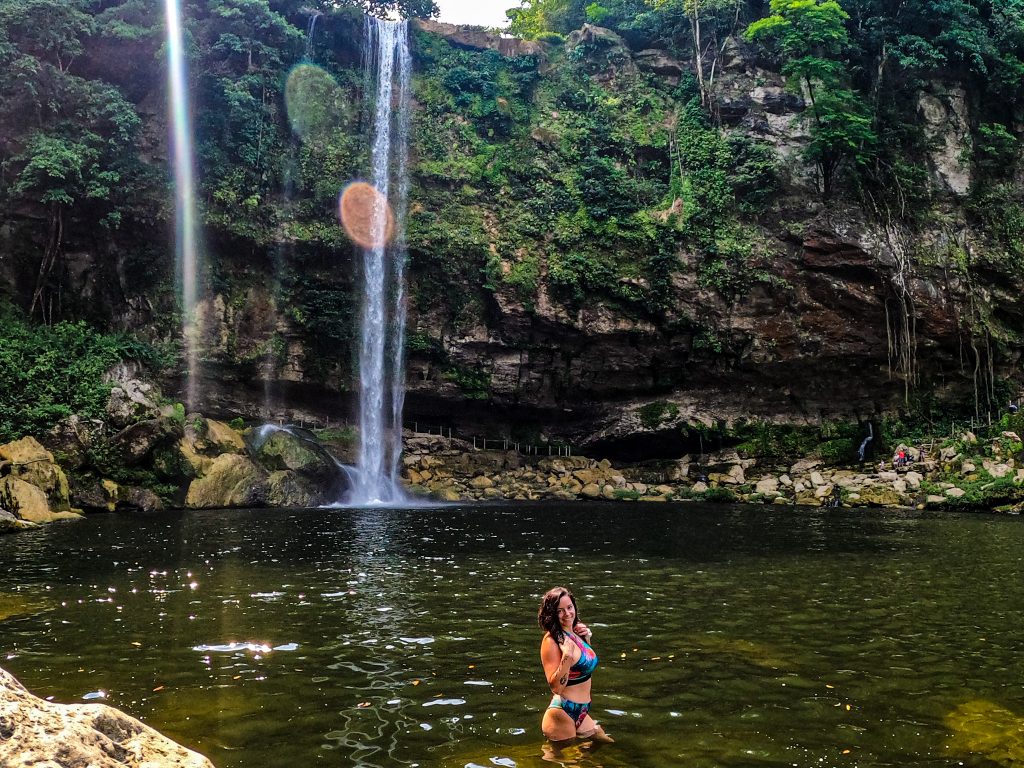 In our opinion, if you have a long day of traveling and you're on a private tour and want to skip a waterfall we say skip Agua Azul. It's a long drive up the hill and it's not super worth it in our humble opinion.
Epic things to do: boat around Sumidero Canyon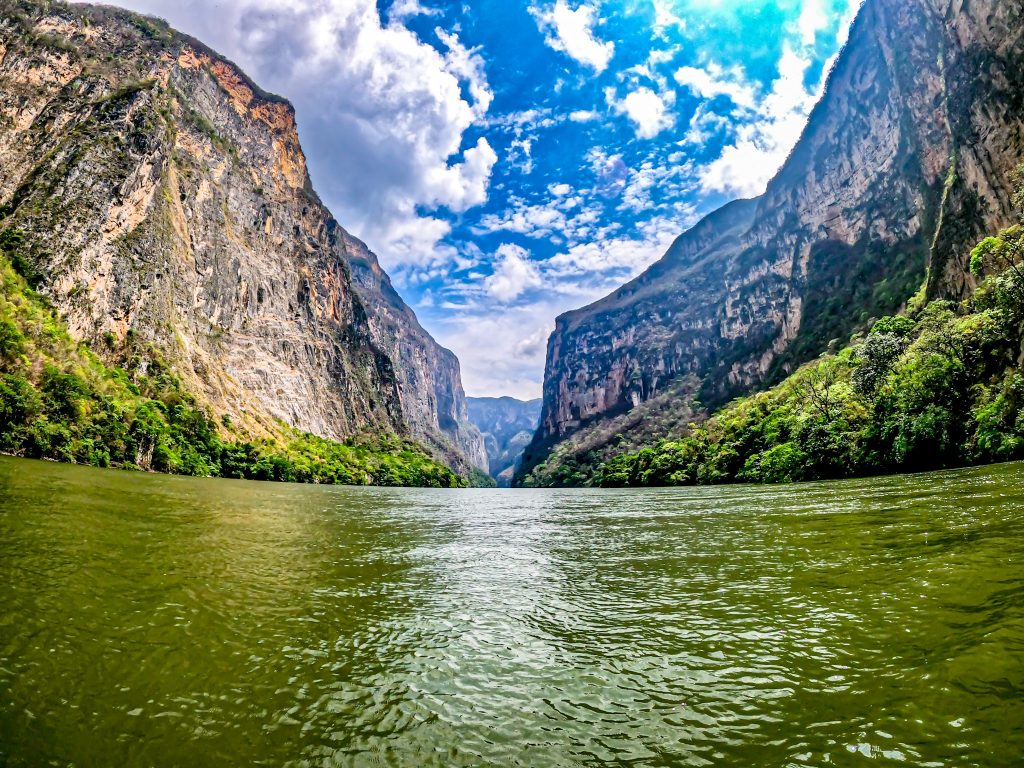 Near Tuxla, which is around an hour from San Cris, is the Sumidero Canyon. You can take a boat in the canyon and see some alligators and soak up the scenery. Boats with guides depart multiple times each day from Chiapa de Corzo. This town is another popular place to visit while in Chiapas. This was our least favorite tour (personally). The boat was super cramped and uncomfortable and VERY hot. Courtney and I did not bring sunscreen and we got fried. Also, bring a hat!
Epic things to do in Chiapas: Yaxchilan Ruins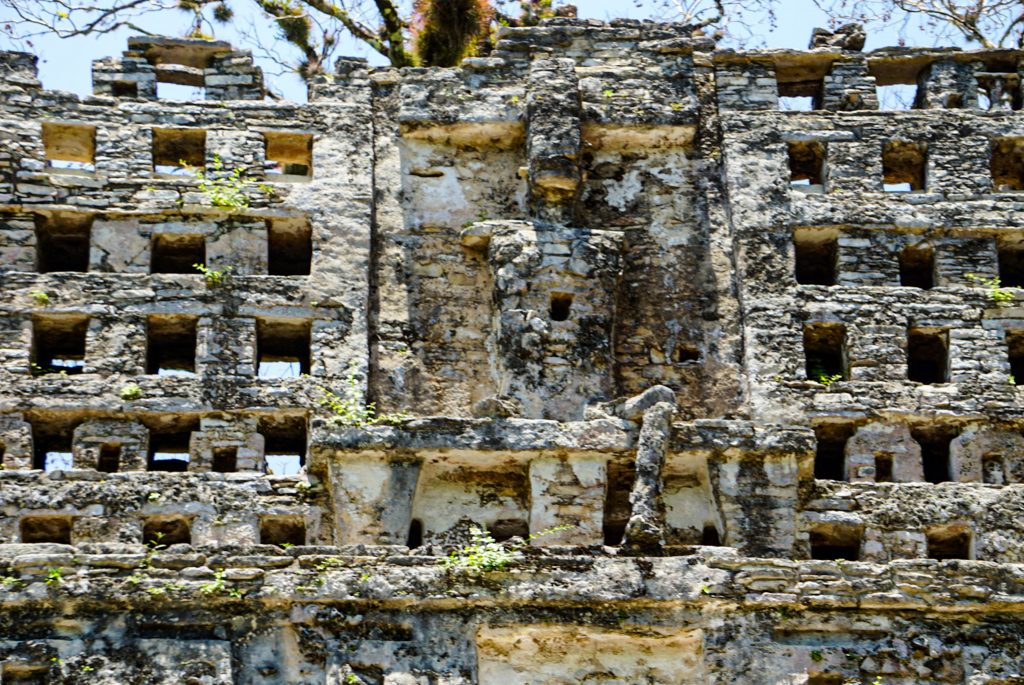 Yaxchilan takes its visitors to a different type of living. Located in the jungle literally bordering Guatemala it is one of the least visited archaeological sites in Mexico. Once you arrive you'll realize it's quiet here. You won't see long lines waiting to hop on a boat to the site itself. Why? It's off the beaten path and it does take a while to get to but WOW is it worth it.
The ruins are in incredible condition, with some structures standing in their original positions and buildings still showing their original colors! We hired a tour guide who was fluent in Mayan and Spanish. This area is home to a lot of original indigenous Mayans. This was an incredible experience because of how unique and off the beaten track it was.
Check out Bonampak paintings
This is a Mayan site located on the way back from Yaxchilan. If you take a tour you can visit both on the same day! Here you'll experience brightly colored murals that had gone undiscovered until recently! These murals show violent altercations between other Mayan people. We highly suggest you add this to your list before too many people discover this place!
FYI: IT IS HOT HOT HOT. You need extra water, sunscreen, and a hat. Also, our dog Hughie was not allowed inside so he stayed with our driver!
Chamula: Where modern religion meets sacrifice
This place is home to a unique church where two cultures meet: Catholics and Mayans. Here you will see firsthand how modern indigenous people live among the rest. They have their own language, clothing, and architecture. Walk into this church and you will think it can't be real. There are melted candles, chicken sacrifice, chanting, and even drinking something that allegedly releases"evil spirits". Pictures are not allowed inside out of respect for its members.
Epic things to do in chiapas: Climb a volcano
Why not hike an active volcano? It has Mexico on one side and Guatemala on the other!
Volcan Vacana has one of the highest peaks in Central America. While on your journey you will see how the landscape changes, bringing different trees, animals, and locals that live and farm here. They are incredibly friendly! Check out this website for information on booking a tour.
Montebello Lakes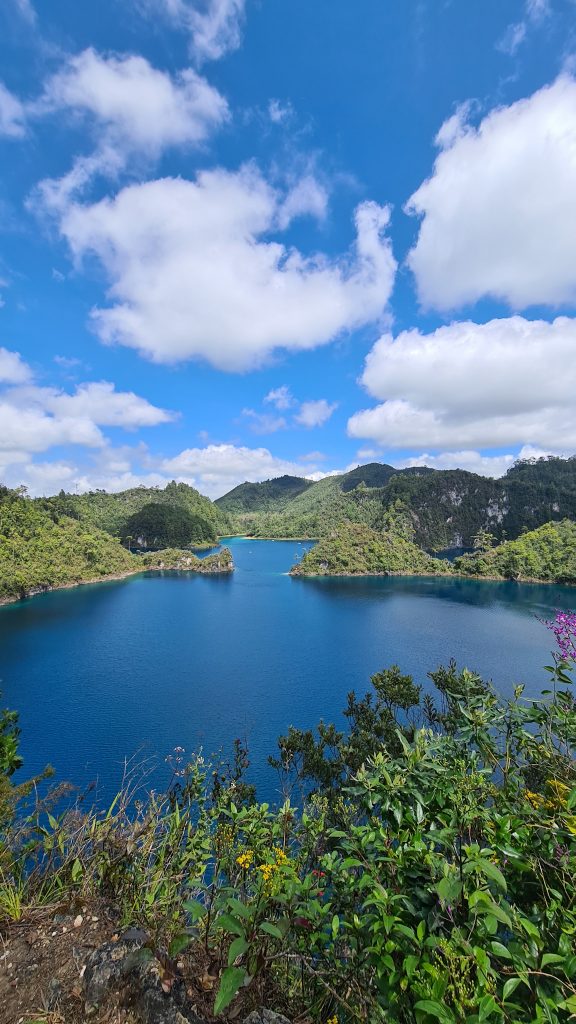 I know you might be wondering why a lake is on this epic list of things to do in Chiapas BUT this national park is near Guatemala and is super popular because it is home to over 50 lakes! During the dry season, the lakes will have a bright blue color because of the different minerals. When you are ready to explore you will have to pay for each lake you want to explore and for kayak rentals.
If you have been enjoying Mayan ruins you will find more around the lakes! Visitors can climb up the pyramid and enjoy the view! We actually enjoyed Calon lakes (Lagos de Calon) more because we could swim for free! It's beautiful here too and much more local. There is even a cenote you can explore!
EPIC LIST OF THINGS TO DO IN CHIAPAS: WHAT TO PACK
The weather varies a lot in Chiapas so knowing what to pack is SUPER important. The good news is that no matter where you are visiting in Chiapas the locals usually have locally-made clothes you can buy for cheap that will keep you warm or cool.
Check out our Mexico Packing Guide for everything you need to know!
Interested in other Mexico Related Articles? Check these out!
Like this Epic List of Things to Do in Chiapas Post? Pin it for later!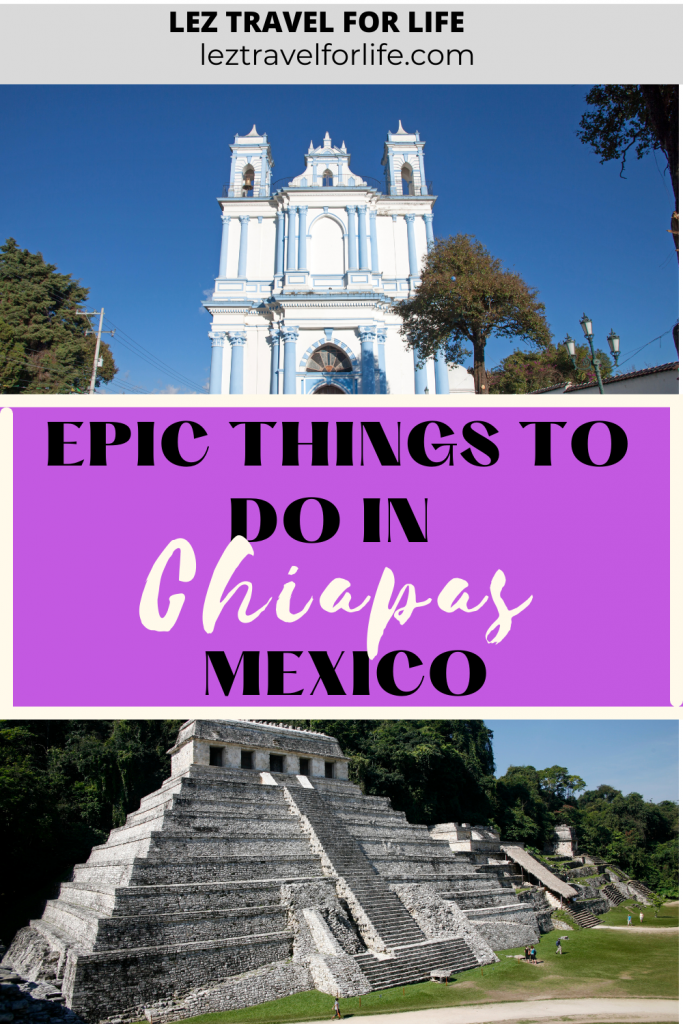 I'm Sam and I may only be 5'3 but I'm feisty and enjoy a lot of sarcastic humor. I'm addicted to travel as well as feeding and advocating for street animals in every country I travel to. I'm married to Courtney and we're super gay or whatevaaaa. We're both extroverts and love meeting new people everywhere we travel. We are in love with Latin American culture but can't wait to explore more of the world!