This article may contain affiliate/compensated links. For full information, please see our disclaimer here.
Reminder: Make sure to check the country's covid guidelines before travel.
Puerto Escondido in Mexico is not only a popular tourist destination but also a hotspot for those living a digital nomad lifestyle. The port town is located in the southeast of Mexico, around 250 kilometers from the city of Oaxaca. In this guide, we will explore Digital Nomad Living in Puerto Escondido, and what makes it a hot spot for digital nomads in Mexico.

This area is a fantastic choice for most digital nomads, offering a great mix of activities, day trips, and a variety of restaurants, bars, and nightlife. With a decent selection of possible workspaces, such as co-working spaces and coffee shops with reliable high-speed internet.

The business and tourist visas allow digital nomads to stay in Mexico for up to six months, providing the perfect opportunity to spend some time in Puerto Escondido. Tropical beaches, fast wifi, and rich culture – what more could you ask for as a remote worker?
DIGITAL NOMAD LIVING IN PUERTO ESCONDIDO, MEXICO: BUDGET
The average monthly budget for two people living in Puerto Escondido could be:
$300 USD for a furnished one-bedroom apartment with a kitchen and private bathroom in a central location.
$70 USD for wifi, gas, water, and electricity, which usually has to be paid separately for monthly rentals.
$30 USD per person for a one-month gym membership.
$100 USD for excursions and other activities.
$200 USD for groceries at the local supermarket to cook meals at home.
$200 USD for monthly access to a coworking space.
$250 USD for going out to bars and restaurants.
$50 USD for miscellaneous expenses.
Altogether, it is possible for two people to live in Puerto Escondido for around $1,200. However, the prices listed above can, of course, vary depending on personal habits. These calculations lie towards the lower end of the scale, so it's safer to budget more rather than less.
Average prices in Puerto Escondido
9 MXN ($0.45 USD) for a bottle of 1.5-liter water in a supermarket.
5 MXN ($0.25 USD) for a short ride in a colectivo bus.
28 MXN ($1.40 USD) for a draught beer pint in a local bar or restaurant.
80 MXN ($4 USD) for a meal in an inexpensive local restaurant.
65 MXN ($3.30 USD) for a 20-pack of cigarettes.
190 MXN ($9.50 USD) for one-day access to a coworking space.
WHERE TO STAY IN PUERTO ESCONDIDO
There is a large selection of accommodation options to choose from in Puerto Escondido. Airbnb or other booking platforms usually have excellent deals for short-term rentals, however, they are usually overpriced for long-term periods. If you are okay with spending a little more money to book in advance then check out some listing on booking.com below to see if any of the accommodations fit your needs.
The best way to find a monthly rental is probably by walking around the streets and looking for signs advertising accommodation. Guesthouses are usually quite affordable and offer a lot of value for money. While they might not be the most luxurious choice, they're great for those traveling on a budget.
Another possibility is to keep an eye out for vacancies advertised on Facebook Marketplace or in Facebook groups like "Puerto Escondido Digital Nomads/Co-working."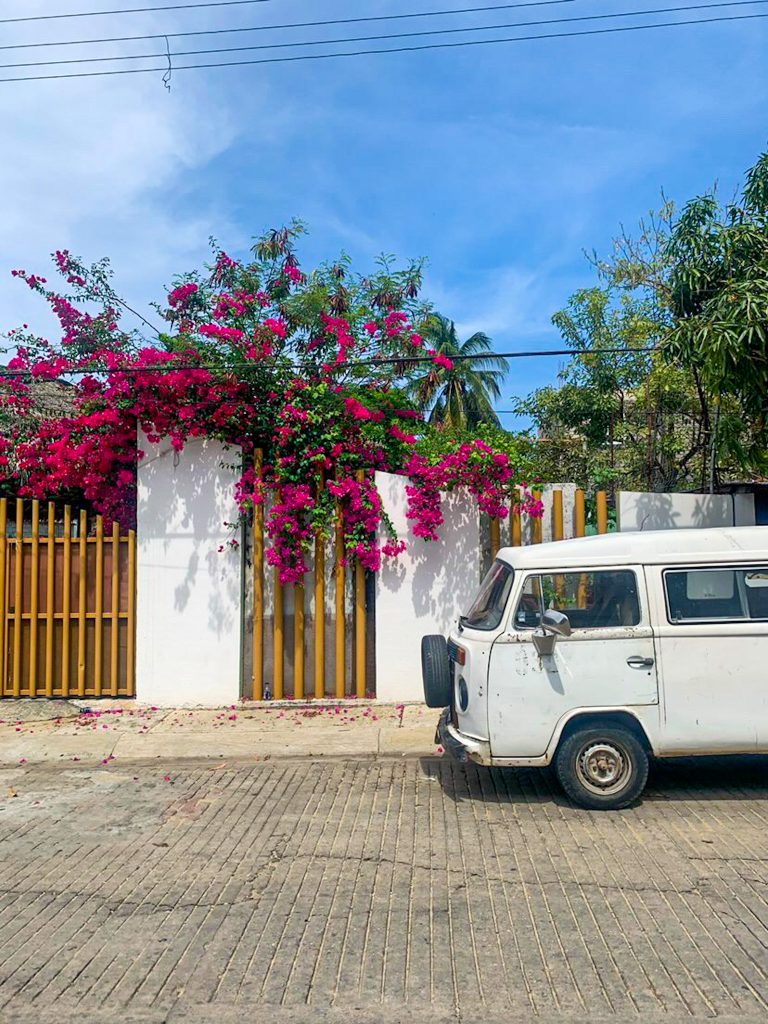 WHEN TO TRAVEL TO PUERTO ESCONDIDO
Puerto Escondido is most beautiful during the dry season between November and May. It is usually very sunny during this time, and temperatures reach up to 35 degrees Celsius (95F°). However, during the summer months, the area can be crowded with tourists, and prices for accommodation rise rapidly.
The rainy season is between June and September and usually brings a lot of rainfall and mosquitoes. Despite this, temperatures are still quite pleasant and usually don't fall below 21 degrees Celsius (70 F°). Prices for accommodation start dropping during this time, due to the lack of tourists.
BEST NEIGHBORHOODS TO STAY IN PUERTO ESCONDIDO FOR A DIGITAL NOMAD
Rinconada
Rinconada is a beautiful and quiet area from where you can reach the beach in just a few minutes on foot. It is the perfect neighborhood for digital nomads who want to be close to everything but also need a quiet place to work from home.
Adoquin
Adoquin is one of Puerto Escondido's most lively neighborhoods and a popular area for tourists on vacation in Mexico. There is no shortage of bars, cafes, restaurants, souvenir stores, and nightclubs, and there is always something going on here. If you like to live close to the hustle and bustle of the city or want to go to a coffee shop to work, Adoquin is the best choice.
Playa Zicatela
The area around Playa Zicatela is frequented by surfers and regular beachgoers. The neighborhood is located a bit further out from the actual city center of Puerto Escondido but has become increasingly popular among digital nomads in the past years. There are many restaurants and bars within walking distance, as well as the Selina Hostel, which has a great coworking space.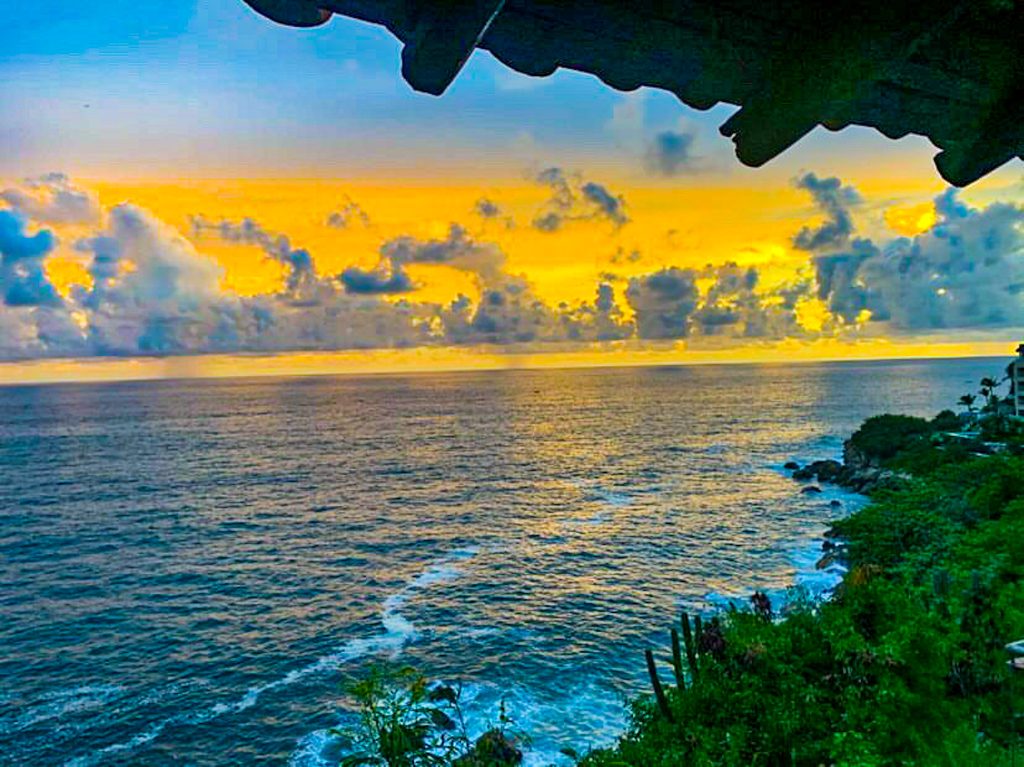 WHERE TO FIND RELIABLE WIFI IN PUERTO ESCONDIDO
The wifi connection can be spotty in parts of Puerto Escondido, so choose your accommodation wisely if you plan on working from home.
Having a reliable sim card will be very helpful in case the wifi disappoints. The provider "Telcel" generally offers the best connection throughout the country. You can purchase a sim card in most mini markets like OXXO, where they'll also help you set it up.
Looking for the best laptop for Digital Nomads?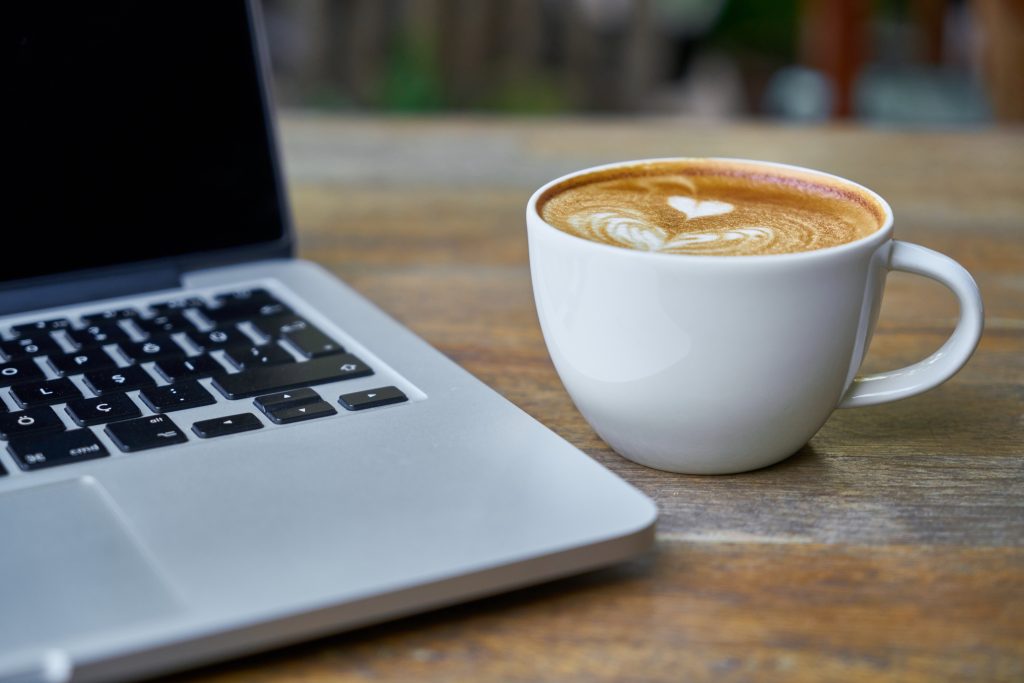 We all know our laptops are the most essential piece of equipment for working remote. Whether you are in need of an upgrade or you are looking to buy your first laptop – Check out our comprehensive laptop guide for digital nomads!
---
CAFES AND COWORKING SPOTS FOR DIGITAL NOMADS IN PUERTO ESCONDIDO

Selina Hostel & Co-working Space
The Selina Hostel and its co-working space is probably the most well-known workspace in Puerto Escondido with reliable wifi. Selina offers affordable prices for private offices, meeting rooms, and hotdesk areas. They also have a co-living space where you can rent private rooms, dorms, and even luxury tents. Access to coworking facilities is included.
Cafe Nopal
Cafe Nopal is located just a few minutes from the beach and offers affordable prices and reliable wifi. Visitors can either sit inside the air-conditioned cafe or on the shaded rooftop, which provides excellent views and a fresh breeze. There is no need to leave your workspace for a lunch break since there is an exciting menu of delicious and instagrammable food options available.
Cafe Losodeli
Cafe Losodeli is part of a co-living facility and is considered one of the best places to start your work day in Puerto Escondido. They offer great breakfast deals as well as fantastic coffee, all without breaking the bank. There is an excellent selection of indoor and outdoor seating, which allows for a pleasant change of scenery from time to time.
Pauline Creative Hub
Pauline Creative Hub is a co-working space not far from the Playa Coral, a popular beach in town. The Creative Hub has a spacious hot desk area and private meeting rooms that can be booked separately. The highlight of the co-working space is the huge terrace overlooking the ocean. The wifi speed is probably the fastest you can find in all of Puerto Escondido, making Pauline Creative Hub a top choice for remote workers.
Are you a digital nomad looking for the best backpack?
We know how important it is to make sure you have the right functional backpack on your travels to protect your electronics which is why we've made a comprehensive list of our favorite digital nomad backpacks. Check it out!
TYPICAL WORKDAY IN PUERTO ESCONDIDO
7:30 – 8:00 AM – Get up and head to your designated workspace for the day. While waiting for your breakfast order, check your emails and plan your tasks for the day.
8:30 AM – Get started on your to-do list.

12 PM – Take a break. Either enjoy lunch at your coworking space or venture into town in search of delicious street food or a local restaurant.
1:00 PM – Head back to your cafe or co-working space to finish your tasks for today.
5 PM – Time to finish up. Bring your laptop and backpack back to your accommodation and head to the beach for sunset. Enjoy a drink at one of the bars close to the beach or meet up with a friend for dinner.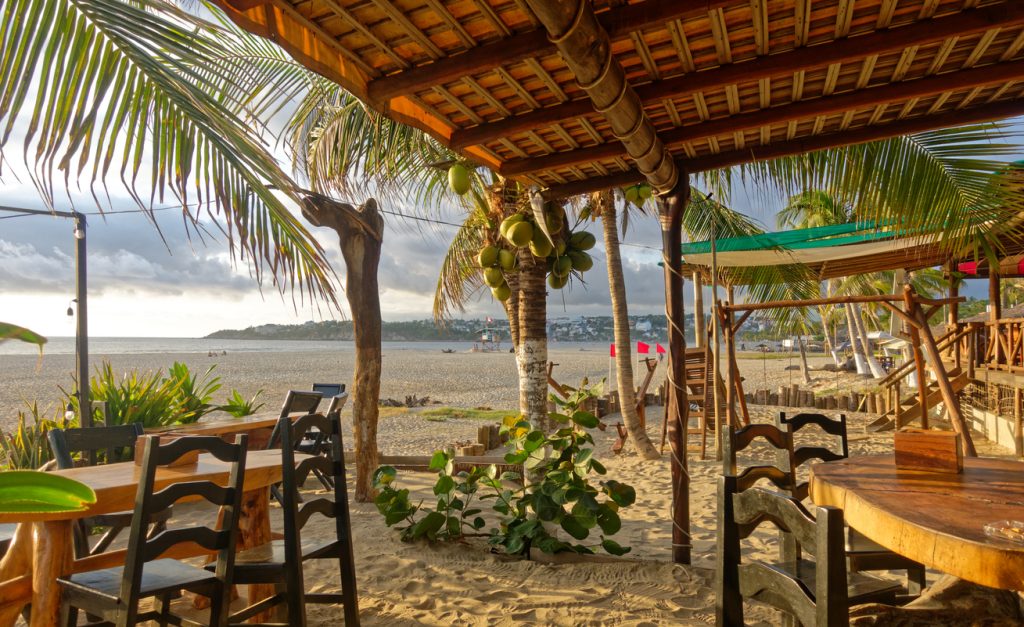 THINGS TO DO IN PUERTO ESCONDIDO
There are TONS of things to do and see in Puerto Escondido. The area has lots of fun activities and good opportunities for day trips, especially for digital nomads living in Oaxaca.
Kayak the Manialtepec Lagoon
The Manialtepec Lagoon can be found only a short ride from Puerto Escondido, making it a great destination for a short excursion during the week. Observe a wide variety of birds and other wildlife while paddling through the shallow water with a kayak. Enjoy a day away from the busy town and reconnect with nature. Check out kayak tours here.
Go on a dolphin-watching tour
Dolphins are native to the coast of Puerto Escondido and are best observed between December and March. Most dolphin tours take about 4 hours, and tickets start at $60 per person. You will likely not only see dolphins on the tour but also turtles and larger schools of fish. Check out tour options here
Explore Chacahua National Park
Chacahua National Park is located about 50 kilometers west of Puerto Escondido and can be reached by colectivo, car, or boat. Check out the campground and a small number of hotels for visitors if you want to stay for a few days and enjoy the park. Chacahua National Park has endless beautiful beaches to relax on, a lighthouse to visit, and a lagoon to swim in as the ocean currents can be strong. Check out a day tour here. At night you can even observe bioluminescent plankton in the lagoon.
Visit La Reforma Waterfall
La Reforma Waterfall is a 1.5-hour drive from Puerto Escondido and makes for the perfect destination for a half-day trip. Try to arrive between 9 AM and 3 PM when the sun is heating the water, making it a pleasant temperature for swimming. First, pay the entrance fee (10 MXN or 0.50$) per person, then enjoy!
Try the best local dishes on a food tour
Oaxaca is well-known worldwide for its delicious and unique cuisine. Why not join a food tour in Puerto Escondido, which stops at different restaurants and street stalls, introducing you to local specialties along the way?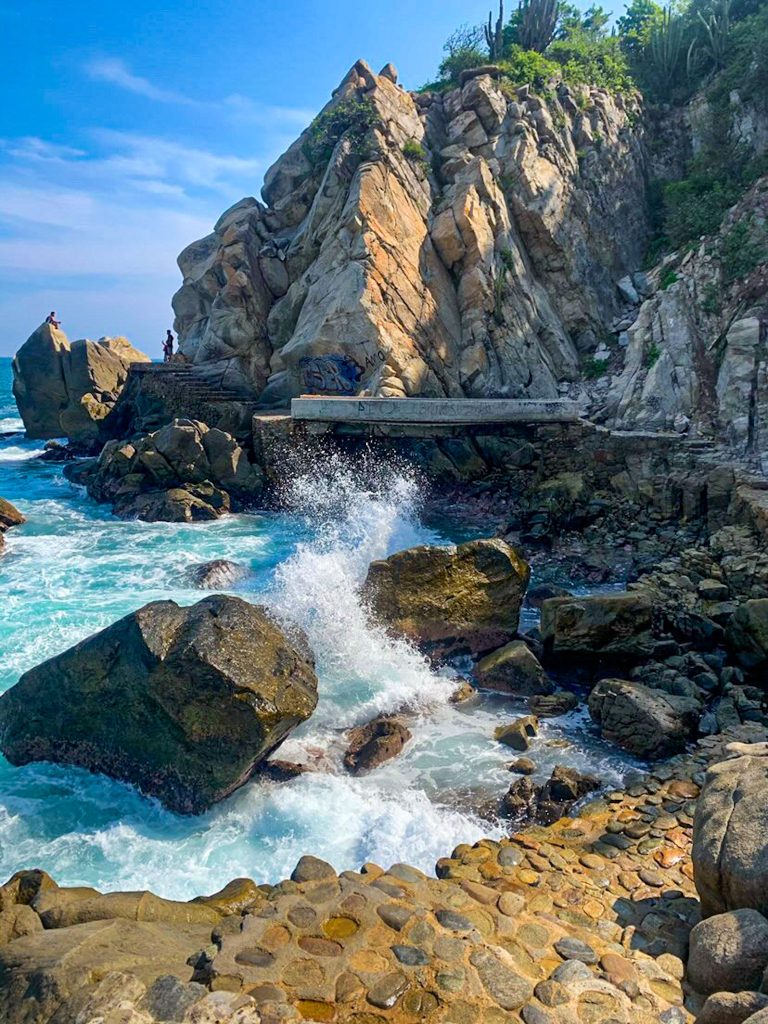 DIGITAL NOMAD LIVING IN PUERTO ESCONDIDO, MEXICO – IS IT WORTH IT?
So, if you are a curious digital nomad looking to experience Mexican culture without having to pay the elevated prices of places like Tulum or Cancun, this area is something to consider. You'll find a great variety of things to do, lots of bars and restaurants to choose from as well as facilities such as co-working spaces or cafes with free wifi.

Even though the internet connection can be slow from time to time, more and more digital nomads are coming to the area, making it a promising location for remote workers in the coming years.
Make Sure You're Covered During Your Trip
Thinking about medical costs while on the road was something that always concerned me. Not having medical insurance as a digital nomad or long term traveler can be a little scary. Even if you have medical insurance at home it might not always cover you abroad which is why companies like SafetyWing exist. SafetyWing is our go to travel insurance. It is affordable and has all the coverage we need for travel and medical. They even have specific insurance for Nomads!
Like this Digital Nomad Living in Puerto Escondido post? Check out our other Mexico Digital Nomad Content!
Like this post? Pin it for later!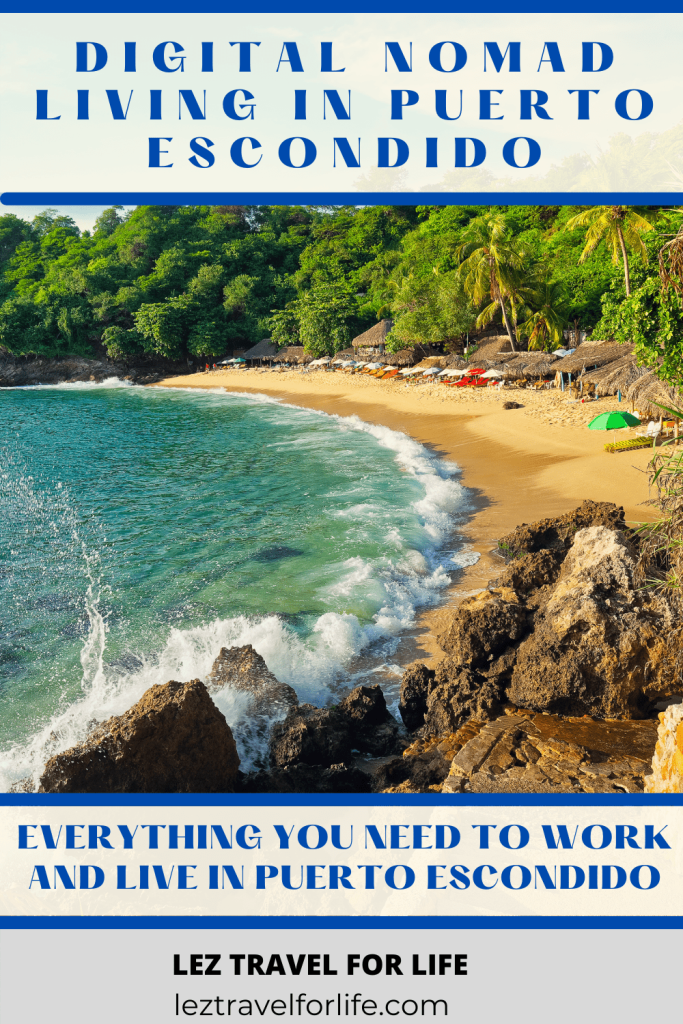 I'm Sam and I may only be 5'3 but I'm feisty and enjoy a lot of sarcastic humor. I'm addicted to travel as well as feeding and advocating for street animals in every country I travel to. I'm married to Courtney and we're super gay or whatevaaaa. We're both extroverts and love meeting new people everywhere we travel. We are in love with Latin American culture but can't wait to explore more of the world!