This article may contain affiliate/compensated links. For full information, please see our disclaimer here.
Reminder: Make sure to check the country's covid guidelines before travel.
Chiapas Mexico is one of the most underrated places in Mexico. From dense jungles covering ancient ruins, beaches, volcanoes, and mountains, Chiapas has it all. One of the top destinations to visit in Chiapas is the El Chiflon Waterfalls, or Cascadas El Chiflon. In this guide, I'll break down a Day Trip to El Chiflon Waterfalls Chiapas.
Chiapas possess a raw beauty that is unique compared to other Mexican states. The El Chiflon Waterfalls are no exception. The El Chiflon National Park is where you'll find 5 waterfalls, waiting for you. The waterfall you may have seen in pictures is the Cascada Velo de Novia, it's considered the most popular waterfall at El Chiflon National Park. Cascada Velo de Novia reaches a height of over 220 ft.
Aside from experiencing the 5 waterfalls, you can also camp, hike, zip-line, and swim at the El Chiflon Waterfalls. You can choose to take a day tour or visit Cascadas El Chiflon on your own. I'll explain all the details you need before your visit.
Let's dive into this guide on a day trip to El Chiflon Waterfalls Chiapas
HOW TO GET TO EL CHIFLON WATERFALLS
There are multiple ways to visit Cascadas el Chiflon. Being that it is less than 3 hours from San Cristobal de Las Casas, there are plenty of options to get you here.
Car Rental
If you opted to rent a car in Chiapas, the drive to El Chiflon Waterfalls is easy from San Cristobal de Las Casas. Once you arrive at the El Chiflon Ecotourism Center, there is parking available. From San Cristobal de Las Casas you can take the road 101.
El Chiflon Waterfalls tour:
Because the 2.5-hour drive from San Cristobal de Las Casas is so convenient, it easy to take a day trip to El Chiflon Waterfalls Chiapas. During our time in Chiapas, we opted for a day trip with a tour of the waterfalls. Looking back, we wish we would have taken our time and spent more than just two short hours here.
Nonetheless, if you are short on time, check out this day tour to EL Chiflon Here.
Public transport to El Chiflon Waterfalls
In San Cristobal de Las Casas, there are buses labed ADO that take you to Comitan. These tickets are under $5 USD. This trip is around 2 and a half hours.
After arriving in Comitan, colectivos along road 190, will take you to El Chiflon Waterfalls. The colectivos should be under 40MXN. Ask for the park named Cascadas de Cadenas El Chiflon.
Because the colectivos are dropping you at the entrance next to the road, you will have to walk half a mile to the gate where you pay your fee to enter. There is an option to take a moto-taxi for a few pesos.
HOW MUCH DOES IT COST TO VISIT CASCADAS EL CHIFLON
The entrance fee for El Chiflon Waterfalls is 30MXN. You will be given a colored band to wear during your visit. Inside you'll find multiple restaurants, meals will cost you around 100-200MXN ($5-10 USD).
Cost of other activities around Cascadas El Chiflon
Zip-lining
Yes! You can zip-line along the waterfalls and enjoy the gorgeous sparkling blue water from above. This will cost you up to 600MXN if you want to zip-line along 3 waterfalls. If you just want to do it once, it's 250MXN.
Once you see the stand where you make your payment for zip-lining, let them know at that time that you want to, otherwise, you will have to wait until you are heading back down from your hike.
Rent a cabin
There are cute cabins you can rent if you want to stay the night! The location is perfect as it's next to the river, where you can swim, and the restaurants. Cabins cost anywhere from 600MXN to over 1,000MXN per night.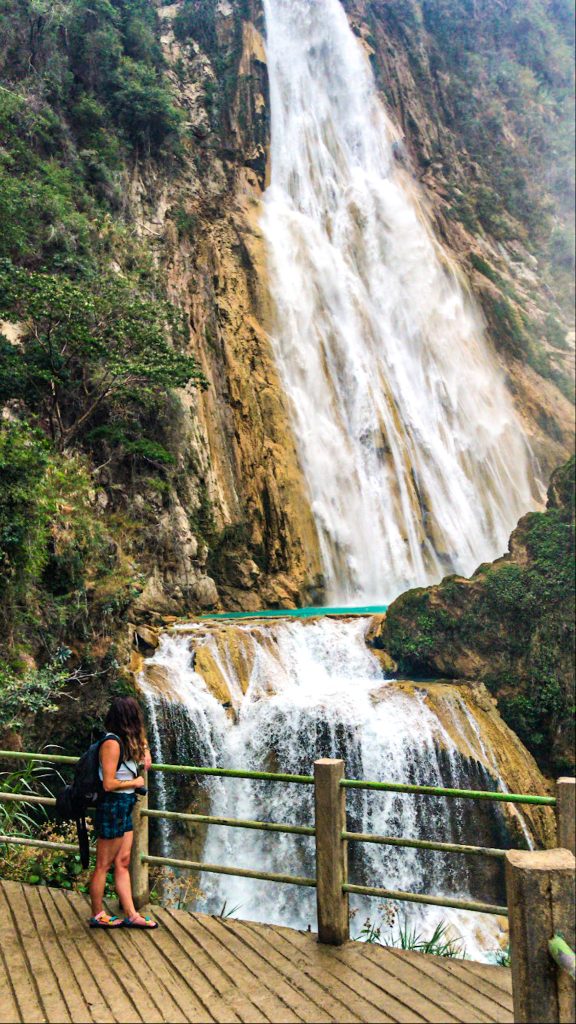 EXPLORING THE WATERFALLS AT EL CHIFLON
Once you are ready to hike up the El Chiflon waterfalls, you'll find a paved pathway leading you along the river, up to each of the 5 waterfalls. There are pathways on both the left and right sides of the river. The left is awesome for viewing the falls, and taking some beautiful pictures, this is the one we suggest you take.
You are permitted to swim in the area of the first two waterfalls, the water is cool, but refreshing after a long hike. After the first two waterfalls swimming is not allowed due to the force from the waterfalls creating a dangerous current, and high drops.
It takes around an hour to hike all the waterfalls. We only had two hours inside the park, so we didn't have much time to stop and swim. We stopped at each waterfall, took pictures, and kept on.
The most popular waterfall: Cascada Velo de Novia
Cascada Velo de Novia is what is considered the main attraction. It is the highest waterfall among the 5 falls in El Chiflon. It took us a little under 45 minutes to arrive here. The path to get here can be steep at times, and up until this point, we felt perfectly comfortable wearing our Tevas.
We stood there awhile. Just basking in the glory that is the Cascada Velo de Novia (or Bridal Veil Fall in English). This waterfall is massive. Its surrounded by lush green forest, and blue water.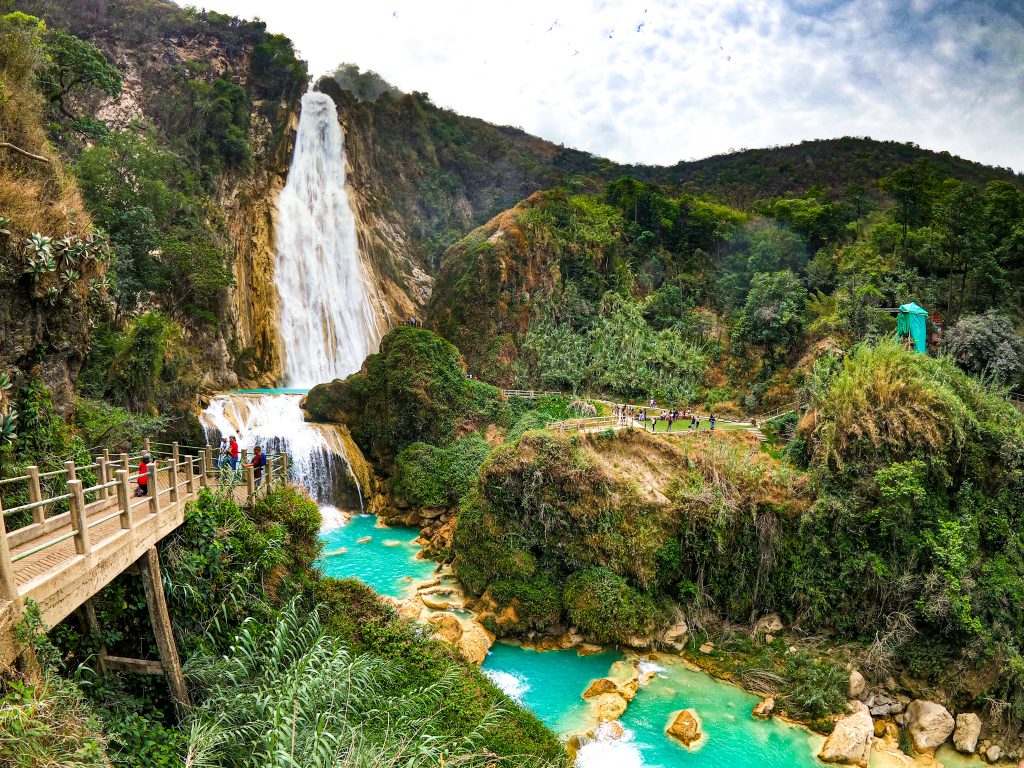 Cascada Suspiro and Cascada Ala de Angel
You'll find these two waterfalls at the beginning of your hike. Here you can swim in both areas. My biggest regret is not taking more time to take pictures at Cascada Ala de Angel. The trees, the water, and the falls crashing down make a killer picture opportunity.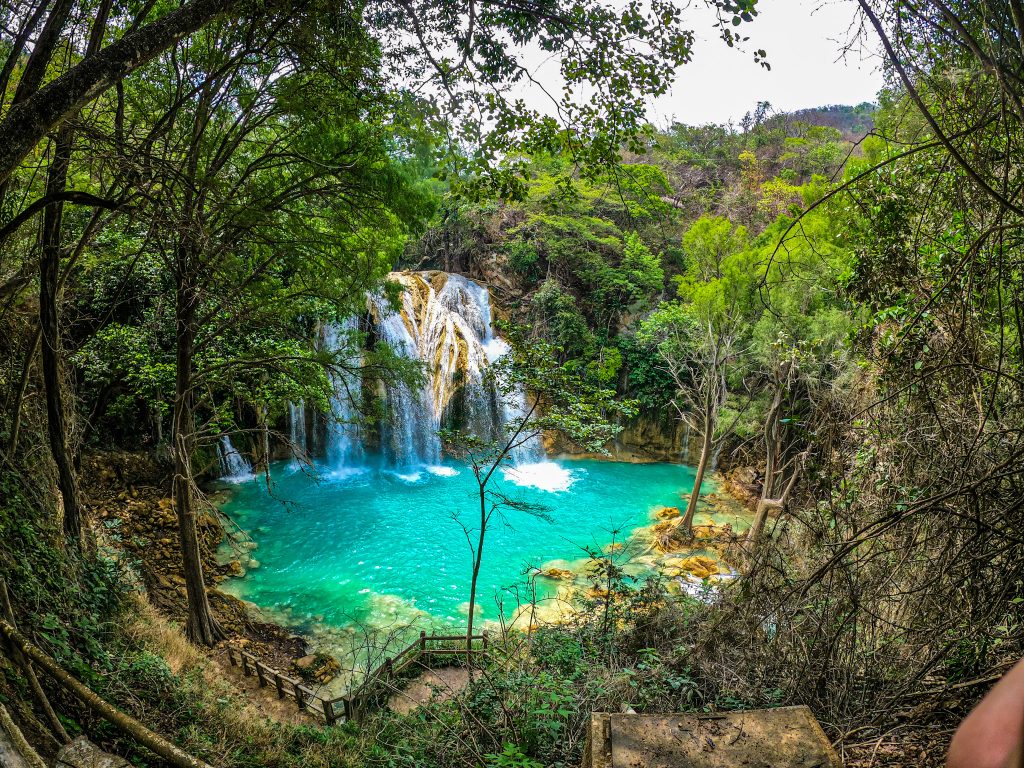 Cascada Arcoiris and Cascada Quinceanera: The Best falls?
It wasn't until we walked passed the Cascada Velo de Novia to discover another waterfall we could hike to. This path was not paved, and it was steep as hell. We decided to pay a few more pesos to check it out. We were definitely sad to be hiking in Tevas, we really wish we had our Hokas instead. Let's not forget we were also traveling with our dog Hughie. While he was napping in his dog bag, we carried on up the steep dirt path.
We were so happy to arrive at Cascada Acoiris. The waterfall is extremely powerful, with a deadly drop at the edge of the pool. Be careful while walking around here, and be sure to stay out of the water. This is named the "Rainbow Waterfall". It lived up to its name, the crashing water meets the shining sun, creating a gorgeous rainbow over the water.
Lastly, Cascada Quinceanera at El Chiflon is a perfect way to end your day trip to El Chiflon Waterfalls Chiapas. It's around a mile hike to reach this waterfall, and I can safely say that you won't regret it.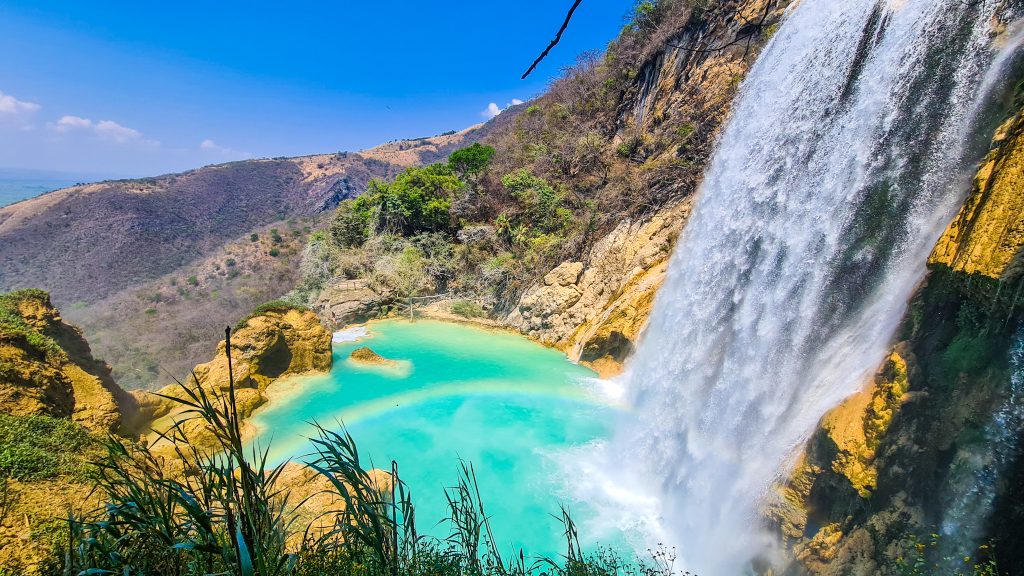 WHEN TO VISIT CASCADAS EL CHIFLON
It's important to know that Mexico has both rainy and dry seasons. This means, that if you want to have the best views of the gorgeous blue water, you'll want to visit during the dry season. This is between Jan-April. We visited at the beginning of May and didn't have any rain.
The weather is different in El Chiflon than in San Cristobal de Las Casas. This means that it's warm, and can even feel pretty hot by the end of the hike back from the falls. It's important to bring lightweight clothing, sunscreen, and a quick-dry towel. See below for my recommendations for what to pack for El Chiflon Waterfalls.
WHAT TO PACK FOR CASCADAS CHIFLON IN CHIAPAS
We have a more detailed Mexico Packing List that has all our must-haves while traveling around Mexico. Here are a few essentials you'll need for your visit to Cascadas El Chiflon.
Hydro Flask: It gets hot so make sure you ring enough water. We always prefer to bring our favorite insulated water bottle to make sure we have cold water while out doing activities.
No products found. – We both have an XXL towel, it is light weight and easy to pack. You will want this in case you decide to take a dip!
No products found.
Blue Lizard – If you have read any of our packing guides we always recommend Blue Lizard for sunscreen, especially being anywhere closer to the equator. Whether you are visiting El Chiflon in the morning or afternoon you will want to have some sunscreen for when the sun starts to come out. Blue Lizard is great for all skin types and a little goes a long way.
Teva: – For most of the time we wore our Teva's. They are lightweight and water friendly which can be helpful if you want to get into the water with them if you don't feel like being barefoot.
Hoka: – I highly recommend being some tennis shoes if you don't feel comfortable in sandals while hiking. We were fine in our Teva's for most of our time at El Chiflon but when we were hiking the last part to Cascada Acoiris I really wish I had my tennis shoes. We've been using Hoka's for awhile and highly recommend them for an all around tennis shoe while traveling.
Gregory Daypack: – You'll definitely want to bring a daypack with you for the trip to hold all of your belonging when you are hiking. We have really enjoyed our Gregory backpacks and highly recommend their products. They are super comfortable, practical, and great quality. They have a wide variety of sizes if you feel like you might need something bigger than what we are recommending or if maybe you want an even smaller pack.
Interested in other Mexico Related Articles? Check these out!
Like this Day Trip to El Chiflon Waterfalls Chiapas post? Pin it for later!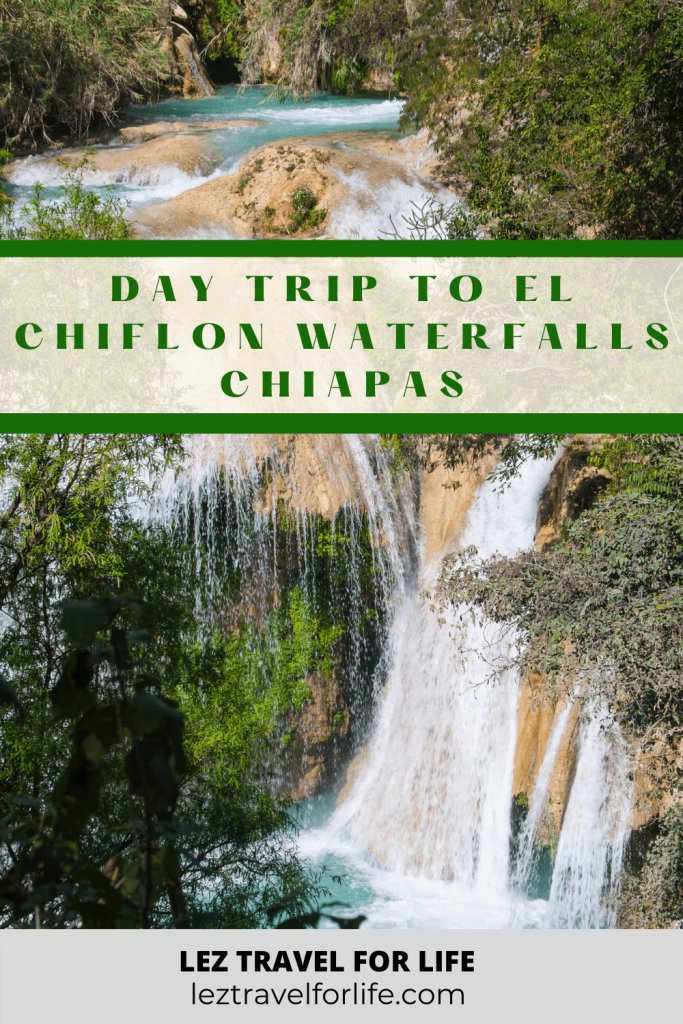 I'm Sam and I may only be 5'3 but I'm feisty and enjoy a lot of sarcastic humor. I'm addicted to travel as well as feeding and advocating for street animals in every country I travel to. I'm married to Courtney and we're super gay or whatevaaaa. We're both extroverts and love meeting new people everywhere we travel. We are in love with Latin American culture but can't wait to explore more of the world!