This article may contain affiliate/compensated links. For full information, please see our disclaimer here.
Reminder: Make sure to check the country's covid guidelines before travel.
San Cristobal de Las Casas is a unique city surrounded by mountains in the highlands region in the state of Chiapas. Also known as a Pueblo Magico, or magic town, this city has a lot of character. San Cristobal is a base for most travelers who are exploring Chiapas, which means there are plenty of top bucket list day trips from San Cristobal de Las Casas. My wife Courtney and I lived in Chiapas for a month and have a lot to share about epic things to do in Chiapas and our dog Hughie (5 lb Yorkie mix) joined us as well so we will be sure to mention which destinations are dog friendly and which ones aren't.
This article is perfect for visitors who may be short on time and need to hit the ground running with day trips outside the city. Chiapas is a unique state in that it offers a variety of climates, cultural experiences, exciting archeological sites, waterfalls, and more. Chiapas isn't at the top of everyone's list when visiting Mexico, but it is quickly becoming more and more popular. We love how affordable Chiapas is in comparison to more popular destinations in Mexico, and the people are so friendly.
A lot of the destinations I will talk about are accessible through renting a car at the airport, taking a group tour, taxi, or private tour. We decided to book private tours for most of the trips in Chiapas, so we know from experience how each trip is laid out. Let's dive into our list of top bucket list day trips from San Cristobal de Las Casas.
TOP BUCKET LIST DAY TRIPS FROM SAN CRISTOBAL DE LAS CASAS
El Arcotete
If you're like Courtney and me, we love the city but enjoy escaping the noise for a much simpler place, the forest! What's better than just being in the forest? Being in the forest inside an ecological park that has caves with a stone archway, rock climbing, hiking, zip-lining, camping, restaurants, and more! El Arcotete is only a 20-minute drive from San Cristobal de Las Casas, which means you can grab a taxi or a tour and explore! We did not take our dog to El Arcotete but I do think it is dog friendly here.
Sumidero Canyon (Cañón del Sumidero)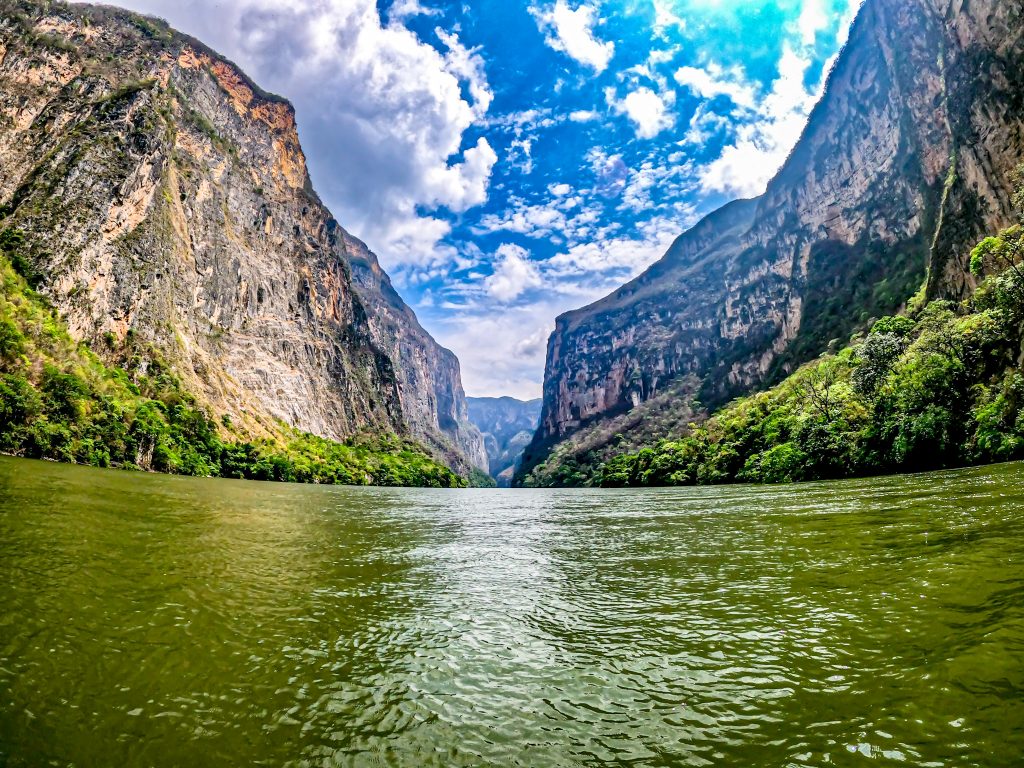 Listen, I keep trying to tell you just how unique Chiapas is, Sumidero Canyon is another example of just how impressive this state really is. Sumidero Canyon has been compared to the grand canyon in the USA and is literally a canyon with a river running through it. Taking a boat ride through the canyon is one of the state's most popular tours for both visitors and Mexicans alike.
Taking a tour from San Cristobal de Las Casas to Sumidero Canyon will last around 5-6 hours and will include transportation to and from the canyon. I suggest booking a morning tour if possible as it gets incredibly hot during the boat ride. The boat does not have cover, so bring a hat, sunscreen, and water. If you want to be hardcore like the locals bring a 6 pack of beer and get the party started. Just know there are no bathrooms during the boat tour which lasts 2 hours.
While on the tour you will be in the middle of the canyon feeling as small as an ant. The tour guide only gives the tour in Spanish, but that's okay- they are just describing the canyon and its surroundings. There will be birds, crocodiles, beautiful views, and monkeys! The tour will include transportation, the National Park fee, and the boat river tour. Courtney and I did not book a tour when we visited and wish we would have because trying to get a taxi was frustrating and they definitely ripped us off. The prices ended up being the same doing it on our own so save yourself the trouble. This tour is not dog-friendly.
Chiapa de Corzo
If San Cristobal de Las Casas stole your heart with its colorful buildings, beautiful churches, and rich culture, then you definitely need to head over to Chiapa de Corzo. Chiapa de Corzo is a town (another pueblo mágico) conveniently located close to the Sumidero Canyon. A tour that includes the Sumidero Canyon and Chiapa de Corzo can easily be booked together, again making it hassle-free.
Chiapa de Corzo dates back to the pre-columbian period of Mesoamerica. This town is full of music, historical sites like the San Sebastien Church Ruins, and Marimba Museum. Head over to the local market where you can fill your belly with local foods, chocolates, candies, and more. This tour is dog-friendly.
Cerro Don Lauro
Cerro Don Lauro is a little place we learned about from the ex-pats we befriended in San Cristobal de Las Casas. On Sundays, anyone is invited to a sweat lodge located on the mountain where you can take part in a group ceremony with music, chanting, and a lot of sweating known as Temazcal ceremonies. Let's just say we weren't brave enough to partake in one of these ceremonies, but ask around about how to get involved.
Cerro Don Lauro is the perfect place to spend a few hours enjoying a hike on this mountain, which is sacred to locals and is only a 15-minute drive outside of San Cristobal. This area also has activities such as rock climbing or simply hiking. There is a viewpoint called El Mirador that takes about 45 minutes to reach (I would consider it moderate in difficulty).
As history goes, Cerro Don Lauro started with a Mayan man named Don Lauro who dedicated his life to spiritual healing through holistic medicine. Don Lauro returned after completing his studies and began holding retreats and workshops here. This area is dog-friendly!
Hike El Chiflon Waterfalls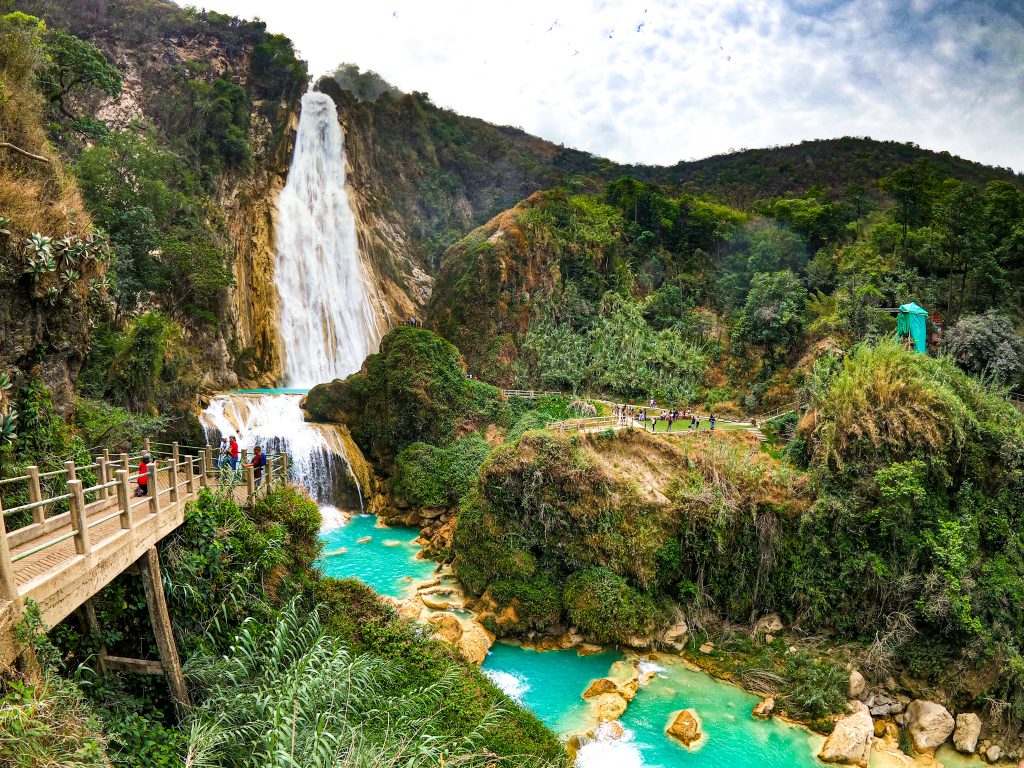 El Chiflon is less than 3 hours away from San Cristobal de Las Casas which makes it the perfect day trip to cool off in the mountains and enjoy some beautiful scenery. Chiapas has an abundance of waterfalls, but El Chiflon might have been our favorite waterfall spot in Chiapas. Most travelers book a tour that includes a visit to Lagos de Montebello in addition to your visit to the falls.
We booked a private unguided tour to El Chiflon, which meant that we had a driver but were left to our own devices once we were inside the park. It definitely isn't necessary to have a guide as the trails are easy to navigate. After we parked we had some breakfast at one of the restaurants then hit the trails. We only had 2 hours to explore 4+ waterfalls, so it definitely felt a little crunched on time. This was because we planned to go to Lagos de Colon after El Chiflon (more on this later). El Chiflon is dog-friendly!
Lagos de Montebello & Lagos de Colon
Lagos de Montebello is a popular national park near the Guatemalan border and is super popular because it is home to over 50 lakes! During the dry season, the lakes will have a brilliant blue color as the water is rich in minerals. Small boats are available (with a fee) so you can access different lakes, some of which are swimmable, some aren't.
In addition to the lakes, and incredible views, there are Mayan ruins around the lakes! Visitors can even climb up the pyramid to snap photos and enjoy the view! We think Lagos de Montebello is dog-friendly but double-check before going!
Lagos de Colon is a less popular, but more adventurous option for those of you wanting to get some lake time in. Lagos de Colon is also close to the Guatemalan border, and offers a very cheap entrance fee and FREE access to all the different lakes, including a cenote! As of today, this is still a very local spot, which in our opinion makes it all the more appealing. No big tour buses or crowds, we were actually the only foreigners there. Most tours combine a trip to El Chiflon and Lagos de Montebello, so ask around to different tour companies in San Cristobal who will drive you there. Lagos de Colon is dog-friendly!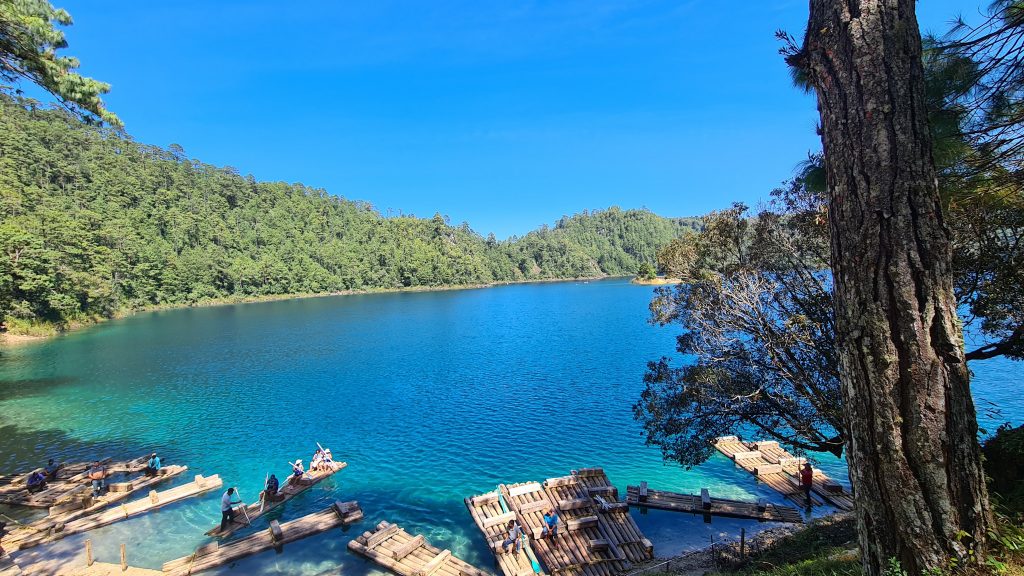 San Juan Chamula
San Juan Chamula is an indigenous village of the Tzotzil people, outside of San Cristobal de Las Casas. It isn't just a town where you take pictures of colorful buildings and shop in local markets, rather, it is known for a more bizarre reason- animal sacrifice? Let me explain, this town has a church that combines Mayan-Catholic beliefs. Not only this, but you can actually tour this church (no pictures allowed out of respect). While on tour you may see chicken sacrifice, attendants drinking a bubbling concoction of Coca-Cola to quite literally burp the demons out. There are candles and a lot of people. It's definitely interesting, wild, unique, and something you should explore!
Feel free to visit via taxi, or with a guided tour. We wouldn't suggest bringing your dog here.
Zinacantan
Zinacantan is a quaint town known for its intricate weaving community as well as its flowers! Typically visitors explore this Maya Village the same day as the tour in San Juan Chamula. Shop around and purchase souvenirs made locally and support the strong women who work hard day in and day out making handwoven textiles. The city is dog-friendly!
Agua Azul Waterfall
Agua Azul is another waterfall destination in Chiapas. This waterfall is located 4-5 hours away from San Cristobal, a day tour here isn't for the faint of heart. The ride up to the waterfall is less than ideal, with constantly winding roads, potholes, and drivers who love to slam on breaks. Courtney actually threw up while our dog simultaneously threw up. It is dog-friendly!
Agua Azul is close to two other waterfalls, Roberto Barrios and Misol-Ha. Out of the 3 waterfalls, Agua Azul was our least favorite. It is very crowded with locals and tourists and makeshift tents set up all around the trail leading to the waterfall- taking away from the breathtaking view we all hope for.
Roberto Barrios
Roberto Barrios is the least popular waterfall out of the three, but not for long! This waterfall has a long stretch of beautiful flowing water and if you're lucky you may have the place to yourself! Typically visitors head over to Agua Azul, Misol-Ha, and Roberto Barrios while en route to Palenque ruins (more on this below) making the day long and exhausting- but worth it! It is dog-friendly!
Palenque
Palenque is a very popular Mayan site in Mexico where you are transported back into ancient Mayan times. The town of Palenque is small and rural, making the archaeological site itself the highlight. While you're in Chiapas, you should 100% go visit Palenque. Having a guided tour makes the experience that much more enjoyable as you can learn about each building inside the site and its significance to the Mayan culture. A day trip to palenque includes a visit to Misol-Ha falls and Agua Azul making it a grueling 18-20 hour trip. Palenque is NOT dog-friendly.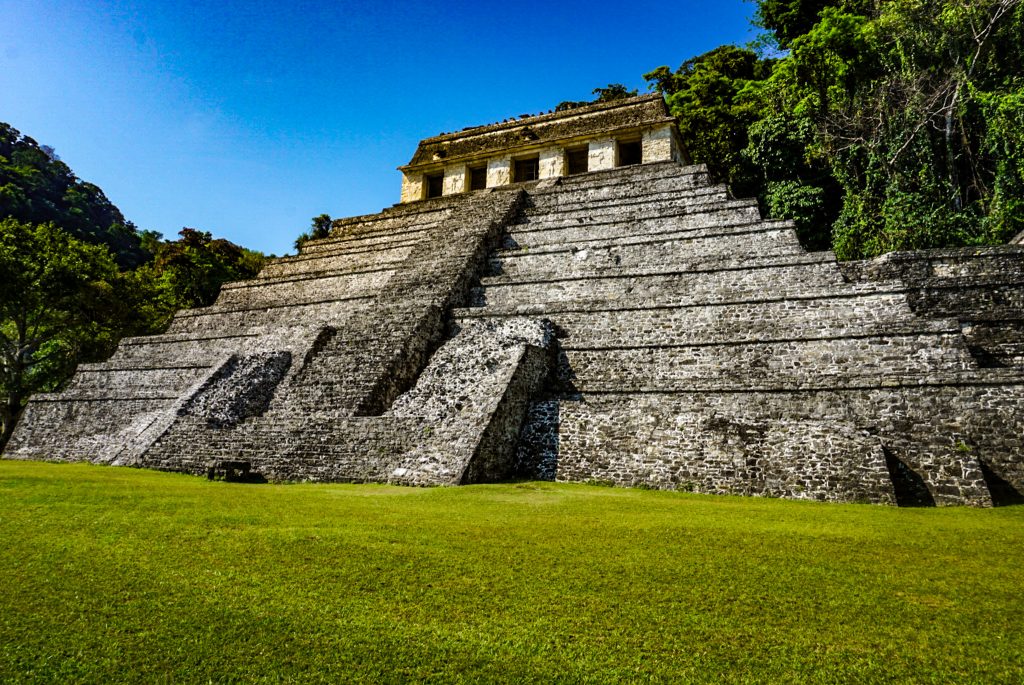 HOW TO PACK FOR DAY TRIPS
Grave mistakes have been made while venturing out on day trips, especially if you are taking a dog. Having the right supplies can make or break you, especially if you are prone to being hangry like me. Check out our Mexico Packing List for all the items we couldn't travel without, but to summarize you'll need:
Water: Bring A LOT of water- we use a hydro flask that is 40 oz, and the water stays cool all day long.
Appropriate Footwear: Whether it's your Hoka tennis shoes or Teva sandals, be sure to pack appropriately for the activities you will be doing, and how long you will be on your feet.

Snacks: I am notorious for getting hangry on a 4-hour car ride, then left to panic while staring out the window wondering when my next meal will be. Bring granola bars, chips, crackers, anything that will hold you over on the long day trips during your visit around Chiapas.
WHERE TO STAY IN SAN CRISTOBAL DE LAS CASAS
Trying to figure out where to stay in San Cristobal de Las Casas on top of planning day trips? Don't stress! I have an entire article dedicated to Unique Hotels in San Cristobal de Las Casas here.
Interested in other Mexico Related Articles? Check these out!
Like this Top Bucket List Day Trips From San Cristobal de Las Casas post? Pin it for later!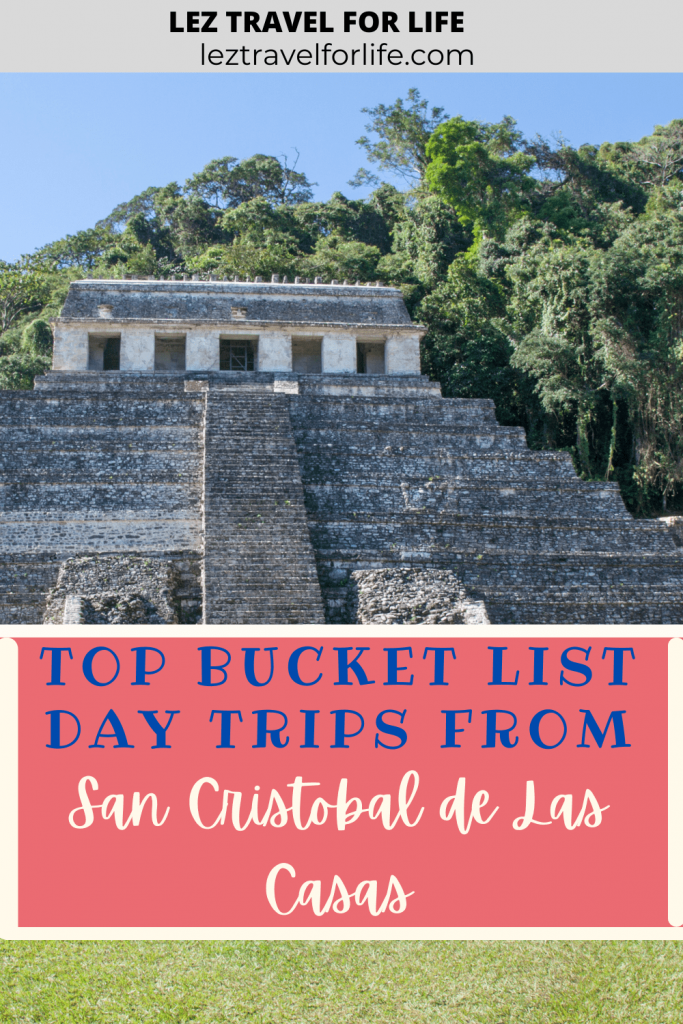 I'm Sam and I may only be 5'3 but I'm feisty and enjoy a lot of sarcastic humor. I'm addicted to travel as well as feeding and advocating for street animals in every country I travel to. I'm married to Courtney and we're super gay or whatevaaaa. We're both extroverts and love meeting new people everywhere we travel. We are in love with Latin American culture but can't wait to explore more of the world!