This article may contain affiliate/compensated links. For full information, please see our disclaimer here.
Reminder: Make sure to check the country's covid guidelines before travel.
Mérida is the largest city in Yucatán, Mexico, and is located about 180 miles from the popular coastal town of Cancun. There is a wide range of activities and attractions to choose from in the city, as well as a decent selection of LGBTQ-friendly bars and clubs. This 4 Day Mérida Mexico Itinerary will help you plan for everything you need to enjoy this beautiful Mexican gem.
Mérida was named the second safest city in North America in 2019. However, pickpockets and petty crime are still common, and keeping your valuables close is recommended. Still, tourists can feel very safe in the city for the most part and it's a very welcoming and open place. You should definitely visit Mérida if you're looking for a great mix of sightseeing, culture, and a bit of nightlife. The city really has it all.
HOW TO GET TO MERIDA
If you are already in Mexico and have a rental car, driving will be a great way to get to Mérida. From Cancun, for example, the journey takes around 3.5 hours and is a great way to see more of Mexico.
If you come by plane, you can fly to Manuel Crescencio Rejón International Airport (MID), which is located only 5 miles from the city center of Mérida. There are some international flights available, but the majority are regional. You can easily take a taxi from the airport, which should cost no more than $10 (200 pesos). If you want to save some money, there is also a public bus that leaves from the terminal and goes directly to the historic center of Mérida. Depending on your final destination, tickets will cost between $1.70 and $2.50 (35-50 pesos) and can be booked through ADO.
Another option is to take a bus to Mérida from Cancun. This route costs around $30 per person and should also be booked online in advance with ADO. The bus runs several times a day and takes about 4.5 hours, stopping at smaller towns along the way.
Our favorite way to travel when we arrive in a new place is booking private transportation so we don't have to think- we can just relax! Check out this Private Transportation Booking here.
GETTING AROUND MERIDA
We want to make sure you have all the info you need in this 4 day Mérida Mexico Itinerary! If you are only staying in the city, there is no need to spend money on a rental car since almost everything is located within walking distance. For longer journeys, taxis or Uber are also available. Always make sure to use official taxis and negotiate the rate in advance.
Another good option for getting around is the small buses or collectivos that will take you to the most important places. These are often used by locals as they run very frequently and usually cost less than a dollar.
On Sundays, some of the main streets of Mérida are closed and just accessible for pedestrians and cyclists. The so-called La Bici Ruta takes place from 8 am to 1 pm and is a fun experience if you happen to be in Mérida during this time. Rent a bike and experience the city free from cars.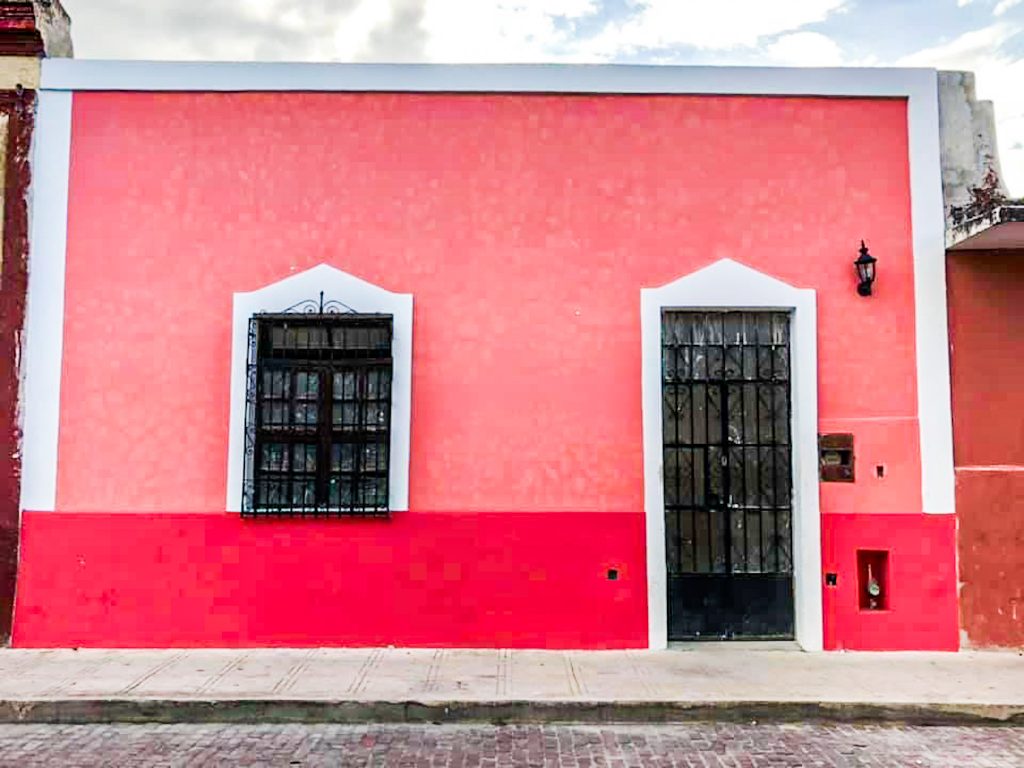 WHERE TO STAY IN MERIDA
Since most of the sights are located directly in the historic center of Mérida, it is recommended to book accommodation somewhere in this area. The Plaza Grande can be considered the center of town and most of the places of interest can be reached on foot. This part of the city has a great selection of restaurants, bars, supermarkets, and some historic buildings dating back to the 16th century.
For more affordable accommodation options, check out the Santiago neighborhood which lies just a few streets to the west of the city center.

Rosas y Xocolate Boutique Hotel & Spa: This boutique hotel only has four rooms so you need to be quick to book a stay. The setting feels intimate and cozy and is ideal for a romantic getaway.

El Palacito Secreto Boutique Hotel: If you're looking for an unforgettable stay in Mérida, the Palacito Secreto should be at the top of your list. The French-inspired 19th-century architecture is breathtaking and will make it tempting to spend your days by the pool.

Diez Diez Collection: This modern hotel has its own in-house restaurant, a rooftop pool, and a laid-back bar. The rooms are very spacious and luxurious making this the perfect stay for those seeking a high-quality experience.
THINGS TO DO IN MERIDA
Mérida is a hotspot for culture and arts. From exciting museums, different walking tours of the city, to the large indoor market where you can buy fresh produce and souvenirs you'll have plenty of activities to choose from.

Mexico is known for its Mayan ruins, so day trips to the surrounding area should be high on your to-do list. In addition, there are various performances of ancient Mayan traditions available for tourists wanting to learn about the ancient culture. If you are looking for a more detailed guide on 14 days in the Yucatan Peninsula check this out.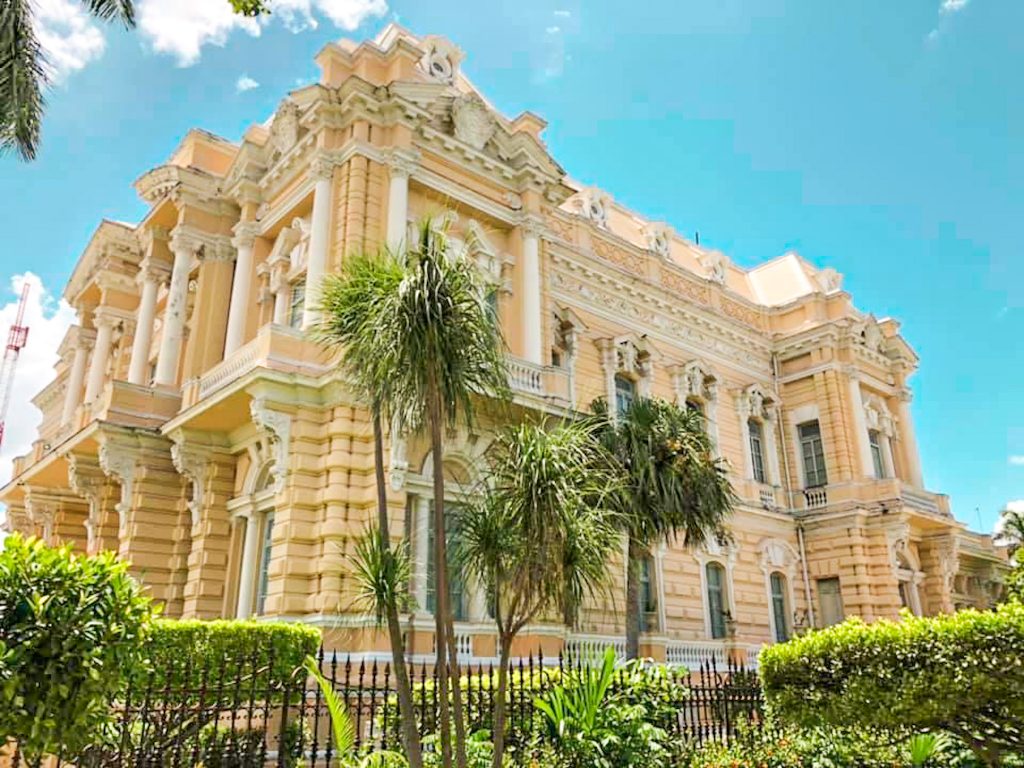 1. Join the free walking tour
There are daily free walking tours available which are a great way to get to know Mérida. The walk starts at the Plaza Grande in the city center and will introduce you to various historical sights and places of interest that you might have missed otherwise. Looking for another way to explore the city and its culture? Try this guided Street Food Tour to really get a taste of the Yucatan.
2. Discover the history of the Mayans at the Gran Museo de Mundo Maya Mérida
If you're interested in Mexico's rich history and the incredible culture of the Mayans then this museum is a must-see. There are over 1,000 artifacts on display and you'll learn all about this fascinating civilization.
3. Admire Catedral de San Ildefonso
The Cathedral de San Ildefonso, which was built at the end of the 15th century, is one of the most iconic buildings of Mérida. Every Saturday at 10:00 am, tourists can join an English-speaking tour of the facilities which provides interesting historical background and facts. There is no set dress code for entering the church, however, it is considered respectful to cover your knees and shoulders.
4. Stroll through the Lucas de Galvez Market
In addition to fresh vegetables, fruits and meats, you can find handmade items and traditional clothing at the Lucas de Galvez market. The market dates back to the late 18th century and has now become one of the main attractions of Mérida. Browse through the many stalls or grab a snack while you are in the area.
5. Watch the traditional Mayan ball game
Pok Ta Pok is an ancient Mayan ball game that used to be played for centuries as part of a ceremony that was sacred to the Mayans. Today, you can witness the extraordinary spectacle every Saturday evening at 8:30 pm in front of the Mérida Cathedral. The game is also accompanied by a traditional live band and is a fantastic way to immerse yourself in Mérida's unique culture. Even better, watching is free so there is no excuse not to go for it.

6. Ride the bike through the city
Every Sunday some of the main streets in Mérida are closed for cars and reserved for pedestrians and cyclists. Many people use this opportunity to walk or bike through the city. There are lots of bike rental shops to choose from so make sure to explore the city this way if you happen to be in Mérida on a Sunday.
7. Cenote hopping day trip
The Yucatan region in Mexico is world-famous for its cenotes. These natural sinkholes offer an excellent opportunity to cool off from the heat in crystal clear water. A 45-minute drive southeast of Mérida, you will find several cenotes, each more beautiful than the other. Pack your swimsuit and dive into the deep blue. If you're looking for a stress-free way to enjoy a day of cenote hopping check out this tour!
8. Day trip to the famous Maya ruins Chichen Itza
Chichen Itza is probably the most famous Mayan city in all of Mexico and is considered one of the Seven New World Wonders. The drive to the ancient ruins will take about an hour and a half by car from Mérida. You can either rent a car and drive yourself or book a tour with a bus. It's highly recommended to arrive at Chichen Itza as early as possible, as it usually gets very crowded around noon. Skip the crowds and hassle of arriving early and book a guided tour here.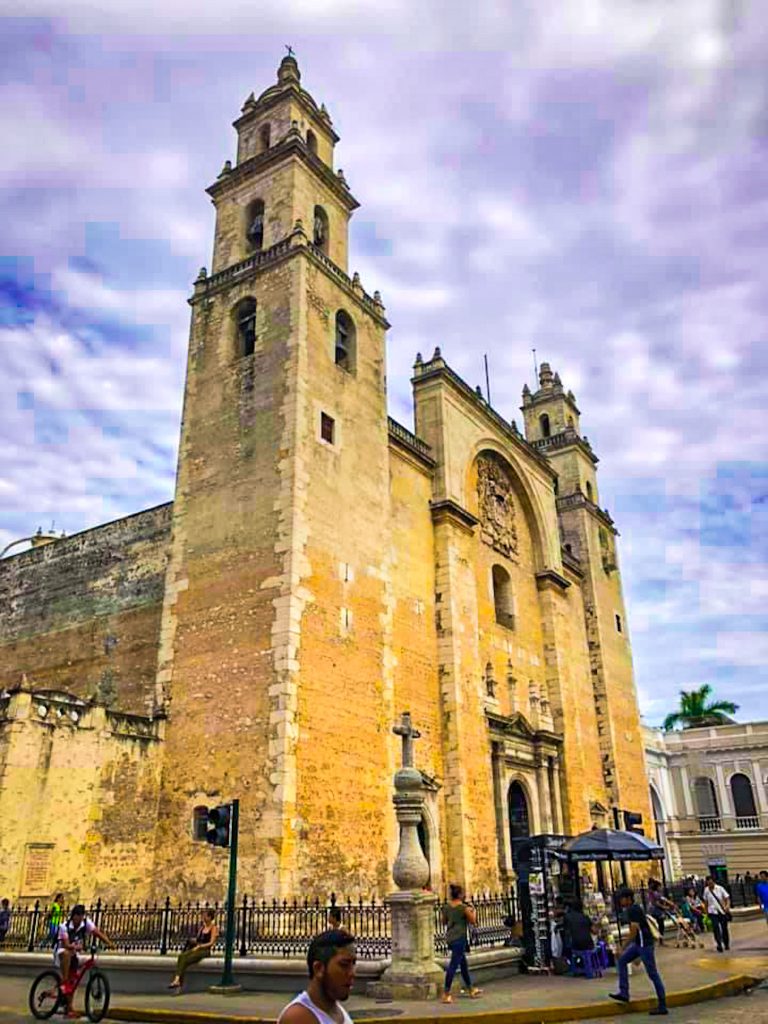 WHERE TO EAT IN MERIDA
In Mérida, you can choose between a wide selection of bars and restaurants with both local and international food options.

Manjar Blanco restaurant: This restaurant is highly recommended because of its authentic Mexican tacos. Be sure to try the cochinita pibil which is one of their specialties.

Wayan'e Tacos: This is another excellent place to eat tacos in Merida. They also offer lots of vegetarian options which can sometimes be tricky to find in Mexico. Come here for delicious local cuisine and high-quality food.

Marcela Mar y Lena: If you are a fan of seafood, this restaurant might just become your new favorite go-to spot. Since Merida is located just an hour away from the ocean, the quality of fresh fish is exceptional making it a great city for trying all types of seafood.

El Marlin Azul: This restaurant specializes in fresh ceviche, which is a very popular dish in the Central American region. If you've been wanting to try this local specialty this is the place to do it.

Oliva Enoteca: If you're looking for international food options, this Italian place is highly recommended. Choose between authentic Italian classics and make sure to order a bottle from their expansive wine menu to go along with it.

MERIDA NIGHTLIFE
While you might not find the same crazy nightlife as in Cancun, Mérida is actually a decent place for bars and live music venues. There are always lots of happy hour offers to choose from all around the city, making it an affordable place to grab a drink.
Blue Gay Club: This LGBTQ-friendly club is a lively place to spend a night out. They regularly put on drag shows which never disappoint. Keep an eye out for special events on their Facebook page.
Papis: This club offers cheap drinks and bar snacks for a fabulous night away without having to spend a fortune. If you're looking for a budget-friendly and fun place to spend an evening this is it.
Cantina Bar Jorge's Imperial: This bar is the perfect compromise if you want to enjoy a night out but aren't sure if you want to go to a club. The atmosphere is welcoming and fun and you might even find some new friends over drinks.
WHAT TO PACK FOR MERIDA
One of the most important parts of this 4 day Mérida Mexico Itinerary is knowing how to pack! The weather in Mérida is very pleasant all year round, reaching temperatures up to 97 °F (36°C) in May. Pack light summer clothes including shorts and dresses. If you're visiting in December or January, add some thin long-sleeved clothing for the evening hours when it might be a bit cooler. If you are planning on visiting the cathedral and other religious sights, don't forget to pack something to cover up your knees and shoulders.
Always bring mosquito spray and sunscreen, when traveling around Mexico. To save money and help out the environment at the same time, you should also bring a water bottle that you can refill at your accommodation. Check out our Mexico Packing Guide for everything you need to pack!
If you plan to explore some of the Mayan ruins in the area around Mérida, you'll need to pack sturdy shoes that you can walk in all day. Snorkeling equipment can be hired at most cenotes, so there is no need to take it from home.
4 DAY MERIDA MEXICO ITINERARY
Day 1: Explore the city
On your first day in Mérida, explore the city and get your bearings. Head to the Lucas de Galvez Market and stroll through the local shops. This is also a great spot for lunch. Join one of the walking tours to get an overview of the city and its fascinating history. Don't forget to stop by the Cathedral de San Ildefonso and end the day with delicious Mexican tacos.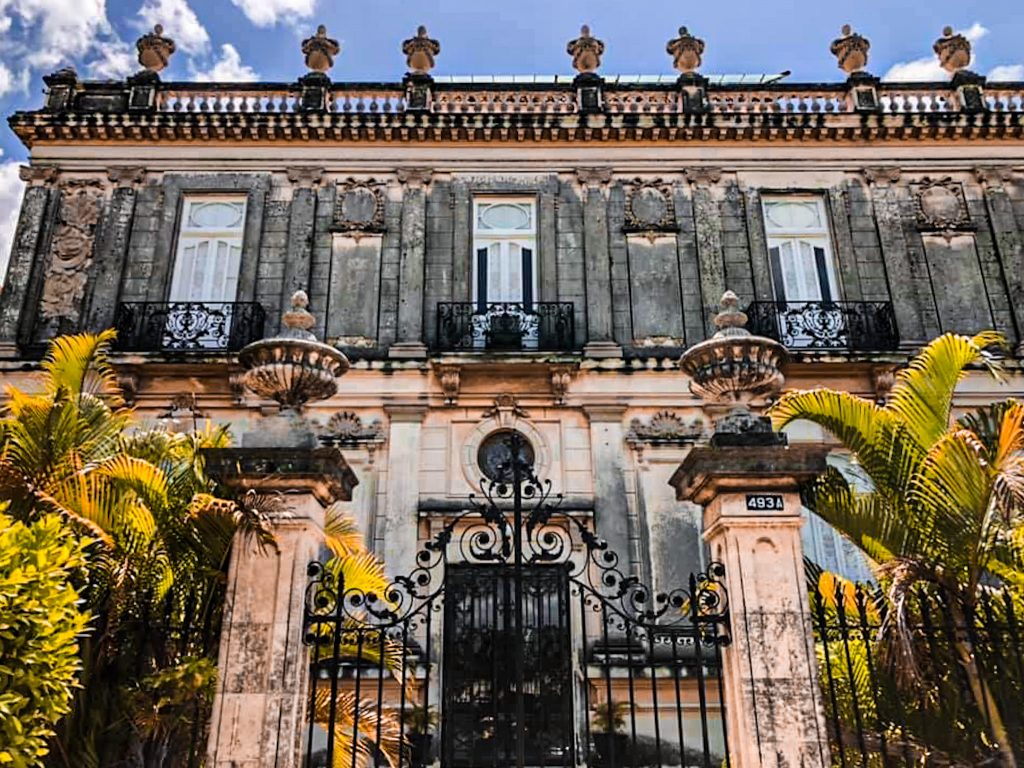 Day 2: Chichen Itza
On your second day head to Chichen Itza which means starting your day early. Rent a car or join a guided tour and take your time to explore the sights. Be sure to come as early as possible to avoid the crowds and the midday heat. After you have returned to Mérida, have a quiet afternoon before heading out for the evening to have some drinks
Day 3: Gran Museo de Mundo Maya Mérida
After breakfast, take an Uber to the Gran Museo de Mundo Maya. The ride will take around 20 minutes and should not cost you more than 100 Pesos. For lunch, head to the Mare Ha' Restaurant, which is located close to the museum. Spend your evening bar hopping in the historic district.
Day 4: Cenotes
Your last day in Mérida is reserved for cenote hopping. The refreshing water is ideal for a refreshing swim to cool down from the hot temperatures. A rental car will come in handy but you can also use public transport or a tour company to get to your destination. After you're back in the city, you can enjoy some authentic Mexican food for dinner.
Like this 4 Day Mérida Mexico Itinerary post? Check out our other related articles!
Like this 4 Day Mérida Mexico Itinerary Post? Pin it for later!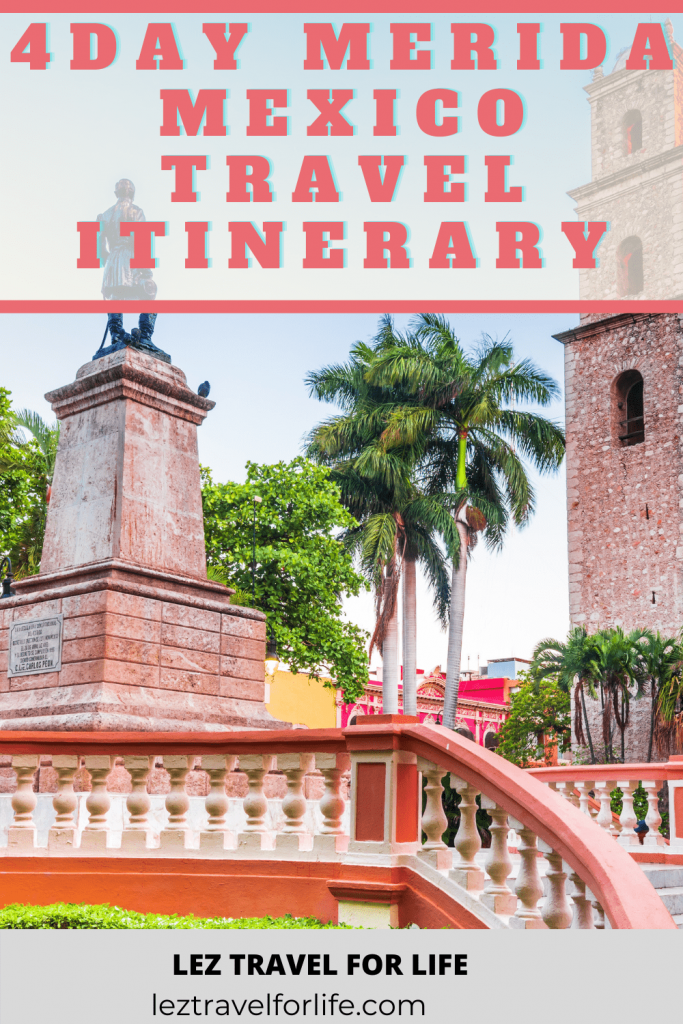 I'm Sam and I may only be 5'3 but I'm feisty and enjoy a lot of sarcastic humor. I'm addicted to travel as well as feeding and advocating for street animals in every country I travel to. I'm married to Courtney and we're super gay or whatevaaaa. We're both extroverts and love meeting new people everywhere we travel. We are in love with Latin American culture but can't wait to explore more of the world!