This article may contain affiliate/compensated links. For full information, please see our disclaimer here.
Reminder: Make sure to check the country's covid guidelines before travel.
Holbox is a small island located in Yucatan, Mexico. It's known to be less crowded and a lot more authentic than nearby islands like Cozumel and Isla Mujeres. There are no paved roads on Holbox, and you won't encounter crowds of tourists. Enjoy pristine beaches, crystal-clear waters, and some of the best Mexican street food in the country. This 3 Days in Holbox Weekend Itinerary will equip you with everything you need to plan your trip to paradise!
Isla Holbox might actually be larger than you think, however, only a small part of the island is inhabited. The majority of the landscape is part of a natural park, making Holbox a paradise for those wanting to spend some time in nature.
DAY 1 IN HOLBOX: GET TO KNOW THE ISLAND
Your first day in Holbox will be all about exploring the island. Rent a golf cart at a rental office close to the harbor so you can get around independently. Driving is easy and fun and the perfect way to get to know Holbox.
Right in the heart of town, you'll find the Holbox Animal Rescue. This charitable organization takes in street cats and dogs and hopes to find them a better home. A great way to give back during your trip is to foster a rescue dog for an afternoon or even just a few hours. Just head to the animal shelter, and they will assign you a dog for the day. Most dogs love riding in golf carts and just want to spend the day by the beach. If you love animals, this is an absolute must-do.
From the center of town head north-east to the famous Punta Mosquito. This beautiful beach is one of the best to see on the island and is rarely very crowded. You'll have to drive into the nature reserve and walk the last few hundred meters.
Punta Mosquito is most impressive during low tide when large sandbanks appear close to the shore. The water is shallow enough to walk to the sandbanks, just make sure to keep an eye on the tides. Punta Mosquito looks almost surreal and will absolutely take your breath away.
After you've had enough of the beach, head back towards town and stop at Alma Bar. This little beach restaurant serves delicious food and cocktails. Watch the sun go down over Holbox and enjoy drinks by the beach. Heading to bed early is recommended as you'll have an early start tomorrow.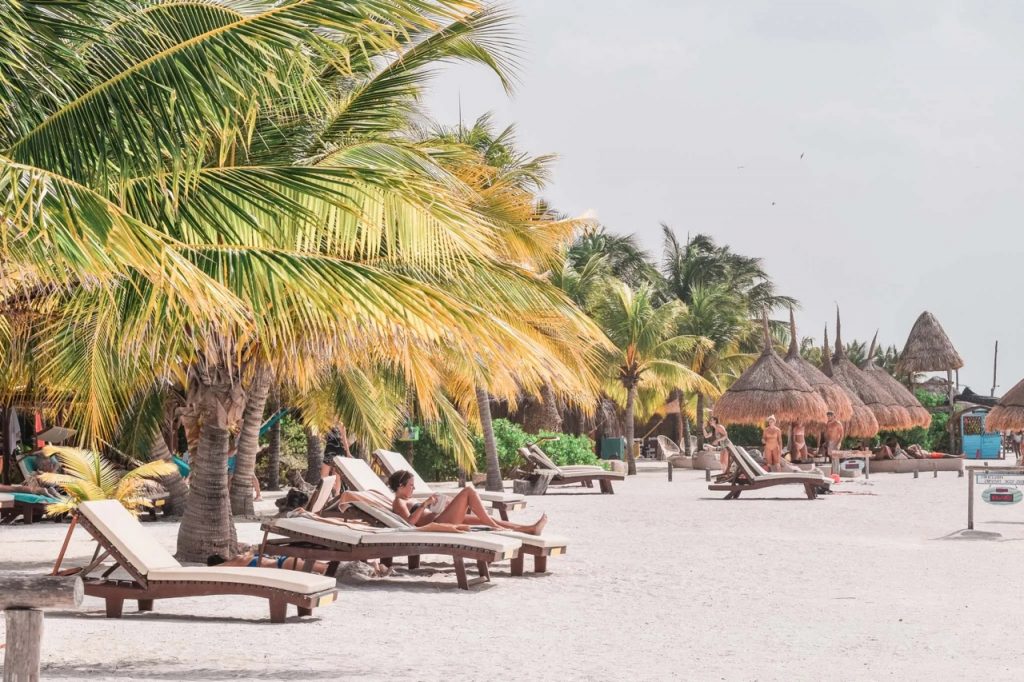 DAY 2 IN HOLBOX: SWIM WITH WHALE SHARKS
If yesterday's beach trip wasn't adventure-packed enough for you, this day is guaranteed to be a hit. Start your day early at around 7:00 am to go on an all-day boat tour to see whale sharks. These tours can be booked a night or two in advance and will, unfortunately, be a bit expensive (around 170$ per person), but the experience is definitely one of the coolest things in this 3 Days in Holbox Weekend Itinerary.
Your experienced guides will take you out onto the open ocean to find whale sharks and manta rays in the wild. No need to worry about animal welfare. The marine animals are always allowed to come and go as they please and are not fed by the tour operators. Of course, no touching or coming too close to the whale sharks is allowed.
The boat ride takes around two hours, and you'll be rewarded with a once-in-a-lifetime experience. You can even swim with the majestic animals if you're brave enough. Luckily, they're completely harmless to humans even though they can grow up to 10 meters long. After an exhilarating experience in the water, get back on the boat to enjoy a delicious early lunch with fresh fruit and homemade snacks. The tour will take you back towards the island of Holbox, along the coast of the national park. This is a great area to spot wild flamingos and see impressive mangrove forests. After some time to relax at a remote beach, you'll be dropped off at the pier in Holbox in the afternoon.
After such an exciting day, you'll most likely feel a bit tired. Spend the evening at Punta Cocos, a beautiful beach with lots of hammocks in the water, and watch the sunset. There is a small beach bar selling cold drinks and snacks, which makes for the perfect way to end the day. If you're feeling up for it, have a few cocktails at Fresco Bar and Grill afterward. They have a beautiful open-air terrace that overlooks the water.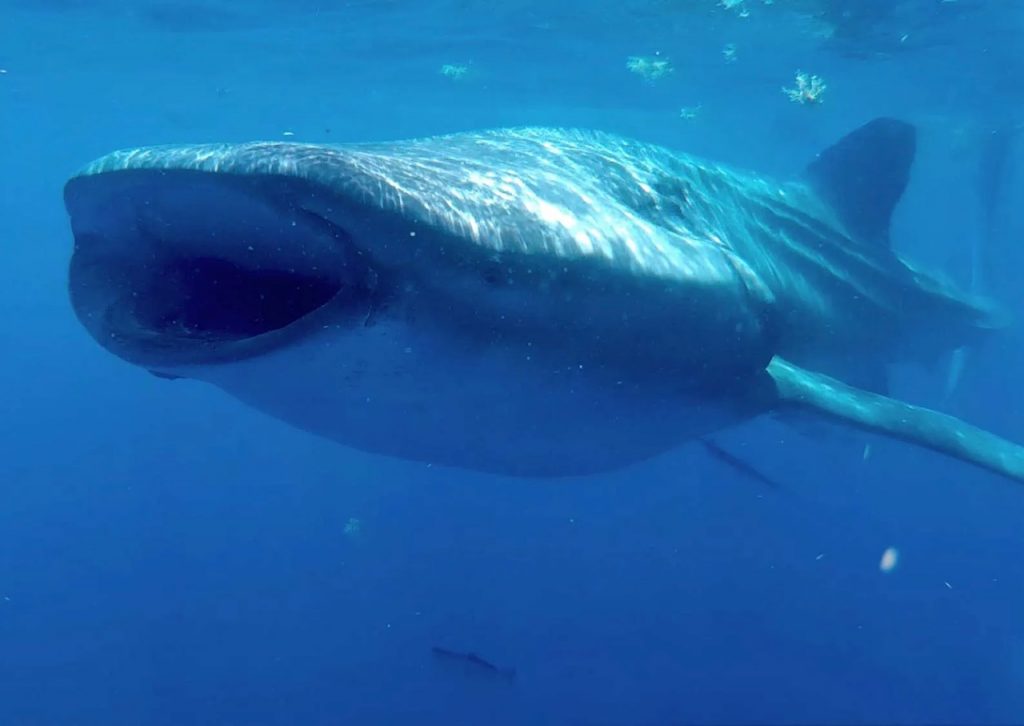 DAY 3 IN HOLBOX: SEE BIOLUMINESCENT PLANKTON
Start your last full day in Holbox with a delicious breakfast in town. Limoncito is a great restaurant for trying authentic Mexican dishes as well as more international breakfast options, so there is something for everyone. While you are in town, take some time to walk around and explore the streets. There are lots of cute little shops, cafes and sometimes even a local market to discover.
One of the best things to do in Holbox is to see the stunning street art. After an art festival was held on the island in 2014, numerous murals have popped up all over town. The island has become somewhat of a hotspot for local artists and is often described as an open-air art gallery. Walk through the narrow streets and admire the beautiful paintings you'll spot along the way.
For lunch, stop at Xolos Tacos, which serves some of the best Mexican food in town. Their taco platter is absolutely delicious, and prices are relatively affordable.
Spend your last afternoon in Holbox at Carolinda Beach Club, one of the best water-front venues on the island. They rent out comfortable beach beds, and you can relax in the shade right by the water. This beach club is special because it has the iconic wooden swings on the beach, which are incredibly popular for taking photos. The water here is very shallow and crystal-clear, so you can also go snorkeling if you're feeling up for it.
Of course, you'll need to do something special on your last night in Holbox, but it requires that you stay up late. Pass the time at El Chiringuito Bar Zomay, a beautiful little beach bar serving delicious cocktails. Once the sun has set completely, get a golf cart to take you to Punta Cocos Beach. This is the best place on the island to see bioluminescent plankton right on the beach since there is so little artificial light nearby.
Put your feet and hands in the water and swirl them around to see a blue glow. The plankton can sting a bit, but it's harmless to the skin. Is there a more magical way to end your trip to Holbox? This is definitely at the top of the list of things to do in Mexico.
WHERE TO STAY IN HOLBOX
Holbox is small, so it's not incredibly important where you stay exactly. The area around Punta Cocos is very beautiful, although you'll be closer to restaurants and shops if you stay near the harbor. Both are great options.
Budget:
Casa Los Abuelos – a cute little hotel with affordable prices and decent amenities. Rooms are spacious and clean.
Mid-range:
Hotel Para Ti – A beautiful adults-only resort with pools, spacious rooms, and an in-house spa. Make sure to get breakfast included, it's worth it!
Luxury:
Holbox Dream – A fantastic beach-front hotel with ocean views and traditional architecture. Pickup service from the harbor is included.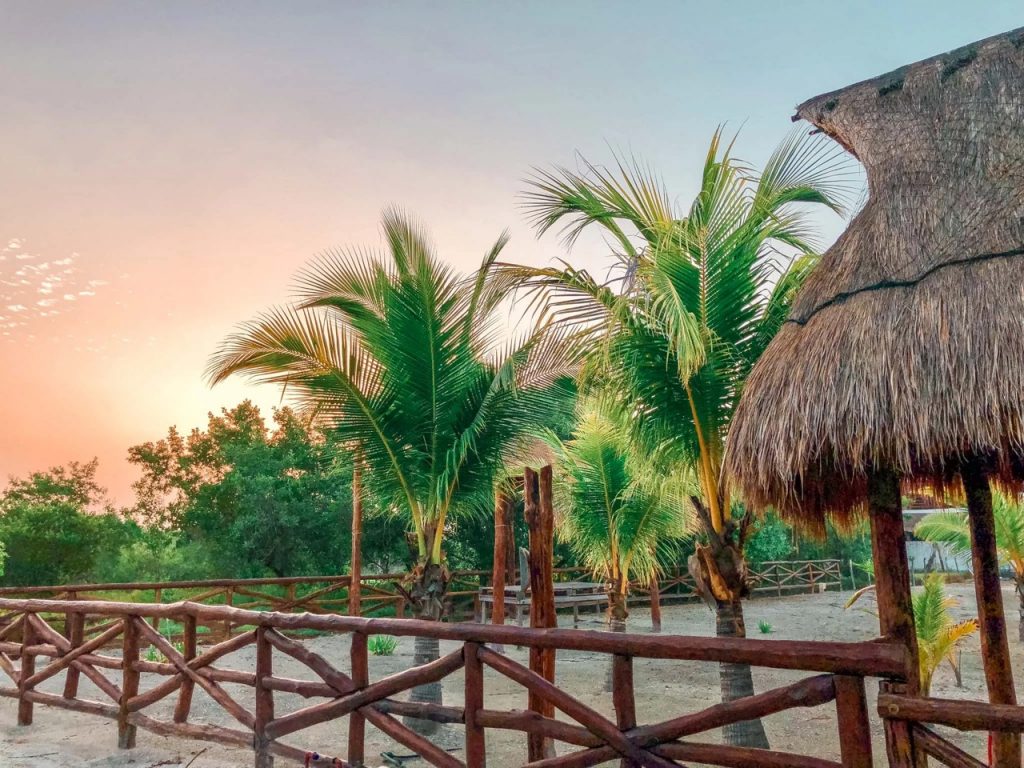 WHERE TO EAT IN HOLBOX
Salma
If you're looking for a world-class dining experience in Holbox, Salma is the place to go. They offer deliciously hand-crafted meals accompanied by unusual cocktails. You'll feel as though you're surrounded by jungle on their beautiful outdoor terrace.
Arte Sano
Arte Sano is a vegan/vegetarian restaurant that specializes in traditional Mexican food with a twist. Whether you're a vegetarian yourself or just want to give it a try, this is the perfect place to go plant-based for an evening.
Parador 33
Parador 33 has a great menu with both local and Italian food options. They even have a wood-fire oven used to prepare their delicious pizzas. Make sure to try the lobster risotto, it's one of their most popular items.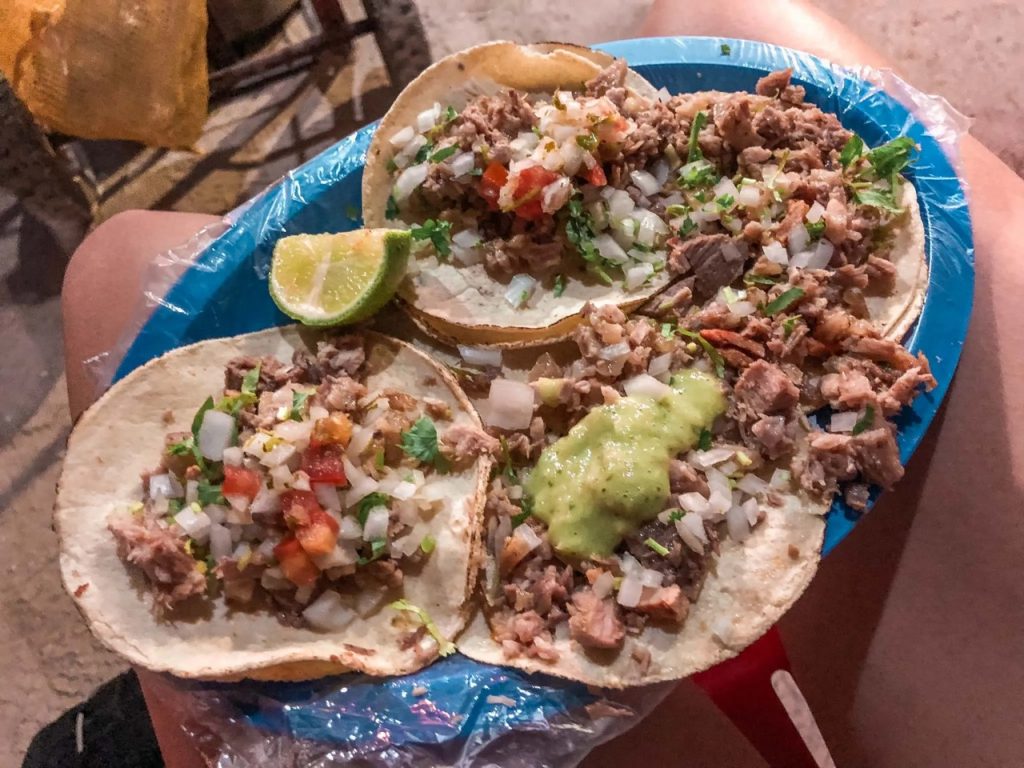 GETTING AROUND HOLBOX
There are no cars allowed on Holbox, which means the main way of getting around is either by bike or golf cart. Both are available for rent at different offices around the island or directly from your accommodation. Expect to pay around 40$ per day for a golf cart which is pricey but worth it.
If you're not up for driving yourself, you can also take golf cart taxis which are available on call. Just keep in mind that large parts of the island don't have cell phone reception, so plan ahead when you need to be picked up.
If you're looking for safe and private airport transportation to and from Cancun check out this option.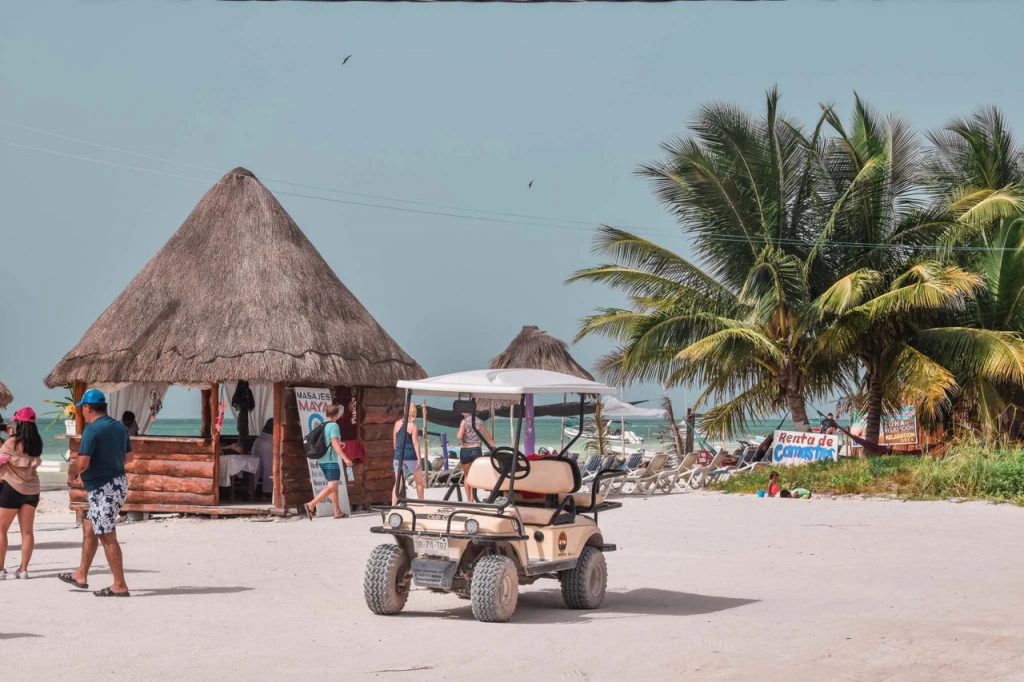 WHEN TO VISIT HOLBOX
The weather in Holbox is hot and sunny year-round. The best time to visit is between December and March when you'll most likely have good weather and few tropical storms. The months of August to November tend to have a bit more rain, but accommodation prices during this time will be relatively low, which is an added benefit. Know that at certain times of the year there will be seaweed on the beaches! Usually, beaches like Mosquito Beach are free from seaweed. I have a 14 day Yucatan Peninsula Itinerary if you are looking for a more detailed guide to the Yucatan.
WHAT TO PACK FOR HOLBOX 3 DAY WEEKEND ITINERARY
We want to wrap up this 3 Days in Holbox Weekend Itinerary article with everything you need to know in regards to packing. Holbox is a beach destination, which means it's time to whip out all your favorite swimsuits and summer wear. Don't skip out on the sunscreen! We have put together a comprehensive list of What to Pack for Mexico. It includes clothes, suits, sunscreen, and other must-have items.
LGBTQ CULTURE IN HOLBOX
We're happy to report that Holbox is a popular destination for LGBTQ couples! You'll find gay men holding hands on the beach, soaking up the sun in speedos, and taking selfies. It's definitely an LGBTQ-friendly destination where you can feel safe and enjoy the crystal clear beaches along with everyone else. a popular hotel for gay couples is Casa Las Tortugas. There are gorgeous rooms here, and you should meet some new friends!
If you're interested in other LGBTQ-friendly places in Mexico check out our Gay Puerto Vallarta Mexico article for one of the top LGBTQ travel destinations in Latin America! If you're looking for a safe place to party into the wee hours of the morning check out La Perla Holbox. It's a mix of locals and tourists! If you enjoy dancing this is the place for you!
Like this 3 Days in Holbox Weekend Itinerary post? Check out our other related articles!
Like this 3 Days in Holbox Weekend Itinerary Post? Pin it for later!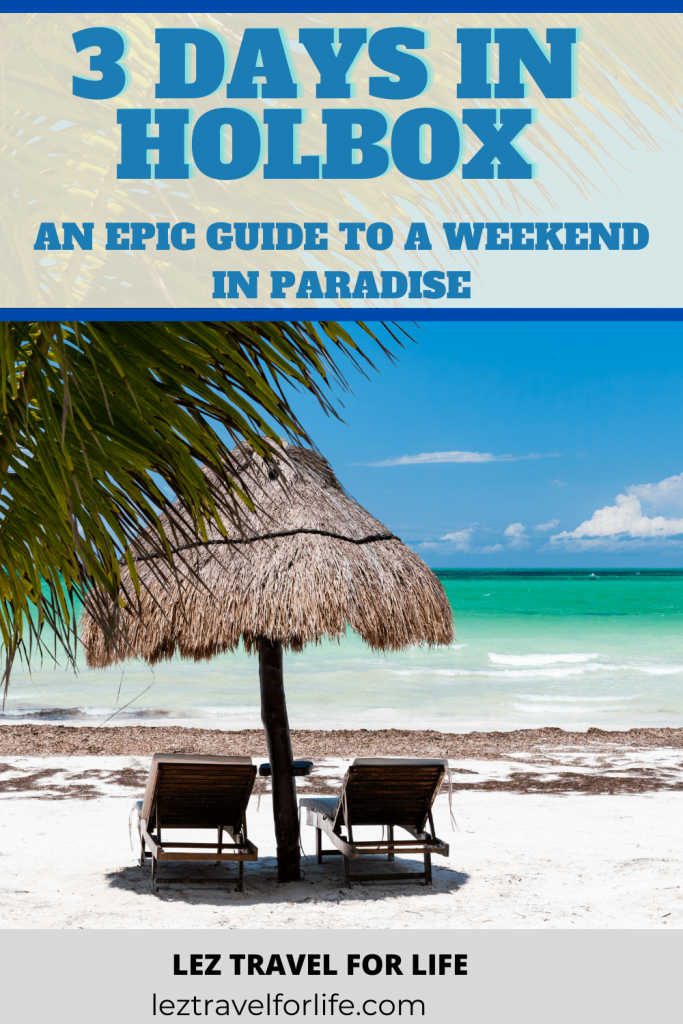 Victoria is a blogger and writer from Germany and her blog Guide your Travel focuses on budget trips, bucketlist destinations and how you can start your life as a digital nomad