This article may contain affiliate/compensated links. For full information, please see our disclaimer here.
Reminder: Make sure to check the country's covid guidelines before travel.
You may not believe me when I say that when we made our way to Puerto Vallarta we had no idea it was going to be one of our favorite destinations we've ever traveled to and by far our favorite in Mexico. You're also not going to believe that it was all an accident. We were planning on going just for a few days during Christmas with a friend but when our plans fell through we carried on with ours. Fast forward four months later and we couldn't get enough of this beautiful beach town that happens to be the gay beach capital of Mexico. This Puerto Vallarta Mexico travel guide comprehensive travel guide will help you plan your next trip with all the details you'll need to have the perfect stay.
Puerto Vallarta is a very lively city. There are bars, restaurants, musicians, and activities going on all day and through the night. We immediately felt at home, this city is covered in rainbow flags, same-sex couples and LGBTQ-friendly restaurants, shops, and bars everywhere. Not to mention it has the Pacific Ocean on one side and the Sierra Madre mountains on the other, Puerto Vallarta is seriously picture perfect.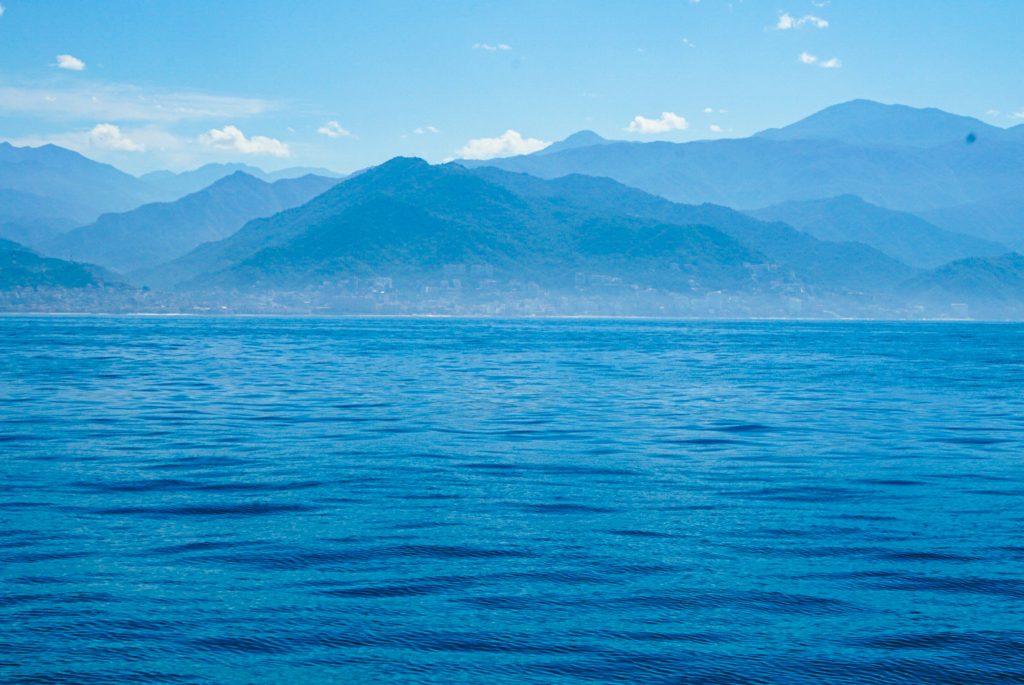 Puerto Vallarta may be a beach town, but know that there is so much more to do than just tanning on the beach with a marg. You'll find whale watching, snorkeling, island hopping, waterfalls, and hiking all within reach while you're exploring this amazing city. We have all the details in this Puerto Vallarta Mexico travel guide.
While Puerto Vallarta is always buzzing with activity during the day, take a walk around before 10 am and you'll feel like you have the streets to yourself. You'll pass colorful murals, cobblestone streets, and picturesque buildings worth snapping pictures of. We also fell in love with one more unexpected thing while living in Puerto Vallarta, helping street cats. I'll dive into this more in another article but this became a huge part of our lives while living here and I hope to give you the information and tools you need to help out too while you're here!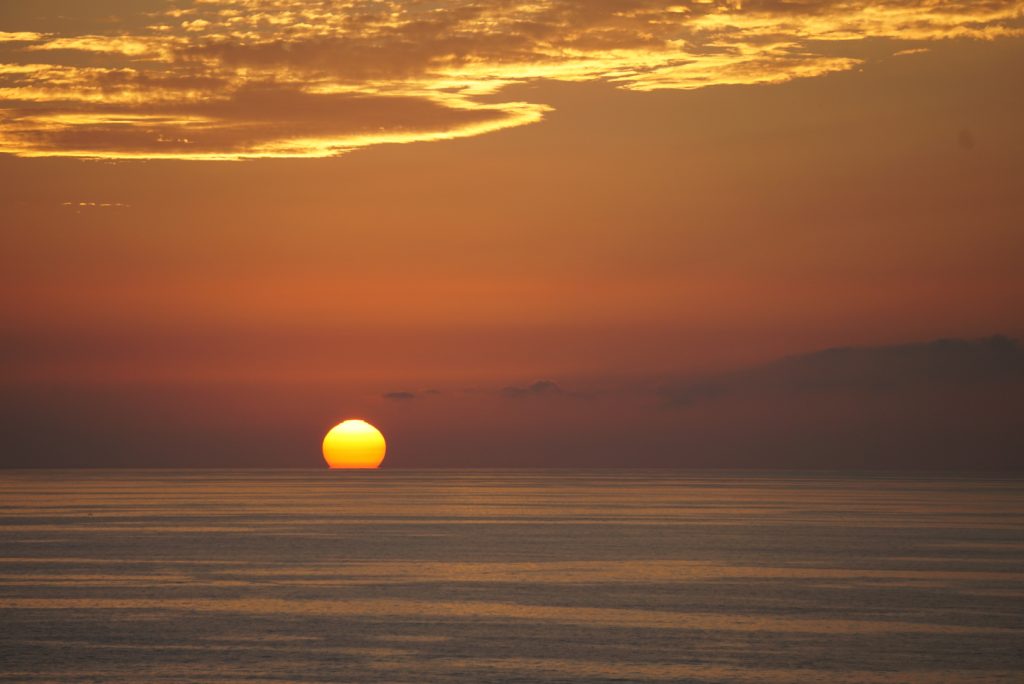 PUERTO VALLARTA QUICK INFORMATION
Currency: Mexican Peso $1USD = about $20 MXN
Electricity socket: Mexico uses the same sockets as in the USA
Visa: Once you arrive you are automatically given a 180-day visa to foreigners who enter Mexico. You will be given an entry card DO NOT lose this as it is your proof of entering the country legally. You will need to present this when you leave.
Airport: Puerto Vallarta International Airport.
Wifi: Speeds vary depending on your accommodation. We found that most Airbnb's had slower internet because they are sharing one router across multiple units. Don't worry though as there are plenty of cafes and workspaces in Puerto Vallarta with faster internet speeds.
PUERTO VALLARTA DURING COVID
Puerto Vallarta has done a good job of enforcing mask mandates across businesses. Meaning upon entering you must wear a face mask, your temperature will be checked and you will be given hand sanitizer. While walking around the city you'll find locals and tourists wearing their masks for the most part. Hotels have made getting a covid test very easy as a lot of hotels offer testing at the hotel that you can register for upon arrival in Puerto Vallarta.
Where to take a covid test in Puerto Vallarta
The best option (the one we have used several times) is the testing site located at the Puerto Vallarta International Airport. They are open 24/7 and you don't need an appointment. The prices are much lower and if you get the Antigen test (rapid test) you'll have your results within 45 minutes.
Remember if you are flying back to the US or Canada from Mexico it is required that you take a Covid test within 72 hours before traveling and show that negative test when checking in at the airport.
WHERE TO STAY IN PUERTO VALLARTA MEXICO
Puerto Vallarta is a fairly small city, but it is spread out into five different 'zones', which means there are tons of options for accommodations. To make it easy on you I'll focus on the five main areas in Puerto Vallarta which are:
Marina Vallarta
Hotel Zone
5 de Diciembre
El Centro
Zona Romantica
All of these zones have unique qualities that make them appealing to visitors to Puerto Vallarta so I'll give you a short description of each neighborhood with our recommendation of which areas we loved the most. Check out our Unique Hotels Puerto Vallarta for a complete guide of our favorite hotels in Puerto Vallarta!
Marina Vallarta
The Marina is a busy area where the cruise ships dock in Puerto Vallarta and where a lot of boat tours leave from (whale watching, Isla Marietas). In this area, you'll find all-inclusive resorts, fancy golf courses, family-friendly accommodations that are quieter than most of the other areas in Puerto Vallarta.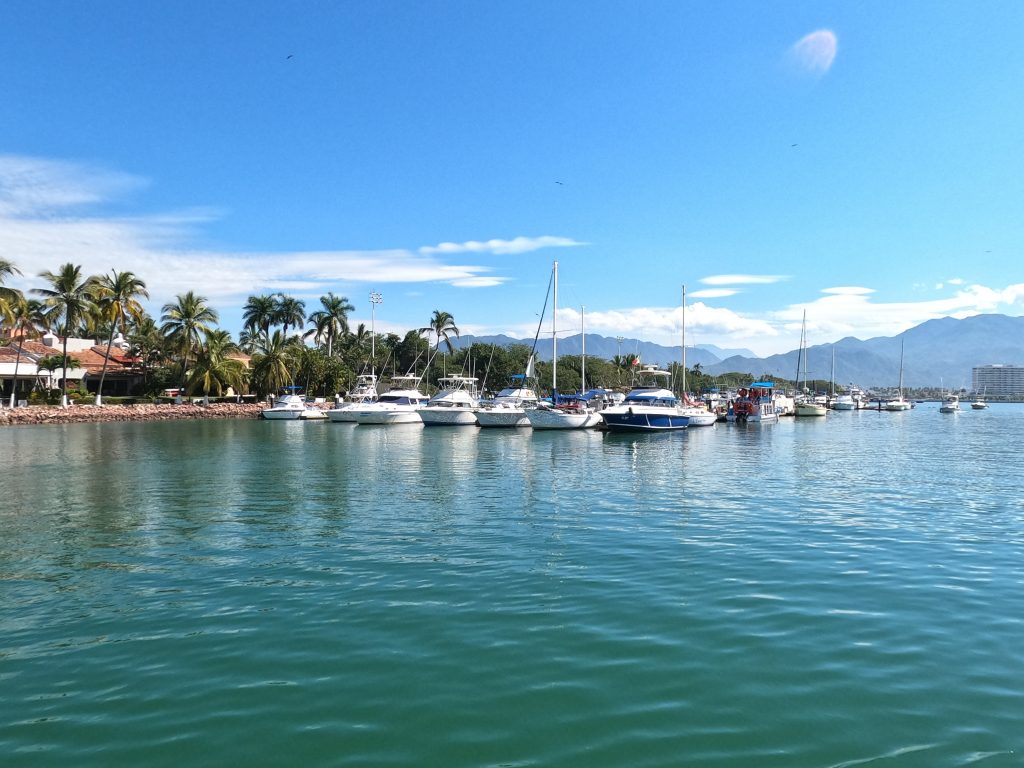 Hotel Zone
Why yes, it is exactly what you are picturing in your head. It is all hotels and once you land in Puerto Vallarta you'll find tourists pouring out from the terminal into taxis and shuttles that are heading straight to this area.
This area of the beach is lined with huge resorts, restaurants, outdoor shopping malls, and bars. Honestly, we didn't explore this area at all as it doesn't even feel like you're in Puerto Vallarta or Mexico for that matter. If this is your scene you'll find tons of options for all-inclusive hotels in this area.
5 de Diciembre
This area is inching us closer to the main part of Puerto Vallarta while maintaining a very residential feel. This area is located between the Hotel Zone and Centro. You'll find a ton of options on Airbnb and Booking.com and this area will be very affordable in comparison to some of the other neighborhoods. You'll have easy access to the beach and public transportation.
El Centro
Another very clever name, this is the central part of Puerto Vallarta. You'll find the main square including the Malecon which lines the beach as well as the beautiful church Parish of Our Lady of Guadalupe.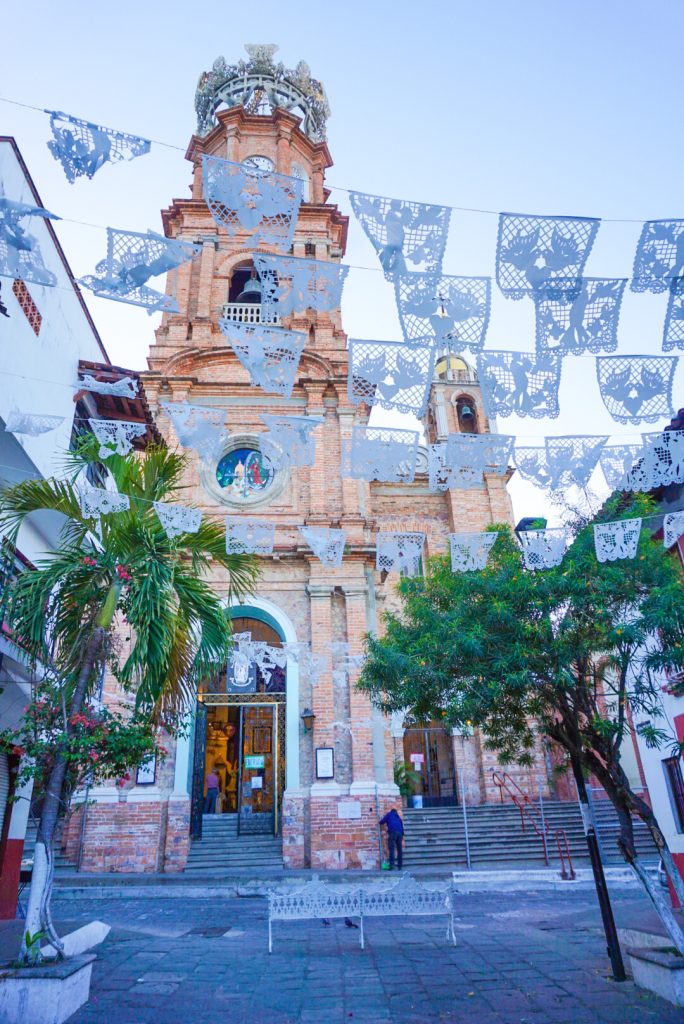 El Centro being the central part of the city means you'll find great shopping and dining options. We stayed in Centro for over a month and we really enjoyed this area as we felt like we were in the middle of all the action. We stayed up Aldama street and had a great view of the ocean and the sunset.
Romantic Zone
After you cross the river from El Centro you will have landed in Zona Romantica. This is our absolute favorite area to stay in as it's the gay zone. You'll find same-sex couples wandering the streets, bars, cafes, restaurants and there are even gay resorts and beaches! This is definitely the most exciting area to stay in especially if you're interested in the nightlife in Puerto Vallarta. We stayed in a beautiful condo that had a pool and the perfect view of the ocean, breaching whales, and best of all the sunset.
LGBTQ Resort: Almarresort
Airbnb Apartments with Ocean View: Boana Torre Malibu
PUERTO VALLARTA MEXICO TRAVEL GUIDE: BEST BEACHES
Puerto Vallarta is located on Banderas Bay, which means there are tons of options for beaches. We explored several different beaches and each one has a different feel to it, some are party beaches and others hardly have anyone on it. There are several beaches right in town which are perfect for walking to, while others require you to hop in an uber and travel 10-30 minutes (just depending on the beach) to reach them.
The beaches in Puerto Vallarta have white sand, and while it may not be the perfect white sand you may find in the Yucatan it's still quite enjoyable for sunbathing and swimming. Some beaches have a bit of rocks, but for the most part, you can still navigate around them.
If you're looking for surf waves, you'll want to head up the coast an hour north to Sayulita to catch some great waves. Depending on the time of year, Puerto Vallarta doesn't really get waves so you won't find many opportunities to crank out that boogie board you've been dying to use.
So let's crack into the best beaches in Puerto Vallarta.
Los Muertos Beach
Okay, we had to put this one first. This is the main beach in Puerto Vallarta. Once you see the sail-shaped pier, you'll know that you've reached Los Muertos Beach. You'll see it's lined with beach chairs, umbrellas, restaurants, and local vendors walking the beach and selling various souvenirs. The best part is there are several places where you simply grab chairs and all you have to do is buy anything, yes anything and you can stay there all day.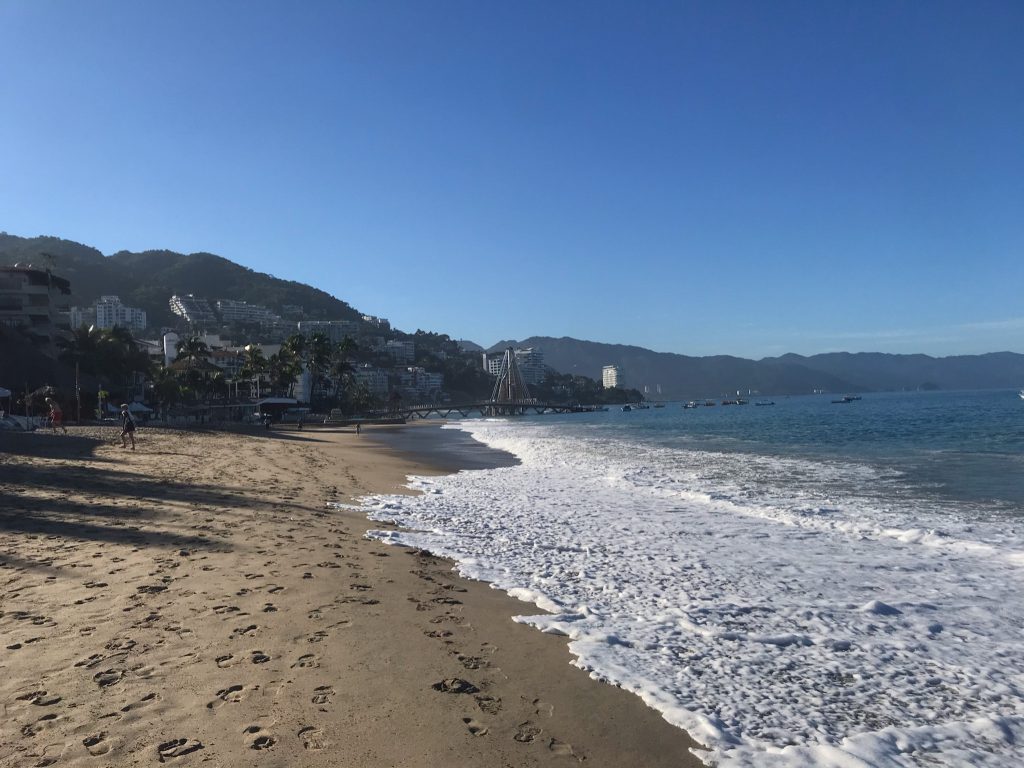 Our favorite place is Fidencios. The waiters and super awesome, the drinks are cheap (you have to try to passion fruit margarita) and the fish tacos are pretty darn good. Our other favorite place is Ritmos Beach Café which sits between Blue Chairs and Mantamar. Plus, you'll be right on the beach in the middle of all the action which can also be an annoyance to some visitors. You see, you will find this beach has a ton of locals walking back and forth all day asking you to buy whatever it is they are selling. We got pretty used to saying "no gracias". You'll find parasailing activities, jet-skiing, beach volleyball, and water taxis that can take you to Boca de Tomatlan or Yelapa (I'll cover these too).
Pssssssssshhhh: Just in case you're not in the mood for a crowded beach filled with vendors than just keep walking on Los Muertos Beach until you reach the rocks. Walk up the stone stairway and on the other side of the rocks you'll find a smaller, but also quieter beach where you won't be bothered by anyone selling you things (other than the fish and shrimp on a stick which you should absolutely try).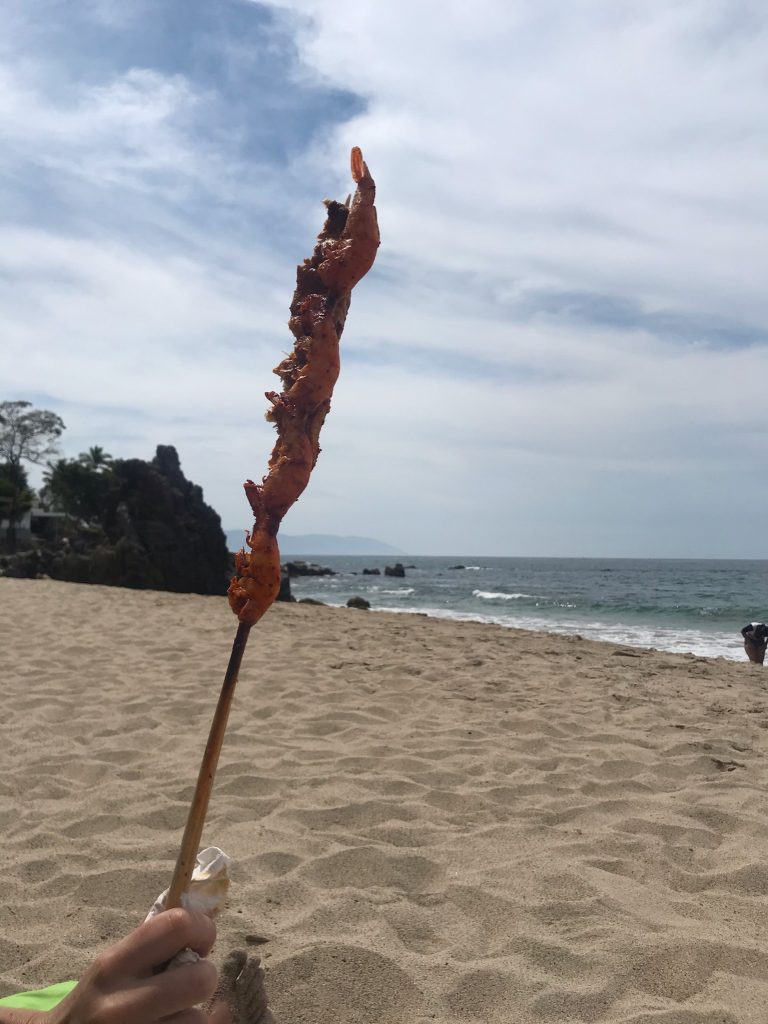 Playa Palmares
If you're looking for a quiet beach during the weekdays this is your place. You won't find beach chairs or beach vendors selling things, instead, you'll have one beach restaurant which serves the best fish tacos in Puerto Vallarta and a delicious Passion Fruit Margarita. You'll pretty much have the beach to yourself, and yes there is shade. This beach is only a 10 minute uber from Puerto Vallarta. While this beach is pretty empty during the week, know that Friday afternoon- Sunday this is a local beach so it will be quite crowded, don't let that deter you though, the locals are fun!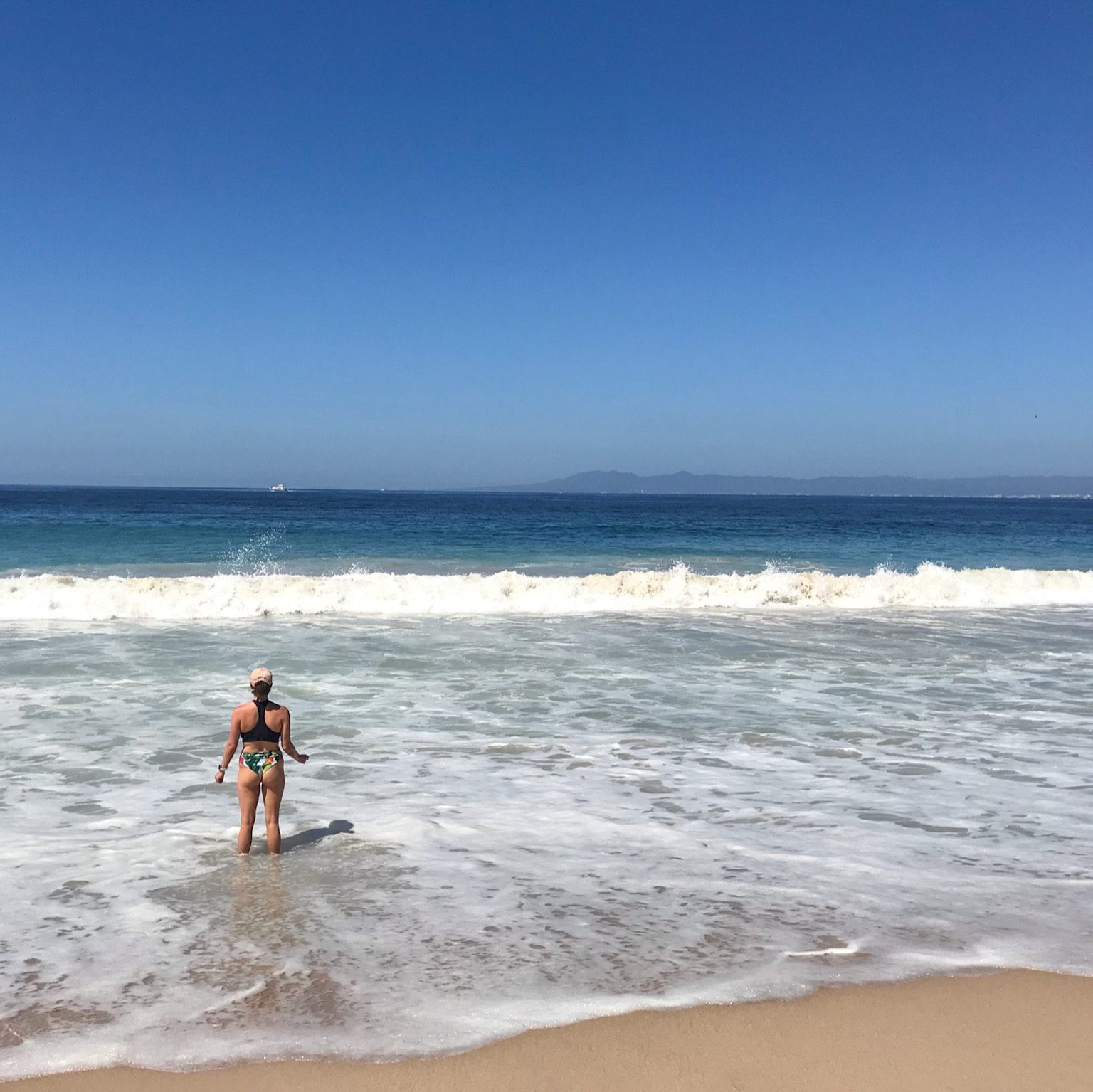 Playa Conchas Chinas
Another beach that is about 10 minutes from Puerto Vallarta. This is also a quiet beach during the week. There is a restaurant on the beach that is attached to a hotel, plus there is one lonely guy walking around taking orders for drinks and food here. You'll also find the tasty fish and shrimp on a stick here as well in case you need a snack. Your uber will drop you off at the front of a hotel and you'll have to take a very steep set of stairs to the right of the hotel down the hill to the beach. This beach is also smaller and busy on the weekends with locals.
Read more on the top 10 beaches in Puerto Vallarta for more hidden gems in the area you don't want to miss here.
TOP ACTIVITIES IN PUERTO VALLARTA
Puerto Vallarta is a beach town but there are so many awesome things to do in Puerto Vallarta, from hiking to waterfalls with the jungle on your left and the ocean on your right to lively nightlife and more! We listed our top faves for this Puerto Vallarta Mexico travel guide.
1. Walk the Malecon
The Malecon is the main area of Puerto Vallarta where you can walk about 1 mile (1.5km) from one end to the other with the beach right next to you! You'll find tons of restaurants, local artists selling art, admire the statues, try some homemade ice cream or other street foods available during the day and at night! There are also free walking tours of the Malecon every Tuesday at 9:30 AM. Courtney and I enjoyed walking the Malecon in the morning with a cup of coffee. It's also fun to walk around the Malecon at night as there are tons of street food vendors ready to serve you some drunken snack food. Every night around 9-9:30 you'll get front row seats to fireworks from the pirate ship that runs tours.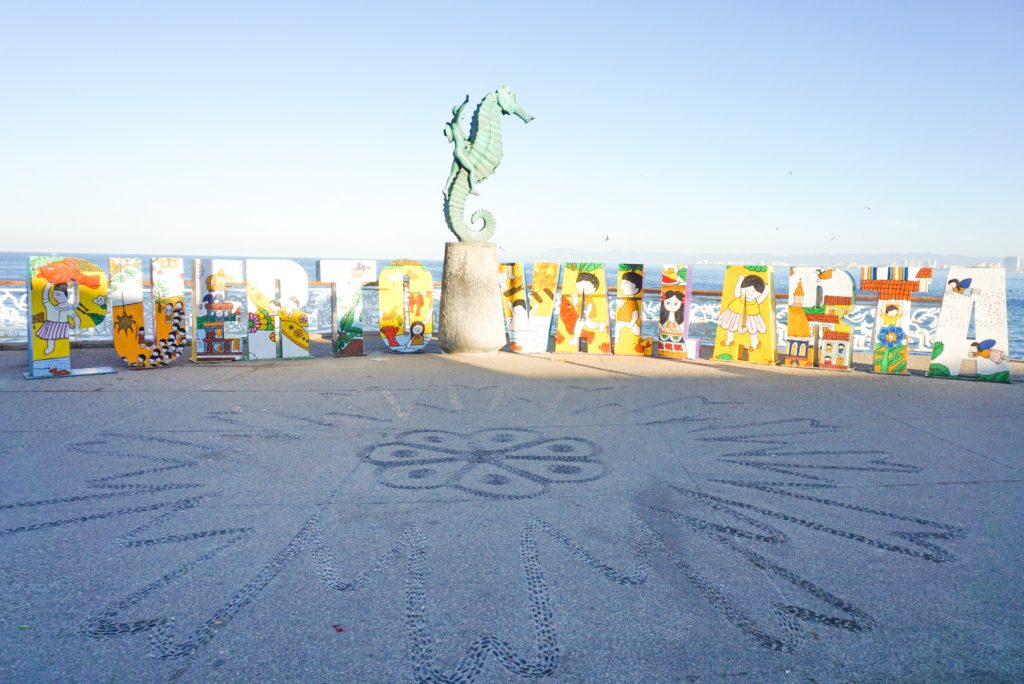 You'll also find that Puerto Vallarta is a very active city where people enjoy exercise and taking care of their health. If you like Yoga there is a free Yoga class called YOGA pop-up, Puerto Vallarta (based on donations) every M/W/F starting at 9 AM. This is a great way to meet other travelers and expats alike (we met a few friends here!) I'm an avid swimmer and I finally found a group of locals and expats who swim in the ocean every morning they meet in front of Hotel Rosita on the beach! Groups start at 7, 7:30, and 8. There are usually around 20 that all start at different times so if you show up a little early or late there will be someone there to watch your things on the beach.
2. Go to the Botanical Gardens
Take a break from the beach and visit the Vallarta Botanical Gardens. Honestly, I was not sure about it when I was first invited to go but when we got there it felt like we entered into an entirely different ecosystem. You can book tickets online or in-person (200 Pesos PP). You should have no problem finding an uber or a taxi to take you there. You may need to call a taxi from the gardens in order to get back to Puerto Vallarta
Once you're inside you'll find a beautiful building on your right that is completely surrounded by beautiful plants. You can enjoy a coffee or a nice meal here (you'll get agua de jamaica for free and it's SO GOOD). After your coffee break head to the left of the building where you'll find trails, you can hike on. All of them are fairly easy and take maybe 20 minutes to walk around on. I was surprised to find that a couple of the trails take you down to a river where you'll find rocks to climb on and areas to enjoy a picnic, swim around or simply soak up some sun.
After you've had your coffee and hike walk around the grounds and enjoy the variety of plant life they have to offer. You'll also find a cute chapel to take pictures at and enjoy handmade stones engraved with names of pets that have passed away and their families had these made in their memory. Honestly, though, I know this may sound like something you would do if you were 70 but it was one of the more relaxing days we had in Puerto Vallarta because we were completely surrounded by nature and it was fabulous.
Visit this link to book online. They also offer a guided tour that educates you on the local wildlife and habitat exploration (yes, animals like JAGUARS).
3. Go on a Hike!
This Puerto Vallarta Mexico travel guide lists tons of options for hikes in the area and we love the hikes because it brings you closer to the culture in Puerto Vallarta rather than just the beaches and party life. There are a couple of hikes in town you can do if you want to catch some incredible views of the ocean and the mountains. The first is Mirador La Cruz del Cerro (Hill of the Cross), which is straight up from the Malecon in Centro and it isn't crazy hard to get to. You will have to walk up some steep hills so bring good shoes and water as it gets HOT pretty early. It takes about 20 minutes to get up the stairs and once you're there enjoy the breeze and panoramic views of the town!
Our favorite (but long) hike is one that starts at Boca de Tomatlan to Quimixto Beach. You'll find that most people suggest ending at Las Animas beach instead, but if you hang on for 25 more minutes you'll be met with a pristine beach that only has 2 restaurants on it and is NEVER crowded. The hike itself is between 2.5- 3 hours but it is beautiful as you have the jungle on one side and the ocean on your right the entire time. While you're on the hike you'll pass other beaches like Las Animas but for me, Las Animas is crowded, full of boats and vendors selling things on the beach. You can take the bus from the Romantic Zone to Boca for 10 pesos, cross over the bridge and walk along the coast!
You'll have plenty of boat taxis that will take you back to Boca for about 50 pesos and some may even take you all the way back to Puerto Vallarta but it could cost you between 150-200 pesos and the ride is much longer.
4. Explore Isla Cuale
The Rio Cuale separates (literally) Centro and the Romantic zone out to the ocean. This area has a small island known as Isla Cuale. You'll find restaurants, a market, live music, and plenty of places to wander around at. If you go down the steps to the outdoor markets you'll find tons of street cats that are being fed by donations from locals who have dedicated their lives to spaying/ neutering and adopting these cats out. Check out their page on Facebook (Gatos Isla Rio Cuale Puerto Vallarta) and donate so these cats can live out the rest of their lives with full bellies.
5. Volunteer, donate and adopt local rescue dogs and cats
Okay so we know this Puerto Vallarta Mexico travel guide is mostly about the beach and food. Courtney and I spent four months in Puerto Vallarta and three of those months we dedicated 2 days a week trapping street cats at night and taking them to free local spay/ neuter clinics so we could do our part of eliminating the never-ending cycle of starvation and suffering for these animals on the streets. Local organizations such as The Sula Society, Angelicat, Friends of Puerto Vallarta Animals all need YOUR help with either donations or visiting their shelters and walking or socializing dogs/ cats. These organizations can also help you get involved and educate others on this topic.
If you want to know more about how we made a difference please reach out to us on social media we would love to hear from you! We successfully rehomed 6 street cats and there are plenty more that are looking for a loving home. At least make a donation, you'll find a link to PayPal on these organizations' Facebook pages or on their website.
6. Eat and Drink all of the things
We learned quickly that maintaining a healthy diet in Puerto Vallarta would be much harder than expected. It's a small city but it is FULL of impressive restaurants and cocktail bars that are worth trying. You'll also find plenty of clubs that stay open late if you want to get your dance on. From margaritas, street tacos, international food, churros, and more you'll get your fix.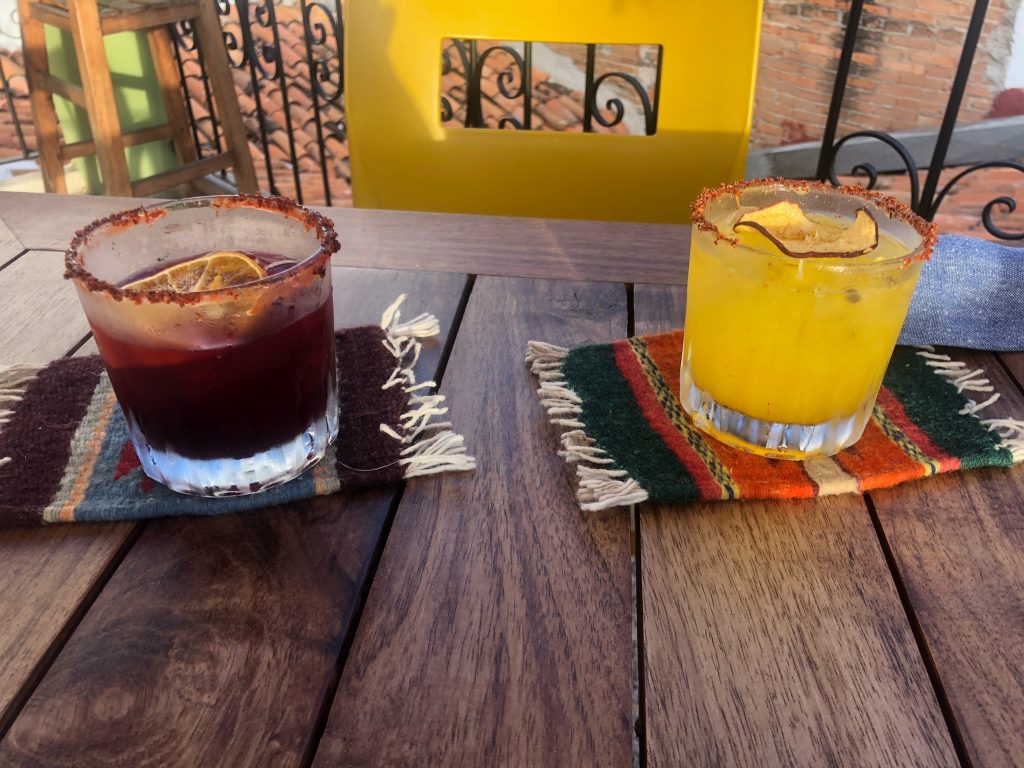 For cocktails how about supporting women and LGBTQ-run businesses? We were lucky enough to enjoy two new places in Puerto Vallarta that ended up being our absolute favorite spots for drinks Mezcal y Sal and Elixir Mixology Bar. You also have local craft beers at Monzon. We spent a ton of time testing out all the best local spots for food and drinks so to read more about our favorites check out our best restaurants in Puerto Vallarta article.
WHERE TO EAT IN PUERTO VALLARTA
There are SO MANY OPTIONS in Puerto Vallarta but it can be overwhelming and google reviews can definitely be deceiving. So in our Puerto Vallarta Mexico travel guide we did the work for you. Here are our top picks of the best restaurants in Puerto Vallarta.
1. Breakfast – Coco's Kitchen
Go early and you'll beat the crowd, and I mean there is a serious crowd as this is a local favorite for tourists, expats, and locals. They offer a mean brunch with mimosas and other drinks and have healthy omelet options (but don't forget to order the hashbrowns). Ingredients taste fresh and you can enjoy a variety of options. My birthday meal was the french toast and it did not disappoint!
Hours: 7 days a week from 8-3 PM
Location: Zona Romantica
2. Lunch – Cafe de Olla
This place is the spot for some Mexican comfort food. I can comfortably say I had never had a shrimp sandwich before but after eating one here I don't think I'll order one anywhere else again. It came with a grilled potato that has delicious fillings in it and honestly I was in heaven. They also serve Cleriot which is a wine mixed with lemon sparkling water and served with chopped apples on ice, it was a perfect meal.
Hours: Closed Tuesday, Open M,W,TH,F,S,S from 9AM-11PM
Location: Zona Romantica
3. Dinner – Merida Grill
Merida Grill offers amazing traditional Yucatecan Cuisine and delicious cocktails. Hands down one of the best meals we had in Puerto Vallarta. The staff are happy to explain the different options and why they are offered on the menu. We truly felt more connected to Mexican cuisine after eating here.
Hours : 7 days a week from 3-10:30PM
Location: Zona Romantica
4. Tacos – Maria Baja
Maria Baja is hands down the best Seafood Tostaderia in Puerto Vallarta. We could not leave this place out of our Puerto Vallarta Mexico travel guide. They have tacos, tostadas, aguachiles, poke bowls, burritos, delicious desserts. ALL OF IT IS SO GOOD. I think Court and I went here if not every day, almost every other day. Seriously, don't leave Puerto Vallarta without trying it, you won't regret it.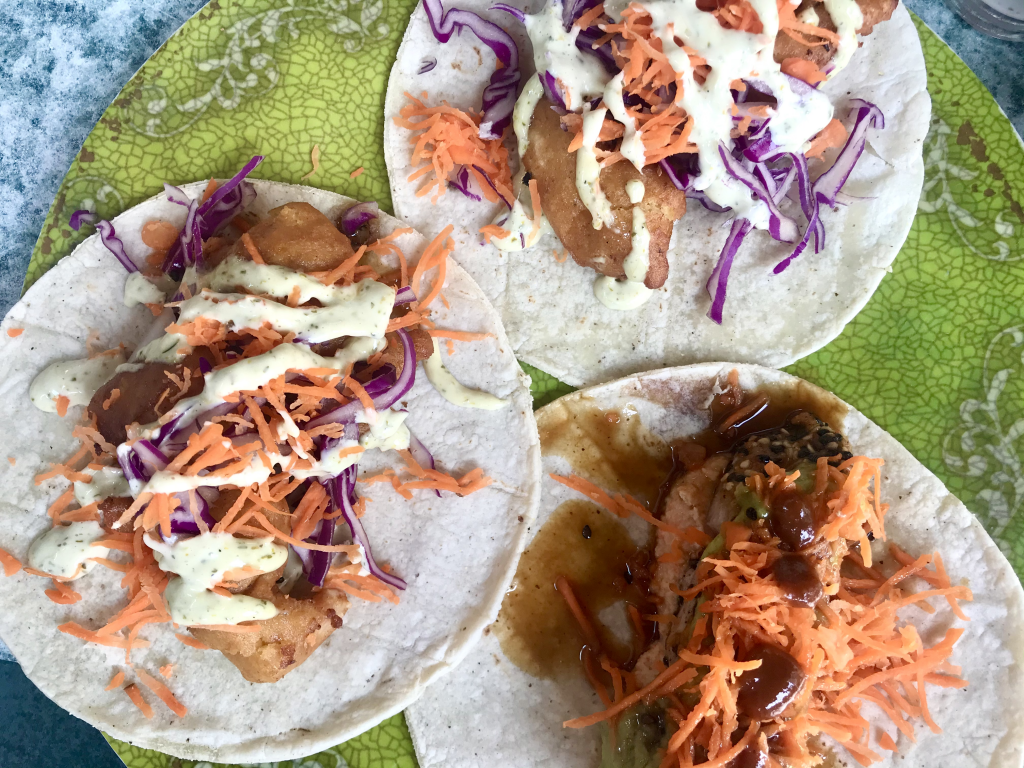 TOP TOURS IN PUERTO VALLARTA
Tanning and eating are two of my favorite hobbies but if you're looking for more there are tours that run daily in Puerto Vallarta to help you see more of this city. There are plenty of water-based options from snorkeling to fishing or ziplining and ATV riding plus food and drink tours! Be aware that there are local options for swimming with and interacting with dolphins do NOT book these tours as these dolphins have been mistreated over the years and there have been countless protests to close these activities to help these animals.
Here are our top picks for tours:
1. Whale Watching
This is probably our favorite part of this Puerto Vallarta Mexico travel guide! Whale watching in Puerto Vallarta is from November- March and if you're lucky enough to be in Puerto Vallarta during whale watching season you have to go! There are several options for tours with different size boats, our personal favorite was the sailboat tour. The sailboat is beautiful and they have a restroom as well as free drinks and snacks. The sailboat is the most environmentally friendly option and it's much more relaxing than the other tours (in our opinion).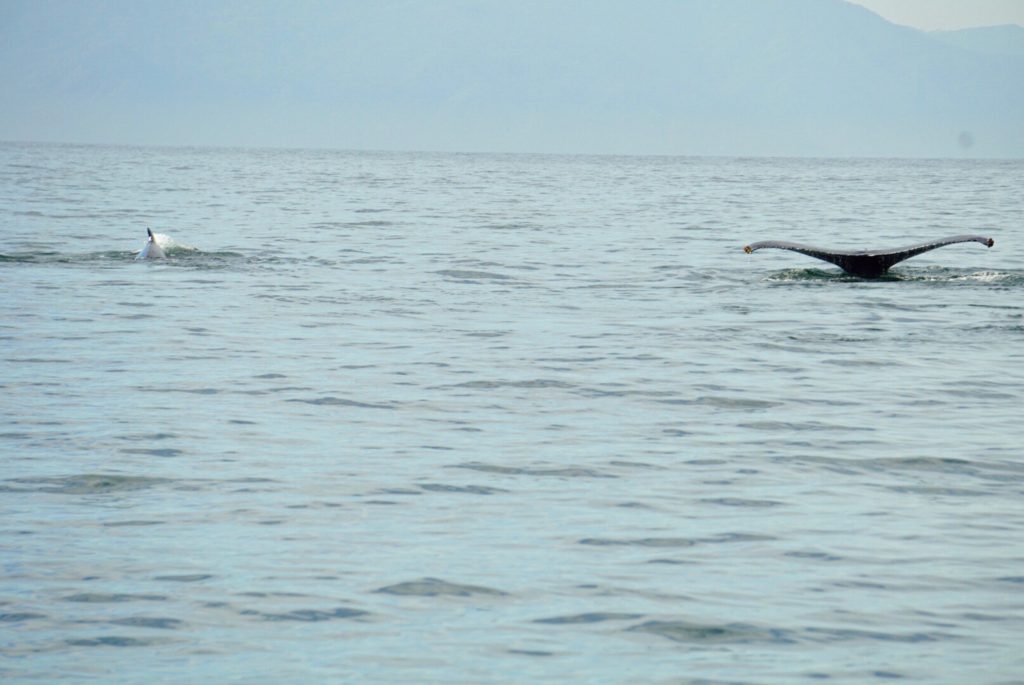 There is a speedboat tour you can take that gets much closer to the whales while they are breaching but you are in direct sun for 2-3 hours, no bathroom and you're crammed on a small boat. The other option is a large catamaran that can fit 40-50 people, it's crowded but does offer bathrooms and free drinks and snacks. This option gives you shade but it won't feel as personal as a smaller tour with fewer people drinking and talking around you. You need to book well ahead online here.
2. Isla Marietas
These islands are away from Puerto Vallarta so you'll have to travel a bit. They are a group of uninhabited islands in Banderas Bay and the famous picturesque hidden beach. Some tours are basic and offer the ride there and back, snacks, drinks, and some time to explore and take pictures on the beach while others have snorkeling, SUPing, or kayaking. Make sure going to the hidden beach is included on the tour you take, some do not physically go to the hidden beach.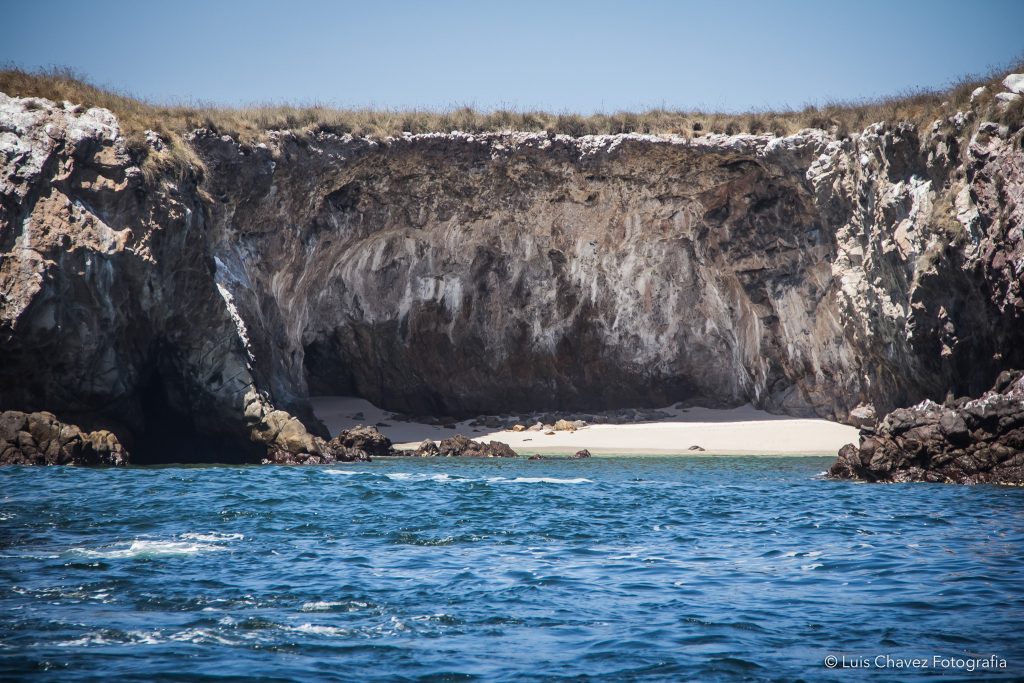 3. Vallarta Food Tours
Like I said, there are so many options for restaurants and street food that it feels overwhelming so why not start your trip with a food tour to help get the best recommendations from local guides. You'll get to stop at 9 different places so you'll definitely get your money's worth!
LGBTQ CULTURE IN PUERTO VALLARTA
Listen, while I think that Puerto Vallarta is a family-friendly vacation spot, I do think that it is truly a gay paradise. We couldn't walk one block without seeing a rainbow flag or a same-sex couple walking down the street holding hands. This is why we couldn't leave this out of our Puerto Vallarta Mexico travel guide. It is amazing to see how locals have embraced this culture making it a fun and safe place to visit if you are LGBTQ! You'll find tons of gay bars in Puerto Vallarta, all with a different vibe. Most of the top LGBTQ spots are located in Zona Romantica. Here are some top picks:
1. Mr. Flamingo
You can't miss Mr. Flamingo, it is on the corner of a busy street in Zona Romantica, it is always jam-packed and the music is loud. It is open during the day and offers a happy hour from 2-7 and doesn't close until 3 am. It's cash only and they offer simple drink options that get the job done.
2. Top Bar PV
A more upscale option for drinks and entertainment. It offers a beautiful view of the ocean, drag show entertainment every night along with some pretty delicious cocktail options. You can also rent chairs at the beach for 500 pesos each for the day and enjoy the Mantamar beach experience where you'll have sushi, a full bar and a DJ. We enjoyed the Top Bar for its awesome drag shows! It doesn't stay open super late, it opens in the morning for breakfast or brunch and it's located in Zona Romantica.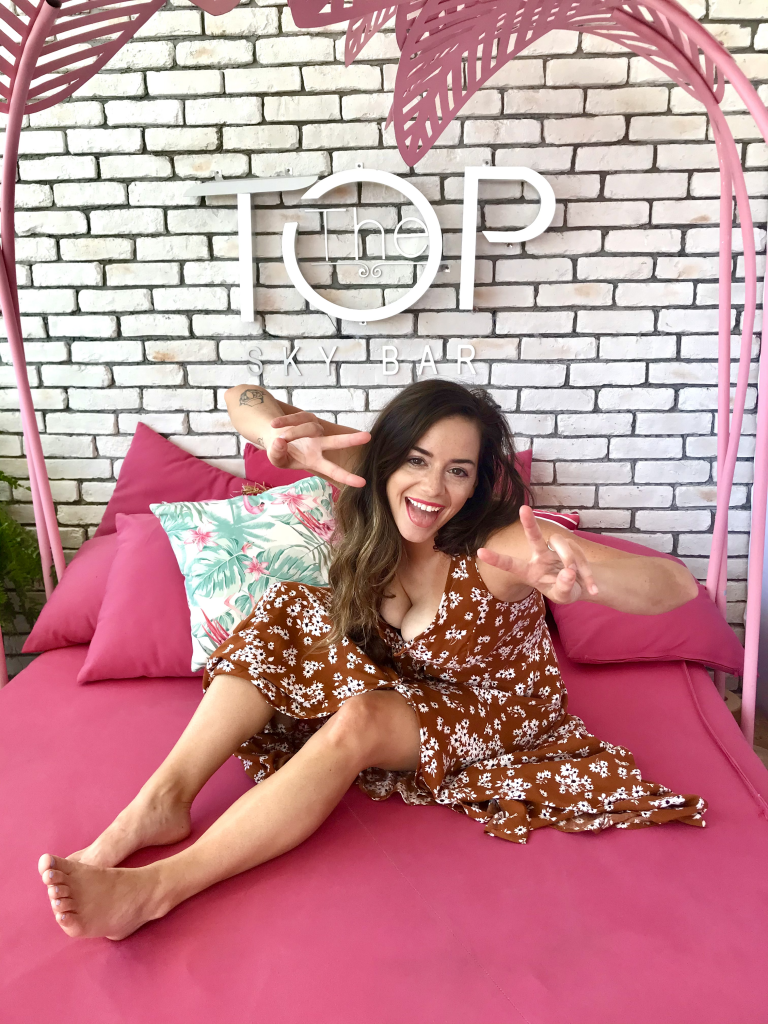 3. Blue Chairs
Blue chairs is located in Zona Romantica one block from the beach. You go into the hotel and take the elevator up to the top floor, or until you can hear the music. The drinks are strong and not great but will get you drunk. They have plenty of seating with a beach view and offer a variety of drag show options (including some naked men options). It is a fun way to spend your evening and a great way to meet other travelers!
Want more details on the perfect gay guide to Puerto Vallarta? Check out my Gay Puerto Vallarta Travel Guide.
IS PUERTO VALLARTA SAFE?
Of course, we can't conclude this Puerto Vallarta Mexico travel guide without addressing the dreaded question "but is it safe?" and yes, it is absolutely safe. Courtney and I both have walked around together and alone during the day and at night without any issues. The streets are well lit and there are always people out walking around. It is also perfectly safe to take public transportation or taxis (although Uber is cheaper).
While it is true that there are some dangerous areas of Mexico, these are located far away from Puerto Vallarta. Mexico is one of the top 15 biggest countries in the world, so take into consideration that not all areas of Mexico are the same when it comes to safety.
Puerto Vallarta is one of the most popular tourist spots in Mexico so safety is taken very seriously here. You'll find police and the military everywhere throughout the city. As women, we didn't even get catcalled which almost never happens. The locals are very respectful of tourists and usually offer a smile and a "hola" while passing you by.
Of course just like any travel destination be sure to follow all the same common sense protocols. For example, leave your passport in your room, don't carry excess cash on you, stick to well-lit areas at night, and keep a low profile while riding the public bus (put away expensive things).
In regards to drinking, be sure to be cautious of your drinks, being drugged can happen anywhere and most bars in Puerto Vallarta are very busy. Don't overdo it and walk home alone at night. Be sure to stay away from drugs (people will try to sell them to you on the streets). If you are caught with drugs or doing drugs by the police you can end up in Mexican jail OR you'll have to pay the local police a lot of money.
Break-Ins to houses or Airbnb's can happen so always be sure to lock and close everything while you're out and sleeping. NEVER open the door to strangers even if they speak perfect English or seem legit.
Always be sure to have travel insurance and be clear on what the policy means before you travel. If you have an emergency you can call 911.
Make Sure You're Covered During Your Trip
Thinking about medical costs or unforeseen things like lost luggage or travel delays while on the road is always concerning. Even if you have medical insurance at home it might not always cover you abroad which is why companies like SafetyWing exist. We started using travel insurance when traveling long term and it was well worth the money. Whether you are traveling short-term, long term, or if you are a digital nomad it is always important to make sure you are covered in some capacity. SafetyWing is our go to travel insurance. It is affordable and has all the coverage we need for travel and medical.
PUERTO VALLARTA MEXICO TRAVEL GUIDE: WHAT TO PACK
OKAYYYYY so are you excited to book your trip to Puerto Vallarta yet? Let's close out this Puerto Vallarta Mexico travel guide with what to pack! We honestly feel like Puerto Vallarta is a second home to us so we really hope this guide was helpful for you. Lastly, to help you pack for Puerto Vallarta here are some packing tips, and check out our Mexico Packing List.
Biodegradable sunscreen – It's expensive here and save the turtles
No products found. – You'll need a few since you will be at the beach!
No products found.
Steripen – Drink safe and clean water
Reusable water bottle – Again, save the turtles
Teva – Great for playing in the water.
Chaco – Cute leather style for dressy outfits
Sale
Tennis shoes – If you plan to walk around Puerto Vallarta or go on any hikes you will want to bring some comfortable shoes.
Tank tops – It's hot, hot, hot. Bring some tanks!
Dresses – Dresses are great for at night when you go out since it is hot and you can use them as a cover-up for the beach.
T-shirts – Girlllll, cause like, why not?
Honestly, packing for Puerto Vallarta is pretty simple. Dry season is from November to May and it's quite warm. You'll find local shops with handmade dresses, shirts, and pants if you want to add to your wardrobe! If you go during rainy season you'll have heavy showers in the afternoon so bring a rain jacket and sandals you don't mind getting wet.
Like this Puerto Vallarta Mexico Travel Guide article? Read more about Mexico Below
Like this Puerto Vallarta Mexico Travel Guide article? Pin it for Later!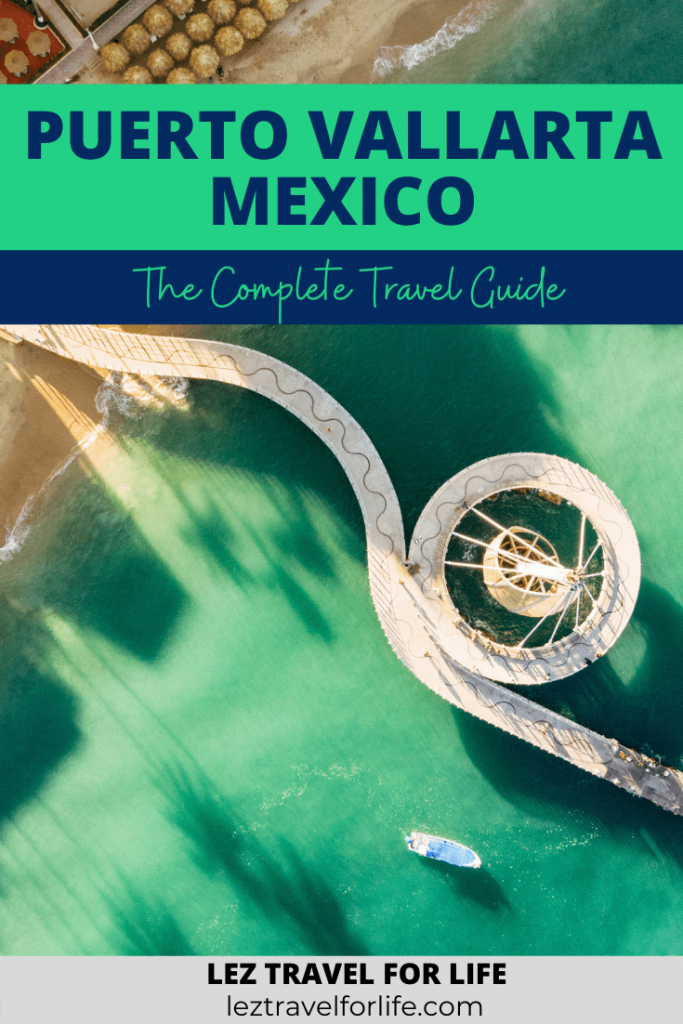 I'm Sam and I may only be 5'3 but I'm feisty and enjoy a lot of sarcastic humor. I'm addicted to travel as well as feeding and advocating for street animals in every country I travel to. I'm married to Courtney and we're super gay or whatevaaaa. We're both extroverts and love meeting new people everywhere we travel. We are in love with Latin American culture but can't wait to explore more of the world!