This article may contain affiliate/compensated links. For full information, please see our disclaimer here.
Reminder: Make sure to check the country's covid guidelines before travel.
Cancun has the perfect combination of things to do, including stunning beaches, LGBTQ-friendly nightlife, and some of the best authentic Mexican street food in the area. The beach town has turned into a tourist hotspot over the years and is especially popular among American travelers. This Cancun Mexico Travel Itinerary will give you everything you need to know so you can have fun in the sun in Mexico!

Come here if you want to catch a glimpse of all that Yucatan has to offer and enjoy either a relaxing week by the beach or explore some of Cancun's best bars, clubs, and beach parties. This Cancun travel itinerary is a fantastic fit for anyone considering visiting Mexico soon and will help you plan the perfect trip.
HOW TO GET TO CANCUN MEXICO
Cancun has a large international airport with frequent connections to major cities in the US and Europe, as well as regional flights to other places in Mexico. You might have a connecting flight to Mexico City on your way to Cancun, although as the second largest airport in the country, the selection of routes and airlines is decent.
If you're staying in a nicer hotel, you'll most likely have an airport pickup service which includes a private driver who will pick you up at the terminal on arrival. Budget travelers might have to make their own way which should be easily manageable.
The airport in Cancun is located only around 15 to 30 minutes from the center of town, depending on where you are staying. Taxis are affordable if you manage to navigate the scams at the arrivals hall. Just make sure to only use taxis with a fare meter and pre-book online or try Uber if you're feeling unsure.
There are also public buses available if you're looking to save money. Try a private shuttle if you want to have a stress-free experience and a driver waiting for you at the airport. Book here!
GETTING AROUND CANCUN
Most tourists get around Cancun either by taxi, Colectivo, or bus. In most places in Mexico, you can use the popular colectivos, which are local minivans that operate like a combination of buses and taxis.
They usually cost less than 1$ depending on how far you are going but might not be the most comfortable form of transport. Expect cramped seats and no air conditioning, but the price is absolutely fantastic. Colectivos are a great choice if you're trying to explore nearby towns like Playa del Carmen, Tulum, or cenotes on a day trip without having to spend too much money.
If you are looking for a detailed article on how to spend 14 days in the Yucatan Peninsula I've got you covered.
Buses in Cancun tend to be cheap and a great choice for shorter trips within the town. If you're staying in the hotel zone and along the popular Boulevard Kukulcán, the public bus system will be the best way to get to the downtown area of Cancun on a budget. The buses cost just 10 pesos (around 0.50$) and can be flagged down at one of the many bus stops. Just make sure to have pesos on hand as the drivers rarely accept dollars.
If you're willing to spend more during your time in Cancun, you should consider taking a taxi or Uber. This will be the most comfortable and reliable way of getting around and is especially recommended if you're trying to get home late at night. Fares aren't necessarily expensive, but scams are common, so only use official taxis and make sure the driver turns on the meter. Uber is also popular in Cancun and can be a great alternative to taxis.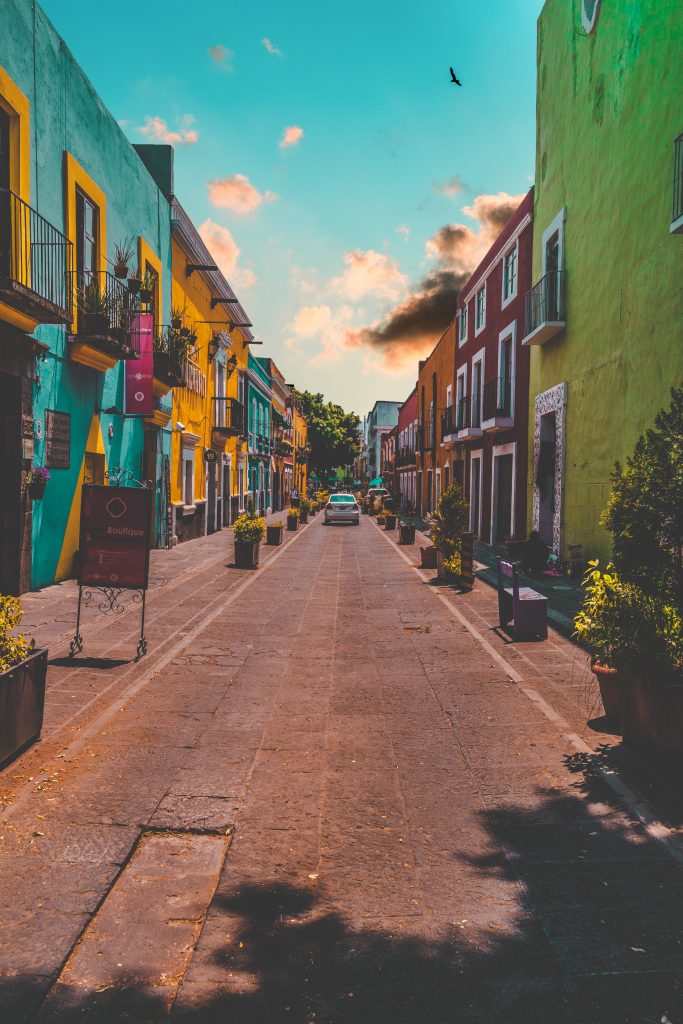 WHERE TO STAY IN CANCUN MEXICO
Cancun is split into two parts; the expensive hotel zone, which is located on a long peninsula, and the rustic "El Centro," which is located downtown, where most of the locals live. You can find great hotels in both although your experience will be very different depending on where you stay.
If you're traveling on a budget, you might want to consider picking a hotel downtown. This means you'll be slightly further away from the beach, but prices will be so much lower.
The hotel zone is perfect if you're looking for a luxury stay close to the beach. This is where you'll find a lot of resorts and restaurants catered to tourists.
Here are a few hotels to consider:
Secrets the Vine: Luxury, adults-only resort located in the Hotel Zone of Cancun. Definitely a more romantic and upscale choice with a high-end restaurant and activities such as wine tastings and couples massages.
Grand Oasis: Beautiful adults-only and gay-friendly resort hotel that is home to one of Cancun's longest pools. Beachfront location with exciting events like foam parties, burlesque shows, and even an in-house private nightclub.
Eco Hotel El Rey del Caribe: Mid-priced eco-hotel with a lush garden and calm atmosphere located in El Centro close to lots of restaurants and gay bars.
Mayan Monkey Hostel: Budget-friendly hostel with ocean views and a spacious rooftop terrace. Both private and dorm rooms are available.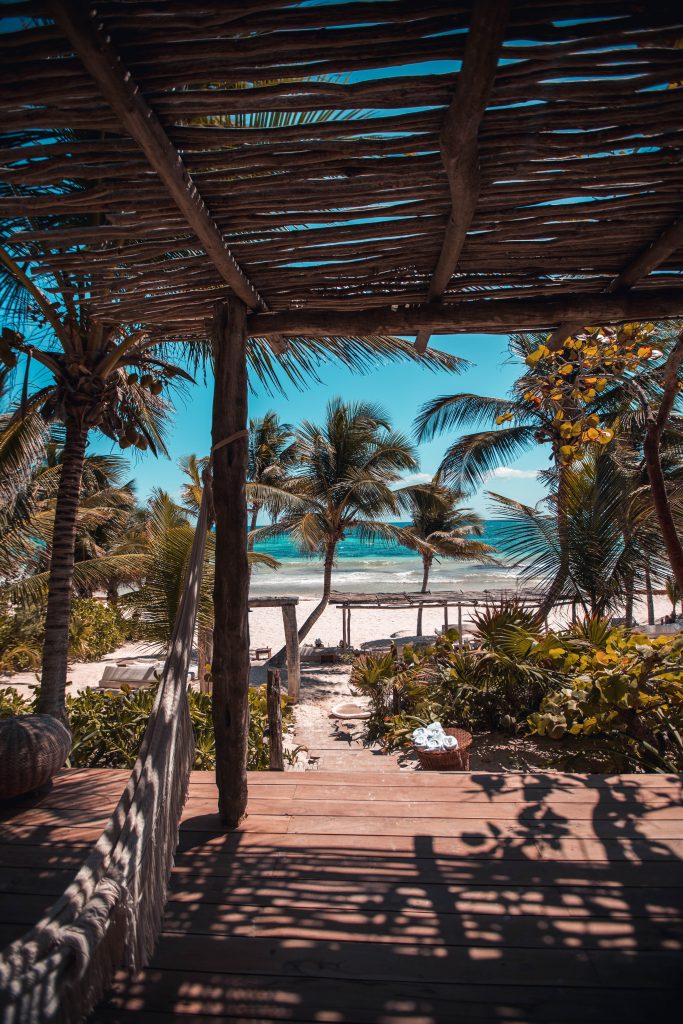 CANCUN MEXICO TRAVEL ITINERARY: THINGS TO DO
Cancun has a lot of things to see and do, especially if you go on a few day trips along the Mexican coastline. Of course, this area is very popular for adventure sports, and you can try activities like zip-lining, jet skiing, or scuba diving.
More relaxed things to add to your Cancun travel itinerary include trying some of the best street food in Mexico, spending time by the beach, or visiting some of the historical Mayan ruins in the area.
Go on a snorkeling tour
The ocean in Cancun is crystal-clear and ideal for snorkeling. Some of the best coral reefs and underwater life can be seen just off the coast of Cancun, so booking a snorkeling tour is highly recommended.
Prices start at around $30 per person, and you'll usually have lunch included. The Underwater Museum, which is a collection of submerged statues, is one of the most exciting places to snorkel, so make sure to add it to your Cancun travel itinerary when visiting Mexico. Book here for a well-organized tour that will eliminate any unnecessary stress.
Visit Chichen Itza
No trip to Cancun is complete without seeing Chichen Itza. This impressive Mayan ruin is one of the new world wonders and dates back to 400 AD. You can either book a tour which will take you to the ancient city in a large bus, or you could get a rental car and go by yourself.
Since most tour buses arrive at the same time, just before lunch, the site can be very crowded so keep that in mind before you book. Try this tour to have everything organized for you!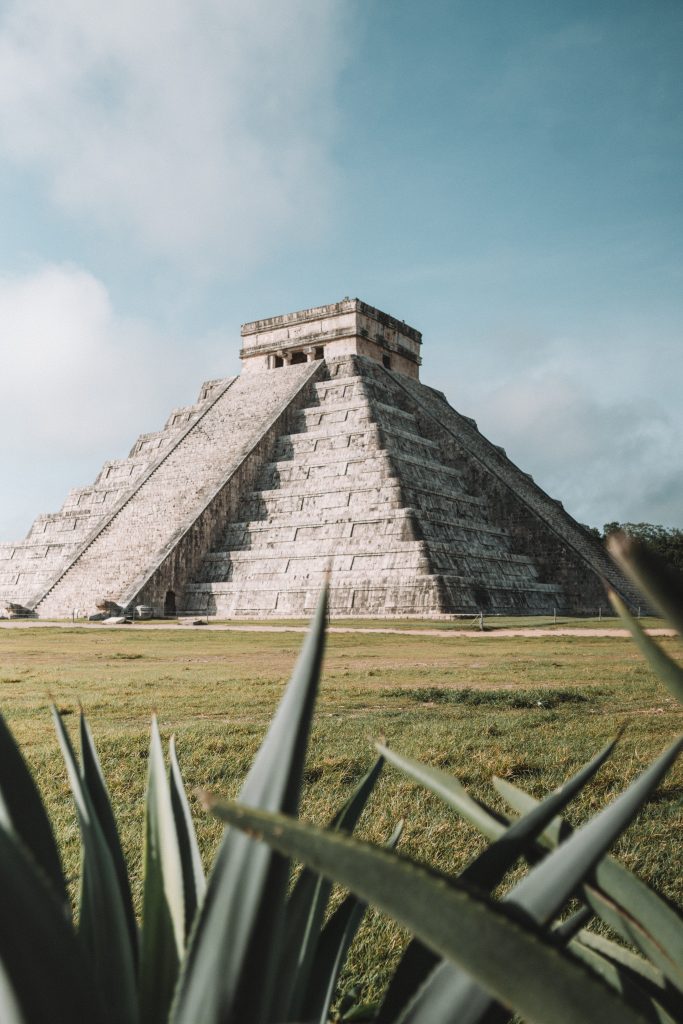 Explore the best cenotes
Mexico has unique natural formations called cenotes. These are the little hidden gems in Cancun. These natural pools are formed in limestone caves and are known for their beautiful blue water and cliff jumping opportunities. Some cenotes are open-air, while others are hidden away in cave systems.
There are dozens to choose from in the area around Cancun, and you can easily reach them via Colectivo or taxi. Some of the best include the Cenote Mojarras, Cenote Verde Lucero and Cenote La Noria. Take a full-day tour and explore the ruins and Cenotes all with a guided tour. We love having a guided tour as it includes information on the ruins, food, and transportation!
Visit Isla Mujeres
If you thought the beaches in Cancun were pristine, you'll be absolutely blown away by the beauty of Isla Mujeres. This small island lies a 20-minute ferry ride from Cancun and is a must-do if you're planning your Mexico travel itinerary.
Spend the day snorkeling or relaxing in one of the many beach clubs or explore some of the historic Mayan ruins on the island. If you don't want to take a ferry and would rather have a guided tour with food included book this tour!
Maya Museum & San Miguelito Ruins
If you want to learn more about Mexico's fascinating history, you need to visit the Maya Museum and the San Miguelito Ruins. Located in the Hotel Zone in Cancun, there is no need to go on a day trip to visit this archeological site. Tickets are just $5 per person, so there is no excuse not to go during your time in Cancun.
Go on a day trip to Tulum
If you have a few days to spare during your time in Mexico and aren't sure what else to add to your Cancun itinerary, you should consider going on a day trip to Tulum. Also, if you want ot know more about Tulum we have a detailed Tulum Mexico Travel Itinerary that will answer all your questions.
This beach town is located around two hours south of Cancun and is often considered more authentic and less touristy. Visit the iconic Tulum ruins and explore some of the beautiful palm-tree-lined beaches that this town has to offer.
Kayak on the Nichupte Lagoon
Nichupte is a large lagoon that separates the Hotel Zone in Cancun from the center of town. This unique ecosystem is very peaceful and the perfect place to kayak or try paddleboarding. You can either book guided tours or explore the lagoon by yourself after renting kayaks somewhere along the Hotel Zone.
CANCUN MEXICO TRAVEL ITINERARY: WHERE TO EAT
Here are some of the best places to eat in Cancun suitable for all budgets:
Lorenzo's: Luxurious but authentic restaurant with beautiful ocean views. The seafood is highly recommended, but vegetarian options are also available.
Hacienda El Mortero: Authentic Mexican food with live music and a romantic setting. Book in advance as this place gets very busy.
Gory Tacos: Delicious street food restaurant with affordable prices located in the center of Cancun
CANCUN MEXICO TRAVEL ITINERARY: NIGHT LIFE
Cancun is known for its nightlife and attracts millions of tourists every year. You can choose between high-end clubs, authentic Mexican bars, and vibrant beach parties.
While the Hotel Zone of Cancun has a good selection of tourist bars and clubs, the real gems lie in "El Centro," the heart of Cancun. This is where you'll find the best gay bars and clubs and the majority of Cancun's LGBTQ scene. In the past ten years, more and more gay venues have appeared in Cancun, and the town has long since become a favorite among LGBTQ travelers.
Here are some of the best gay bars and clubs in Cancun:
11:11 Club
This is one of the most popular clubs in Cancun and a great place to dance the night away. Expect loud electronic music, go-go dancers, and late nights. The line at 11:11 tends to be very long, so arrive early if you want to avoid waiting.
Laser Hot Bar
This iconic bar hosts regular drag shows and has become infamous in Cancun. The atmosphere is welcoming, and it's a great choice if you want to have a fun night out without having to commit to going to a club.
CANCUN MEXICO TRAVEL ITINERARY: WHAT TO PACK
The weather in Cancun is hot and humid year-round, so pack light clothing and lots of bathing suits. You'll be spending a lot of time by the beach, so don't forget to add sunscreen, sandals/flip-flops, and sunglasses to your packing list. Even though Cancun has a tropical climate, you'll most likely be encountering very harsh air conditioning during your time in Mexico, so this travel itinerary recommends you should take a light jacket with you to keep you warm on the flight or any bus rides. Check out our Mexico Packing Guide for everything you need to pack for your trip!
If you're planning on doing activities like visiting cenotes or visiting ancient ruins, don't forget to pack insect repellent for your trip to Cancun. Outside of town, you'll most likely encounter mosquitos and other bugs, so it's better to be prepared.
Most snorkeling or boat tours will provide equipment, so there is no real need to pack masks or snorkels.
ONE WEEK IN CANCUN MEXICO TRAVEL ITINERARY
If you're planning your trip to Mexico, this one-week travel itinerary for Cancun will be the perfect mix of activities.
Day 1 – Relax and explore Cancun
You'll be tired from your flight so take this first day to relax by the beach and explore the center of Cancun. Walk along the Hotel Zone and enjoy drinks in one of the many bars in the evening.
Day 2 – Visit Chichen Itza
After a quiet first day, dive right in and head to Chichen Itza, the most famous Mayan ruins in the world. In the evening, go out for authentic Mexican street food before heading to a bar or club downtown.
Day 3 – Beach Day
Spend the morning relaxing by the beach or your hotel pool before heading out for lunch. In the afternoon, rent a kayak and explore the Nichupte Lagoon.
Day 4 – Isla Mujeres
Hop on a ferry and head to Isla Mujeres. Either spend the day at a beach club or rent a bike and discover hidden beaches and historic ruins.
Day 5 – Snorkeling Tour
Book a half-day snorkeling tour which will take you to all the best underwater locations. Get some rest at your hotel in the afternoon and then end the night at a fun beach party.
Day 6 – Cenotes and Tulum
Get on a colectivo taxi and head to Tulum, where you'll visit the beachfront ruins and have a delicious lunch in one of the many hip restaurants. In the afternoon, swim at a cenote and get back to Cancun just in time for dinner.
Day 7 – Maya Museum
Spend your last day in Cancun shopping for souvenirs and going for a swim at the beach. In the afternoon, visit the Maya Museum and go out for cocktails in Cancun before ending your Mexico travel itinerary.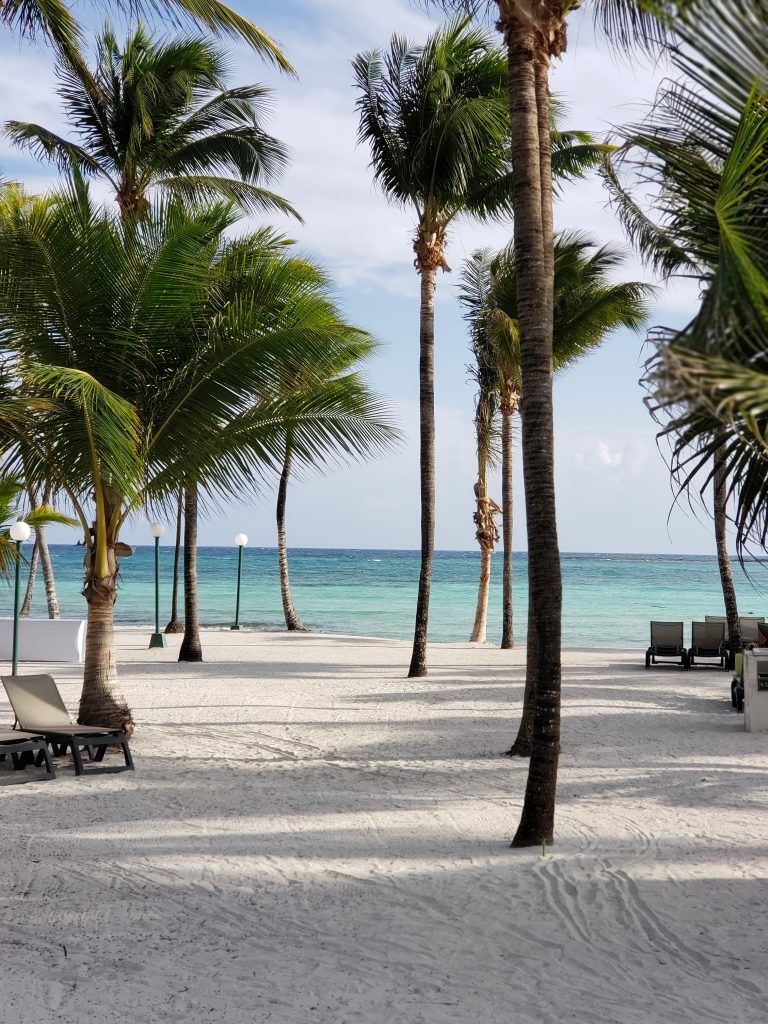 Like this Cancun Mexico Travel Itinerary post? Check out our other related articles!
Like this Cancun Mexico Travel Itinerary Post? Pin it for later!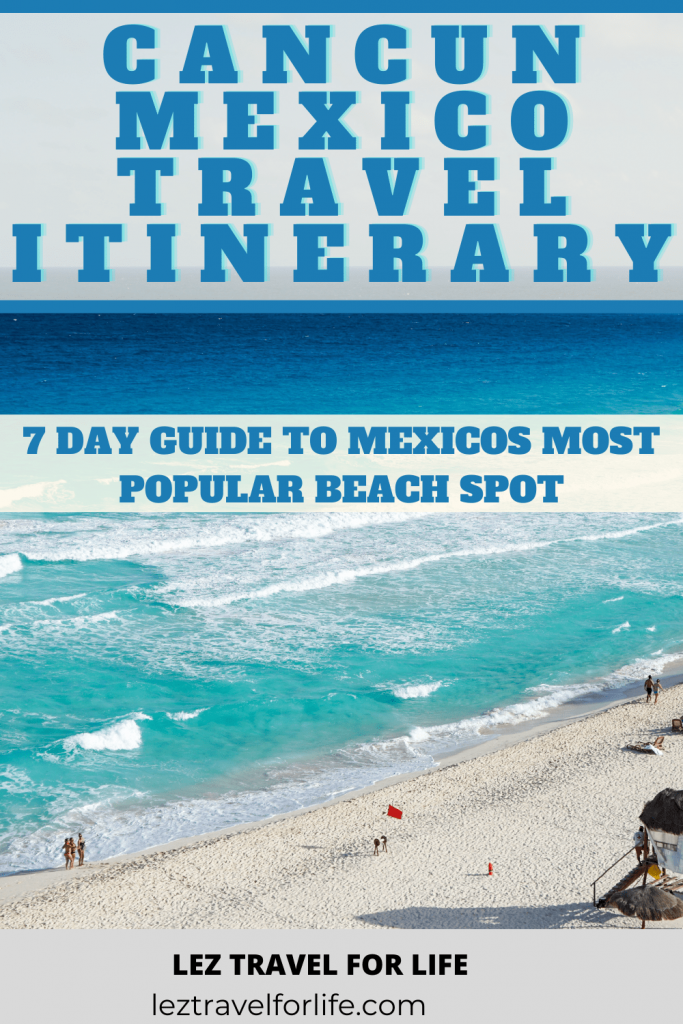 I'm Sam and I may only be 5'3 but I'm feisty and enjoy a lot of sarcastic humor. I'm addicted to travel as well as feeding and advocating for street animals in every country I travel to. I'm married to Courtney and we're super gay or whatevaaaa. We're both extroverts and love meeting new people everywhere we travel. We are in love with Latin American culture but can't wait to explore more of the world!