This article may contain affiliate/compensated links. For full information, please see our disclaimer here.
Reminder: Make sure to check the country's covid guidelines before travel.
With so many new bars opening up in downtown St. Petersburg, FL, it can be challenging to know what the best bars are to visit. Thankfully, after spending some time in the city, we've narrowed down a list of some of the best St. Petersburg bars. Whether you're visiting for a week or a weekend, these are the best downtown St Pete Bars you have to check out.
Whether you're looking for a themed speakeasy, fancy cocktails, drinks with a view, or live music, we've got you covered.
Let's dive into some of the best downtown St. Pete bars that are worth a spot on your itinerary.
DOWNTOWN ST PETE BARS
The Saint
The Saint is a speakeasy that you need a password to get into. You can find the password on their website, but it changes each week. The owner of the Saint also runs the popular gay bar, Cocktail, but this one is a religious-themed bar.
You'll need to go through a confessional to enter the bar, and a priest or nun will lead you to your seat. While the outside may not look like much, the inside of the bar looks like an old church, with low, red mood lighting that highlights all the religious decorations.
Even the drinks are themed. You can choose from one of the Seven Deadly Sins for your drinks. While Lust is one of the best drinks, Gluttony and Sloth are also great options. This bar also has different finger foods.
While you're waiting for your drinks, you can confess your worst sin on one of their confessional slips at each table. You can then put your paper into the confessional box. Each week, the staff goes through them and pins the best ones up on the confessional wall for everyone to read. Before you leave, make sure that you check out the confessional wall to see what awful things people wrote down.
Keep in mind that this is a smaller bar, and they don't accept reservations. If you're going to go on the weekend, be prepared for a little bit of a wait. You may have more luck going on a weeknight.
Mandarin Hide
Mandarin Hide is in downtown St Pete, and you'll find some of the most knowledgeable bartenders here. They can handle any challenge or drink request that you throw at them. The bar has an unpretentious and relaxing vibe, but it's also a stylish bar to visit. While it's not a speakeasy, it does feel like one.
The drinks on their menu are also creative and extensive. While they can always make the classics, you should take advantage of the bartenders' skills and try some of the creative and original cocktails. This bar also has one of the largest spirits collections, with over 450 bottles in their collection. If you're interested in scotch, whiskey, bourbon, or rare spirits, this is the place to visit to try some of them.
While they can make almost any cocktail, their espresso martini is one of the best drinks to try here.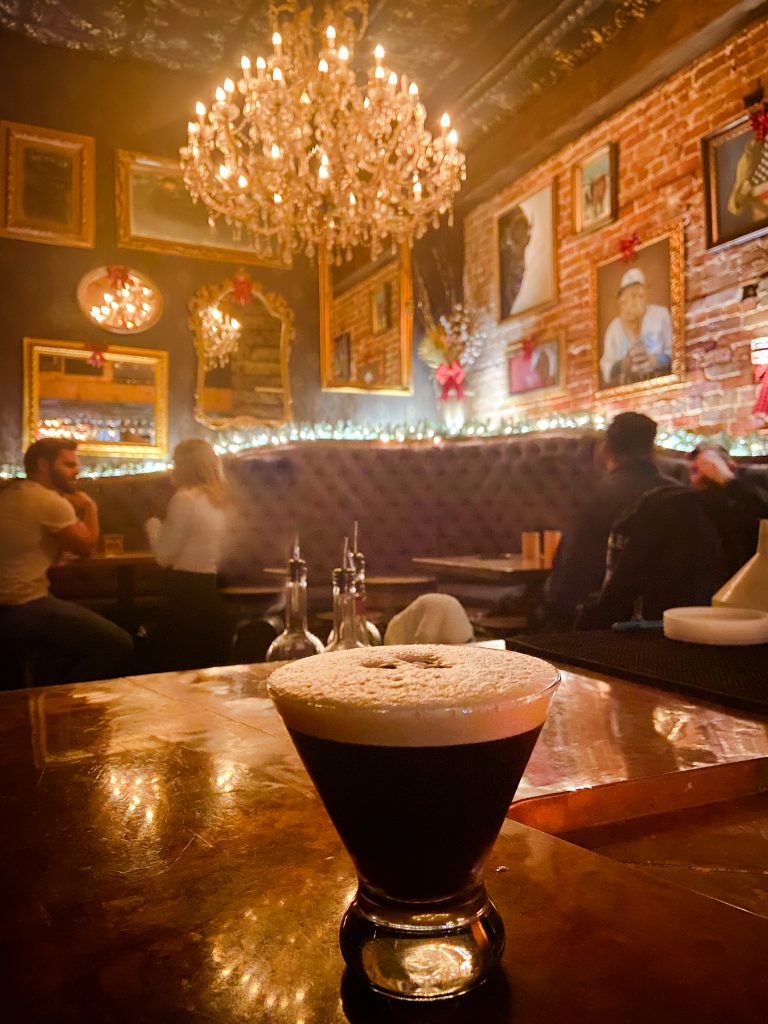 Downtown St Pete Bars: Birchwood Canopy
If you want a beautiful view of the new St. Petersburg Pier and the bay, check out the Birchwood This St. Pete bar is a rooftop lounge on top of the Birchwood Inn. The vibe here is sophisticated and elegant, but it's also comfortable with cushioned seating.
If it's in the middle of the summer, you can beat the heat by reserving a covered canopy or enjoying some air conditioning with a seat at the bar. This rooftop is a great place to have a relaxing date night with your partner or a place to go out and meet new people.
While they have many different signature cocktails, their Frose is one of the best drinks they serve. And if you're looking for a refreshing drink in the middle of the week, you can go on Wednesday and enjoy 50% off on the Frose.
If you get hungry while enjoying the views, you can also order different bar food, like flatbreads, shrimp cocktails, poutine, or more.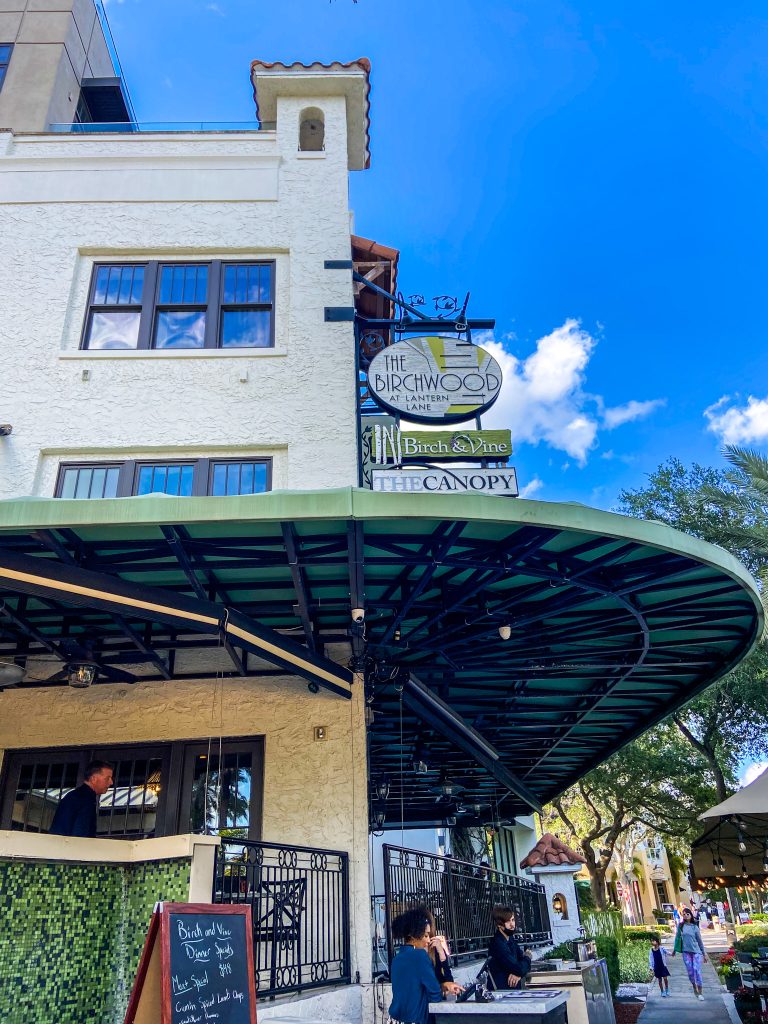 Flute and Dram
For those looking to celebrate a special occasion or milestone with a nice cocktail, head over to Flute and Dram. This is one of the best upscale and chic Downtown St. Pete bars and clubs.
They are most known for their different types of champagne and their international caviar. If caviar doesn't sound appealing, they also have several small plates and tapas available. The staff is also very knowledgeable about their offerings, and they can offer the perfect pairing between your food and drinks.
You can also order champagne flights if you're interested in trying different drinks. These are very popular for people who visit this bar for the first time. When you order a flight, you'll get to choose three two-ounce champagne samples to decide which one you like best!
The Dog Bar
Locals refer to the Dog Bar as the lesbian bar, but it's the perfect bar for anyone who wants to bring their dog and introduce them to some new friends.
Even if you don't have a dog, you can go and enjoy the drinks and watch all the dogs run around and play. If you're new to the city, this is a great place to come and meet new people who love dogs just as much as you do!
The Ale and the Witch
If you're looking for some live music at night, you're most likely to find it at the Ale and the Witch. This bar is tucked into a little plaza, features live music, and supports local artists' artwork. They used local artists to inspire their bar's decor.
The Ale and the Witch offer great craft brews, and they have over thirty different American craft brews on their tap. They feature other brews and a cast each week, so there will be something new to try every time you go back.
The style of the bar feels like an intimate pub, and it's very welcoming, making it a great place for new people to meet friends. If you're hungry, you might need to go somewhere else because they don't offer food, but several restaurants nearby offer great food.
And if you and your dog get sick of the dog bar, you can bring your dog here as well! The dogs are allowed in the large outdoor courtyard, and the bar even provides water bowls so your pet can enjoy a drink too!
Saigon Blonde
A tiki bar that isn't cheezy looking? Saigon Blonde has done it. One of my favorite bars in downtown St. Pete. This tropical themed bar pulls inspiration from both the 1960's and the Vietnam war. They serve up custom cocktails with fun CBD mixtures (if you want). I haven't had a bad drink here. On the weekends it gets packed and the upstairs turns into a nightclub!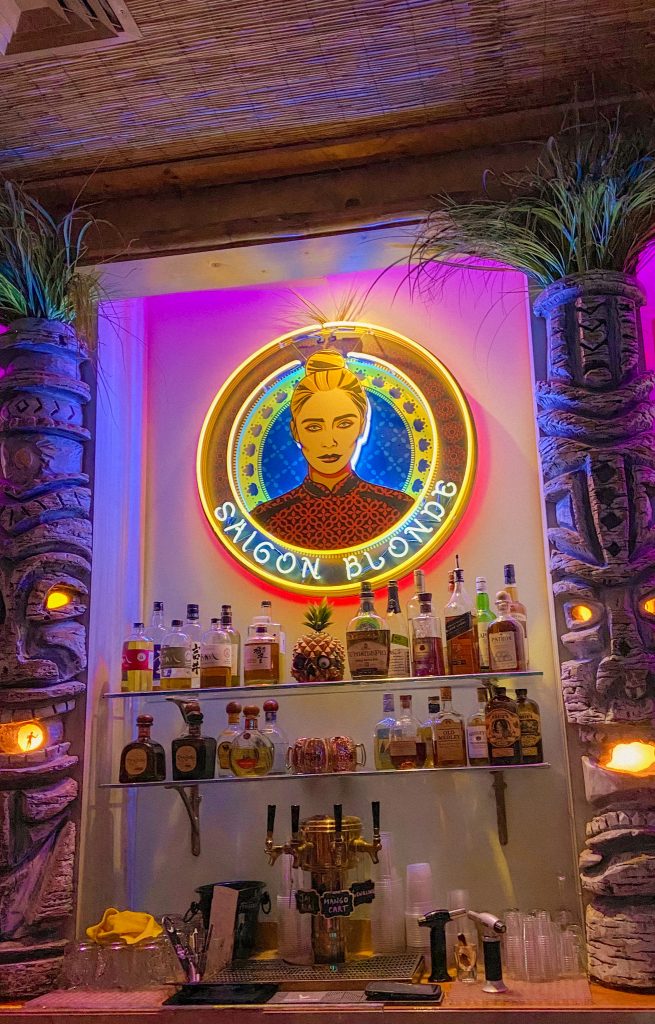 Five Bucks Drinkery
Five bucks has a sports bar vibe to it, located right next to Saigon Blonde. This downtown St Pete bar is a great spot to start your evening, or pregame for a sports game. The prices are low compared to some of the other options I've listed. We love the cucumber vodka drink, and yes, its only $5! On the weekends it gets really packed. Definitely check the place out, grab a drink, and people watch.
Like this Downtown St Pete Bars Article? Check Out Our Other Related Content
Are you traveling to St. Petersburg, FL, and looking for other things to do while hopping between these different St. Pete bars?
Check out our four-day St. Petersburg itinerary of the best things to do while visiting The Sunshine City.
Looking for more St. Pete travel guides? Check these out!
Pin this Downtown St Pete Bars Article for later!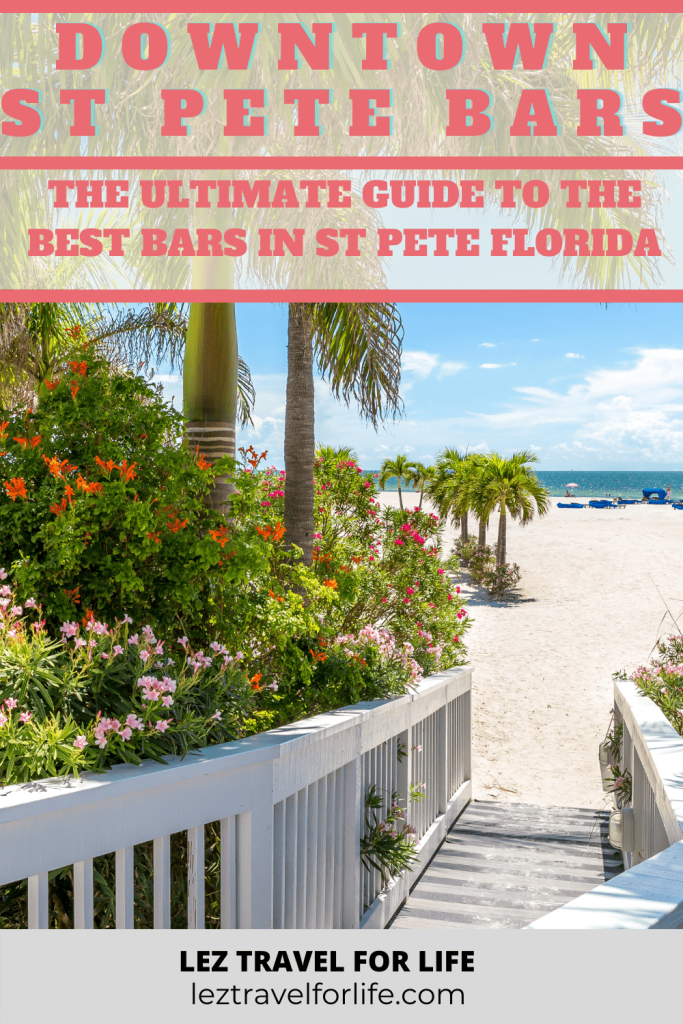 I'm Sam and I may only be 5'3 but I'm feisty and enjoy a lot of sarcastic humor. I'm addicted to travel as well as feeding and advocating for street animals in every country I travel to. I'm married to Courtney and we're super gay or whatevaaaa. We're both extroverts and love meeting new people everywhere we travel. We are in love with Latin American culture but can't wait to explore more of the world!