This article may contain affiliate/compensated links. For full information, please see our disclaimer here.
Reminder: Make sure to check the country's covid guidelines before travel.
Sayulita is a small town located an hour north of the more well-known vacation town Puerto Vallarta where the main international airport is located for travelers coming in and out. Courtney and I spent four months in Puerto Vallarta and fell in love, but we were hearing a lot about this surf town and decided to check it out. This Sayulita travel guide will give you an overview of things to do to fill your itinerary along with recommendations of where to stay.
While Sayulita was busy and quite touristy the people are very invested in being involved in the community which is why you'll find a large expat community here. Not to mention it had its fair share of delicious restaurants and bars to choose from. Don't be fooled, while this is a small town it is no longer a quiet little surf town, it has officially been discovered by travelers all over and it's definitely changing.
When you're in Sayulita you'll get a chance to enjoy the stunning scenery from the colorful streets that are Instagram-worthy. The downtown is small but gives you a chance to enjoy the beach on one side and the green hills in the background. The best part about this town is that it's the perfect place to learn how to surf because the waves are consistently on the smaller end (keep reading to see how surf lessons turned out for Courtney).
Sayulita is the perfect place to visit if you're looking for a lively mix of tourists and locals who are looking to soak up the sun and enjoy a bohemian vibe. You'll find plenty of local markets selling handmade items here as well as beach vendors selling bracelets, dog collars and snacks. We found Sayulita to have a younger crowd looking to surf or enjoy a yoga retreat during the day and enjoy the lively nightlife in the downtown area at night.
We visited during Semana Santa and quite enjoyed the Mexicans enjoying their holiday week as well. We also love how pet-friendly Sayulita was as we just rescued a 10-year-old Yorkie mix, we could literally take him everywhere!
HOW TO GET TO SAYULITA?
In this Sayulita travel guide, we will walk you through all the options for getting to Sayulita. Sayulita is located an hour north of Puerto Vallarta on the Pacific coast of Mexico. If you arrive from the Puerto Vallarta airport you'll leave the state of Jalisco and enter into the state of Nayarit. There are plenty of options for transportation to Sayulita. Uber and a taxi will cost you around $25-40.
We recommend private transport booked here if you aren't interested in planning anything out and just want to hop in an air-conditioned van and get to the beach!
You can also take the bus from Puerto Vallarta which leaves from the Walmart parking lot, or if you are catching the bus from the airport you'll cross over the highway using the pedestrian bridge. The bus line serving Sayulita is COMPOSTELA with white and green buses. Not all buses go to Sayulita so be sure to check. Tickets for the bus cost around $46 Pesos and the journey will take about an hour to 1.5 hours. Buses start departing from 6:00 am to 10:00 pm every 20 minutes.
SAYULITA QUICK INFORMATION
Let's start this Sayulita travel guide by explaining more about the area. To sum Sayulita up, it's a small town listed as a pueblo magico ("magical town") in Mexico. The vibe is bohemian/ surfer/ yoga and there are a lot of foreigners that live here. The town is small enough that you can easily walk wherever you want. It's super pet-friendly and a little more on the expensive side compared to other areas of Mexico (don't worry we will share some cheaper but delicious food options).
Currency: Mexican Peso $1USD = $20 MXN
Electricity socket: Mexico uses the same sockets as in the USA
Visa: Once you arrive you are automatically given a 180-day visa to foreigners who enter Mexico. You will be given an entry card DO NOT lose this as it is your proof of entering the country legally. You will need to present this when you leave.
Airport: Puerto Vallarta International Airport. Located an hour away from Sayulita.
Wifi: The fastest speed you'll find is 5-15 MBPS max in most Airbnbs as one router is typically shared with multiple rooms. Sayulita isn't the best city for remote work but they have created some co-working spaces we used and recommend (we will dive into that shortly).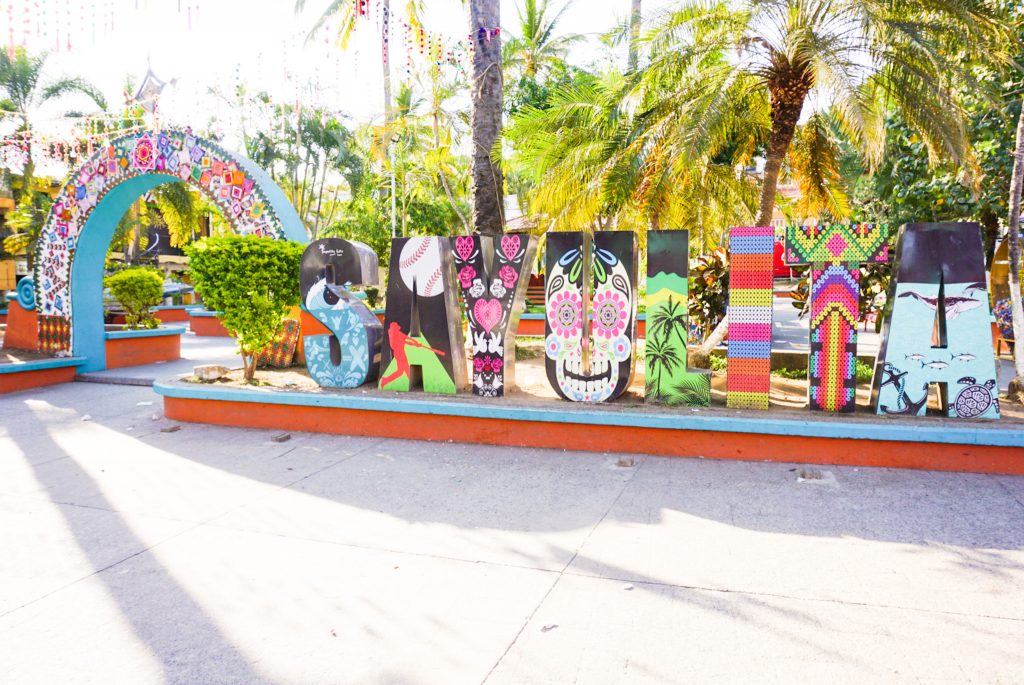 SAYULITA DURING COVID
What covid? Sayulita is VERY lax in terms of COVID. It's very inconsistent as some people do not wear masks, not even employees cooking and serving you food whereas in other establishments in the city it is required to wear masks. We definitely recommend coming to Sayulita at your own risk as the streets and beaches are crowded with tourists not wearing masks. throughout this Sayulita travel guide we will walk through all you need to know about covid procedures.
Where to take a Covid Test in Sayulita
There is one small hospital in Sayulita named Punta de Mita (PDM). This hospital is around 20 minutes away from Sayulita. If you take a taxi don't take the white ones as they charge WAY too much ($30 USD). Sayulita is not an uber town. COVID test prices range depending on the type you're wanting to get. The antibodies test is (19.60 USD) or $400 MXN. The Antigen is $1,250 MXN or ($61 USD). The PCR test is $3,690 MXN ($180 USD).
The best option (the one we have used several times) is the testing site located at the Puerto Vallarta International Airport. They are open 24/7 and you don't need an appointment. The prices are much lower and if you get the Antigen test (rapid test) you'll have your results within 45 minutes.
Remember if you are flying back to the US or Canada from Mexico it is required that you take a Covid test within 72 hours before traveling and show that negative test when checking in at the airport.
WHAT KIND OF TRAVELERS ARE IN SAYULITA
It's always important to know what kind of travelers you'll be surrounded by when visiting a new city to see if it fits your lifestyle and the things you're interested in. Don't get me wrong, even if these things don't tickle your fancy that doesn't mean you should skip Sayulita, in fact, it helped Courtney and I try new things like surfing!
You'll find a lot of businesses and travelers centered around holistic wellness from Yogis, surfing, various healing techniques, massage therapists, etc. There are also a ton of artists and other creatives here. On the beach at sunset you'll find travelers gathered around drum circles or simply sitting and enjoying the sunset, it's definitely easy to make friends here!
Sayulita is also a vacation destination for families who have been visiting for years and years and just keep coming back (you'll see them riding around on golf carts around the city). You'll find a lot of American and Canadian tourists here. Keep reading and we're sure you'll find something that excites you in this Sayulita travel guide.
IS SAYULITA SAFE?
Like I've mentioned, Sayulita is a family-oriented town which means there are families and children running around the beaches and streets every day. It is also a major tourist destination for Mexicans as it is within 5 hours of Guadalajara.
Police are patrolling around the town daily and every night to ensure everyone feels safe. Yes, some of them have big guns and ride around in trucks which may seem intimidating but trust me all is well. The crime rate is low in Sayulita because it's such a small town, so the police really crackdown on drug possession. Going along with the chill vibe you'll find people smoking weed in the streets, which isn't a big deal to the locals and travelers but to the police it is. Don't smoke in public or you may have to face jail time or having to pay off the police. Don't think too much about it and use common sense.
Okay, but getting to the point- we never felt unsafe in Sayulita and our Airbnb was on a dirt road 20 minutes away from the main part of town. The streets are well lit and locals are friendly.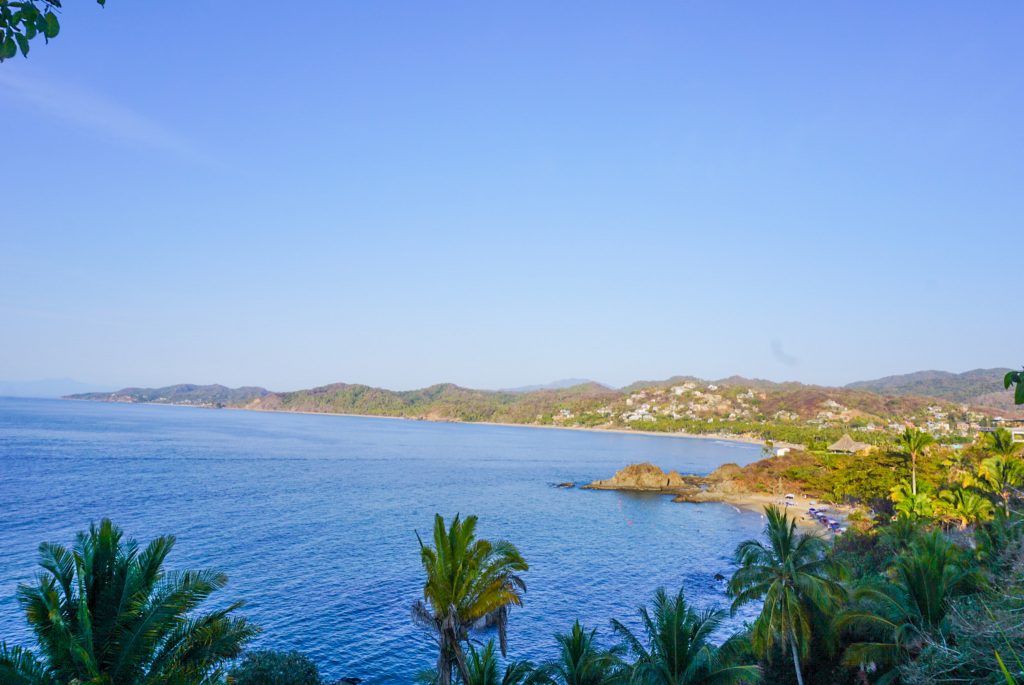 PLANNING YOUR TRIP TO SAYULITA
Sayulita is a busy little town, but the busiest season in Sayulita is from October-June 1. You will have the best weather and this is the time of year most Americans and Canadians are visiting as they are escaping winter in their own countries. Temperature is around 18 degrees celsius (64 F) with rain sometimes. From May to August is considered the shoulder season as there are fewer people and the weather is warmer. It will become more humid! From August to October, it is crazy hot. After 9 am the humidity and the sun beat down on you and zap the energy out of you. A lot of restaurants and accommodations are closed so it can be very difficult to find a place to stay.
Also, know that AC is NOT common in Sayulita so if you are used to having that to escape the heat you're probably going to want to go at a different time.
HOLIDAYS THAT IMPACT SAYULITA
There are a few major Mexican holidays that cause Mexicans to leave their cities like Mexico City or Guadalajara and head to the coast. Keep in mind that during these holidays accommodation prices are going to be double the typical cost so you want to book far in advance.
Dia de Los Muertos (Day of the Dead): This is from Oct 29- November 2. There are parades, parties that go on until 5 am, and huge crowds of locals on the streets.
Christmas/ New Year: From December 20th until January 2nd. This is a popular holiday for not just Mexicans but people from all over the world!
Semana Santa (Holy Week): This is usually in the middle or end of March. It is best to avoid visiting Sayulita at this time and instead visit the cities as they are empty! We went during Semana Santa and were not excited about how expensive things were and how crowded it was.
BUDGET FOR SAYULITA TRAVEL
We plan on keeping it very real in this Sayulita travel guide. Sayulita is VERY popular which means the demand is high for accommodations. Don't be like us and think you can book an affordable place last minute, especially if you are traveling around holiday time (Christmas and Easter). Not to mention all of March is full of spring breakers from the US and Canada as well. You can easily spend $30-50 a day as your travel budget, depending on how much money you have to play around with. Hostels cost around $15-20 to start, Airbnbs start at around $35-40 USD and hotels start at around $45-100+.
We did not have many hotel options that were affordable because most of them had been booked up for the holiday season. Our Airbnb was super simple and a 20-minute walk from the main part of town. We weren't super happy about it as it was just a concrete slab with a very uncomfortable bed. Oh well!
For a food budget, you will find cheap tacos starting at 20 MXN ($1USD) whereas a lot of restaurants will range from $8-15 USD. If you want to book most of your meals like we typically do you can easily save a ton of money as you can go to the local market (they are everywhere) and spend $5-7 for ingredients for your meals per day per person. The best part is all the eggs and produce are local and super delicious.
If you aren't interested in spending a ton of money on tours here you're in luck as there are plenty of free things you can do like hiking around to Mal Paso beach. If you are looking for surf lessons we recommend our friend Cayla. Reach out to her on @caylacrayons on Instagram! She was an excellent instructor and her lesson cost 1000 MXN ($40 USD) and she took her time with us.
The best part is that Courtney caught her first….and last wave as she stepped off the board and hurt her knee. It was the saddest thing ever to see her sitting on the beach all alone watching us in the water! Don't worry though, no one else gets injured as Courtney does, she manages to get injured in the strangest ways as the water she was in was like 2 ft deep max.
As far as transportation- you can literally walk everywhere in the city! If you wanna be fancy you can rent a golf cart starting at $50 USD a day!
Money Exchange and ATMs in Sayulita
You'll find quite a few ATMs in Sayulita but know that they will charge some pretty expensive fees while withdrawing money. If you go to a machine around town they will charge you about $5-7 USD in withdrawal fees. If you go to the larger bank near the Sayulita town entrance that will only charge you $3 USD but this is definitely the less convenient option as this bank is about 15 minutes from town. It's next to Sayulita Fit on Avenida Revolucion.
Debit and Credit Cards
Sayulita does use debit and credit cards in most restaurants but definitely have plenty of cash when you come as small shops, beachfront bars, etc will only take cash. You will also most likely be charged 3% for paying with a credit or debit card.
Do I tip while traveling in Sayulita?
Tipping is not mandatory in Sayulita but it is very much appreciated and encouraged. The Mexican salary is very low and workers are dependent on tops. Some servers and other employees only make $10 for a full workday. We usually tip 15-20 percent but we are coming from the US and this is standard for us. We have met travelers from all over the world who tip very little or none at all based on their own culture.
GYMS IN SAYULITA
There are a couple of options for gyms if you aren't interested in Yoga or running.
Sayulita Fit: is a nice facility with a daily drop-in rate of 200 MXN or a weekly fee of 650 Pesos, for a month it is 1,200 Pesos.
Gym Sayulita: This is a very simple local gym. If you are looking to lift weights and skip out on any cardio machines this is the place to go. Don't be intimidated by how it looks. Locals work out here but you will find tourists here. We worked out here while we visited. When you go in, go upstairs and ask for Jose Luis and pay him your 30 Pesos for a day pass. This is about 15 minutes away from town but it is just as far away as Sayulita Fit. The floors are dirt, the equipment is old and dirty but it all works fine and we were happy to only pay 30 pesos for a day pass!
WHERE TO EAT IN SAYULITA
You guys should know by now that this Sayulita travel guide has to include FOOD! Courtney and I typically cook most of our meals to try and save money. Well to be clear she cooks I just stare at her until it's ready with a look of anticipation. However, I will say that Sayulita has some impressive food options, while it is expensive compared to most parts of Mexico you definitely need to check out some of these options!
Organik: A super healthy option if you like protein smoothies, fresh juices, poke bowls, and other awesome options. We ate here almost every morning for breakfast!
The Garden Bar & Cafe by Selina: This is the co-working space we used literally every day! They have fast wifi and breakfast, lunch, and dinner options. Their options are healthy but a little pricey. They put on events daily from live music to language exchanges to a local artisan market on the weekends. For us, this was the best and (and only) co-working space in the city.
La Rustica: DELICIOUS pasta and pizza, yes we ordered both don't judge us! They also made some bomb cocktails as well! Definitely have to eat here!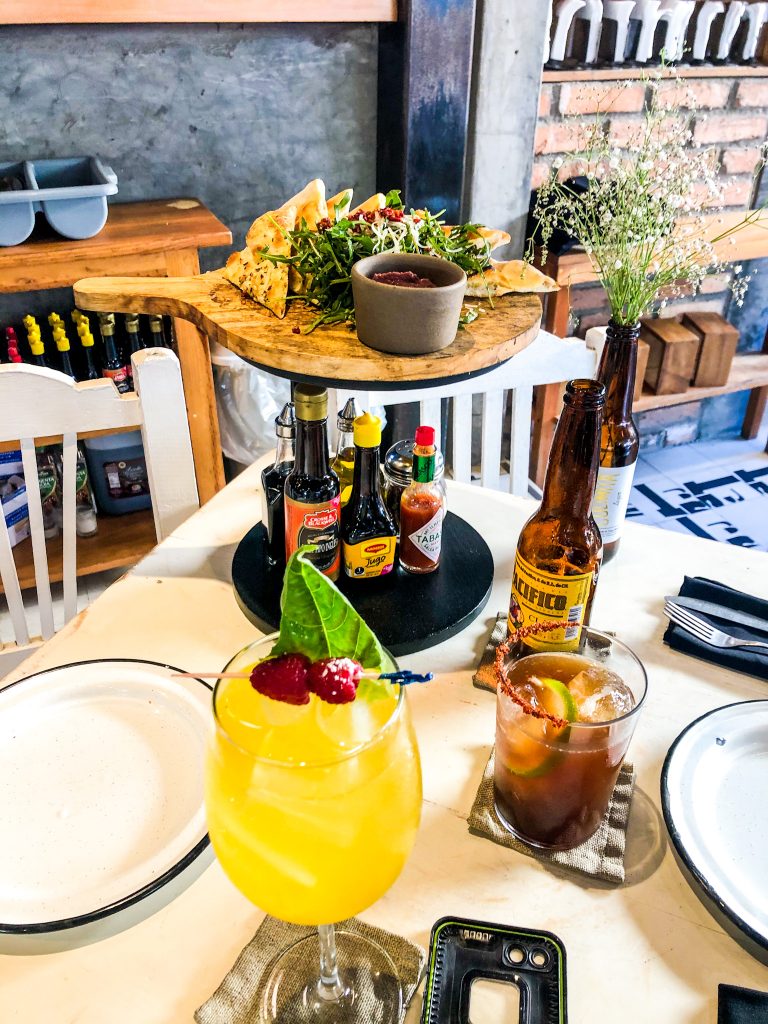 Barracuda: It's located on the busiest and most touristy street in Sayulita (you know the one with the flags where everyone takes pictures) but still has some pretty good food! We tried their tacos as well as a tuna dish that was pretty darn good! Know that if you sit outside you will be approached by a lot of street vendors.
Marys: Marys is the perfect budget option while also serving up some amazing traditional Mexican food and TACOS! Cheap tacos for 20 MXN and some delicious empanadas. The best part is that while the tacos are super cheap they are like 5x the size of other street tacos you'll find anywhere! They do not skip on the portions!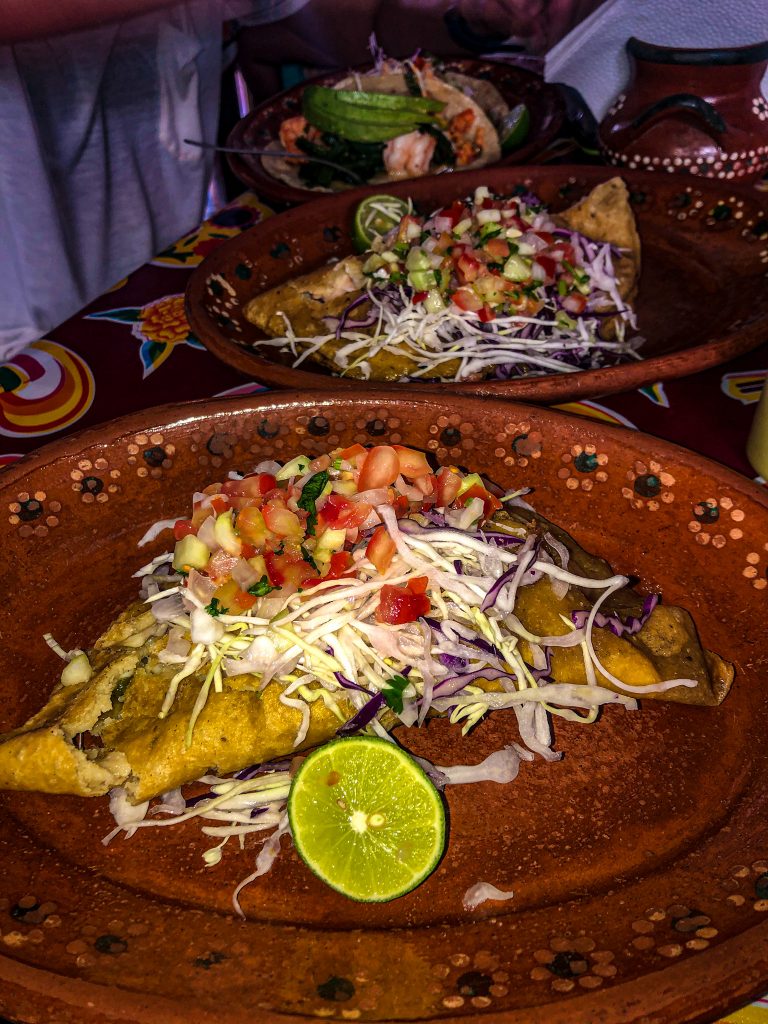 Loro Cafe: Okay I didn't know what to expect going into a Ramen place in Mexico but this was one of my top 3 favorite meals in the city. They have vegetarian options like tofu as well as other proteins you can add.
BEST BEACHES IN SAYULITA
This wouldn't be a Sayulita travel guide without walking you through the top beaches in Sayulita which is especially important if you aren't interested in the crowds on the main beach and you are looking for some peace and quiet! Here are some popular ones Courtney and I explored.
Sayulita Beach:
This is the main beach in the middle of town where you'll find surf lessons, boats, beachfront restaurants and bars, and beach clubs. This is the crowded beach where you'll find umbrellas and chairs you can purchase for the day as well as a lot of vendors selling various things while walking along the beach.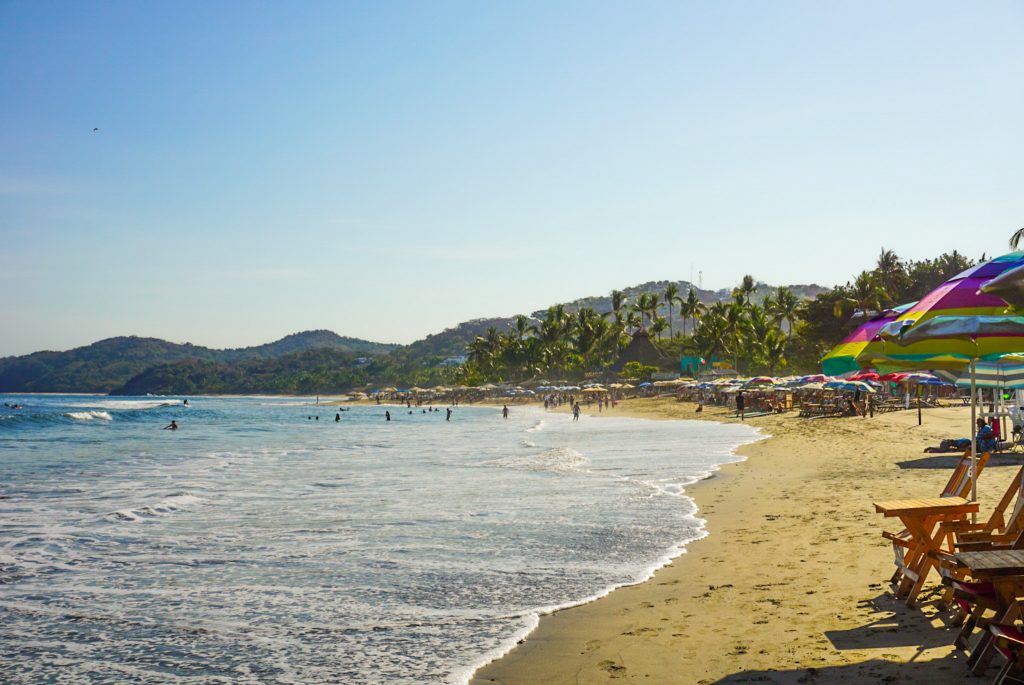 North Sayulita Beach:
If you head right on the main part of the beach you'll get to a much less crowded part of the beach where you won't find chairs or umbrellas or restaurants. We walked along this area and hung out here for a bit to escape the crowd.
Mal Paso Beach:
Even farther North (keep heading right past North Sayulita) is a secluded beach called Mal Paso. You can either get here by walking along the beach for about 30-40 minutes or you can take the trail route from the street. Be careful if you are walking alone as a female- this is not advised. This was our favorite beach as there were only two other people there. There is shade on the back part of the beach, no restrooms, no food or water or chairs so be sure to pack accordingly if you plan to stay the entire day. Know that the current in this area is very strong and you should NOT swim at all. I fell over when the water was only a little above my ankles because the current was so strong.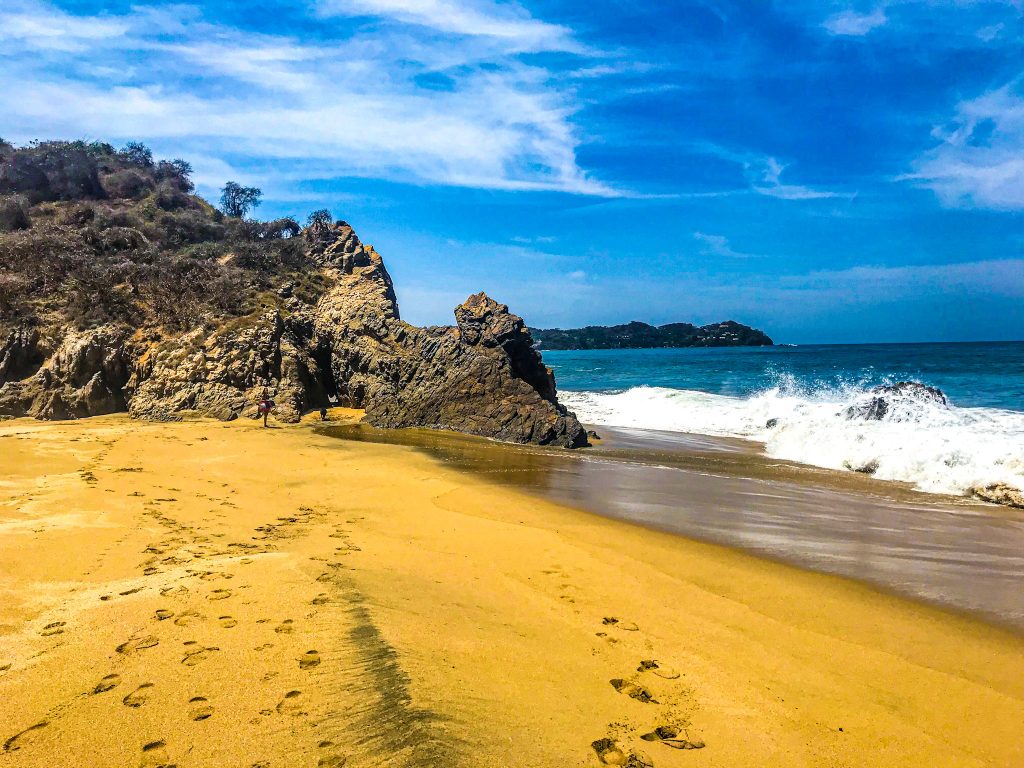 Playa Los Muertos:
Located about 15 minutes from the main part of the town you'll find a smaller beach lined with rocks and villas up on the hills. You can rent umbrellas and chairs here for the day for 400 Pesos ($20 expensive in our opinion). There is a family-run restaurant that will serve you food and drinks right to your chair but be sure to bring enough cash as it's cash only! We chose this beach as a quieter option away from the crowds. There still will be vendors selling things on this beach. The water is much calmer here and you can swim! Not good for surfing though.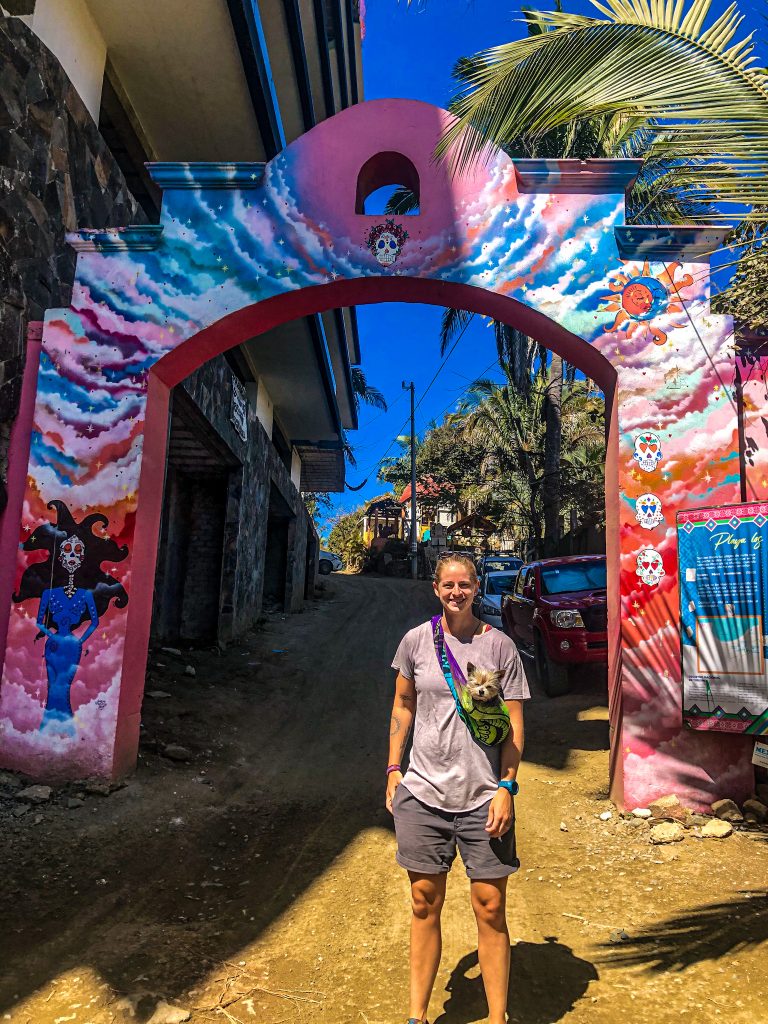 TOP THINGS TO DO IN SAYULITA
Explore Downtown:
This Sayulita travel guide wouldn't be complete without knowing all the awesome stuff there is to do! The downtown of Sayulita is small but it has a lot of personalities. You'll find colorful buildings, stalls selling souvenirs (not great quality and overpriced), grab a drink or try a new restaurant or simply walk around and soak it all in.
Whale Watching:
If you're in the area during whale watching season which is from December to March you 100% must take a tour! You get to see them up close and watch them breach and admire how absolutely beautiful and massive they are! We went whale watching in Puerto Vallarta and it's still one of our favorite activities to date.
Watch the sunset!
While this Sayulita travel guide has a lot of tours and activities this is one of our favorites and it's free! Sayulita has beautiful sunsets, hands down. You can watch the sunset on the main beach or explore Carricitos beach which is a local favorite for sunsets. It is a hike to get there as it's 20-30 minutes from the center of town. I wouldn't recommend swimming in Carricitos as the waves and current can get aggressive.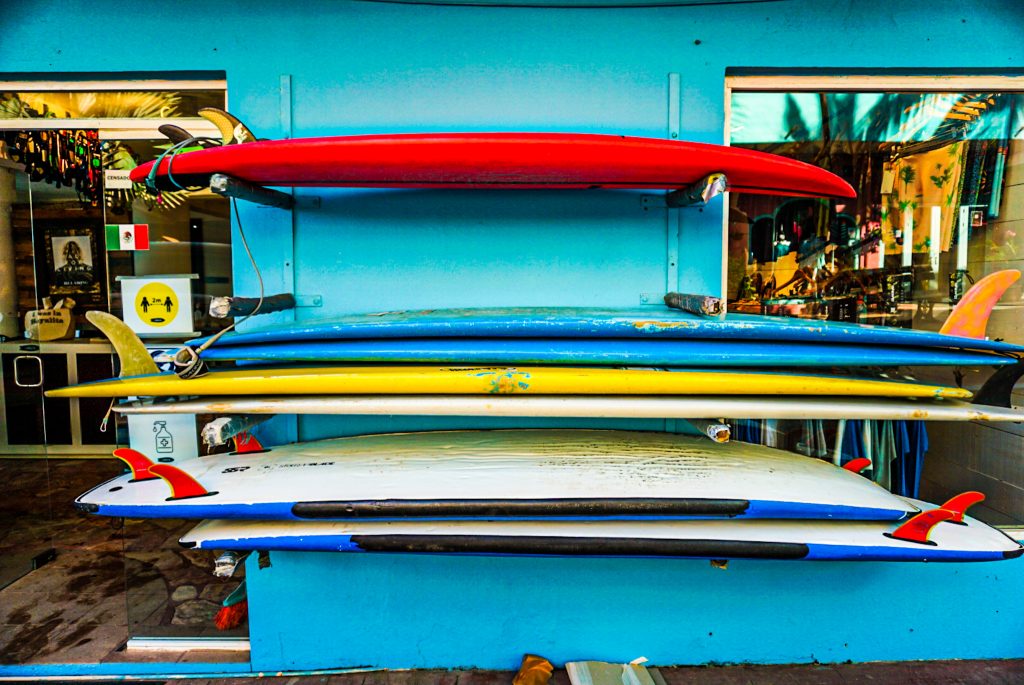 Take surfing lessons:
Check out our friend @caylacrayons on Instagram and shoot her a message about beginner surf lessons. Surfing is one of the best things you can do in Sayulita has the waves are pretty much perfect for surfing year-round! When Courtney and I visited in March the waves were really low and perfect for us. Courtney has some anxiety when it comes to being in the ocean especially when trying something new like surfing but she ended up having a great time catching one wave before hurting herself in 2 feet of water hahaha (she's okay other than her pride). Surfing lessons can get pretty expensive ($35 an hour) but trust me when I say our friend Cayla takes her time and doesn't rush the lesson. We ended up surfing for 2ish hours and it only cost 1000 Pesos each!
Try Mezcal at Cava:
We heard a lot about this small dive bar in Sayulita, and we were especially excited to try one of the 50+ types of Mezcal. They also make tons of different cocktails with mezcal and all have super fresh and local ingredients. This was definitely our favorite place for drinks in Sayulita.
Day trip to San Pancho:
San Pancho is even smaller and way more chill down about 15 minutes away from Sayulita. You can take the bus that leaves every 10 minutes from the Sayulita bus station. Tickets will cost $14 MXN. San Pancho has some nice restaurants and another great beach for surfing. We didn't get a chance to make it out here but we wish we would have saved a couple of extra days to stay at an Airbnb and enjoy this relaxing town.
WHERE TO STAY IN SAYULITA
Hotel Boutique Siete Lunas: This hotel sits on top of a small hill that overlooks the coastline in Sayulita and is absolutely beautiful.
Sayulinda Hotel: A popular spot for the younger crowd, includes a pool with an incredible view, and a bar! This hotel makes it easy to meet other travelers and tag along in adventures together. Also includes the perfect Instagram-worthy pool chair that overlooks the pool and the ocean!
Selina Sayulita: Popular Hostel chain that is two blocks from the beach, has a restaurant that serves breakfast, lunch, dinner, and drinks! Also offers one of the only co-working spots in the city! We came here often, and it was super easy to meet friends!
My Sisters House: A female-only hostel that is only a 4-minute walk from the Sayulita beach, if you are looking to have privacy this is definitely an affordable option!
Puerto Sayulita: A 4 Minute walk to Sayulita beach, offers an incredible rooftop pool, bar, and terrace.
AFTER SAYULITA, WHERE TO NEXT?
Enjoy this Sayulita travel guide? Check out my other articles on travel in Mexico! Comment below on what you think about our Sayulita travel guide. We love to hear your feedback!
Like this Post? Pin it for Later!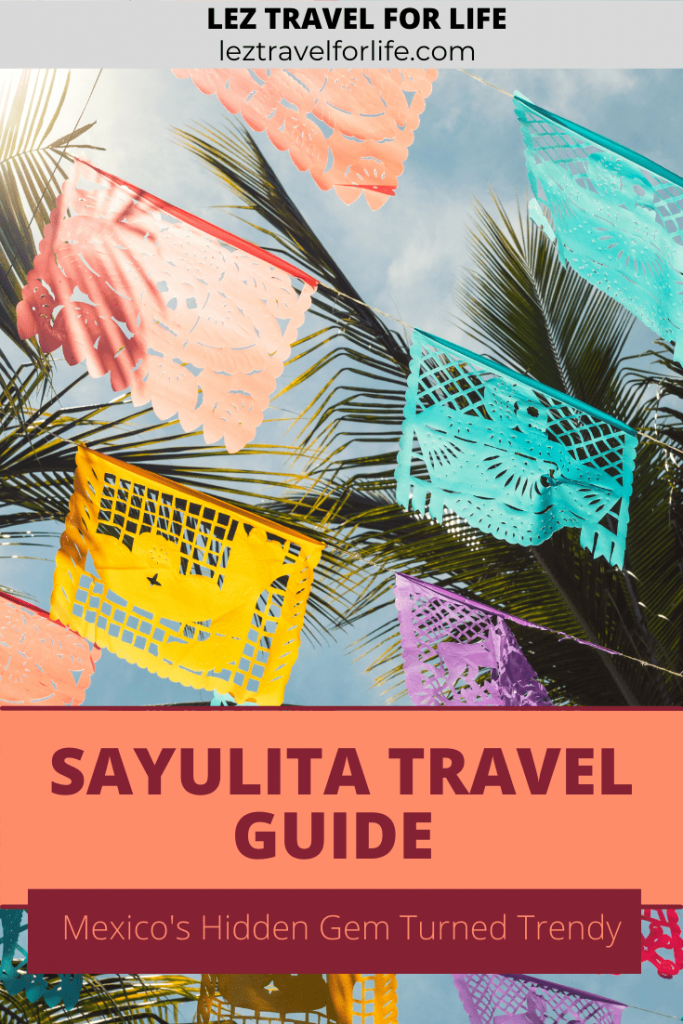 I'm Sam and I may only be 5'3 but I'm feisty and enjoy a lot of sarcastic humor. I'm addicted to travel as well as feeding and advocating for street animals in every country I travel to. I'm married to Courtney and we're super gay or whatevaaaa. We're both extroverts and love meeting new people everywhere we travel. We are in love with Latin American culture but can't wait to explore more of the world!