This article may contain affiliate/compensated links. For full information, please see our disclaimer here.
Reminder: Make sure to check the country's covid guidelines before travel.
My wife Courtney and I spent a year traveling around Mexico, and after 3 months in Mexico City, we decided to buy a ticket to Puerto Vallarta not knowing what we would be getting ourselves into. Once we arrived we checked into our place, and realized, Puerto Vallarta is a literal LGBTQ vacation paradise! Rainbow flags everywhere, welcoming locals, we were immediately excited and decided to stay for 4 months. This article, Puerto Vallarta Pride will have you completely prepared to book your next trip to Puerto Vallarta and experience the biggest pride in Latin America!
Head over to Puerto Vallarta at the end of May to experience Puerto Vallarta Pride. We spent time trying to understand how Puerto Vallarta has become such a safe space for the LGBTQ community. The city is extremely open-minded and has invited the LGBTQ community in and embraced the culture. We loved being able to walk around at all hours of the day and not worry about feeling unsafe or afraid. The streets are well lit, clubs stay open late, and there are plenty of friendly faces around to make you feel welcomed. So, let's hop into our Puerto Vallarta Pride: The Only Guide You Need 2023 post!
PUERTO VALLARTA SAFETY: WHERE ARE THE GAYS?
The main LGBTQ area is "Zona Romantica" which is where you'll find the hub of activity from the gay beach, gay resorts, gay bars, and gay clubs. Puerto Vallarta is safe day or night. We would often go out and have drinks and walk home in the late hours. Obviously, be sure to use common sense, and don't stumble around and give someone the opportunity to take advantage of you. There are always taxi drivers out and about asking if you need a lift. Uber also works at all hours of the day in case you don't want to walk.
PUERTO VALLARTA LGBTQ PRIDE THINGS TO DO
Puerto Vallarta Pride is still pretty new, it started in 2013, which means it has been working at hyperspeed to catch up to other pride events, and I think Puerto Vallarta has done a great job of growing this event and making it something that invites visitors from all over the world to experience. Let's dive into the good stuff, all of the different things that make Puerto Vallarta pride so special. Puerto Vallarta basically becomes a mass of gays for 1 week at the end of May. From May 23rd to May 30th all day and all night there are parties and events going on all over town. If you're looking for a full Puerto Vallarta Travel Guide we have a full article that covers everything you need!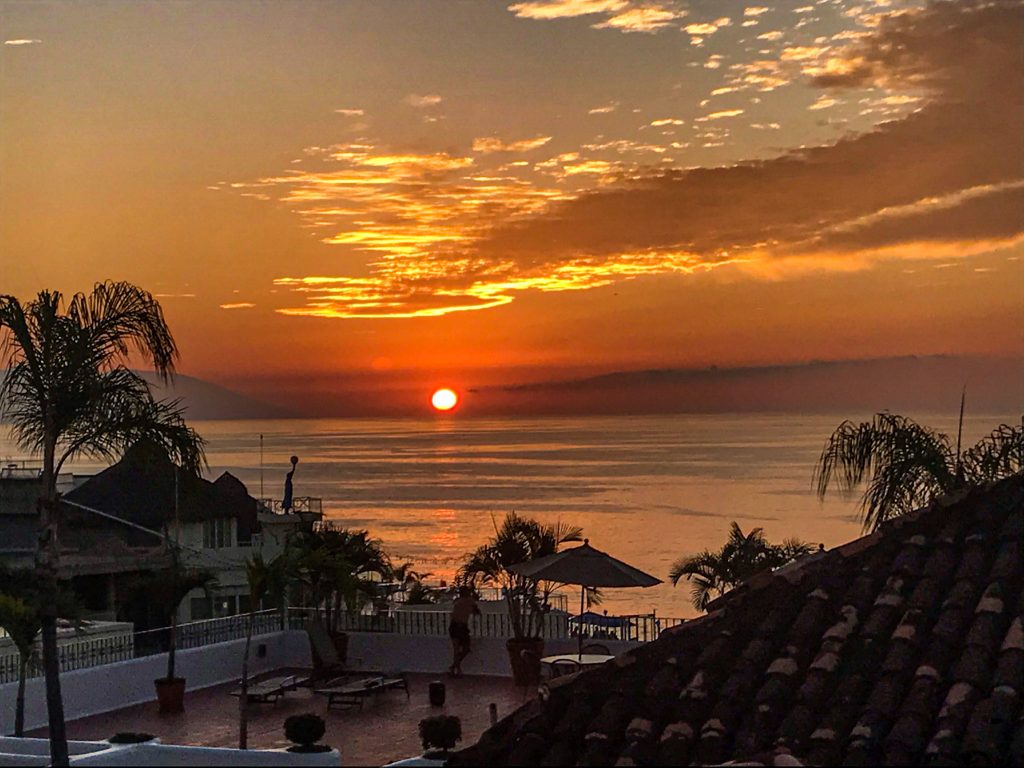 Head over to the gay beach
The easiest way to get acclimated to Puerto Vallarta is checking in to your place, and heading straight over to Playa de Los Muertos Beach. This is where all the action is. Spread all across the beach you'll find different restaurants and hotels offering chairs and umbrellas (some are free some cost money see more info below). During pride week, the LGBTQ resorts fly their pride flags proudly while bringing in massive crowds of visitors to join in on the festivities.
Mantamar Beach Club: Attached to the Almar resort, the Mantamar Beach Club is where all the action is during the day while pride week is going on. It's pricey but you can use beach chairs and umbrellas as well but it will cost you around 400 pesos (at minimum) to enjoy this space. The amenities include being next to the DJ, and potentially having access to one of the many pools the resort has to offer.
Blue Chairs: Another LGBT hotel that offers daytime amenities, be sure to check the website ahead of time or call to see what prices will be and what amenities they will have available.
Sapphire: Another awesome LGBTQ resort where you can rent chairs by the pool or on the beach. Prices start at 40 pesos per day! The food and drinks here are really awesome! Be sure to stop by a day in advance if possible as it does get booked up.
Ritmos: In the middle of the action, Ritmos is between Mantamar and Blue Chairs, without the heavy price tag. This was our go-to spot during pride week as we were able to hear the music from Mantamar, socialize with other gays, and drink! Pride week cover is only 70 pesos and the staff is really friendly and helpful! We loved it here!
Go on a LGTBQ Catamaran Tour
Yes! It is an LGBTQ catamaran tour with Diana's Tours. Why not enjoy the ocean while having an open bar! This is one of the most popular boat tours in the city and it has been around for years. If you are soaking up the sun on the beach you'll probably see them going back and forth as it's a big catamaran with a massive rainbow flag on it. You already know this Puerto Vallarta Pride: The Only Guide You Need 2023 post couldn't skip out on clothing optional boat tours!
Wet and Wild Cruise: Clothing optional cruise, mostly male crowd. Involved open bar and a sunset cruise around the Puerto Vallarta coast.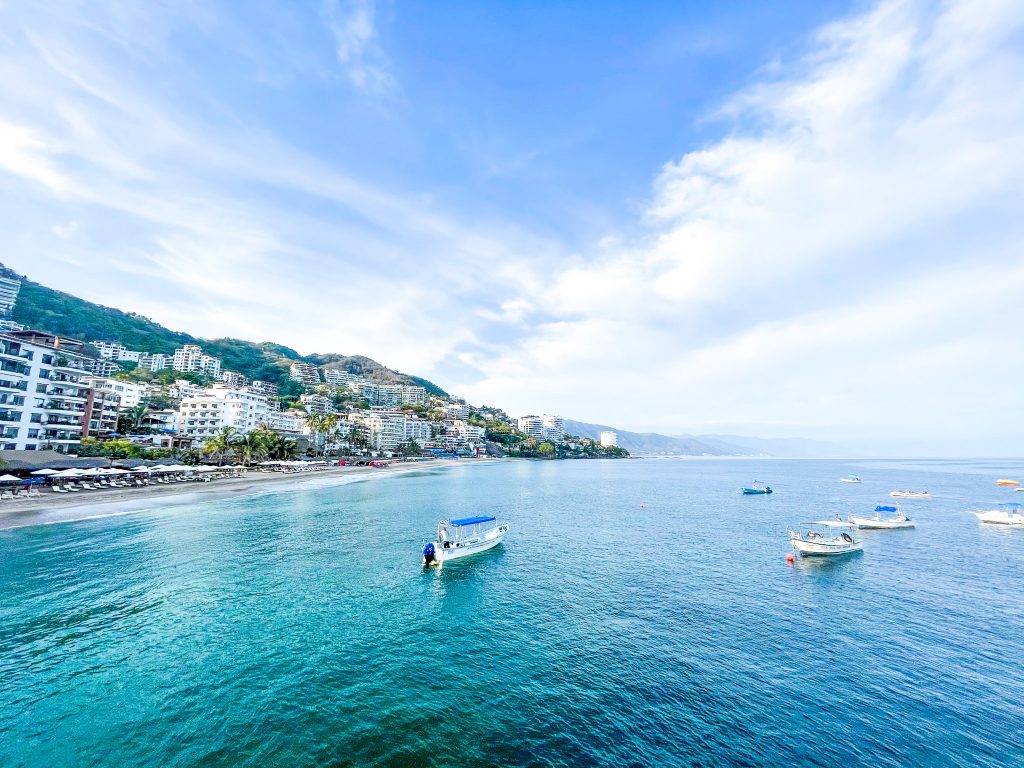 While pride in Puerto Vallarta involves a lot of men in speedos, there are also events dedicated to womxn. From Mixers at Elixer Mixology to womxn only pool parties, there are plenty of options for visitors wanting to mingle with their own kind if you catch my drift.
Book pride tickets through the Almar Resort
The Almar resort in Puerto Vallarta is the biggest and most luxurious LGBT-only resort in the city. It also hosts the biggest weekend pride event in town. From Thursday-Sunday depending on what ticket you buy, there are events each day and night! We were able to see Biana del Rio from Ru Paul's Drag Race perform and it was epic! They host dinners, mixers, daytime pool parties, nighttime drag events, and more. Tickets get pricey so try and book ahead of time!
Participate in the Puerto Vallarta Pride Parade
Pride Parade in Puerto Vallarta happens on the second to last day of pride on Saturday. It begins at the beginning of the Malecon at Hotel Rosita and finishes with a Party in the Park. Here you'll have bars and restaurants around you and you can go into a farmers market type set up where you can buy locally crafted foods, snacks, and souvenirs all while supporting the locals and pride week! Unfortunately, we didn't get to experience it in 2021 as it was canceled due to covid restrictions.
Bounce around Puerto Vallarta Bars and Clubs
First things first, if the options below overwhelm you and you want to get to know other visitors while in town, check out this Gay Bar Tour! It's a quick and easy way to learn the hottest bars and clubs in town! This wouldn't be the best Puerto Vallarta Pride: The Only Guide You Need 2023 post ever without giving you the full scoop on the hottest places to party, lets dive in!
Industry: Industry is one of the most popular LGBTQ clubs in Puerto Vallarta and mainly draws a male crowd. This place has a lot of house music and is usually busy all night, there is typically a high cover during pride week ($75-100). It's located right next to and across from several other LGBTQ clubs and bars in case you want to bounce around. They host performances every night of pride, some have performers with or without clothing.
Mr. Flamingo: Mr. Flamingo is ALWAYS crowded at night. So crowded you can hear the music half a mile down the road and once you arrive it's packed out of the door. Definitely one of our favorite spots. There will be a cover during pride week. The bar is cash only. The crowd is mixed!
La Noche: A three-story bar and each floor have a different vibe. The bottom floor has pole dancers or drag performers and the other two bars have more house music. Definitely, a great place to dance and mingle while bouncing around to different places.
Paco's Ranch: Another nightclub all around the other LGBTQ bars and clubs. Typically has a cowboy theme, with drag shows that are offered in Spanish and English. Also a mixed crowd.
Blue Chairs: Rooftop fun that is a street away from the beach. This place makes strong drinks and has racey drag performances. Let's just say this lesbian was not expecting to see a man's bare penis, but hey we survived (hehe). The crowd is mixed with males and females and it's a fun place to party at night!
The Top Bar: Connected to the Almar Resort with the best sunset view of the beach in the city. IF you decided to purchase tickets through Almar for pride this is where a lot of events take place. Every night will have either a drag show, an opening dinner, cocktail hour, or something else. Definitely follow them on Instagram so you can stay up to date on what events take place on which day.
The Street: Wait, did you say the street? Yes, girl, I did. The street sandwiched between Mr. Flamingo and Industry is absolutely PACKED at night during pride week. Mainly because a lot of the bars and clubs just get too full, so people do what they do best, keep the party going in the streets. Yes, you can drink in the streets, no you cannot purchase alcohol at the many gas stations at midnight so be sure to buy your booze ahead of time so you don't miss out like we did (not that we needed anything else to drink).
Blondies: My literal obsession while living in Puerto Vallarta, and most likely the main reason why I gained so much weight. This slushie bar is the best place to start your day or night drinking experience. Or, if you just want to grab a delicious boozy slushie to-go. My favorite is the Brassy Blonde. Say hello to my BFF Daniel and enjoy 1 of two locations. One location is a street away from the beach. No cover to enter.
Elixir Mixology Bar: Lesbian-owned cocktail bar. If you like strong, well-crafted cocktails with a laid-back environment this is your place. Courtney and I liked to pregame here, then hit the road when we were ready to dance. No cover to enter.
CC Slaughters: CC's is there for you if you are ready to get down and dirty. It has a bar in the front and a club in the back. The club in the back is dark, with house music, and stays open until 6 am. Definitely, a more male crowd in the club section while the bar section in the front is more of a mixed crowd. There will be a cover to get in but it is cheaper than other clubs.
Circuit Party at Puerto de Luna: An all-night party that goes into the day. This party isn't for the faint of heart. The crowd is usually heavily male, with little clothing. Drinks and house music.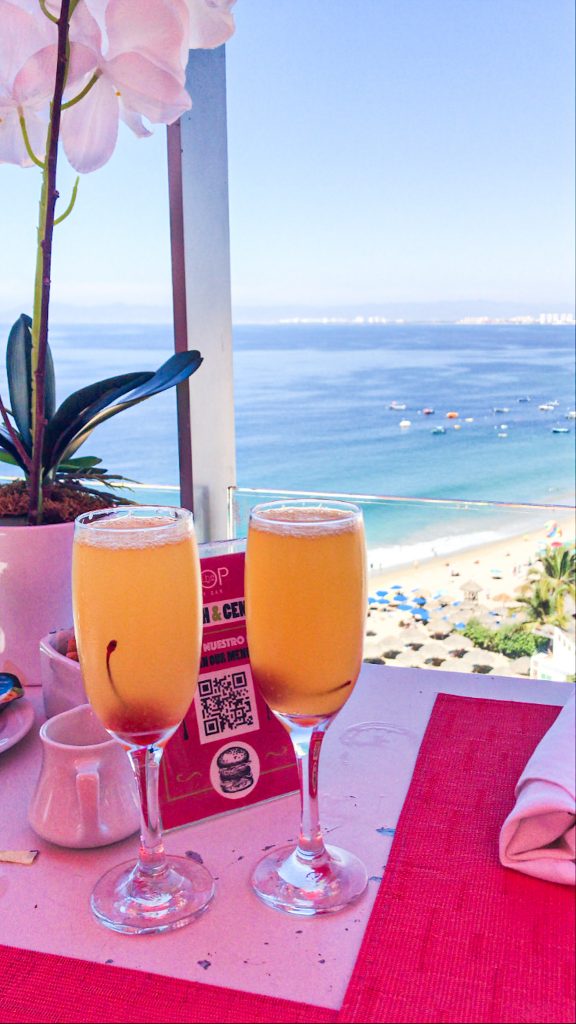 Puerto Vallarta Pride Pool Parties
Casa Capula: The host of the Bear Pride Vallarta where it's an all-male crowd. Oh, did I mention these pool parties are crazy and usually involve no clothing?
Mantamar beach club pool party: The biggest party during pride week. Every day there is loud house music all day and into the sunset. The resort's pools are overflowing with mostly men in speedos, cocktails, and a lot of dancing.
Womxn only pool party at Amaria Villas: Laidback environment with a DJ and cash-only bar. They offer food and drinks. The event goes into the sunset. Uber can take you up here and back, or a taxi as it's about 20 minutes outside of the main part of Puerto Vallarta.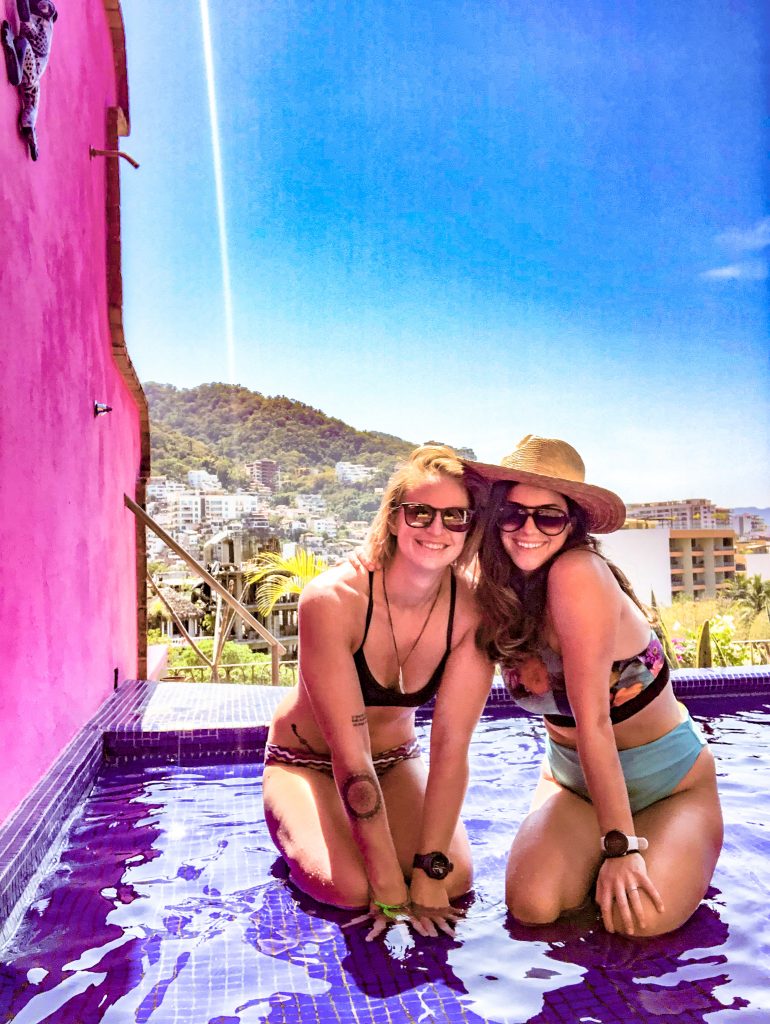 WHERE TO STAY DURING PUERTO VALLARTA PRIDE
There are so many LGTBQ friendly options in Puerto Vallarta, some are LGBTQ-specific resorts, others are apartments and villas you can rent! The best part is that there is a wide range of options and not all of them cost you an arm and a leg.
Almar Resort: This is the top resort in Puerto Vallarta and is the center of activity during pride week which makes it an awesome option if you like being in the middle of the party. The budget for this resort is high, but so are the amenities. Rooftop bar and restaurant, multiple pools, access to beachfront chairs and umbrellas.
Boana Torre Malibu: This is more of a condo with hotel amenities. If you like having your own kitchen so you can cook all the food you want this is for you. It has a large swimming pool that usually gets pretty busy by the afternoon which means you can mingle! During pride week there are tons of other LGBTQ visitors staying here.
Sapphire Ocean Club: LGBTQ beachfront hotel. Has a small pool, if you don't stay here you can rent chairs by the pool or on the beach for the day. Call ahead of time to reserve!
Blue Chairs Resort by the Sea: Blue chairs stay busy year-round. It has a down-to-earth charm that keeps people coming back for more. Not to mention its rooftop bar with frequent performances keeps things interesting.
Jets Gay Hostel: A budget-friendly option where making new friends is easy to do. It's a safe option if you aren't interested in staying in an expensive resort and just need a place to lay your head at night.
GO ON A GAY TOUR IN PUERTO VALLARTA
While Visiting Puerto Vallarta during pride, you may get caught up in beach time and drinking, but if you are looking for more fun, check out my Gay Tours Puerto Vallarta article on LGBTQ-friendly tours in Puerto Vallarta!
WHAT TO PACK FOR PUERTO VALLARTA PRIDE
We have created an entire Mexico Packing List for both men's and women's clothing! So definitely check it out as it has tips and tricks you'll need!
WHERE TO EAT IN PUERTO VALLARTA?
We love food! This means while living in Puerto Vallarta for 4 months we spent a lot of time discovering the Best Restaurants in Puerto Vallarta This includes some LGBTQ hot spots as well!
Like this Puerto Vallarta Pride: The Only Guide you Need 2023 Article? Check out our other related articles!
Like this Post? Pin it for later!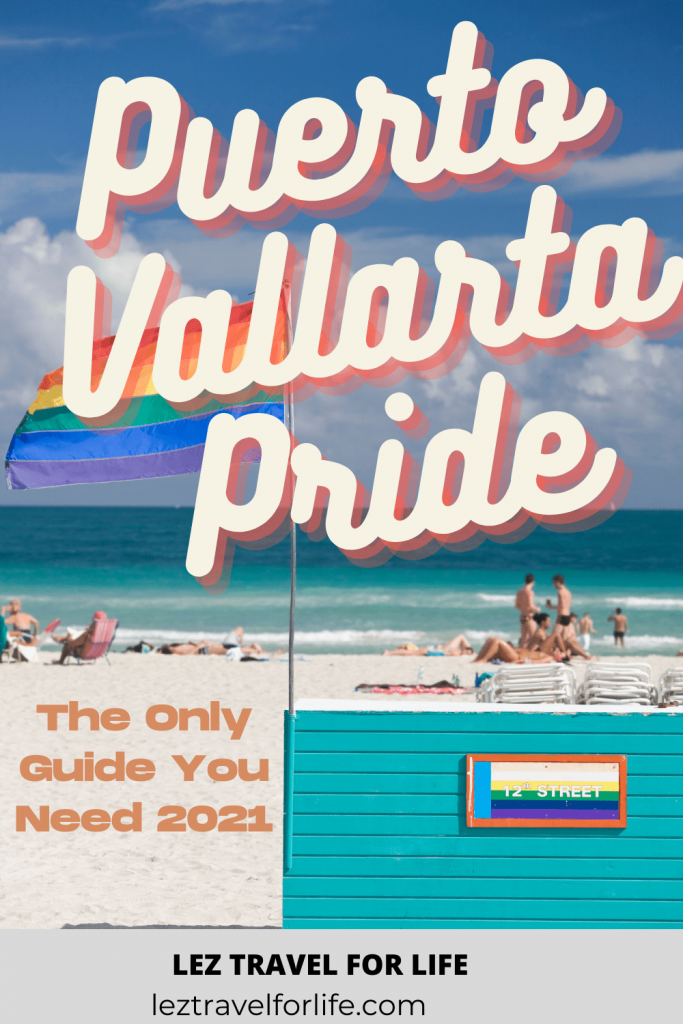 I'm Sam and I may only be 5'3 but I'm feisty and enjoy a lot of sarcastic humor. I'm addicted to travel as well as feeding and advocating for street animals in every country I travel to. I'm married to Courtney and we're super gay or whatevaaaa. We're both extroverts and love meeting new people everywhere we travel. We are in love with Latin American culture but can't wait to explore more of the world!