This article may contain affiliate/compensated links. For full information, please see our disclaimer here.
Reminder: Make sure to check the country's covid guidelines before travel.
My wife and I stumbled upon Puerto Vallarta while traveling around Mexico. We figured it was just another touristy beach town, but we couldn't have been more wrong. We literally stumbled into a beautiful and accepting LGBTQ paradise! The locals are so kind to everyone which can be difficult as a lesbian couple to find places we truly feel welcome and safe but Puerto Vallarta immediately soared to the top of that list. We want to share with you all the best gay hotels, things to do, restaurants and bars to visit during your trip. This article will take you through gay Puerto Vallarta Mexico the only LGBTQ guide you will need!
Apparently, Puerto Vallarta has been a dreamy gay vacation destination for decades, especially for US and Canadian gay men. Why? It has a literal gayborhood filled with LGBTQ resorts, bars, shops, and parties. We loved this area so much we actually lived here for 4 months because we just couldn't get enough! I will say, the lesbian population is quite small and you will see mainly gay men staying here BUT we hope by spreading the news so more of the LGBTQ population start vacationing here too!
IS PUERTO VALLARTA SAFE FOR LGBTQ VISITORS 2023?
YES! YES! Puerto Vallarta is very safe! Mexico gets a bad rep regarding safety but while you're visiting you can relax and enjoy exploring the area. The main LGBTQ area is "Zona Romantica" which is where you'll find the "gay beach" (I'll explore this more), gay resorts, gay bars, and gay stores. This area is the main inspiration for this gay Puerto Vallarta Mexico article! We walked around at night, in the morning, drunk and sober, and never had an issue. The biggest question my wife and I have when planning a trip is how safe is it to walk around as a woman? We both walked around at night alone and never got catcalled or followed or approached by anyone creepy. Obviously, we still use caution and common sense (like not walking around blackout drunk) but can attest to the safety of this area!
ABOUT PUERTO VALLARTA MEXICO
What makes Puerto Vallarta such a safe haven for the LGBTQ community? Is it the non-stop parties? Is it the rainbow flags proudly flying all over the city? Is it the bars that exclusively cater to the community? Honestly, it's all of the above. The city is so overwhelmingly open-minded and has embraced the LGBTQ community entirely. We felt so safe and excited to be here because everyone else is excited and the community is celebrated! We could walk around at night with no issues because there are so many other LGBTQ people walking around which is why we want to spill the tea on gay Puerto Vallarta Mexico!
QUICK INFORMATION ON PUERTO VALLARTA
Currency: Mexican Peso $1USD = $20 MXN
Electricity socket: Mexico uses the same sockets as in the USA
Visa: Once you arrive you are automatically given a 180-day visa to foreigners who enter Mexico. You will be given an entry card DO NOT lose this as it is your proof of entering the country legally. You will need to present this when you leave.
Airport: Puerto Vallarta International Airport.
Wifi: Speeds vary depending on your accommodation. We found that most Airbnb's had slower internet because they are sharing one router across multiple units. Don't worry though as there are plenty of cafes and workspaces in Puerto Vallarta with faster internet speeds.
Can you drink the water?
It depends on where you are staying. Be sure to ask once you check into your accommodation as to whether or not you can drink the water. We always pack a Steripen to save plastic. More restaurants used filtered water and ice but it's always good to ask if you're not sure.
What time of year do I go?
Puerto Vallarta is amazing to visit all year round. However, the weather does change throughout the year. If you visit during the summer (May-September) it is VERY HOT and is considered the rainy season. The trees are green and the surrounding hills look lush and beautiful but the humidity can be rough. Peak travel time for LGBTQ visitors is around Christmas or spring break. The weather is sunny and hot every single day. The ocean is warm enough to swim in as well!
How to get around Puerto Vallarta?
In Zona Romantica (the gay zone) you can easily walk everywhere, but if you need to get from the airport to your accommodation we suggest uber. It is very cheap. Just exit the airport and turn left and go across the bridge that goes over the highway then order an Uber. Much cheaper than dealing with the overpriced taxis (beware they are very aggressive when you are heading towards the door. Don't mention you are getting an uber as they will harass you).
PUERTO VALLARTA DURING COVID
Puerto Vallarta has done a good job of enforcing mask mandates across businesses. Meaning upon entering you must wear a face mask, your temperature will be checked and you will be given hand sanitizer. While walking around the city you'll find locals and tourists wearing their masks for the most part. Hotels have made getting a covid test very easy as a lot of hotels offer testing at the hotel that you can register for upon arrival in Puerto Vallarta.
WHERE TO TAKE A COVID TEST IN PUERTO VALLARTA
The best option (the one we have used several times) is the testing site located at the Puerto Vallarta International Airport. They are open 24/7 and you don't need an appointment. The prices are much lower and if you get the Antigen test (rapid test) you'll have your results within 45 minutes. Remember even if you are fully vaccinated you are still required to present a negative covid test. (As of 8/11/2021)
Remember if you are flying back to the US or Canada from Mexico it is required that you take a Covid test within 72 hours before traveling and show that negative test when checking in at the airport.
MEXICO LGBTQ RIGHTS
Like most countries, Mexico's laws regarding LGBTQ marriage are still complicated. Mexico City along with 30+ other states recognize and perform legal marriages. These marriages are still recognized as legal across Mexico even in states where couples cannot marry legally. Puerto Vallarta is in the state of Jalisco and in 2016 LGBTQ marriage became legal.
The good news is even with most of the country having complicated views on LGBTQ marriage due to various cultural factors such as religion, Puerto Vallarta is the perfect LGBTQ oasis where you will be 100% embraced with open arms.
WHERE TO STAY IN GAY PUERTO VALLARTA MEXICO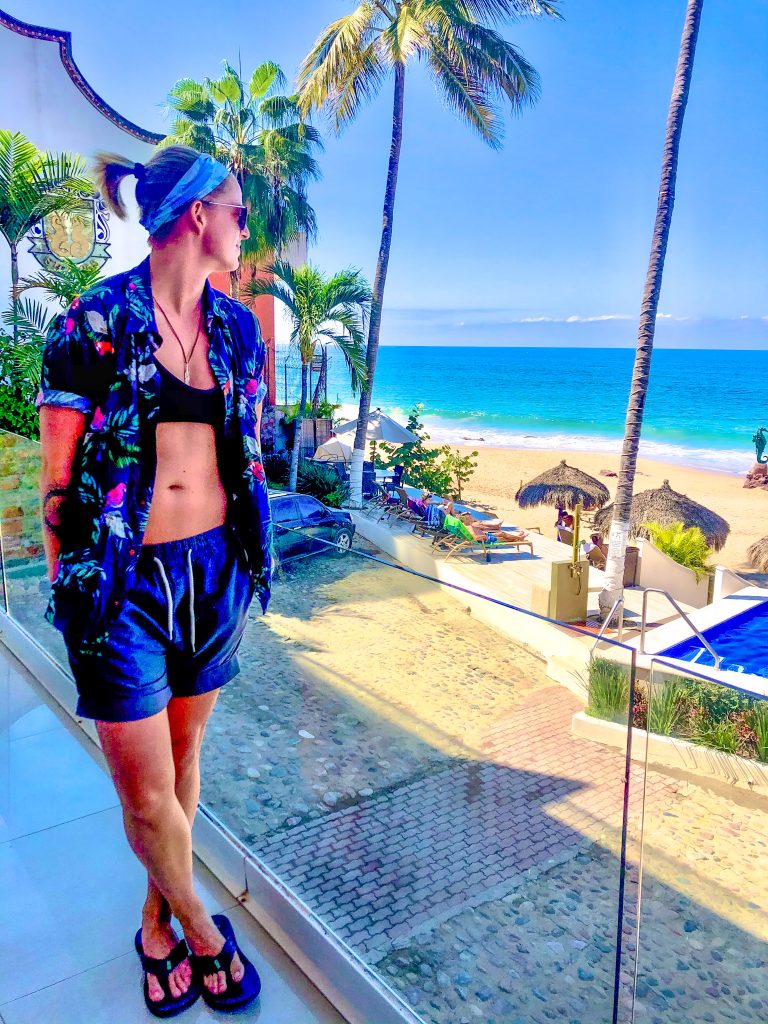 While the entire city is LGBTQ-friendly, there is a specific area that hosts the most LGBTQ-specific accommodations, Zona Romantica. Let's dive into the main gay Puerto Vallarta hotels, resorts, and hostels that we suggest:
Almar Resort

This resort is a literally LGBTQ paradise. It is a high end adults only resort with a rooftop bar that hosts AMAZING drag shows with an incredible view, and also has a beach club that has a DJ, multiple pools and beachfront chairs on Playa de los Muertos which is the main beach. There are parties every single day making it the center of attention during Puerto Vallarta Pride week. If you are looking to be pampered then you'll definitely want to stay here. Know that you need a higher budget to stay here, and if you aren't looking to spend all your money being boujie then keep reading for some other great options.

Boana Torre Malibu

This gay (but heterofriendly) Hotel/ condo combo could be the perfect accommodation for you! Courtney and I love having access to a kitchen so this is perfect! It also has a massive swimming pool that is usually packed by the afternoon. You will find tons of other LGBTQ couples staying here as well making it super easy to make new friends.

Sapphire Ocean Club

Another amazing hotel that is beachfront and has a pool. This is a fun place to stay, drink and enjoy the beach or pool or you can even reserve a day pass here if your hotel isn't beachfront and actually pay to enjoy the pool or beach chairs.

Blue Chairs Resort by the Sea

Another iconic gay resort is blue chairs. Once you arrive at the blue chairs lined up on the beach you know you've made it to the "gay beach". This resort has a rooftop bar and two pools that hosts various events like drag shows almost every night. This is the perfect place to meet new friends and enjoy the nightlife!

Amaria Villas

If you are looking for an escape away from the city and into the mountains then you may want to check out Amaria Villas. When you arrive it seems innocent enough, but it can get wild here with clothing optional events, DJ parties that go into the early hours of the morning. Courtney and I went for a PV Pride event that was women's only and it was a ton of fun!

Jets Gay Hostel

A budget friendly, yet safe option for LGBTQ travelers. Located between Zona Romantica and Centro (central part of town where malecon is) is a great way to enjoy your vacation without blowing your bank account. While its budget friendly the interior is still beautiful and full of different activities and games to help make it easier to make friends while you're in town.
LGBTQ FRIENDLY BARS, CLUBS AND RESTAURANTS IN PUERTO VALLARTA MEXICO
LGBTQ Bars:
Gay Puerto Vallarta Mexico has gay bars everywhere in Zona Romantica. From sophisticated cocktail bars to dive bars this list should help you find all the hot spots! The best part is that it is so easy to make new friends at all of these places because people are so friendly! Know that even if you don't pick a gay-specific bar we found that anywhere we went in Puerto Vallarta was friendly!
Elixir Mixology Bar: This sophisticated cocktail bar is located in Zona Romantica and owned by two lesbians. While it isn't listed as a lesbian bar it does host womxn events by the local group

Pink and Proud

. Courtney and I kept coming back to this place because all the cocktails are handcrafted and some of the best in the city.
La Noche is one of those bars that is packed out of the door at night. It is a mixed crowd and has GoGo dancers and a rooftop! You'll find that La Noche is smack dab in the middle of all the gay action in Zona Romantica and it doesn't usually close until after 3am.
Blondies: Okay, obsessed is an understatement BUT i love Blondies. There are two locations, one is a block away from the beach and the other is a few blocks back from the beach in Zona Romantica. It is a slushie bar that does to-go orders but also has an upstairs lounge area with a full bar. We have spent hours here day drinking, night drinking and just meeting new friends! If you want to get day drunk this is the best place to start (my favorite is the brassy blonde). Mixed crowd.
Mr. Flamingo: This beach themed bar is a must when visiting Puerto Vallarta. They have happy hour starting at 2pm and ending at 7pm and is a great place to pregame for your night out. It is located right next to all the popular spots like La Noche. At night this place gets packed out of the door because of its fun dance music. It is usually a mixed young crowd and doesn't close until 4am.
CC Slaughters: This venue is split into a bar section in the front and a club section in the back. There is a mix of house music and pop/ rap hits between the bar and club section. This place can be as chill or wild as you want it to be. If you go earlier in the night it can be a chill way to pregame for the night, if you go late then it turns into a full on packed out club. This place is crazy and stays open until 6am. Mixed crowd.
LGBTQ clubs in Gay Puerto Vallarta Mexico:
Industry: A popular club in PV where there are shows with or without clothing depending on what section of the club you go to. This place has a lot of house music and is usually popping all night long but does tend to have a cover. It is right across from CC slaughters, La Noche and Mr. Flamingo. Mainly a male crowd.
Mr. Flamingo: After dark this is one of the most popular dance clubs in the area. You won't find drag shows but you will find a packed house with people who just want to dance! Mixed crowd.
La Noche: Because it has 3 levels it is one of the top places to go in Puerto Vallarta for parties. Each floor has a different vibe, with the bottom floor hosting the GoGo dancers and drag queens. Mixed crowd.
Paco's Ranch: Another nightclub right next to Mr. Flamingo with a cowboy theme. There are GoGo dancers most nights as well as English and Spanish drag shows. Its open from W-Sunday and doesn't close until around 5am. Mainly a male crowd.
Blue Chairs: Rooftop bar hosts drag shows multiple times a week and it can stay open until 2am. Some of the drag shows get pretty…skimpy, I saw some hot dogs I wasn't expecting but still had fun!
The Top Bar: Beautiful rooftop bar attached to the Almar Resort. Usually have some type of event every night including drag shows. The drinks are tasty and this is a perfect place to watch the sunset in PV. Usually closes at 12am which is when the party starts elsewhere! Follow them on instagram as they post the schedule of events for the week and sometimes month here.
LGBTQ BEACH IN PUERTO VALLARTA MEXICO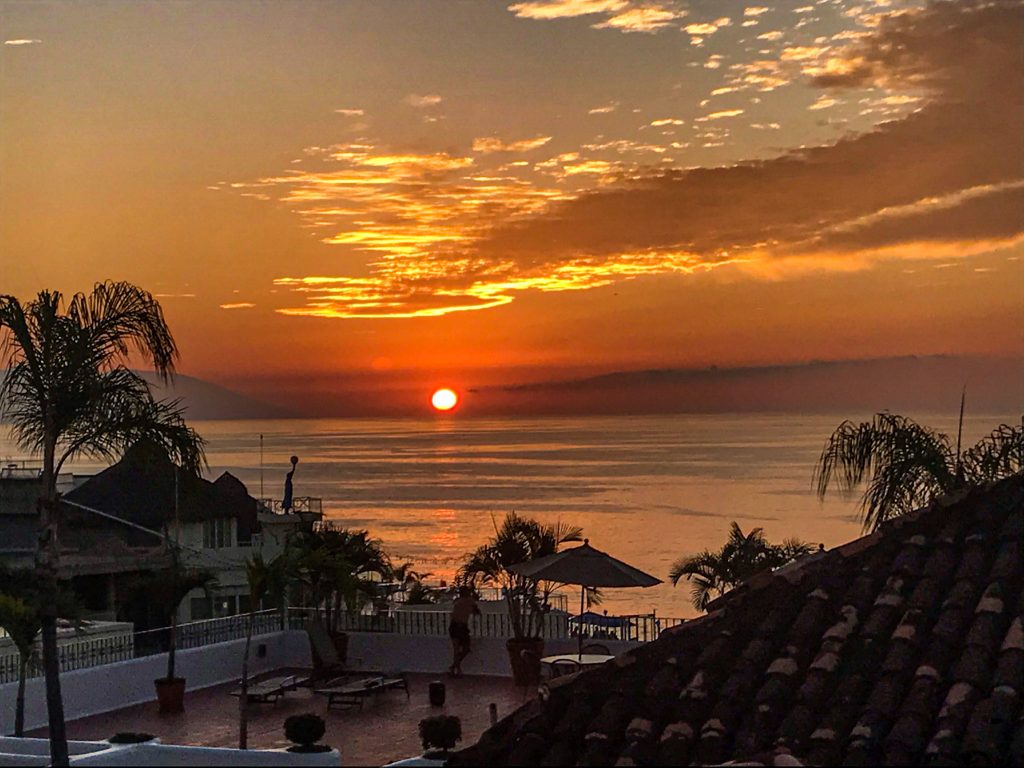 This guide is gay Puerto Vallarta Mexico so of course there is a gay beach! It is on the main beach (Playa de Los Muertos) but it is at the far end to the left heading towards the rock cliff. This area is where you'll find a variety of places to sit, drink or stand, twerk and….still drink. Options include free chairs where you can sit and enjoy the chairs and umbrellas for free for the day as long as you buy something to boujie options where you pay a fee for the day. So let's dive into all of them!
Mantamar Beach Club: You can miss it. You'll see massive pools, lots of boys in speedos and blue chairs and umbrellas lining the beach. This is the place to go for a day party. You can pay to use the pool, listen to the DJ, use beach chairs and umbrellas as well but it will cost you around 400 pesos (at minimum) to enjoy this space.
Blue Chairs: Another beachfront spot with blue chairs to enjoy the beach scene and catch some rays. Check with the front desk to see what the fee is for the chairs per day.
Sapphire: Another awesome LGBTQ resort where you can rent chairs by the pool or on the beach. Prices start at 40 pesos per day! The food and drinks here are really awesome! Be sure to stop by a day in advance if possible as it does get booked up.
Ritmos: Nestled between Blue chairs and Mantamar this is your free beach chair option if you want to be next to the action but not pay for it. Even during pride we only paid 70 pesos per day for the chairs and honestly we loved it! Tons of other LGBTQ visitors hang out here too and the staff is really friendly. The food and drinks are priced well compared to Mantamar and Blue Chairs.
THINGS TO DO IN PUERTO VALLARTA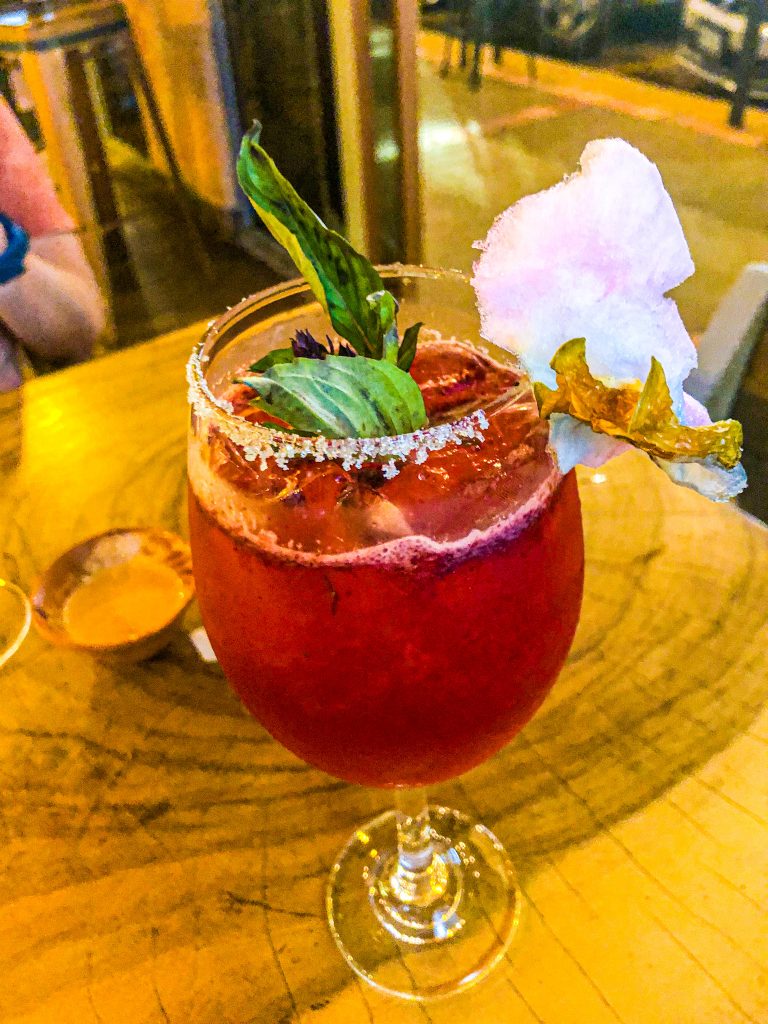 Puerto Vallarta is definitely a beach town, where you can sit, drink and tan all day, but in case you are looking for more, there is PLENTY to do outside of just hanging on the beach! We have put together our top picks because after living in Puerto Vallarta for 4 months we realized just how much there is to see and discover!
1. Discover local cuisine on a food tour
You'll find that in most of our guides about Mexico one of the first things we tend to suggest is hopping on a Food Tour! YES WE LOVE FOOD, but there is so much more to food tours than just finding out where to eat. You get a piece of Mexican culture when you go on these tours, it helps connect us to the town and country we are visiting.
2. Go on a LGTBQ catamaran tour
What is a trip to gay Puerto Vallarta Mexico without an LGBTQ catamaran tour with Diana's Tours? While you're on the beach you will probably see it heading out to sea with a massive rainbow flag! You can learn more about the surrounding area while enjoying an open bar! Definitely, a fun way to meet new people and see the beautiful landscape around Puerto Vallarta.
3. Explore Quimixto's deserted beaches and jungle waterfall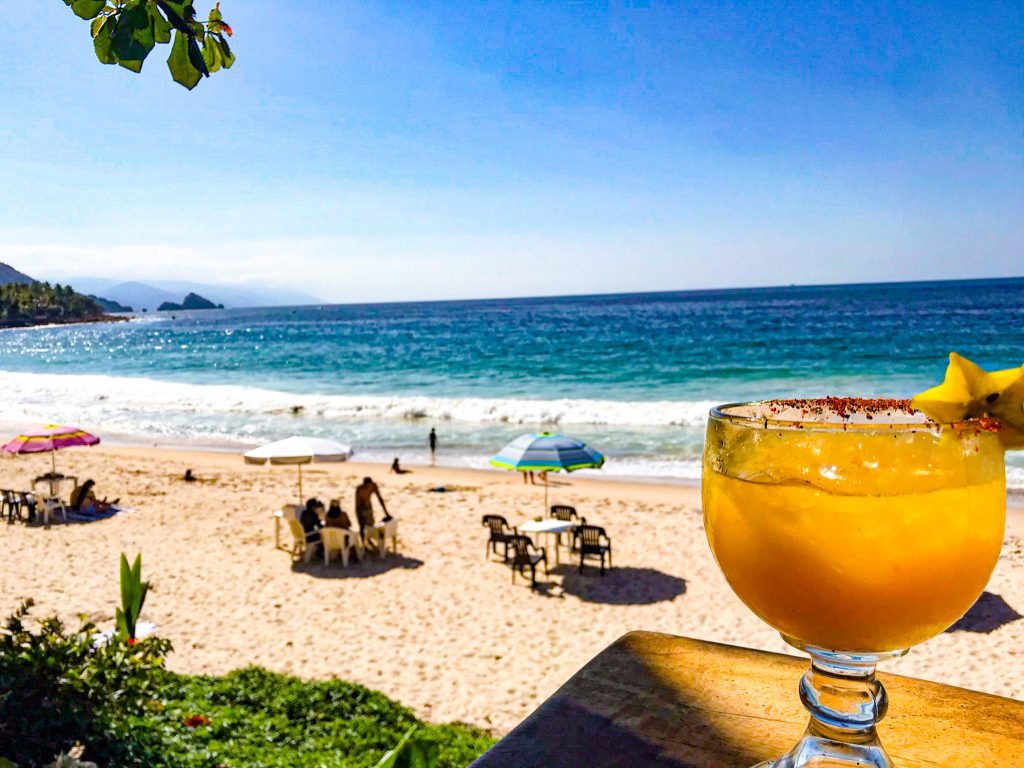 You can join a tour so you don't have to worry about transportation to and from this beach and waterfall here or you can take an uber to Boca de Tomatlan it's an easy 20-minute ride. Once you arrive there will be plenty of locals asking you to take their boat. Tell them you want to go to Quimixto beach and hop on the boat! Once you arrive you will be met with just two restaurants and a basically empty beach! You can hang out here all day and drink the best passion fruit margaritas or you can hike to the waterfall!
Looking back, we wish we would have done a tour just once so we could have a guide take us to the waterfall.
4. Explore Isla Marietas
If you are looking for adventure definitely check this tour out. Isla Marietas is a national park in the middle of the ocean. It is a small island that is surrounded by beautiful wildlife including tons of different species of fish and birds. You can snorkel through a tiny cave and spend a few minutes on the sandy beach for pictures. Know that this tour isn't for the faint of heart as the water is chilly, the current is strong and it is quite the boat ride.
Many people ask why you can't spend more time on the beach? Well, in recent years with the massive influx of tourists the government has regulated time on the beach to ensure it stays clean and safe for the wildlife.
If you aren't interested in swimming to the beach you can take a different tour that goes around it and you can enjoy an open bar, snacks, kayaking, and more! We did this tour and loved it because we were able to see so many different types of animals we hadn't seen just hanging out on the beach, like the blue-footed booby which can be seen at the Galapagos!
5. Whale watching
This is a MUST if you are in Puerto Vallarta during whale watching season (December-March). This was the most magical experience for both of us! There are so many different tours you can take. We chose to take a sailboat which was PERFECT. It moves slow but you can enjoy the ocean and see whales constantly! It is amazing to watch them jump. 
If you are looking for more whale action you can even take a speed boat that gets very close to the whales and has technology that helps you listen to them underwater! Could not recommend this more.
6. Explore El Centro or Old Town
While we know Zona Romantica is the hub of gay Puerto Vallarta Mexico but Old Town is just a 15-minute walk from Zona Romantica and it gives you a different vibe, a more Mexican vibe. We stayed in this area for about a month and loved it! You can walk on the Malecon with the beach on one side and shops and restaurants on the other. You can explore the beautiful church and check out some great restaurants in the area like Cafe des Artistes and No Se Nada. Visiting this area gives you a chance to interact with locals and enjoy all that Puerto Vallarta has to offer!
WHAT TO PACK FOR PUERTO VALLARTA
Gay Puerto Vallarta Mexico is waiting for you! We have created an entire packing guide for Mexico so definitely check it out as it has tips and tricks you'll need!
In summary, you can dress as fancy or as casual as you want! Puerto Vallarta is a very open-minded place where you'll find boys in speedos to fancy dresses at dinner. Either way, you go, have fun with it, and check out some of the local boutique shops ran by Mexicans. They have some amazing clothes!
Want to know more about Puerto Vallarta and the surrounding area? We have these articles for you to enjoy!
Like this Post? Pin it for later!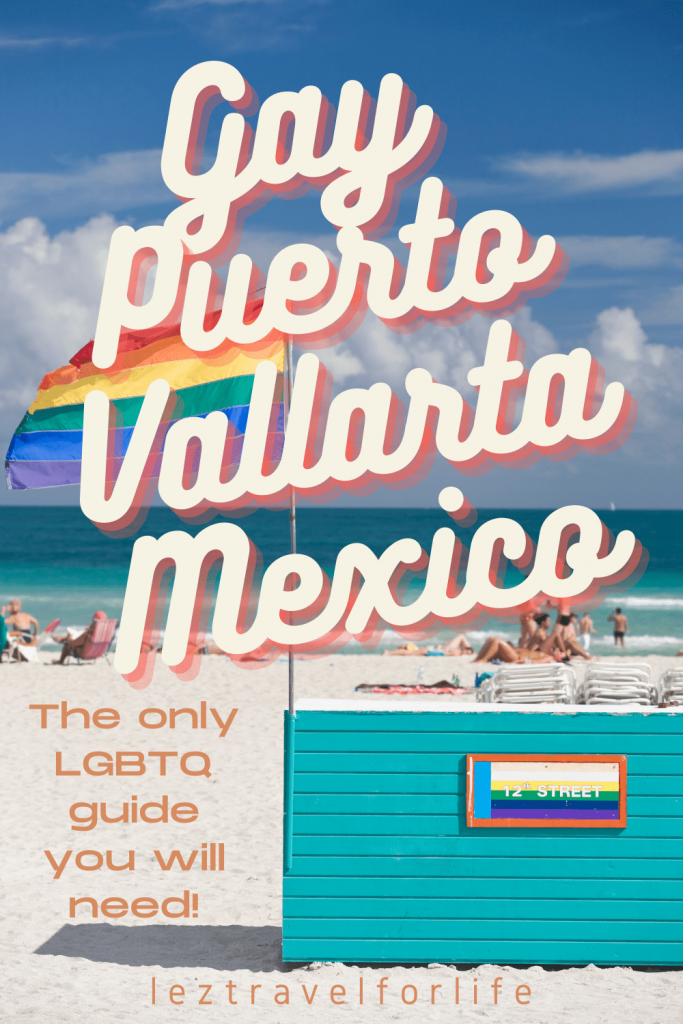 I'm Sam and I may only be 5'3 but I'm feisty and enjoy a lot of sarcastic humor. I'm addicted to travel as well as feeding and advocating for street animals in every country I travel to. I'm married to Courtney and we're super gay or whatevaaaa. We're both extroverts and love meeting new people everywhere we travel. We are in love with Latin American culture but can't wait to explore more of the world!