This article may contain affiliate/compensated links. For full information, please see our disclaimer here.
Reminder: Make sure to check the country's covid guidelines before travel.
Tulum is situated on the breathtaking Caribbean coastline of Mexico, just 1.5 hours from the nearest airport in Cancun. Known for its crystal clear blue waters, inviting cenotes, and lively beach clubs, this Mexican town perfectly combines culture with a vacation by the water. This Yucatan paradise is also a popular hotspot for ex-pats and digital nomads, especially during the high season. However, life in this little piece of paradise comes at a price, and it's definitely one of the more expensive places in Mexico. Luckily, you can still learn how to live in Tulum on a budget with a few tips and tricks.
HOW TO LIVE IN TULUM ON A BUDGET: IS IT AFFORDABLE?
Unfortunately, Tulum is not one of the more affordable destinations for travelers or remote workers. However, with the right approach, you can live or have a fun vacation here even if your budget is tight. It is best to set a budget per day, week, or even month in advance and keep track of what you can afford and where you might need to cut down your spending.
CHEAPEST TIME TO VISIT TULUM MEXICO
The high season in Tulum lasts from November to May. During this time, tourists from all over the world come to Mexico to escape the cold and explore the ancient ruins and countless cenotes. This may be a beautiful time to visit, but it will also be the most expensive.

Tulum is most affordable during the rainy season, from July to October. During this time, you can find the best deals for hotels and guest houses, especially for long-term stays.

Public holidays like Christmas and New Year's are also a very popular time to visit Tulum, and prices will increase considerably during these days.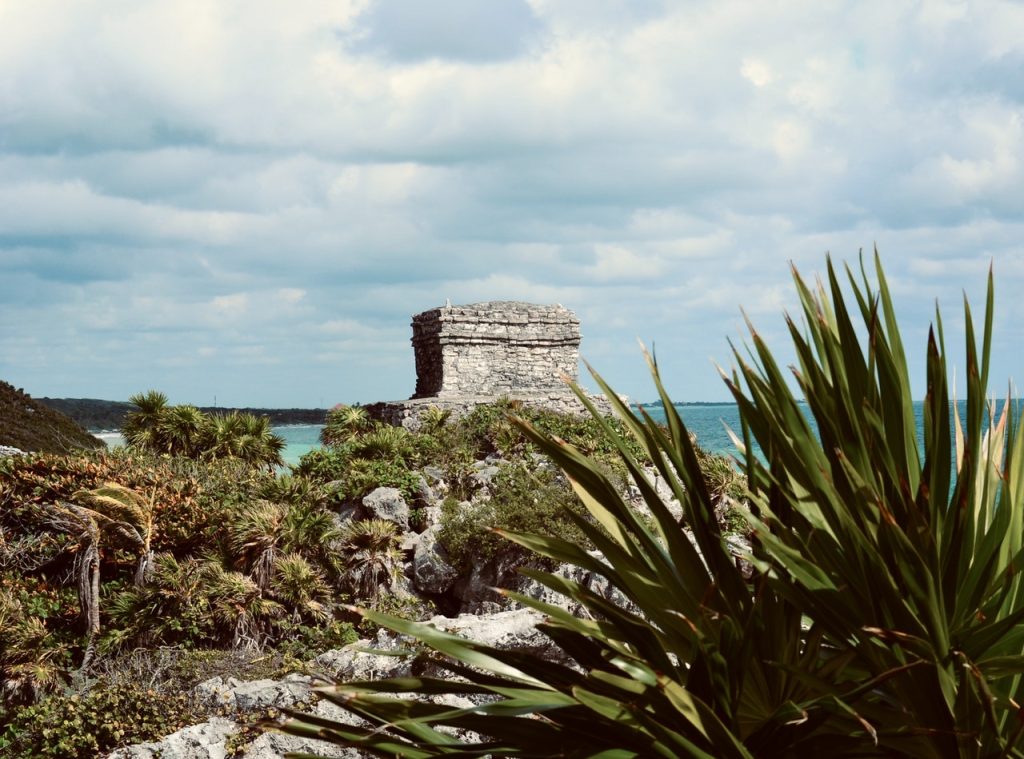 HOW TO GET TO TULUM FROM CANCUN ON A BUDGET
There are several transportation options to Tulum from Cancun airport. However, if you are on a budget and want to save some money, you might have to factor in some additional time for the journey. Read more on Cancun Mexico here!

Take the ADO bus, which will depart from Cancun airport and drop you off in downtown Tulum. The bus ride takes around two hours and costs between 300 and 500 Mexican pesos (US$15 – US$25). Prices can vary, depending on the time, weekday, and season you are traveling.

Another option to get from the airport in Cancun to Tulum, is by colectivo, a local minibus. Unfortunately, the colectivos don't depart from the airport itself, and you will have to walk to the nearby Highway 307, where you can flag one down.

You'll be driven to Playa del Carmen, where you have to switch to a colectivo driving to Tulum. The journey will take you around four hours in total but costs as little as US$5 per person.
TULUM BUDGET-FRIENDLY ACCOMMODATION
Tulum can be divided into two parts; Tulum beach and Tulum town. The beach area is known for its luxury hotels and day clubs, usually very expensive, while Tulum town is generally more budget-friendly.

When traveling alone, the most affordable accommodation will most likely be a hostel. Dorm rooms are usually shared between four to ten people and start at around $10 per night.

Traveling as a couple? Try staying in small private rooms in hostels which start at $25. However, know that if you want to stay for a month or longer, a one-bedroom apartment will be far more affordable and can cost less than $500 per month.

Of course, websites like Booking, Expedia, or Airbnb can be used to find the right accommodation in Tulum, but you might also find good long-term deals on arrival.

Book your stay in Tulum as early as possible to ensure the best selection and good discounts.
EATING OUT IN TULUM ON A BUDGET
Tulum is known for its instagrammable restaurants, cafes, and bars. Unfortunately, this means we are paying more for food simply because we are tourists. Let's put our attention on local restaurants instead. You'll find these restaurants in the quieter areas of Tulum town. Here you will find options that are far more affordable, with meals starting at just $3, including a drink.

Later in the evening, you'll find a wide variety of street stalls offering amazing and authentic Mexican street food at Calle Sol Ote in Tulum. Traditional food like tacos, empanadas, and gringas can be found here, and both locals and tourists come here for a late-night snack or dinner. Each plate will only cost around US$3.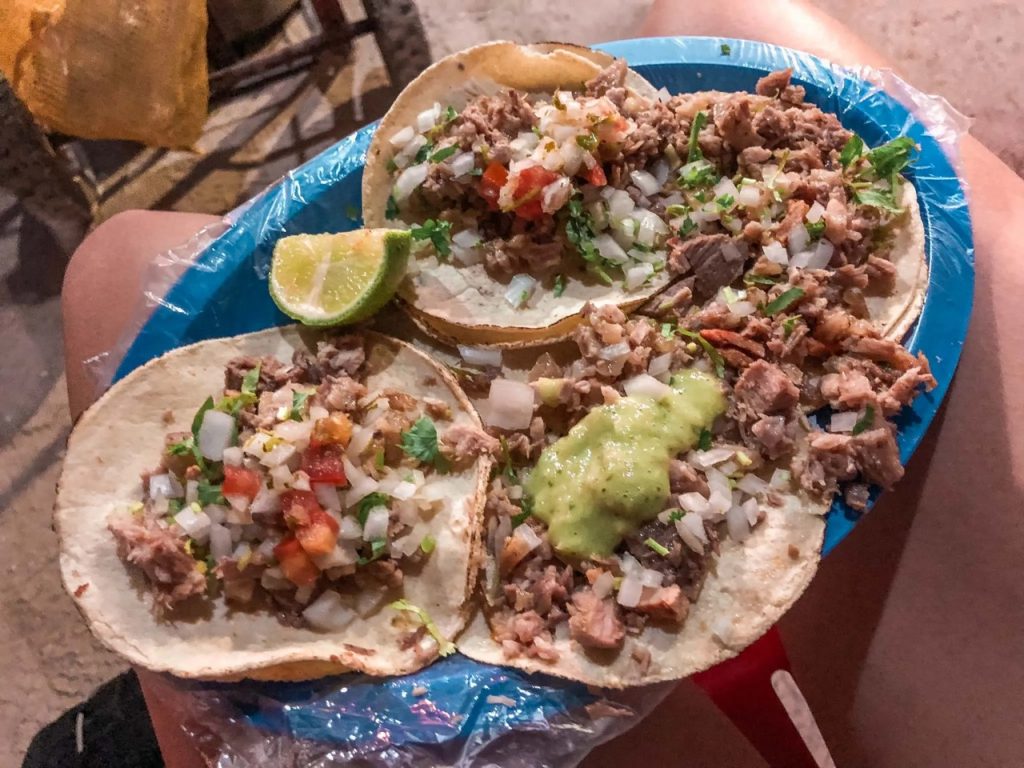 HOW MUCH WILL YOU SPEND IN ONE MONTH IN TULUM
A budget for two people living in Tulum for two months could include:
US$500 for a one-bedroom apartment a few minutes outside the city center
US$100 for additional costs of the apartment like gas, water, wifi, and electricity, if it's not included already
US$200 for eating out in a local restaurant once a day
US$200 for groceries from a local supermarket
US$80 for miscellaneous expenses, such as laundry or other needs
US$100 for things like transport, entry fees, or other fun activities

Two people could live in Tulum on a budget of around $1180 per month. This falls on the lower end of the scale. If you plan on regularly going to a coworking space or getting a gym membership, you'll pay considerably more.
FREE OR AFFORDABLE THINGS TO DO IN TULUM
Don't sleep on the area around Tulum. It's full of great things to do and adventurous day trips. However, most of them require an entrance fee. Let's dive into some affordable activities to do in Tulum Mexico.

Relax at the beach
Tulum has stunning beaches with white sand and blue water. Instead of renting a sun lounger at one of the pricey beach clubs, you can just bring your own blanket and sit in the public beach areas. For drinks and snacks, head to local vendors instead of a beachfront restaurant.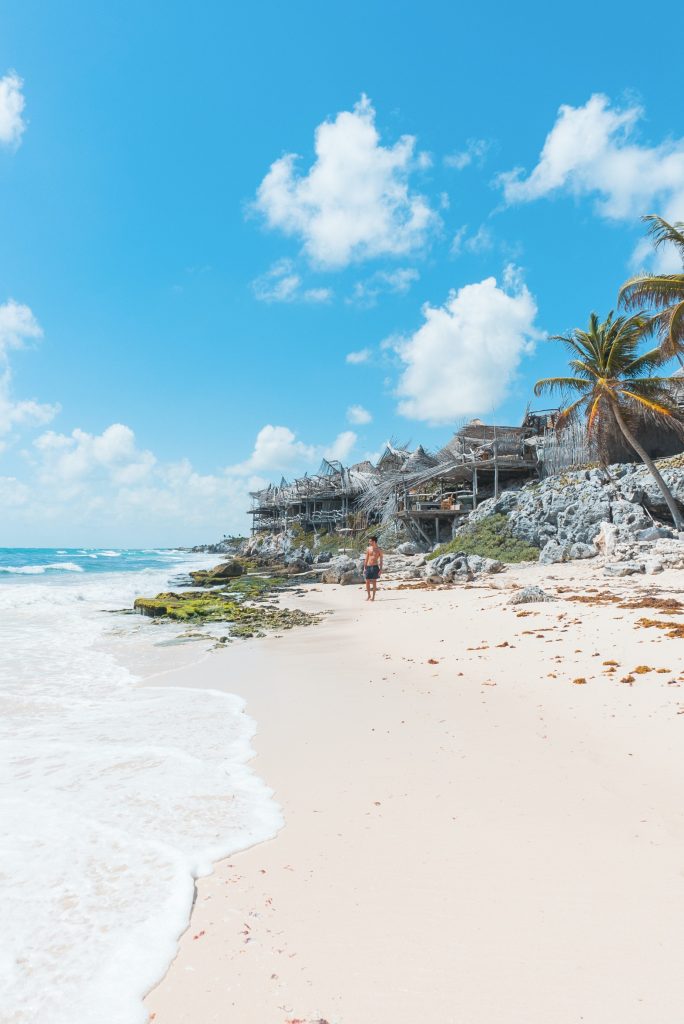 Swim in a cenote
Cenotes, which are natural sinkholes with crystal-clear water, can be found all over Yucatan. Unfortunately, they're rarely free to visit, but some are more expensive than others. A few of the most affordable ones include:
Cristal Cenote and Escondido Cenote are located opposite each other and can be visited for $6 together.
Cenote Aktun Ha is good for swimming, snorkeling, and diving and only charges a $4 admission fee.
The Cenote Zemway charges only $3.50 per person and has a swing and a 12-meter-high jumping platform.
Cenote Xunaan-Ha is located around 20 kilometers outside Tulum town and costs only $4 per person.
Cenote Caracol is partly located in a cave, accessible by a narrow footpath and costs only $4.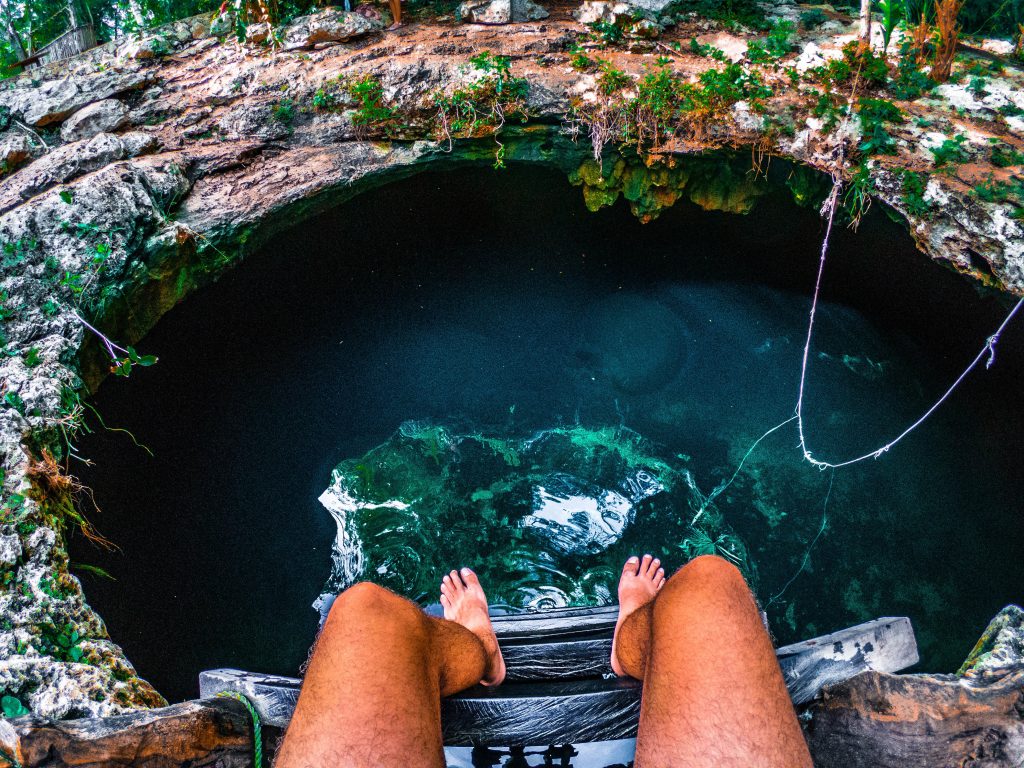 Explore the Mayan ruins in Tulum
The Mayan ruins are probably the most famous attraction in Tulum. The archeological site can be reached by bike in just a few minutes from Tulum town. These ruins are best visited early in the early morning before the crowds arrive. The entrance fee is only $3.50 per person, though, so despite being a popular attraction, this is perfect when learning how to live in Tulum on a budget.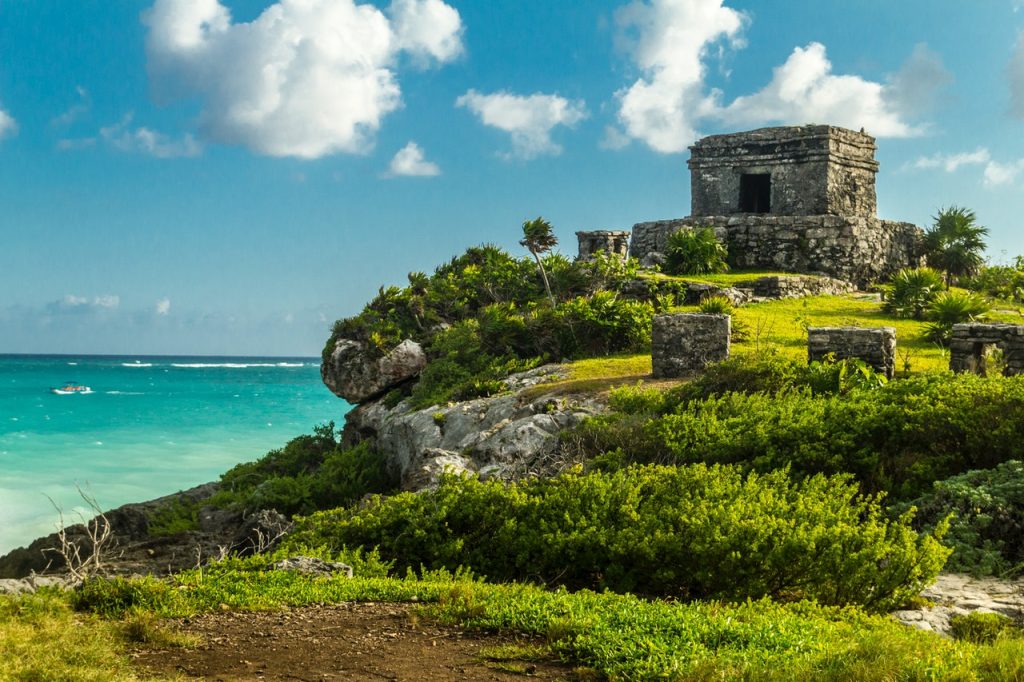 Rent a bike
Biking around Tulum will allow you to be flexible and save money on transport at the same time. Renting a bike costs around $7 per day but gets more affordable the longer you rent it. If you're staying in Tulum for a while, this will be the cheapest and most convenient mode of transportation.

Try the best local food
Mexico is known for its excellent cuisine and affordable street food. Almost every local restaurant offers traditional dishes like tacos and empanadas with different toppings. For only a few dollars, you can get the most delicious food, which will leave you wanting to come back for more.
Day trip to Playa del Carmen
Playa del Carmen is located not far from Tulum and is a lot busier with a lot of nightlife and different restaurants to choose from. Here you can walk the famous 5th Avenue and stroll through the local shops. Budget-friendly meal deals and happy hours are the norm here, and you'll have more than enough to do for a day trip.
TRAVEL TIPS FOR A BUDGET-FRIENDLY STAY IN TULUM
Book your accommodation as far in advance as possible, especially for shorter stays. You'll find the best deals up to a year before you plan on traveling.
Eat at local restaurants to save money. Keep an eye out for taco places in Tulum town or street food stalls that might appear in the early evenings. If you're staying somewhere with a kitchen, you could also go to a local grocery store and cook up a delicious meal at home from time to time to stick to your budget. Use the money you saved on drinks by the beach instead to make sure you'll still have a fun night out.
Don't stay in the main part of Tulum, where prices can be more than 25% higher than a few minutes outside of town.
If you have a bike, you can get around easily even if your accommodation doesn't have a central location.
Always ask what's included in the rent before signing a contract. You might want the help of a Spanish-speaking friend if you aren't confident in your own language skills. Some places could include wifi, electricity, or gas, while others may ask you to pay separately.
Avoid group tours to nearby attractions and instead, make your own way either by bike or colectivo. You'll save yourself a lot of money, and the experience might be more fun. If you're visiting Tulum with a group of people, it might even be worth renting a car for a few days since you'll be able to split the cost.
Check out our other Mexico-related articles!
Like this How to Live in Tulum on a Budget Post? Pin it for later!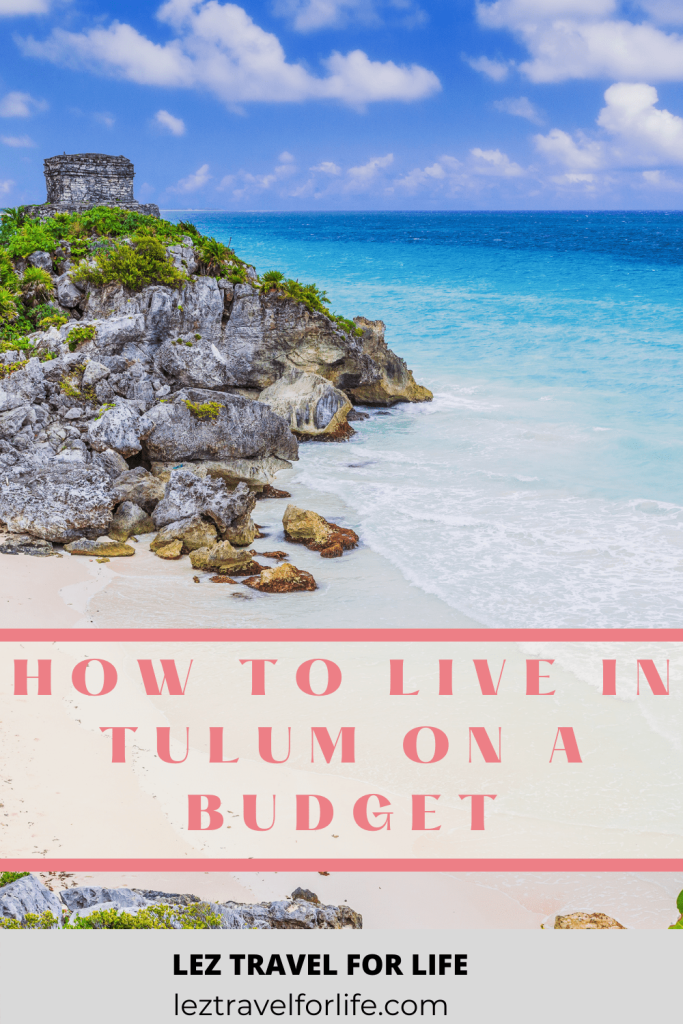 I'm Sam and I may only be 5'3 but I'm feisty and enjoy a lot of sarcastic humor. I'm addicted to travel as well as feeding and advocating for street animals in every country I travel to. I'm married to Courtney and we're super gay or whatevaaaa. We're both extroverts and love meeting new people everywhere we travel. We are in love with Latin American culture but can't wait to explore more of the world!