This article may contain affiliate/compensated links. For full information, please see our disclaimer here.
Reminder: Make sure to check the country's covid guidelines before travel.
If you're wondering where to stay in Oaxaca City, you're in luck, since the options for accommodation are varied and plentiful in this vibrant city. From cheap and sociable hostels to luxurious boutique hotels, there's something to suit every budget and taste.
Oaxaca City is home to many fascinating heritage sites, from colonial churches to ancient ruins. It's also a foodie's paradise, with busy markets, delicious street food, and an array of traditional restaurants. The picturesque city center is also a UNESCO World Heritage site, so there's plenty to keep visitors entertained.
With so much to see and do, it's no wonder that Oaxaca City is such a popular destination.
AIRBNBS, HOTELS, AND HOSTELS
Choose between a wide variety of Airbnbs, hotels, and hostels in Oaxaca City.
Airbnbs are a good option for larger groups since you can often split the cost several ways, rather than paying for separate hotel rooms. These apartments often come with kitchen and laundry facilities, which are both cost-effective and convenient.
Hotels offer a more traditional accommodation experience, with all the associated conveniences like 24-hour reception, room service, and concierge. However, hotels can be more expensive than other options and may not have the homey feel of an Airbnb.
Hostels are popular with backpackers and budget travelers, and there are many to choose from in Oaxaca City. These are often social places, where travelers can meet and mingle. Many even have bars and restaurants on-site and host multiple events throughout the week.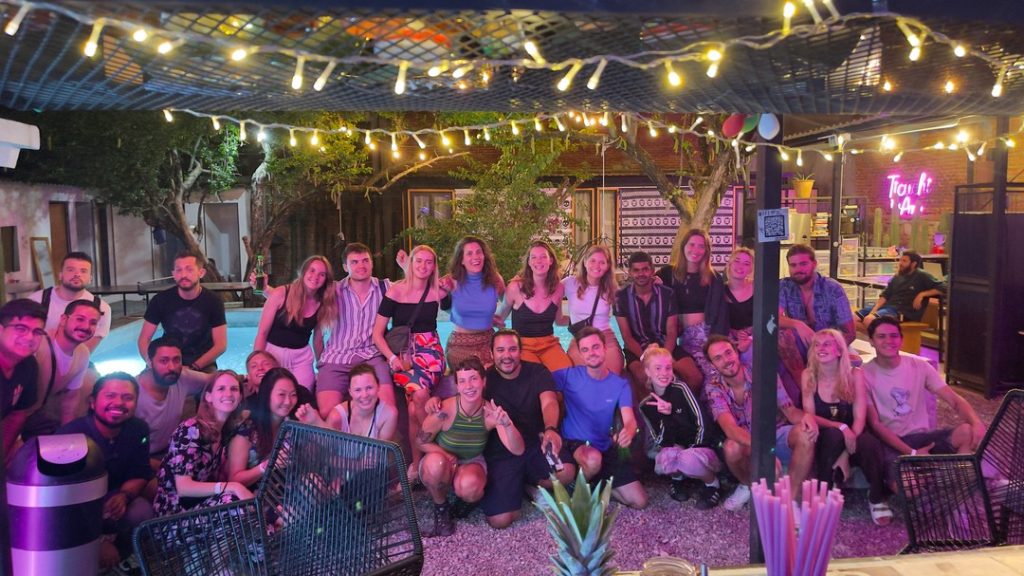 The downside of hostels is that they can be noisy and you may have to share a room with strangers. This is definitely not the best choice for longer stays.
The best type of accommodation largely depends on what you are looking to get out of your Oaxaca City trip.
If you want to save money and meet other travelers, then a hostel may be the best option for you. If you want more of a traditional tourist experience, then a hotel is probably your best bet. And if you want a self-catered apartment that really feels like home, then an Airbnb is a great option.
BEST PLACES TO STAY IN OAXACA CITY
With clean and spacious dorms, an outdoor pool, and a ping pong table, the Ticuchi Hostal is perfect for hostel backpackers. There's a friendly and relaxed atmosphere, with several organized social activities available. However, this is not a party hostel, so you can still count on a good night's rest.
It's worth noting that this is an adults-only hostel, so it's not suitable for families with children. However, it's perfect for solo travelers or groups of friends looking for a social and budget-friendly place to stay.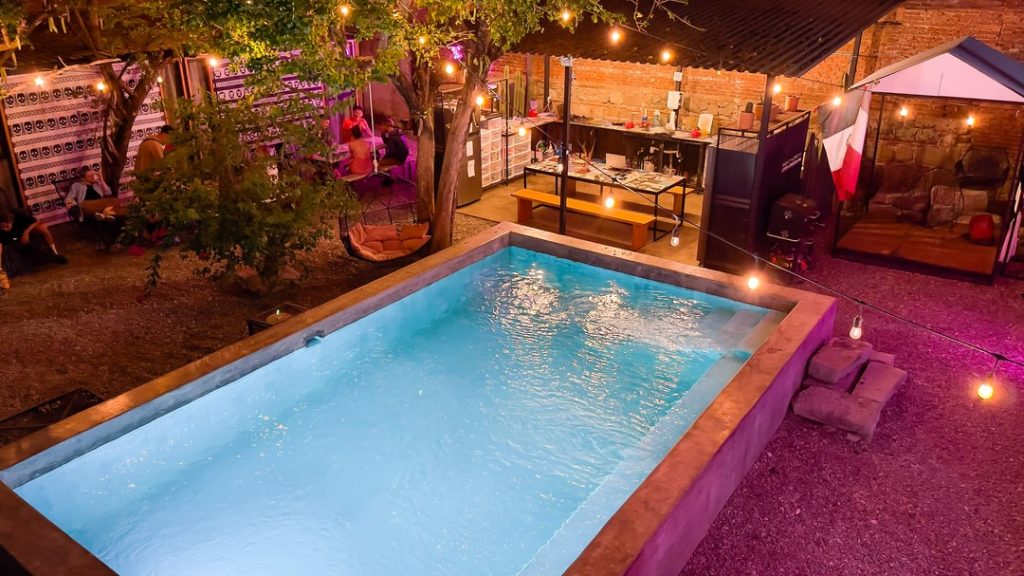 The Casa de Pino apartments are perfect for solo travelers or couples who want a comfortable place of refuge in the historic center of Oaxaca. Each unit has a flat-screen TV, a fully equipped kitchen, and a coffee machine. There is also a shared swimming pool and terrace (featured image on this post) where guests can relax and mingle.
The apartments are a short stroll away from the downtown area, so it's easy to explore all that Oaxaca City has to offer. You also have the option to chill out by the pool whenever you feel the need for a break from the hustle and bustle.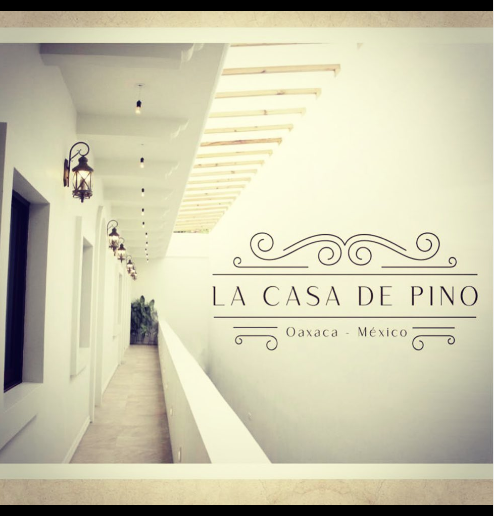 Nestled in the peaceful Barrio de Xochimilco neighborhood, this charming little hotel is just five minutes away from Oaxaca's buzzing bar scene. However, it is shielded from the majority of the noise, offering guests a sound night's sleep.
The rooms are all decorated in a traditional Mexican style and there are several coffee shops and bakeries just a stone's throw away. However, the best thing about this property is the friendly and welcoming atmosphere that will ensure you feel right at home.
This sleek and modern boutique hotel offers guests luxury and comfort without breaking the bank. The hotel itself is located in the historic city center, so all of the action and top tourist hotspots are right on your doorstep.
The rooms are spacious and decorated with an elegant, minimalist style and come with a fully equipped kitchen. Here, you get the full hotel experience while benefiting from a self-catered suite. If you wish to cook for yourself, the staff will even organize grocery deliveries for you.
This luxurious property boasts spacious suites, traditional Mexican decor, and an outdoor swimming pool where you can cool off after a day of exploring. No detail has been forgotten here, and the hotel staff is on hand 24/7 to ensure you have everything you need. It's easy to book tours and excursions through the hotel, and there's a restaurant on site where you can enjoy delicious and authentic Mexican cuisine.
BEST NEIGHBORHOODS IN OAXACA CITY
Of course, when you're thinking about where to stay in Oaxaca City, it's not just about the type of accommodation, but also the location. The city is divided into distinct neighborhoods, each with its own character and atmosphere. The best neighborhood for you will largely depend on the kind of experience you want to have in Oaxaca. Some of the best choices include:
Historic Center
If you want to be within walking distance of Oaxaca's top sights and attractions, then the Historic Center is the best neighborhood for you. This is where you'll find the city's colonial Spanish architecture, as well as museums, restaurants, and bars.
The downside of staying in this neighborhood is that it can be quite noisy at night. However, this also depends on the street you are staying on and the type of accommodation you choose.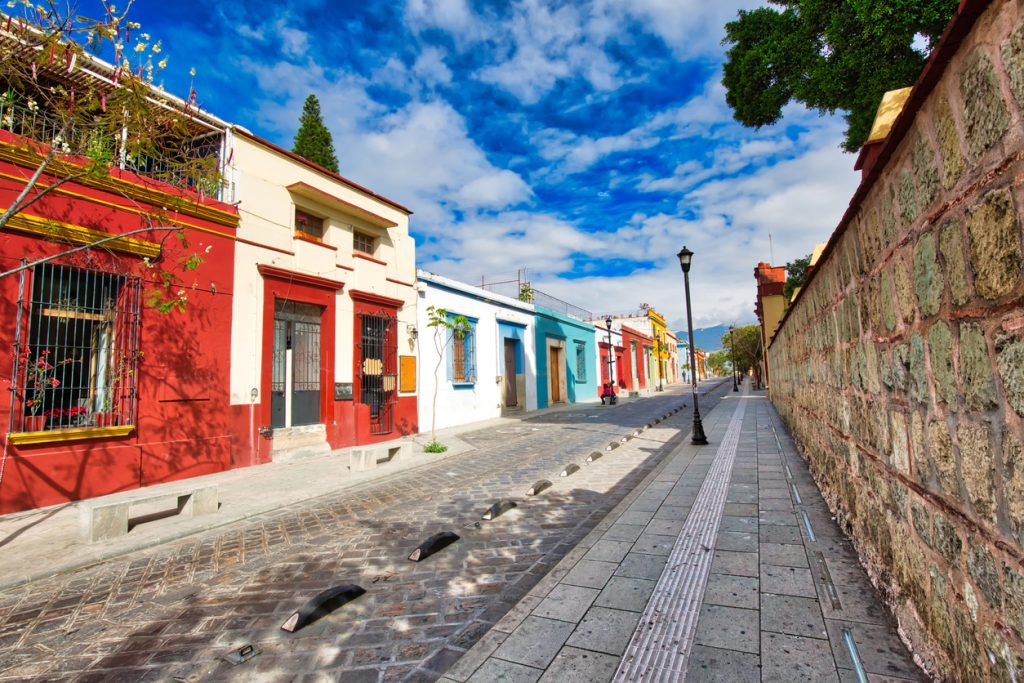 Jalatlaco Barrio
This is one of Oaxaca's top hipster neighborhoods and is full of colorful cafes, bars, and restaurants. This neighborhood is celebrated for its street art and vegetarian food and is home to many smaller hotels, quirky Airbnbs, and cozy apartments. It's a great option for anyone who wants a more authentic and alternative Oaxaca experience.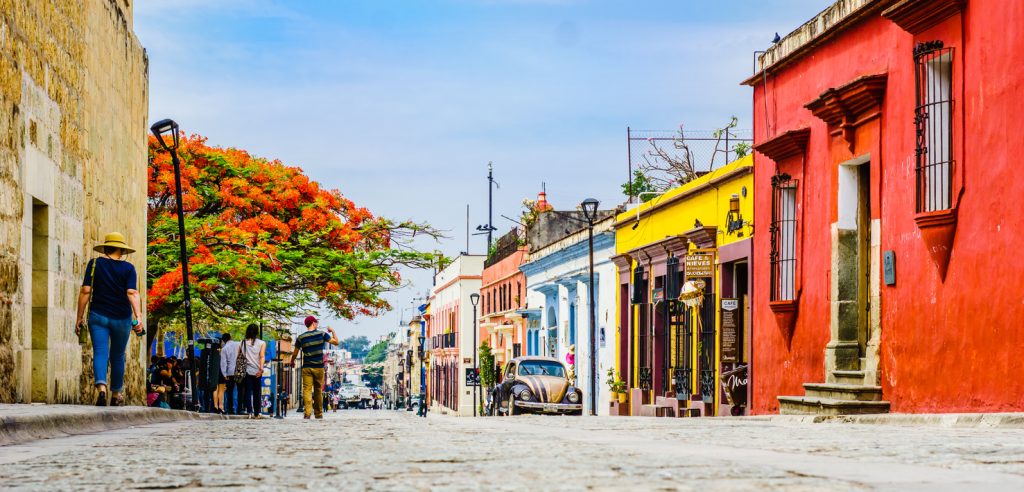 Barrio de Xochimilco
Barrio de Xochimilco is the oldest neighborhood in Oaxaca City and has a very traditional Mexican feel. With cobblestone streets and ancient buildings, this area is known for its charm and character.
Barrio de Xochimilco is located just south of the Historic Center. It's a great place to stay if you want to immerse yourself in the local culture whilst remaining close to the action.
Reforma
The Reforma neighborhood is known for its family-run restaurants and traditional markets. There aren't many tourist hotspots around here, but it's less than 2 miles away from the Historic Center and still a great base for exploring the city.
Overall, Reforma is a great place to stay if you're looking for somewhere that's more authentic and less touristy than some of the other neighborhoods. However, it's perhaps not the best area for those looking to party in Oaxaca. For families and those seeking a more relaxed vacation, though, it's ideal.
NEIGHBORHOODS TO AVOID IN OAXACA CITY
Safety is often a concern when trying to choose where to stay in Oaxaca City. While the city is considered a safe place to visit, there are a few areas that you should avoid.
The good news is that the neighborhoods close to the city center are generally safe, with plenty of police and security around. However, there are a few areas just outside of the center where you should exercise caution, especially at night.
To ensure your safety during your trip, it's generally best to stick to the center of Oaxaca and avoid staying in the suburbs. It's more fun to be close to the action, anyway.
Cerro del Fortin
The Cerro del Fortin hill is a popular tourist attraction and hiking spot during the day. However, it is not really considered a safe area to be in at night time. Muggings and robberies are a common occurrence, so it's best to play it safe and find accommodation elsewhere.
San Felipe del Agua
San Felipe del Agua is another neighborhood that you should avoid staying in. This is where most of the robberies involving tourists take place, so it's best to give this neighborhood a wide berth. It's about a 15-minute drive out of the historic city center, so there's really no reason to stay here anyway.
Interested in other Oaxaca Mexico Related Articles? Check these out!
Like this Where to Stay in Oaxaca City post? Pin it for later!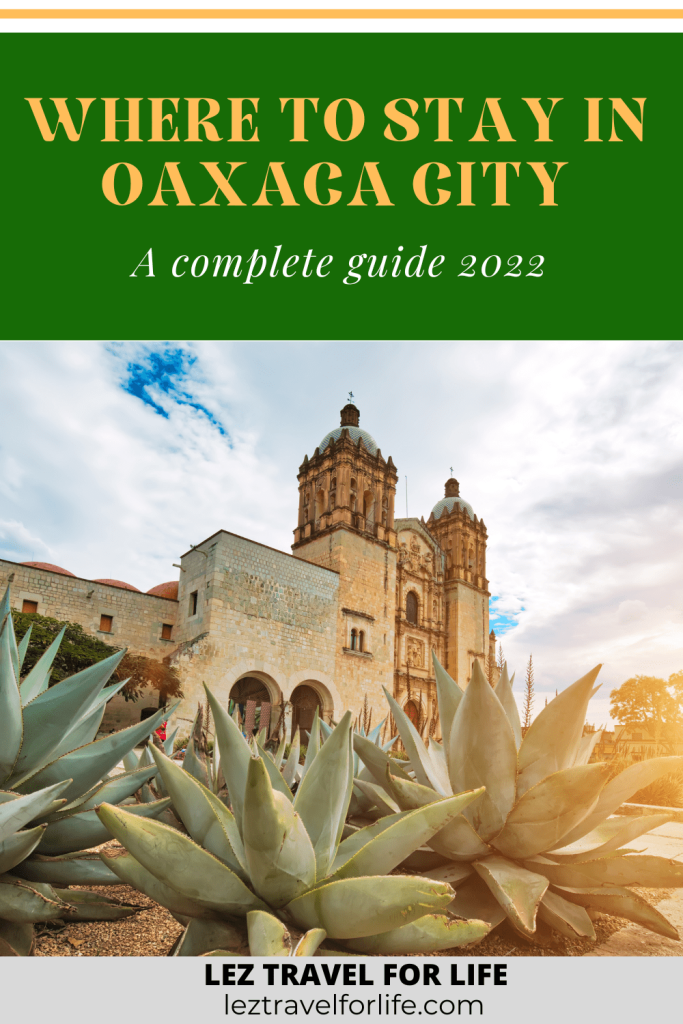 I'm Sam and I may only be 5'3 but I'm feisty and enjoy a lot of sarcastic humor. I'm addicted to travel as well as feeding and advocating for street animals in every country I travel to. I'm married to Courtney and we're super gay or whatevaaaa. We're both extroverts and love meeting new people everywhere we travel. We are in love with Latin American culture but can't wait to explore more of the world!