This article may contain affiliate/compensated links. For full information, please see our disclaimer here.
Reminder: Make sure to check the country's covid guidelines before travel.
As lesbian travel bloggers, it is our life's goal to find the gayest places to party, travel, and live. St. Pete is one of those places that immediately skyrockets to the top of the list. We've traveled to places like Puerto Vallarta Mexico, and felt right at home with a welcoming community, and St. Pete is no different. I'm here to walk you through this Gay St Pete Florida: Epic Travel Itinerary so you can enjoy this city and support all the inclusive local businesses that work hard to create a safe space for all.
It's hard to pinpoint the best part of St. Pete, it's close to the beach, it has an epic downtown, tons of local LGBTQ bars, clubs, and boutiques. We decided to stay for a month in the Historic Uptown area of St. Pete. We were a 5-minute walk from several local coffee shops, restaurants, and parks. We were also close to the freeway if we wanted to hop over the bridge and experience Tampa or Ybor city which is also an LGBTQ hotspot. In this itinerary, I'll give you the in's and out's of our favorite things to do, see, and eat in St. Pete!
ABOUT ST. PETE FLORIDA
When Courtney and I first arrive in a city, our goal is to find out how gay the city really is. We figured out quickly that all the rainbow flags hanging outside business after business wasn't just for show. LGBTQ roots are deep in St. Pete. It's known to have one of the biggest LGBTQ populations in Florida. Not to mention that it's pride it's the largest in the state!
St. Pete is close to Tampa, which has big city vibes and massive gay clubs. The major difference between Tampa and St. Pete is that St. Pete has a very laid-back feel while still having so much to do. We noticed a mixed crowd living in St. Pete. Older lesbians who have retired, the younger crowd (Trans and non-binary), and gay male couples who have relocated and aspire to open more local businesses. It felt so easy to connect with people and make friends as there are Facebook groups with weekly activities.
GAYBORHOODS IN ST. PETE FLORIDA
I don't know if I am always this excited about neighborhoods, or if it's just because I came from a conservative southern town where there weren't MULTIPLE gayborhoods in one city. We explored each neighborhood so we could see the vibes in each spot. I think you'll find something to love in each one as they all have something different to offer.
St. Pete Gayborhood: Central Ave
The name says it all, Central Ave is right in the middle of St. Pete, and it spans for miles! It stretches all the way to the bay! We loved renting scooters and riding in the bike lanes (which are all over the city!) down Central Ave in both directions. We saw tons of local boutiques, restaurants, bars, and cafes. If you find yourself all the way at the bay then you'll have to check out St. Pete Pier, more on that later.
Our favorite thing to do on the weekend was rent a scooter and ride downtown in search of the perfect place to grab a drink. We usually looked for loud music and rainbow flags, trust me it won't take you long! Be sure to take advantage of the photogenic rainbow crosswalk on Central Ave in the Grand Central district. This is where you'll find murals painted by local artists and multiple queer-owned businesses!
Meanwhile, on Central, check out the historic Kenwood for an epic amount of LGBTQ businesses all around you!
Did I mention there are events downtown literally every single weekend? In a month there were 3 bar crawls, a wine and beer event, a Halloween celebration that shut down traffic all down central ave with live performances from my fave drag queen Sharon Needles, and local boutique pop-ups! Join Les Meet: St. Pete on Facebook and ask around for events!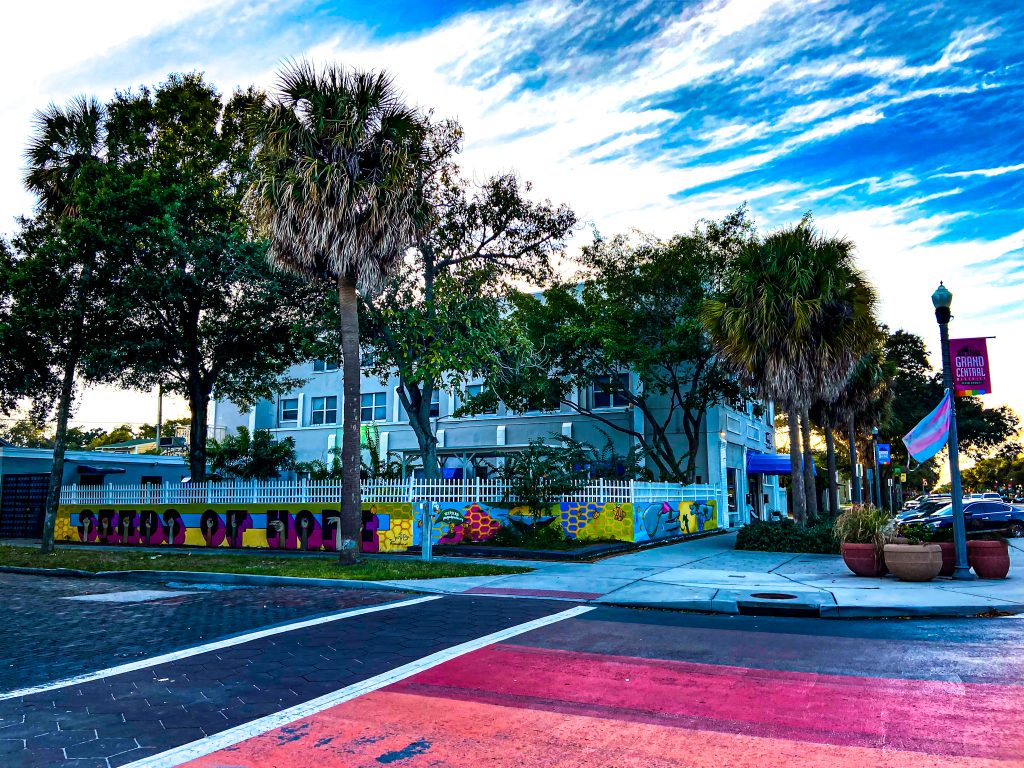 Downtown St. Pete
There is something extra special about downtown that is on the waterfront. Imagine being in St. Pete (where it is sunny almost every day) and walking downtown with skyscrapers, restaurants, and clubs on one side, with yachts and waterfront on the other. We had to add this part of town to our Gay St. Pete Florida: Epic Travel Itinerary. Every time I explored this area I found something new to check out. Not to mention the pier always has live music, local markets, and events going on for you to enjoy. If you squint hard enough you might see Tampa!
Gayborhoods: Gulfport
I always think I research all the cool spots in a city until a local tells me about something I've never heard of. That was Gulfport for me. It's a quick 10-minute drive from Central Ave, it's a waterfront town with an eclectic artistic vibe. A lot of lesbians and other LGBTQ+ people have relocated to Gulfport, making it feel very homey. Apparently, there are so many lesbians here they changed the name of a building to the Edie Windsor Building in honor of all the lesbians! The houses and businesses surrounding the main part of town have unique art displays, and everyone seems really happy to be here. It has a laid-back vibe, it's a fun place to spend a Saturday morning and afternoon exploring.
BEACHES AROUND ST. PETE
Fort Desoto:
If you are looking for a beach that is secluded AND has a dog-friendly beach, this is the perfect spot! It's about a 25-minute drive from downtown St. Pete, with plenty of room for campers, RV's, and tents! The daily parking fee without a trailer is $5! We loved it because a short walk from the parking lot is the dog-friendly beach. There are signs after you enter the park that will lead you to the correct parking lot for the dog-friendly beach.
Treasure Island:
There is an area on treasure Island beach known as the "gay beach", but there is definitely a mix of people, not just queer visitors. The good news is that all the beaches around St. Pete are inclusive and friendly! There are a few bars to enjoy in this area as well: Caddy's, Ricky T's, Buoys. Caddy's is waterfront and a great place for day drinking or sunset drinks. It usually draws a younger crowd. Ricky-T's draws an older crowd. It still gets pretty packed and has sports bar vibes with an outdoor section. Buoys has a waterfront view of the bay, with a more elevated menu. Has a more chill vibe, and definitely a relaxing place to hang day or night.
Pass-A-Grill
Small beach town with a high population of lesbians, yes I said it. Pass-A-Grill takes you to the southernmost point of St. Pete beaches. There are large hotels here, as well as small boutique hotels owned and operated by lesbians! There are weekly events here from yoga, wine, and 5ks! Definitely check this area out if you are wanting to escape the city life of downtown St. Pete. Lesbian couples will enjoy this area as it's very welcoming and quaint.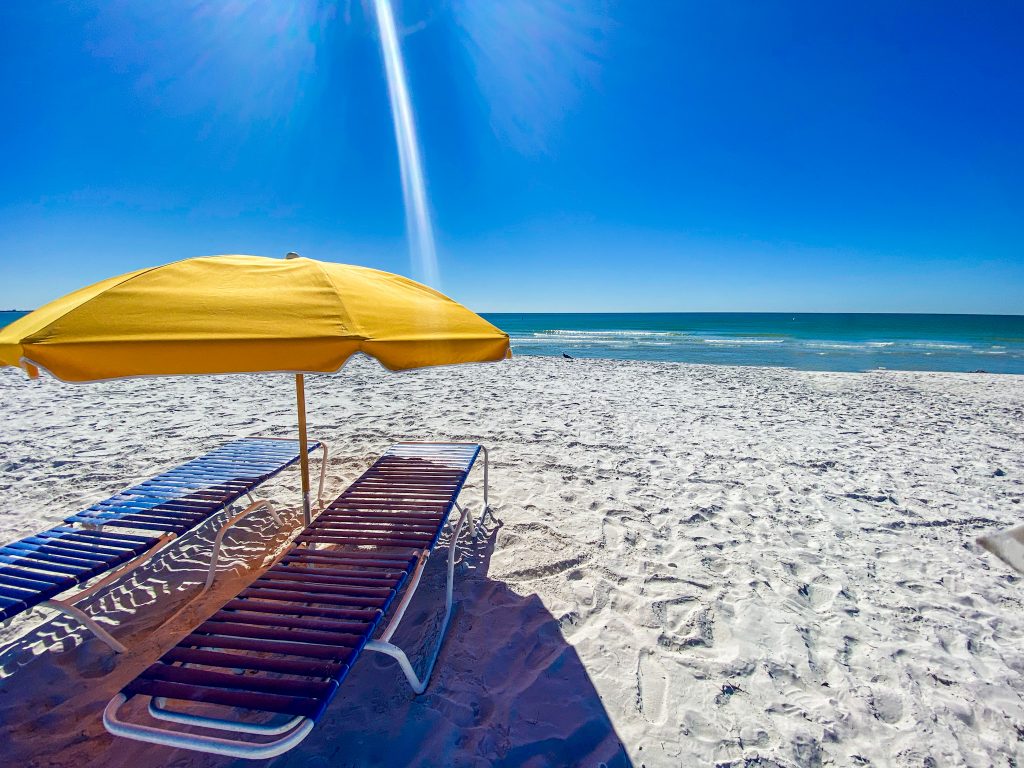 THINGS TO DO IN ST. PETE
After committing to living in St. Pete for a month, I was convinced we would run out of things to do and see because there can't be that much fun stuff to do. I was wrong! We had friends come and visit and it was so easy to find day trips to take and museums to explore. In this Gay St. Pete Florida: Epic Travel Itinerary I'm going to narrow down some of our favorites as it is impossible to list all of the fun stuff! There are tons of options to stay local and explore beaches and restaurants, or even take a road trip and explore things to do in Orlando.
Crystal River and Three sisters springs are only 1.5 hours from St. Pete and WORTH every minute of driving. My top favorite thing to do while visiting this area was being able to rent a clear kayak and kayak around manatees!! Manatees begin to migrate into the warmer waters 11/15 and stay through the winter, which means your chances of seeing some manatees are very high! We saw babies and mama manatees and I wouldn't trade the experience for anything. Plus, the weather was great and we didn't get fried.
We preferred kayaking overtaking boat tours as we don't feel the boat tours are as sustainable and safe for the manatees. Even though they were going slow they would often come very close to them. Another Great option is doing a Kayak tour around Tampa Bay. It's closer to town, you get to kayak through the mangroves where you'll see Dolphins, starfish, birds, and other wild (maybe manatees if it's the right time of year).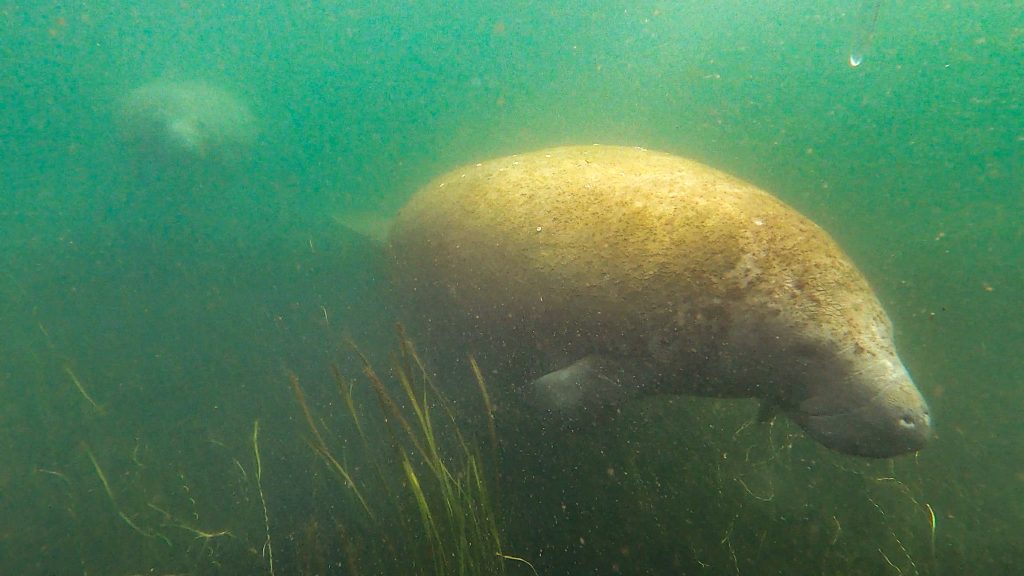 Dali Museum:
Okay, so typically I hesitate with adding in art museums, and I know it's probably just because of my own selfish reason, they bore me. We visited one in Mexico City and it was absolutely stunning but it was massive. However, this museum is beautiful, modern, and Salvador Dali is anything but boring. I spent around 2 hours here and loved every second of it. They also had a room that highlighted a female photographer from the WWII era and it was awesome. It's next to the waterfront so feel free to go on a stroll around after, it's also about a 10-minute walk to St. Pete Pier. Tickets can sell out quickly, try to book online before going, we went at around 11 on a Tuesday and it still got packed!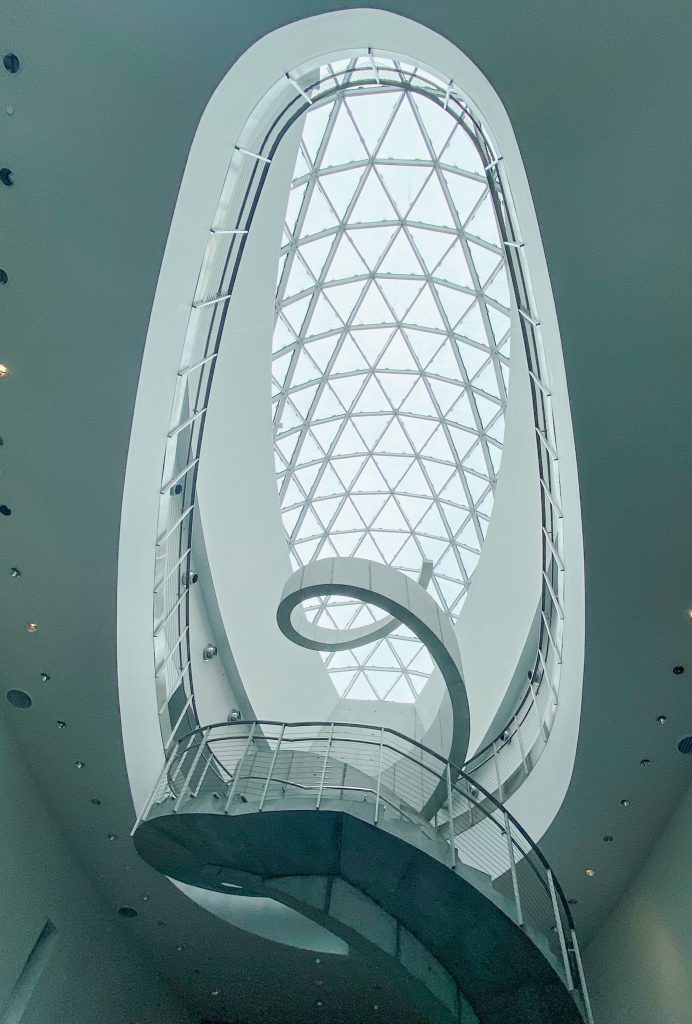 African American Museum:
A beautiful museum that gives its visitors insights into local African American history and culture. It showcases the incredible Dr. Woodson, an African American civil rights activist, and historian. Experience how this museum explores the community through history, and cultural diversity. Be sure to look for the massive Black Lives Matter mural that was created by passionate artists who love the city of St. Pete.
Boyd Hill Nature Preserve:
Nature lovers will enjoy this quick escape from the city. Boyd Hill is just outside of the heart of St. Pete. This preserve is massive (over 200 acres)! The preserve is set up so you can walk or bike around the trails and boardwalks. I had no idea so much diversity existed this close to the city. There are alligators, birds, fish, and more. They offer tours and programs that explain the importance of the preserve and how they work hard to keep the ecosystem in check.
Dolphin Boat Tour:
If you aren't looking to spend a couple of hours kayaking and getting an arm work out but still want to see the beautiful water surrounding St. Pete, then you should definitely take a Dolphin boat tour. They offer tours at various times of the day so you can choose when you want to head out on the open sea. Boat tours are at the top of the list of favorite tours when we are visiting cities near water because we love being able to see the wildlife and learn about the local environment.
Sunken Gardens:
Enjoy an hour at the Sunken Gardens, it's right outside the downtown area making it easy to access. Originally, it was created over 100 years ago to showcase exotic plants and flowers from all over the world. It's a beautiful maze of trees, plants, flowers, and even flamingos! There is plenty of shade to rest if you get hot or just want to enjoy the peace and quiet.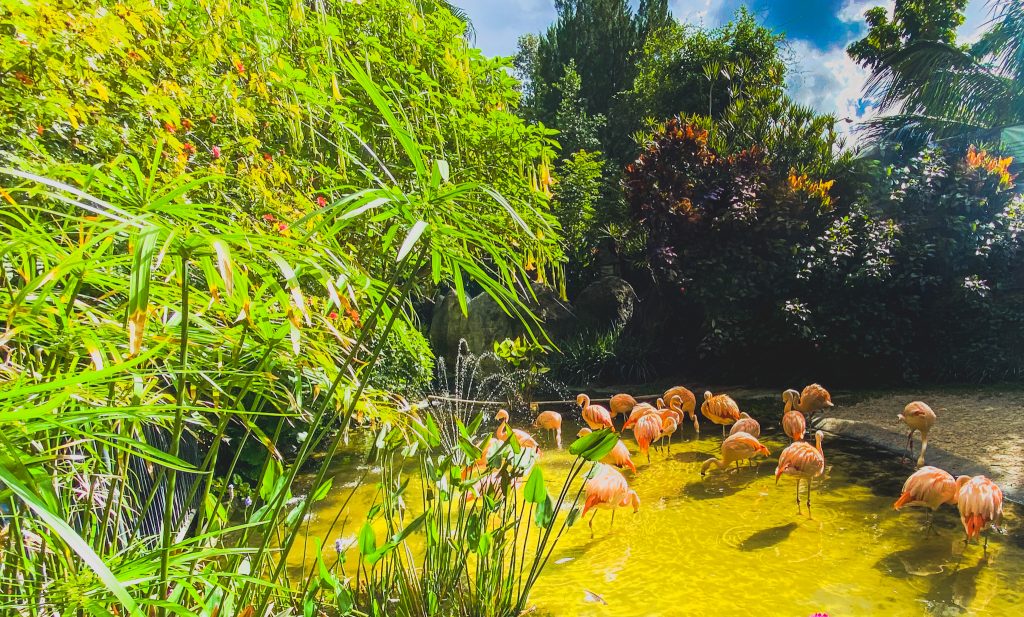 St. Pete Pier
Okay so we have been to a lot of beaches and a lot of piers, this one is amazing! It's not just a wooden bridge that takes you to a dead-end filled with hungry pelicans staring down fishermen. It is huge! There are several restaurants, a grassy area that hosts craft beer festivals, concerts, and weekend markets. There is also a beach area with chairs, and massive open space with fountains kids and adults can play on.
Keep walking past all these cool things and you'll find small walkways with beautiful views of the water and the pier! Once you make it to the pier itself you'll find that it is 2 stories tall and on the second floor there is a restaurant/ bar that turns into a club vibe on the weekends! This is definitely a place you can spend an entire Friday afternoon/ evening at.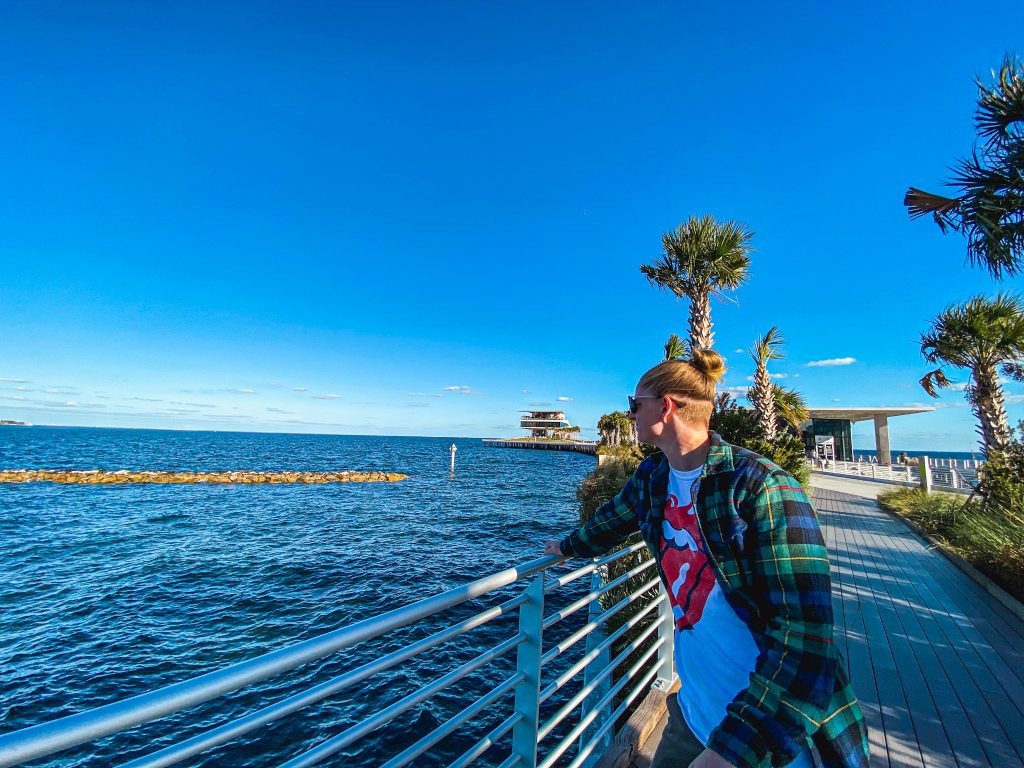 WHERE TO EAT AND DRINK IN ST. PETE FLORIDA
We love food. We love coffee. Oh, and we love some artisan cocktails (yeah I said it). There was no shortage of food and drink options in St. Pete and I'm about to spill our top picks!
Coffee:
Black Crow Coffee: Two locations, both with a very eclectic and homey vibe. Great place to work & relax.
Grassroots Kava House: Coffee and Kava shop on central ave. Very social and pet-friendly place, we made a few friends here! We frequented here almost daily.
Flatbread + Butter: On the quieter side of St. Pete in Historic Uptown. A newer business that has delicious lattes (so strong), and breakfast sandwiches. Come back at night for homemade pizza with vegan options!
Gypsy Souls Coffeehouse: A few blocks from downtown, a cute coffee shop, pets are allowed inside! Great place to work, or just sit outside and enjoy your morning.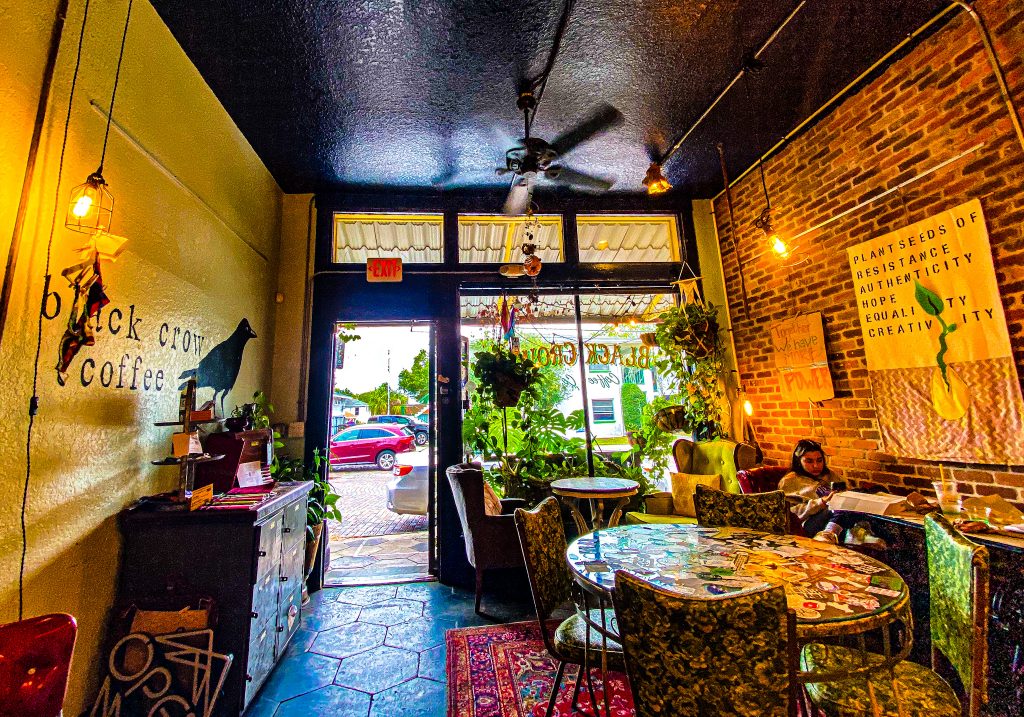 Breakfast:
Uptown Eats: Family run, breakfast sandwiches, and other breakfast plates. Loved it, It is usually packed but they move quickly! Gypsy Souls Coffeehouse is a couple of doors down so grab coffee and head here for breakfast. The earlier you go the higher the chance you have of getting a seat.
Central Coffee Shoppe: Old school diner, my top pick for any breakfast place in the city. A family-run business that has been around for decades. A local favorite, do not miss eating here!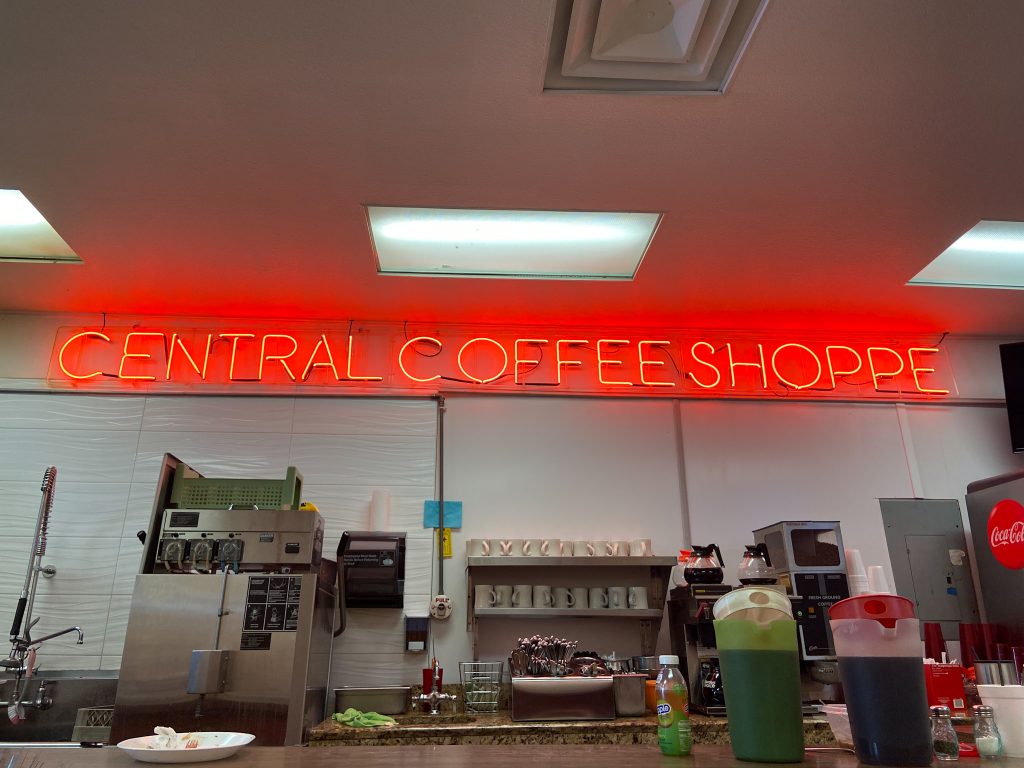 Brunch & Lunch:
The Left Bank Bistro: Cute little restaurant with a french-inspired menu. Brunch options are delicious and don't skip out on the mimosas.
The Lure: Sushi for brunch? Normally I wouldn't pick a place that has a menu with everything you can imagine on it, but they do it right! We ate here for brunch several times and the mimosas are on point!
Wild Child: Very stylish brunch spot on central, have healthy options as well. Super popular so try to get there early.
Toss Salads & Wraps: Simple salad shop, you can choose what all you want and it makes for a quick and healthy option if you are on the go!
Dinner:
Buya Ramen: obsessed with this ramen place. Service is a little slow but they were severely understaffed when we were in town. Make reservations and try the Godzilla cocktail!
Pizza Box: Small restaurant on Central, apps were great and so was pizza!
Cappy's Pizza: Family run business, LOVE the pizza, favorite in the city
Brick & Mortar: Fancy menu, outdoor seating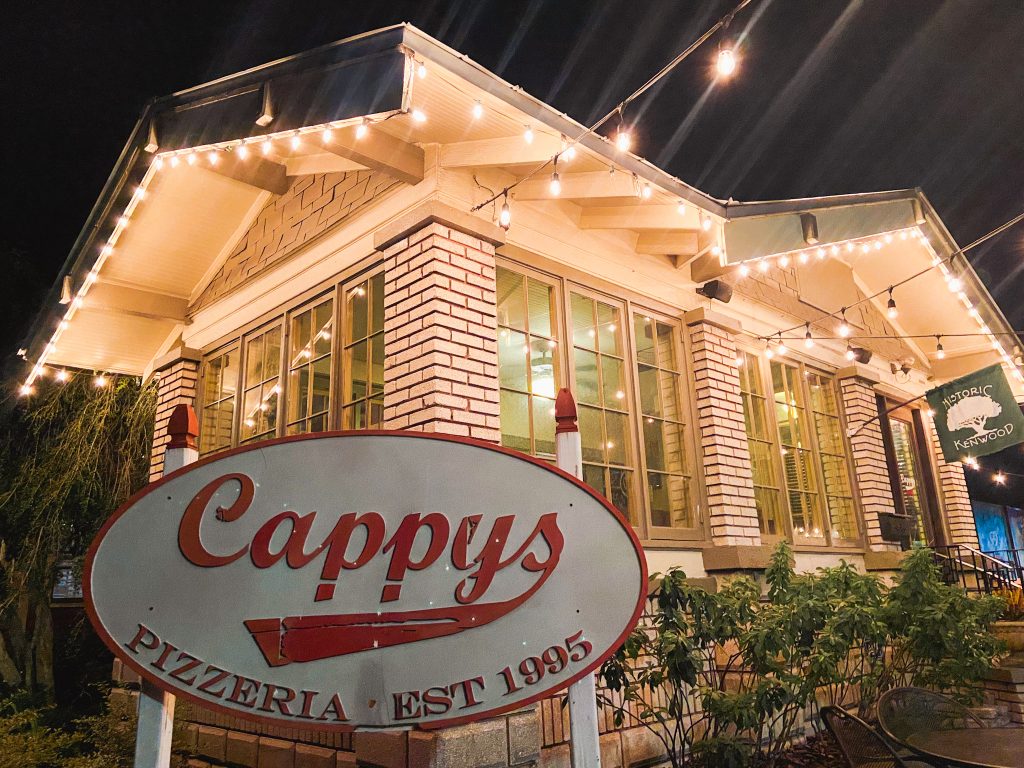 Drinks:
Mandarin Hide: Elevated cocktails with highly skilled bartenders. I Love coming here, if you ask the bartenders to make something they probably can. We asked for a specific Mezcal drink from Mexico and they blew us away with their knowledge and passion!
Saigon Blonde: Another amazing cocktail place with fun staff, the second floor turns into a dance floor on the weekends. Younger crowd.
Five Bucks Drinkery: Super popular spot for locals, lots of LGBTQ people here. Drinks are cheap and it's super busy on the weekends. A fun place to start the night.
Intermezzo: A laid-back cocktail and coffee bar, try the espresso cocktail.
The Dog Bar: Locals have coined this as a lesbian bar, and they aren't wrong. Even if you don't have dogs, come and enjoy the drinks, and dog watching. Everyone is really friendly!
The Saint: Super secret speakeasy next to the Cocktail bar. Check their social media for rules on getting in. On the outside, it doesn't look appealing at all, but once you're inside it's decorated well and offers an extensive cocktail list.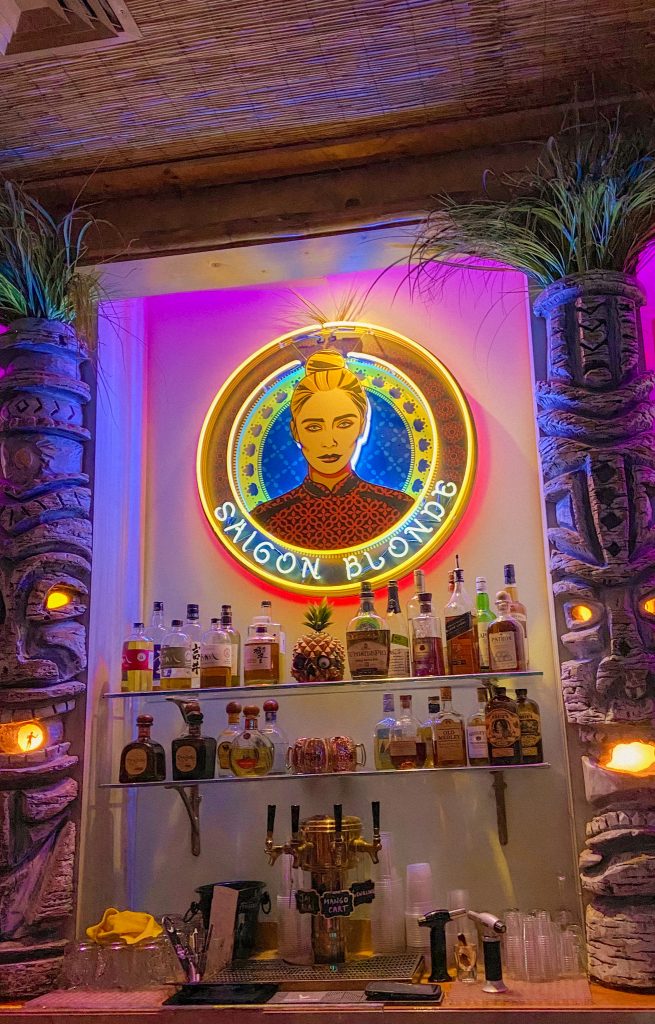 Deserts:
Valhalla Bakery: I'm obsessed with this bakery, they have vegan options, and I seriously could not stop coming to this place. They have so many options and no matter what time of day you come it all tastes so fresh.
ST. PETE LGBTQ BARS AND CLUBS
Enigma: A cute gay club on central ave. There is always a crowd here, and they never charge a cover. There are pool tables inside, drag shows, and outdoor bar seating! It's a fun and welcoming place to dance the night away.
Cocktail: Our favorite club in St. Pete! We went countless times! The drag shows are fun, and there is a lot of space to dance. The drinks are strong, so prepare yourself!
The Garage: A dive bar for LGBTQ+ friends. It's on the chill side, enjoy a few drinks here to start off your evening.
Salty Nun: They have snackies and drinks. Their food is souther0style breakfast, lunch and dinner. They often have live music Wednesday through Sunday and are dog friendly! Salty Nun us not specifically a LGBTQ+ bar but it's definitely LGBTQ+ friendly and we have found that is typically the population of people that go here. We always have lots of fun with our pups when we go!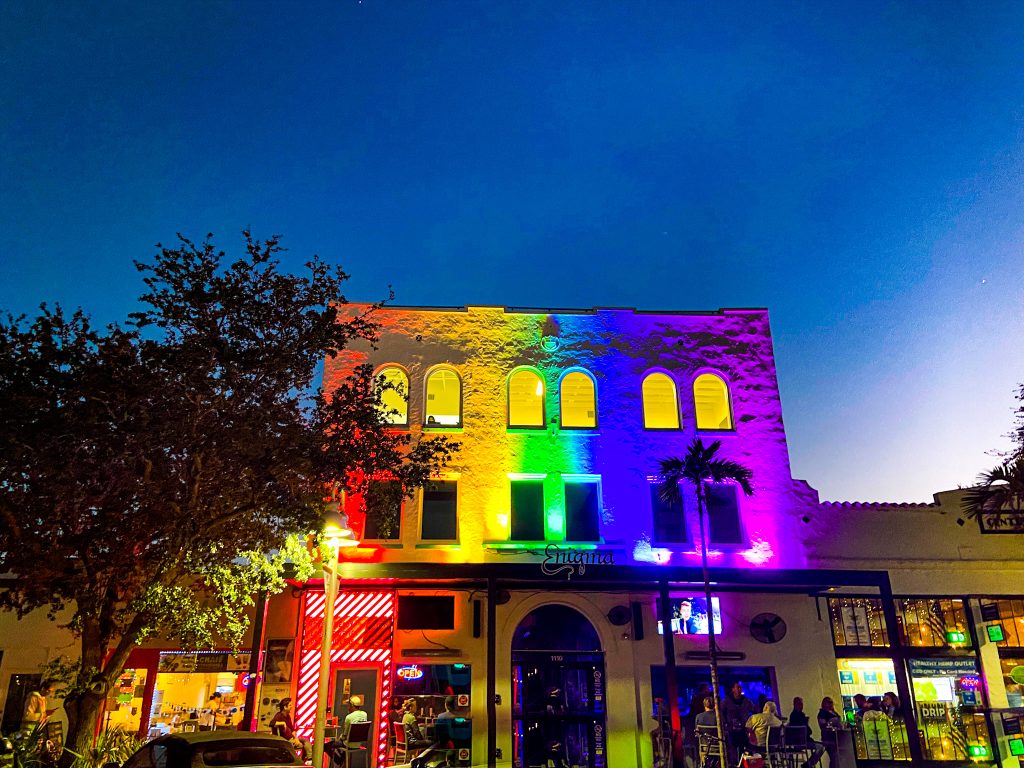 WHERE TO STAY IN ST. PETE
Coconut Inn: Boutique hotel in Pass-a-Grill. The perfect location to enjoy a relaxing and quiet vacation. Also offers an outdoor pool. They are pet-friendly!
The Hollander: A boutique Hotel in downtown St. Pete with a restaurant, heated outdoor pool, and a poolside bar. Also close to the waterfront and the Dali Museum.
The Birchwood: Downtown St. Pete, a few minutes walk to the waterfront, while also being close to multiple bars and restaurants. They offer a restaurant and a popular rooftop bar for cocktails.
Postcard inn: On St. Pete Beach offers a massive heated outdoor pool. Only a 15-minute drive from downtown St. Pete. A popular choice for visitors wanting to be right on the beach!
The Cordova Inn: The Cordova Inn is centrally located in downtown St. Pete. You are about a block from the center of town and the waterfront area. There is also a bar called The Scott that sits at the front of the inn that serves coffee, drinks, and small bites. We personally love heading over to The Scott for morning coffee or for an evening happy hour. The decor reminds us a lot of Charleston SC with its vintage furniture, pictures, and overall vibe and is a popular choice for travelers.
Like this Gay St. Pete Florida: Epic Travel Itinerary post? Check out our other related articles!
Like this Gay St. Pete Florida: Epic Travel Itinerary Post? Pin it for later!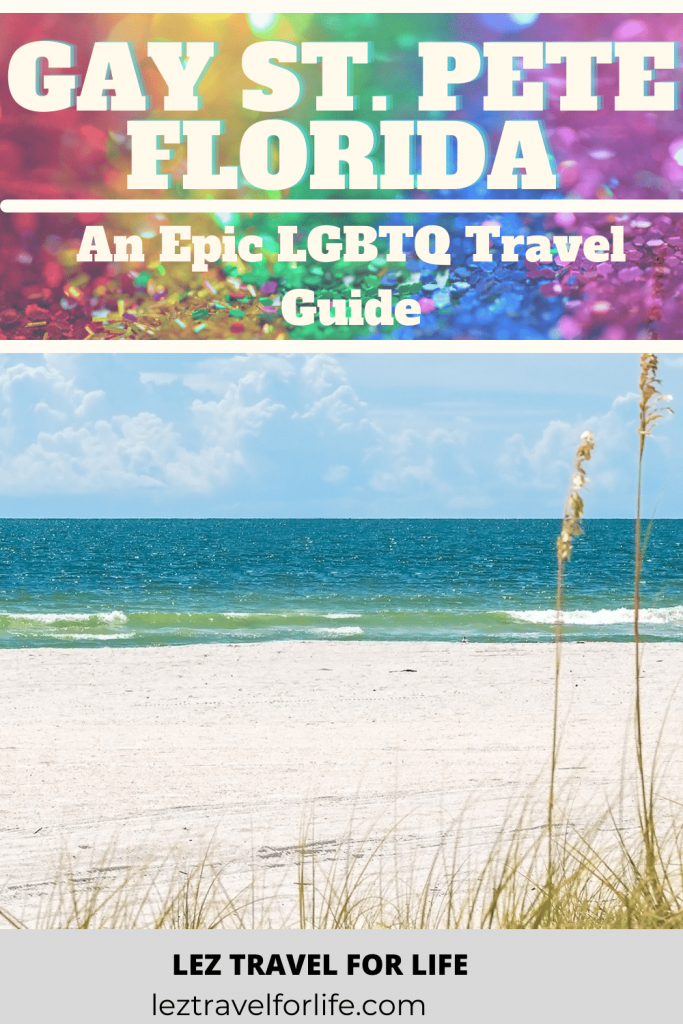 I'm Sam and I may only be 5'3 but I'm feisty and enjoy a lot of sarcastic humor. I'm addicted to travel as well as feeding and advocating for street animals in every country I travel to. I'm married to Courtney and we're super gay or whatevaaaa. We're both extroverts and love meeting new people everywhere we travel. We are in love with Latin American culture but can't wait to explore more of the world!