This article may contain affiliate/compensated links. For full information, please see our disclaimer here.
Reminder: Make sure to check the country's covid guidelines before travel.
Planning a trip can be stressful, but planning a trip while also bringing your pet can feel 1000x more stressful. My goal is to alleviate that stress by providing you with everything you need to prepare for your flight in this Pet Air Travel Checklist.
What do we know about air travel with a pet? Courtney and I lived in Mexico for almost a year, and while we were there we did our fair share of volunteer work to help street animals in Mexico. We helped spay, neuter, adopt, and TNR cats to lower the population of them running around starving. I flew 4 cats to their new homes from Mexico to the US. Two cats flew in-cabin with me and 2 went under the plane. We also decided to adopt a rescue dog that could travel with us around Mexico! I'm here to encourage you to plan that vacation with your pet, and give you all the details you need so you can see how easy it can be.
I want to be clear that we traveled with our dog around MEXICO. He did also fly with us from Mexico to the United States and back to Mexico. If you are traveling to another country aside from Mexico or the United States, be sure to look into the specifics for that country as they can be vastly different. Please check out the CDC importation of pets page for more information about other countries.
WHAT HAPPENS WHEN MY PET ARRIVES IN MEXICO
Upon arriving in Mexico you will go and visit the office of the Mexican Animal and Plant Health Inspection Office. It does not matter if you have a layover or it is your final destination, it is required that you visit this office. Try and ask a flight attendant or someone that works in the airport so you don't wander around too long. They will check your vet records, ensure your pet has a rabies shot, doesn't have fleas, isn't sick, and nothing looks suspicious.
You also have to have specific documentation depending on what airline you are flying. Hang tight I will explain each airline's pet policy below.
If you are flying into the United States, it is not the United States government that will require you to have a health certificate, but rather the individual state you are flying into may require an up-to-date health certificate including a US-issued rabies shot. Always research what your state requires before flying.
CONFIRM YOUR AIRLINE ALLOWS PETS
Before you get excited about taking your pet on vacation with you, the most important thing is to be sure that the airline you plan to fly with allows animals at all. I have linked below the airlines that travel to Mexico and what their policies for pets in the cabin are. I have also linked the airline's pet policy link so you can get all the details you need.
Be sure to pay attention to how long your flight will be if there is a layover, and confirm with the airline that you are allowed to bring a pet on a flight longer than 6 hours. When you call to add your pet to the reservation you can ask these specific questions. Be sure you get an email confirmation (in writing) that your pet has been added to the reservation to save you a possible heart attack upon arriving at the airport for your trip.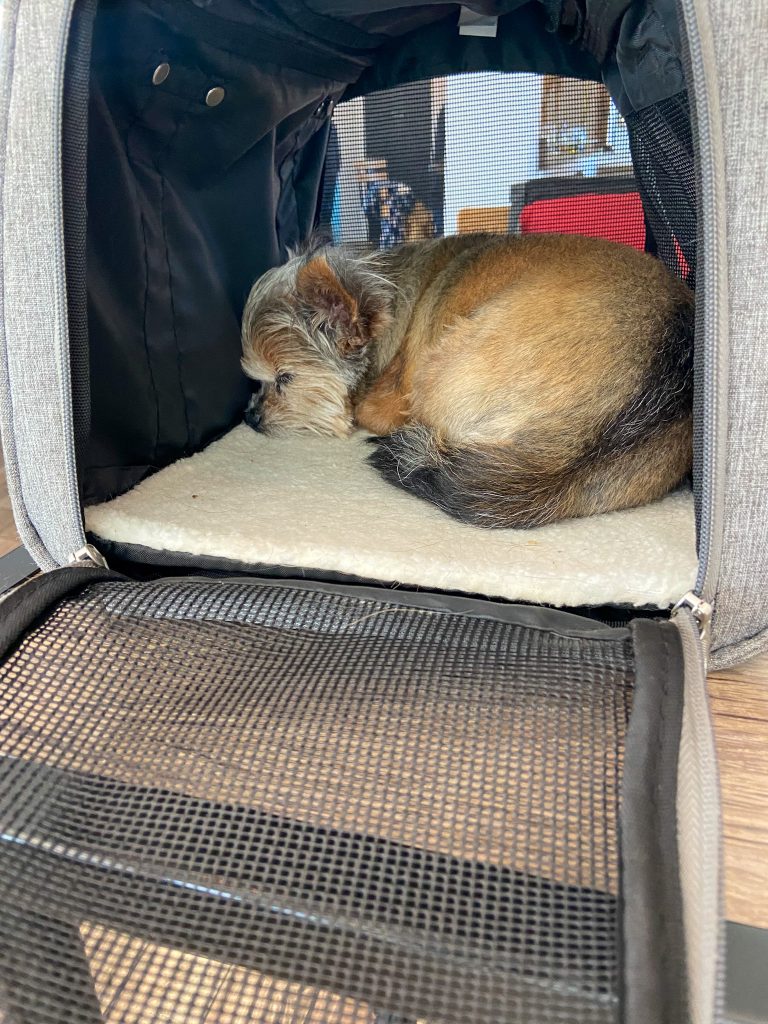 HAVE VET RECORDS WITH YOU
While not every airline will ask you about your pet's rabies vaccination records, some airlines will. I saved myself the stress by simply getting two copies of my vet records on official letterhead printed paper with the vet's information and had it in our dog's carrier just in case. There is nothing worse than getting to the check-in counter and not having what you need!
Also, have the vet check the CDC and USDA websites as well to ensure you both are on the same page for what is required.
RESEARCH PRIOR TO TRAVEL
It's always good to do your own research, as peace of mind before booking your trip. While I have done it for you, things change frequently with travel and pets and it's important to be 100% sure what you can and cannot do. Pets traveling internationally around North America have had a consistent policy for years but be sure to triple check. Make sure to look at CDC and USDA websites prior to booking a flight!
PURCHASE FAA APPROVED CARRIER
Pets that are flying in the cabin must have a specific type of carrier that fits several types of requirements. Depending on the airline, some employees will come out and examine the kennel. Don't be alarmed by this, they are just making sure the kennel is the appropriate size.
First, the carrier must fit under the passenger's seat.
Second, the Dimensions of the carrier must be 17.5 in long by 12 in wide by 7.5 inches high for hard-sided kennels. For soft-sided kennels, the dimensions are 18 in long by 11 in wide by 11 in high.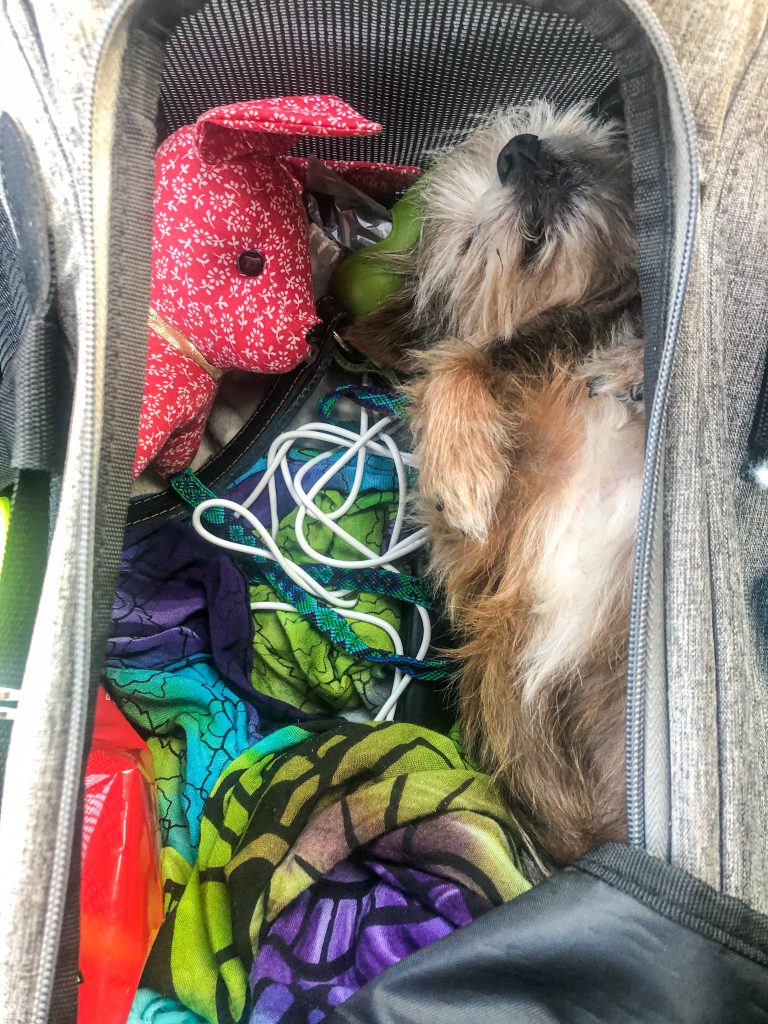 MAKE PET CARRIER COMFORTABLE
Travel is stressful! Espeically when you are traveling to a different country like Mexico. It's important that your pet feels comfortable in their carrier as they are going to spend a lot of time in it. I always make sure the pet carrier has a blanket inside, that way our dog can make a little nest and hide his face if he wants to. I also make sure the blanket smells familiar, that way he feels like he has a piece of home with him.
We also like to use CBD before traveling with our dogs. We use a liquid form and it helps them sleep and relax with all of the noise, bumps, and people around.
YOUR PET AND AIRPORT SECURITY
When you are going through airport security you will have to take your dog or cat out of their carrier and walk them through the machine while holding them in your arms. It is very important that if you have a cat or kitten with you, you have a harness on them and a leash. Even if you have a very well-behaved cat, these situations are very new and stressful for them and they could try and jump out of your arms. Put the harness on your cat a couple of days before you travel and allow them to get used to it. They will try and get out of it at first, and may never love it but this is important so you have a smooth transition through security.
When I took two kittens through security the first time I held both of them at once and this was definitely a terrible idea, I got lucky and they didn't run. I was told by airport security that I could ask for a PRIVATE SCREENING. Where I go into a room and take the cat out and it is put on a table and looked at with no way to escape. This was a much better option. Remember to advocate for what is best for your pet even if you are in a hurry. Security will try to rush you, just keep asking for a private screening and they have to give it to you.
PET AIR TRAVEL CHECKLIST: PACK FOOD AND WATER
Courtney and I have two collapsable bowls that we always have with us on every trip, hike, or vacation. These are super convenient as I can hook them to the side of the carrier so it doesn't take up space inside where my pet is.
We always pack a Ziploc bag of small treats and food for our dog to nibble on. They get hungry too!
LIMIT FOOD AND WATER INTAKE PRIOR TO FLIGHT
Traveling by air to Mexico with your pet requires a lot of pre-planning. Make sure you limit their water intake before getting to the airport. Sometimes delays happen, also in Mexico no airports that I can remember have a pet relief station, so if you do not have enough time to walk your dog in between flights then they may go potty on the plane or poop in the middle of the airport like our dog. Bring a water bottle with you and try to give a little water here and there just to ensure they are staying somewhat hydrated.
PET AIR TRAVEL CHECKLIST: WALK YOUR DOG BEFORE FLIGHT
You may not mind running to your gate and barely making your flight, but adding an animal in the mix means you need to have plenty of extra time to care for their needs first. Take them on a long walk before you arrive at the airport. Make sure they poop and pee.
Air travel means spending a lot of time in the airport, a lot of times without a pee break. Always pack a couple of pee pads just in case. We have never personally used one with our dog, but it's important to have one with you in the event there is a delay and your pet is stuck in a kennel for 15+ hours. Try to take them to a bigger bathroom stall and have them use the pad if possible.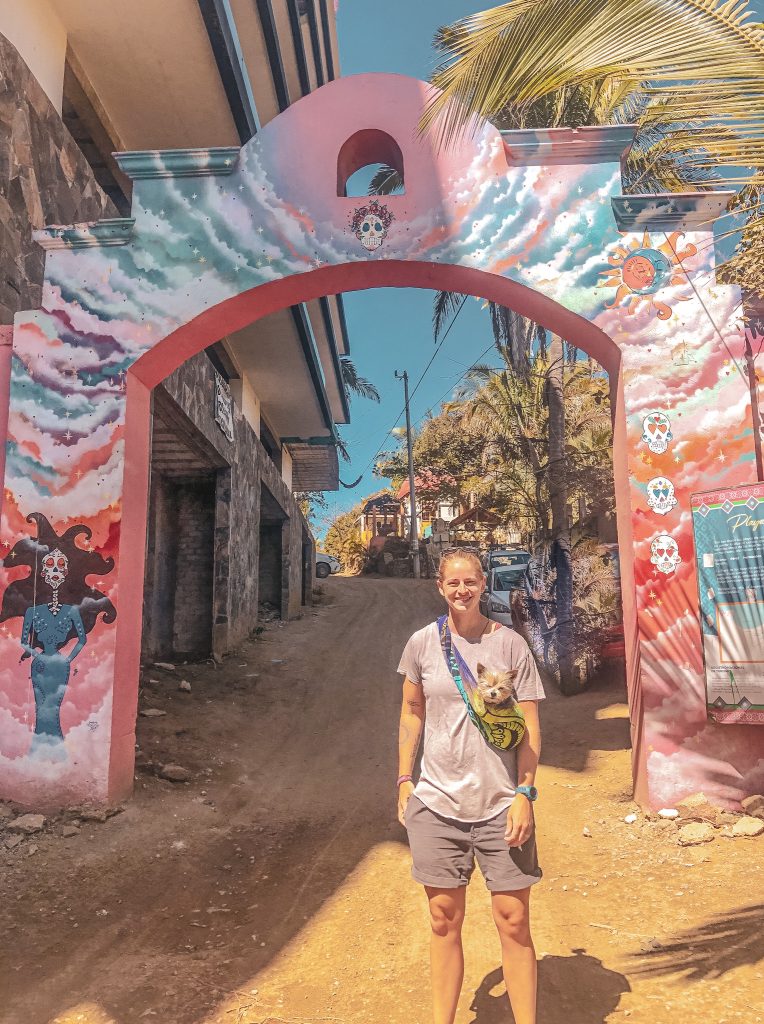 PET AIR TRAVEL CHECKLIST: PET POLICY BY AIRLINE
United Airlines
$125 pet fee each way for in-cabin pet
No Health Certificate Required
Must call United or reserve online ahead of time to ensure space
Must Check-in at the Airport concierge desk
Must have current US-issued rabies vaccine upon entering the US
JetBlue
$125 pet fee each way for in-cabin pet
No Health Certificate Required
Must call ahead of time to ensure space
Must have current US-issued rabies vaccine upon entering the US
Must Check-in at the Airport concierge desk
Spirit
Does not allow animals in cargo or in-cabin on international flights unless they are service animal.
American Airlines
$125 pet fee each way for in-cabin pet
No Health Certificate Required
Must call ahead of time to ensure space
Must have current US-issued rabies vaccine upon entering the US
Must Check-in at the Airport concierge desk
Delta
$200 pet fee each way for in-cabin pet
No Health Certificate Required
Must call ahead of time to ensure space
Must have current US-issued rabies vaccine upon entering the US
Must Check-in at the Airport concierge desk
Proof of Microchip
Southwest Airlines
No pets are allowed in-cabin on international flights
AeroMexico
Pet fee one way between $135-140 USD
Max Flight Duration is 6 hours
Vaccination Records
Certificate of Good Health issued within 5 days of travel. Must have one original and one copy. Must be printed on letterhead paper with vet professional ID number. Must include: Breed, age, gender, color, pet owner address and name, destination and departure address
Rabies vaccine: Date of application, length of vaccination coverage, product information
Dewormed within 6 months of travel. Documentation of what was used for deworming and the date it was applied.
Must call and reserve ahead of time to ensure space
Must Check-in at the Airport concierge desk
PRODUCTS WE USE FOR PET AIR TRAVEL
Sale
Sale
Like this Pet Air Travel Checklist Article? Check out our other related articles!
Puerto Vallarta Mexico Travel Guide
Like this Pet Air Travel Checklist Post? Pin it for later!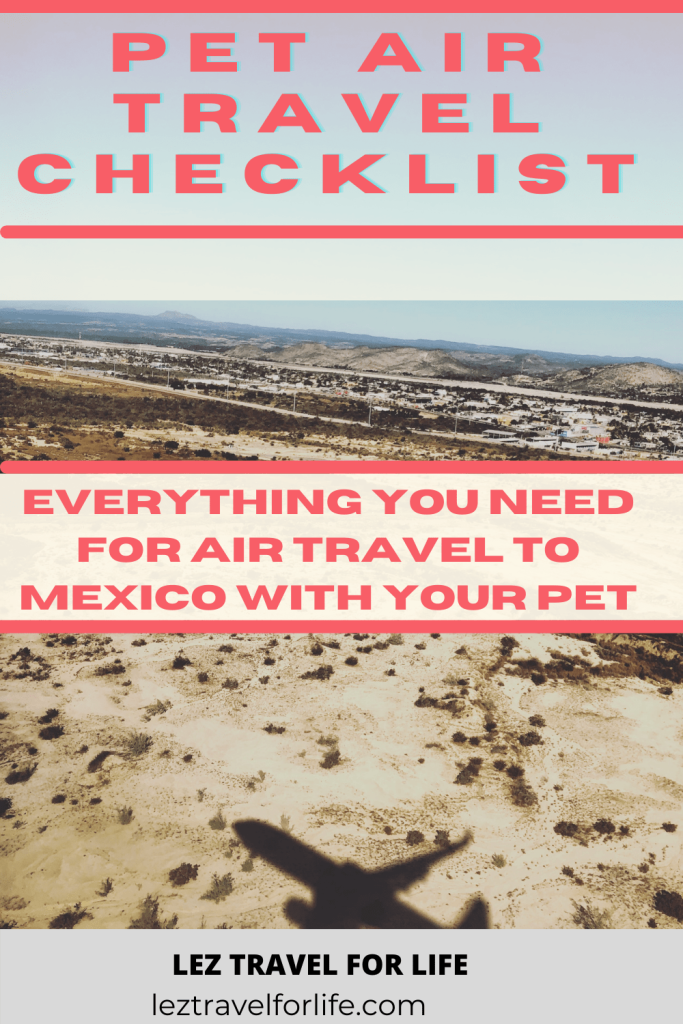 I'm Sam and I may only be 5'3 but I'm feisty and enjoy a lot of sarcastic humor. I'm addicted to travel as well as feeding and advocating for street animals in every country I travel to. I'm married to Courtney and we're super gay or whatevaaaa. We're both extroverts and love meeting new people everywhere we travel. We are in love with Latin American culture but can't wait to explore more of the world!