This article may contain affiliate/compensated links. For full information, please see our disclaimer here.
Reminder: Make sure to check the country's covid guidelines before travel.
It's time to plan your trip to sunny Puerto Vallarta Mexico and the first thing you want to do is find a fun, unique hotel to stay in. We've got you covered! In this Unique Hotels Puerto Vallarta guide I'll walk you through my top picks for accommodations.
Why are a couple of lesbians like us qualified to help you book your next stay in Puerto Vallarta? Well, Courtney and I lived in Puerto Vallarta for several months and we found a ton of Unique Hotels in Puerto Vallarta that we want to share with you. Whether you are an LGBTQ traveler looking for exclusive gay resorts or more of a laid-back private hotel we will cover all the bases.
Puerto Vallarta sits in the Riviera Nayarit coastline and offers breathtaking views of the ocean along with a hilly jungle towering above the beaches. It is the perfect place to enjoy a walk on the beach, a dip in the pool, or enjoy a cocktail all while being surrounded by the sea. We are excited to share the unique experience this town has to offer. It is a lively town that knows how to party, all while being safe, and extremely LGBTQ friendly.
UNIQUE LGBTQ HOTELS PUERTO VALLARTA
Name: Almar Resort Luxury LGBT Beach Front Experience
Price: $150 Per Night
Location: Zona Romantica
Features: Adult Only, offers a beachfront bar, pool, restaurant, and chair rentals, A/C
Let's start off our list of Unique Hotels in Puerto Vallarta with a bang. This exclusive LGBTQ resort is my top pick for a gay resort anywhere. It has multiple outdoor pools, a rooftop bar that is known for hosting incredible drag shows, food options all day, and drinks. They host massive pool parties at the Mantamar Beach Club almost daily!
It has one of the best sunset views in Puerto Vallarta. Let me be clear, even if you aren't LGBT you should check this place out, especially during Puerto Vallarta Pride. They host events all throughout pride week that we loved experiencing.
Name: Suites at Sapphire Ocean Club
Price: $175 Per Night
Location: Zona Romantica
Features: Adult Only, Rooms include a kitchen, pool, ocean view, 1 minute from Los Muertos beach, A/C
Suites at Sapphire Ocean Club is another super popular hotel in the middle of Zona Romantica. Sapphire is especially popular with the LGBTQ population, again it is not exclusive. This hotel is so close to all the action on Los Muertos beach and offers beachfront seating. We love this location because it is at the bottom of the hill so if you aren't interested in walking upstairs to access your hotel this is perfect for you.
While living in Puerto Vallarta we loved being close to all of the LGBT hotspots, which I talk more in detail about in our Gay Puerto Vallarta Mexico guide.
UNIQUE APARTMENT STYLE HOTELS PUERTO VALLARTA
Name: Torre Malibu
Price: $150 + Per Night
Location: Zona Romantica
Features: A/C, pool, full kitchen
Torre Malibu is located in Zona Romantica and offers an apartment-style layout. It's perfect for travelers who aren't interested in the frills that come along with a hotel stay. Rooms include a full kitchen and Air Conditioning. It is run by an LGBT couple so it's gay-friendly, but not exclusive. The prices fluctuate depending on whether or not you are staying during the high season or not (November-May). Read more about things to do in Puerto Vallarta Mexico in our detailed guide. We give you the scoop on transportation, currency, and all the fun things to do and see.
We love the location because you are higher up on a hill which gives you a nice view of the ocean, and a pool to cool off in. From Torre Malibu, you are less than 5 minutes away from the popular Los Muertos beach.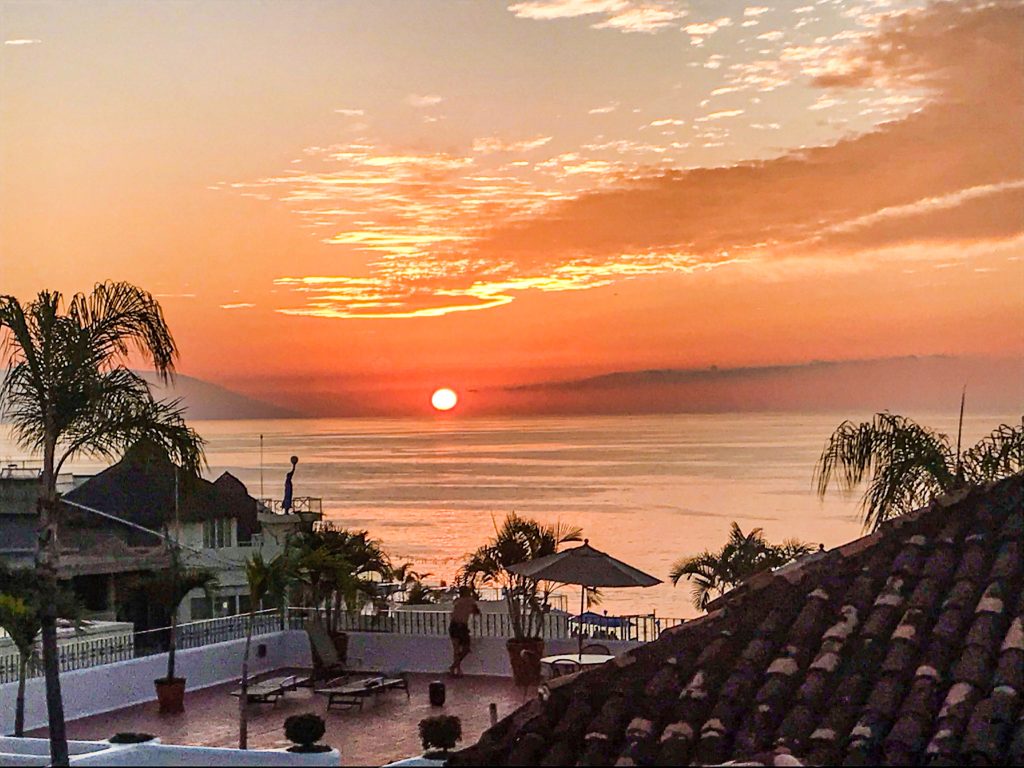 Name: Vallarta Shores
Price: $150+ Per Night
Location: Zona Romantica
Features: Pool, A/C, kitchen
Vallarta Shores is another apartment-style accommodation that we splurged on for my 30th birthday. The layout was incredible and offered 2 bedrooms, a full kitchen, and 2 full baths (one had a jacuzzi tub). We had a balcony view that overlooked the ocean, while also only being a few steps away from the beach.
Vallarta Shores is at the end of Los Muertos beach, so it's much quieter than the beach to the right. We enjoyed being able to walk on the beach and not being completely surrounded by other travelers. Even though Vallarta Shores is on the quiet end of Los Muertos beach it is still close to some of the Best Restaurants in Puerto Vallarta.
UNIQUE BOUTIQUE HOTELS PUERTO VALLARTA
Name: Casa Maria
Price: $125 Per Night
Location: Zona Romantica
Features: Adult only, pool, close to Los Muertos beach, A/C
Casa Maria gives you that family vibe the second you step in the door you'll feel at home. Unlike larger chain hotels, Casa Maria offers a unique decor that reminds you that you are in Mexico, such as handmade textiles and vibrant designs. Casa Maria offers a quieter, and slower-paced environment while maintaining a luxury experience. Step outside and you are less than 5 minutes from Los Muertos beach, pier, restaurants, and bars.
If you are looking for a break from the beach, dive into their pool and relax.
Name: Hacienda Escondida
Price: $140 + Per Night
Location: Isla Cuale
Features: Beautiful landscape, A/C, pool, Hot tub, Wifi, Sustainable
Hacienda Escondida is its own oasis in the middle of Puerto Vallarta and has rapidly become one of the most popular hotels in the area. Once you arrive you feel like you have been transported into your own personal tropical garden. It is situated in the Isla Cuale area, only a short walk from all the popular restaurants, bars, and beaches!
UNIQUE HOSTELS
Obviously, you can see that the title of this article is all about unique hotels in Puerto Vallarta, but as long-term travelers ourselves we wanted to throw some budget-friendly options your way in case you don't want to break the bank.
Name: Hostel Vallarta
Price: $25+ Per Night
Location: El Centro
Features: Bar, Sea view rooms, Free Wifi
Hostel Vallarta is in El Centro, or the center of the town which is the perfect location to take a walk on the Malecon, go shopping, or check out one of the many restaurants in Puerto Vallarta. Hostel Vallarta is very affordable and gives guests the ability to make friends you can explore the beaches with, which by the way is only 10 minutes away.
Name: Jets Gay Youth Hostel
Price: $25+ Per Night
Location: El Centro
Features: Close to bars and restaurants, quiet environment, A/C
Jets Gay Hostel has been in Puerto Vallarta for a while, it's known as the first gay hostel in Puerto Vallarta! It offers simple accommodations and an age limit of 18-35 which is where the 'youth' comes into play. Jets Hostel owner also runs a tour company making it extremely easy to set up day trips!
Jets Gay Hostel is in between El Centro and Zona Romantica in the area known as Isla Cuale, right next to the Rio Cuale where you can find shops and small restaurants. It's a great location if you love the local vibes in El Centro, but want to be close to all of the action in Zona Romantica. This area is super safe day and night making it easy for you to feel comfortable walking around after a night of fun.
Name: Casa Kraken
Price: $25+ Per Night
Location: El Centro
Features: Close to bars, Free Wifi, Private rooms, and dorms
Look for Availability here
Casa Kraken is another Hostel that is in the heart of El Centro. This hostel is buzzing with activity every day between tours, travelers heading out to the beach or to the bars, or cooking together in the kitchen. This is a great option if you enjoy being social while also being in the middle of all the action in Puerto Vallarta.
The staff at Casa Kraken can help you plan day trips to places like Sayulita Mexico, snorkeling, or boat tours. Even if you don't have specific questions they are happy to help make sure you enjoy your time in Puerto Vallarta.
THOUGHTS ON UNIQUE HOTELS PUERTO VALLARTA
Well, friends, I hope you have enjoyed our top picks for Unique hotels in Puerto Vallarta. It is difficult to choose a place to stay, especially in Puerto Vallarta as there are so many options to choose from. I hope this has helped you plan your next vacation. Please reach out to us on here or social media if you have any other suggestions for hotels to add to the list!
WHAT TO PACK
Know where you are going to stay but have no idea what to pack? We have a detailed Mexico Packing List that will take the stress of packing away.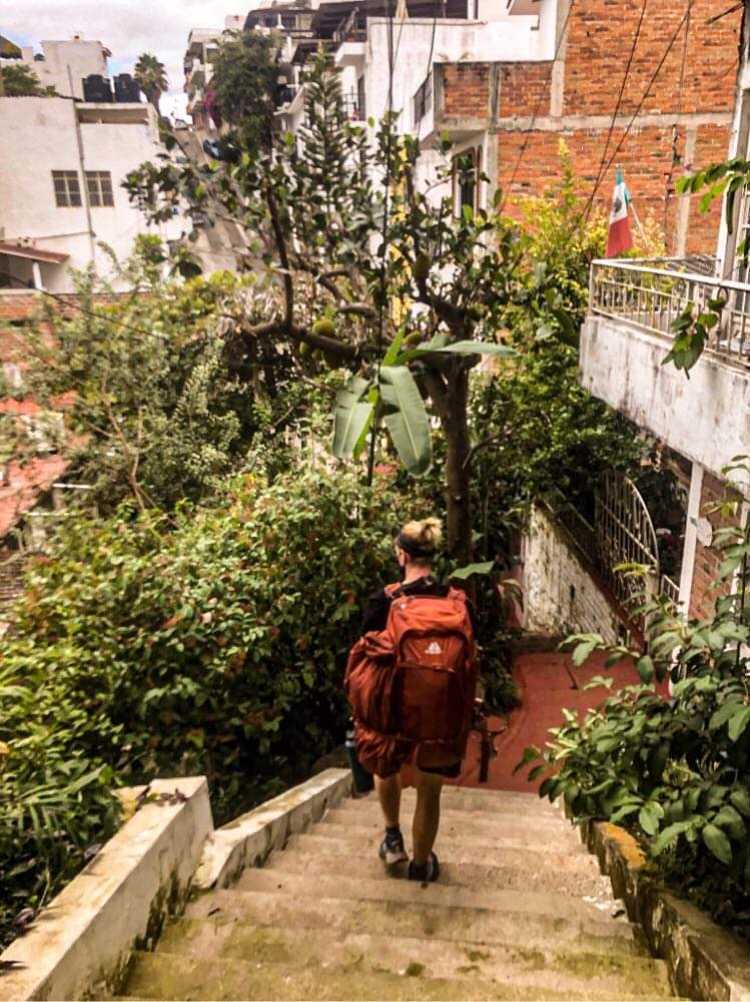 Like this Unique Hotels Puerto Vallarta Article? Check out our other related articles!
Like this Unique Hotels Puerto Vallarta Post? Pin it for later!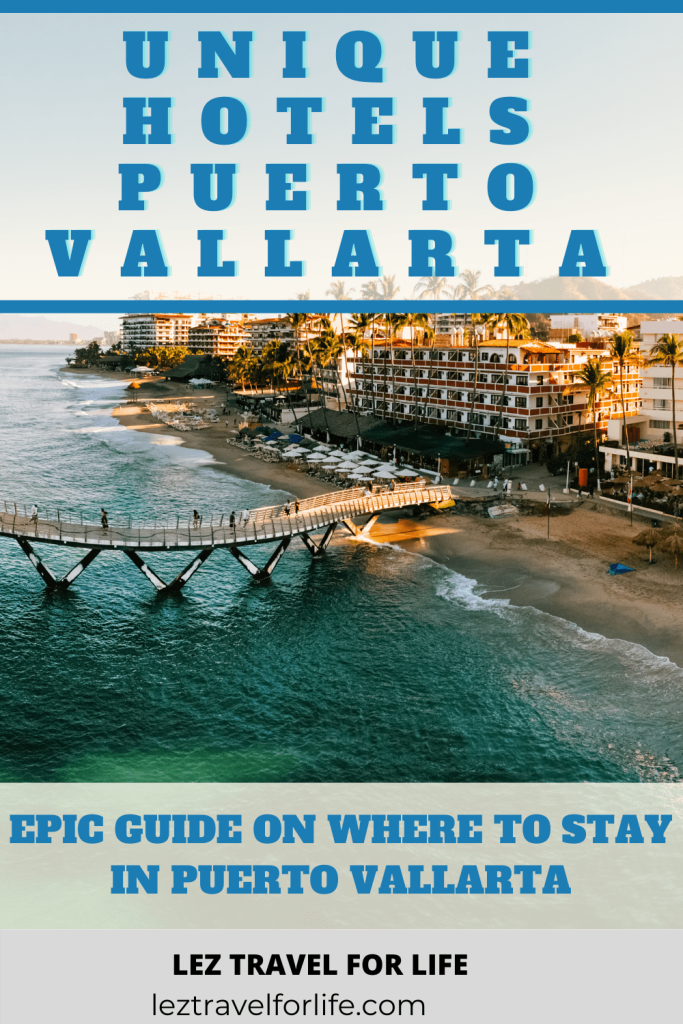 I'm Sam and I may only be 5'3 but I'm feisty and enjoy a lot of sarcastic humor. I'm addicted to travel as well as feeding and advocating for street animals in every country I travel to. I'm married to Courtney and we're super gay or whatevaaaa. We're both extroverts and love meeting new people everywhere we travel. We are in love with Latin American culture but can't wait to explore more of the world!