This article may contain affiliate/compensated links. For full information, please see our disclaimer here.
Reminder: Make sure to check the country's covid guidelines before travel.
Mexico City is a magical place, and what makes it so magical is the diversity within the city. There are so many different neighborhoods and each carries its own unique characteristics and personality. The city is known for its art, culture, rich history, and FOOD! Not only is Mexico city magical, but it is also massive. The population of Greater Mexico City is over 21 million, making it the largest Spanish-speaking city in the world. This means that heading to Mexico City for the first time can be intimidating and overwhelming, especially when trying to figure out where to stay and how to chip away at all of the amazing things to do and see.
Courtney and I lived in Mexico City for three months (totally unplanned) but we just fell in love! We fell in love with a couple of neighborhoods but did our best to venture to all of the main areas so we could give you the full rundown! The best neighborhoods in CDMX are of course subjective. Whether you prefer great food, beautiful architecture, museums, nightlife, history, or a combination of all these things this guide will help you with where to stay in Mexico City and the best neighborhoods for you.
This guide will tackle all of the questions we had to answer ourselves (and we learned the hard way, of course). I'll introduce you to the best areas to stay in Mexico City (which will depend on what you're looking for) to ensure you have as much fun as we did without the same mistakes. I'll also crack into the impressive LGBTQ scene in the city and of course where to find the best nightlife.
GETTING AROUND MEXICO CITY
Traffic is wild here, and drivers don't seem to follow any rules of the road at least from planet earth. Basically don't rent a car just plan to Uber or walk, luckily the city is very walkable.
MAP OF MEXICO CITY
Before we dive into all the details let's make sure you understand how the city is structured, as it can be very confusing for first-time visitors, and hell, it was still confusing after three months.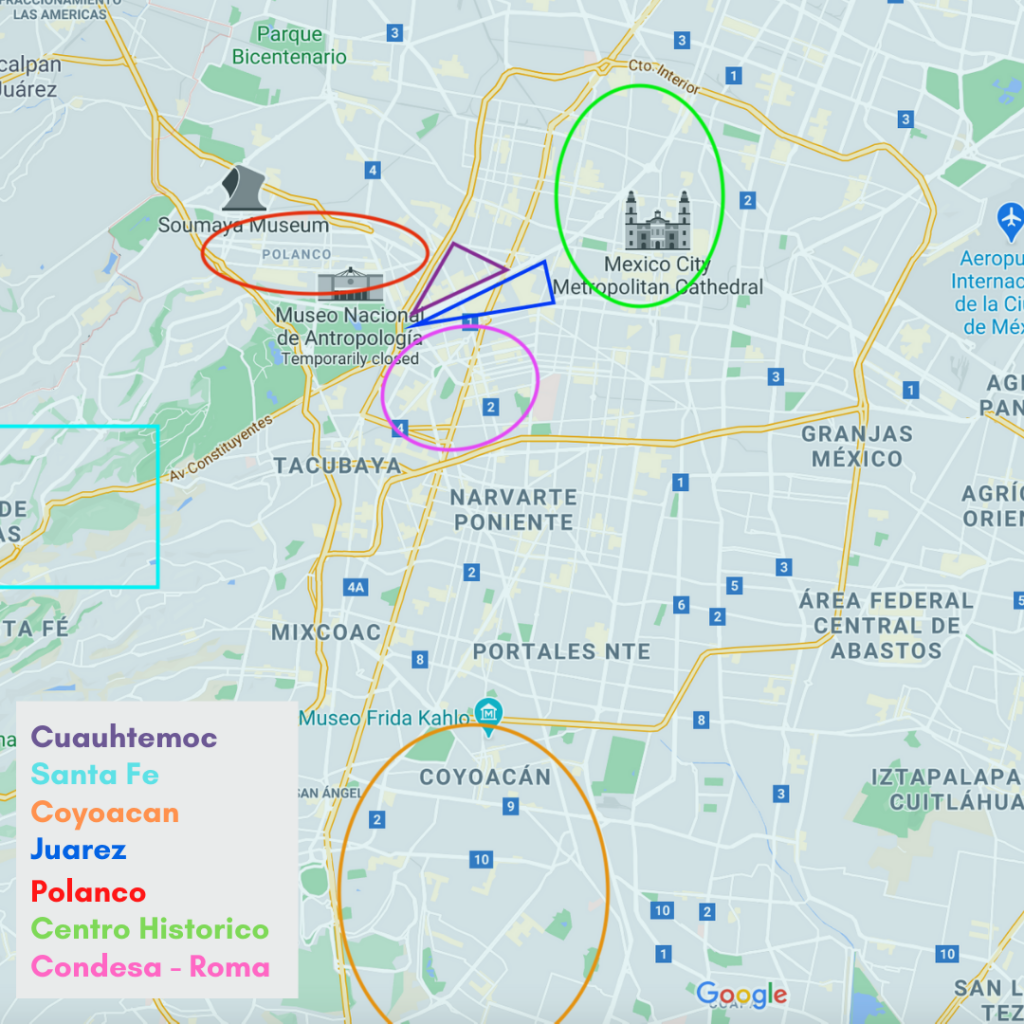 HOSTELS, HOTELS OR AIRBNB?
There are tons of options for accommodations ALL around the city that can fit pretty much any budget. Surprisingly though, the hostels and Airbnbs that we found were about the same price so while we did stay in one Hostel Metro Boutique in Roma and one in Roma/Condesa Hostel Home we preferred having our own space as the private room in Metro Boutique was tiny. There are tons of boutique hotels you should definitely check out in all of the areas we will discuss in this article!
THE BEST NEIGHBORHOODS IN MEXICO CITY
---
FOOD FOOD FOOD, COFFEE AND FITNESS LOVERS: CONDESA AND ROMA
Condesa and Roma are hands down our favorite places in the city.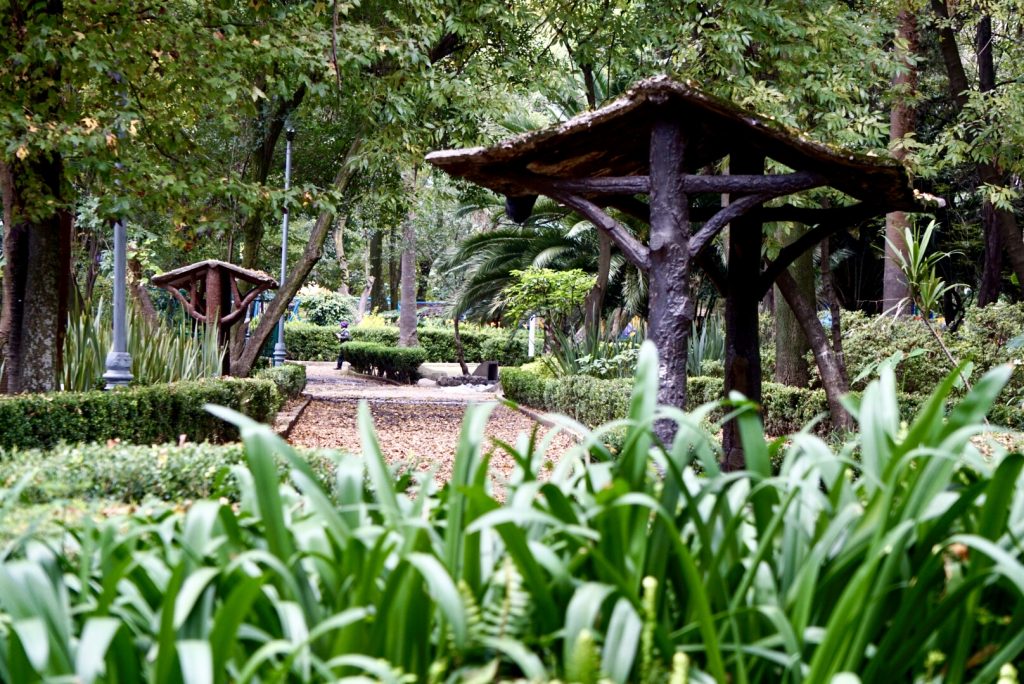 Why are they lumped together? Because they are side by side and have a very similar feel to them. Once we arrived we were greeted with streets lined with restaurants, cafes, colorful colonial architecture, parks, gyms, and art-deco. We think these are the best neighborhoods in the city because they have a mix of everything. We would usually start our day with a coffee at Quentin, work out at one of the many local gyms and take a walk around Parque Mexico or Avenida Amsterdam.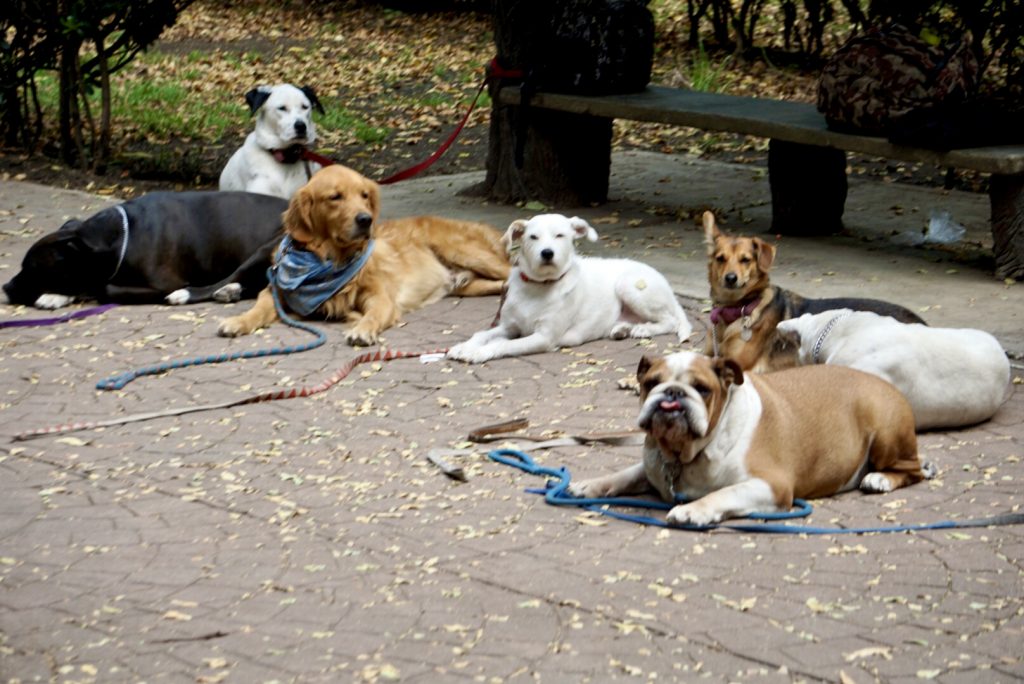 Parque Mexico is a fabulous park in Condesa that is filled with dog walkers and even a dog school! You'll see 20-25 dogs lined up on the side of the park sitting like good boys and girls for hours, it's super fun to watch while sipping your coffee. For yoga lovers, you'll find yoga classes on the weekends, live music, and the colorful trees that line the park. It's the perfect place for people to watch and enjoy the amazing weather (yes it's wonderful weather year-round). Next Stroll around Avenida Amsterdam which is a lead-lined pedestrian walkway that encircles Parque Mexico. It's a gorgeous green space where we enjoyed many peaceful walks in the morning and the evenings. You'll find that Condesa is slightly more posh than Roma, you'll find more fashionable boutiques shops and a more classy nightlife here.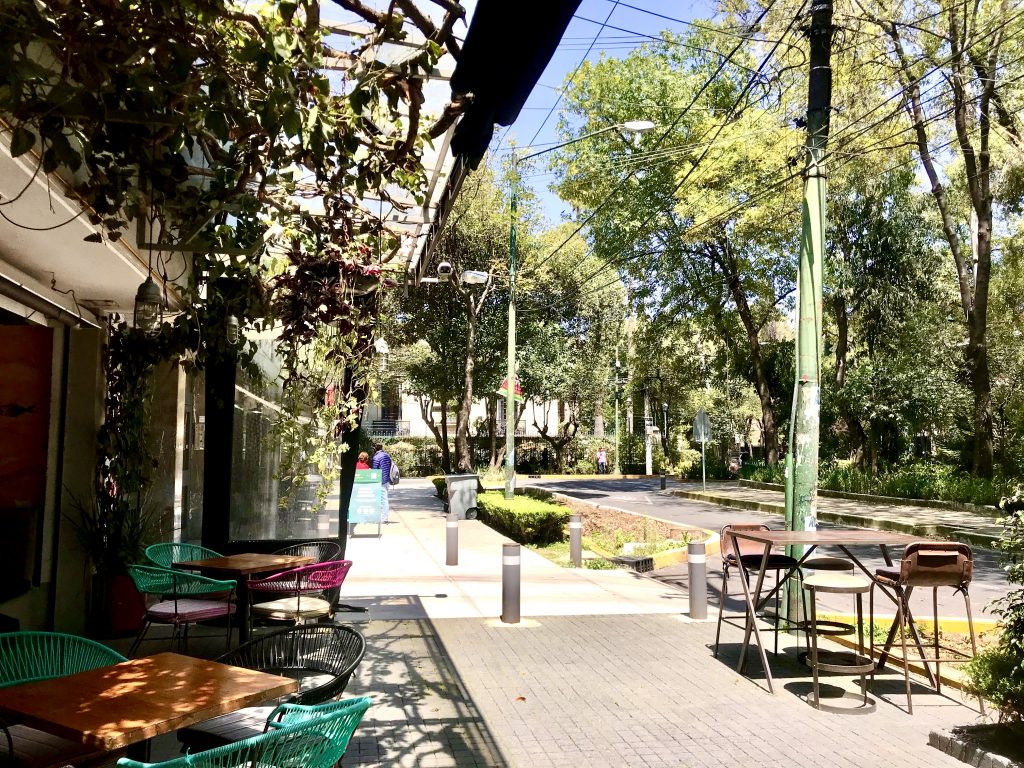 Roma is labeled as the hipster capital of Mexico City, you'll find trendy clothing stores, taco joints, and plenty of Mezcalerias. Roma Norte is the most popular part where you'll find a slew of expats and tourists enjoying the many cafes and restaurants. Roma Sur also has a ton of charm and has a nice balance between quiet (as quiet as Mexico City and be) residential living and the nightlife!
If you're looking for an LGBTQ scene Roma is the place. Known as the "pink zone" it is the most famous "gay" neighborhood. You'll find plenty of same-sex couples holding hands, Courtney and I showed PDA her without any issues. Roma also hosts the annual LGBTQ pride festival which is the biggest in Latin America! Mexico City legalized gay marriage in 2010 (ahead of USA surprise surprise!) and has solidified its status as the open-minded gay mecca in Mexico, outside of Puerto Vallarta of course. Read more on Puerto Vallarta Here.
Roma LGBTQ Bars
If you become overwhelmed with your search for LGBTQ-friendly bars (we DEF got overwhelmed) the only thing you really need to know is that most of the gay bars are found in Zona Rosa and Calle Ameres. Of course, there are other areas in Mexico City with bars and clubs but this area has the highest concentration. You can go from male strippers to a casual cocktail bar, with that being said here are a few of the popular options.
Note: All of these places were closed when we visited due to Covid restrictions, hopefully, all of these establishments made it through the lockdowns but of course check online ahead of time to make sure they are still open.
Kinky bar: In Zona Rosa, a club with 3 floors and a variety of music, definitely gets packed. Thursdays are women only! Mixed crowd (younger and older).
Pussy Bar: In zona Rosa, younger crowd but generally geared more towards women.
La Botica: One of CDMX's oldest Mezcalerias and the best place to go and try amazing mezcal cocktails. There are also beers available if you can't stomach mezcal. This establishment has been a core part of the Mexico City gay community for years with karaoke, a fun crowd, and a packed dance floor.
Roma and Condesa Restaurants, Cafes and Bars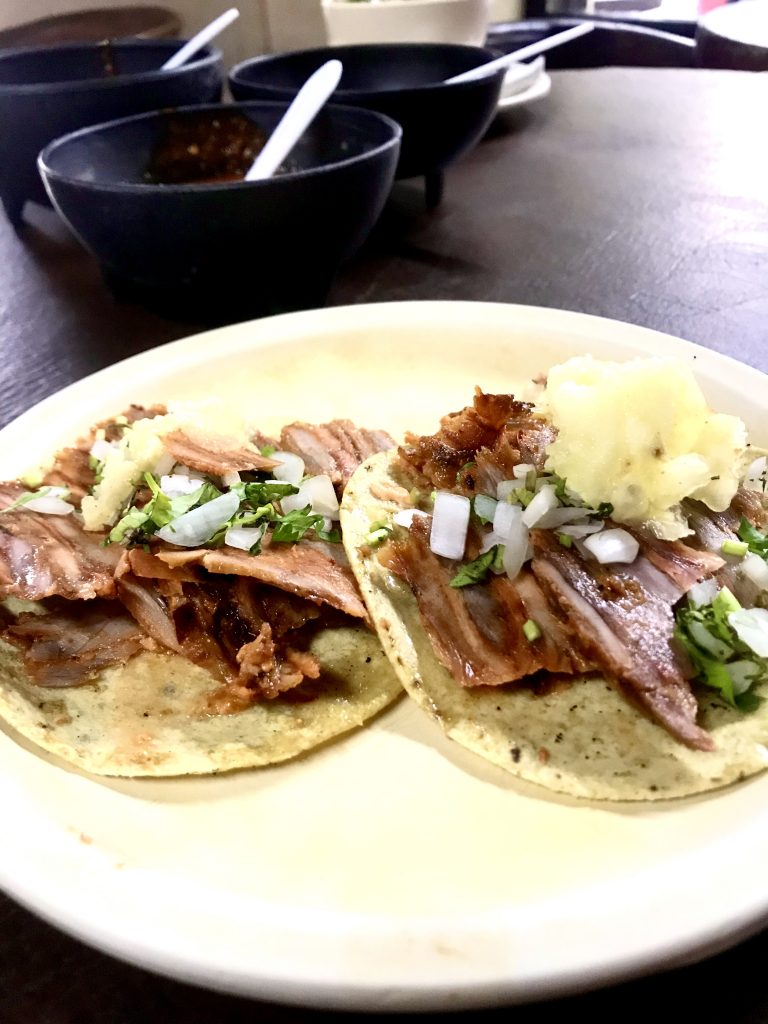 Blend Station: Cafe
Boicot: Cafe
Cardinal Casa de Café: Cafe – They have two locations, one in Roma and one in Condesa
Panaderia Rosetta: Pastries
Quentin: Cafe
Clarice Cafe y Literature: Cafe and great co-working space
Gran Via: Pastries
Cafe Curado: Breakfast and coffee
Catfecito: Cat Cafe where you can enjoy cat-themed lattes and enjoy the company of adoptable cats who have been rescued and live here full time. It is my favorite place of course being that I'm a crazy cat lady.
Baltra: Amazing artisan cocktails
El Jamil: Middle-eastern cuisine
Tacos Frontera: super simple, cheap tacos great for an after-drinking late-night snack.
Las Costillas De La Condesa: More tacos, great for an after-drink snack.
Churreria El Moro: AMAZING churros, must try!
Tres Galeones: BEST TACOS EVER
Porco Rosso: American BBQ done right! Take it from us, we're from the East Coast of the US where BBQ is like a religion.
Mercado Roma: A popular market that's described by many as a gourmet food hall. Tons of up-and-coming chefs come here to try out new and exciting styles. Check out Mezcaleria Finca Robles for some amazing and affordable cocktails! He's also a great guy to chat with.
El Pescadito Roma: Amazing fish tacos among other options. You'll find a few of these sprinkled around the city.
Balmori Rooftop: Trendy rooftop spot with an extensive cocktail list, live music, and dancing on the weekends.
Cabrera 7: Drinks and a great marlin sandwich!
Veguisima: Vegan/ vegetarian food!
Pitahaya Vegana: Wonderful vegan restaurant with pink tacos!
If you're a vegan or vegetarian there are TONS of options for you and all of them are good! More and more are popping up in these neighborhoods, most of them boasting some amazing tacos that compete with the traditional Mexican tacos you see throughout the city.
FOR HISTORY AND MUSEUMS: CENTRO HISTORICO
Centro Historico is basically the city center which is packed with beautiful architecture, a unique shopping experience and amazing street food. It's gritty, busy, and exciting to experience as it feels like you have officially landed in Mexico. It is the oldest capital city in the Americas and has museums as well as a wild nightlife. There are plenty of options for accommodations in this area, no matter your budget. Just know that this isn't the safest area in Mexico city, so try to Uber at night.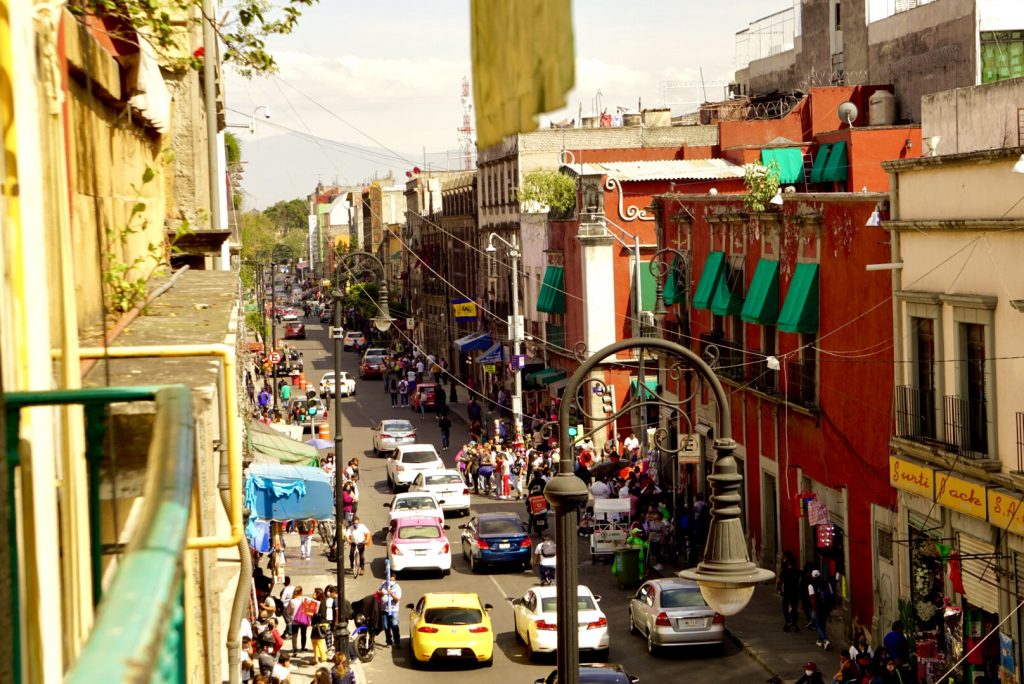 The Zocalo, which is the main square, is the perfect place to start. You'll find a beautiful cathedral that dominates the view and it's definitely worth checking out. It's the largest cathedral in the country! Also, check out the Templo Mayor Museum and check out our Mexico City Itinerary for more information on activities in Centro.
Restaurants and Bars in Centro Historico
El Mayor: Great cocktails and traditional-style Mexican dishes. You'll have an incredible view of the Zocalo and Templo Mayor below.
Pizza Del Perro Negro: Lots of pizza options and a hipster environment.
Street food: TONS of options! From Churros to tacos de Pastor and Elote (street corn), you'll be able to find something you love.
Chinatown: Walk over to Chinatown and explore the food options here as well.
El Huequito Tacos: Authentic Mexican street food. They have been around since 1959 and have perfected the taco.

LGBTQ Bars and Clubs in Centro Historico
La Purisima: Male strippers, house music, geared more towards men.
Where to Stay in Centro
Casa Maria Hostal We loved this perfect little spot! The owner was so kind, it was affordable and also close to markets, restaurants, and the zocalo!
Downtown A beautiful hotel in the heart of El Centro in a 17th century building. It also has a pool!
FEELING POSH? STAY IN POLANCO
Polanco is bougie and one of the most expensive places to live in Mexico City. It's home to all the designer shops and where you'll find some of the most acclaimed restaurants in all of Mexico including Pujol. It is home to some posh clubs for LGBTQ folks and expats alike. Check out the popular Parque Lincoln and make your way up and down the streets around Emilio Castelar. You'll find the shopping center around Pasaje Polanco has a great courtyard with cafes where you can sit and people watch. We didn't stay in Polanco because we were so obsessed with Condesa and Roma but it's highly recommended. Know that this area has some of the worst traffic in Mexico City and it's not the best area to access public transportation as there is only one Metro station- Polanco. Uber will be your best bet.
Restaurants and bars in Polanco:
Taqueria El Fogon: tacos tacos tacos! Reasonable price and a clean restaurant.
LGBTQ Bars and Clubs in Polanco:
Guilt: Swanky gay club with house, pop, and retro music. Only open on Saturdays, it's pricey with a cover. It's a fun vibe with loud music all night. The major downfall is smoking is allowed inside.
Where to stay in Polanco
Hyatt Recency Mexico City Right next to the park, this hotel has 2 restaurants and bars and is close to everything!
FOR LOCAL FOOD: COYOACAN
Coyacan translates as 'The Place of Coyotes' the place where Frida Kahlo grew up and if you're excited by art and history you'll fall in love with this quiet yet still lively neighborhood. Here you'll find the National Museum, Frida Kahlo's house (that you can visit) and lots of exhibitions and collections focused on diverse contemporary art. There are tons of cafes and bookstores making it a more laid-back area to Mexico City. Coyoacan is the best neighborhood in Mexico City to learn about its colonial history. Starting with the cathedral, which was built on the site of a school for the children of Aztec nobles.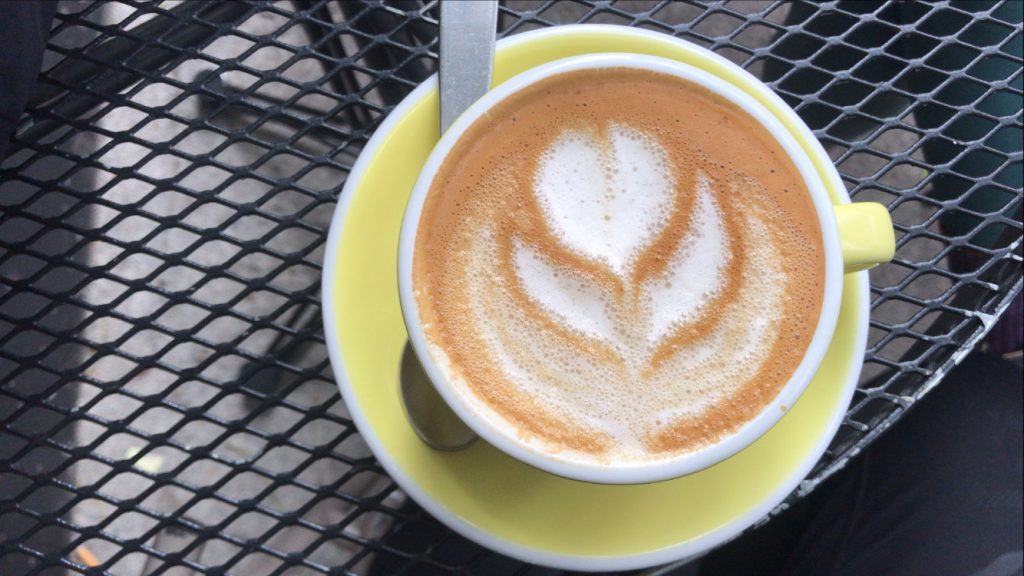 Restaurants and Cafes in Coyoacan
El Jarocho: Family owned coffee roaster
Cafe Avellaneda: Cafe
Mercado de Antojitos: Fried quesadilla
Mercado Coyoacan: Tostadas
Where to stay in Coyoacan
Agata Hotel Has a family feel but with all the amenities you need including a bar and terrace. Only a few minutes from the Frida Kahlo house.
HIPSTERS: CHECK OUT JUAREZ
Juarez is an area that popped up into a new Roma, you know the new cool kid neighborhood in Mexico City. You'll find artisan chocolates, mixiote tacos, and other awesome culinary delights. This neighborhood could be split into multiple neighborhoods and it's known for some awesome Asian food in little Korea. You'll find a row of Korean restaurants and grocery stores along Calle Londres as it meets Avendia Chapultepec.
Restaurants in Juarez
Na De Fo: Amazing kimchi
La Rifa: Artisan chocolate
Joe Gelato: Gelato with a twist
Exquisitos: Tacos de Mixiotes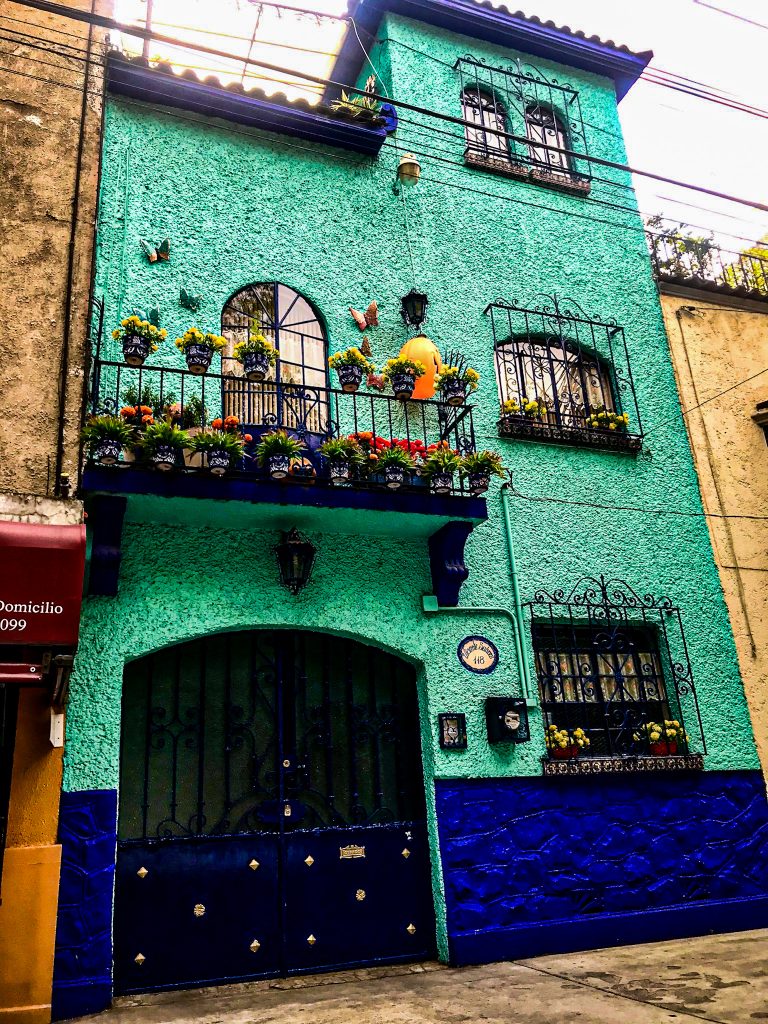 Where to stay in Juarez
Casa Prim Hotel Boutique A fabulous 4 star hotel in the heart of Juarez that offers a gym, and a reestaurant.
AMAZING FOOD IN MEXICO CITY: CUAUHTEMOC
The name of this neighborhood is confusing because it technically makes up several different neighborhoods in what is called a delegacion. This neighborhood is found between Chapultepec Park and Jardin del Arte which is just north of Paseo de la Reforma. Here you'll be able to enjoy the park as well as the castle, yes a castle in the city!
Restaurants in Cuauhtemoc
Tacos Gabriel
Taco Don Guero
El Piadelero De Guadalajara
Where to stay in Cuauhtemoc
Reforma Guest House This hotel offers beautiful views of Cuauhtemoc as well as a fitness center.
PROFESSIONAL CROWD: SANTA FE NEIGHBORHOOD MEXICO CITY
Santa Fe never popped up on my radar while living in Mexico City until a fellow expat mentioned it to me. You'll find a lot of business professionals here as many big businesses relocated here after a large earthquake in the 80's. It started as a suburb and has grown a TON since then. Basically, people are trying to escape the traffic in Mexico City as it steals a piece of your soul every time you get caught in that 5 pm rush hour.
You'll find this area to be full of businesses, residential living areas, malls, after-work drink spots, and a nice park, La Mexicana. You can enjoy a bike ride, chill on a bench or check out one of the many restaurants in the area. While it's lined with skyscrapers you'll find some interesting modern architecture here, as some of the buildings are intentionally strange looking due to the architects being allowed to create what they want.
WHICH NEIGHBORHOODS TO AVOID IN MEXICO CITY
Unfortunately, there are still neighborhoods you'll want to avoid as of now in Mexico City. Basically, some neighborhoods are super dangerous and overridden with drugs, prostitution, violence, and even black markets. Here are the main ones to avoid during the day and night.
Doctores (if you visit the edge of Doctores during the day it's okay but don't go any deeper into the neighborhood).
Tepito
Iztapalapa
Mercado Merced
What to pack for Mexico City?
Check out my full packing guide on Mexico City.
Check out my other articles on Mexico City HERE!
Like this where to stay in Mexico City Post? Pin it for Later!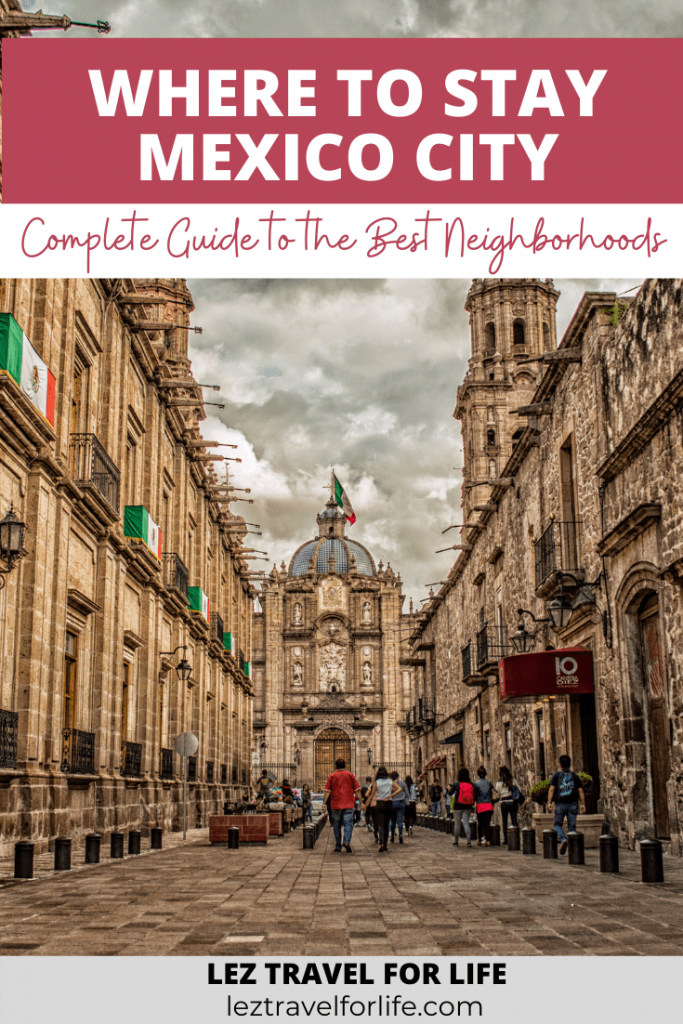 I'm Sam and I may only be 5'3 but I'm feisty and enjoy a lot of sarcastic humor. I'm addicted to travel as well as feeding and advocating for street animals in every country I travel to. I'm married to Courtney and we're super gay or whatevaaaa. We're both extroverts and love meeting new people everywhere we travel. We are in love with Latin American culture but can't wait to explore more of the world!