This article may contain affiliate/compensated links. For full information, please see our disclaimer here.
Reminder: Make sure to check the country's covid guidelines before travel.
After living in Mexico City for three months Courtney and I became OBSESSED. It's a huge city and it's almost impossible to see all of the things on just one trip. Making your way to Mexico City takes some planning and that's something Courtney sucked at until we got to Mexico City and realized it can be chaotic without a plan. Good news is we have done the research for you so you can make your trip as easy breezy beautiful as possible and not miss out on the essential travel tips while in Mexico City.
I already wrote about all the awesome things to do in Mexico in my Mexico City Itinerary so check that out too so you'll know where to go and what to see. Mexico City is one of the most densely populated cities in the world (y'all read that again). It can be chaotic, exciting, beautiful, and fill your soul with all the history and culture you never knew you needed. Once you get the hang of things you'll be addicted like us and want to come back time and time again. This article will be your guide to essential travel tips for Mexico City including things you need to know before your trip.
1. PLAN OUT WHAT NEIGHBORHOOD YOU'LL STAY IN BEFORE YOU GO
Our biggest struggle was figuring out where in the heck we wanted to stay, like we said Mexico City is HUGE and there are so many cool areas to check out. Once you pick the neighborhood you want to be in, it's basically walkable, but if you're trying to get from one side of Mexico City to the other you'll be walking forever. Check out my article Where to Stay in Mexico City to help you decide what neighborhood is best for you. I will say most tourists and expats prefer to stay in Roma, Condesa, Centro Historico, and Polanco as they are centrally located and the perfect place for first-time visitors. Every neighborhood has something special to offer, but in our opinion, we were completely in love with Condesa and Roma. They are filled with parks, cafes, and restaurants.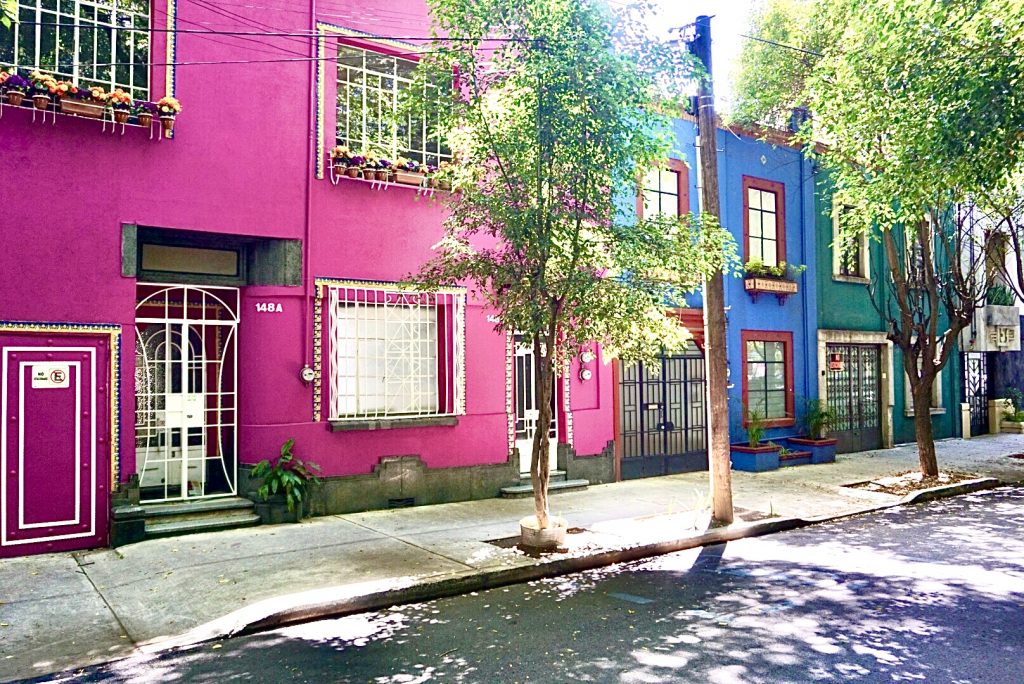 2. CONSIDER THE WEATHER WHEN BOOKING YOUR TRIP
Mexico City has great weather year-round but if you're looking for cooler nights then definitely come in the winter. It's dry as the altitude is 7,200 feet! You'll have 75-80 degree days and 45-50 degree nights. We only used a big jacket 2 nights out of the three months we were there (September-December). Definitely pack at least a light jacket or a sweater. Also, if you come during the winter you'll skip out on the rainy season. The rainy season doesn't ruin your plans but when it rains in the afternoon it rains HARD. We have no rain out of the 3 months we stayed and it was awesome. If you want to come in the warmest months consider March and April. Read more about what exactly to pack for Mexico City here in my Mexico packing guide.
Either way, plan to pack for all of the seasons while in Mexico City and pack plenty of chapstick as it's super dry. You don't want to walk around looking like Spongebob all dried up.
3. CHECK ON YOUR CELL PHONE PLAN
Companies like Verizon and ATT work fine in Mexico City and don't actually charge you extra depending on your plan, but if you're like me and wanted to cut off my crazy expensive phone plan (seriously the US has SUCH expensive phone plans) then get a cell phone SIM card. You're going to need data for Uber and other apps like EcoBici in Mexico City so you'll want to plan it out before you leave.
If you decide on a SIM card (it's SO MUCH CHEAPER- I'll never go back to my old carriers) you can purchase one from TELCEL in the airport in Terminal 1 or at an Oxxo or 7-11. Here's what you'll need to know:
Start with the SIM card. It will be at the checkout counter. The cost is around 150 Pesos and it may come with a welcome credit.
The cashier may ask you what plan you want: you can say a basic Amigo Sin Limite plan. 50 pesos should work as it gives you 7 days of unlimited calling, messaging to Mexico, the USA, and Canada along with up to 300 MB of data. If the cashier doesn't charge you at the counter for this plan you can sign up for it online (this is what I had to do). Ask the cashier about it before you leave. You'll need to practice some Spanish for this conversation so go ahead and map out what you need to say beforehand.
Internet Amigos plan will give you extra data, it's 150 pesos for 1 GB, go ahead and get it just in case.
4. HOW MANY PESOS SHOULD I TAKE OUT?
Go ahead and take out around $100 USD before you come as it will last you a long time, plus the best exchange rate you'll get is at your bank. You'll need cash, it's still widely used across the city between food, paying for entrance fees to museums, etc you'll want to go ahead and get a bunch out but take it straight to your hotel, Airbnb, or hostel and only keep what you need on you while exploring the city.
You may have a travel-friendly bank account like Charles Schwab that doesn't charge ATM withdrawal fees and could even reimburse you for transaction fees charged by other banks which can save you money!
Keep in mind that there is a growing acceptance of credit cards in most larger businesses, which works out well because you can earn points for future travel!
5. KNOW HOW TO GET AROUND MEXICO CITY
Mexico City is huge and while walking around your neighborhood should be easy enough, trying to make your way across town is an entirely different story. If you only have a short amount of time in Mexico City you won't want to spend hours walking vs taking transportation. There are many options for getting around Mexico City.
Download uber for your phone. Uber is the safest and most convenient way (in my opinion) to get around Mexico City. You can take Uber from the airport in Mexico City but you'll need to walk out of the actual airport complex first.
Download a metro app. This is the other popular way to get around Mexico City especially during peak traffic times because being stuck in an Uber for an hour or so is depressing. The metro is affordable but it's typical to most city metros; it's grungy, busy but also efficient. You may hear that the metro isn't safe but usually, it's from people who haven't even used it. It's perfectly safe and even includes women-only cars to travel in. The cost per trip is 5 pesos, download Mapway Mexico to get your bearings of the metro. When you sign up for your metro card the person probably won't speak English so make sure you type out a response on google translate first. Start with 50-60 pesos on your card and you should be good to go!
When taking the metro make sure you keep an eye on all your belongings and make sure you're headed in the right direction. There are 12 lines and most trains leave every 2-3 minutes. Each line has a different color and is named after its destination. After you purchase your Metrocard just tap it once. You don't need to tap again to transfer lines or when you exit.
The Metro bus: There is a red bus that trams along the electric line above ground. Each line travels along one route in both directions just like the metro. Check out the destinations on Google Maps.
Regular buses: You can't use your Metro card and they aren't listed on Google Maps. Just pay the driver cash when you hop on. If you aren't savvy in Spanish and aren't a local that's used to this form of transportation I would skip it.
Taxis: Never used them. Uber was always available.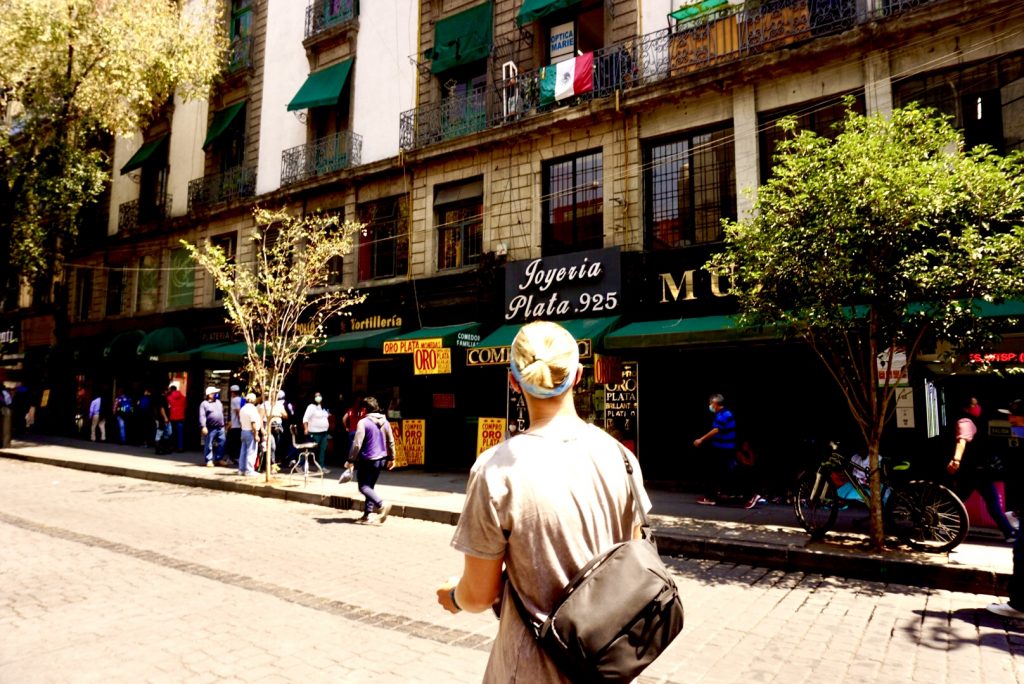 6. TAKE A FOOD AND HISTORY TOUR OF MEXICO CITY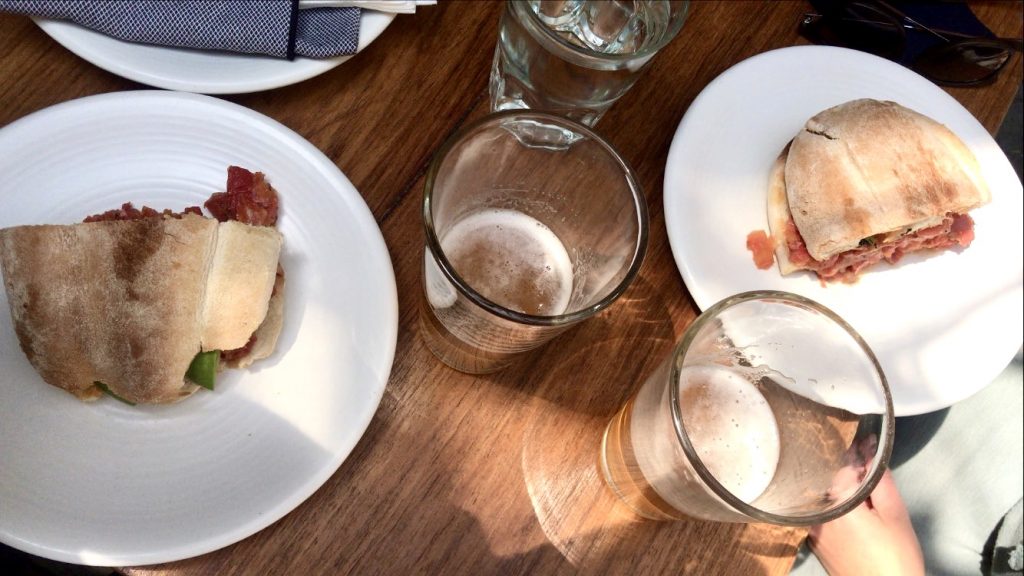 MAJORLY important. There is so much to learn about and see in Mexico City that I'm feeling an anxiety nap coming on just thinking about it. It's so much fun to spend a day with an expert and learn the in's and out's of the city's history, cultural influences, and local favorites for food. We used Sabores Mexico Food Tours for our street food tour in Condesa and Roma and learned so much about the area that we would have never known if we hadn't had a local to guide us. Definitely book in advance as these spaces generally fill up pretty quickly. They offer a daytime street food tour, an evening street food/ mezcal tour, and more!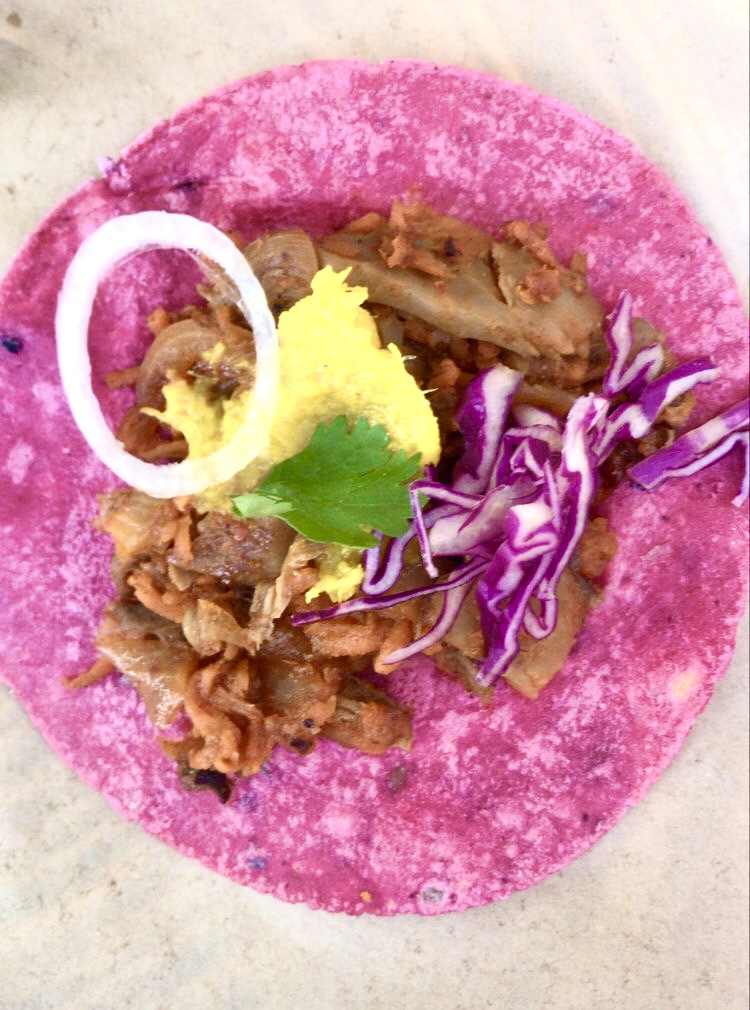 Another amazing company to use is the Curious Mexican! We have been following her on Instagram for a while and I have FOMO every single day I see her tour highlights!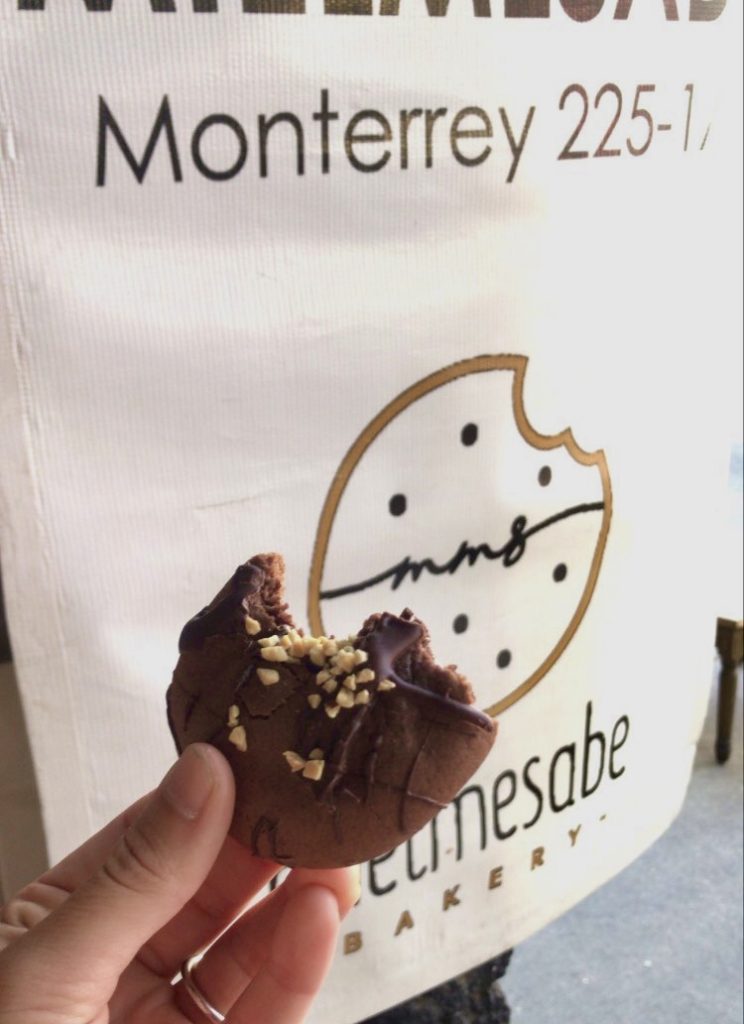 7. DON'T DRINK THE TAP WATER.
Yo, just don't do it. You'll be pooping the entire trip and that's just not cute. You can buy water anywhere around the city but we prefer a reusable water bottle and Steripen to save on plastic. The locals don't drink the water and you shouldn't either. Obviously when you go to many restaurants the ice and water are safe as they have been filtered just ask for agua de garrafon which are the large jugs of water you'll see all around the city this way you avoid single-use plastic bottles.
8. PRACTICE A LITTLE SPANISH BEFORE YOU GO TO MEXICO CITY
While you'll find plenty of places where people speak English, why not brush up on a little Spanish and actually try to engulf yourself in a new culture. You can manage without it, we did. We used Google Translate a lot but also really tried to practice and always speak in Spanish first.
Trust me when I say that while you can get by without practicing Spanish, we didn't and it stressed us out in the beginning. Once we got the hang of some basic phrases we felt much more comfortable and confident. Yes you will look silly at times, and there were hundreds of times where Court and I just looked at each other and the other person and just laughed, good news is most locals are super patient and want to help you learn. We want this essential travel tips article for Mexico City to make you the most rounded traveler possible!
9. PLAN PLAN PLAN YOUR DAYS OUT
We created this essential travel tips for Mexico City article so you guys don't make the same mistakes we did. Start with where you'll stay and based on where you spend most of your time you'll want to think about how you want to spend your time and how much time it takes to get from place to place. For example: don't even attempt trying to start your day in Roma, then go down to Coyacan, skip over to Condesa for lunch, hop over to the Museo de Anthropology then finish up with drinks and dinner in Centro Historico.
You'll end up spending most of the day in a car and feeling exhausted. Rather, you'll want to dedicate a day to each neighborhood so you don't feel super rushed or exhausted and you can enjoy each of the places you visit without worrying about the next place you need to get to. Check out our Mexico City Itinerary for exact details on how to spend your days.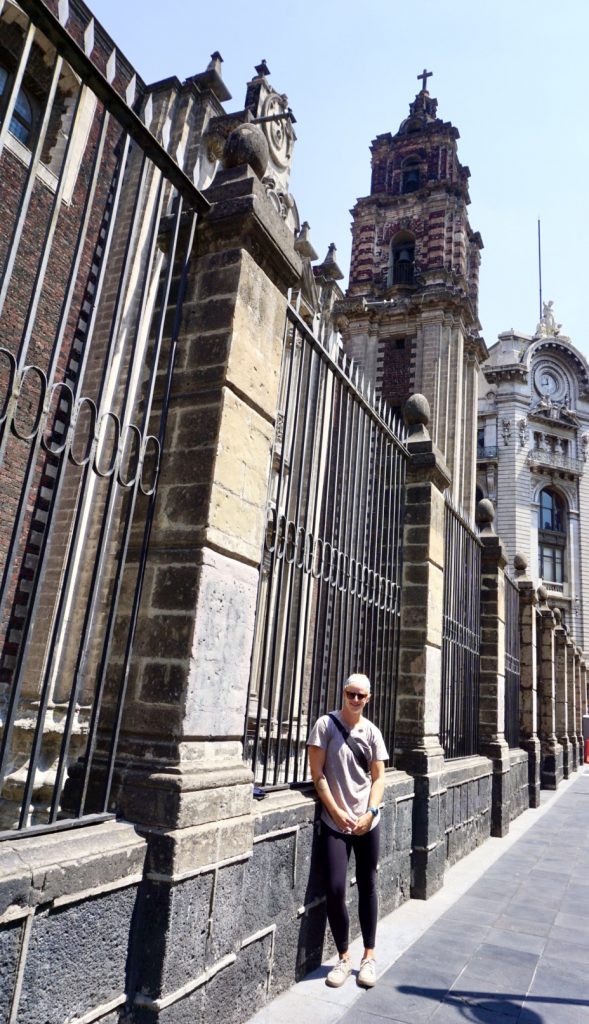 10. LIKE TO WORK OUT? JOIN A GYM RIGHT WHEN YOU ARRIVE
Courtney and I are used to working out consistently and it was super important we kept a routine after eating and drinking our way through the city. There are tons of gym options, here are a few we like:
The Workshop

: This CrossFit-style gym offers group CrossFit classes but also has an upstairs with dumbbells, squat racks, and cables that are used in traditional gyms. It is located in between Roma and Condesa on Insurgentes and we used it for the entirety of our trip because we could work out on our own and they have such a variety of equipment.
Outdoor Calisthenic parks: These public workout spaces are in Condesa in Parque Mexico and on Avenida Amsterdam next to Insurgentes metro station. You can easily do bodyweight workouts here.
Park 54: These are group circuit workouts that are quick and tough!
11. EAT THE STREET FOOD!
This essential travel tips for Mexico City article would not be complete without street food! Street food is such an important part of soaking up the culture in Mexico City and while you'll see some pretty primitive-looking stands along the streets don't be afraid! You'll find stalls at all hours of the day with tortas, tacos, elotes, soups, and other awesome options. Usually, Mexicans eat lunch around 2-3 pm which is when you'll see some of the stands packed full with locals lined up and ready for lunch. Take a look around before choosing one, the busier the stand is the more turnover there is for the food which means it could be a safer choice.
Keep in mind that while you'll most likely be fine from the street food it is important to take a look at how the meat is being prepared and whether or not they are cleaning anything they are using while cooking. Sometimes if they are reusing the oil over and over it can cause some bubble guts (been there done that trust and believe). The best part is that most street tacos cost around 20-50 cents!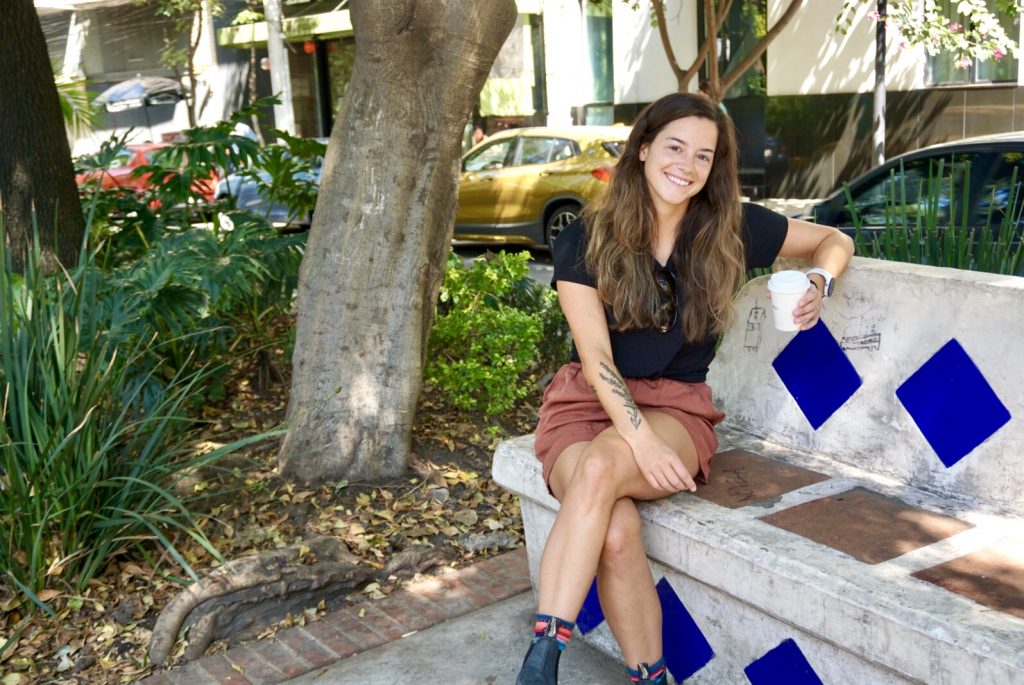 12. BE SURE YOU HAVE TRAVEL INSURANCE
I'll be the first to tell you that Mexico City has very good health care as I had to use it a couple of times when I got sick and had stomach issues. If you have a cold or need medicine and to see a doctor at a clinic then you'll be paying max $20 USD for your visit. There are pharmacies all over Mexico City where you can explain your symptoms to the pharmacist. You will want to bring Google Translate to help you along in case they do not know English. I couldn't leave you hanging with this one, as it became one of the most important Mexico City Travel Tips during our time here.
Know that Mexico has a public healthcare system but as a tourist, you are not eligible to use it. You would need to go to a private hospital (this is the better option anyway). If you are injured or something happens to you on your trip then know you will be taken care of in Mexico City but it will still cost you $1,000 at least. However, you don't want to get injured and pay completely out of pocket for medical expenses in a hospital. We used our travel insurance when we had to cancel a flight after I got really sick and we couldn't travel. We were eligible to get a refund for our flights! Checkout who we recommend below for travel insurance.
*Note: This was just our circumstance and some may not be eligible for a full refund. This obviously depends on the travel insurance company and your specific situation.
Make Sure You're Covered During Your Trip
Thinking about medical costs or unforeseen things like lost luggage or travel delays while on the road is always concerning. Even if you have medical insurance at home it might not always cover you abroad which is why companies like SafetyWing exist. We started using travel insurance when traveling long term and it was well worth the money. Whether you are traveling short-term, long term, or if you are a digital nomad it is always important to make sure you are covered in some capacity. SafetyWing is our go to travel insurance. It is affordable and has all the coverage we need for travel and medical.
13. PLAN OUT YOUR DAILY BUDGET- MEXICO CITY CAN GET PRICEY.
We want this essential travel tips for Mexico City article to cover the basics and the most important pieces like money. Yes, Mexico can be cheap, but when you're going on vacation for a week and you have 500 things you want to do, eat, and see the dollar signs can start racking up quickly. It's a great idea to plan out your daily budget to help prioritize your time and money. If you're wanting to go to top recommended restaurants they can cost about $20-25 for the main dish. Admission fees to museums are $10 USD, wine/ cocktails are about $5 each, hostels and hotels can vary in cost some from $20-150 a night.
Generally, our budget (more of a backpacker budget) put aside $20-30 for a hostel or Airbnb (personally prefer Airbnb in the city), $10-20 for food (whether its groceries or street food), $10 for Ubers (could Uber up to 3-5 times in a day), $10-25 for beer or cocktails, and around $20-30 for activities and admission fees. That puts you at around $70-90 for a day.
If you go for a mid-range budget you could spend up to $50 for Airbnb, 5 Uber's a day for $15, eating in cafes and restaurants ($35-50), drinks ($20), and your activities for $20. This puts you at almost $150 for a day. We found that when we were traveling with friends we were able to save money with Uber's, etc.
With a luxury budget, the sky's the limit. You can find some amazing Airbnb or hotels in Mexico City that are fancy and the prices are higher with the architecture, luxuries, and location. You can get reservations at all the best top-ranked restaurants in the world and pay over $100 for dinner. It just depends on your budget and what you're comfortable with! There were some days where we went backpacker budget and other days we spent a little bit more, the beauty of Mexico City is you can be flexible with a lot of things to save money!
14. ENJOY THE ROOFTOPS IN MEXICO CITY!
There are some amazing places to enjoy drinks and dinner on the many rooftops in Mexico City. When we first arrived I figured it would be easy just to do a google search of the "Best rooftop bar in Mexico City" but between Covid and the google results just…..sucking I wanted to make sure I put together some of our favorite places so you don't have to go searching!
El Mayor in Centro Historico: it has a beautiful view of the Zocalo and some delicious food and drink options. It's the perfect place to enjoy brunch or lunch while you're exploring the Centro Historico area!
Terraza Catedral: Three blocks down from El Mayor is this cool place. It has 35 peso draft beers. Check the hours before going, on weekends it opens at 6 pm and you have to pay a cover. During the week it says it's open at 1 pm but hours can vary.
Balmori Rooftop: Roma, super nice drinks and food and when the weather is nice it's completely opened up and on the weekends it turns into a little club! The only downside is that people can smoke up there, however it was usually very open and airy so it didn't bother us too much.
El Balcon del Zocalo's: Definitely a fancier restaurant but it's super nice with a sweeeet rooftop view.
Cafe inside Sears downtown: Go to the 8th flood and you'll find the Bella Artes right in front of you while you enjoy a coffee and people watch below! You'll find this to be a great area to do a lot of shopping as there are a ton of markets in the area!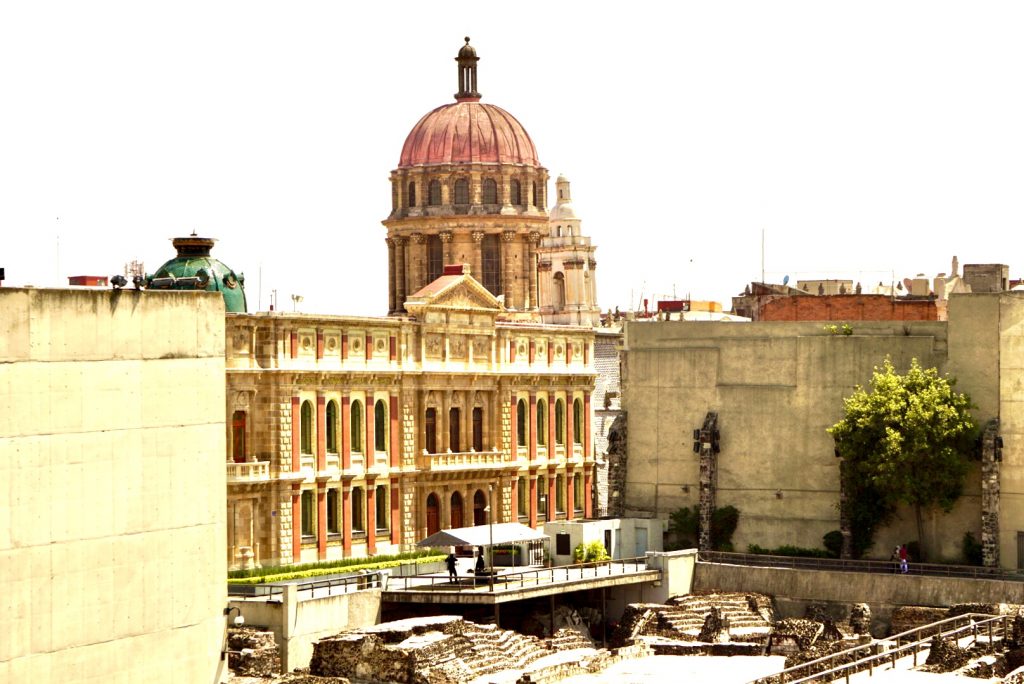 15. PLAN OUT WHAT TYPE OF BAG OR PURSE YOU'RE GOING TO USE
Don't worry in Mexico City you shouldn't worry about your safety that much, but you definitely need to think about the fact that you'll be in a massive city that is busy and pickpocketing is a possibility. We couldn't create this essential travel tips for Mexico City article without talking about safety. There are so many amazing neighborhoods to check out while in Mexico City, and when you go to neighborhoods like Centro Historico or a busy market like Mercado Jamaica you should definitely pack a bag with a zipper. Here is our favorite Gregory day pack. While in Roma, Condesa, Polanco, or Coyoacan we tended to just use whatever bag we wanted. To be clear, we lived in Mexico City for three months and never had issues with pickpocketing but we do want you to be aware of the possibility.
16. MEXICO CITY IS 7,382 FEET ABOVE SEA LEVEL
It's higher than both Denver and Colorado Springs. Courtney and I came from Hawaii and were born and raised living in areas that were at sea level so this did take some acclimation. While it's not like Cusco in Peru that sits at 10,000ft above sea level, we still got winded going upstairs and tried to take it easy and hydrate the first couple of days. You won't notice it right away, it's really more when you start exerting yourself. Like when we went to the gym for the first time and lifted weights and felt like they were 500 lbs. Overall, it's no biggie. You may get a dull headache and feel tired. Drink water and chilllll!
17. SIGN UP FOR A SCOOTER OR BIKE APP!
This is an awesome way to explore the city above ground while still avoiding traffic. Honestly, You'll find tons of bike and scooter options scattered around the city. If you're interested in regular bicycles you can download the Mobike app. The bikes are orange and they are around Polanco and Roma but you can take them around to different neighborhoods! For scooters, you can use the Lime scooters for about $4 a ride! You download the app and scan the scooter to start going, but be sure your scooter is charged- you'll know because if it shows up on the map it's charged!
18. CHECK OUT THE MUSEUMS
Did you know that Mexico City is second only to PARIS for cities in the world with THE most museums? Y'all, they have something for everyone! Our favorite was the Museo de Anthropology, Chapultepec Castle, and Templo Mayor (I love history). There are also art museums like The National Art Museum or the Frida Kahlo House!
19. MARKETS MARKETS MARKETS
Make time for the many markets around Mexico City! We loved getting lost and just exploring all the different foods and souvenirs the various markets had to offer. We loved Mercado Jamaica but be sure to be aware of yourself and your belongings when you visit, it's quite busy! Mercado Jamaica has the most beautiful flowers, especially around Dia de Muertos. Merced is another that is quite chaotic but has great food to try. Medellin has tacos and produce from around Latin America!
20. TAKE A DAY TRIP OUTSIDE OF MEXICO CITY
I know you will probably be busy busy exploring the city based on what we have said so far in this essential travel tips of Mexico City article especially if you're on a timeline, but honestly, my top tip is to get out of the city for a day or two and actually explore the surrounding regions. It's easy to take a bus from the Central de Autobuses del Norte to places like Puebla, Cholula, xochimilco, Grutas Tolantongo and Teotihuacan! Honestly, just the bus ride alone was exciting because you get to see so much more outside of the big city!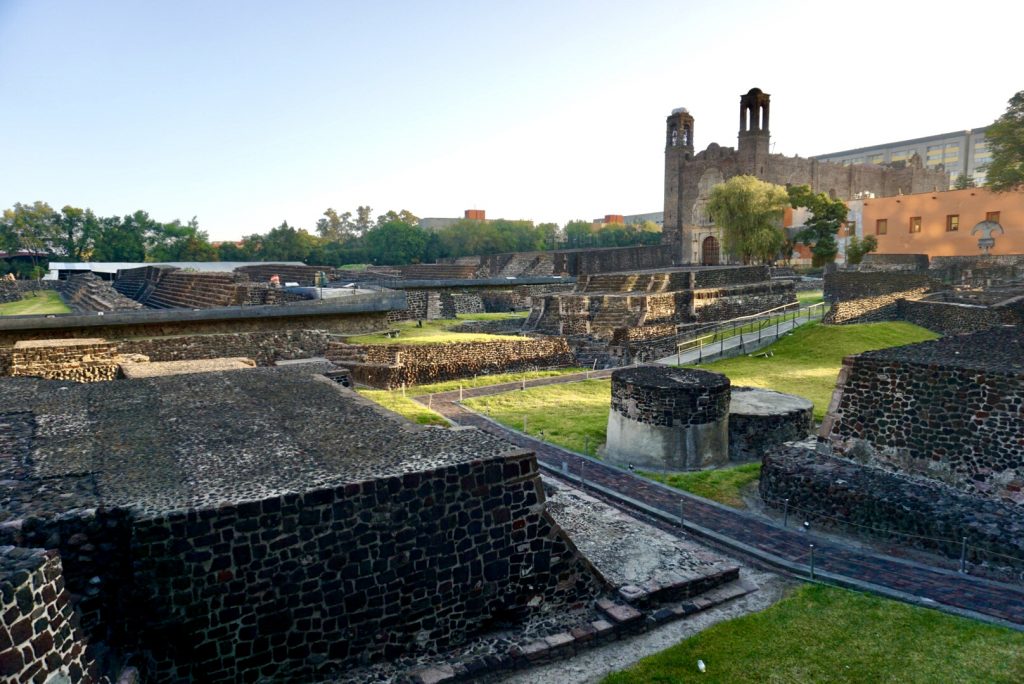 21. ENJOY THE GREEN SPACE IN MEXICO CITY
Mexico City is a massive city, but it does have some pretty amazing parks and green spaces that make you feel more connected to nature. The best part about visiting my favorite park, Parque Mexico is that you'll see dog walkers EVERYWHERE, and they don't have just one or two dogs, they have about 15-20! You'll also find some of the dogs being trained on the side of the sidewalk where they have to lay down in one spot for hours- it's crazy cool to watch!
Interested in other Mexico Related Articles? Check these out!
Like this Essential travel tips for Mexico City article? Pin it for Later!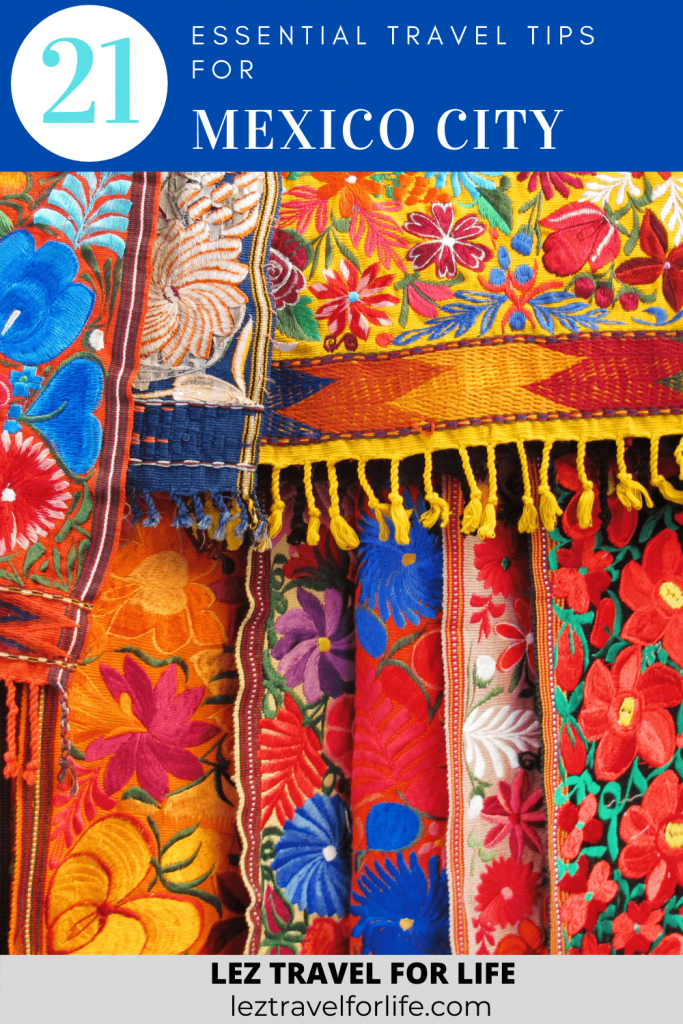 I'm Sam and I may only be 5'3 but I'm feisty and enjoy a lot of sarcastic humor. I'm addicted to travel as well as feeding and advocating for street animals in every country I travel to. I'm married to Courtney and we're super gay or whatevaaaa. We're both extroverts and love meeting new people everywhere we travel. We are in love with Latin American culture but can't wait to explore more of the world!