Reminder: Make sure to check the country's covid guidelines before travel.
This article may contain affiliate/compensated links. For full information, please see our disclaimer here.
Florida has built a reputation for having countless options for beach vacations, it can be overwhelming trying to narrow down your next vacation spot. St. Petersburg Florida has a unique vibe that almost feels like you're in California. Located 30 minutes from Tampa, St. Petersburg is known as the "sunshine city" because of its amazing weather. The downtown has tons of large murals, trendy restaurants, and hole-in-the-wall hang-out spots. My wife and I recently relocated to St. Petersburg and have fallen in love. We want to share this 4 Days in St Petersburg FL itinerary so you can discover the uniqueness of this fun city.
ABOUT ST PETERSBURG FL
St. Pete is close to Tampa, which also has a ton of awesome restaurants and activities. It's also close to the Gulf of Mexico making its beaches beautiful, with little to no waves. It's known for its incredible weather and sunshine. Downtown St. Petersburg FL is only 15 minutes away from beautiful beaches. If you visit St. Pete and stay for 4 days you can easily walk or rent scooters downtown, and uber to any of the nearby beaches if you don't want to rent a car. The main hub for activity in downtown St Petersburg FL is Central Ave. There are bikes and scooters everywhere making it super easy to get around if you are tired of walking and don't want to uber!
GETTING TO ST PETERSBURG FL
There are several airports around St. Petersburg FL, making your journey to St. Pete flexible.
The three main airports are:
TPA (Tampa International Airport) is only 18 miles from St. Pete.
St. Petersburg- Clearwater International Airport which is only 10 minutes from downtown.
SRQ (Sarasota Bradenton Airport) This is the farthest airport from St Petersburg FL, it's an hour away but a feasible option if you are looking to explore other areas outside of St Petersburg FL.
THINGS TO DO IN ST PETERSBURG FL
St. Petersburg is unique because so many different types of people live here. There is a large artist population here, which has inspired many eye-catching murals spread across the city. In this 4 Days in St Petersburg FL itinerary, we will highlight all the top things to do and see. There is something for everyone including the LGBTQ community, artists, families, partiers, and more. I will be sure to highlight places to eat, drink, and where to stay.
Soak up the sun at St Petersburg FL beaches
There are multiple options for beaches around St. Petersburg FL, each has a different vibe so there is definitely something for everyone. There is only one dog-friendly beach, check it out below.
St. Pete Beach
This beach is one of the most popular beaches for locals and tourists alike. It's 15 minutes from downtown St. Petersburg FL, making it easy to access. There are multiple restaurants, shops, and bars to check out while you are there. There is even a beachfront bar that serves alcohol, burgers, snacks, and more.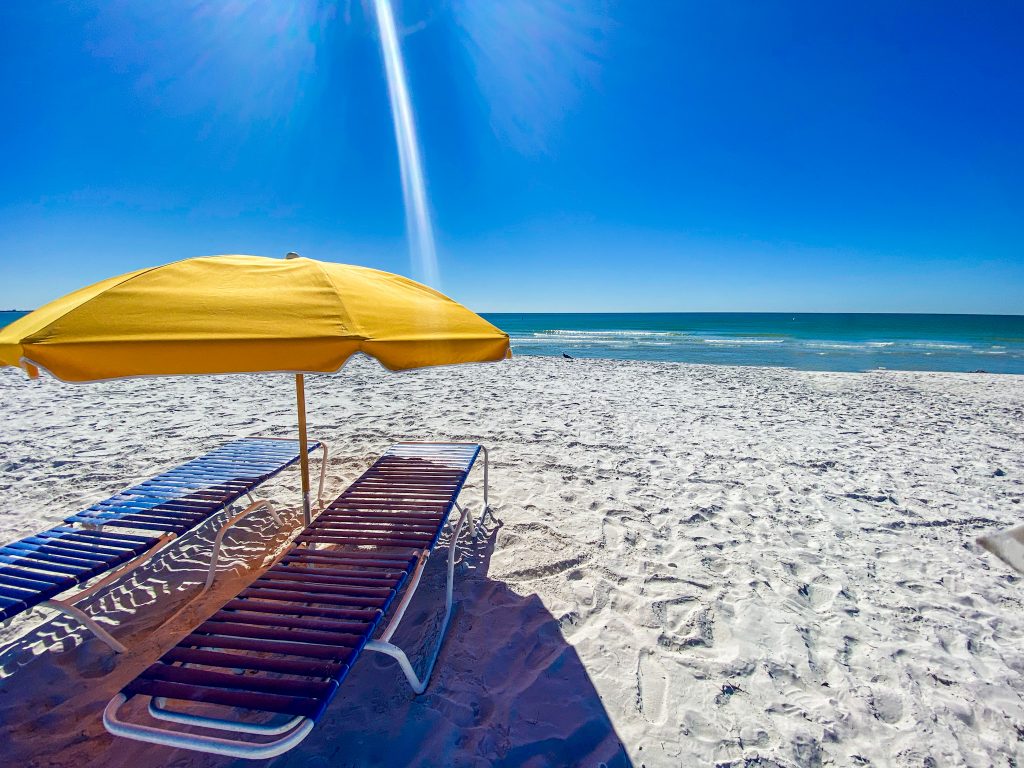 Fort Desoto beach
If you are looking for a beach that is secluded AND has a dog-friendly beach, this is the perfect spot! It's about a 25-minute drive from downtown St. Pete, with plenty of room for campers, RVs, and tents! The daily parking fee without a trailer is $5! We loved it because a short walk from the parking lot is the dog-friendly beach. There are signs after you enter the park that will lead you to the correct parking lot for the dog-friendly beach.
Treasure Island beach
Treasure Island beach is also a popular option for visitors and locals as it is only 20 minutes from downtown St. Pete. There are multiple bars/ restaurants to try in this area. Some popular choices are Caddy's, Ricky T's, Buoys. Caddy's is waterfront and a great place for day drinking or sunset drinks. It usually draws a younger crowd. Ricky-T's draws an older crowd. It still gets pretty packed and has sports bar vibes with an outdoor section. Buoys have a waterfront view of the bay, with a more sophisticated menu.
Pass-A-Grill beach
Pass-A-Grill is at the southernmost point of St. Pete's beaches. The drive is beautiful and gives you a more scenic look at the area surrounding St. Petersburg FL. It's located 25 minutes away from downtown St. Petersburg FL, and while you have to drive a little longer to get here you'll enjoy the peace and tranquility this area has to offer.
Visit the Dali Museum in St Petersburg FL
The Dali Museum is beautiful, modern, and Salvador Dali is anything but boring. You can easily spend 2-3 hours here looking at all the art and enjoying the cafe. They also have another room dedicated to another artist or photographer that they rotate out periodically. It's next to the waterfront so you are surrounded by a view. The museum is only a 10-minute walk from St Pete Pier, which is also something everyone should check out. Try to book online before going, tickets can sell out quickly.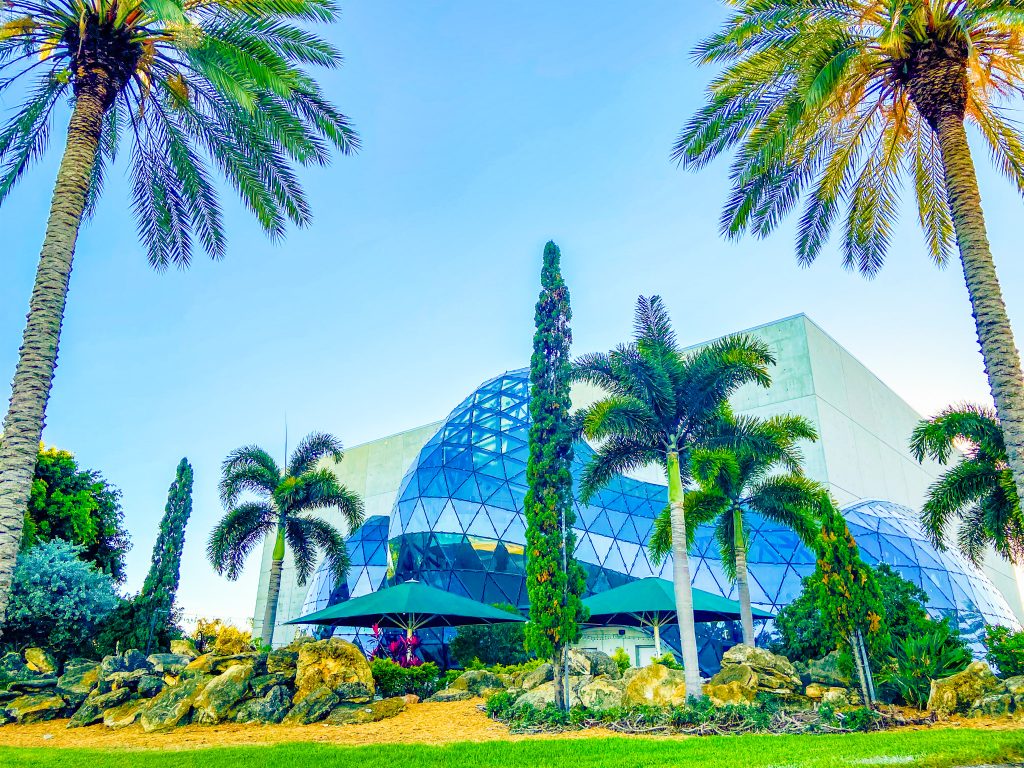 Kayak with Manatees
Crystal River and Three sisters springs are less than 2 hours of driving and it makes such an awesome day trip. You can rent clear kayaks and kayaks in the river among the Manatees and their babies! Manatees begin to migrate into the warmer waters in mid-November and stay up until around April. We went in November and saw so many manatees, and the weather was perfect, none of us got sunburnt!
If you want, you can sign up for a group kayaking tour and have a professional show you around all the hot spots for manatees. We preferred the kayaking tour versus a boat tour simply from a sustainability standpoint. The boats often come too close to the manatees and I don't want to encourage any more injuries to these majestic animals. Even though they were going slow they would often come very close to them. Check out the Small-Group Kayak Tour here.
Walk the St Petersburg Sunken Gardens
Sunken Gardens is a short 5-minute drive from downtown St. Petersburg. These gardens were built 100+ years ago to showcase exotic plants and flowers from all over the world. You can easily make your way through the entirety of the gardens in an hour. It's a beautiful maze of trees, plants, flowers, and even flamingos! This is a great place to have a picnic, or just enjoy the sunshine.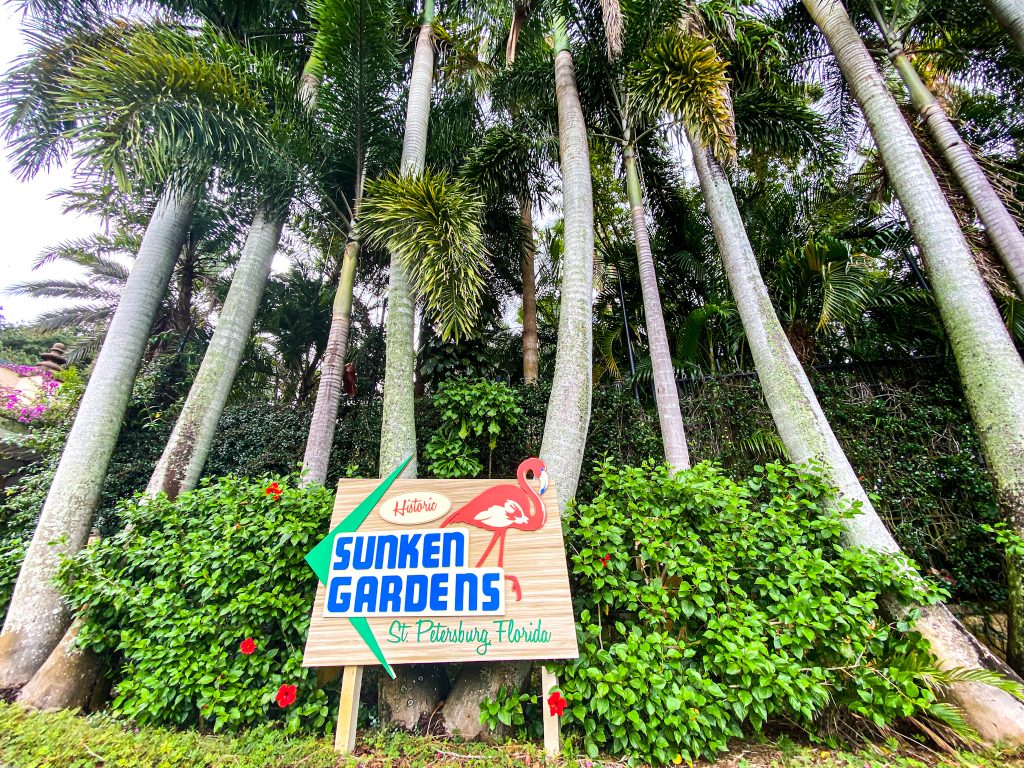 Experience the African American Museum
This museum is named after the man who inspired Black History Month and gives a unique insight into local African American culture St. Pete. It showcases the incredible Dr. Woodson, an African American civil rights activist, and historian. Step into this museum with a different lens, one that is unique to the African American experience, it's a powerful museum and really gives a personal insight into the lives of so many. Be sure to check out the large Black Lives Matter mural that was created by local artists who are passionate about equal rights for all.
Food Tour Downtown St Petersburg FL
There are tons of food options to explore in downtown St Pete, but with this bicycle food tour, a local guide takes you to all the hidden gems that St. Pete has to offer.
Spend time at the St Petersburg FL Pier
St. Petersburg Pier is one of my favorite spots to take visitors as it is not like any other pier I have experienced. There is a large pathway that sports restaurants, a beach area with chairs, Saturday farmers markets, concerts, and more. Once you make it to the pier itself you'll find that it is 2 stories tall and on the second floor there is a restaurant/ bar that turns into a club vibe on the weekends! There is also a beach area with chairs, and spacious common area with fountains kids can play in a walkway, and a beach area.
Keep walking past all these cool things and you'll find small walkways with beautiful views of the water and the pier! This is definitely a place you can spend an entire Friday afternoon/ evening at.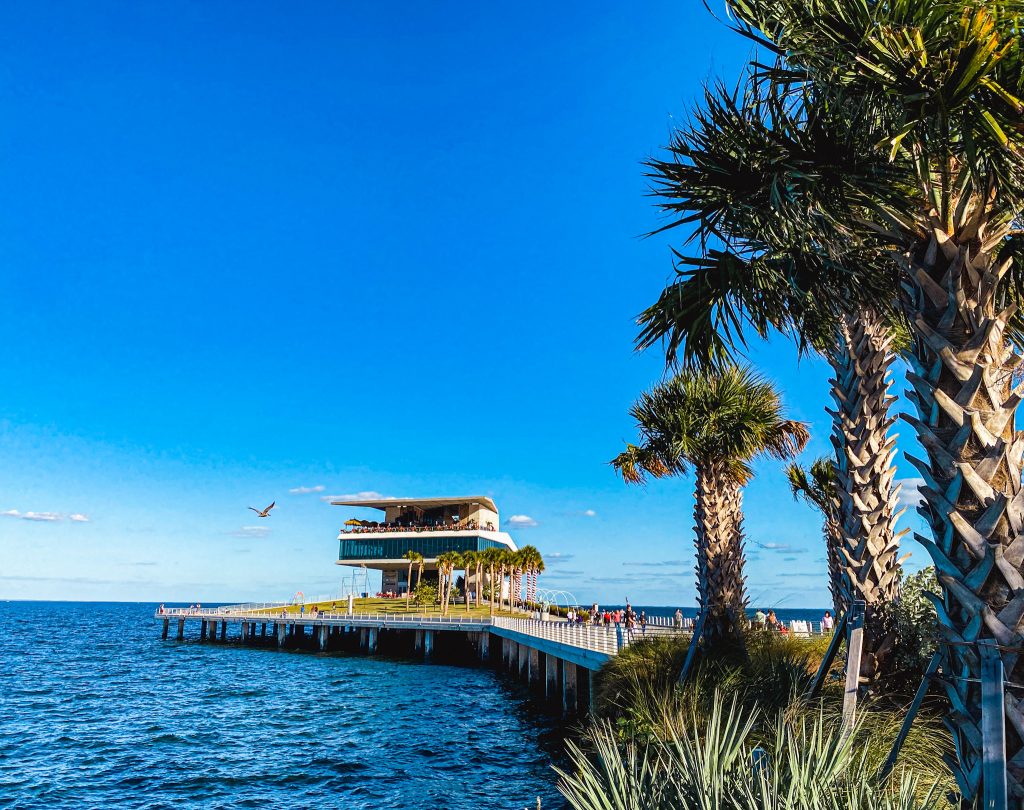 Explore the Boyd Hill Nature Preserve
Take a quick trip outside the city to enjoy this extensive nature preserve. This preserve is massive (over 200 acres), and just 15 minutes from downtown St. Petersburg FL. The preserve is set up so you can walk or bike around the trails and boardwalks. I had no idea so much diversity existed this close to the city. There are alligators, birds, fish, and more. If you enjoy running, this is an awesome place to run with a view!
WHERE TO EAT AND DRINK IN ST PETERSBURG FL
Of course, we couldn't leave out the best part of the 4 days in St Petersburg FL Itinerary, food and drinks! Central Ave is where you will find the majority of bars and restaurants, with so many options it can feel overwhelming. Courtney and I have narrowed down the top favorites that we just keep going back to.
Coffee
Black Crow Coffee: Favorite coffee in town, there are two locations in St Petersburg
Breakfast
Central Coffee Shoppe: Family-run diner with some classic hangover food, it's been around since the '70s and is a must while in town.
Brunch & Lunch
Wild Child: New brunch spot that offers craft cocktails, mimosas, and a delicious food menu.
The Lure: A sushi spot that does brunch right.
Dinner
Buya Ramen: Some of the best ramen I've ever had, not to mention delicious craft cocktails to sip on while you wait.
Cappy's Pizza: Family-run pizza joint. Hands down the best pizza in town.
Trophy Fish: An elevated seafood spot with craft cocktails made with fresh ingredients. An excellent brunch spot. Check out their rotating menu based on the fresh catch of the day!
Drinks
Mandarin Hide: Higher-end craft cocktails made based on what flavors you love. One of the best cocktail spots in town.
Five Bucks Drinkery: A sports bar type feel with affordable drinks and a lively atmosphere in the heart of downtown St Petersburg FL.
Saigon Blonde: A cocktail bar that offers CBD-infused cocktails inspired by Vietnam.
Copa: Cocktail bar on Central Ave that offers tapas-style dishes. Great place to enjoy a couple of drinks before bar-hopping around St Petersburg.
Pinellas Ale Works: There are tons of breweries around St Pete, but this brewery is known for its large selection and best beer flavors!
Sweets
Valhalla Bakery: Family-run bakery with the most mouth-watering dessert choices. I can't even begin to explain how much I love this place, just go check it out and let me know what you think.
WHERE TO STAY IN ST PETERSBURG FL
Coconut Inn: Boutique hotel in Pass-a-Grill. The perfect location to enjoy a relaxing and quiet vacation. Also offers an outdoor pool. They are pet-friendly!
The Hollander: A boutique Hotel in downtown St. Pete with a restaurant, heated outdoor pool, and a poolside bar. Also close to the waterfront and the Dali Museum.
The Birchwood: Downtown St. Pete, a few minutes walk to the waterfront, while also being close to multiple bars and restaurants. They offer a restaurant and a popular rooftop bar for cocktails.
Postcard inn: On St. Pete Beach offers a massive heated outdoor pool. Only a 15-minute drive from downtown St. Pete. A popular choice for visitors wanting to be right on the beach!
The Cordova Inn: The Cordova Inn is centrally located in downtown St. Pete. You are about a block from the center of town and the waterfront area. There is also a bar called The Scott that sits at the front of the inn that serves coffee, drinks, and small bites. We personally love heading over to The Scott for morning coffee or for an evening happy hour. The decor reminds us a lot of Charleston SC with its vintage furniture, pictures, and overall vibe and is a popular choice for travelers.
Like this 4 Days in St Petersburg FL post? Check out our other related articles!
Like this 4 Days in St Petersburg FL post? Pin it for later!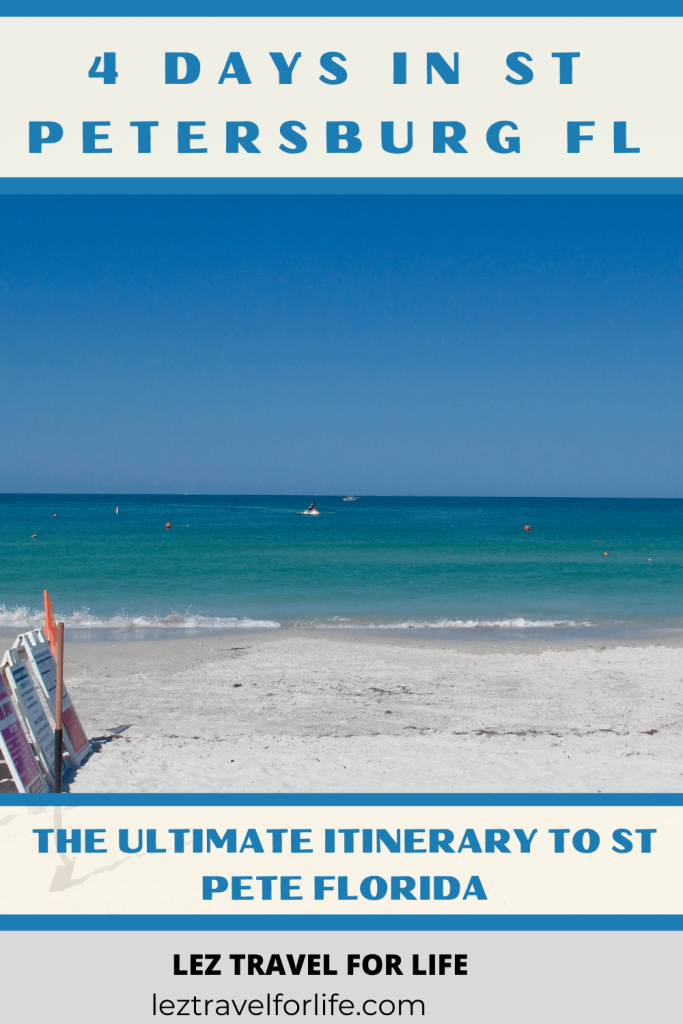 I'm Sam and I may only be 5'3 but I'm feisty and enjoy a lot of sarcastic humor. I'm addicted to travel as well as feeding and advocating for street animals in every country I travel to. I'm married to Courtney and we're super gay or whatevaaaa. We're both extroverts and love meeting new people everywhere we travel. We are in love with Latin American culture but can't wait to explore more of the world!