This article may contain affiliate/compensated links. For full information, please see our disclaimer here.
Reminder: Make sure to check the country's covid guidelines before travel.
---
Costa Rica is the second country I ever traveled to outside of the US and the first country I traveled to where I truly fell in love with Latin America. Basically, if you look up the word wanderlust you'll see a picture of Costa Rica. I have been back to Costa Rica three times and took my wife on her first international adventure (spoiler alert she fell in love too). Costa Rica is easy to love, which is why it has become the most popular Central American country. While you may be able to find cheaper Central American destinations, you won't want to miss the raw beauty in the wildlife, landscapes, food, and fun activities. Whether you are looking to slow down and soak up the sun on the beach or explore as much as possible during your trip this Costa Rica travel guide will cover everything you need to know while planning your trip.
LGBTQ+ friends keep reading, as we will cover our experiences as a lesbian couple in Costa Rica.
COSTA RICA TRAVEL GUIDE: QUICK INFORMATION
Language
The language is Spanish. Less than 20% of Costa Ricans speak English so you'll definitely want to learn a few key phrases to make your life easier. I use Duolingo- it's a free app on my phone! Don't forget to also download google translate on your phone. It's a lifesaver when you're in a pinch and you need to communicate something quickly with a local.
Costa Rican Currency
The currency is Colones. However, USD is used across the country.
Pro tip: I suggest getting out currency through your bank before you head to Costa Rica. ATM's are notorious for being out of order or generally unreliable and it helps with having cash for food and activities. Credit cards are also used across the country, but always check your hotel booking or hostel booking to see if they take cash or card upon checking in.
Safety
Is Costa Rica safe? Yes!! Costa Rica is safe, but like any trip, you'll want to take basic precautions- especially as a female.
Catcalling and staring are common. Helpful tips are to wear sunglasses, not make eye contact, and simply ignore them.
Be careful where you walk after dark, Uber when you can, and ask your hostel or hotel what areas to avoid. Be extra cautious in San Jose- it is a large city with many pickpockets.
Oh, and lastly- don't go out at night and get blackout drunk and walk home in the dark as you will certainly be a target for robberies. Overall, use common sense and simple safety precautions and you should be just fine, locals are also generally helpful if you're lost!
Check out our safety article if you want to read more about how to stay safe while traveling in Costa Rica!
Tip or Not to Tip in Costa Rica?
Costa Rica is a tipping culture, especially for tours. Be on the lookout for a 10% gratuity tax added to your restaurant bill, if it is added then there's no need to tip more.
COSTA RICA TRAVEL GUIDE:

LGBTQ+

INFORMATION
For LGBTQ travelers Costa Rica has come a long way in LGBTQ rights (yayyy gay marriage is legal as of 2020) however, locals will tell you that some Costa Ricans are more tolerant of feminine lesbians over gay men or more androgynous females. My wife and I aren't one to show affection in public, but according to many LGBTQ travelers- they have had no issues.
For more info on gay travel in Costa Rica check out our gay travel guide:
COSTA RICA TRIP PLANNING: WHEN TO GO
Our Costa Rica travel guide will cover everything you need to know about when to visit! Costa Rica is known for two seasons: wet and dry season and always humid! When we visited in November and December we had a mix of extremely hot and dry days on the Pacific side and rainy days on the Caribbean side. The dry season or summer season is from December to April and the rainy season is from May to November. From my experience, these are great months overall for agreeable weather. However, on the Caribbean side, it generally rains really hard once a day (honestly I thought I was going to be incredibly frustrated by it but it ended up being super refreshing and a quick escape from the sun and heat).
On the Pacific side, we had mostly sunny and hot days. I'll talk more about what to pack below, but don't forget a rain jacket and waterproof shoes/ sandals. Side note: the dry season is also the high season for tourism and prices can jump significantly, try to book your flight months in advance for a better deal- this also gives you more time to save for all the fun activities! Check out Hopper to help plan dates and scope out prices.
COSTA RICA TRAVEL GUIDE: AIRPORT GUIDE
Where will I fly into? Most flights land at the SJO airport, once you land you'll head through customs and then you can choose your preferred form of transportation. Be aware that most places are about 45 minutes away from SJO so prepare for traffic. Once you leave customs and you're heading out of the airport you can go to any taxi stand and book an official airport taxi. I'll also explain other transportation options below.
MAP OF COSTA RICA TO HELP GUIDE YOU TO POPULAR DESTINATIONS
Costa Rica is a very small country, but due to the road conditions, it can take an incredibly long time to get to each destination. Each pin on the map represents where each destination is to give you an idea of how long it may take you to get to your destination.
COSTA RICA TRAVEL GUIDE: BEST THINGS TO DO
Explore Arenal
Many travelers begin their Costa Rican travel journey in La Fortuna and it is our favorite way to start our trip as you can relax in hot springs, hike the Arenal National Park, explore La Fortuna waterfall, or go off the beaten path and explore Rio Celeste (a magical waterfall where the water is blue!!). We can help you plan all the details here in our Complete Guide to Arenal.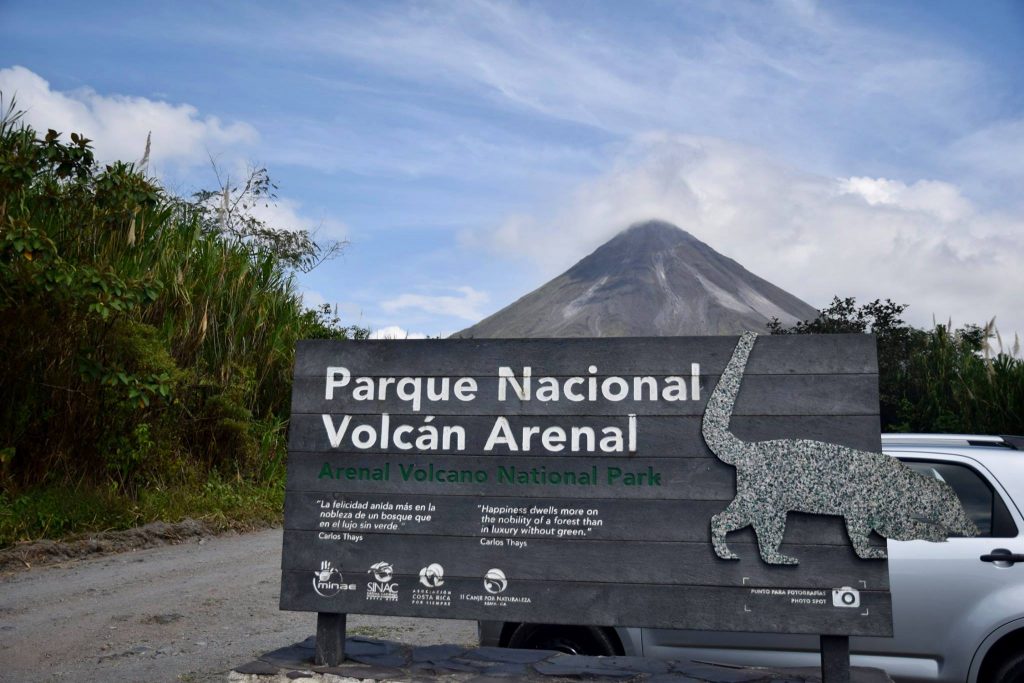 Climb in the Clouds
A Costa Rica travel guide would not be complete without mentioning the incredible cloud forests! Monteverde is known for its dreamy cloud forest, cool weather, and the pace is much slower here. Many activities include bird watching, hiking, coffee tours, zip-lining, and canopy tours. This destination is another 3-4 hours from Arenal and is typically the second destination on the Costa Rican travel Itinerary.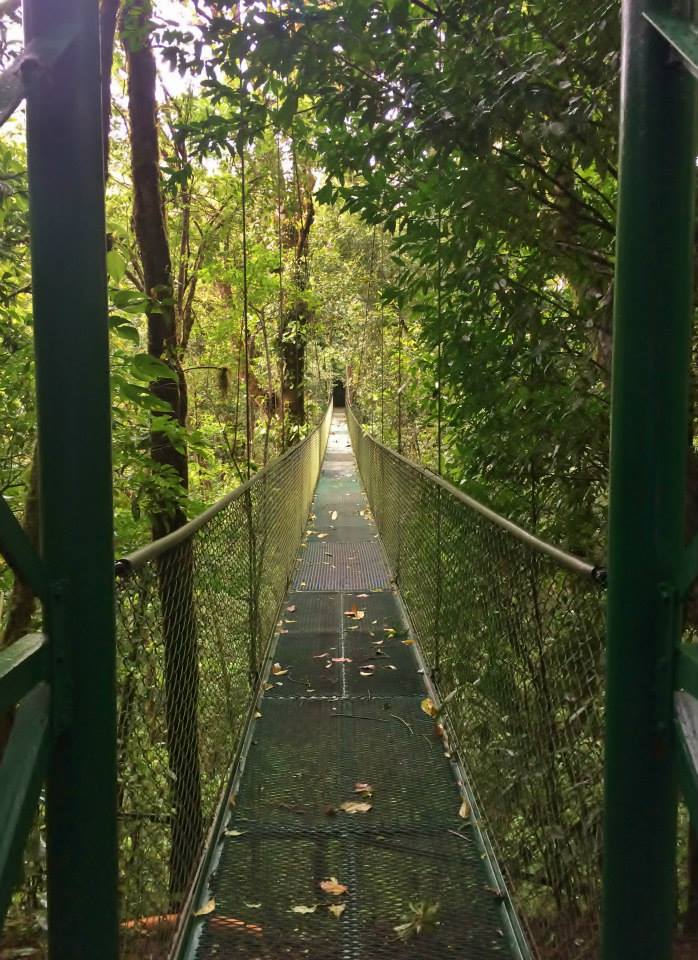 *Note – While planning your trip make sure you look up the distance between locations to ensure you make the most of your time.
Beach Hop Around Costa Rica
Whether you want to learn to surf in Santa Teresa, sunbathe with monkeys at Manuel Antonio, or simply explore some of the best beaches this Costa Rica travel guide would not be complete without a trip to the coast! Our favorite part was sunrise and sunset because every day we experienced different vibrant colors and to this day we still can't top Costa Rican sunsets.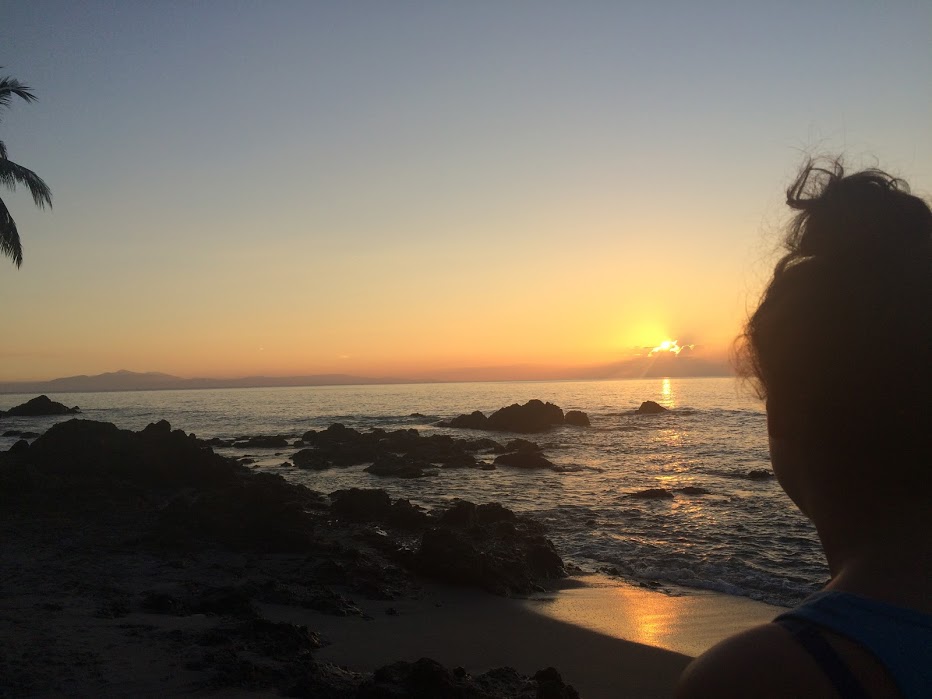 Experience the Wildlife of Costa Rica
Costa Rica has the most impressive wildlife I have EVER experienced in my travels and locals take great pride in preserving the beauty of this country. Every morning we would wake up to the sound of howler monkeys, parrots, frogs, and if we looked close enough sloths! Sometimes you may even have visitors at the front door of your hostel. Even though we had free access to the wildlife right on our doorstep I still wanted more – so here are a few of our favorite animal excursions.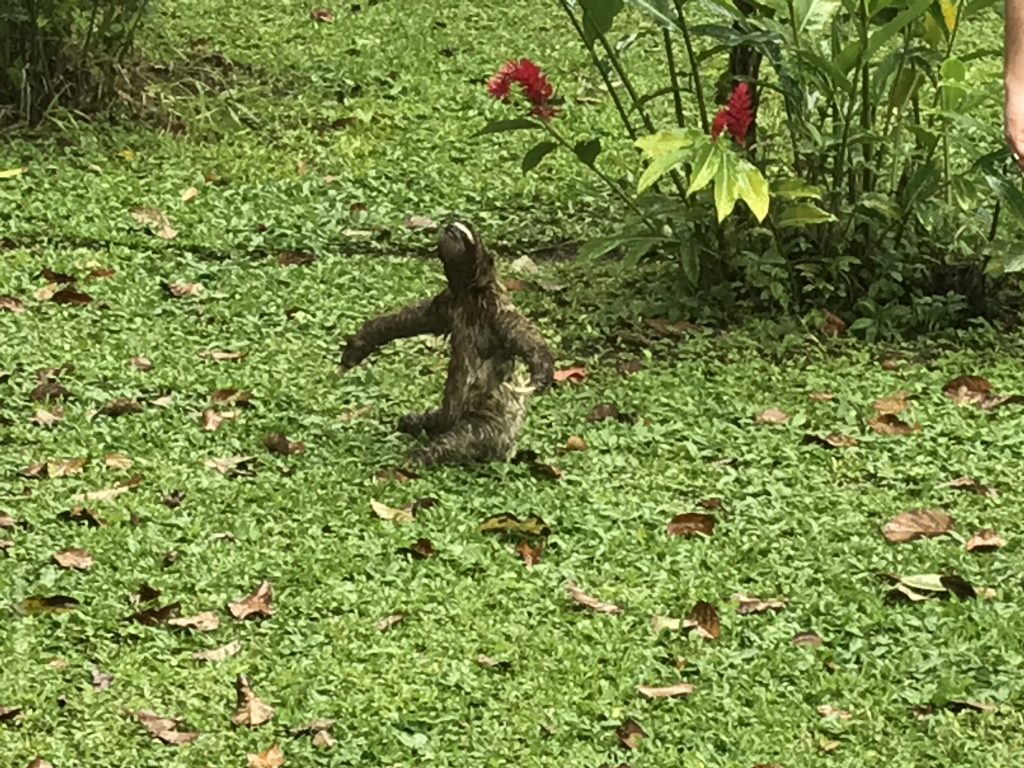 Hunt Waterfalls in Costa Rica
While you're taking a break from hiking Volcanoes, laying on the beach, or chasing baby sea turtles you cannot miss visiting Costa Rica's waterfalls. Why? We've talked about Costa Rica's biodiversity- this is your chance to head off the beaten path and dive headfirst into their lush forests and get lost within its beauty. Costa Rica has made it easy to access many waterfalls throughout the country and best of all the entrance fees are super inexpensive, making visiting any waterfall a budget-friendly option.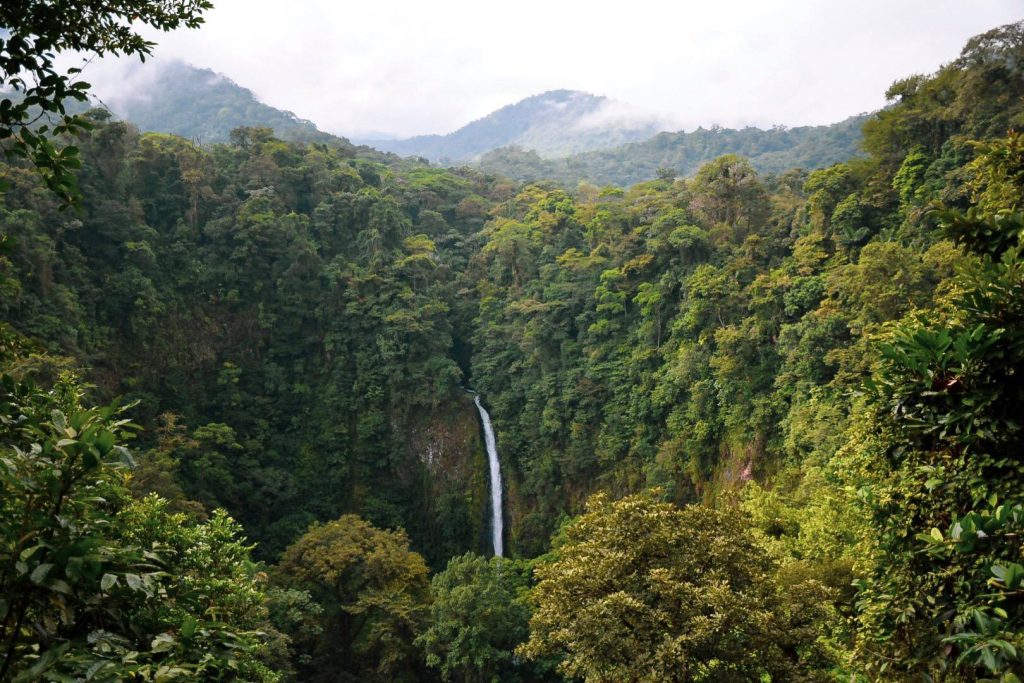 ---
---
COSTA RICA PACKING GUIDE
What to pack for Costa Rica? This is definitely one of the most common questions we get, but also one of the most important questions. The top two questions you need to ask yourself are 1) Where are you going and 2) When are you going. Costa Rica has over 20 micro-climates so you will definitely need some variety in order to be prepared.
Clothes for Costa Rica
Costa Rica is very relaxed when it comes to wardrobe. Ladies and LGBTQ+ friends, feel free to wear crop tops, short shorts, or dress androgynously. Court and I both have completely different styles, so we link both men's and women's clothing in our Complete Costa Rica Packing Guide. Also, we generally opt for quick dry clothes for hiking, rain, or the beach. Plus, you'll want your clothes to dry quickly at the end of the day. Below is a brief list so don't forget to check out our full Packing Guide for more details!
1-2 swimsuits (sometimes the saltwater makes them smell funky)
1 long sleeve shirt (depending on where you're going and when, check weather)
3-4 pairs of quick-dry shorts
3-4 pairs of quick-dry tops
Rain jacket
1 pair of tennis shoes (or hiking boots, assess if you need them or not based on activities)
1 pair of sandals or flip flops (my personal favorite would be Chaos or Tevas)
1 lightweight dress
8 pairs of underwear
4 pairs of socks
Toothbrush
Bullfrog Mosquito Coast and Sunscreen (DEET free/ SPF 30)
Travel size toothpaste
Razor
Deodorant
Quick-dry towel (some hostels do not offer towels)
Tylenol (trust me those bumpy roads will get ya)
Dramamine (helpful for bumpy van or boat rides)
Imodium (we never got sick from food in Costa Rica but just in case)
Packing cubes- so helpful for creating more space in your bag
Steripen- you'll save so much money on water and plastic we literally never travel without it
Lock- helpful for dorms in case you need to use a locker for storage.
Diva cup- because periods
SUNSCREEN SUNSCREEN- guys I don't know why this isn't mentioned more but sunscreen is crazy expensive in Costa Rica, like $17 for a small tube expensive, pack your own! (Reef safe! Our favorite is Blue Lizard)
Hair ties and headbands
Makeup – I caution you to pack light, you'll prob sweat it off anyway.
Contacts/ Contact solution- I'm blind yall, if I lose a contact I am useless. Plus you never know when you'll need them.
Insulated water bottle – It gets hot, an insulated water bottle is key!
Best Backpack for Traveling Costa Rica
For my friends who live by their rolling suitcases, this may be the time to retire that bad boy and try out a backpack. Our first backpack (and favorite) is our Osprey Bag.
You'll really want a waterproof backpack for Costa Rica due to the potential for rain, we love this backpack because it has a waterproof cover that goes over the bag. We also feel it helps keep your things safe and secure. This backpack is the perfect size for a carry-on, and it can serve as a great daypack. For shorter trips (1-3 weeks) this backpack is perfect.
You will want to have a little day pack with you for day time activities. It is a pain to completely unpack your larger backpack each time you need to bring a bag with you on an excursion, hiking, or even just going to the beach. We recommend bringing a stuff pack with you. They are super compact and don't take up hardly any space because it literally just folds up into itself!
Osprey Ultralight Stuff Pack
Pack stuffs into its own ultra-compact, built-in...
Dual zippered main compartment
Stretch mesh side gear or water bottle pocket
COSTA RICA TRAVEL GUIDE: BUDGET
Due to the influx of tourism over the last several years Costa Rica has become a more pricey destination in Central America but there is flexibility on how you budget. Based on my experience you can travel to Costa Rica for as low as $50 USD per day with accommodations and excursions being your largest expense. Remember- if you're traveling during high season, some hostels and Airbnb's may charge a 'holiday rate'.
COSTA RICA BUDGET DETAILS
Budget
Details
$$
Low-Budget
1. Dorm Hostel
2. Camp
$15-30 USD
Mid-Range
1. Private Hostel Room
2. Airbnb Private Room
$30-50 USD
Splurge
1. Private Hostel Room
2. Airbnb Entire
Home
3. Nice Hotel
$50-75 USD
If you're backpacking Costa Rica you can easily survive on $50 USD a day. You can stay in a nice hostel or camp. You can eat at a local soda or cook your own food, take local transportation, enjoy an excursion, and have a couple of drinks. While creating your budget, think about what you would like to spend your money on each day. Would you rather sleep in a dorm if it means you can pay for a day tour to Arenal National Park and La Fortuna waterfall? Would you rather eat at a nice restaurant and have some drinks, sleep in a dorm, and simply walk to the waterfall without a tour? It all depends on your preference.
With a Mid-range budget, you can spend around $60-100 USD a day, you can stay in a private room in a hostel or a budget hotel, eat out at decent restaurants and check out more excursions.
On a luxury budget of $100-200 USD you can do it all! Stay in private rooms, ride in private vans, private tours, and eating at nice restaurants.
COSTA RICA TRAVEL GUIDE: WHERE TO STAY
While Costa Rica is one of the more expensive destinations in Central America there are a ton of options for accommodations. From camping to hostels to 5-star resorts you can easily find what fits your style and budget (and maybe even find a treehouse).
Here are a few places we enjoyed staying:
COSTA RICA TRAVEL GUIDE: TRANSPORTATION
There are a variety of ways to get around Costa Rica, and most of it depends on what your budget is and how much time you have. Remember, destinations can take 3 or more hours to get to in Costa Rica even though they are only 40 miles away.
Public Buses
Bus travel is the most affordable way to get around Costa Rica, and buses are running frequently throughout the day, even in the more remote areas. Check out the schedule and guide. *Note this website can be unreliable but sometimes the mobile version functions when the standard version does not. If you are wanting to buy tickets, you'll need to go straight to the bus station and purchase them there.
*Note- if you're on a time crunch make sure you research the total amount of travel time between each destination, some buses are direct while others will stop frequently in the small towns (making a 3-hour direct bus ride 5-6).
Shared or Private Shuttle
Vans are a more time-efficient way to get around the country, however, the cost will be higher than public buses. We usually use private vans for longer trips (hello air conditioning) because it helps us get to our destination much quicker. This is just something that is important to us if we only have a few days to travel. You have 2 options- either a shared van with usually 8-10 passengers or a private van. See options for booking vans here.
Planning to Rent a Car in Costa Rica?
A lot of tourists rent cars for affordable prices, this is an option we have yet to explore because traffic laws in Costa Rica are wild, not to mention the road conditions are poor.
Is Uber in Costa Rica?
In more populated cities Uber is a great and safe option. We started using Uber in San Jose the last time we went to Costa Rica.
Taxi
Taxi's are everywhere in Costa Rica but make sure you know the different types and best practices.
Airport Taxis: The orange taxis are the only ones officially authorized to pick up and drop off at SJO airport. You can call ahead 2221-6865 or 2222-6865 or just flag one down when you arrive.
Official Red Taxis: From sun up to sun down you should have no problem finding one. Why red taxis? Their fares are set and regulated by the government- this means they all have meters and you should NOT have to negotiate a price with the driver. You can also use the app Easy Taxi to hail a taxi through your phone.
WANT MORE INFO ON COSTA RICA? CHECK OUT THESE OTHER ARTICLES
Like this Costa Rica travel guide Post? Pin it for Later!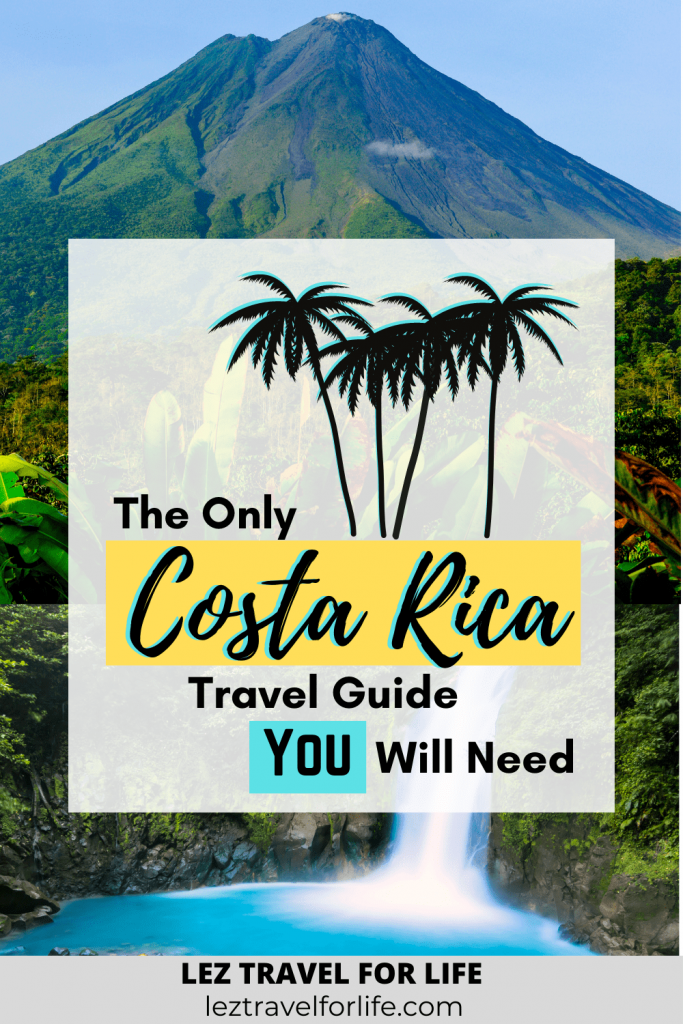 I'm Sam and I may only be 5'3 but I'm feisty and enjoy a lot of sarcastic humor. I'm addicted to travel as well as feeding and advocating for street animals in every country I travel to. I'm married to Courtney and we're super gay or whatevaaaa. We're both extroverts and love meeting new people everywhere we travel. We are in love with Latin American culture but can't wait to explore more of the world!