This article may contain affiliate/compensated links. For full information, please see our disclaimer here.
Reminder: Make sure to check the country's covid guidelines before travel.
Hello beach lovers! Costa Rica is one of my favorite countries and if you've read my Ultimate Travel Guide to Costa Rica you know that it's jam-packed with beaches I can't get enough of! Ready to whip out that new bikini or speedo? Ready to see other way-to-old-to-wear-that-speedo speedos? Let's dive into it! With over 800 miles of coastline, there is no shortage of breathtaking beaches to enjoy! From snorkeling, surfing, turtle watching, or simply just sunbathing I will reveal the best beaches in Costa Rica and information on how to get there and by the end, you'll want to pack your bags for your next adventure.
MANUEL ANTONIO NATIONAL PARK
What we love: We know a best beaches in Costa Rica list would not be complete without this gem. Yearning to have close encounters with monkeys? This is your place! When anyone mentions Costa Rica they bring up Manuel Antonio and for good reason, it's one of the most popular beaches in Costa Rica. Once you arrive at Manuel Antonio National Park you pay a small entrance fee ($18) and begin your 30-minute walk through the park to get to the beach. While you're walking you'll be surrounded by jungle, on a well-paved trail and you can soak up all of the sights and sounds of this magical place. The park boasts a variety of wildlife from monkeys, sloths, green iguanas, and even the famous squirrel monkeys that are labeled as endangered. Once you've made it to the beautiful white sandy beach make sure you keep your snacks secure in your bags because the monkeys are not afraid to root through your things and take their own to-go meal. Oh and good news for my LGBTQ friends, Manuel Antonio has the second largest gay scene outside of San Jose and there is even a website dedicated to bringing you information on hotels, bars, and food for LGBTQ travelers. You can also check out our gay travel guide for Costa Rica below!
Looking for the perfect sunset? Manuel Antonio has what you're looking for and you can even sail into the sunset on a sunset sailboat tour.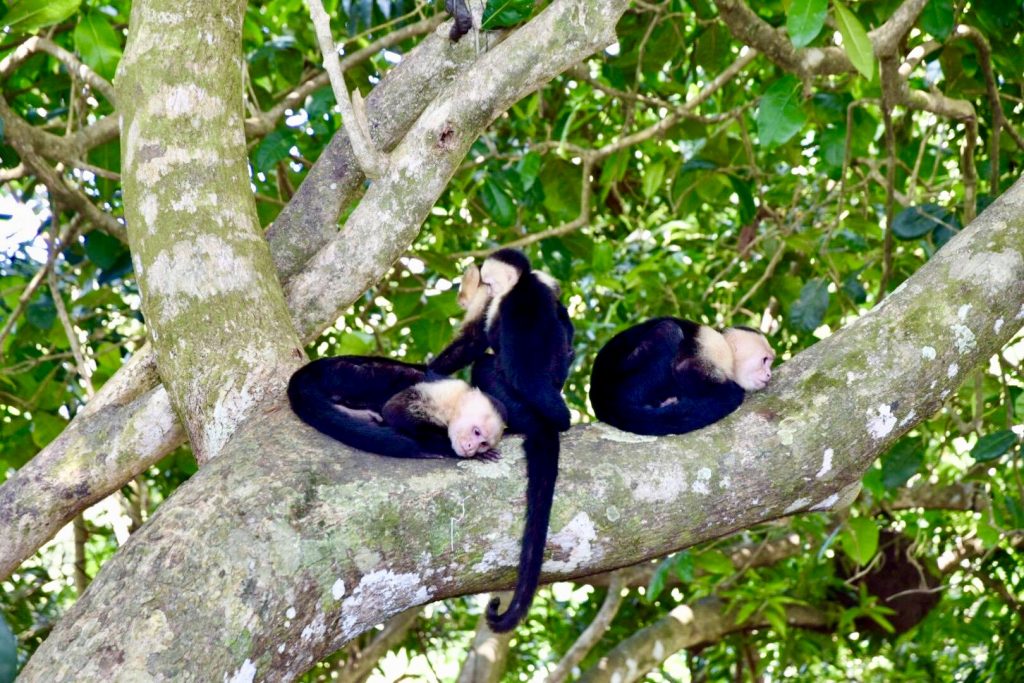 How to Get There:
From San Jose to Manuel Antonio there are several ways to travel. From private shuttles to public buses the trip will be around 3.5 hours. Public buses travel between San Jose and Quepos multiple times throughout the day. The direct buses are 2 hours shorter and will cost you about $9 or 4,500 colones. Shuttles will run you around $55. Alternatively, you can fly from San Jose to Quepos airport.
Check Transport:
Check out Tracopa or Interbus!
Compare accommodation prices and reviews on: Booking.com here!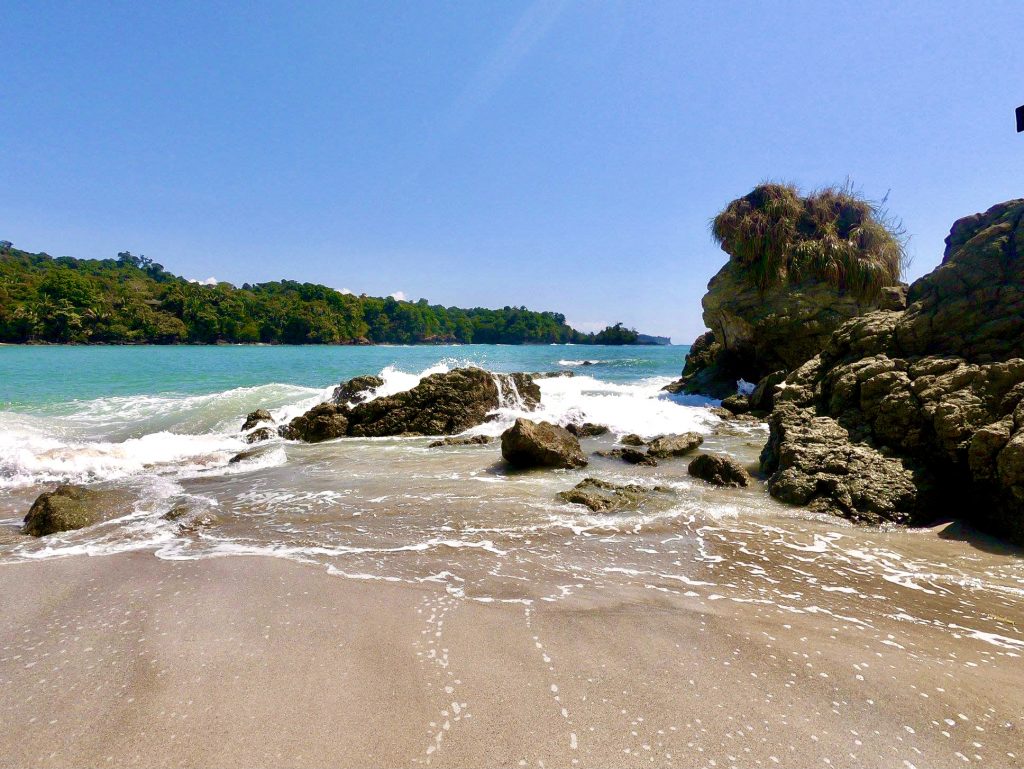 TAMARINDO BEACH: COSTA RICA
What we love: Ready to hop on a surfboard and become the next surf champion? No? Don't worry, while the waves are a little too big for swimming there is plenty to do in the area including beginner surf lessons if you're up for it! You can head over to Las Baulas National Park where you can potentially see the beautiful leatherback sea turtles that nest on the beaches between October and February. Though Tamarindo is quite touristy but is still an awesome beach to check out especially if you hang around until sunset as you get a full view of the sun going down! If you're looking for a beach to relax on with a few different hotel options (as well as hostels) this a great choice!
How to Get Here:
From San Jose, there are two bus companies that transport to and from Tamarindo. Alfaro from San Jose and La Pampa from Liberia. From San Jose Alfaro departs twice a day at 11:30 am and 3:30 PM and the cost is around $10 USD PP. The journey will take you around 5.5 hours. Or you could book a shared shuttle.
Check Transport:
**For public transportation tickets are sold in person not online.
For the shuttle check out Interbus!
Compare accommodation prices and reviews on: Booking.com!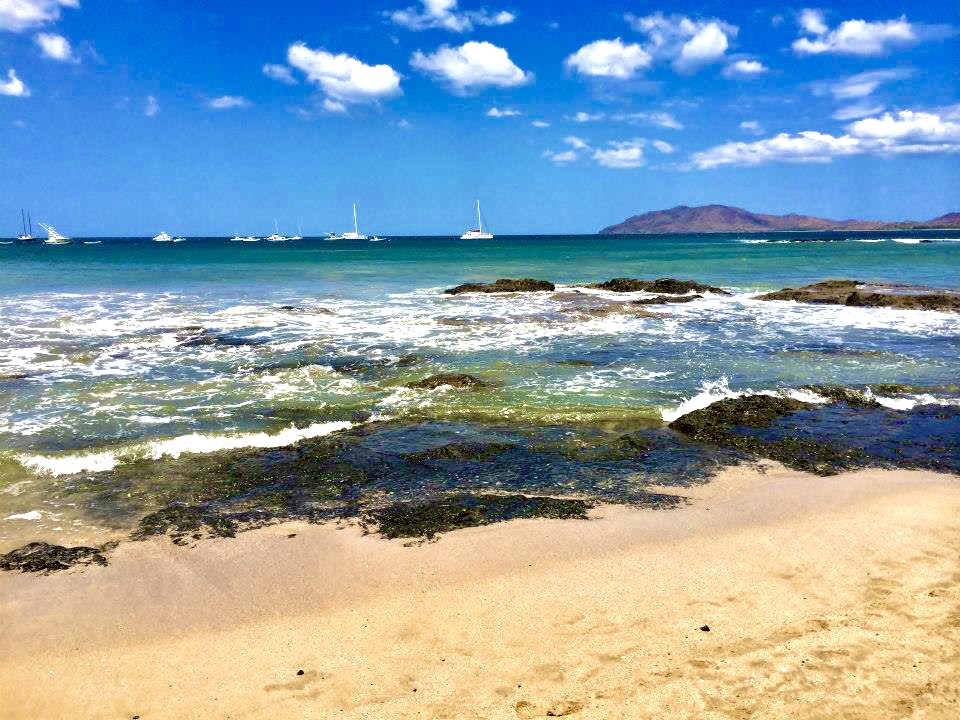 MONTEZUMA BEACH
What we love: If you're looking for more of a small-town feel head over to Montezuma. While known for its nightlife, Montezuma has one of my favorite beaches in Costa Rica, and you'll see tons of divers, surfers, and backpackers from all over the world arriving to check it all out. Take a walk around town and find where the rocks meet the ocean and the waves crash onto the shore and in low tide, you can even lay inside the tide pools, this was our favorite spot to unwind at sunset. Stay at our favorite hostel Downtown Montezuma Hostel where you can wake up to monkeys climbing from tree to tree and listen to the sound of waves breaking behind you. Don't forget to ask your hotel or hostel about how to get to the waterfall in Montezuma where you can adventure to the river and find LITERAL paradise at the top of this beautiful waterfall (in recent years they have created an easier path which consists of stairways you can take this route for a small fee if you want to skip the rough hike up). Montezuma also allows you to witness baby sea turtles be released into the ocean at 4 pm at Playa Montezuma during the right season (October-February).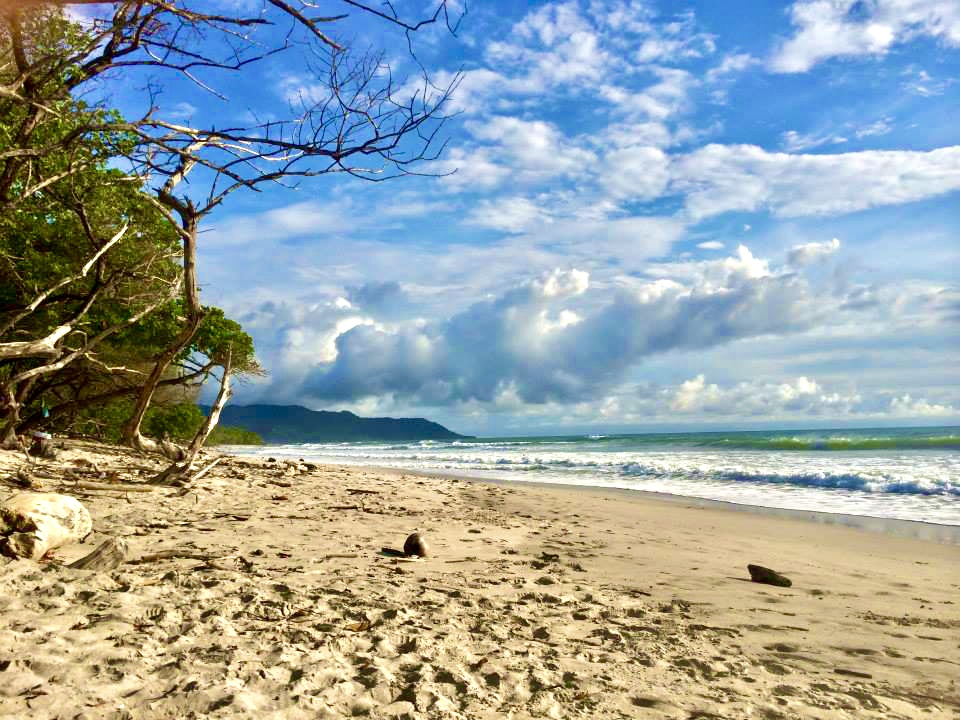 How to get here:
Direct buses leave from Coca Cola station in San Jose at 6:00 am and 2:00 pm and take around 5 hours. You'll also have to take a ferry across the gulf of Nicoya from Puntarenas. The quickest way to travel is either by car or by shuttle.
Check Transport:
Check out Interbus!
Compare accommodation prices and reviews on: Booking.com!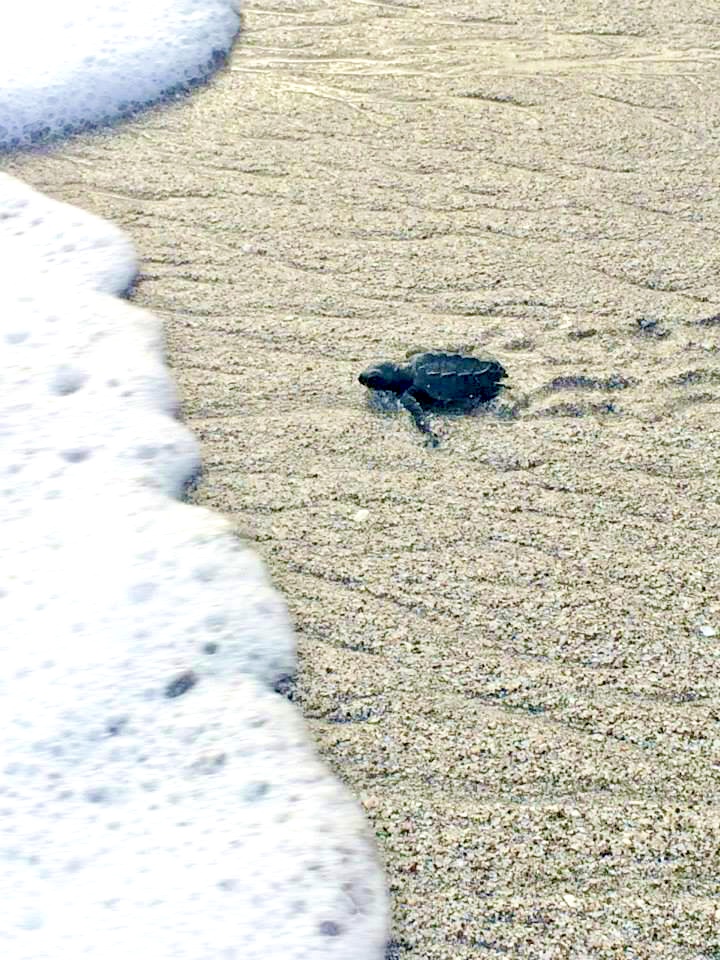 CAHUITA
What we love: Cahuita was our first taste of the Caribbean coast and we couldn't get enough! The beaches inside Cahuita National Park have stunning white sand and clear water which is perfect for snorkeling (this beach has one of the biggest coral reefs in the country) and are never overcrowded! Bring your camera because as you walk through this national park you'll likely see wildlife from monkeys, iguanas, sloths (this was the first time I got less than 5 feet away from a sloth!), frogs, and I even saw a massive spider (sometimes you have to look closely but this time I looked too close). Once you arrive at the national park you aren't required to pay a fee but donations are highly appreciated to help keep this place beautiful. We definitely encourage you to take a guided hike of the park so you can soak up all the wildlife without doing all the work, let the pro's handle it! This is the perfect place to spend the day enjoying the beach on one side and all the wildlife on the other side. Cahuita is a tiny town and after spending the day exploring the jungle and swimming most people just kick back and relax with a cold drink and watch the waves crash into the shore. Our hostel made our stay in Cahuita extra special as it is a ranch with beautiful horses surrounded by lush trees. Check out the hostel on booking.com here!
How to Get Here:
Buses and shuttles depart throughout the day from San Jose and the trip is around 5 hours. Public bus will cost you around $10.
Check Transport:
For public transportation check out this site or for a shuttle check out Interbus here!
Compare accommodation prices and reviews on: Booking.com here!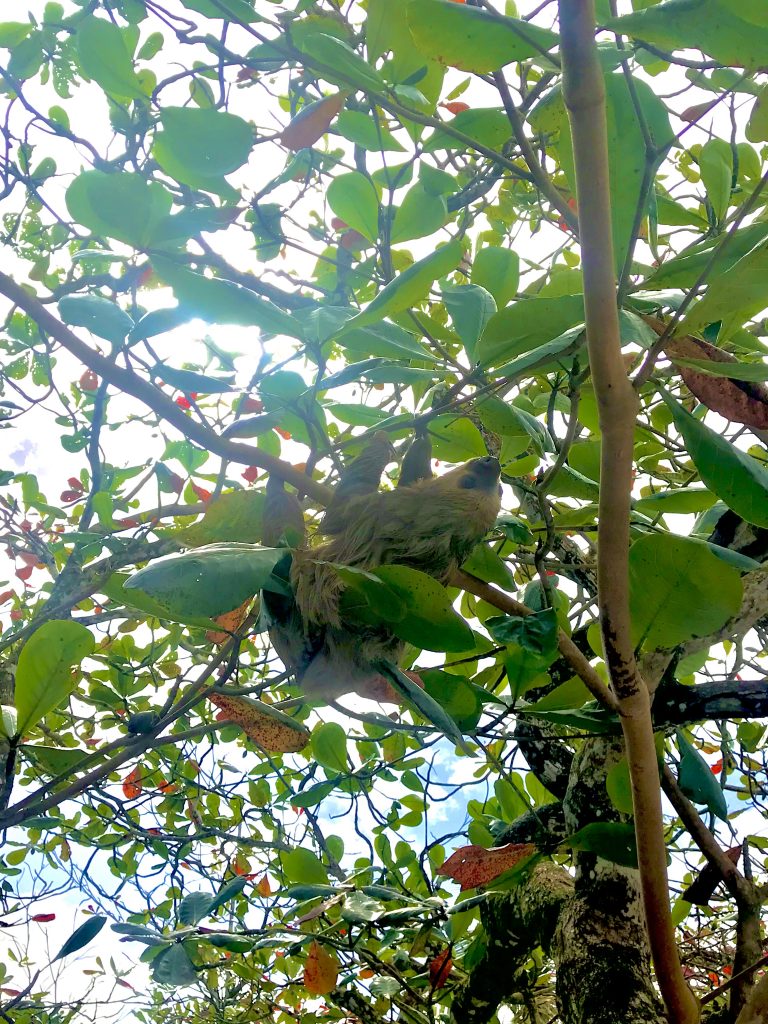 PLAYA UVITA
What we love: Beach inside a sanctuary for whales and dolphins? Yes please! Playa Uvita is on the north end of Ballena National Marine Park, a sanctuary for bottlenose dolphins and humpback whales, and is even part of the famous Whale's Tail in Costa Rica because when the tide is low the shore looks just like a whales tail! Playa Uvita is the starting point for many whale watching tours as humpback whales highly populate this area. Playa Uvita doesn't have a white sandy beach, but the beautiful green mountains and the fact that this is the best area in Costa Rica to see whales makes up for it! If you're looking for a laid-back beach where you can make friends with fins you'll have to check it out!
How to Get Here:
There are three main ways to get to Playa Uvita by car (or shuttle), plane, and bus. Check the below website out for more information.
Check Transport:
Check out the Uvita Information Center here or Interbus shuttle here!
Compare accommodation prices and reviews on: Booking.com!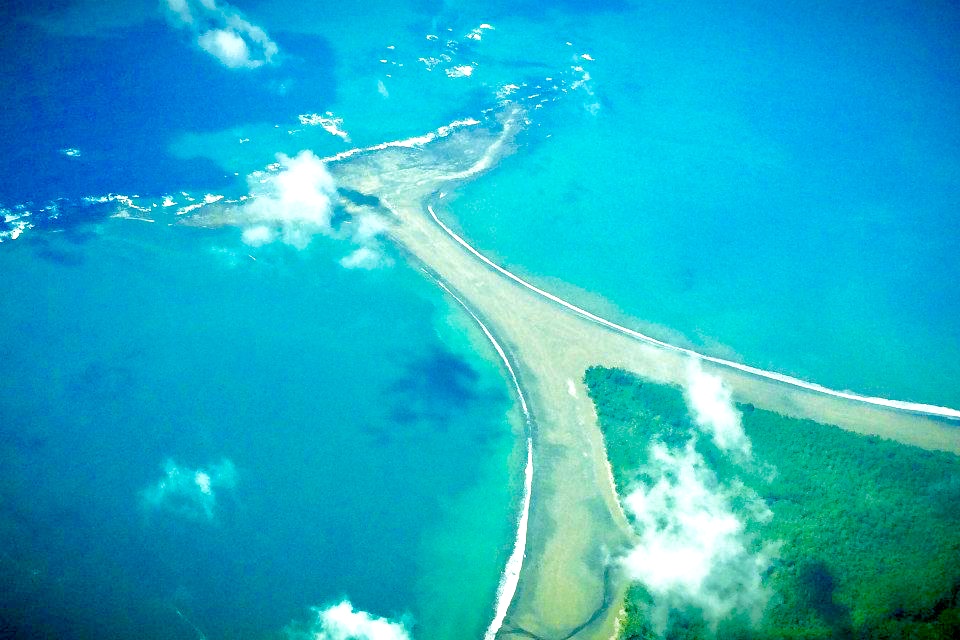 PLAYA PUNTA UVA
What we love: Not to be confused with Playa Uvita, this fabulous beach is the gem of the Caribbean coast outside of Puerto Viejo. Filled with palm trees but backed by jungle, this beach is the perfect place to escape for a couple of days and relax. Take a walk along the dirt road that parallels the beach to spot sloths in the trees and if you're lucky you may even get to see them climb down to pee, lucky you! Try out a local tour company and rent a couple of kayaks and explore the Punta Uva river, here you can enjoy even more wildlife. Also, if you go to Playa Punta Uva say hello to the horses that also enjoy a day at the beach! We saw these guys eating grass in the morning next to the road and then they headed over to the beach for their own fun in the sun! If you're staying in Puerto Viejo you can easily bike to Playa Punta Uva, or if you're like us and can't just have one day check out this hotel we loved!
How to Get Here:
Chances are you're already in Puerto Viejo when you head over to Playa Punta Uva so you can either hop on a bike, walk or take a short Uber ride!
Compare accommodation prices and reviews on: Booking.com!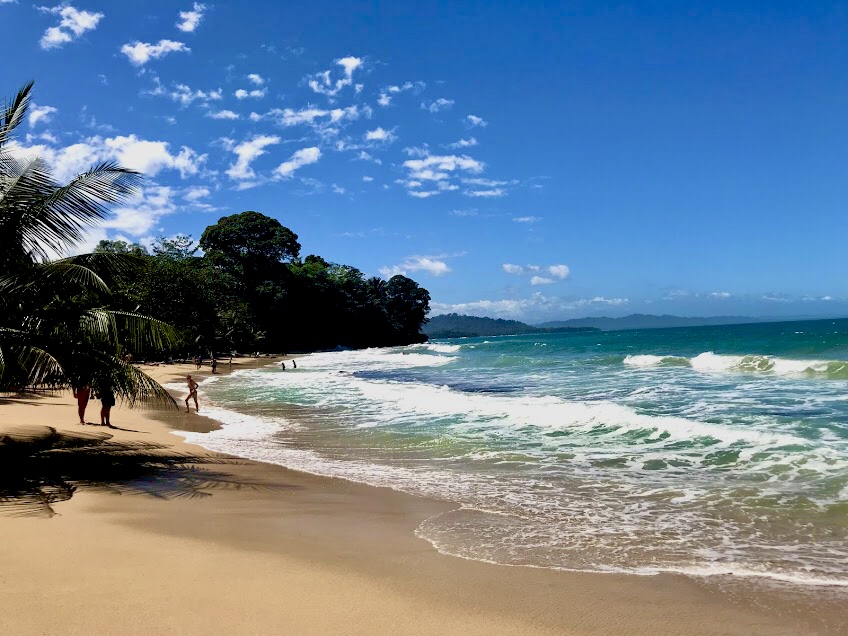 PLAYA COCLES
What we love: Yes, another stunning beach that lines the Caribbean coast of Costa Rica. Prepare for white sand and that perfect blue water that we dream about. Even more exciting Cocles is only a few kilometers from downtown Puerto Viejo so you can easily walk or bike! Yes, this is a popular beach and it can get crowded but just keep walking on the beach towards the south end and you can escape the crowds.
How to Get Here:
From Puerto Viejo you can easily walk or bike over to Playa Cocles.
Compare accommodation prices and reviews on: Booking.com!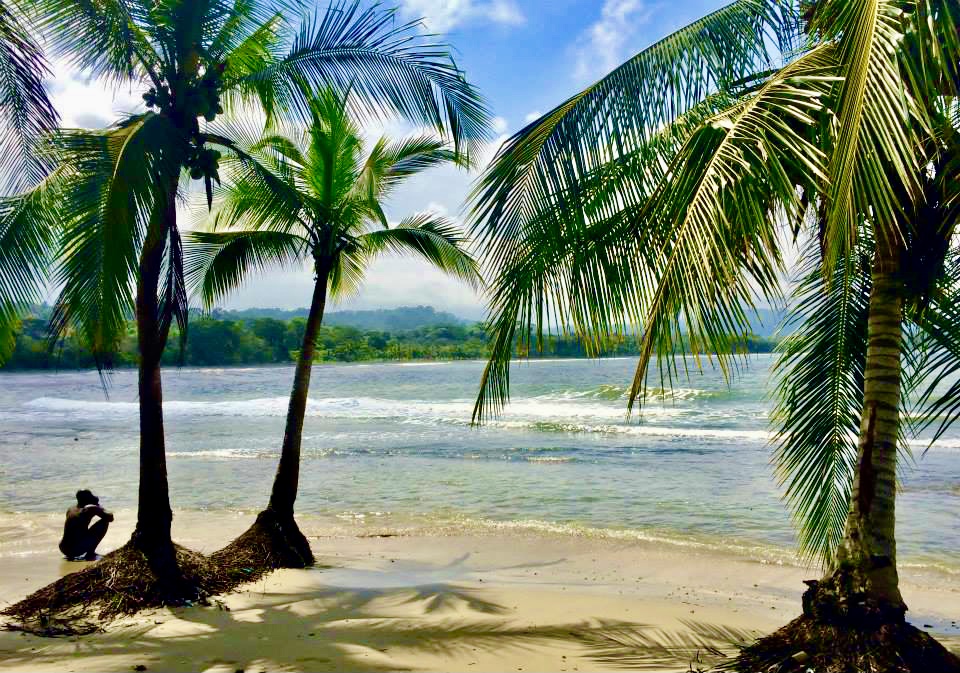 SANTA TERESA BEACH
What we love: Santa Teresa is a low key area where you'll venture off the beaten path, but once you arrive you'll be met with paradise. Here you'll find yogis, surfers, and plenty of backpackers looking to soak up some sun. You can take a bus or a shuttle over a bumpy dirt road to Santa Teresa and enjoy a cold cerveza in the sun while watching the surfers ride the waves, or you can hop on a board yourself! There are plenty of options for beginners surf lessons all around the area. Don't forget to catch the sunset, it's absolutely beautiful here and you might get lucky and spot a few dolphins. A lot of people come to Santa Teresa on a day trip from Montezuma but don't be afraid to kick back and relax here for a couple of days.
How to Get Here:
From San Jose, you can easily catch a bus twice a day from 6 am and 2 pm and the price is about $12 PP and will take around 6 hours total (this price includes the ferry and you won't need to carry your luggage while on the ferry). The direct bus leaves from San Jose Terminal 7-10. Once you arrive in Mal Pais you can taxi or take a local bus over. Other popular choices for travel are car rentals and shared shuttles.
Check Transport:
Check out Interbus here!
Compare accommodation prices and reviews on: Booking.com!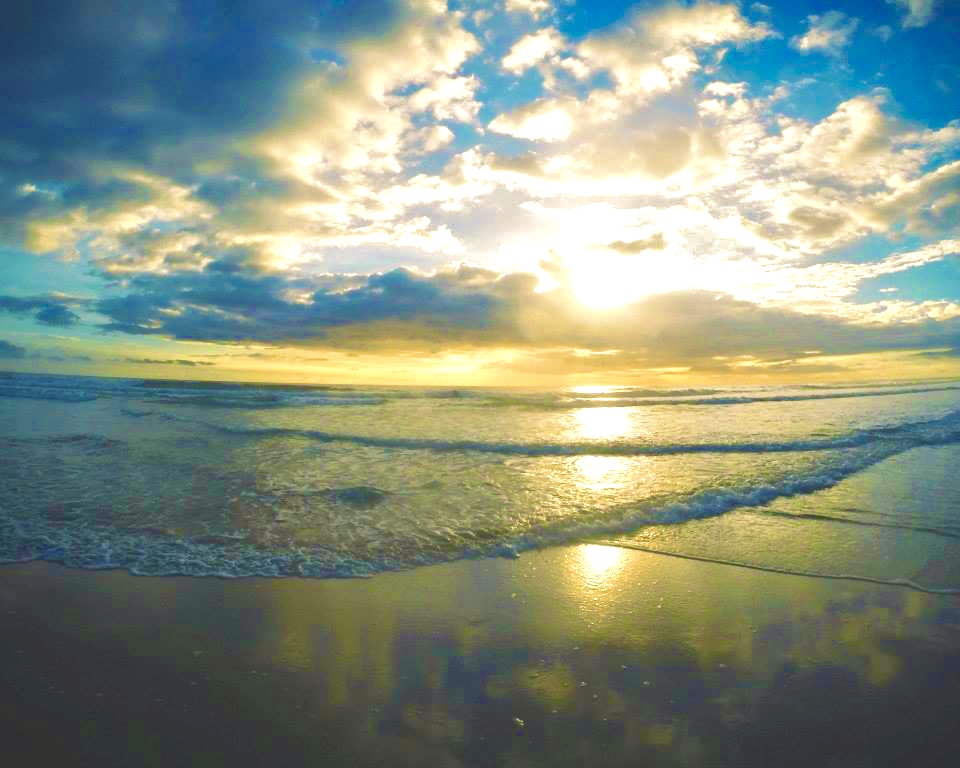 TORTUGUERO BEACH
What we love: Tucked away in the northern corner of the Caribbean coast Tortuguero Beach is only accessible by a canal boat from Limon or flight from San Jose. This is the perfect beach for an adventurer who wants to explore more of the jungle and experience the green turtles that come here to breed. From hiking, jungle canal tours and guided safaris this beach should definitely be on your list! If you do anything, you must visit the Tortuguero National Park where you can see several species (and endangered ones) such as tapirs, ocelots, and manatees. If you're lucky, while on your boat tour you may spot a few crocodile friends sizing you up! You'll definitely want to spend the night here and keep in mind accommodations can be a little pricey. There is only one hostel with dorms Aracari Garden Hostel, prices are around $13USD per night. Keep in mind for your budget that the only way to get around Tortuguero is by water taxi and the cost is around $10 PP USD one way. Make sure you book your trip in advance if you plan on coming during high season for turtles (July, October, November) as hotels will book up quickly. Be careful on the beach as currents are strong and shark attacks are a thing- locals don't swim in the water so I would recommend skipping out on going in the water.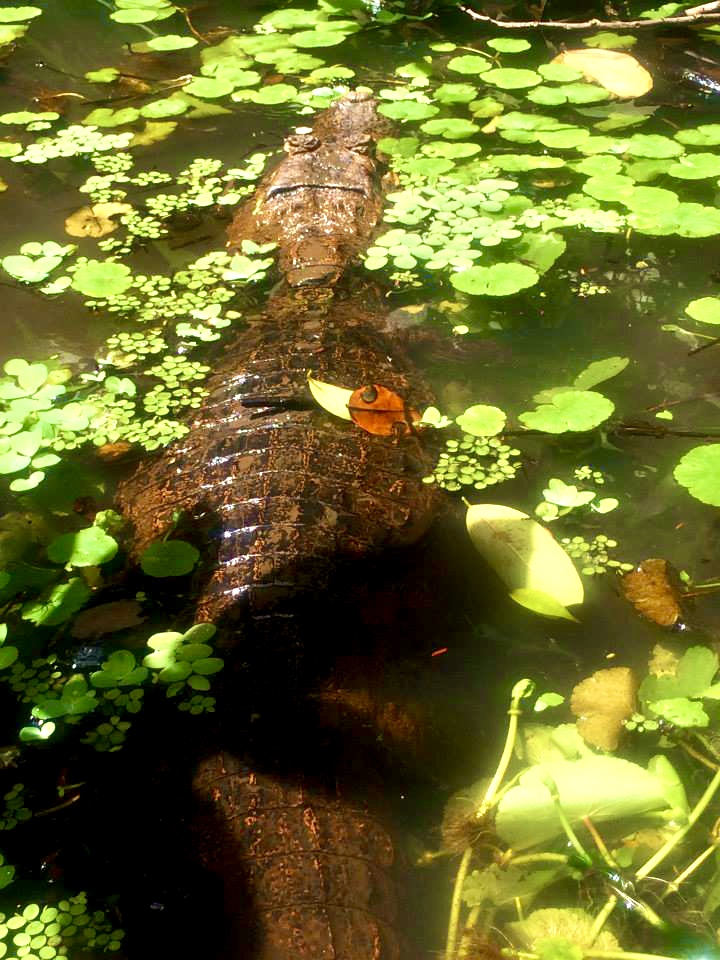 How to Get Here:
There are a few ways to get to Tortuguero, flying, bus and of course you'll have to go by boat! See the link below for more information on transportation to Tortuguero.
Check Transport:
Check out Tortuguero Information here!
Compare accommodation prices and reviews on: Booking.com!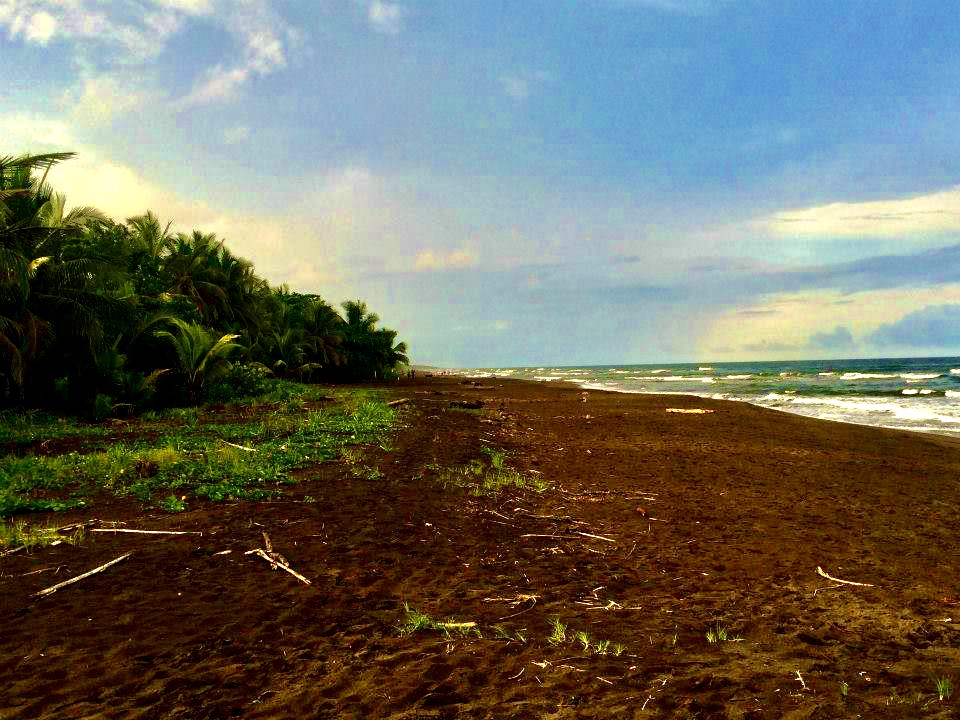 CORCOVADO NATIONAL PARK: COSTA RICA
What we love: Craving that movie version of a rainforest? Then you have to make a trip to Corcovado. Your chances of spotting some of Costa Rica's most endangered inhabitants from Tapirs, Jaguars, Scarlet Macaws, Harpy eagles, and Squirrel Monkeys. Corcovado National Park rests on the Osa Peninsula in southwestern Costa Rica and is dripping with wildlife including over 400 species of birds and 40 species of frogs! Corcovado has grown in popularity but still remains quiet and rugged where you can escape the crowds on the wide-open beaches, hiking, camping, marine life, and other amazing wildlife. Many travelers would dare to say this is one of the best places to visit in Costa Rica.
How to Get Here:
From San Jose you can fly over to Puerto Jimenez, bus, rent a car or take a shared shuttle. The distance from San Jose to Corcovado is around 9 hours. From the San Jose bus station, you head over to the TUASA terminal where you'll hop on the Blanco Lobo bus from the San Carlos Terminal. The bus will cost you around $20 PP.
Check Transport:
Check out Interbus here!
Compare accommodation prices and reviews on: Booking.com!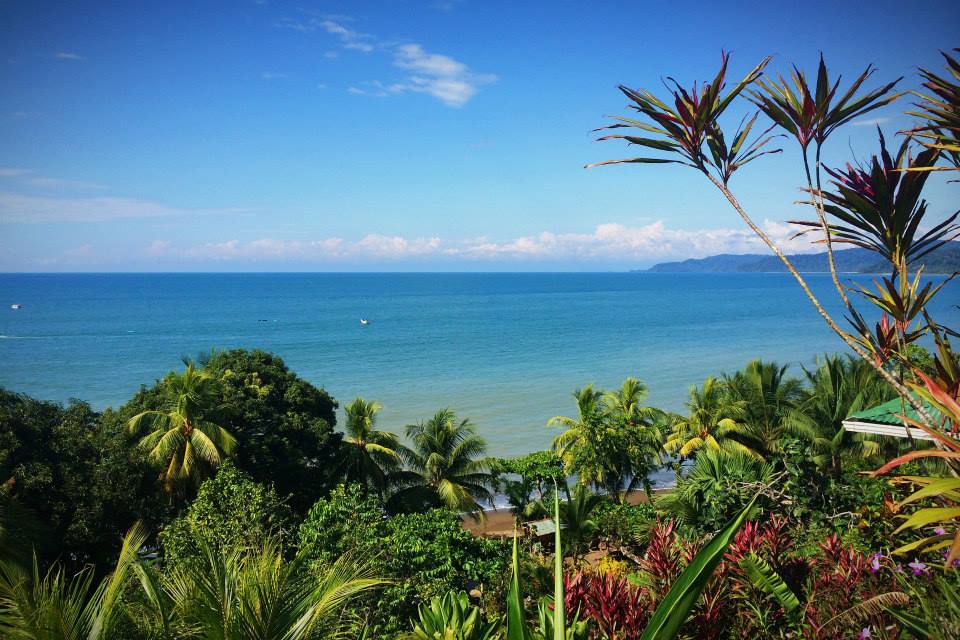 BEST BEACHES IN COSTA RICA: What to pack
Packing for your fun in the sun at all the best beaches in Costa Rica is important! Don't know what you need to pack? Check out our complete packing guide here.
WANT MORE COSTA RICA CONTENT? CHECK OUT OUR OTHER ARTICLES!
Like this best beaches in Costa Rica post? Pin it for Later!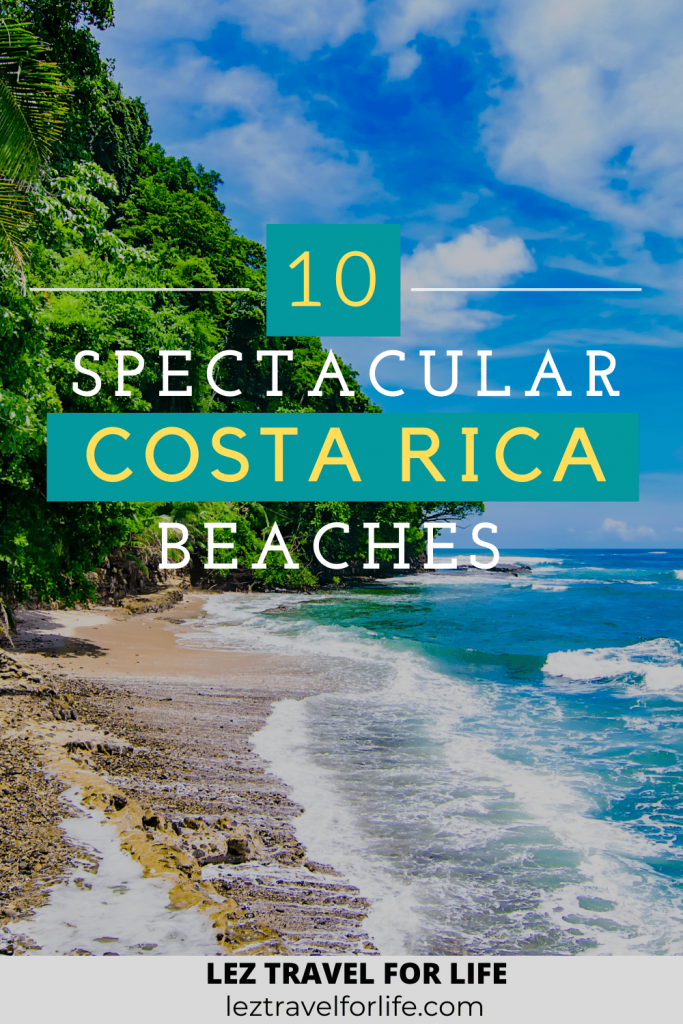 I'm Sam and I may only be 5'3 but I'm feisty and enjoy a lot of sarcastic humor. I'm addicted to travel as well as feeding and advocating for street animals in every country I travel to. I'm married to Courtney and we're super gay or whatevaaaa. We're both extroverts and love meeting new people everywhere we travel. We are in love with Latin American culture but can't wait to explore more of the world!