This article may contain affiliate/compensated links. For full information, please see our disclaimer here.
Reminder: Make sure to check the country's covid guidelines before travel.
ABOUT COSTA RICA
Costa Rica is a small but charming country that has gained much popularity in recent years for its lush tropical climate, unique landscapes, diverse wildlife population and is quickly becoming a hotspot for LGTQ tourists due to the growing tolerance for the LGBTQ community. We love Costa Rica because regardless if you like to hike through cloud forests or relax on the beach there are so many reasons to visit this beautiful country. This is your gay travel guide Costa Rica, we will walk you through the top 3 popular LGBTQ travel destinations in the country and all you need to know to have a safe and exciting trip!
QUICK INFORMATION ABOUT COSTA RICA
Location: Is a small country located in Central America. It borders Nicaragua and Panama (Read more about our trip to Bocas del Toro Panama Here) which are other popular backpacking destinations.
Language: Spanish, less than 20% of Costa Ricans speak English so you'll definitely want to learn a few key phrases to make your life easier. I use Duolingo – it's a free app on my phone! Don't forget to also download google translate on your phone. It's a lifesaver when you're in a pinch and you need to communicate something quickly with a local.
Currency: Colones, however USD is used across the country.
Pro tip: I suggest getting out currency through your bank before you head to Costa Rica. ATM's are notorious for being out of order or generally unreliable and it helps with having cash for food and activities. Credit cards are also used across the country, but always check your hotel booking or hostel booking to see if they take cash or card upon checking in.
Tip or no Tip?: Costa Rica is a tipping culture, especially for tours. Be on the lookout for a 10% gratuity tax added to your restaurant bill, if it is added then there's no need to tip more.
Weather: Costa Rica is known for two seasons, wet and dry season and always humid! When we visited in November and December we had a mix of extremely hot and dry days on the pacific side and rainy days on the Caribbean side.
The dry season or summer season is from December to April and the rainy season is from May to November. From my experience, these are great months overall for agreeable weather, however, on the Caribbean side, it generally rains really hard once a day (honestly I thought I was going to be incredibly frustrated by it but it ended up being super refreshing and a quick escape from the sun and heat).
On the Pacific side, we had mostly sunny and hot days. Side note: the dry season is also a high season for tourism and prices can jump significantly, so you'll want to book your flights well in advance for a better deal as well as booking accommodations ahead of time to ensure they aren't booked up.
*San Jose, Manuel Antonio, and Puerto Viejo
GAY TRAVEL GUIDE COSTA RICA: LGBTQ+ RIGHTS AND LAWS
We think it's important for our gay travel guide Costa Rica to talk about the work Costa Rica has been putting in to make progress with LGBTQ+ rights but not without a fight. Back in 2018 same-sex marriage was a highly debated topic that divided voters during the presidential elections with two candidates having polar opposite viewpoints.
Costa Rica like most Latin American countries has a strong Catholic following but in the end, the more progressive candidate won the election, and two years in 2020 Costa Rica became the first country in Central America to legalize same-sex marriage in groundbreaking legislation. While voters remain divided regarding LGBTQ+ rights, Costa Rica hopes to serve as an example to other Central American countries like Guatemala where bills in Congress seek to keep same-sex marriage illegal. Even today you'll find that many young people are open-minded and fine with gay marriage whereas people from coastal zones or mountains are generally more traditional and conservative.
While there is a gay scene in each city there are still many areas that are not comfortable yet having LGBTQ+ bars or clubs. Visitors are more likely to experience hostility towards PDA between same-sex partners or clothing choices that may not match the gender norms. We never experienced any discrimination while in Costa Rica even with Courtney's outer appearance being more androgynous. Most negative attitudes you'll likely experience will be staring rather than outward verbal aggression. The most we experienced was catcalling and staring which is pretty typical for any foreigner. We suggest keeping PDA at a minimum and trying to blend in overall.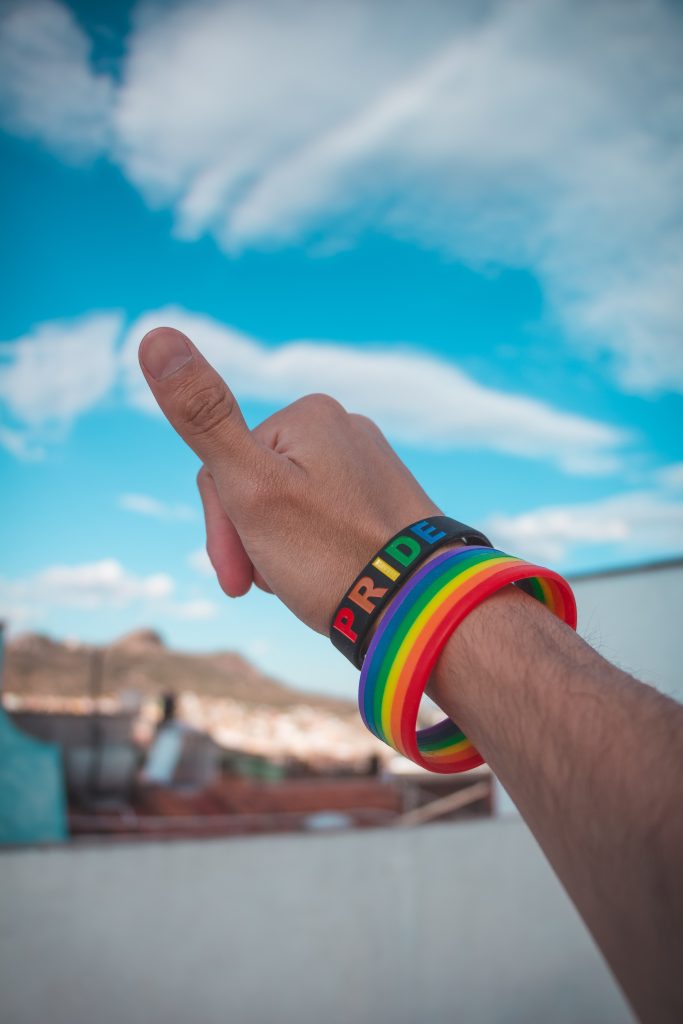 TOP 3 DESTINATIONS FOR YOUR GAY TRAVEL GUIDE COSTA RICA
San Jose
San Jose is often seen as an afterthought when traveling in Costa Rica as the city is not the prettiest and everyone is usually excited to dive into their exotic itinerary. We definitely think San Jose is worth 1-2 days especially since it has a thriving LGBTQ scene with bars, clubs, hotels, and growing community centers in addition to some impressive museums, markets as well as waterfalls and volcanoes easily accessible from San Jose.
LGBTQ Events in San Jose

If you're in San Jose in July There is a huge La Marcha del Orgullo (Gay Pride Parade) once a year on July 1st. The whole community walks through Paseo Colon which is one of the central streets in San Jose.
Experience the Ella International Lesbian festival which was created to build communities and generate innovation and creativity by promoting empowerment and solidarity for queer womxn from different backgrounds. Their goal is to launch projects all over the world to gather, inspire and raise awareness of queer womxn and their identities through this event where you can experience art, culture, music, and community.

Festival Link

for the various countries and event dates!
Check out our full guide on San Jose here to see complete details on what to do and where to go in San Jose.

Party at an LGBTQ-friendly bar or club

La Avispa: ran by lesbians and draws a lesbian crowd but there are also drag queens and it is open to all LGBTQ people. which is open Thursday-Sunday until 6 am. The busy nights are Sundays with samba DJs playing all night!
El 13: known for its grungy and punk atmosphere this bar attracts the younger crowd with its drinks, food, and performances. You can come during the day and experience a relaxed atmosphere or come back at night!
Puchos: Known as a "Men's Club" it's raunchy and you'll find male strippers and other performances.
Club El Teatro: caters to all LGBTQ people and is one of the biggest LGBTQ club in Costa Rica. It's famous for its performances and sometimes even books stars from RuPaul's Drag Race.
Club Venue has 2 rooms with different music genres. It gets packed but the line is worth the wait. The cover is $15 but it includes drinks all night and can even stay open until after 5 am! The crowd is generally early to mid 20's. Currently, only open on Fridays and Saturdays.

Check this website

for more information on these venues
Manual Antonio
Manuel Antonio is one of the most popular tourist destinations in Costa Rica and many people travel here to experience the Manuel Antonio, National Park. This national park is home to a variety of animals, plants, and monkeys on the beach of course! It is on the Pacific Coast of Costa Rica and typically the next stop after San Jose. It is a beautiful town where you can relax on the beach or try out different activities like sailing, taxi to waterfalls or go on a guided tour of the park where you can learn more about the wildlife in this area.
Manuel Antonio is known as the LGBTQ hotspot for all of Costa Rica and there are gay tour operators as well as gay sailing trips. Keep in mind you'll find Mainly gay men over women or trans and nonbinary travelers but I think with time this town will become even more LGBTQ inclusive.
LGBTQ Events in Manuel Antonio

Gay Sundays Weekly event hosted by Gay Tours Costa Rica from 4-8 includes a poolside bar and happy hour. This is a great place to meet other LGBTQ friends.
Check out

this site

for LGBTQ-friendly tours!

LGBTQ bars in Manuel Antonio

Club Karma known for dancing, themed parties as well as being a good place to relax and have drinks. Definitely much less busy on weekdays. Open Tuesday-Sunday from 8 pm to 2 am.
MoGamBo Bar and Cafe Great sunset view and open 7 days a week.

LGBTQ Hotels in Manuel Antonio

Hotel Villa Roca

Probably the most well-known LGBTQ resort in the area but is open to all people. It is adult only as well as being clothing optional. Includes a pool, hot tub, and poolside bar. Prices can range from $80-350 (including breakfast).

Tico Tico Villas is gay-owned and located in the heart of "gay Manuel Antonio" where there are several gay-owned businesses. These villas are mainly set up for longer-term stays. You have easy access to a road while being next to a peaceful jungle. Includes a pool. Prices vary from $90-$270 a night.
Coyaba Tropical Adults only B&B, prices start on the higher end at $150.

More information on Manuel Antonio

Looking for more details on Manuel Antonio as well as more budget-friendly accommodation options? Check out my

Costa Rica Itinerary

.
Puerto Viejo
Puerto Viejo is a beach destination on Costa Rica's Caribbean coast and is the perfect place to relax and just enjoy the beach. Puerto Viejo is also a very LGBTQ-friendly area as it attracts younger travelers who are often backpacking and creates a more open-minded environment. I will speak from experience and say this was the only place we've been in Costa Rica where we experienced cat-calling targeting Courtney rather than me. She appears more androgynous and it's almost like a challenge to get her attention. We've found that in more Afro-Caribbean cultures (Jamaica is another personal example) that Courtney gets more attention from locals, they make random comments as we walk by but nothing too serious.
While you won't find LGBTQ-specific bars or clubs most people going out in Puerto Viejo are open-minded. There is so much to do in Puerto Viejo from experiencing the Jaguar Rescue Center, to kayaking a local river and seeing the wildlife first land. Check out my Costa Rica Itinerary for more details about Puerto Viejo.
LGBTQ Hotels in Puerto Viejo Costa Rica

Hotel Banana Azul

: ranked at the top of Tripadvisor it is considered a luxury style hotel while channeling the Caribbean Costa Rican culture. It's surrounded by the rainforest while only being a few minutes away from the main part of Puerto Viejo. The prices range from $100-200. The Azul beach club also serves food and drinks throughout the day if you aren't staying and just want to check it out.

Casa Las Brisas

: ran by the Banana Azul group and offers 3 different options. These rooms are the more budget-friendly option ranging from $60-100.
GAY TRAVEL GUIDE COSTA RICA: WHAT TO PACK
We have created a complete packing guide to Costa Rica to top off our gay travel guide Costa Rica which you can check out below, but to summarize:
Reef safe sunscreen: It's expensive to buy in Costa Rica!
Water bottle to save on plastic bottles

Steripen

to sterilize the drinking water (again saving nature yay!)
Our

favorite backpack

is perfect for protecting your belongings from rain.
Packing cubes
Bug Spray- Mosquitos be crazy!
GAY TRAVEL GUIDE COSTA RICA: SAFETY TIPS
Costa Rica has implemented laws to protect the LGBTQ community from discrimination and consistently attracts LGBTQ tourists each year. Most people report feeling safe and respected as there is a tolerance and respect within the Costa Rican culture. Most people don't ask a lot of questions and assume it's your personal business. Remember to keep in mind that while the LGBTQ community is accepted most places it isn't universal so it is important to always be aware of your surroundings and use your best judgement on whether PDA is a good idea.
We have created a complete safety guide for Costa Rica here! Check it out to get tips on how to avoid scams, stay safe using local transportation, and more. We always research the experiences of other LGBTQ travelers before going to new destinations.
WANT MORE COSTA RICA CONTENT? CHECK OUT OUR OTHER ARTICLES!
---
---
Like this Gay Travel Guide Costa Rica Post? Pin it for Later!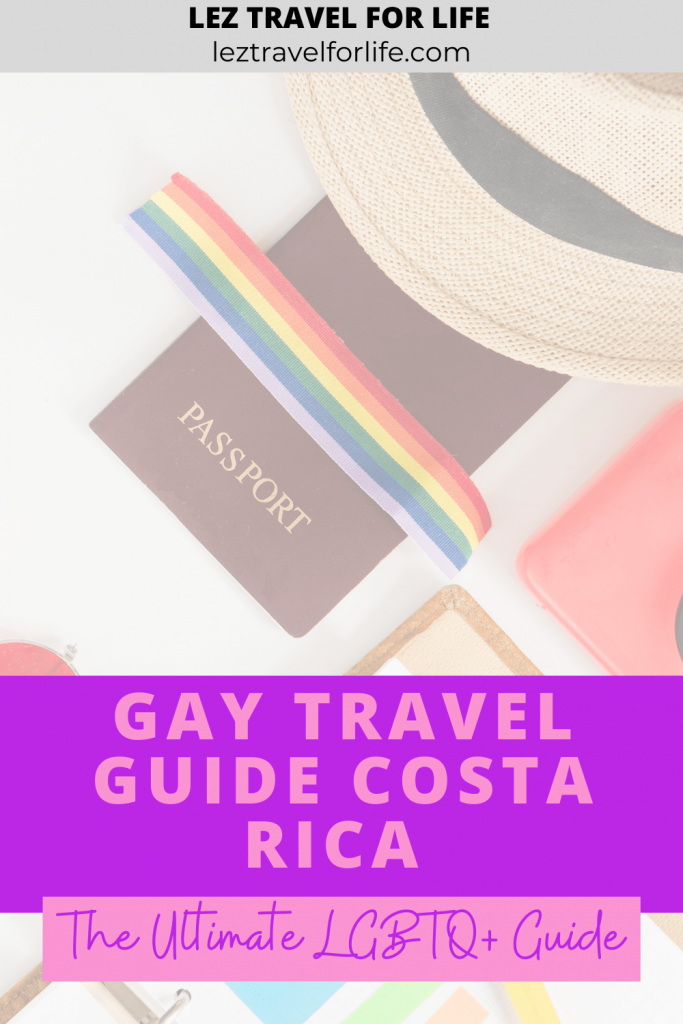 I'm Sam and I may only be 5'3 but I'm feisty and enjoy a lot of sarcastic humor. I'm addicted to travel as well as feeding and advocating for street animals in every country I travel to. I'm married to Courtney and we're super gay or whatevaaaa. We're both extroverts and love meeting new people everywhere we travel. We are in love with Latin American culture but can't wait to explore more of the world!