This article may contain affiliate/compensated links. For full information, please see our disclaimer here.
Reminder: Make sure to check the country's covid guidelines before travel.
Curious about Costa Rica? When I was first planning my trip to Costa Rica the first thing I wanted to do was know all of the things about Costa Rica before arriving there. After we left we realized we knew almost nothing about this beautiful country, I went in knowing what everyone knows like Costa Rica is known for its lush rainforests, incredible biodiversity, pristine beaches, and welcoming locals. In this article, I will dive into fun facts about Costa Rica including culture, food, attractions, geography, and more!
BASIC FACTS ABOUT COSTA RICA
1. What does Costa Rica mean?
In Spanish, its meaning is "rich coast".
2. Where is Costa Rica located?
It is located on the Central American isthmus that connects North America and South America (bordered by Nicaragua and Panama) so technically it is in North America but its cultural heritage is Latin American.
3. What is the official currency of Costa Rica?
The colon is the official currency but many shops still list their prices in US dollars. The exchange rate is favorable for those carrying USD.
4. What is the official language of Costa Rica?
The official language of Costa Rica is Spanish, and while many locals speak English due to the influx of tourism you should definitely brush up on your Spanish just to make things easier for you. There are also a variety of indigenous languages in Costa Rica.
5. What time zone is Costa Rica in?
Costa Rica is in Central Standard Time (GMT-6) which is the same as Chicago. There is no daylight saving time there.
6. Does the sunrise really early in Costa Rica?
Due to the close proximity to the equator, the sunsets and rises super early in Costa Rica (between 5:45-6am and pm) and doesn't change throughout the year.
7. Is Costa Rica small?
Costa Rica is the same size as West Virginia, slightly smaller than the Dominican Republic, and a tiny bit bigger than Denmark. While Costa Rica is small it is difficult to navigate due to the landscape and varying road conditions. For example, a car trip that should only take 2 hours could take between 4-5!
8. What is the capital of Costa Rica?
San Jose is the capital of Costa Rica and out of the entire population of 5 million around half live in San Jose! Read more about what San Jose has to offer here
9. Is Costa Rica hot?
While Costa Rica is very close to the equator it has around 26 micro-climates so you can find hot and cold weather in the higher elevation areas (cold meaning 60F or 16C). There is plenty of sun and mostly warm temperatures year-round. There is a rainy season and dry season.
10. Is there a best time to visit Costa Rica?
Mid-December to April is the dry season with warm temperatures and more sun, however, this is also a high season for tourists which means higher prices and more crowds.
11. What plugs are used in Costa Rica?
If you're from the US you won't need a power adapter as they use the same power current.
12. Is Costa Rica safe to visit?
13. The country's slogan is Pura Vida
Which means pure life. This is truly a lifestyle of Costa Ricans and I encourage you to embrace it when you are here! This means you slow down and enjoy the moment and try not to stress about the small things like your bus being 10 minutes late. This mentality is one of the reasons considered when asking how Costa Rica was said to have some of the happiest people in the world!
14. Can you uber in Costa Rica?
Uber does work in Costa Rica but it isn't available everywhere. It is most commonly used in San Jose. Uber drivers and Taxi drivers are still at odds with each other so uber drivers play it safe and may have 1 passenger ride in the front to not draw attention.
15. Costa Rican natives are referred to as Ticos for men and Ticas for women. Foreigners are often referred to as bingos for men and gringas for women.
16. Small family-owned restaurants are referred to as sodas. These restaurants typically serve rice, beans, or chicken for under $3.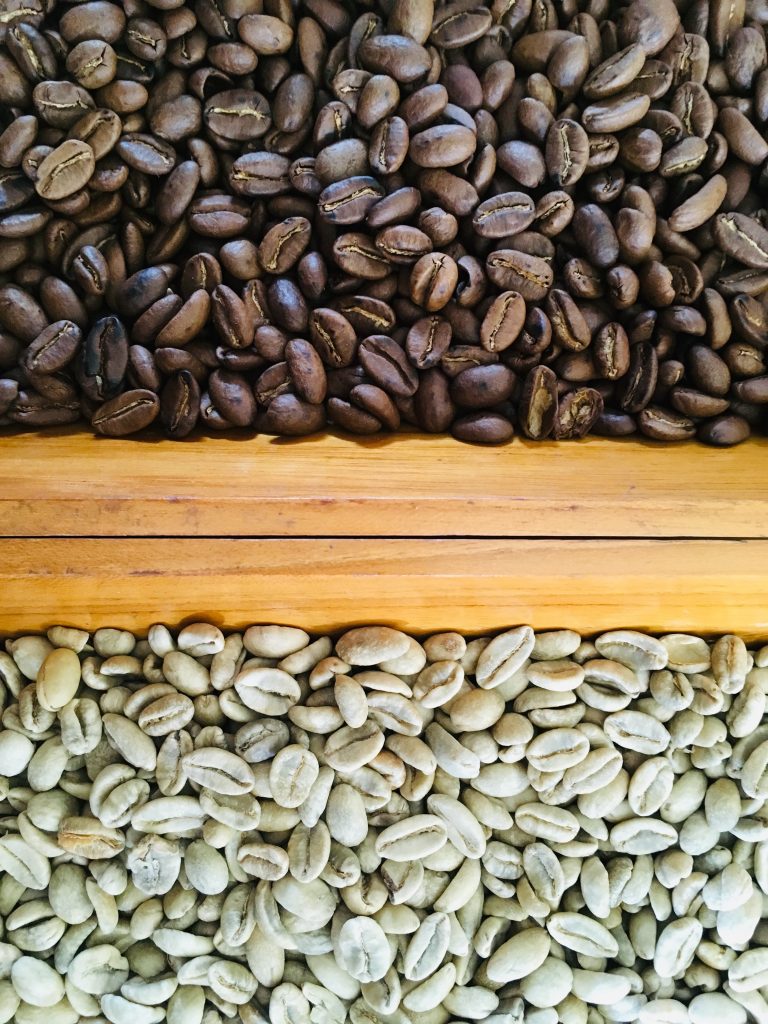 17. Is the water safe to drink in Costa Rica?
18. How long can I stay in Costa Rica without a visa?
Most nationalities can stay for up to 90 days with proof of an exit (flight, bus, etc).
19. Is Costa Rica cheap?
Many people think that because Costa Rica is in Central America that it must be cheap like other surrounding countries. However, most prices in Costa Rica are similar to prices in the US. You can save money if you shop at local markets, eat at sodas and avoid all-inclusive resorts.
FUN FACTS ABOUT COSTA RICA: The landscape
1. What is the highest elevation in Costa Rica?
2. Does Costa Rica have good beaches?
3. Does Costa Rica have active volcanoes?
4. Costa Rica is a leader in renewable energy.
Costa Rica relies on renewable energy for 99% of its electricity. Its main sources of energy are hydropower, wind, solar, biomass, and geothermal energy. Costa Rica has set a goal to be the most eco-friendly country in the world and they are certainly on their way to achieving this amazing goal.
5. Nicoya is one of the 5 Blue Zones in the world!
Nicoya is a city in the Nicoya Peninsula that is home to residents with noticeable longer lifespans than the rest of the world. Many say the secret is the local waters being rich in Calcium and Magnesium as well as a very healthy diet of organic food, animal proteins, fruits, and getting 8 hours of sleep!
6. How many national parks are there in Costa Rica?
Costa Rica is home to 28 national parts and a total of 4 UNESCO World Heritage Sites. The 4 sites are Coco's island, Area de Conservacion Guanacaste, La Amistad International Park and Stone Spheres of the Diquis.
7. Costa Rica is the second-largest exporter of bananas in the world!
Ecuador is number 1! Its other main crops include coffee, sugar cane, rice, pineapples, and beef. Costa Rica may not produce mass quantities of coffee compared to other countries but it does produce some of the best quality coffee in the world!
8. More than 25% of Costa Rica's land is dedicated to reserves, wildlife refuges, and national parks!
Costa Rica has 26 national parks, 61 wildlife refuges, 10 biological reserves, and 31 protected zones! With protected areas all across the country as well as a rise in ecotourism Costa Rica has continued to provide more income over the years to preserve the country's biodiversity.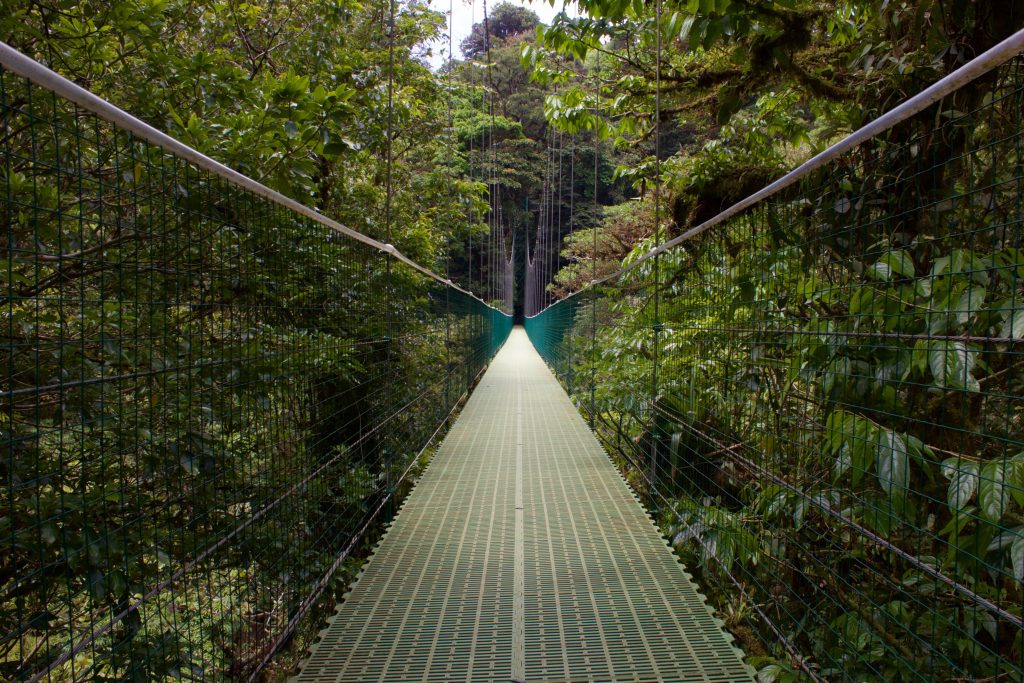 9. Isla del Coco is the largest uninhabited island in the world!
Which is why it's listed as a UNESCO World Heritage Site, oh and you may have seen it on the intro Jurassic Park!!!
FUN FACTS ABOUT COSTA RICA: Wildlife
1. Costa Rica has 5% of the world's biodiversity with only 0.3% of the total surface area of the planet.
You'll find a variety of animals such as Tapirs, colorful tropical birds, larger predator cats, bats, sea turtles, and an abundance of monkeys!
2. Wild Sloths are a thing in Costa Rica
There are 2 kinds of sloths found in Costa Rica: the 2 toed and the 3 toed. We saw both kinds when we were traveling around. We did see a lot more on the Caribbean side. Sloths are gentle animals that move very slowly so don't worry about rushing to snap a picture of one! We saw at least 10 on each daily bike ride around Puerto Viejo.
3. Monkeys are one of the most common animals in Costa Rica outside of bats!
Specifically, spider monkeys! If you go to Manuel Antonio National Park you'll see a ton of monkeys on the beach, just be sure to keep all your belongings in a bag as they are notorious for stealing people's things and taking them up into the trees!
4. What is Costa Rica's national animal?
Costa Rica actually has two national animals, a land animal, and a marine animal. The land animal is the white-tailed deer and the water animal is the manatee!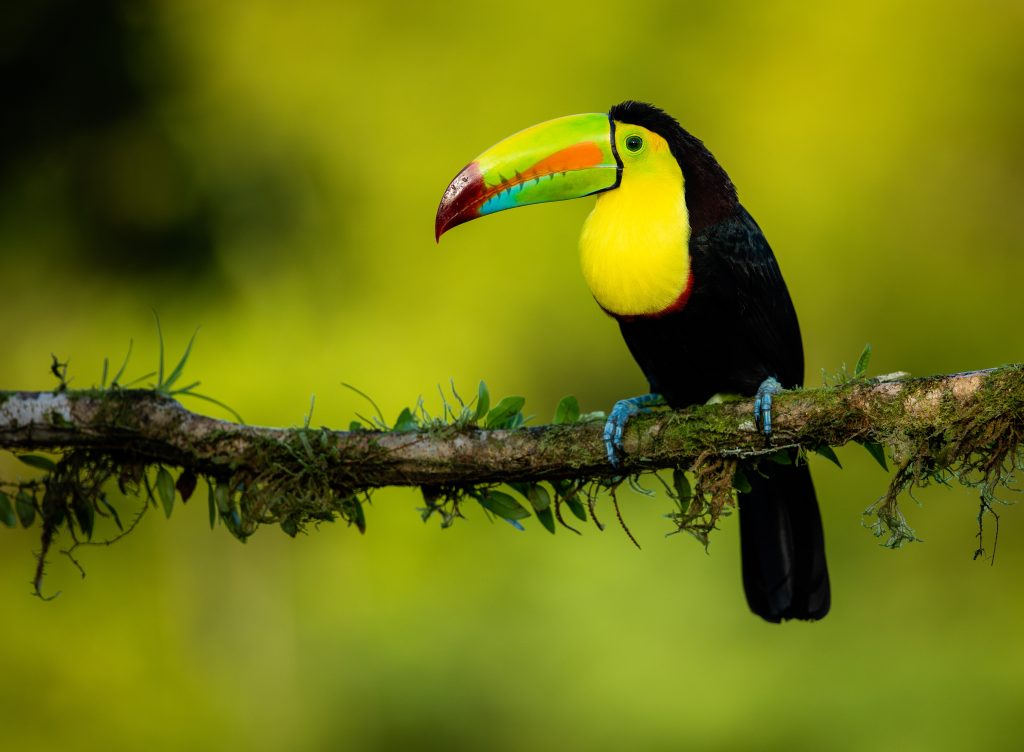 5. What is Costa Rica's national bird?
The clay-colored thrush is a simple bird and one of the most common species. It is known for its distinct call.
6. Are there dangerous animals in Costa Rica?
There are many types of venomous spiders and the Brazilian Wandering Spider which can result in paralysis if not treated but we didn't run into a ton of spiders in our living quarters that had us worried.
There are also bull sharks and larger predator cats in the jungles but it isn't likely you'll run into them while on a hike in a national park.
There are also alligators and crocodiles so just be aware of your surroundings and ask your hotel/ hostel about the wildlife in the area if you plan to kayak or swim in a river.
There is also a white-winged vampire bat which is one of only a few venomous mammals!
Overall we didn't experience anything scarring that had us questioning ever going back out of fear (and sam is TERRIFIED of spiders). Mostly saw insects on trails, frogs, sloths, and birds.
7. Wait, what is the Jesus Christ lizard?
This basilisk, also known as Jesus Christ lizard can literally walk on the water which is how it got its famous nickname.
RANDOM FUN FACTS ABOUT COSTA RICA
1. Costa Rican women don't take their husband's last name, they keep their maiden name for their entire lives.
2. Speedbumps have a unique name and I laughed REALLY hard when I heard it: son muertos or dead persons. I gotta love a dark sense of humor.
3. Costa Ricans refer to their partners as "the other half of the orange" or media naranja.
4. You can see the sunrise and sunset in one day
The sun rises on the Caribbean coast and sets on the Pacific, the country is so small you can easily make the trip in one day!
5. Gambling and prostitution is legal in Costa Rica
Which is one of the reasons why Costa Rica is so popular.
6. Costa Rica doesn't have official addresses
They use things like "go 5 feet past the duck and if you got to the gas station you've gone too far". This is one of the reasons we don't like to drive in Costa Rica as the navigation is difficult. If you want to know more about our Costa Rica travels check out our

Costa Rica Travel Guide here

.
7. Costa Rica has over 2 million tourists each year! Costa Rica's leading industry is tourism and it's easy to see why with all it has to offer!
8. Residents in San Jose aren't allowed to drive into the city one day during the week, this rule was created to minimize pollution that is caused by vehicles!
WELL, WHAT DO YOU THINK?
So, you made it through the fun facts about Costa Rica but I am curious about how many of these facts about Costa Rica did you already know? Comment below!
PLANNING A TRIP TO COSTA RICA?
We love it so much that we have been 3 times! Check out our other detailed Costa Rica guides to have you completely prepared for your trip!
Like this fun facts about Costa Rica Post? Pin it for Later!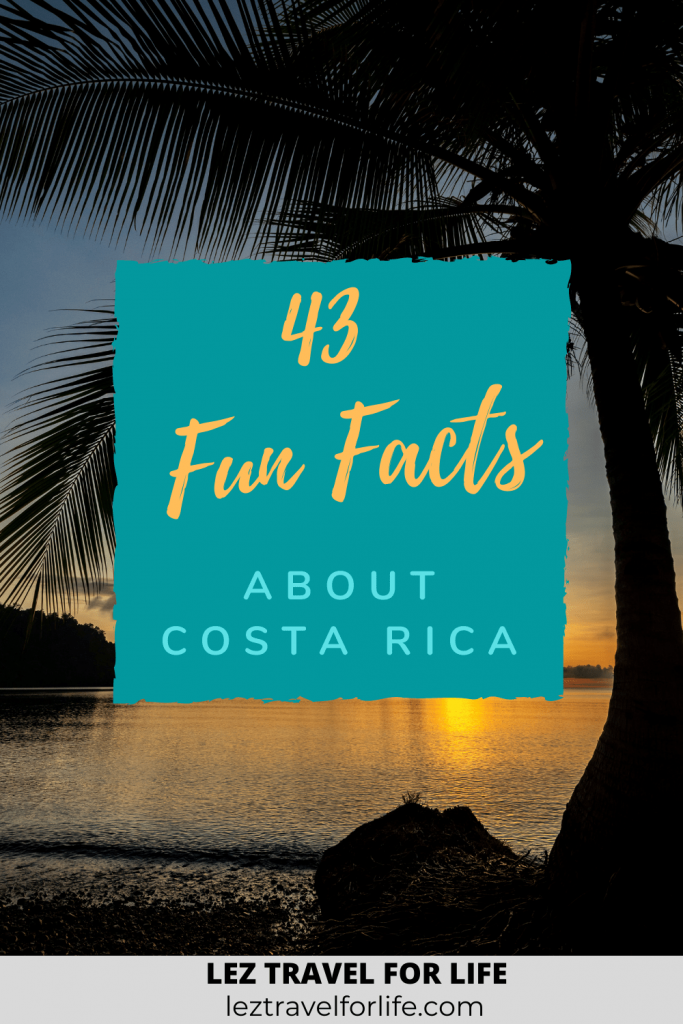 I'm Sam and I may only be 5'3 but I'm feisty and enjoy a lot of sarcastic humor. I'm addicted to travel as well as feeding and advocating for street animals in every country I travel to. I'm married to Courtney and we're super gay or whatevaaaa. We're both extroverts and love meeting new people everywhere we travel. We are in love with Latin American culture but can't wait to explore more of the world!