This article may contain affiliate/compensated links. For full information, please see our disclaimer here.
Reminder: Make sure to check the country's covid guidelines before travel.
San Jose Costa Rica is not beautiful, or shiny, or new. It is known as a transit hub for the next destination on your Costa Rica Itinerary and is often overlooked. However, it is one of the most important cities in Latin America as its home to over 1 million Costa Ricans living and working. This is why we encourage you to explore San Jose if you have the chance as it is home to some pretty unique historical and cultural things. Keep in mind, San Jose is rough around the edges but there are a lot of exciting things to explore in and around San Jose that would only take up a day or 2! This guide to San Jose Costa Rica will walk you through the best things to do in San Jose including activities, how to get around, budget, safety tips and day trips around San Jose! We suggest spending about 1-2 days here if you have the time.
LOCATION
San Jose is the capital of Costa Rica and while the major international airport is named San Jose International Airport it is actually in the province next to San Jose in Alajuela. San Jose is massive! Which means it is home to a lot of people and a lot of traffic. Don't worry, I'll dive into how to navigate around San Jose safely below in our San Jose guide to Costa Rica.
*Day Trips outside of San Jose & International Airport
HOW TO GET TO SAN JOSE FROM SJO AIRPORT
The SJO airport is busy and chaotic once you walk outside. You'll be surrounded by locals wanting you to take their taxi so be prepared to have a lot of people trying to get your attention.
The airport itself is about 11 miles from downtown San Jose. There are several ways to get downtown. You can take an Uber or taxi (8,000-11,000 CRC or $15-17 USD) personally we encourage taking an Uber for safety, while there are official taxis we enjoy Uber as the price is set and you can track your trip! You can take a private shuttle ($35-40 USD) with 1-4 people from the airport to downtown. The airport is about 30 minutes to downtown San Jose but prepare yourself as there is ALWAYS traffic.
Make sure you use the bathroom and grab a snack before you leave the airport just in case you get stuck in traffic. You can also take the public bus, there is a bus stop outside the airport. Walk outside onto the main road and you'll see the bus stop. It runs all day (about every 30 minutes) and costs about 540 CRC (0.95 USD) to get downtown. Know that it will take you longer if you choose the bus as they make multiple stops and always keep an eye on your belongings.
GUIDE TO SAN JOSE COSTA RICA: Getting around
Taxi – Taxis are everywhere in San Jose, so you should have no issues catching one. However, some taxis intentionally turn the meter off or refuse to turn it on if they know you are a tourist. Official rates start at 740 CRC (1.30 USD) per km, you should use this starting rate to determine the cost of your taxi. Always be sure to use the official taxis which are red or orange.
Bus – The public bus is the cheapest way to travel around San Jose with fares running between 200-700 CRC ($0.35-1.15) depending on where you're headed. The buses you'll likely use are traveling along Avenida 2 and 3 or the Cementerio/ Sabana bus from Parque la Sabana to downtown.
Uber – This is our personal favorite, as I mentioned above Courtney and I like Uber because you can track your trip and it is a set rate, obviously if there is a surge the price goes up but it is still fair and you can use it all over San Jose.
Walk – If you are staying in downtown San Jose you can easily walk to many of the attractions we will talk about but please keep in mind that we only encourage you to walk during the day and read up on our Costa Rica safety tips here. We do not recommend walking alone at night or walking around at night in general. Even if your walk is short just take an uber and save yourself the worry.
THINGS TO DO IN SAN JOSE COSTA RICA
Visit the Gold Museum

The Pre-Columbian Gold Museum is an awesome place to explore for only an $11 admission fee. Inside you'll find several floors dedicated to holding artifacts created by indigenous people that date all the way back to 0 AD. There are models of historical reenactments found in chronological order so you can learn more about how the cultures changed over time. You'll also be able to watch a video that gives an overview of the history and explains each segment of the museum for you.

Visit the National Museum

The admission fee is $9 USD and you can learn more about Costa Rica's history. You'll find more displays of pre-Columbian artifacts, sculptures, pottery, jewelry, and even a butterfly garden.

Explore the Mercado Central

Mercado Central is a bright yellow building that takes up a block on Avenida 1 and Avenida Central at Calle 6. Here you'll find local food spread across hundreds of stalls. You'll find many locals come here to do their shopping and can pretty much find anything you can imagine from spices, herbs, flowers, and Costa Rican coffee!! I definitely recommend you check out the amazing local food. This market is open every day but Sunday from early morning until late afternoon. You'll also find souvenirs (nothing super special) but if you want to take something back home you'll find it here. If you happen to leave the market around 5 PM you'll experience the locals getting off work and coming to Central Avenue to enjoy drinks, food, and music!

Free walking tour

This is an easy way to learn more about the history of San Jose while getting some exercise! Companies like Strawberry Tours or Carpe Chepe are popular. Don't forget to ask questions on where to get the best local food and drinks! Be sure to tip these awesome guides.

Take a tour of the National Theater

The National Theater is a local treasure that is only $10. Its beautiful construction began in the late 1800s and each room is decorated with incredible detail. You can even attend a show! You'll see a combination of French and Italian influences with sculptures, wall murals, and ceiling murals from those artists. You can visit the museum on your own or hire an hourly guided tour which is free with admission! This way you can learn more details about the theater and gain insight into the building you may not find out on your own.

Visit the National Center of Art and Culture

This museum is huge and takes up an entire block! It has several performing arts centers, the Museum of Contemporary Art and design where you can see one-of-a-kind art from Costa Rican and Central American artists. Admission is free on Mondays and $3 on all other days.

Check out the local restaurants

There are many restaurants from casual cafes like Cafe de Los Deseos, a pub called Stiefel Pub for craft beer, or if you're near the Gold Museum and National Theater you can check out Cafe Rojo for lunch. If you're looking for something traditional try Restaurante Tiquicia (Mirador Tiquicia) which has a beautiful view of San Jose and the surrounding mountains. If you go on a Friday you'll get to experience performances by the local kids that give you an idea of local traditions. Don't be afraid to ask your hostel/ hotel for restaurant suggestions as well. Don't feel like exploring on your own? Try out a

food tour

! This is one of our favorite ways to get to know local food culture!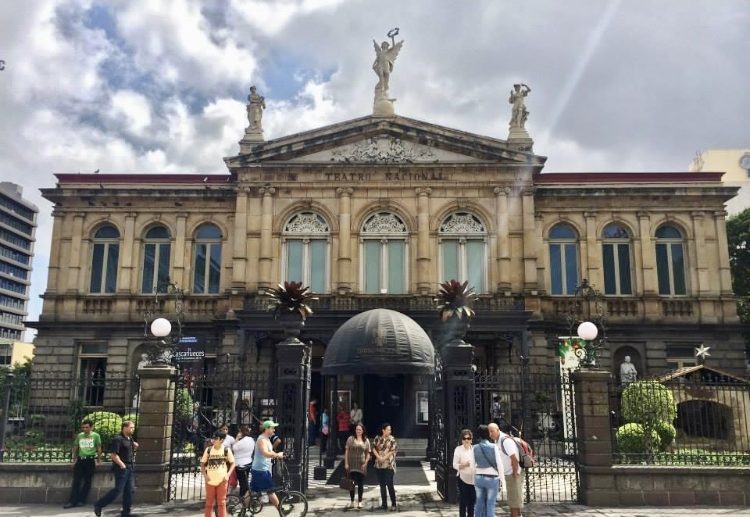 DAY TRIPS OUTSIDE OF SAN JOSE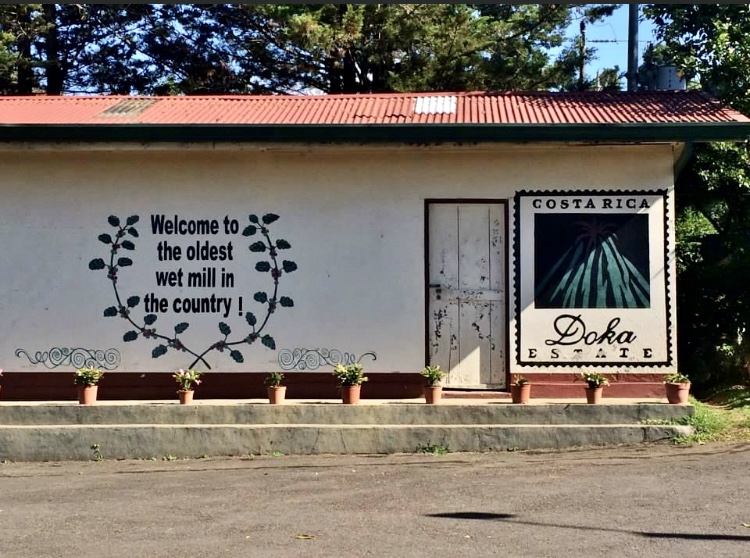 GUIDE TO SAN JOSE COSTA RICA: LGBTQ info
We've found that when traveling to new countries, the biggest gay scene is going to be in the biggest city. In 2020 Costa Rica became the first country in Central America to legalize same-sex marriage which is so exciting and why we had to add it to our guide to San Jose Costa Rica!
Overall, the president in 2018 announced legislation to help improve the rights of LGBTQ people in Costa Rica which included the recognition of transgender identities on residency cards! While most same-sex couples have had a wonderful time in San Jose and experienced minimal issues we always like to encourage you to exercise caution (not walking at night, etc). There are a lot of gay-friendly bars in San Jose! Read more on those in my LGBTQ Travel Guide to Costa Rica (includes activities, locations, accommodations).
WHERE TO STAY IN SAN JOSE COSTA RICA
Hostels: Peak season hostel dorm beds will cost around $10-15 USD. A private room will cost between $35-40 a night, price can fluctuate depending on if you have a private or shared bathroom. Here are some hostel options in San Jose. We like them because some include a pool as well as a rooftop or restaurant and bar.
Hostel Pangea: Party hostel. Easy to meet new friends and find travel buddies!
Lost in San Jose Hostel: Laidback vibes. Has a garden and terrace. Also pet-friendly!
Hotels: There are many hotels located around Avenida Central. 2-3 star hotels will cost you $45-60 a night in peak season. You can also look for hotels that include an airport shuttle service.
Barcelo San Jose: Hotel that is away from the chaos of the city. Relaxing vibes. Has airport shuttle!
The Autentico Hotel: Close to the park, and art museum. Has an outdoor pool and restaurant!
Studio Hotel Boutique: Has a beautiful pool, gym, restaurant, and bar setup. 15 minutes from the airport.
COST OF FOOD
We had to include food cost on this guide to San Jose Costa Rica! Good news is you can find food options ranging from super affordable street food or fast food ranging from ($2-10). If you're looking to go to a mid-range restaurant a meal will cost you between $12-17 and alcoholic drinks like beer or cocktails will cost around $4-8 USD. High-end restaurants can offer 3-6 course meals and will cost around $22-35. Wine and sangria will be around $7-10 USD. If you stay in an Airbnb or hostel and want to cook you can spend a lot less money by shopping at local markets (be careful of meat and how it's being stored/ prepared) and spend only about $5-6 a day on groceries.
WHEN TO GO TO SAN JOSE
Most people only spend a couple of days here so there really isn't a good or bad time to visit. If it is a gateway city to the rest of Costa Rica you will want to keep in mind that the dry season is from mid-December to April which means warmer sunnier days. During peak season you will also find people vacationing and escaping the cold weather which means this is the busiest time to travel to and around San Jose.
Be sure to book all your accommodations in advance and know that prices will be higher for most things during this time. The rainy season lasts from May to November which means there will be short rain showers throughout the day. Keep in mind if you want to tour Poas Volcano, the dry season is the time to go as visibility is at its best.
SAFETY TIPS
Check out my Costa Rica Safety article for all the details. In summary, while Costa Rica is one of the safest countries in Central America for backpacking, you still need to use common sense. Here are a few things to keep in mind:
Don't walk alone at night
Keep an eye on your belongings at all times
Don't wear flashy stuff
Be sure to use an official taxi and check meter
Purchase travel insurance (get a quote below)
Stay away from the drugs and the sex industry- trust me you don't want to get wrapped up in any local gangs or related activities. You will see sex workers walking the streets at night so just be careful and alert!
Read more in my article on how to avoid scams and other important information to keep you safe in Costa Rica.
Make Sure You're Covered During Your Trip
Thinking about medical costs or unforeseen things like lost luggage or travel delays while on the road is always concerning. Even if you have medical insurance at home it might not always cover you abroad which is why companies like SafetyWing exist. We started using travel insurance when traveling long term and it was well worth the money. Whether you are traveling short-term, long term, or if you are a digital nomad it is always important to make sure you are covered in some capacity. SafetyWing is our go to travel insurance. It is affordable and has all the coverage we need for travel and medical.
WHAT TO PACK
We have the perfect backpack suggestion for you! Also, read our full Costa Rica Packing Guide here for all details you need for prepping for your trip to Costa Rica.
MONEY SAVING TIPS
Walk when you can or feel safe: downtown San Jose is very walkable and you'll save money by not using a taxi or uber
Eat at local markets or sodas! You can find amazing fresh local food for cheap at the center of the city and snag a meal for less than $5. Sodas are family-run restaurants where you can grab a bite for around $5-7 with a drink. This is a great way to experience local food and support small businesses.
Free walking tour: if you don't want to spend money on every museum's admission fee just check out a walking tour!
Bring a water bottle and water purifier. Check out our favorite water bottle and Steripen. Before we packed our own water bottle and Steripen we were spending a lot of money on water bottles (they hike prices up) and using a lot of plastic. This way we helped the environment and our wallets!
WANT MORE COSTA RICA CONTENT? CHECK OUT OUR OTHER ARTICLES!
Like this guide to San Jose Costa Rica Post? Pin it for Later!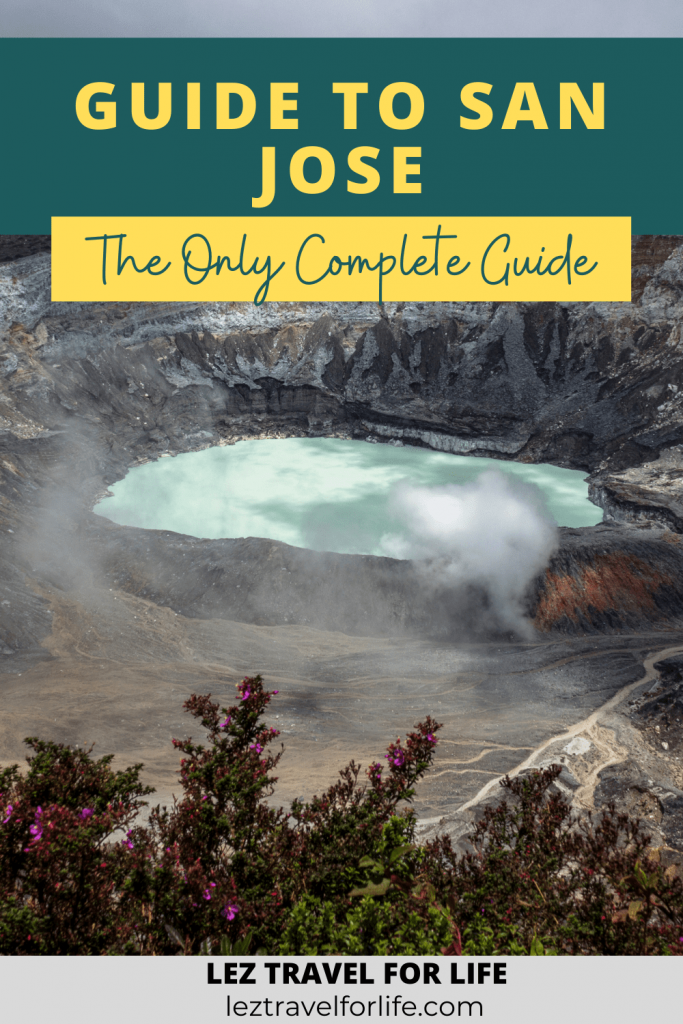 I'm Sam and I may only be 5'3 but I'm feisty and enjoy a lot of sarcastic humor. I'm addicted to travel as well as feeding and advocating for street animals in every country I travel to. I'm married to Courtney and we're super gay or whatevaaaa. We're both extroverts and love meeting new people everywhere we travel. We are in love with Latin American culture but can't wait to explore more of the world!