This article may contain affiliate/compensated links. For full information, please see our disclaimer here.
Reminder: Make sure to check the country's covid guidelines before travel.
ABOUT BOCAS DEL TORO PANAMA
Bocas del Toro is an island archipelago in Panama that borders Costa Rica and Colombia and is one of the most famous tourist towns outside of Panama City! It is known as one of the most biodiverse regions in the world in addition to having a national marine park, sea turtle nesting grounds, and many bottle-nose dolphins. Its landscape is also unique as the shoreline is lined with overwater houses and the main form of transportation is by boat to and from all of the smaller islands. While there is so much beauty here, Courtney and I do have some seriously mixed feelings about Bocas which we will share with you in this guide to Bocas del Toro from Costa Rica and provide a complete travel guide.
Quick Note: If you are anywhere and someone offers to show you a red dart frog for money or hold a starfish or interact with wild animals DO NOT engage, these animals are being taken from their natural habitat and used for money without proper care.
Language: Spanish but you will find plenty of locals that also speak English.
Currency: USD
Cash or Cards: Be sure to stock up on cash as banks and ATMs are unreliable even in grocery stores, don't forget your bank cards though! There is only one bank on Isla Colon.
Weather: While there is a wet and dry season it is a tropical rainforest climate with warm temperatures and rain year-round. The driest months are October, January, and March.
HOW TO GET TO BOCAS DEL TORO PANAMA FROM PUERTO VIEJO
Many tourists hop the border to Panama while visiting Puerto Viejo to explore another country and more beautiful beaches!
By bus: The cheapest option (kinda) is to take the MEPE Bus from the Caribe Station Avenida 73 and Calle 213 to Sixaola (border). Buses depart every two hours starting at 6:30am, 8:15am, 10:15am, 12:30pm, 2:15pm, 4:15pm, and 6:15pm and cost around $3 USD or 1500 Colones. The bus ride is around 1.5 hours. I'll explain below why I don't think this is the best option as it's complicated and can put you in a position to be in a sketchy situation.
What to do Once You Get to the Panama Border (If You Take the Bus)
Once you arrive in Sixaola you'll need to walk over to the Costa Rican immigration and pay a departure tax of $9 (they do take cards but there will be an additional fee of around $4). You'll need to fill out an immigration form and show your passport and with the issues that happen with card machines it would be helpful to have cash handy anyway.
After you pay you walk over a long bridge (if you have heavy bags this part is a pain) and head towards Panama immigration.
Next you'll pay an entrance fee of $4 USD and they require you to show a printed flight itinerary for leaving Panama (so this can be your return back to the US or your home country).
Hop in a shuttle or taxi to the water taxi dock in Almirante. Go ahead and prepare yourself for the locals to swarm you, take your time and be sure to choose a safe option (which can be tricky). Shuttle prices should be $10-15 USD, if no one else is heading to the Almirante water taxi area you may have to negotiate the price of the entire shuttle which can jack the price up to 30-40 USD. I have read that these shuttles can divert off track, and the passengers didn't feel safe and actually had to call the driver out. The trip should take 45 minutes to an hour, track this on your google maps if you can.
Once you get to the dock you'll need to pay around $6 for a water taxi to Bocas Town. You should research different ferry operators before you go but you may just have to hop on whatever ferry is still running (the last taxi leaves at 6 pm).
How to Get to Bocas by Shuttle
This is the option Courtney and I chose and found to be the most convenient, time-efficient, and cost-efficient option. Be warned your shuttle will be pretty full (they can fit up to 12-14 people on the bus and you're only allowed 1 large bag and 1 carry-on without having to pay an extra $10 fee. You can book a shuttle in Puerto Viejo at a Caribe stand or you can book online here. This way your driver will help you get across the border and you won't have to book your own taxi or shuttle to the water taxi area you will just continue to ride the caribe shuttle. Once you get to the docks just pay your $6 USD and hop on a water taxi to Bocas del Toro!
Be aware that your luggage will be on top of the van while you're traveling and this area does get a lot of rain so make sure you have some type of waterproof shell to completely cover your bags or they could get soaked like many other travelers have experienced. You'll definitely want a backpack that can handle the potential rain here is the one we suggest! Check out our packing guide for more on what to pack for your trip!
GUIDE TO BOCAS DEL TORO FROM COSTA RICA: Getting around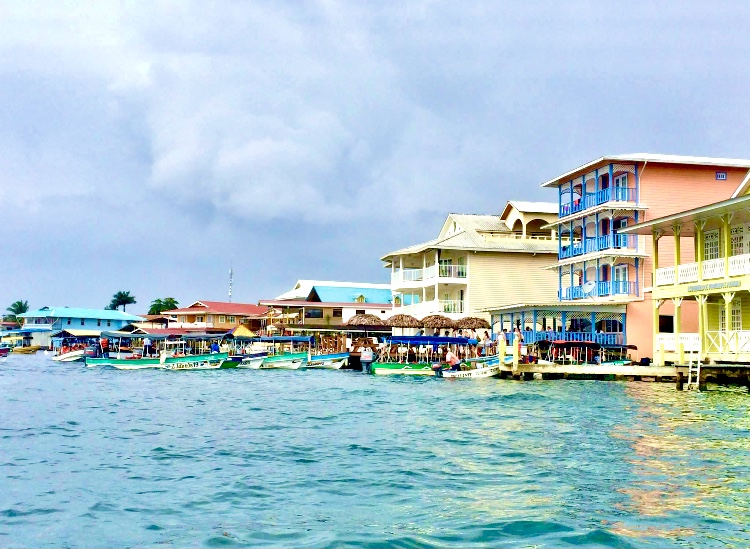 Walk or Bike: If you're staying on Isla Colon you can easily walk or bike everywhere. Bike rentals will cost about $2 an hour or $8 a day and it's super flat in the area making it easy to bike!
Water Taxis: These small boats (and sometimes they are so small you wonder why they even have an engine) connect you to all the surrounding islands. Short rides will cost around $1 USD and longer ones will cost you $3-5 USD.
Taxis: Taxis in Bocas are yellow and a ride around town will cost you around $1-10 depending on how far you're going.
GUIDE TO BOCAS DEL TORO FROM COSTA RICA: Where to stay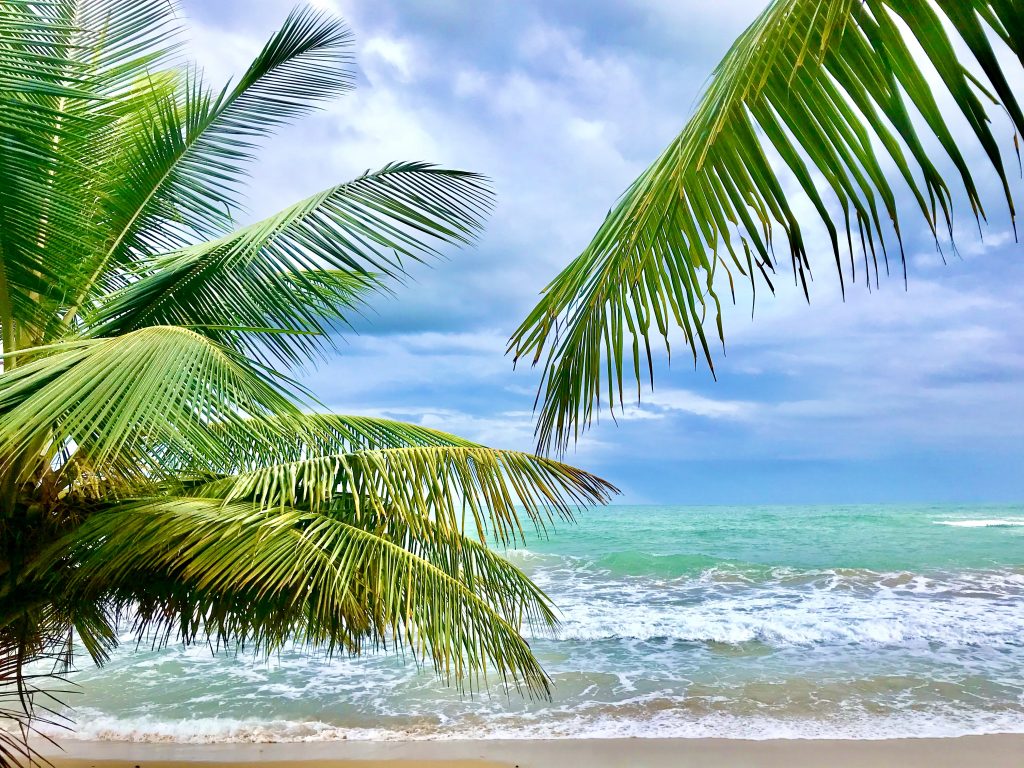 The water taxi will drop you off on the main island Isla Colon and it is a super small town like it is easy to walk all the way around in under 30 minutes type of small. You'll find waterfront cafes, restaurants, grocery stores, and a ton of places to book tours. We weren't a big fan of this island because all of the hostels here are super party hostels and we just aren't interested in the party scene, plus we didn't really feel like we could enjoy white sand beaches with clear water here.
We suggest staying on Bastimentos (Red Frog Beach) or Cristobal Island. Because Isla Colon is an island, you'll need to take a water taxi between islands which seems cheap at first but this can add up, so while you're booking your accommodations book online and check to see if your hostel or hotel will offer a free water taxi to and from your destination. Please keep in mind that once you arrive in Bastimentos it is well known that robberies happen often and it is not suggested to walk around alone during the day or night AT ALL. Tourists have been robbed at knifepoint, so needless to say Court and I hung out at our hotel and didn't stray off anywhere after dark.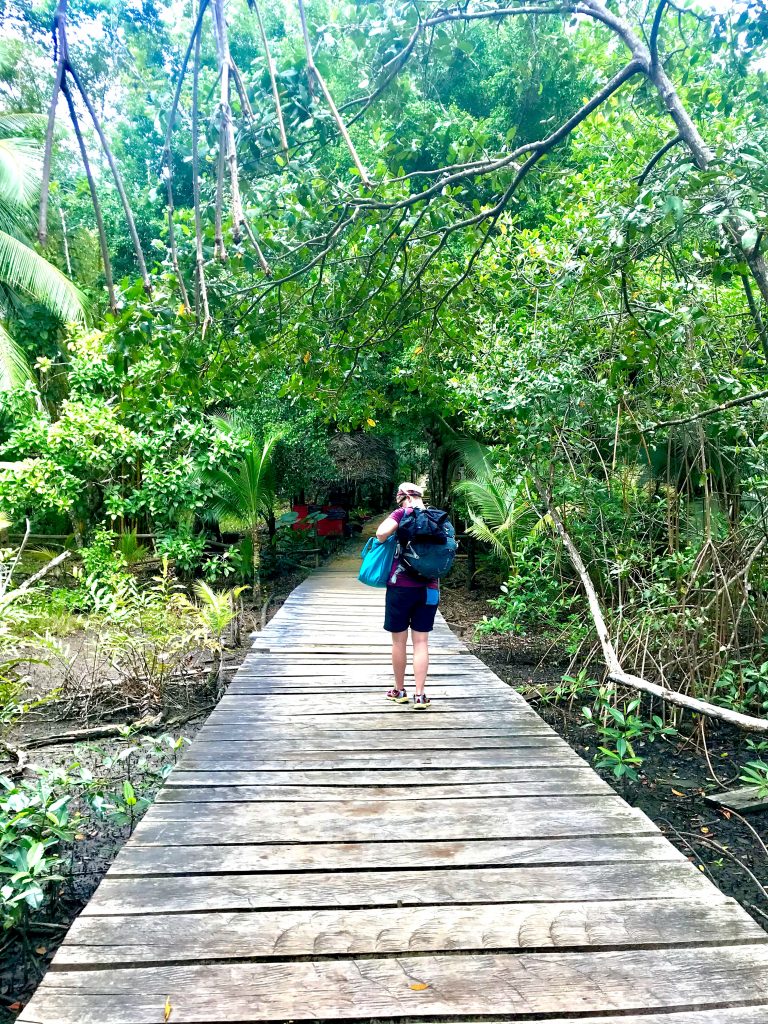 This was the first place we stayed in Bocas on Isla Bastimentos or Red Frog Beach. We enjoyed this place as it is very eco-friendly and we really respect their effort in trying to accommodate the environment around them. We ended up staying in a cabin-style dorm that accommodated 4 people total in the cabin. However, they also offer various tent options that look super cute too. They offer yoga and a super cute beach with a restaurant you can enjoy a few meals at. Unfortunately, we barely got to enjoy the beach in front of the hotel because we arrived in early February and a huge storm hit the island and wiped away the beach, a super bummer!
We ended up having to walk through a wooded area (which we were not keen on because of locals hanging out in the woods) in order to get to another area that had a larger beach area. Make sure to check with the hotel staff on what areas are safe to walk around in surrounding the hotel to make sure you are headed in the right direction.
2. Isla Cristobal
The second location we stayed at was Isla Cristobal which is known for frequent dolphin sightings and the beautiful wildlife and landscape. We ended up booking an Airbnb for several nights here and unfortunately, it was a huge disaster. We were stuck on a farm where our only transportation was by boat, there was no beach to lay on, we had to bother the hosts to cook every meal which was expensive and we couldn't even really walk around in the woods. The coolest thing here was being able to see the bioluminescence at night.
Why am I whining to you so much? Because I don't want you to make the same mistake we did, we wasted several days that we could have spent with a beach at our disposal to be stuck in the corner of what felt like a wetland. Don't always be fooled by reviews on Airbnb, make sure you do your research of the area! There are a few other accommodations on Isla Cristobal that can be pricey but we have always heard it is worth it.
3. Bluff Beach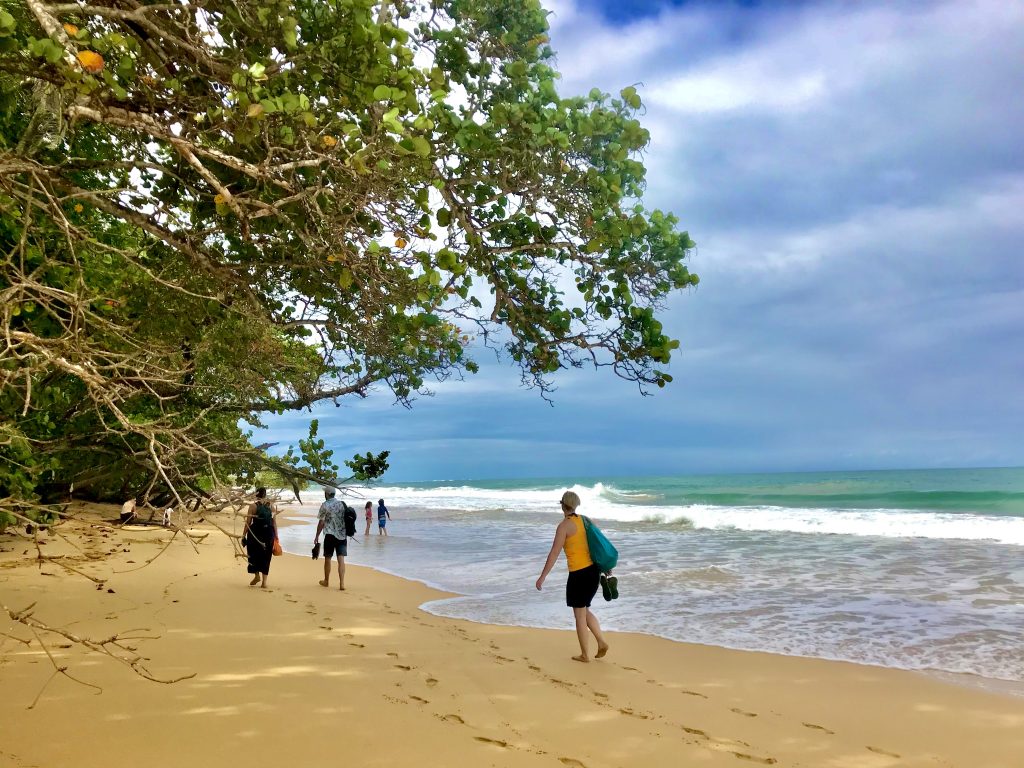 This was our favorite day trip from Isla Colon, which you can easily do by taking the local bus or taking a taxi (it's about 15 minutes from Bocas Town). We loved this beach because it was much more laid back and chill, plus there is a restaurant across the beach where you can get awesome food and drinks! This is known as the surfer's area in Bocas so you can enjoy watching other surfers or even have some lessons yourself! If you're looking for a nicer place to stay and don't mind spending extra cash check out Bluff Beach Resort.
4. Hostels on or Around Isla Colon
If you are interested in meeting fellow travelers, partying the night away, and don't mind having some super simple conditions then you may want to stay in the area. I will warn you to do heavy research and check reviews to be sure you are actually getting what they are offering.
Bambuda Lodge: Has a swimming pool with a rainforest vibe. There is also a bar at the hostel and a lively atmosphere.
Hostal de Mar: In the main part of town, so close to water taxis, stores, bars, and easy to meet other travelers.
Surfari Bocas: Pet friendly! Also close to restaurants, bars, and water taxis.
GUIDE TO BOCAS DEL TORO FROM COSTA RICA: What to do
1. Take a Tour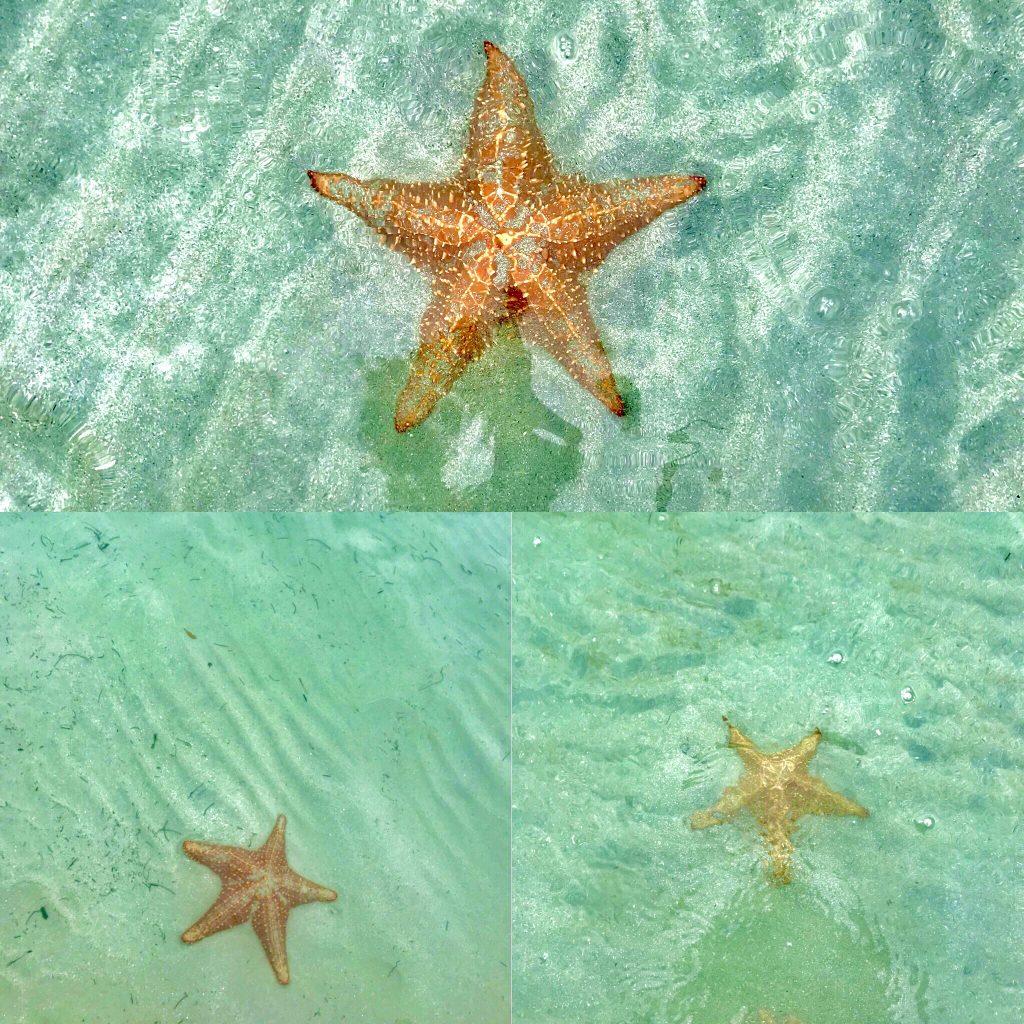 You can take a water taxi over to Starfish beach which is a popular destination where you can find many large starfish in the water. Please don't be that guy that grabs the starfish and takes a selfie with it, each time you touch it or pull it out of the water it harms it. Around the time we visited there was a large shipwreck near the island and I highly advise you to wear shoes the entire time you're on the beach as I left that day with my feet full of fiberglass. It was incredibly painful and I spent like 2 hours crying and pulling it out of my feet. SAD TIMES. This beach is pretty basic with a few food options and gives you the opportunity to relax and work on your tan.
2. Surf!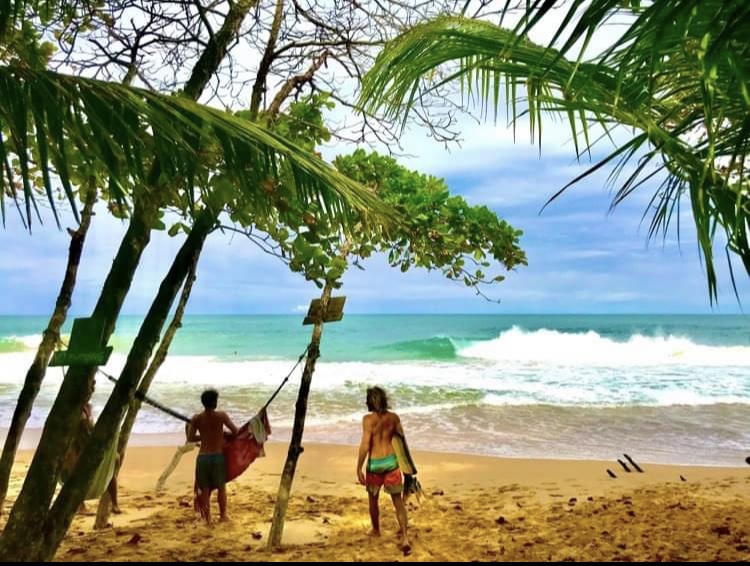 You can ask locals or find a tour stand anywhere on Isla Colon and sign up for beginner lessons! Many choose Bluff beach because it is the best place to catch waves in the area.
3. Visit the Basti Bat Caves
The bat caves on Isla Bastimentos are a quick boat ride and an awesome day trip! Find a local guide that is passionate about the conservation of the caves and enjoy seeing those cute little guys!
4. Other Options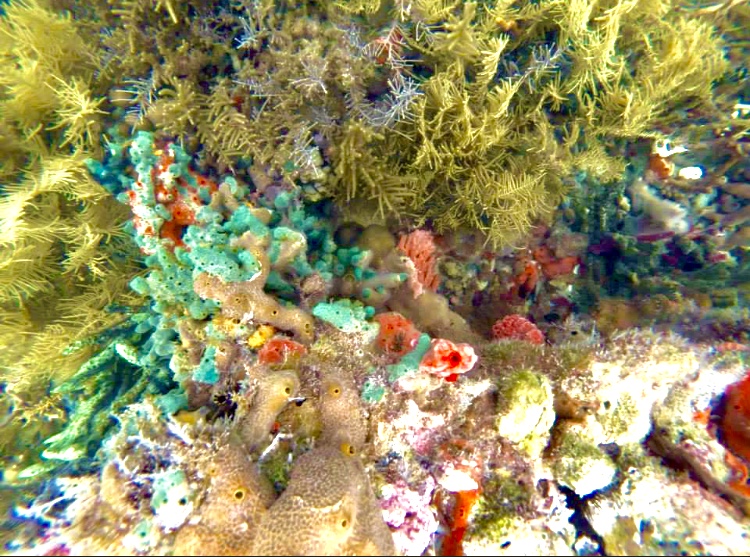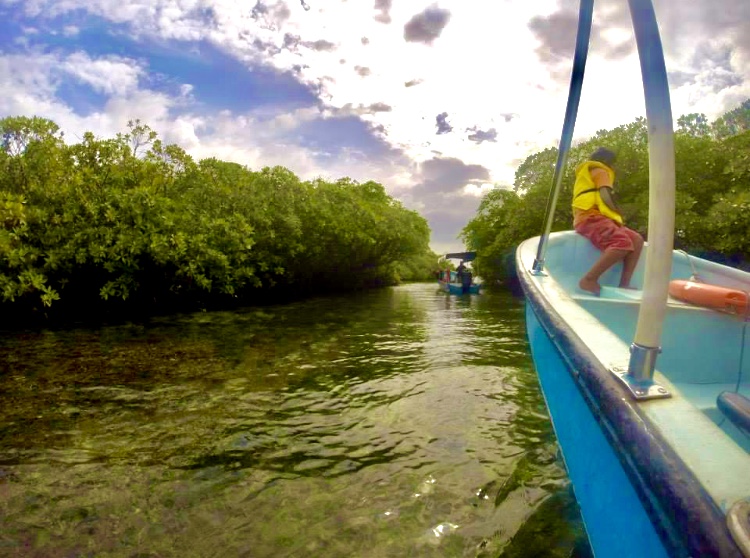 Sunbathe
Ride bikes
Volunteer
Spanish classes
Get scuba certified
Dolphin tours
HOW LONG TO STAY IN BOCAS DEL TORO
Honestly, we left Bocas with some seriously mixed feelings and it may have been a combination of bad accommodations, a storm hitting before we arrived and wiping away the beach, and the party culture which we really didn't vibe with. Overall, if you have time in your trip from Costa Rica or Panama city to add a stop in Bocas del Toro we suggest it especially if you're interested in relaxing on the beach, partying, or experiencing local wildlife. If you have time in your travels (we didn't) we suggest heading over to the San Blas islands as the beaches are sooo white and have beautiful clear water.
Overall, we suggest that unless you're adding Bocas to a trip you already have planned somewhere else in the area don't go out of your way to plan a trip only to Bocas as we feel there are so many other places in Central America you can experience the similar culture with more unique excursions. We would say that 2-3 days max here is sufficient as it's a small area and easy to navigate around in.
GUIDE TO BOCAS DEL TORO FROM COSTA RICA: Safety
We talk about safety in every article as we are two lesbians who stick out with our shiny white skin HOWEVER we especially felt unsafe in Bocas. There was so much catcalling to the point where it was just ridiculous, we usually don't show affection in public but we really held back here. We also heard so many stories about girls going out to these huge parties at night and getting drugged. Robberies are common here and we highly suggest you do not walk around at night or get too drunk and try to walk around.
WANT MORE COSTA RICA CONTENT? CHECK OUT OUR OTHER ARTICLES!
Like this travel guide to Bocas del Toro from Costa Rica post? Pin it for Later!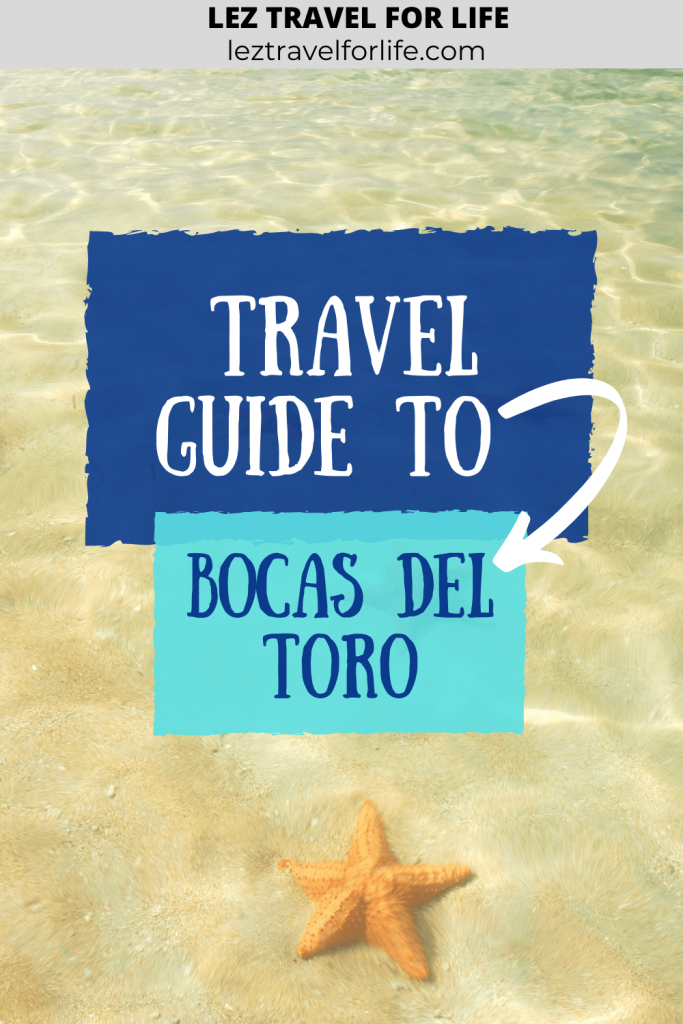 I'm Sam and I may only be 5'3 but I'm feisty and enjoy a lot of sarcastic humor. I'm addicted to travel as well as feeding and advocating for street animals in every country I travel to. I'm married to Courtney and we're super gay or whatevaaaa. We're both extroverts and love meeting new people everywhere we travel. We are in love with Latin American culture but can't wait to explore more of the world!