This article may contain affiliate/compensated links. For full information, please see our disclaimer here.
Reminder: Make sure to check the country's covid guidelines before travel.
Costa Rica has called me back three times, and Courtney and I have been lucky to see some incredible scenery and some of our favorite places have been the waterfalls. When I imagine hunting for waterfalls I imagine Costa Rica, the best part is that most places you visit in Costa Rica have hikes that take you to waterfalls. You wouldn't think waterfalls would be that exciting but in Costa Rica, they really do set the bar high for other countries. This article will walk you through the best waterfalls in Costa Rica so you can swim, hike and play in one of the most beautiful countries in the world.
RIO CELESTE WATERFALL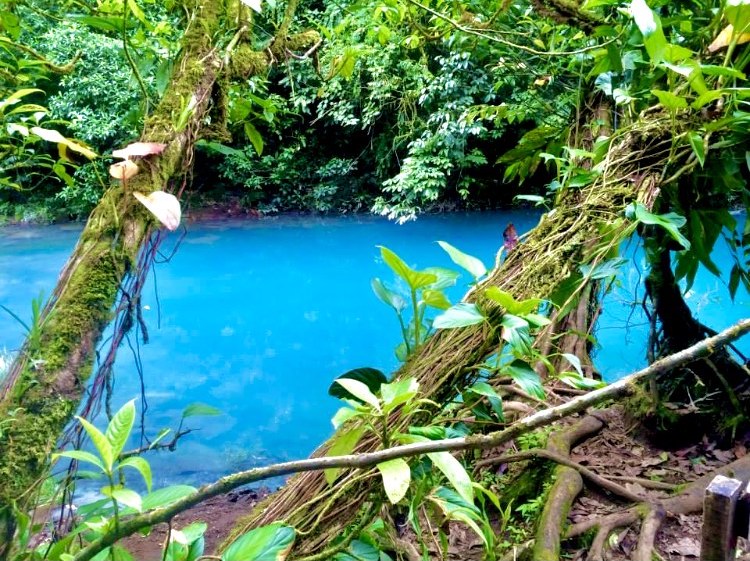 Rio Celeste is 100% our favorite waterfall in Costa Rica so of course, it's at the top of our best waterfalls in Costa Rica list! Yes, the water is actually that blue, and pictures just don't do it justice.
You'll find jungle here, wildlife, a lagoon, and hot springs (but don't touch them because they are WAY too hot). Science says the water appears when two separate clear rivers meet and a specific mineral coated in silicon, oxygen, and aluminum remains suspended in the river. Right now with covid, the park is limited to 50% capacity. During the high season (December-April) it is quite busy so if you aren't taking a tour you should arrive in the morning before 10 am.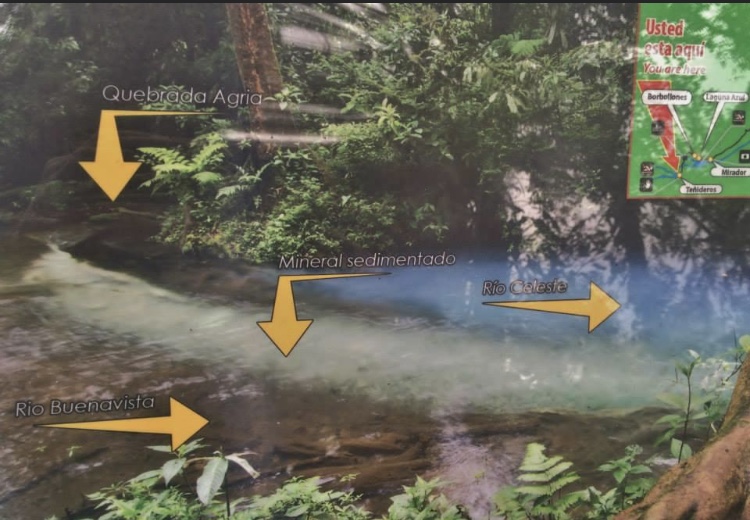 This waterfall is 2 hours outside of La Fortuna, so if you're in town visiting Arenal and the surrounding area you should definitely book a tour through the link below to visit Rio Celeste. When we went we booked a day tour that took us up into the clouds on a rocky dirt road. We were then given a delicious local lunch, then off to meet our English speaking guide. This hike is about 3.7 miles long round trip and while the train itself isn't too difficult it often rains leaving the trail very muddy which slows down your pace (total – takes an average of 2-3 hours).
There are wet and dry seasons in Costa Rica but in this area, it rains most of the year. You'll disappear into the rainforest and the guide will explain the beauty of the area and why the water is so blue! You'll pass over bridges and under you is the most unreal looking water. At the end, you'll be met with 250 steep steps that lead you to the perfect waterfall where you can take pictures and enjoy.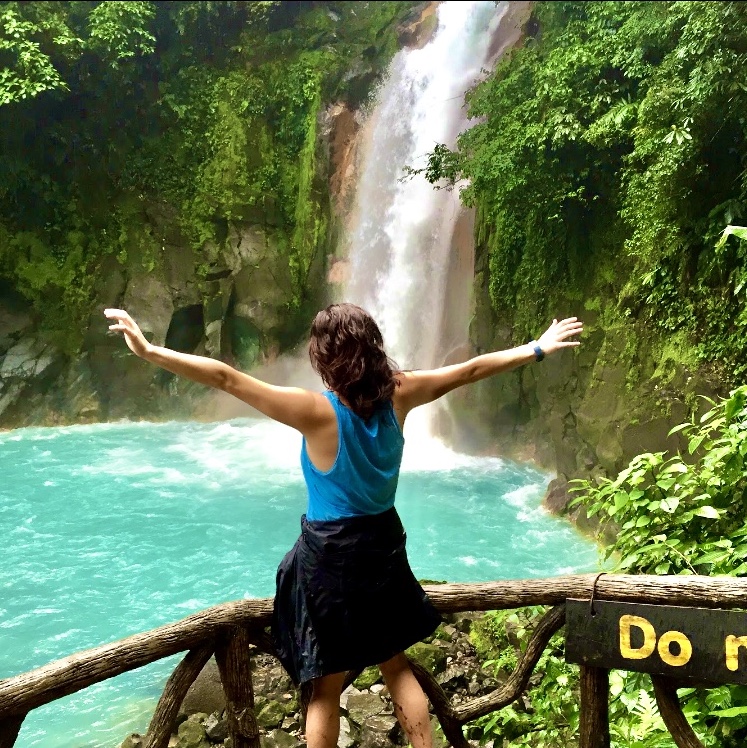 FYI swimming is no longer permitted here so no need to bring a bathing suit. You will need to bring sturdy tennis shoes and a rain jacket. We suggest these trail running shoes for ankle support and this rain jacket. If you haven't read our other post Guide to Costa Rica, check it out for places to stay and things to do in La Fortuna!
Rio Celeste is also completely doable without a guide if you have rented a car and they recently paved the road from Bijagua to the Tenorio Volcano National Park. The trail is well parked and straightforward so it should be easy to navigate on your own! Check out the parks Facebook page below to stay up to date on closings. Once you're inside the park swimming is prohibited but if you take a tour you are allowed to swim in a secluded spot after your hike. There is also a free public swimming area by the bridge past the entrance of the park where you can pay $6 USD to swim at the Cabinas private river access and enjoy the cold but refreshing water!
Also, FYI if you visit during the rainy season the water may not be as blue as it is during the dry season due to the heavy rainfall (October and November are the two rainiest months). Be sure to use the bathrooms outside the ticket office as there are no bathrooms once you're inside the park. While you're hiking you'll pass over a bridge where you may even see some monkeys!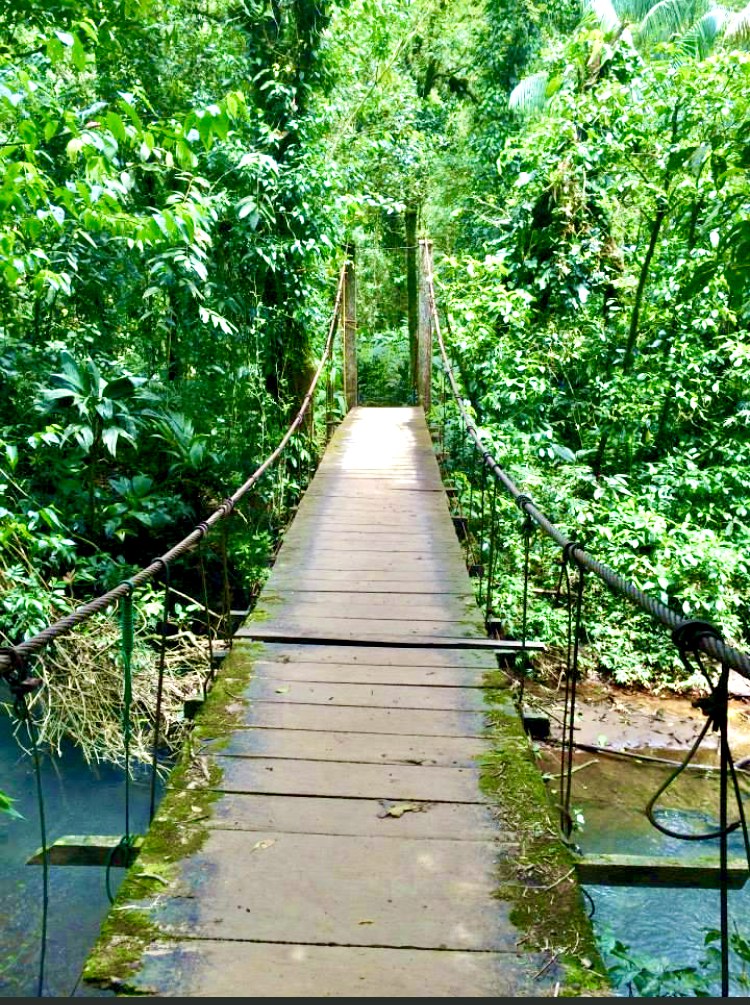 Location: Tenorio Volcano National Park about 2 hours outside of La Fortuna
Level of Difficulty: Moderate
Admission: $12
Tours are usually $140 USD PP which include transportation, bilingual guide, lunch, national park fee and water.
Weather updates: Check here for weather updates.
Directions: If you're coming from La Fortuna you head through Guatuso and Upala, it is about 2 hours, and be sure to use Google Maps or Waze as Apple Maps is not reliable.
Transportation: There are no buses that go to the Tenorio Volcano National Park entrance. You can book a tour or use a taxi (30-40 USD). If you rent a car you can park for 2000 colones per far and they only use cards.
LA FORTUNA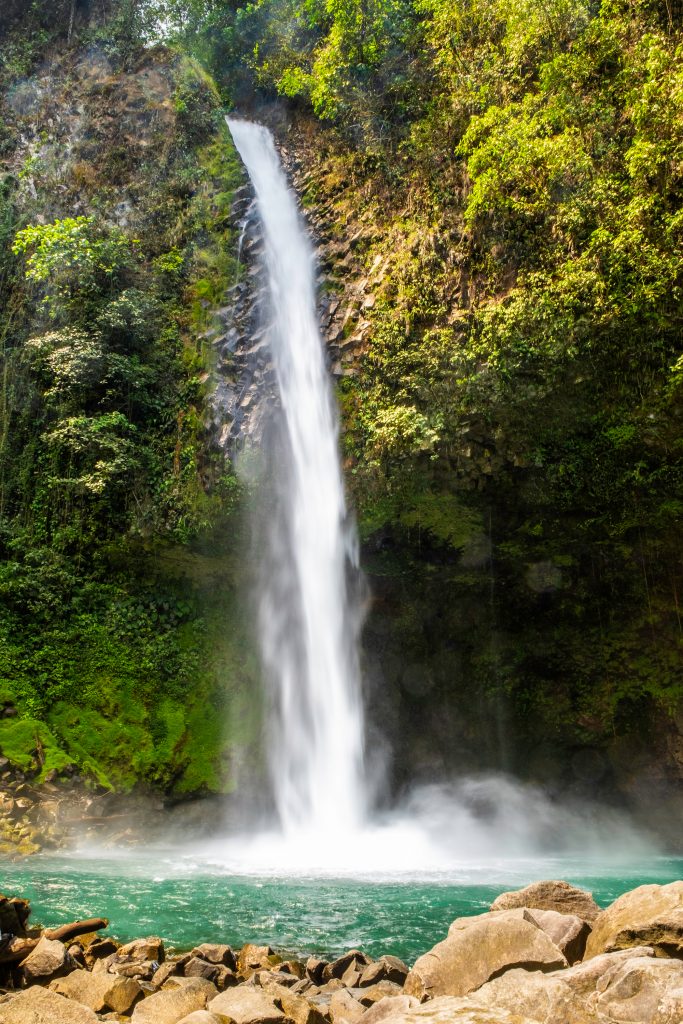 La Fortuna is the picturesque waterfall you see in so many posts about Costa Rica as it is Costa Rica's most well-known waterfall which is why we had to add it to our list of best waterfalls in Costa Rica! La Fortuna is super easy to access from the town La Fortuna and most people visit it while they are visiting Arenal, read more about Arenal here in my Arenal Travel Guide which includes places to stay and other activities.
La Fortuna waterfall is super easy to hike and you enter from the visitors center which has bathrooms. Bring your bathing suit if you're ready for a dip in the powerful cool water. To access the walls you have to walk down about 500 steep stairs so prepare yourself for the return hike back up. You'll be surrounded by lush trees and most likely a lot of other people as this is such a popular tourist spot.
Location: La Fortuna
Level of Difficulty: Easy
Admission: $10
Directions: Walk from downtown La Fortuna could take you about an hour.
Transportation: Walk, Taxi ($5-6), you can book a shuttle pass to use all around La Fortuna.
Tour: If you would prefer to take a tour to La Fortuna Waterfall and check out the hotsprings
MONTEZUMA WATERFALL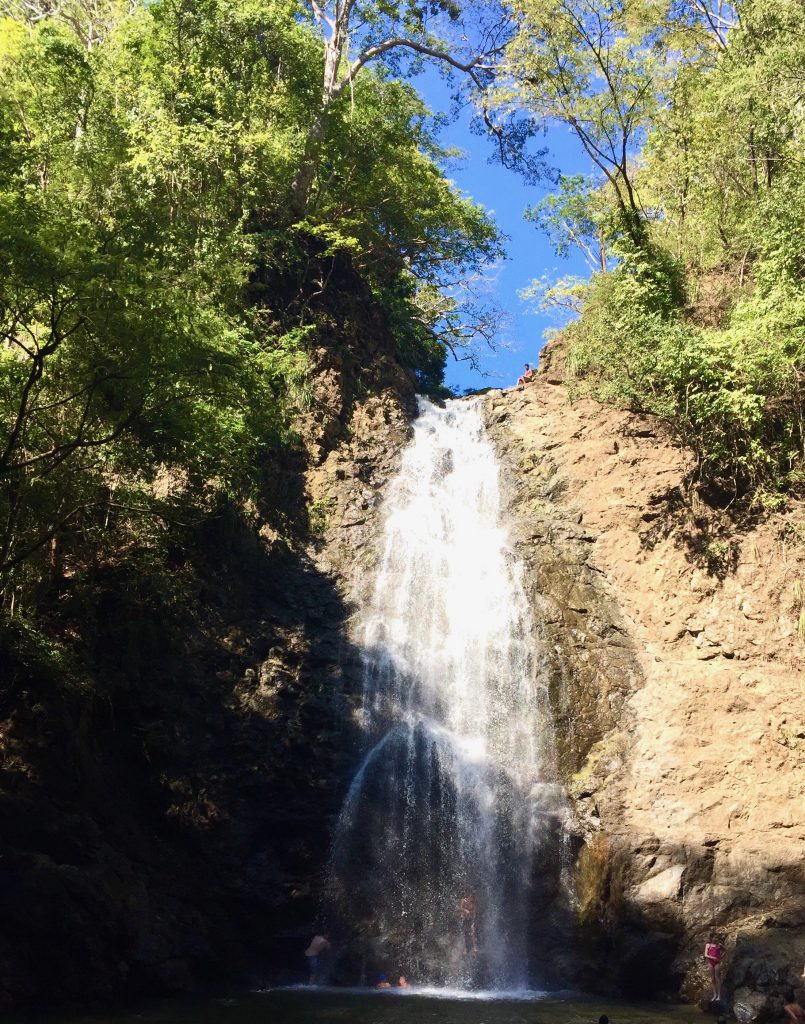 Montezuma waterfall is a place I have gone back to twice as it's three (yes three!) waterfalls are hidden in the jungle just 20 minutes outside of the town of Montezuma. It's definitely one of the best waterfalls in Costa Rica. The walk is easy as you take the dirt road that passes the beach on your left and up the hill. While its waterfall is our second favorite behind Rio Celeste the hike to the top is a challenging one as you have to cross over the river and through some rocks and at one point you'll need to use a rope that is hanging. You'll definitely want to bring water shoes. Our favorite water shoes are Tevas.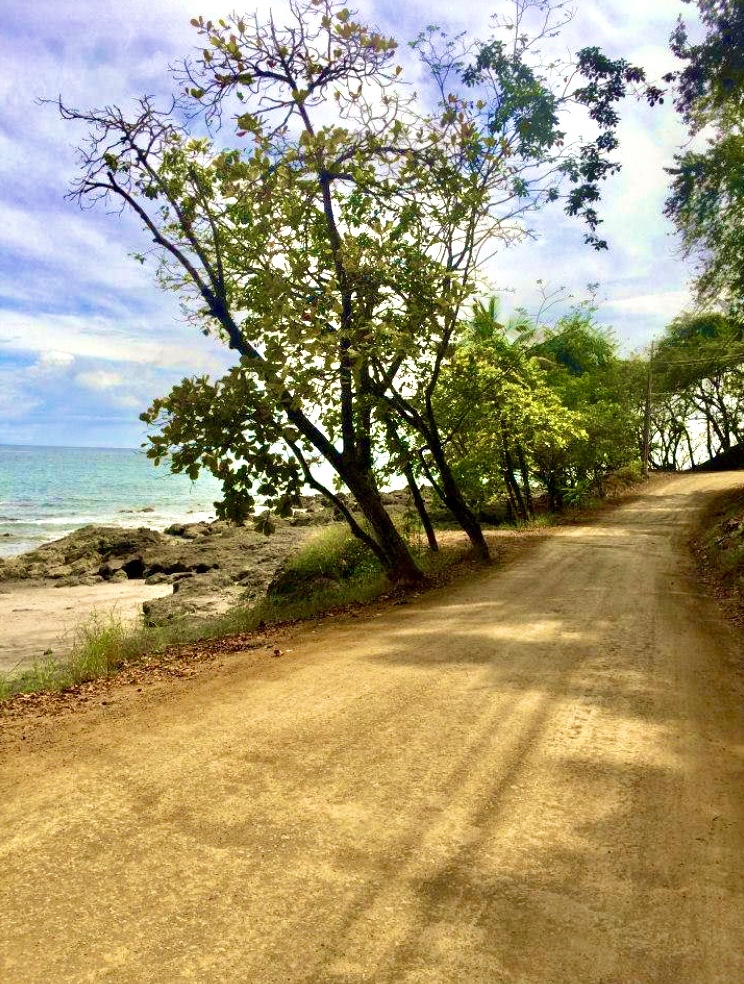 Feel free to stop at the first falls, as many tourists do this, and jump off the waterfall! It's much lower than the second and third and know that the hike to the second and third falls are much more difficult. If you aren't interested in a challenging hike that gets your heart pumping, recently a set of stairs has been built and you can use them for a small fee. The top waterfall is the smallest at only about 15 feet high, but it does have a pool you can jump into which is perfect after hiking in the heat!
The middle waterfall is between the top and bottom and you will actually need to see across the pool of the top waterfall to see it. The waterfall stands at about 40 ft tall and you'll see local Ticos climbing all around the sides and jumping off! I did jump the first time I visited but wouldn't do it again, it was pretty scary! These falls have also seen a lot of accidents and some people have actually died, be careful up there as the rocks can be very slippery!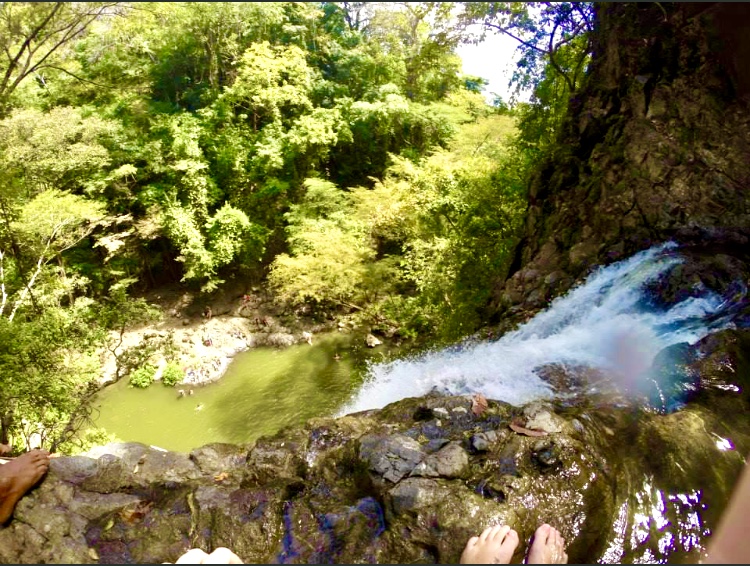 There is also the lower waterfall which is the biggest at 80ft. You can enjoy a swim in the pool around it and relax in the shade under the trees. There are two main options to hike which are the Riverbed Trail And the Canopy Tour Trail. If you're looking to visit the lower falls check out the Riverbed Trail. This has the shortest hike, tallest waterfall, and is closer to town. The Canopy Tour Trail is the easiest way to access the upper two waterfalls.
Location: Montezuma
Level of Difficulty: Moderate to difficult
Admission: Free
Directions: From downtown Montezuma, walk about half a mile south towards a small bridge that crosses over the Rio Montezuma. After the bridge, there is a trail and parking area. The trail starts out as a dirt road but quickly turns into a rocky riverbed. We went during the dry season so the river was much smaller and there were lots of options for navigating around.
NAUYACA WATERFALLS COSTA RICA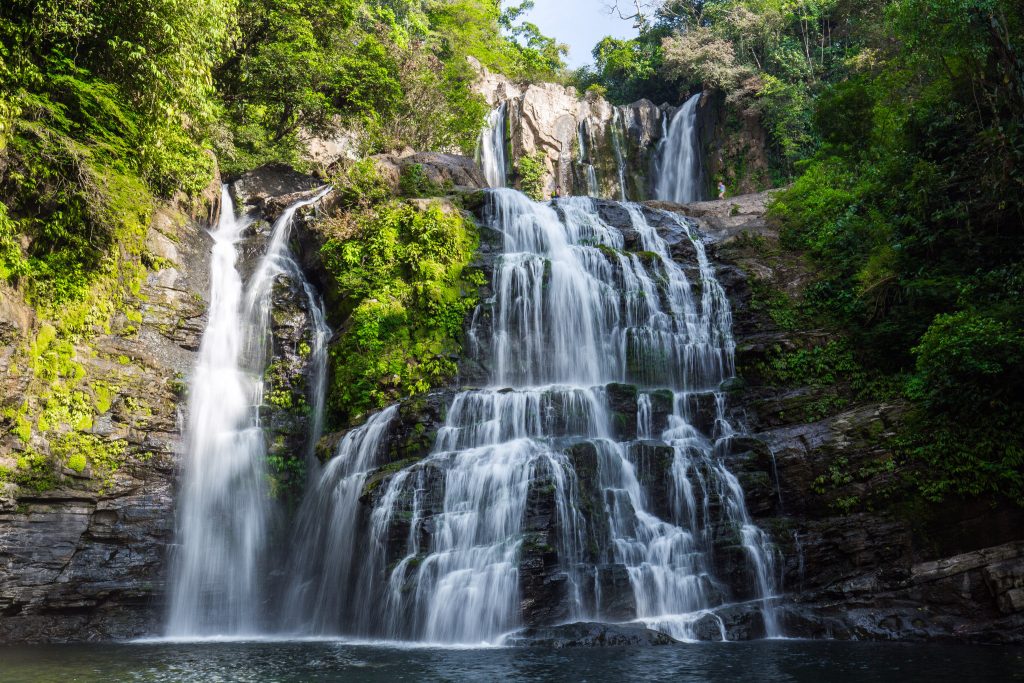 The Nauyaca Waterfalls are massive and once you're there you'll feel like you're in a movie set in the jungle, they are broken into two distinct tiers, the first is at 150 feet and the second at 70 feet! In Costa Rica's southern zone the Nauyaca Waterfalls have two tiers and the perfect swimming pool below it. You can access the falls on foot by walking on a well-kept trail for about an hour. Overall, this is an easy-moderate hike with only a couple of steep spots. You will find a bathroom before the last descent where you can also change into your bathing suit. If you don't want to walk you can book a tour!
Location: Near Dominical, a lot of people visit from Manuel Antonio, Uvita or Dominical
Level of Difficulty: Easy to Moderate
Admission: Walk/ hike $8 Horseback Tour $70-80
Tours: You can check out a couple of tour options here
LA PAZ WATERFALLS COSTA RICA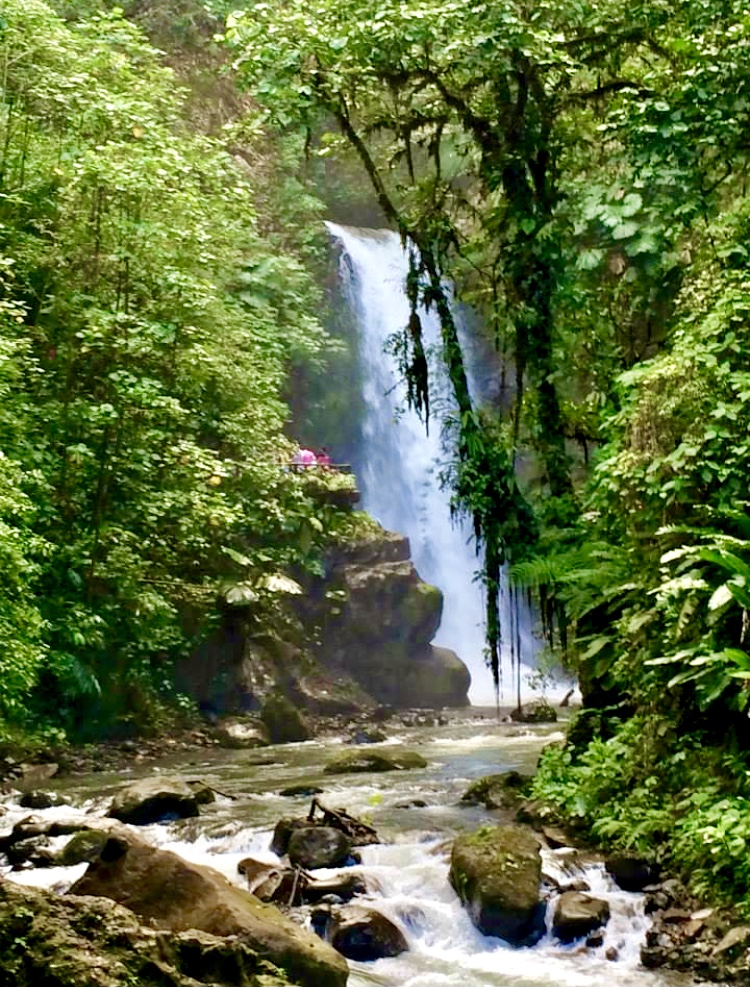 The local nickname of La Paz is 'Waterfall of Peace' and I can't think of a more tranquil place to spend the day hiking and relaxing by the water. La Paz is located not far from the town of Alajuela and the Poas Volcano, all make great day trips if you have extra time in San Jose, read more about options here in my Costa Rica Itinerary. Many tourists are drawn here by the exotic flora and fauna. This waterfall drops over 120 ft into a beautiful pool below. Just an FYI the falls are located on private property so booking a private tour would probably be best.
Location: Near Alejuela and San Jose
Level of Difficulty: Easy to Moderate
Tours: There are some tour options that will pick you up/drop you off from where you are staying that also include a guide.
LOS CHORROS WATERFALL
Los Chorros Waterfall is located just 30 minutes away from the international airport near San Jose and one of the easiest to access waterfalls in the country. These falls sit in the Los Chorros Municipal Recreation Park or Parque Recreativo Municipal Los Chorros. This park is very important to the locals as it provides drinking water for nearby towns. Los Chorros translates to "the Jets," and its name comes from the strong streams of water that pour down from the hillside. There are pipes that carry this naturally pressurized water to the neighboring towns which you can see while walking along the trail.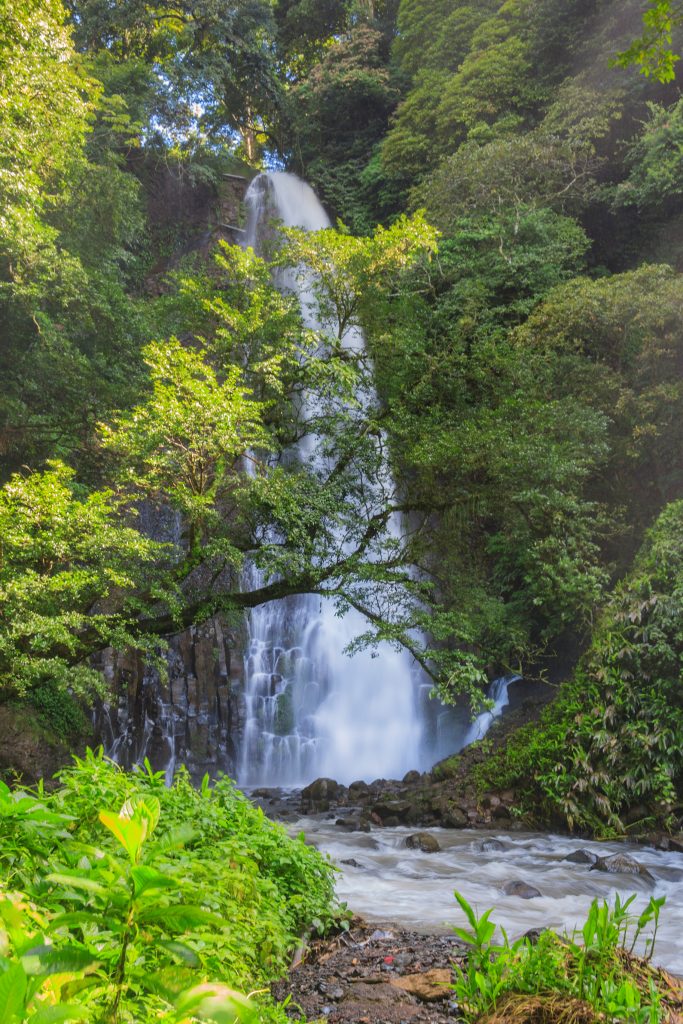 There are two large waterfalls, the one pictured is Catarata Zamora. Its enormous cascade pours water from about 130 ft into the pool. You'll immediately feel the temperature cool down in front of you from the breeze that is produced by its power. You can access the waters from the main road where an attendant will collect $4 from you if you are parking a car and will show you which way to go. You will walk through a private dirt road and walk for about 10 minutes until you see the trailhead that is marked with a small sign. The trail is fairly flat and you'll walk through both the jungle and field. Once you're in the jungle another employee will take $6 for the park here.
Be careful while walking as it can get muddy and slippery from rocks and tree roots. You can wear either Tevas, Chacos, or trail running shoes. Feel free to pack a bathing suit, towel, bug spray, and lunch.
Location: Between Chilamate and Tacares southeast of Grecia
Level of Difficulty: Easy to Moderate
Admission: $4 for parking $6 park fee
Transportation: Check here for local bus information to Los Chorros.
SAVEGRE WATERFALL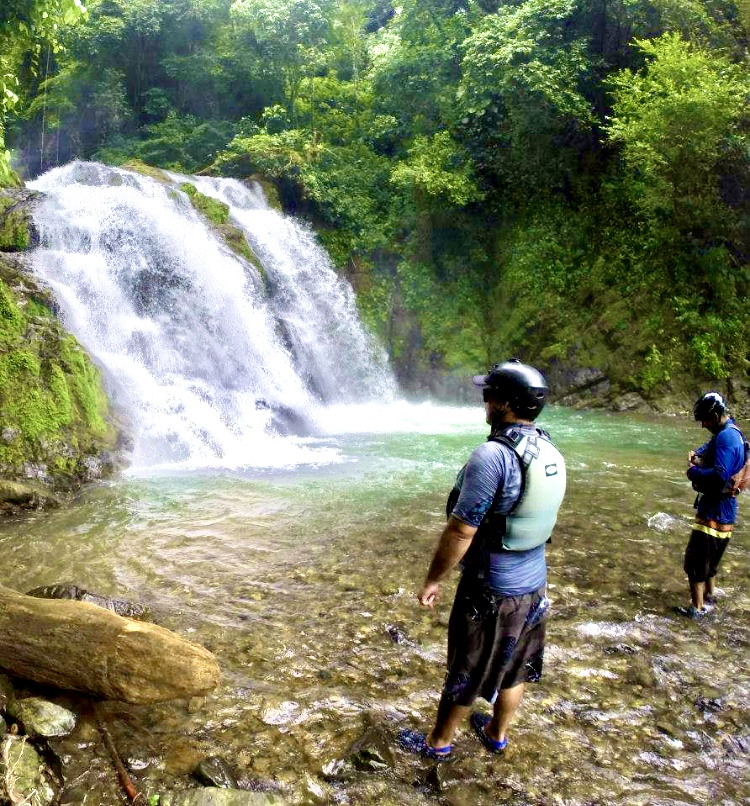 Savegre Waterfall is located near Los Quetzales National Park and San Gerardo de Dota and rests on the Rio Savegre in lush tropical highlands. This river is super popular for white water rafting, hiking, bird watching, and fishing! The trail is about a mile long which takes you through cloud-covered highland forests that lead you to the waterfall which stands at 100 feet tall! There are other waterfalls you can visit along the river, especially if you are on a whitewater rafting tour! You can even climb through some caves! Would highly recommend this area if you have extra time in Manuel Antonio and want to escape the sun and beach.
Location: Outside of Quepos and Manuel Antonio
Level of Difficulty: Easy to Moderate
Tours: White water rafting tour
CATARATA UVITA
If you are staying in Dominical or Uvita you have to check out the Uvita waterfall! As you can see in the picture the waterfall itself isn't the biggest waterfall you've ever seen but it has something most other waterfalls don't have, a natural slide! The water has smoothed out the rocks to create the perfect space for people to lie down in and slide!
This waterfall is great because it's easy to get to, cheap, and usually not super crowded. If you are coming from Uvita you can easily get here by heading towards the Uvita Hostel Resort or Hostel Waterfall Lodge, right after you'll see a Uvita Waterfall sign, parking lot, and small restaurant. The trail is super short and you just walk through the jungle on rocks but be careful as it can get slippery. This is a great place to spend a few hours swimming, standing under the water, or sliding down. Be careful not to jump off from the top as it isn't that high and the water isn't deep enough.
It can get busy on the weekends as a lot of locals visit here but if you come in the morning on a weekday or during the low season (September- November) you may have it all to yourself! Also, the restaurant next to the waterfall has delicious smoothies, definitely check it out!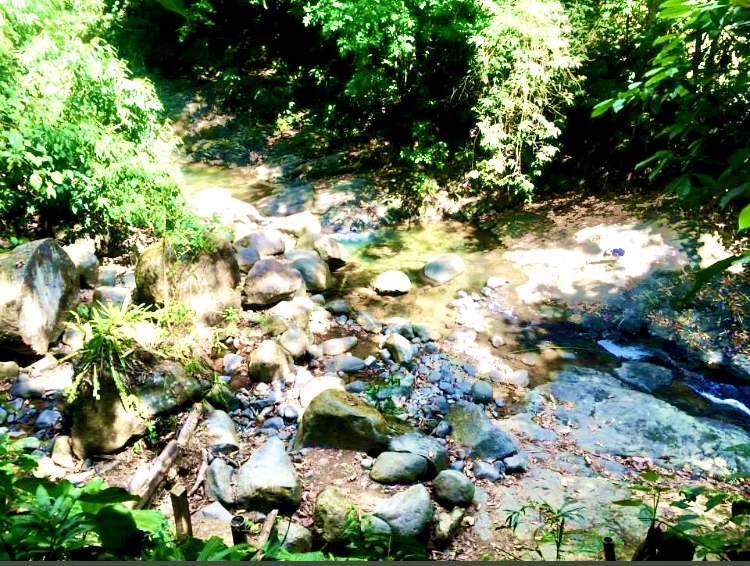 Location: Uvita
Level of Difficulty: Easy
Admission: $4 cash only
Transportation: Taxi or ask your hostel/ hotel!
BEST WATERFALLS IN COSTA RICA: WHAT TO PACK
Whether you are hunting waterfalls or just picking a couple to visit, make sure you have everything you need for your trip! Check out our complete packing list:
WANT MORE INFO ON COSTA RICA?
Check out these other Costa Rica articles to help you plan your next trip!
Like this best waterfalls in Costa Rica Post? Pin it for Later!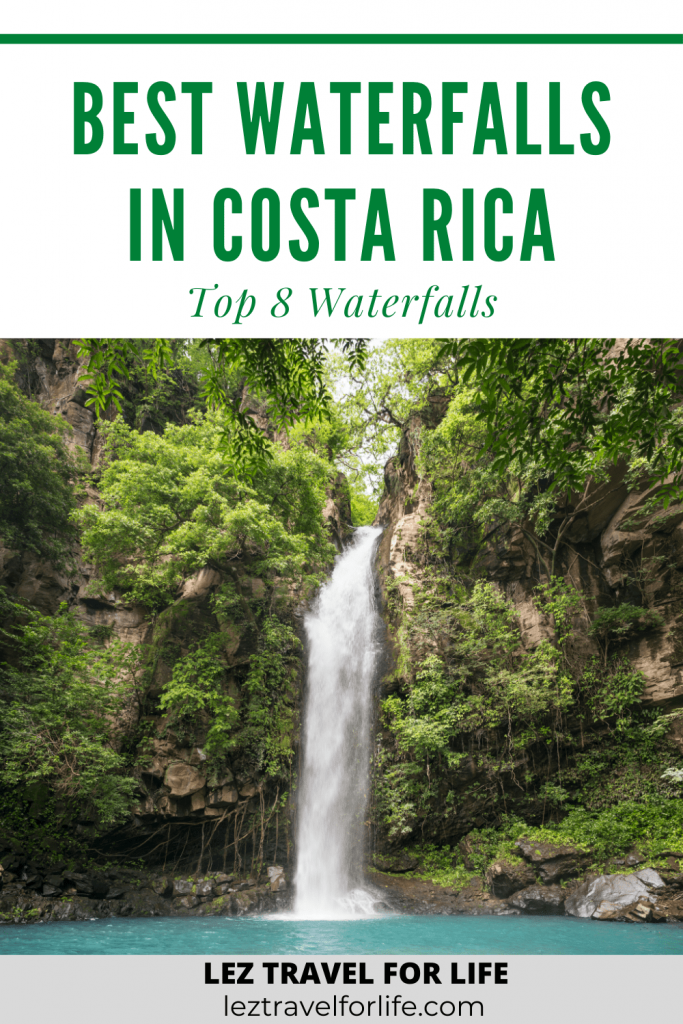 I'm Sam and I may only be 5'3 but I'm feisty and enjoy a lot of sarcastic humor. I'm addicted to travel as well as feeding and advocating for street animals in every country I travel to. I'm married to Courtney and we're super gay or whatevaaaa. We're both extroverts and love meeting new people everywhere we travel. We are in love with Latin American culture but can't wait to explore more of the world!