This article may contain affiliate/compensated links. For full information, please see our disclaimer here.
Reminder: Make sure to check the country's covid guidelines before travel.
Puebla is a beautiful mountain town just 2 hours away from Mexico City and decided last minute to hop on the bus and enjoy a day in Puebla when our friend was visiting us. I read plenty that Puebla is charming, has beautiful colonial architecture and good food but that it is small and you only need a day to enjoy it, looking back we wish we could have spent at least 2 days here.
Puebla might be small but it has a lot to offer from museums, underground passages, and amazing food. The second we arrived in Puebla we felt right at home, the streets are filled with tourists and locals alike enjoying all the city has to offer as well as enjoying rooftop views showing off the show-capped volcanoes in the distance. The best part is there aren't tourist stands on every corner where people are trying to hustle you, instead you just get to enjoy the day on your own. This guide has the top things to do in Puebla Mexico, plus more!
HOW TO GET TO PUEBLA
The easiest way to get to Puebla is to uber over to TAPO bus station in Mexico City and buy a ticket to Puebla. If you would rather use the metro to San Lazaro Station it's only 5 pesos which connects to the bus terminal. Buses depart every 30 minutes and cost 200-400 PESOS ($8 USD) each way. You can book on the ADO website or at the bus station. You can also take an Uber for around 1,000 pesos, so if you have a group of 3 or more people this is definitely the fastest open and more convenient.
You can also book a tour if you don't want to navigate the city on your own. This tour takes you from Mexico City to Puebla and Cholula.
HOW MUCH TIME DO I NEED IN PUEBLA?
We squeezed all our activities into a single day, which is doable but wouldn't recommend as we felt rushed. Two days in Puebla is a good start and if you have plenty of time you should stay a week as you can spread your time out and also take time to see the neighboring town Cholula (keep reading I will go over things to do in Cholula as well!).
THINGS TO DO IN PUEBLA MEXICO
Puebla is incredibly photogenic but none of them require a ton of time. The best part is that most of the ones on my list are walkable, so walkable that we started our day at 10 am and saw almost everything by 5! If you want to slow the pace down and enjoy the museums and other sites here two days would be perfect. Basically, it's easy to tackle all the top things to do in Puebla Mexico!
1. Breakfast and coffee at Cafe Santo Patrono
Start your day in the central part of Puebla where the streets are bright and colorful. Uber over here from the bus station in Puebla and enjoy some chilaquiles or waffles with coffee then start your adventures.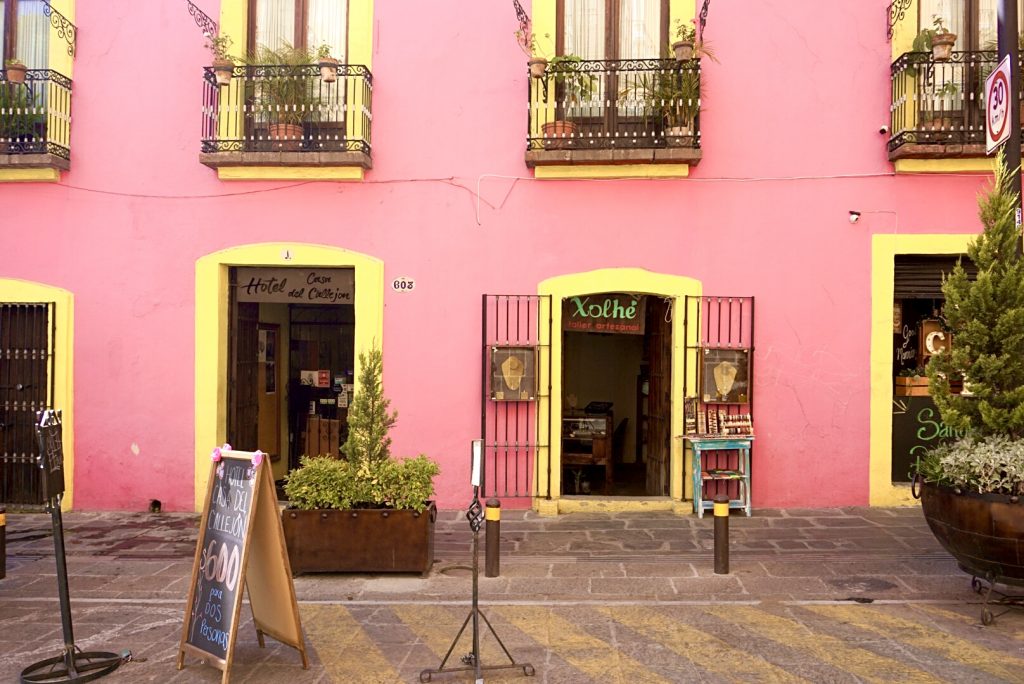 2. Puebla Cathedral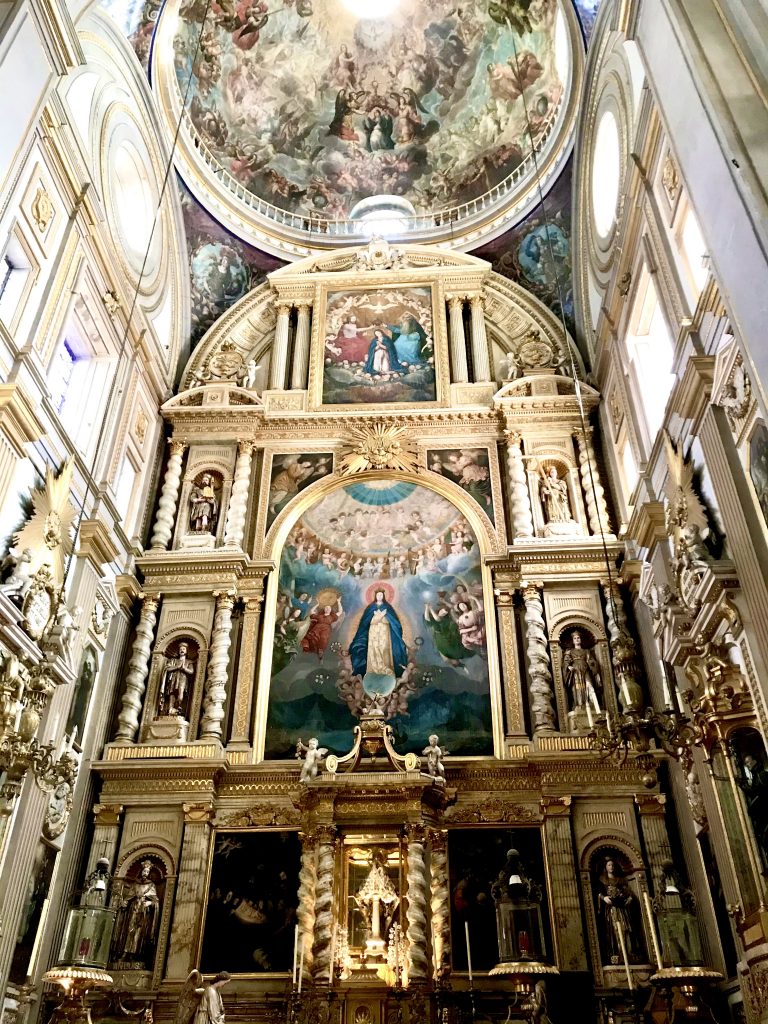 The second-largest cathedral in Mexico and you'll find that if you've been to Mexico City this cathedral looks very similar, but once you go inside it's slightly different. Visiting this cathedral is one of the top things to do while visiting Puebla. It took over 100 years to build between 1575 and 1690. It is located at the heart of the Zocalo where you can enjoy the small park and people watch. It's free to get in, and if you come back to this area on Friday and Saturday nights the cathedral is lit up with colorful lights. This area also has a ton of great restaurants and bars.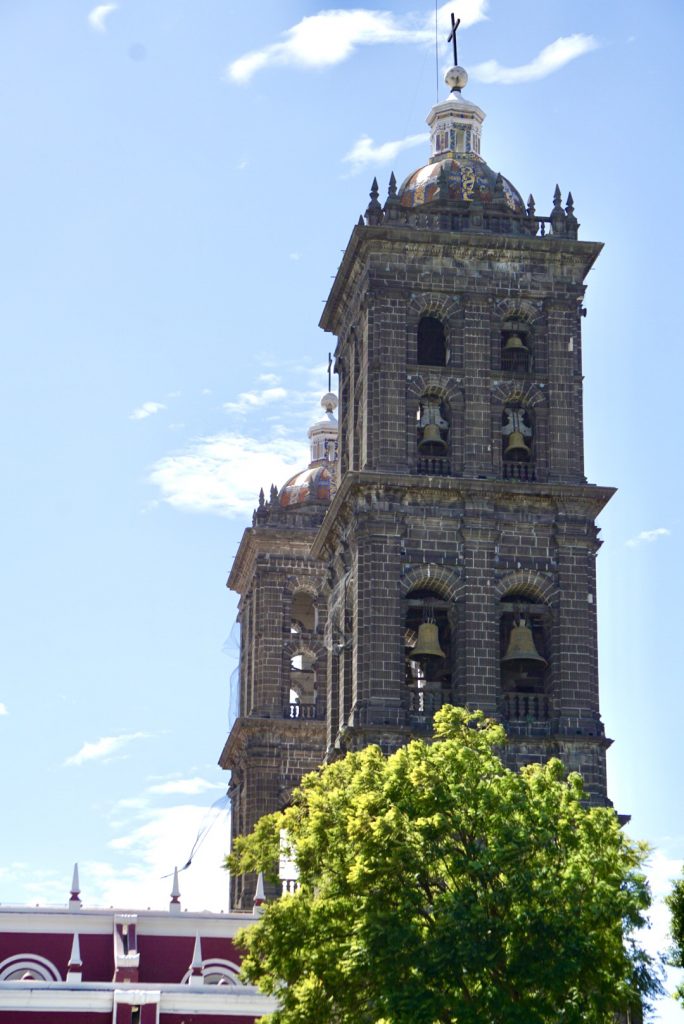 3. The Zocalo
All Mexican cities have a Zocalo, and this one has a thriving nightlife. It starts coming alive in the late afternoon with locals and tourists alike sipping on Mezcal and enjoying Tacos Arabe (We will dive into food and drinks later).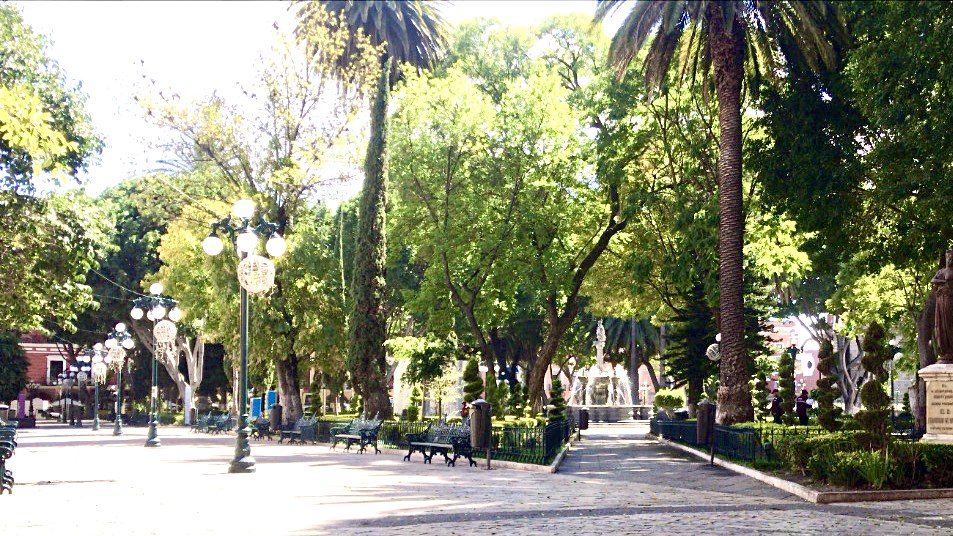 4. Museo Amparo and The Rooftop
Puebla's art museum the Museo Amparo is a fun museum mixed with modern art, propaganda pieces from the Mexican movement of the 60's and 70's as well as ancient Mexican exhibitions. They also offer a timeline of the world that is MASSIVE and split by region. Check out the rooftop cafe and restaurant for some beautiful views of the city. Not all of the exhibits are in English and the entry is 35 pesos. You could get in for free depending on the weekend as once a month they host a Museum Night (check before you go).
5. Church of Santo Domingo
This church may look small and unassuming but it is absolutely beautiful as there is a chapel entirely gilded with gold! It's to the left of the altar and you cannot miss it. It is located on the main pedestrian street, Cinco de Mayo. The space is small but it is completely filled with painting, sculptures, and gold detailing. It is one of the oldest chapels in the country!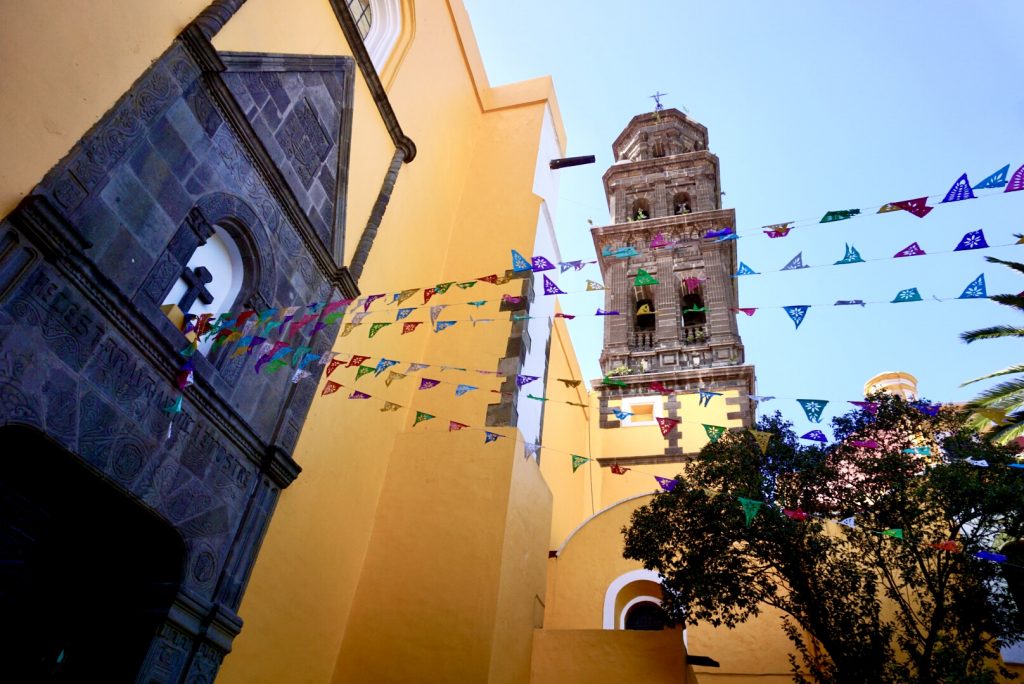 6. Ride the Cable Cars
Initially, I thought the cable car was going to take us up to a specific location but that isn't really the case here. For a panoramic view of Puebla, take a ride on the teleferico which is located away from Puebla centre past the neighborhood of Xananetla. Head over to Parque del Paseo del Teleferico and enjoy a 10 minute ride for just 30 pesos one way or 50 pesos round trip. If you want to see the other side of the park you only need to take a one-way ride as it's a short walk between the two cable cars.
7. The Forts of Guadalupe and Loredo
These forts are found in the same part as the cable cars, so you can easily do it all at the same time. You can walk over from the city center to the park, it is an hour walk with some of it uphill so if you're crunched on time hop in an Uber (60 pesos). The park is really big and the two forts are different but definitely worth exploring. If you head into the free interactive museum you can learn more about the battle that took place on Cinco de Mayo.
8. Mercado el Parian
Walk around here and check out the beautiful Poblano Talavera pottery. You'll find tons of stalls selling plates, mugs, platters, and bowls all painted in beautiful shades of blue. You'll also find other typical Mexican souvenirs like wool blankets, jewelry, and shoes.
9. Visit the Artists Quarter
Just across the street from the Parian Market is the Artist's Quarter. You'll find small galleries with their art on display next to the cobbled courtyard. You'll find small restaurants and cafes where you can enjoy a drink or lunch.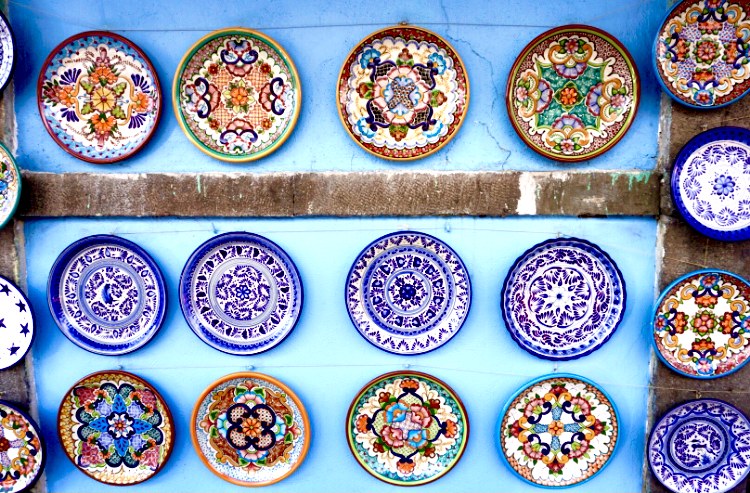 10. Plaza De Los Sapos
This area is a favorite to tourists and locals alike. Walk and enjoy the alley of the frogs, which is simply a beautiful street lined with artwork for sale, antique shops and take some pictures for the gram here. We definitely felt this was the most photogenic part of the city. You can pretty much buy anything here from antique cameras, picture frames, typewriters, cutlery, and old dolls.
11. Biblioteca Palafoxian
This library is immaculate and known as the first library in the 'New World', the very first library in the Americas. It is packed with tons of history literature and even if you're not interested in the books the interior itself is stunning. If you aren't someone who is interested in books, libraries, or architecture feel free to skip it. The admission fee is 40 pesos ($2 USD) to explore, and there are several columns of books that you can look at and see (behind a glass case of course).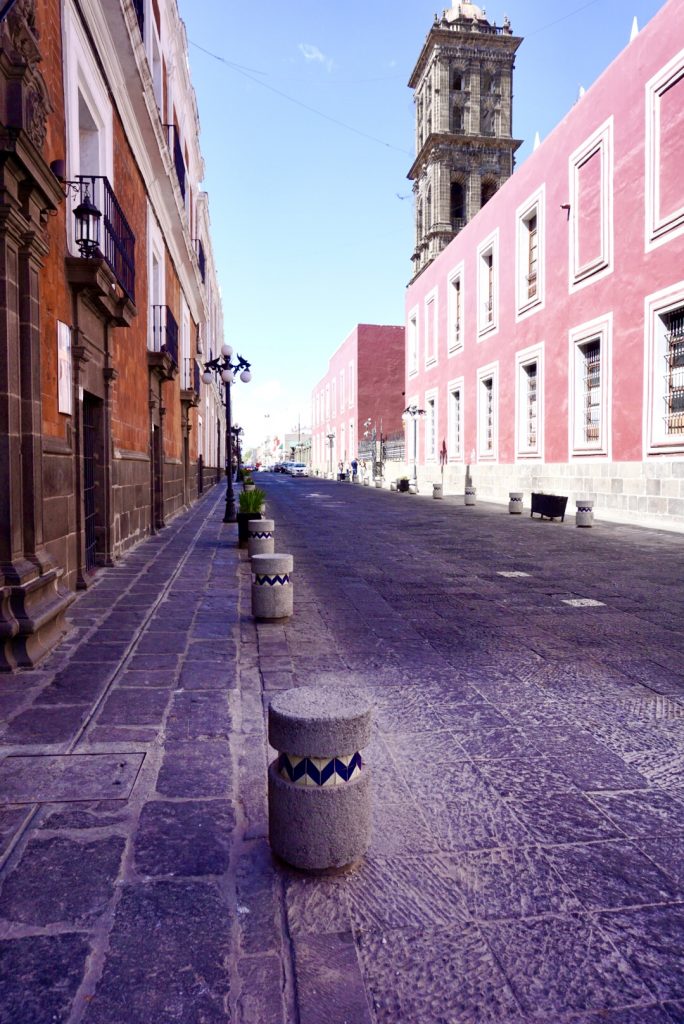 12. Museo Internacional Del Barroco
This museum is brand new and dedicated to Baroque artists. It's outside of old town and easily accessible by Uber (20-30 minutes from old town). As you leave old town you'll notice the contrast between the traditional cobblestone streets meeting the modern high-rise buildings.
13. Secrets of Puebla
I had read about this before traveling and was immediately intrigued. This building blends in so well you could easily walk straight past it and not think you were missing a thing. However, this is hands down one of the coolest sites in the city. It's free to visit and you can usually find an English tour to learn more about it.
On the tour, you will learn all about the colonization of the city and the separation of the indigenous people and the Spanish. You'll also get to explore BENEATH the city's streets and see a bridge that was built during the 17th century to cross over what was once a huge river that has been covered over and is a ring road around the city. You can also explore a series of tunnels around the city, but they are closed on Monday's so be sure to plan ahead if you're interested in this!
14. Visiting Cholula
Cholula is a suburb of Puebla less than 10 miles away and while you're in Puebla you should 100% check this area out as it is a UNESCO World Heritage town! You hear more about Puebla's historic and colorful center but Cholula also has colorful streets, fun bars, and buzzing nightlife. It's safe, walkable, and easy to navigate. Usually, people uber over to Cholula to check out the Great Pyramid of Cholula. It's not a tall above-ground rock pyramid like you find in Egypt as it's covered in vegetation however it's actually the largest man-made pyramid in the world, as well as the widest!! The views surrounding it are beautiful as there is a small catholic church at the top with mountains in the background.
You can enter beneath the hill and walk inside the pyramid's intricate tunnel system which is so cool! You'll exit through the other side of the tunnels and you can walk around the set of ruins that sits beside the pyramid. You can pay for an English guide if you want to learn more about the history of Cholula but you can also easily do it on your own and enjoy taking your time and explore the ruins after. Feel free to book a tour so you have transportation and a guide during your visit.
15. Visit Iztaccihuatl Volcano
You'll see this beautiful volcano in the background on your way to Puebla as well as on the rooftops in the city. If you have extra time here I highly recommend doing a trek up the volcano! We didn't have enough time to do it as the altitude is quite high but you can take a tour and have a guide. We love doing tours, we used a tour company when we visited Grutas Tolantongo. Read more about that here. The company can provide you with hiking gear, transportation, and snacks for your trip. You can either do a day hike or camp at the base to adjust to the altitude. This is still on our bucket list!
WHAT TO EAT IN PUEBLA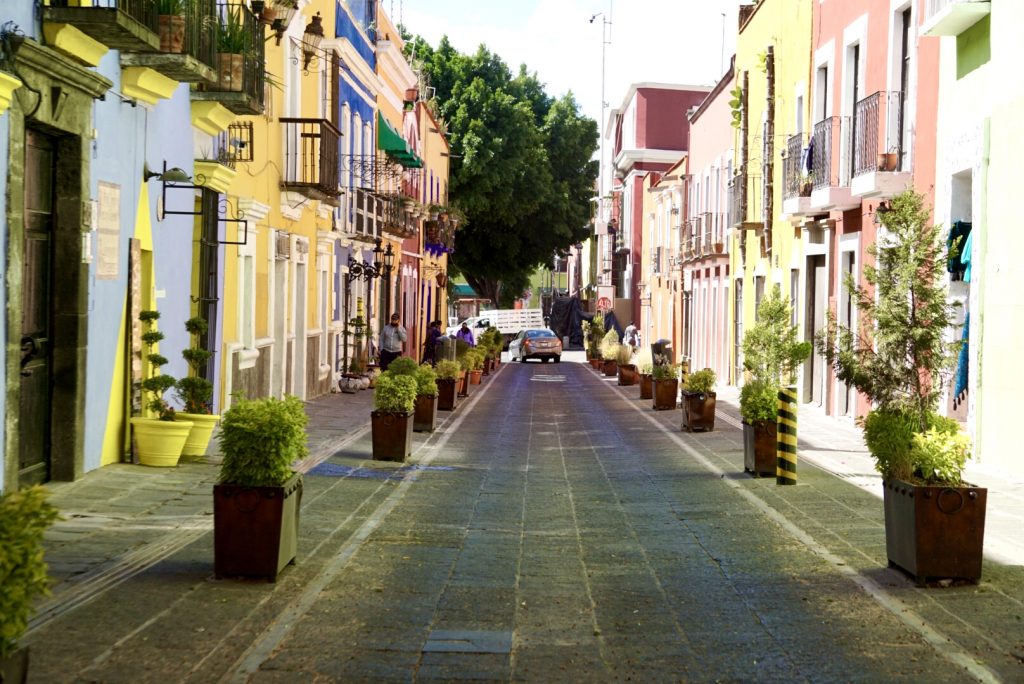 Puebla is known as a culinary destination, and while it may get overshadowed by places like Oaxaca and Mexico City the foods you'll find here are uniquely Pueblan and are even tough to find in Mexico City, not to mention Puebla has some great restaurants!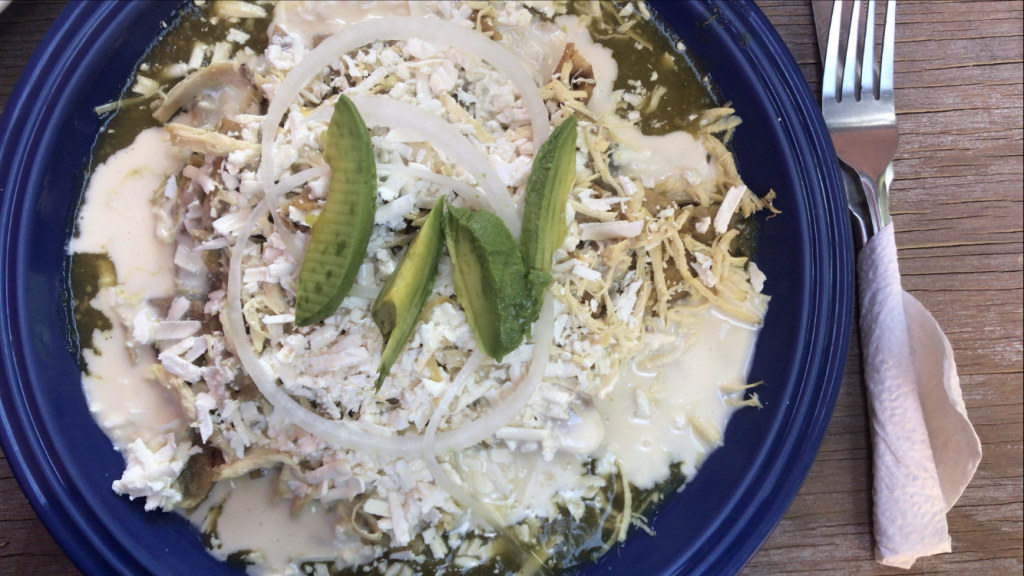 Tacos Arabes Bagdad
These tacos are unique to Puebla, as it comes from Lebanese immigrants who settled in Mexico generations ago and brought their shawarma style cooking to the area. Eventually, they adapted the cuisine to local flavors including pork and corn tortillas (Pastor Tacos). These tacos are somewhere in between. They are spit-roasted with pork but booked in traditional spices and using a flour-based pita and taco combo. These are much larger than Pastor tacos and have more meat. Tacos Arabes Bagdad is one of the first restaurants and it's located in Old Town. The tacos are cheap and full of flavor. You'll notice a specific texture than a typical corn tortilla but goes well with all the spices.
Mole at El Viejo Rosario
It's a favorite restaurant among foodies and locals alike. It's in a massive old historic building and you'll be met with highly attentive wait staff and impressive food. Ranging from salads, Aguas Frescas and you can't go wrong with any of the main dishes. Definitely try the mole con pollo! The Mole Poblana is one of the essential things to try in Puebla. The city is famous for its rich mole and is different from other Moles in Mexico.
El Encanto Sky Bar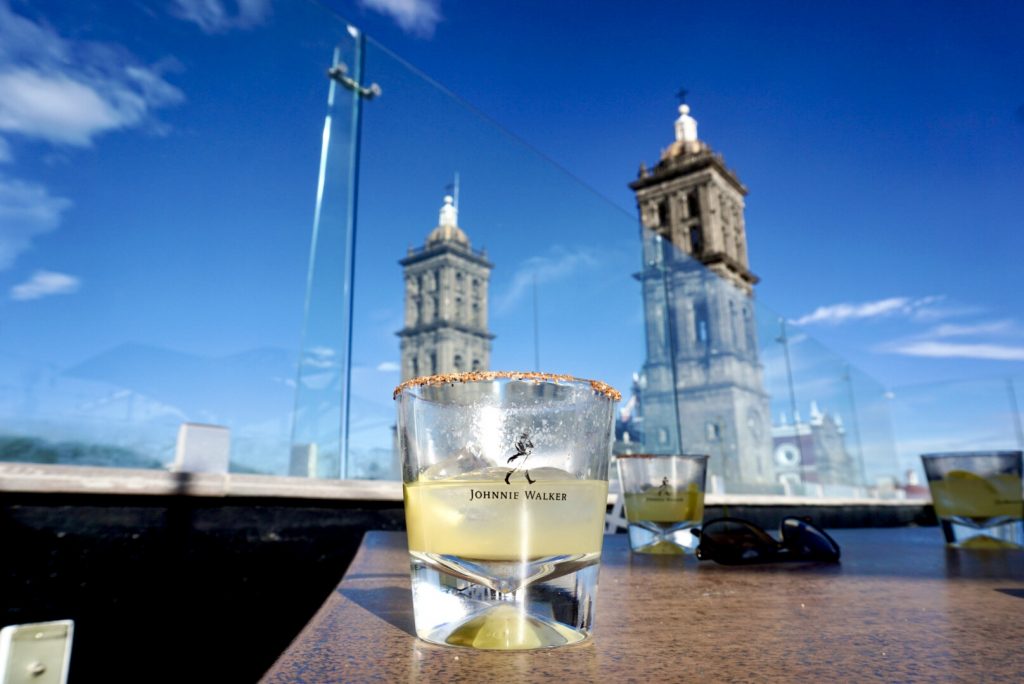 We stopped by here in the afternoon to enjoy the rooftop and excellent cocktails. Not to mention you can see the beautiful colonial buildings, cathedrals and a view of the volcano in the center of downtown Puebla.
El Corona Salon
People walking, beer and tacos! Highly recommend the pollo con mole and the chicharron.
Mezcal nightcap at Licoreria San Pedrito
This charming bar has an extensive list of Mezcals as well as other lesser-known traditional liquors from around the country like Pox and Raicilla. It's the perfect place to enjoy a drink and soak up the Puebla nightlife.
El Mural De Los Poblanos
If you're looking for something other than tacos, this is your place. You'll find Mole poblano here and this restaurant is known as one of the most famous restaurants in Puebla. Enjoy an upscale dinner here and order the mole poblano. They also serve tacos Arabes here that are made with lamb. They have a more traditional Middle East flavor. You'll want to make reservations in advance as you could wait for an hour or two. The dishes are pricey, so if you're not interested in breaking the bank feel free to skip on this one.
Cemitas la Poblanita
If you're a sandwich person, this is your lucky day. Cemitas La Poblanita is another unique dish of Puebla and the pride of the city. These are sandwiches that are packed with white cheese and served with your choice of meats. You can choose between carnitas, pollo, and other carne options. You'll have a white roll, guacamole, onions, veggies, and chilies. You'll find small shops around town selling these and the price will range from 50-50 pesos.
Beso de Malta
Craft beer! If you're looking for some delicious local craft beer stop into this quaint little place and enjoy.
Churros
A delicious and simple dessert that you'll find all over Mexico. Basically, it's fried dough coated with cinnamon, sugar and topped with fillings of your choosing. There are several churro stands in Mexico and Puebla but a favorite is on Avenida 16 de Septiembre that make the freshest and most delicious churros. You can choose between lechera (condensed milk), chocolate, vanilla, or strawberry. The best part is they are only 20 pesos!
WHAT TO PACK FOR PUEBLA
If you're going for a day you'll need a backpack, check out our favorite day pack here. You'll want to bring a Steripen to purify your water and some good tennis shoes. See more on what to pack in my Mexico Packing Guide.
WHERE TO STAY IN PUEBLA
There are tons of options for places to stay in Puebla if you aren't interested in taking a day trip. Here are a few of our favorites!
Hotel Isabel: Hotel Isabel is located right in the center of town and offers a gym, a bar, and easy access to all the bars and restaurants downtown.
NH Puebla Centro Historico: Also located downtown with great views of the churches while you enjoy the sun at the rooftop pool, this is another awesome option if you want to take a little more time in the city to unwind.
WANT MORE MEXICO CONTENT? CHECK OUT OUR OTHER MEXICO ARTICLES
Like Things to do in Puebla Mexico article? Pin it for Later!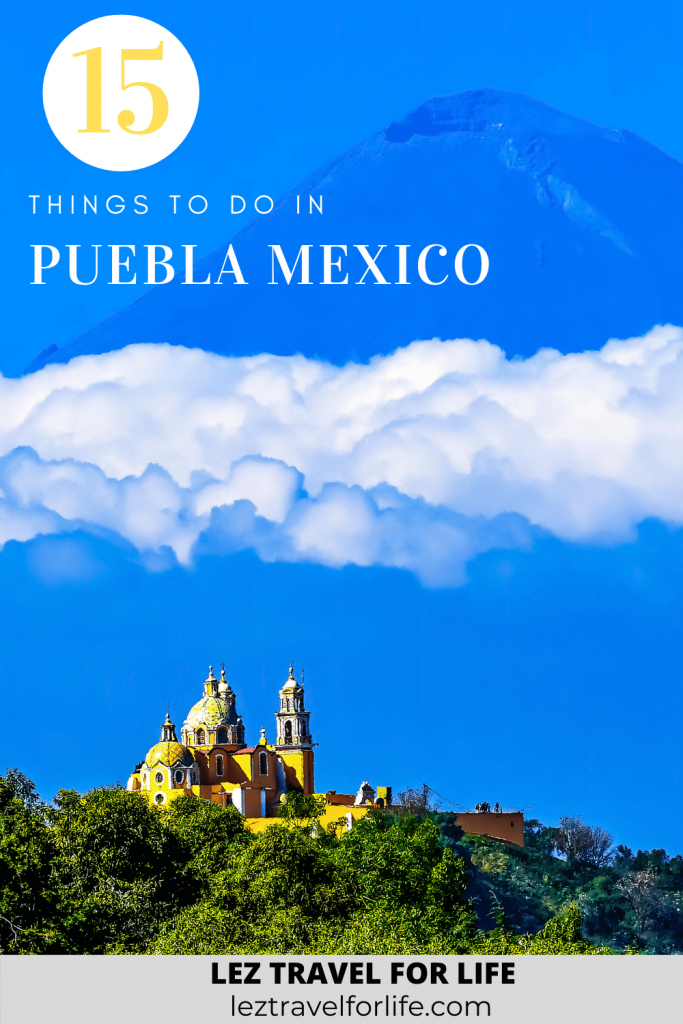 I'm Sam and I may only be 5'3 but I'm feisty and enjoy a lot of sarcastic humor. I'm addicted to travel as well as feeding and advocating for street animals in every country I travel to. I'm married to Courtney and we're super gay or whatevaaaa. We're both extroverts and love meeting new people everywhere we travel. We are in love with Latin American culture but can't wait to explore more of the world!