This article may contain affiliate/compensated links. For full information, please see our disclaimer here.
Reminder: Make sure to check the country's covid guidelines before travel.
Courtney and I started our full-time travel adventures in Mexico and we have completely fallen in love with this country. It is full of so much diversity in landscape, food, culture and the destinations continue to blow our minds. This is why I am so excited to write about one of the LEAST talked-about destinations in Mexico and it still confuses us as this place was seriously the top 3 coolest destinations we have ever visited…like ever. So much so that we went back twice in a month. Even if you're only in Mexico City for a few days we definitely think it's worth it to hike up to the neighboring state Hidalgo to check Grutas Tolantongo. Because Grutas Tolantongo Mexico is so secluded and internet/ Wifi services are limited in this area, it can be tricky to plan a trip here. This article is the guide to everything you need to know about Grutas Tolantongo.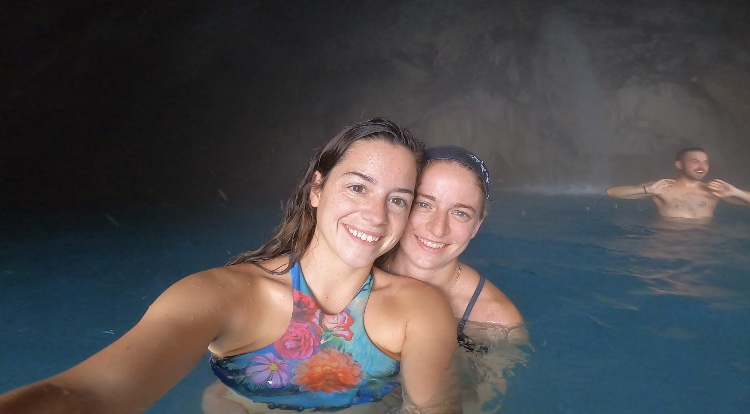 WHAT IS GRUTAS TOLANTONGO?
Everyone loves hot springs and infinity pools but how about a heated waterfall, cave system, and river? Grutas Tolantongo is the perfect bucket list destination. if you're curious enough to check out Grutas Tolantongo you'll have an adventurous time making it here, but once you see the views you'll realize you've literally made it to paradise. Although the heated pools are the main attraction, the resort offers so much including a cave with natural showers, a beautiful turquoise river that runs through the canyon, several waterfalls, and two grottos with natural spring water. Gruta means "cave" in Spanish and it got its name because of the clear, warm water that flows from inside the cave.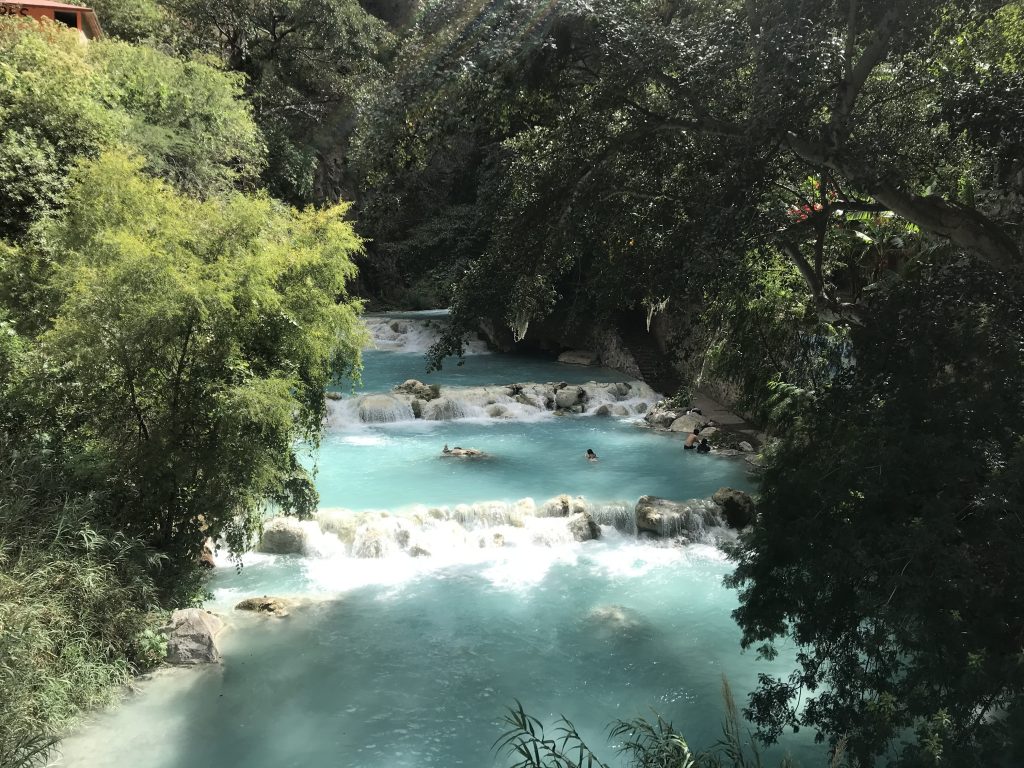 Grutas Tolantongo is located at the base of a canyon in the state of Hidalgo, Mexico. Hidalgo has multiple natural thermal springs that are found all around the state. The water emerges from a cave which creates an indescribable interior pool with a waterfall. Outside of this, a large river flows from the cave creating pools of warm water on its way down the canyon.
If you're not sold yet, Courtney and I went in November and it got down to below 40 degrees Fahrenheit and the water was super super warm! We loved it because it felt like a natural hot tub and we relaxed in the river while watching the sun go down. Basically, it's perfect all year long to visit!
BEST TIME TO VISIT GRUTAS TOLANTONGO MEXICO
Because the weather makes Grutas Tolantongo perfect year-round destination it has become quite popular for thousands of people daily. Courtney and I went during covid and it was much less crowded, but if you go on a Friday, Saturday or Sunday expect it to be jam-packed (we experienced one day of this). When we visited in November the crowds were tolerable, the water was warm and the weather was enjoyable. You'll definitely want to wake up early and enjoy the pools before the buses of crowds start coming in, you can go in the pools at 7.
WHERE IS GRUTAS TOLANTONGO?
Grutas Tolantongo is located next to the town Ixmiquilpan in the state of Hidalgo. It's about 4 hours from Mexico City making it a perfect day trip or a 2-3 day getaway from the hustle and bustle. Be sure to BRING A LOT OF EXTRA CASH WITH YOU! NO CARDS ARE ACCEPTED THERE! We are dummies and didn't bring enough cash when we wanted to spend the night and we ended up having to take a bus back to town which cost us 2 hours of our day just traveling to get cash. Don't be dummies like us!
HOW TO GET FROM MEXICO CITY TO GRUTAS TOLANTONGO
By Bus:
If you go on your own:
Arrive at the North Bus Station in Mexico City (Central del Norte). "Autobuses del Norte" no later than 5:30 am to purchase your tickets and factor in traffic to the bus station.
Head over to #7 platform. At this one and 8 you'll see Flecha Roja buses and Ovnibus that go straight to your next stop Ixmiquilpan. Be sure to get there early!!
Once arriving at Ixmiquilpan, take one of the local buses(yes its tiny and probably looks really beat up) named "Mercado Morelos". Once you hop on you'll head over to the central part of town where you'll see a huge market.
In the market, ask someone where the "San Antonio" parking lot is (see the pack google map picture below). Here you will find the buses that go to Grutas Tolantongo (See the picture below for the Grutas Tolantongo section in the San Antonio parking lot). This trip will take you approximately 4 hours.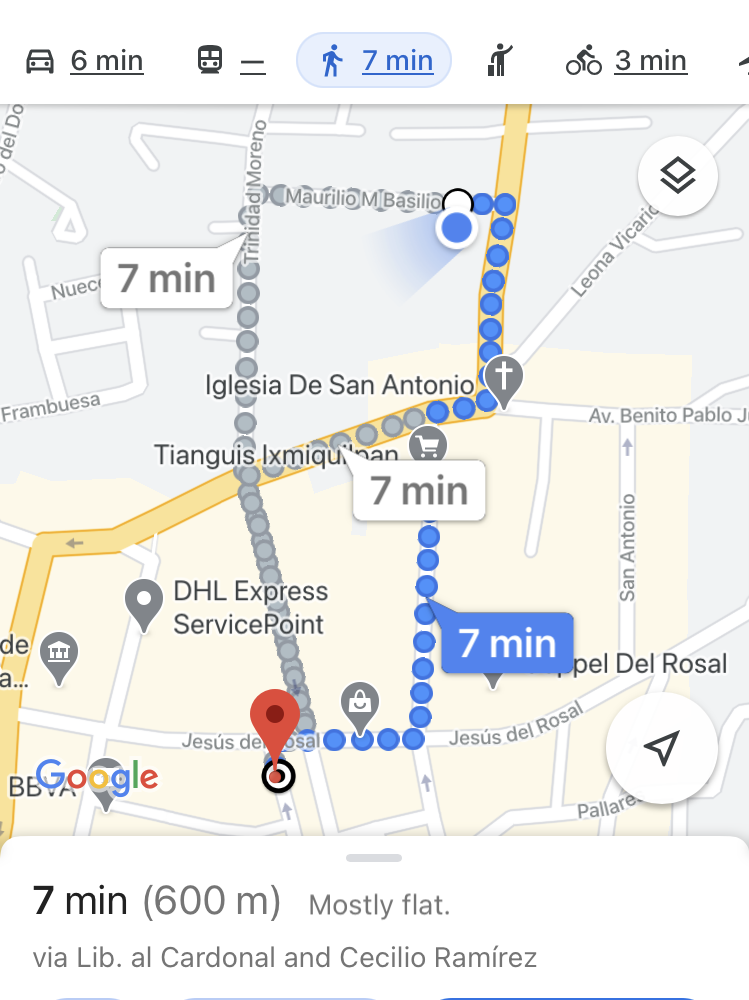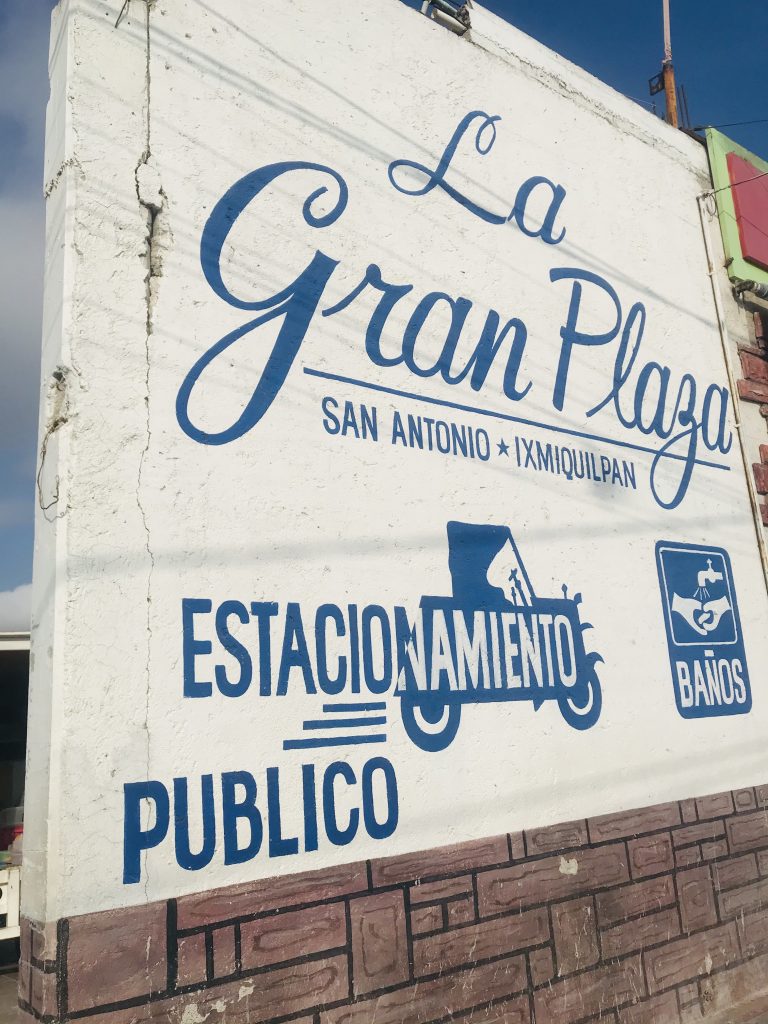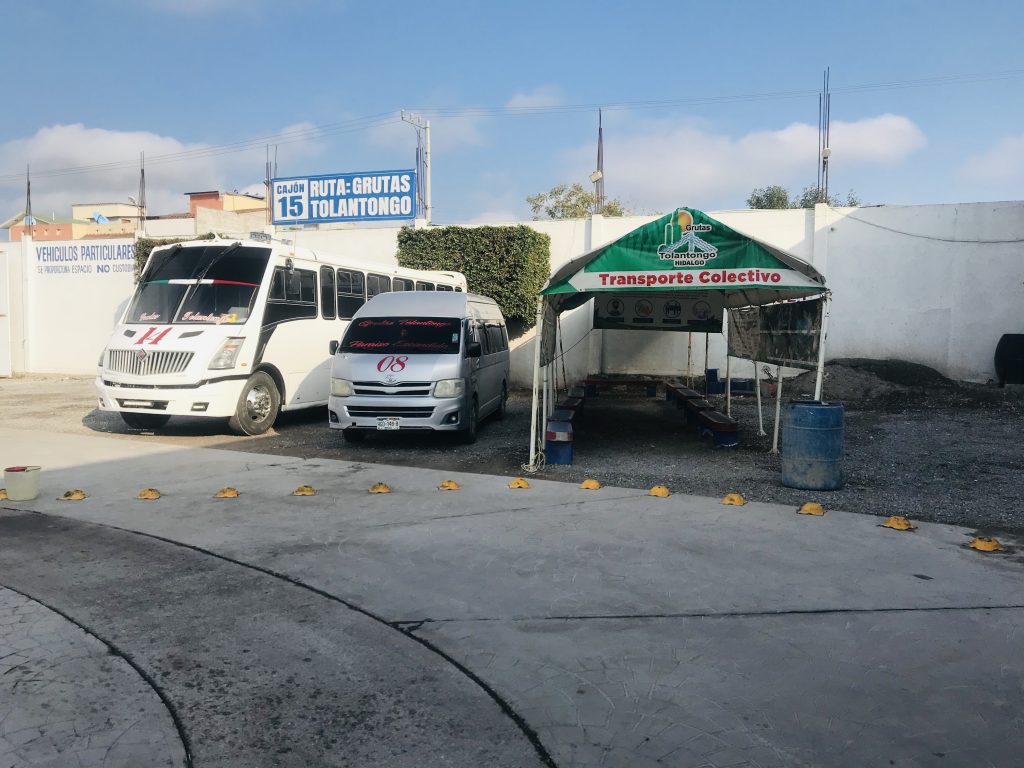 CDMX to Ixmiquilpan: Bus there – Ovni bus 6am-9am 388 pesos ($19.29 USD)
Ixmiquilpan bus to Tolantongo (Combi or Minibus): 9:30, 11:30, 13:30, 15:30, 17:30, 18:30
(M-TH) (microbuses base from I to T is in the parking lot near the San Antonio Church
Tolantongo to Ixmiquilpan: (F-S) 7:30, 11:30, 13:30, 15:30, 17:30 (Microbuses base from T to I is located in front of the La Gruta reception)
Grutas Tolantongo offers a shuttle straight to Grutas Tolantongo you can hop on from Ixmiquilpan Hidalgo to Grutas Tolantongo. You can take that service in the San Antonio parking lot, located in the Ixmiquilpan north city, next to the church of San Antonio. The service is provided by combi or microbus.
Ixmiquilpan to CDMX
Generally the schedules for the afternoon. 1:45-5:15, 2:45-6:15, 4:15-7:45, 4:20-7:20, 5:45-8:48
By Tour:
We used the company Nomada Mexico for our first trip to Grutas Tolantongo and it was amazing and very well organized!
How to book a tour:
You can send them an email and tickets are around $120 USD/PP with your food and drinks included as well as the entry to Grutas Tolantongo.

The more people you have in your group the lower the tickets are (5-6 down to $100 USD/PP).
Day Itinerary with tour:
You'll take a van up to the state of Hidalgo and leave around 5:30 am to arrive at Grutas Tolantongo around 9:30 am. You'll cross over winding roads with breathtaking views. Once you arrive you'll have breakfast and your guide will tell you all about the hot springs and take you all over! You'll be able to enjoy multiple waterfalls, with WARM water! Caves you can swim through and even relax in the river, yes the water is WARM! You'll also find plenty of places to buy beers but just know you can't take anything with you up to the first waterfall and caves to prevent littering. Definitely enjoyed having a guide the first day as you get to explore multiple areas that we may not have known how to find or navigate on our own. You'll get to eat lunch here as well and have a little free time to explore. You will leave around 5 or 6 pm and make it back to your Airbnb or hotel/ hostel by 9-10 pm.
Rental Car:
You can definitely rent a car in Mexico City and drive up to Grutas Tolantongo. Here are the directions you follow by car:
Leave Mexico City by driving north and hop on the Mexico-Pachuca highway. Know that traffic in Mexico City can be intense and impact travel time.
On the way to Pachuca look for the exit Actopan.
After this exit take the Pachuca-Ixmiquilpan highway and drive until you reach the town.
Good! You made it to the main part of town. You should see a giant supermarket Bodega Soriana then hook a right after two traffic lights after the market.
The right exit will take you to the Libramiento a Cardonal. You'll follow the signs until you make it to Grutas Tolantongo. When we traveled here there was road work and a detour on a pretty intense dirt road, you'll probably need a 4×4 for this if the construction is still going on. They were repaving the roads. This was in November 2020.
The route will take around 2 hours. Be sure to drive in safe conditions, never at night as the route down to Grutas Tolantongo is VERY steep. Pay attention to the signals and of course, drive carefully.
Our thoughts and opinion on transportation:
We enjoyed going on the tour when we only had one day to visit the first time because we didn't have to worry about finding all of the buses on our own and making the timeline work to get the next bus that takes you to Grutas Tolantongo. If you have more than one day to visit the area then taking the bus would be a perfect way to get there and it's much cheaper than paying for a tour.
WHERE TO STAY IN GRUTAS TOLANTONGO MEXICO
There are multiple hotels inside the park but only one of them accepts reservations during the week. The others have very limited hours which means you want to get to the park as early as you can to talk to the hotel about getting a reservation. Once you get to the park by bus or shuttle you go to the reception desk to the right of the bathrooms and to the right of the small convenience store to see what availability they have. You cannot book in advance online and you cannot pay with a card so be sure to bring extra cash. If you arrive early during the week (before Friday afternoon) your chances are pretty good. Rooms start around $30 USD and go up to about $60 USD per night. You can choose between having a river view or not which can cause the prices to vary. If you have multiple people in your group then the prices will look different. We suggest checking out this website for more information on hotels and the park itself.
There are also designated camping areas along the river. You can rent a tent from one of the hotels or bring your own gear. You'll still be responsible for paying the entrance ($150 MXN per day per person) + parking fee ($20 MXN per vehicle daily).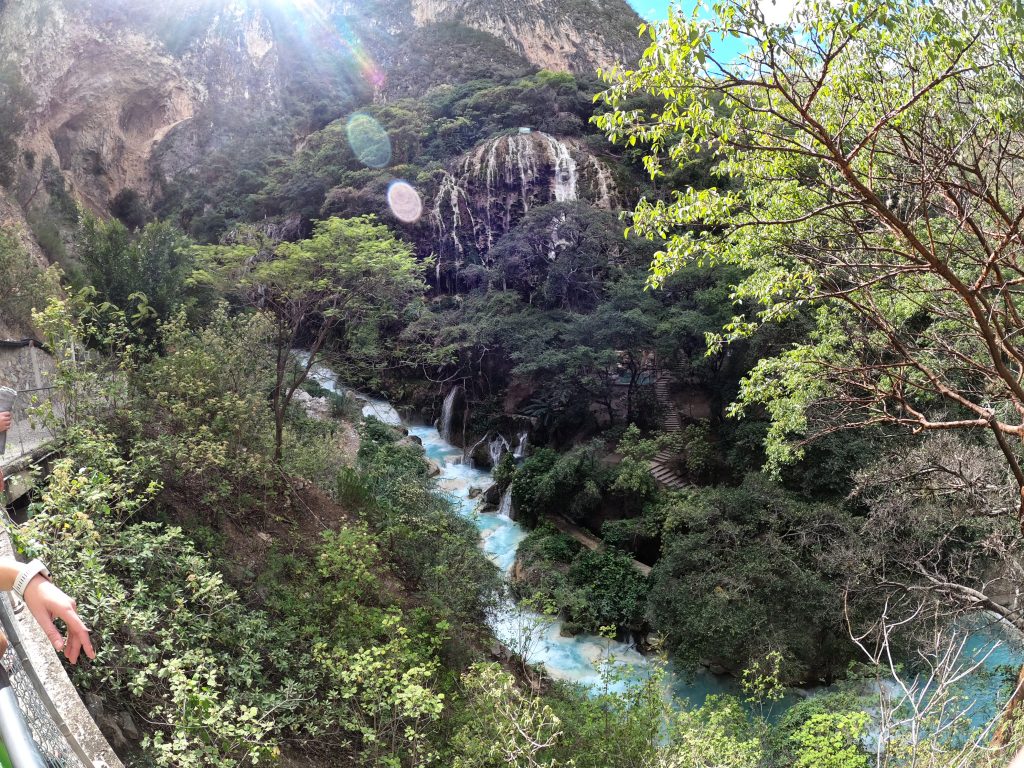 TRANSPORTATION AROUND GRUTAS TOLANTONGO
The park is walkable for the most part but just in case they offer almost every service you could need including bus services to and from Grutas Tolantongo, inner shuttle services to drive you around the park, ziplining, bike rentals, chairs, grills, tables, camping equipment, etc. They also have blankets, firewood, ice, pillows (yes seriously), and padlocks with lockers for sale. Oh, and yes they do have inflatable mattresses! We were so amazed at how well stocked this place was for camping!
BUDGET FOR GRUTAS TOLANTONGO
It is super affordable to take a trip here. I will summarise in USD.
WHAT TO DO AT GRUTAS TOLANTONGO
There are five parts to Grutas Tolantongo park which includes the main cave, the tunnel, the small pools, La Gloria, and the river. All of which have naturally warm water.
The Cave: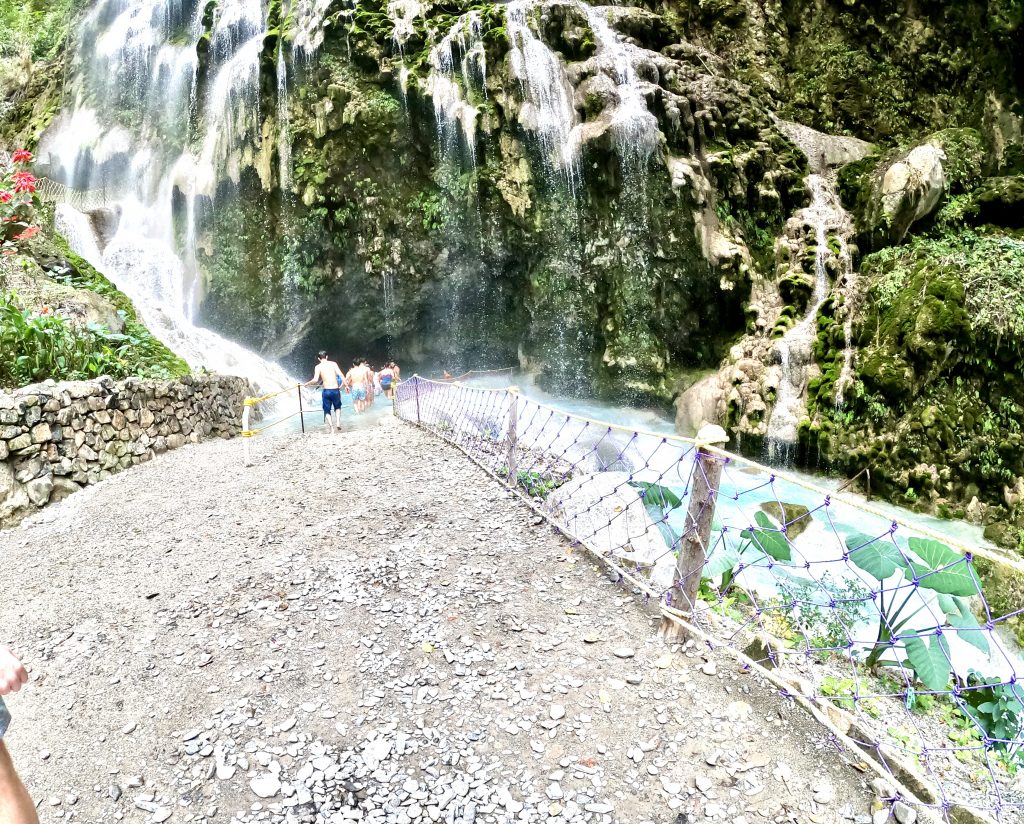 Most people see pictures of the pools on the side of the canyon and don't realize just how massive this park is! The cave is the focal point of Grutas Tolantongo as well as the main source of warm water. Once you enter the cave through a beautiful (and a little chilly) waterfall you can just relax and enjoy the main cave or you can branch-off and explore some smaller caves. They are quite narrow and dark so be sure to only bring waterproof items here and a flashlight. You can get in by swimming and using ropes that are anchored to the sides of the cave.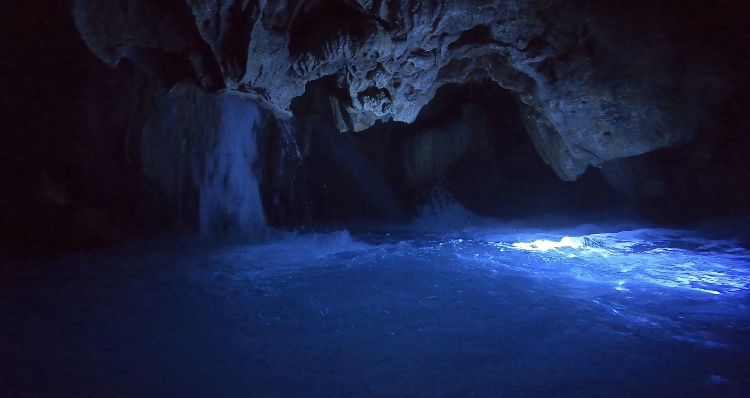 There is also a massive hot waterfall gushing through the roof of the cave, I had never seen anything like it before! Take a look around the various caves and see how the waterfall has created such interesting traces on the walls. Explore around the cave and find pockets where water is being released and feel how much warmer it is there!
Tunnel: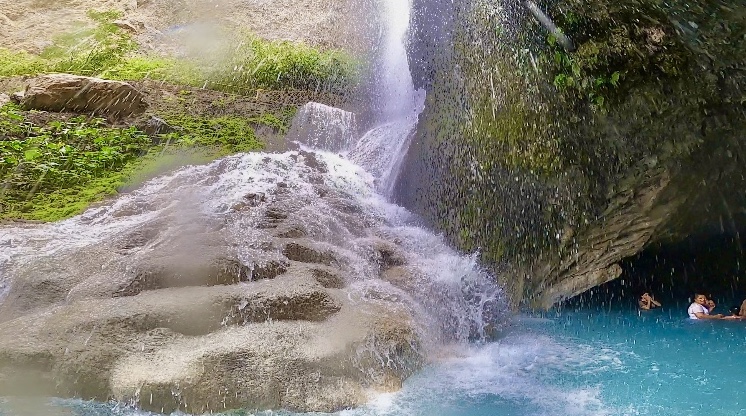 The tunnel is next to the cave and is about 40 meters inside the rock. It is also a warm water source but completely pitch black so bring a flashlight. Even though parts are narrow and it's dark is so exciting and relaxing to explore all around here. There could be a couple of employees inside with flashlights. We highly encourage you to bring your own.
The River: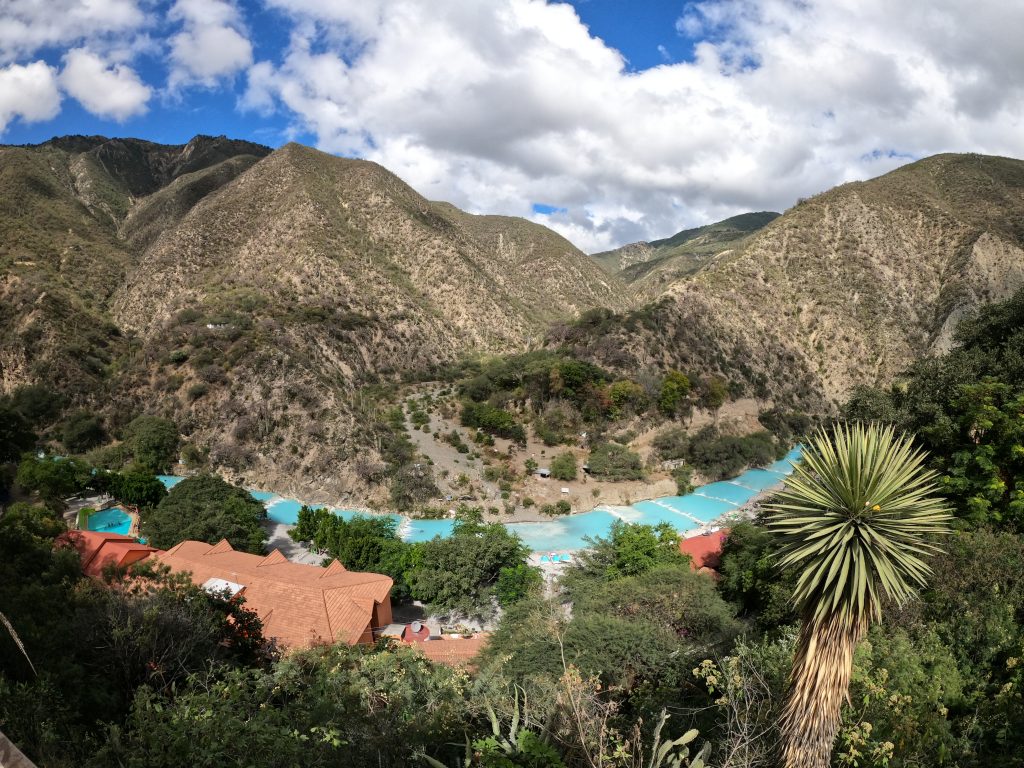 You'll find local families lined along the river drinking beer and grilling out and just enjoying this magical creation. How many places are there with warm water rivers? Not to mention the water is a stunning icy blue and it's even divided into many different sections so you can relax in the shallow water and not constantly worry about being pulled away by a current and going downstream. If you don't feel like swimming you can walk around the edges and check out the rest of the park. If you're short on time I suggest spending the least amount of time in the river so you can enjoy the caves, pools and La Gloria.
The Small Pools: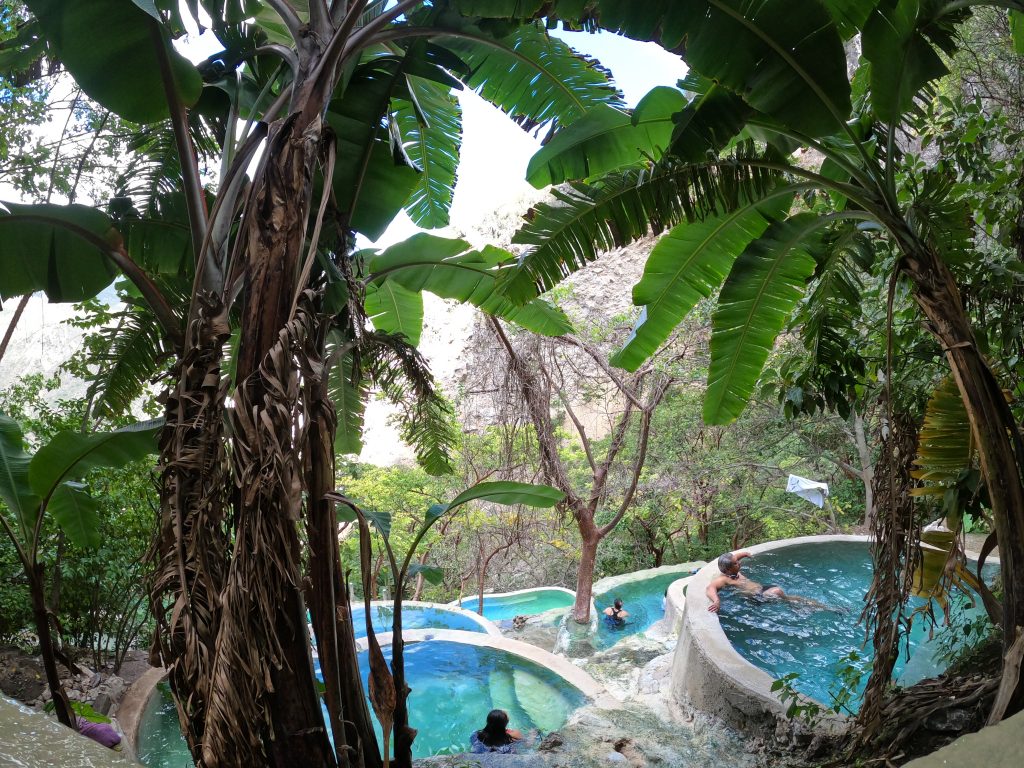 This is where you'll find your Instagram moment as this section of Grutas Tolantongo is on an elevated area of the canyon where you can have insane mountain views and enjoy the water. The water is just as refreshing as the other areas and they aren't too hot and make you want to leave! The pools themselves are handmade but the water is supplied by a spring located at the top of the mountain. This is also a perfect place to enjoy the sunset. You can take a bus for 10 pesos to the top and back as this area is on the other side of the park. You'll find a lot of stairs here and they are not slippery, it is also easy to go from pool to pool.
La Gloria: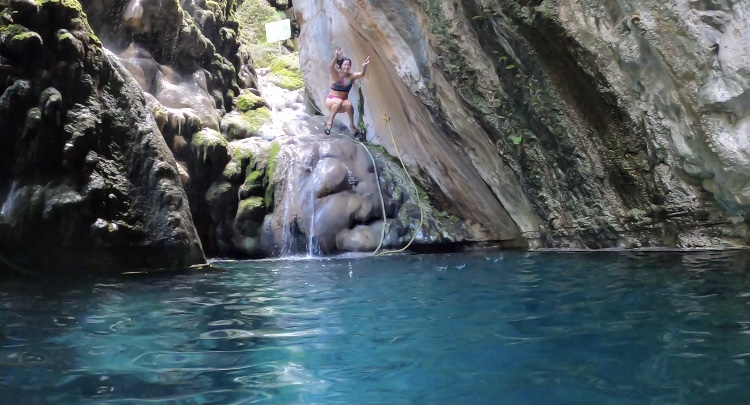 On your way to the cave and waterfall, you'll see a suspension bridge on your right which leads to a separate park called La Gloria Tolantongo which is an extra $5 USD to enter. Even if you're rushed you should absolutely take the time to check this side out! Once you pay you'll have access to the top part of the river, multiple pools (one of which is SUPER warm), and has a small cave you can climb around in or just sit and enjoy. If you keep climbing the stairs you'll find another waterfall and crystal clear pool to swim in. You can climb around here and have incredible views and find an even hotter pool to swim in on the side towards the top. This area is much more secluded and you'll enjoy a nice hike to this area.
WHAT TO BRING
Obviously the park offers a ton of options in case you forget something but you'll also need these:
Water shoes /

Chaco

/

Teva

Snacks and water for the trip, you don't want to drink the tap water!

Steripen

to save on plastic bottles!
PLENTY OF CASH – seriously map out your expense beforehand and bring extra!

Waterproof phone case (we use LifePoof)

and

GoPro

to catch all the action inside the caves – You will seriously want a good waterproof camera while you are here if you want to document all the awesomeness!

Waterproof flashlight

for the inside of the caves, they are super dark.
A padlock for storing your items at a locker in the park as you can't take anything with you other than a towel to the waterfall and caves.

Long sleeves

or

light jacket

, and

pants

(

men's pants

) for the evening it gets chilly. If you have some thicker leggings, those will work too!
If you don't have water shoes or a waterproof case there are plenty of places along the way selling towels, bathing suits, waterproof phone cases, and sunscreen. There are also tons of small convenience stores around the park where you can buy snacks, fruit, beer, liquor, and tons of other snacks.
Interested in Other Mexico Related Articles? Check These Out!
Like this Grutas Tolantongo Mexico Article? Pin it for Later!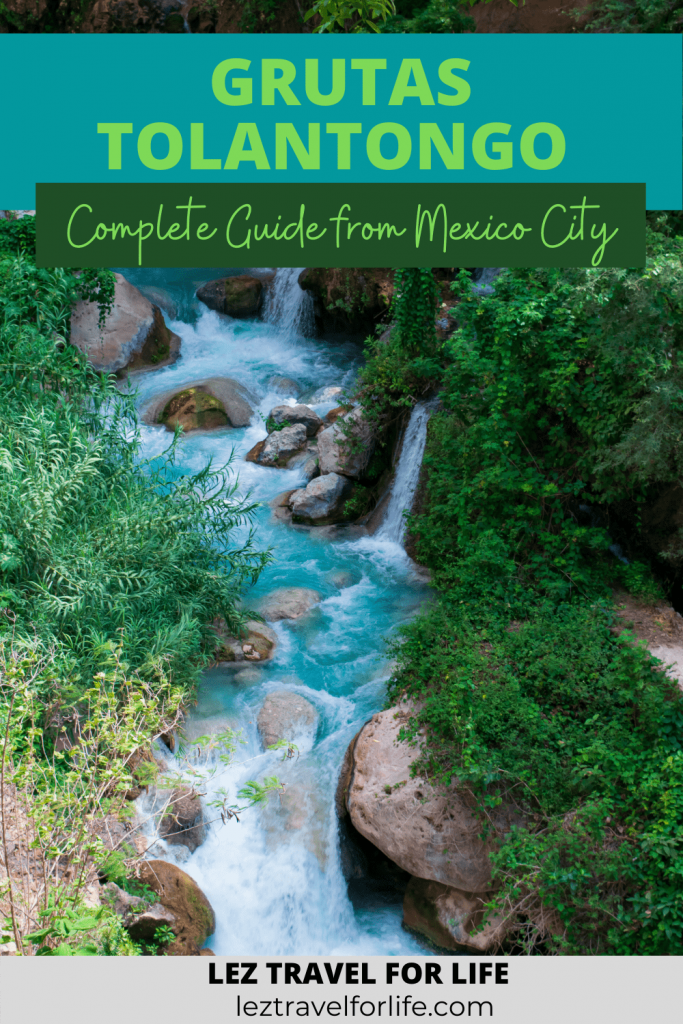 I'm Sam and I may only be 5'3 but I'm feisty and enjoy a lot of sarcastic humor. I'm addicted to travel as well as feeding and advocating for street animals in every country I travel to. I'm married to Courtney and we're super gay or whatevaaaa. We're both extroverts and love meeting new people everywhere we travel. We are in love with Latin American culture but can't wait to explore more of the world!